1. Historical Data on S&P 500 Rallying 20% Off Low
What Happens when the S&P enters a new "Bull Market"? – 13 times stocks 20% off lows and a yr later higher 12 times and up 17.7% on avg.  6 months later up 10% on avg.  3 times made new lows, 2x in tech bubble and once in Financial Crisis, Ryan notes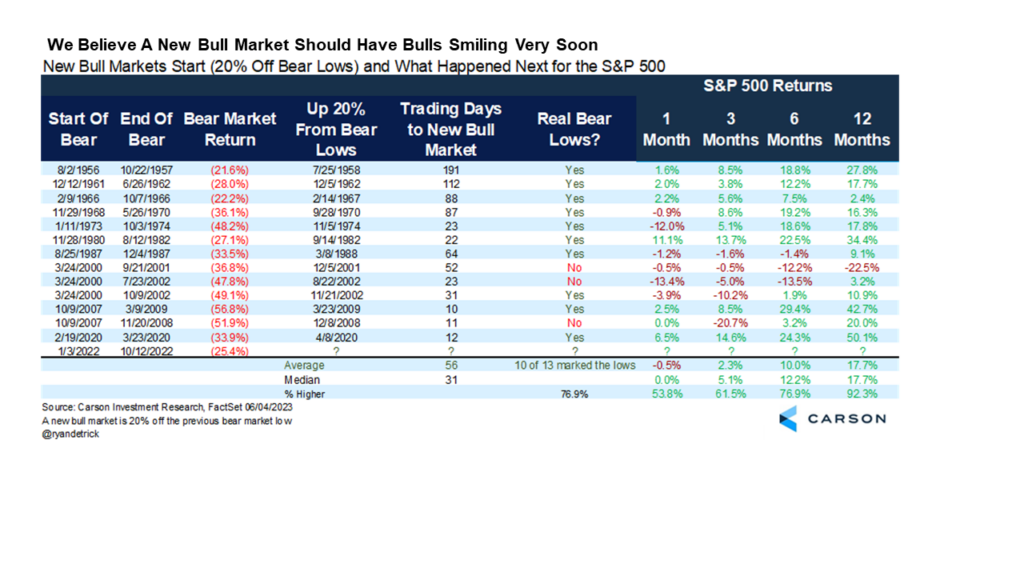 ---
2. Small Caps had First Big Outperformance of Year
The last few days have seen Small Caps up 7% and Nasdaq down 1%-Zerohedge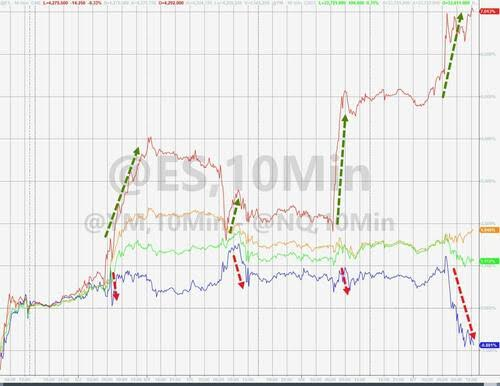 https://www.zerohedge.com/markets/big-tech-bonds-bullion-battered-billionaire-druckenmiller-warns-more-shoes-drop
---
3. Tech Also Leading Small Cap Sectors
Nasdaq Dorsey Wright

---
4. One-Quarter of Small Cap Companies Not Generating Enough Cash to Cover their Debt Service
Jack Ablin Cresset We estimate that about one-quarter of the Russell 2000 companies, representing nearly one million jobs, are currently not generating enough cash flow to cover their debt service payments. Unless interest rates suddenly turn lower, these companies will either default or face debt restructuring and the banks will have to write down the loans.
https://cressetcapital.com/post/taking-the-pulse-of-credit-conditions/
---
5. Major Homebuilders Breakout to New Highs
Toll Brothers New Highs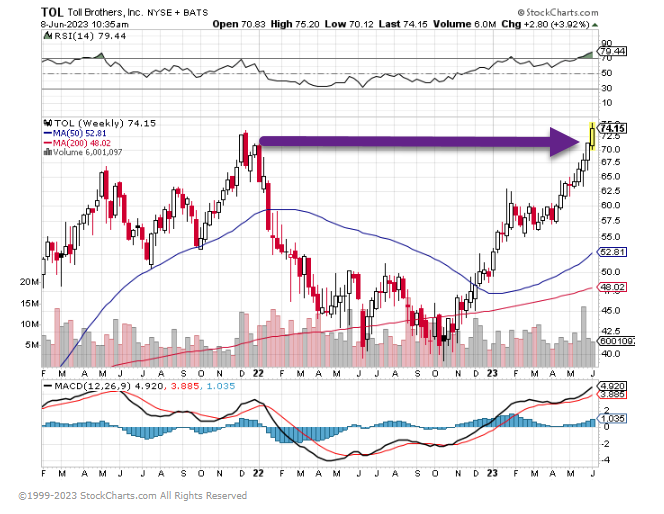 NVR New Highs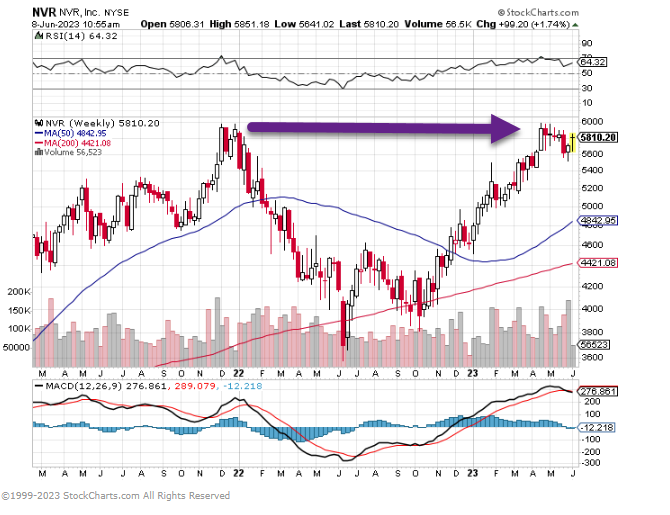 ---
6. Lumber Makes New Lows as Major Homebuilders Make New Highs?
92% of Homes in U.S. are Wood Framed….this chart compared Lumber to Homebuilders ETF XHB…straight down.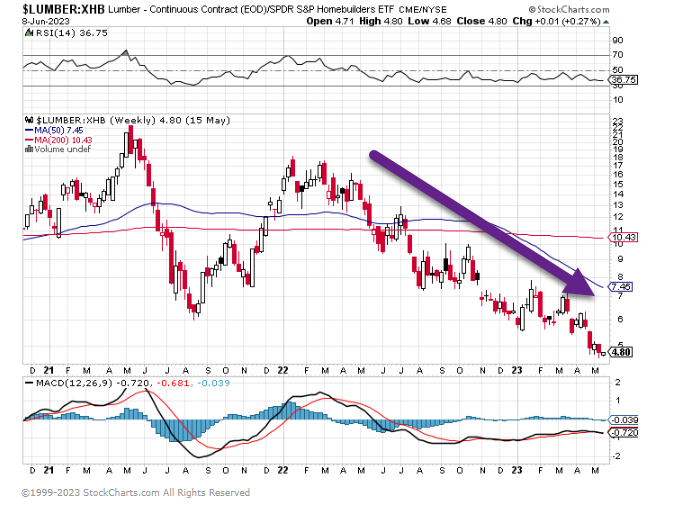 ---
7. Consumer Discretionary ETF Bullish Action
50day thru 200day to upside in XLY.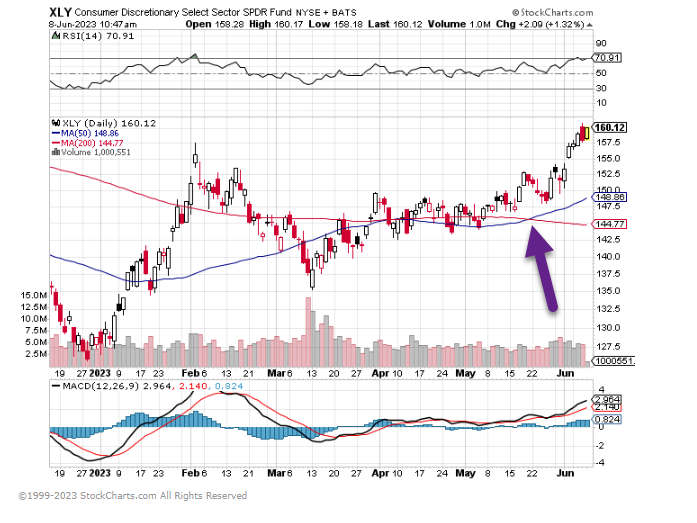 ---
8. Netflix Closes Above 200-Week Moving Average
First close above in 18 months.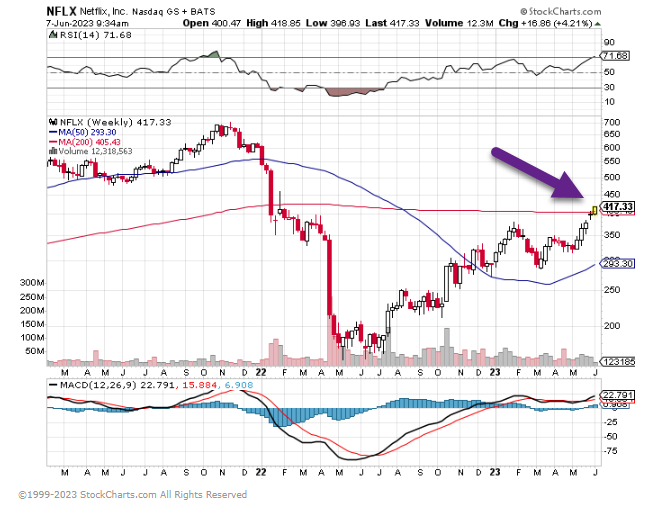 ---
9. Global M&A 500 Deals to Less than 200
M&A activity has declined over the past two years, and this trend will continue, driven lower by central banks increasing the costs of capital as they continue to fight inflation.
Torsten Slok, Ph.D.Chief Economist, Partner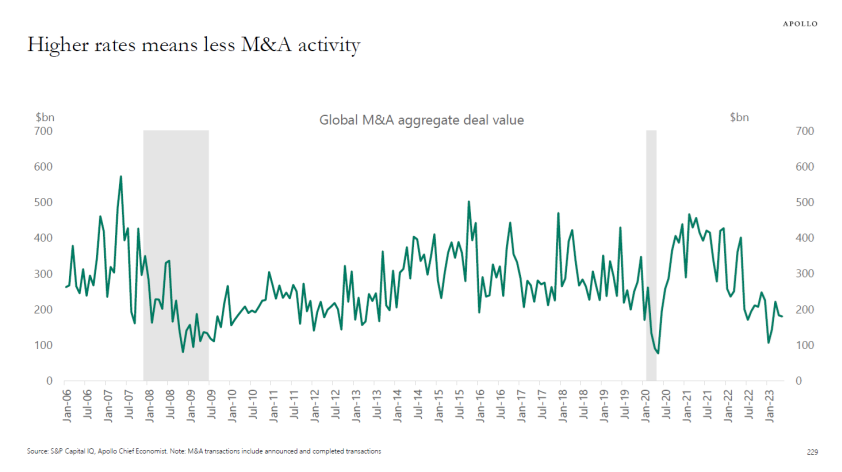 ---
10. The Being Outside Vaccine-Scott Galloway
No single thing caused our loneliness crisis, and there is no one remedy. However, stepping outside is a step in the right direction. Being outside offers a wealth of positive benefits: It lowers blood pressure and heart rate, enhances immune function, and decreases the likelihood of diabetes and cardiovascular mortality. Exposure to sunlight increases testosterone levels in men, while trips to the park improve health outcomes and create resilience in children who've experienced trauma, abuse, and poverty. Spending two hours per week outside has been shown to significantly increase health and happiness. Some doctors prescribe time spent in nature. The Swedes have a word for this, friluftsliv, "living close to nature," and they offer tax breaks for companies with policies that encourage it. The biggest threat to this lifestyle? The crowding out of the outside world by our devices, consumed mostly in the inside world.