1. History of Low Volatility Index Reading (VIX)
@Charlie BilelloIt doesn't appear to be. Looking out 1 to 5 years, average forward returns for the S&P 500 from the lowest 10% of $VIX levels (<12) were not only positive, but in many cases higher than the returns from all other $VIX levels (>12).
https://twitter.com/charliebilello?ref_src=twsrc%5Egoogle%7Ctwcamp%5Eserp%7Ctwgr%5Eauthor
---
2. Comparing Historical Bear Markets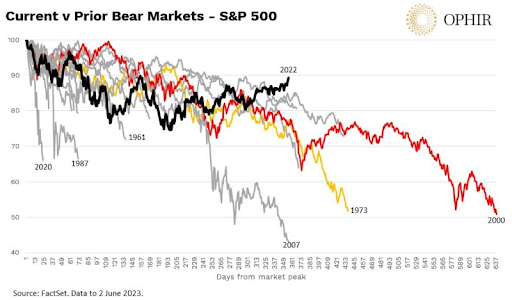 From Irrelevant Investor Blog https://theirrelevantinvestor.com
---
3. Mega-Cap Stocks 8.5% from 2021 Highs
MGC never broke 200-week moving average below in red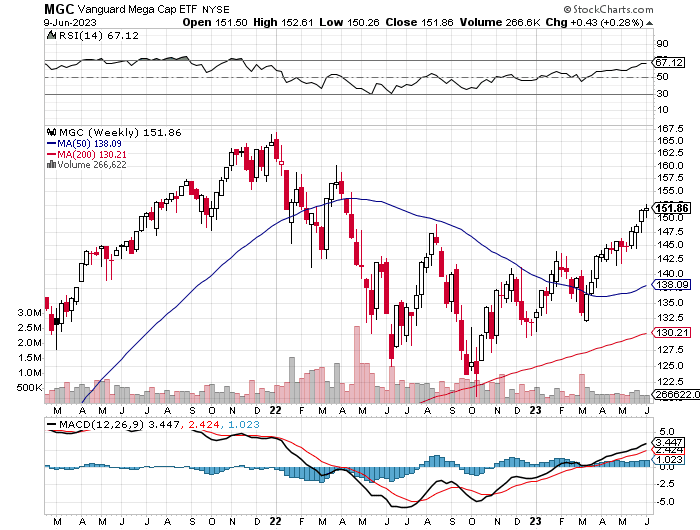 ---
4. 1 Out of 4 Russell 3000 Stocks Have Fallen 75%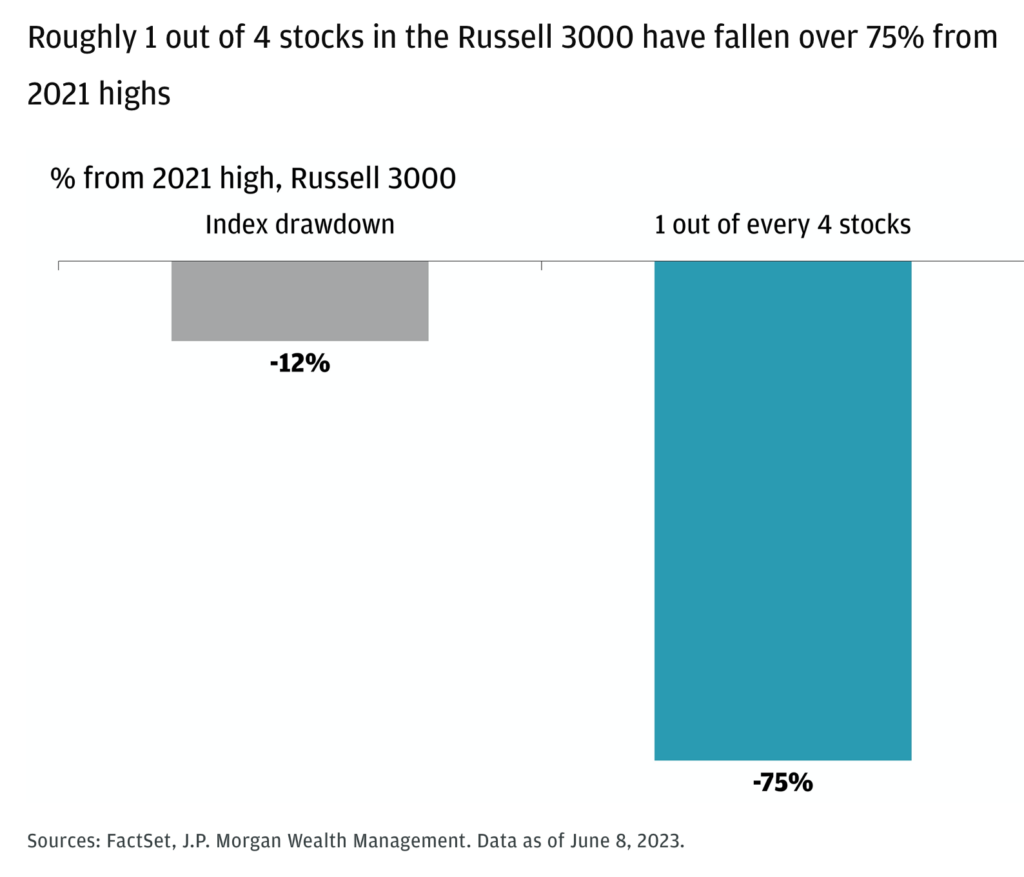 Madison FallerGlobal Investment Strategist Elyse AusenbaughGlobal Investment Strategist
https://privatebank.jpmorgan.com
---
5. Growth vs. "Pure Growth"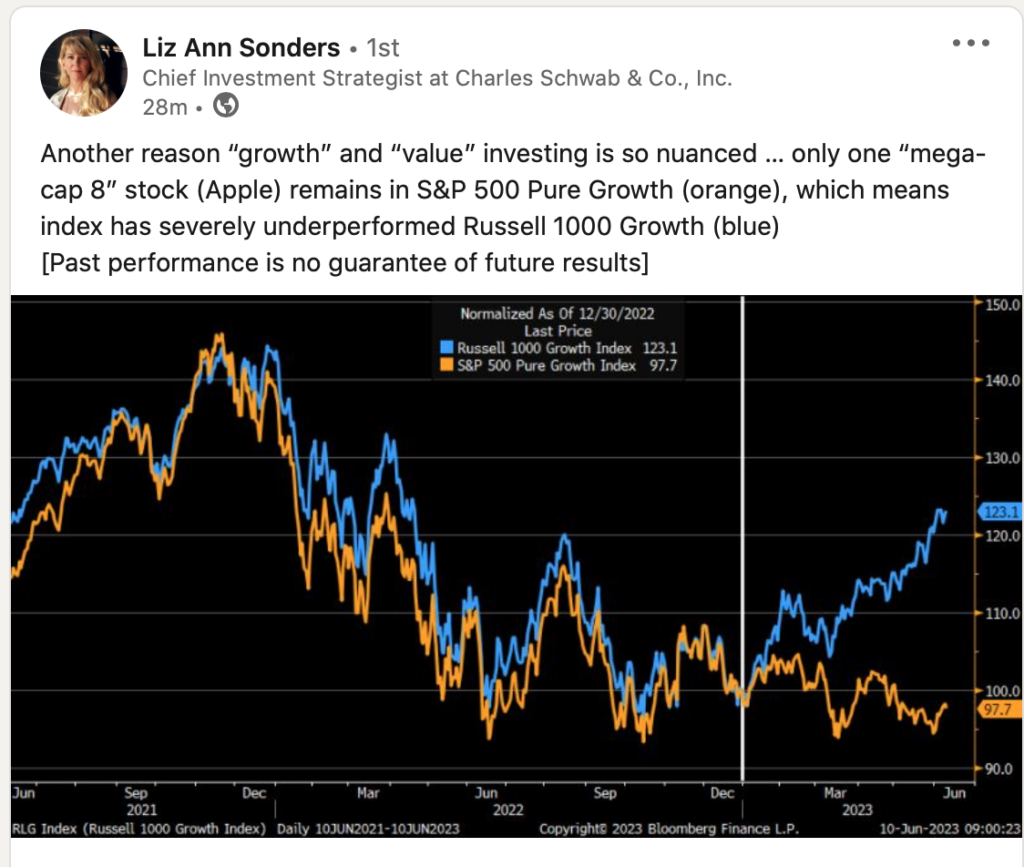 https://www.linkedin.com/in/lizannsonders/
---
6. RPG Pure Growth ETF Negative for 2023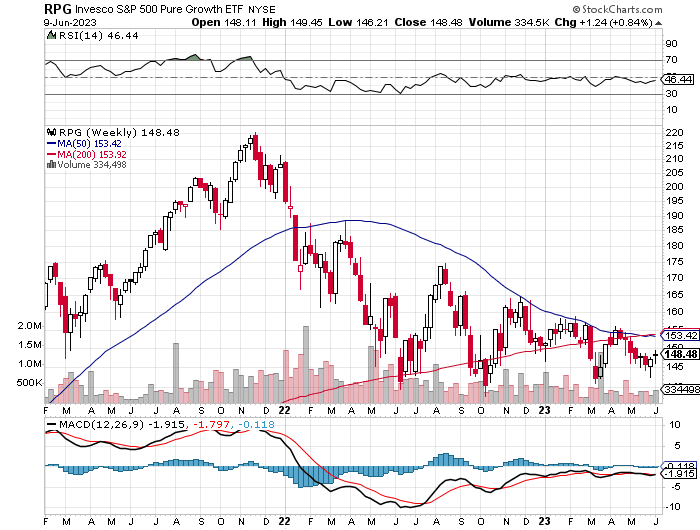 ©1999-2023 StockCharts.com All Rights Reserved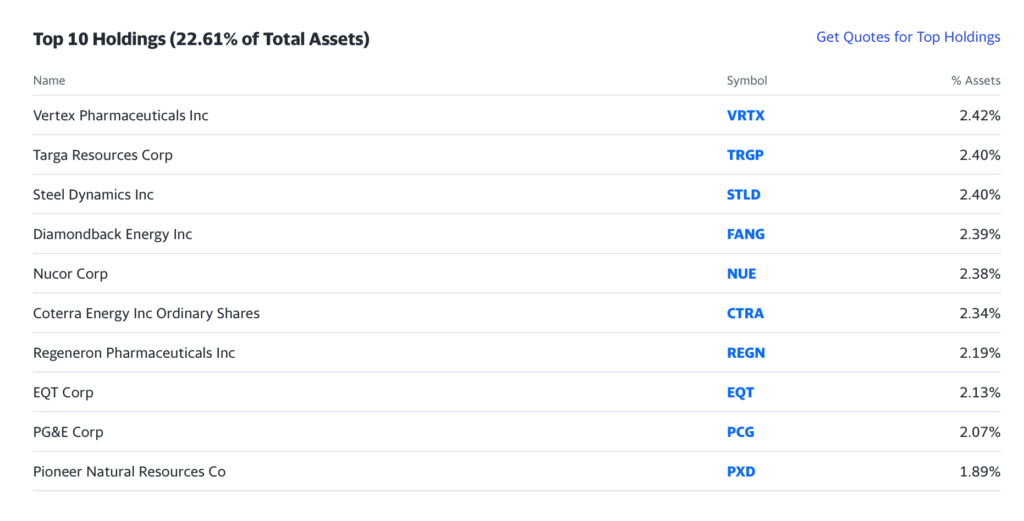 https://finance.yahoo.com/quote/RPG/holdings/
---
7. Hourly Earnings Smallest Advance in 2 Years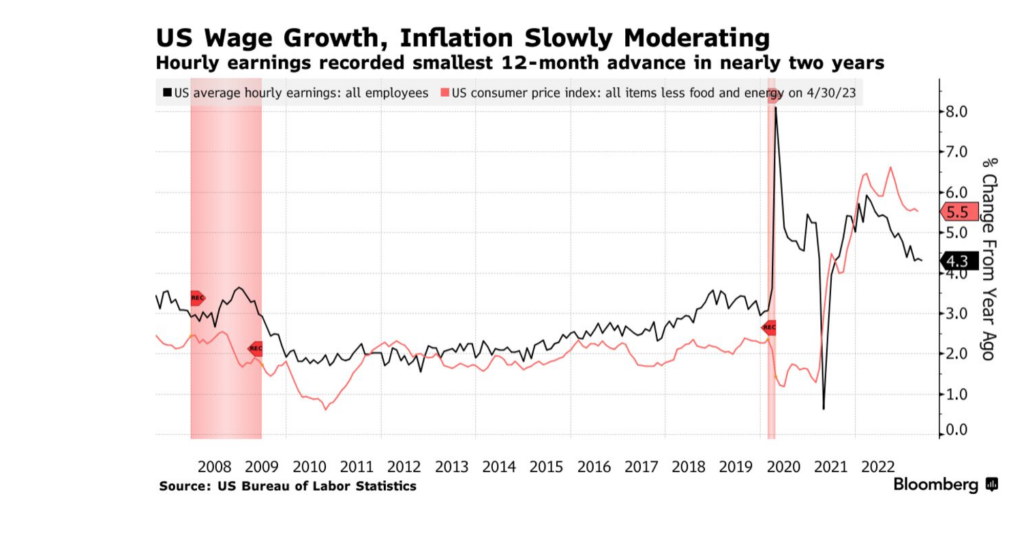 https://www.bloomberg.com/news/articles/2023-06-12/fed-backs-away-from-wages-focus-bolstering-case-for-rate-pause?srnd=premium&sref=GGda9y2L
---
8. Tesla Profit Margins
Food for Thought: Lastly, here is a look into Tesla's profit margin: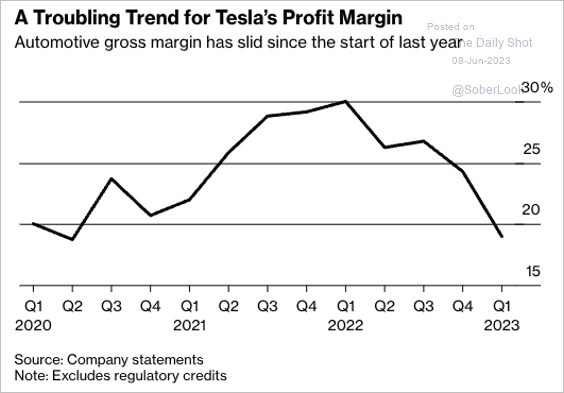 Source: @crtrud, @BW  Read full article
The Daily Shot Brief https://dailyshotbrief.com
---
9. Top 10 EV's 2023-Ranked by Driving Range
Zerohedge-Below are the top 10 EVs for 2023, ranked by their EPA combined driving range.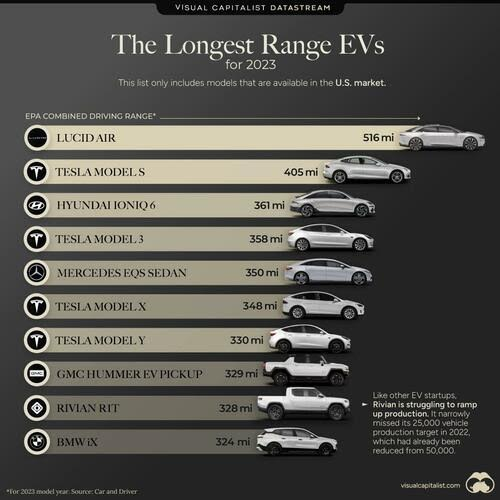 For further context, we've also included price. These values are for the specific trim that achieves the stated range. In some cases, more expensive trims are available but have a lower range (e.g. Tesla Plaid).
| | | |
| --- | --- | --- |
| Model | EPA Combined Driving Range | Price* |
| Lucid Air | 516 mi (830 km) | $138,000 |
| Tesla Model S | 405 mi (652 km) | $84,990 |
| Hyundai Ioniq 6 | 361 mi (581 km) | $45,500 |
| Tesla Model 3 | 358 mi (576 km) | $55,990 |
| Mercedes-Benz EQS | 350 mi (563 km) | $104,400 |
| Tesla Model X | 348 mi (560 km) | $94,990 |
| Tesla Model Y | 330 mi (531 km) | $52,990 |
| GMC Hummer EV Pickup | 329 mi (529 km) | $110,295 |
| Rivian R1T | 328 mi (528 km) | $74,800 |
| BMW iX | 324 mi (521 km) | $87,100 |
Note that the EV market is rapidly evolving, and the data in this table has a limited shelf life. For example, Rivian is releasing a battery option dubbed the "Max pack" which promises up to 400 miles, but is not yet EPA rated.
https://www.zerohedge.com/technology/these-are-10-longest-range-evs-2023
---
10. Longevity doctor shares the No. 1 diet he follows to 'beat diseases and live longer': It's a 'unique blend' of foods
Dr. William Li, Contributor@DRWILLIAMLI
As a doctor and food scientist, I've spent 20 years studying how our diets can help us beat diseases and live longer.
I've always taken a natural food-based approach, and much of my diet is inspired by a unique blend of two of the greatest food cultures in the world: Mediterranean and Asia. I call it the "MediterAsian" diet.
Both the Mediterranean region and Asia have areas known as Blue Zones, where people age better and are overall healthier.
Here are six staples of MediterAsian eating that can help you boost immune health and stay healthy:
1. Fruits
Apples: An apple a day might keep the doctor away, but three apples a day can help reduce body fat. They're versatile, great for salads, and delicious as a snack or baked in a dessert.
Pears: Pears are an excellent source of dietary fiber (a medium-sized fruit has 6 grams) for gut health.
Pro tip: to find a ripe pear, hold the fruit by its base with one hand, and with the other, pinch the flesh at the bottom of the stem. If the flesh gives slightly, it's ready to eat.
Grapefruit: Grapefruit flesh contains disease-fighting flavonoids and vitamin C, which is a powerful DNA-protecting antioxidant and anti-inflammatory substance.
Avocados: The fats in avocados are healthy monounsaturated fatty acids, which can reduce blood levels of bad LDL cholesteroland lower your risk of heart disease.
2. Vegetables
Broccoli: Broccoli is potent in sulforaphane, which protects stem cells, improves gut health and metabolism, and amplifies immune responses.
Soy: Soy is eaten as a bean, made into tofu, fermented, and can even be transformed into wine. It has been associated with lowering the risk of cardiovascular disease by 20% and diabetes by 23%.
Carrots: An ancient root vegetable that originated in Southwest Asia, carrots are a good source of dietary fiber for gut health. A half cup of grated carrot has 2 grams of fiber.
Mushrooms: Mushrooms contain a soluble fiber called beta-D-glucan, which stimulates defenses to grow new blood vessels needed for healing wounds. At the same time, it can prevent harmful blood vessels from feeding cancers.
3. Legumes
White beans: Beans are a nutritious food that can help reduce cardiovascular risk factors by lowering blood cholesterol levels. They also contain valuable nutrients like iron, zinc, magnesium and folate.
Lentils: Lentils are a classic legume in Mediterranean cuisine. A half cup of dry lentils contains 18 grams of fiber, which is more than half of the recommended daily intake for men and women.
4. Bottles and jars
Extra virgin olive oil (EVOO): EVOO is the most desirable form of olive oil. The "extra virgin" refers to oil that is not refined, and as a result, contains tiny bits of ripe olives. The oil and bits are the source of potent polyphenols that activate health defenses.
When I buy EVOO, I scan the label on the bottle to identify which olive varietals were used. Many are made from a variety of olives, which can taste very nice, but I prefer monovarietal oil, which is less likely to be diluted with cheaper oils.
Apple cider vinegar: Studies have found that the acetic acid in apple cider vinegar reduces body fat, improves insulin sensitivity, and lowers blood sugar.
Fermented bean paste: Stroll through the middle aisles of any Asian grocery store, and you'll see many kinds of fermented bean paste. Made from fermented soy, they contain bioactives that fight fat cells.
5. Seafood
Salmon: Salmon is high in omega-3s, which get absorbed into fat cells and are metabolized. Then they create proteins that are released like cellular firefighters into the surrounding fat mass to extinguish the inflammation caused by fat.
Roe: If you're exploring unique tastes, you must try the roe (eggs) of certain seafoods. Roe is naturally packed with omega-3s, so it takes remarkably little to get a major dose of healthy fats.
Sardine: Sardines are a time-honored seafood of the Mediterranean. They contain bioactives that can improve metabolism and lower blood cholesterol.
6. Liquids
Matcha tea: Matcha is a green tea known for its vivid green color. Studies have found that matcha can counter the metabolic effects of a high-fat diet.
Oolong tea: A study by the U.S. Department of Agriculture showed that drinking six cups of oolong tea three days a week improved overall metabolism.
Dr. William Li, MD, is a physician, scientist and the New York Times bestselling author of"Eat to Beat Your Diet: Burn Fat, Heal Your Metabolism, and Live Longer"and"Eat to Beat Disease."His groundbreaking work has led to the development of more than 40 new medical treatments and impacts care for more than 70 diseases including cancer, diabetes, blindness, heart disease and obesity. Follow him on Twitter@drwilliamli.
https://www.cnbc.com/2023/06/10/mediterasian-diet-is-the-no-1-way-to-beat-diseases-and-live-longer-says-doctor-and-food-scientist.html