1. Bullish IPO ETF Chart
One of the victims of 2022 speculative crash….IPO ETF showing life…50day thru 200day to upside….New 2023 High.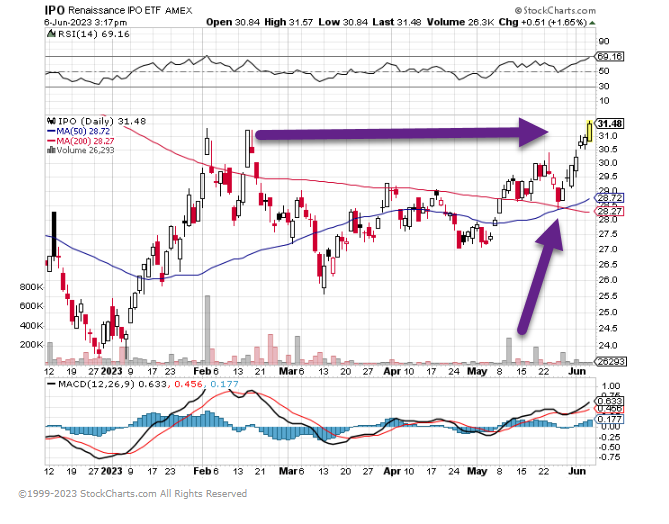 IPO ETF Chart breaking above a downtrend line going back to 2021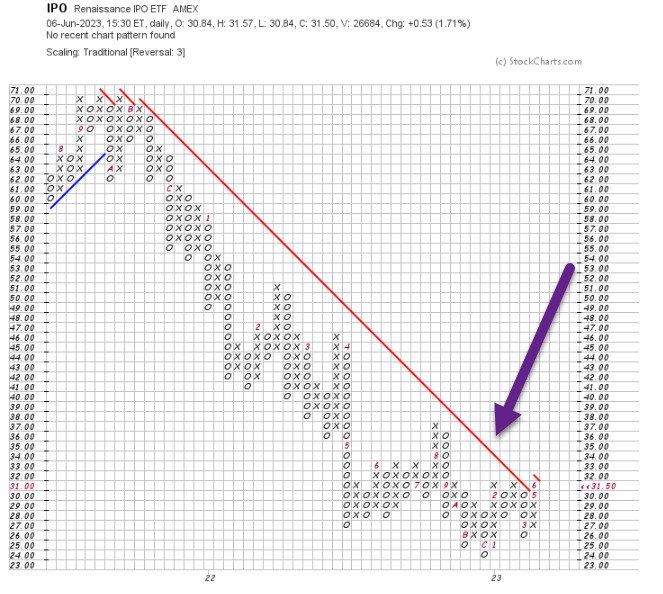 ---
2. Yesterday….The Market Came Within a Few Basis Points of This Record Going Back to 2008
Marketwatch The last time the Russell 2000 gained more than 2.5% and the Dow finished the day lower was on Oct. 10, 2008, according to Dow Jones Market Data. By William Watts
Yesterday Russell 2000 +2.63% vs. Dow +3 basis points.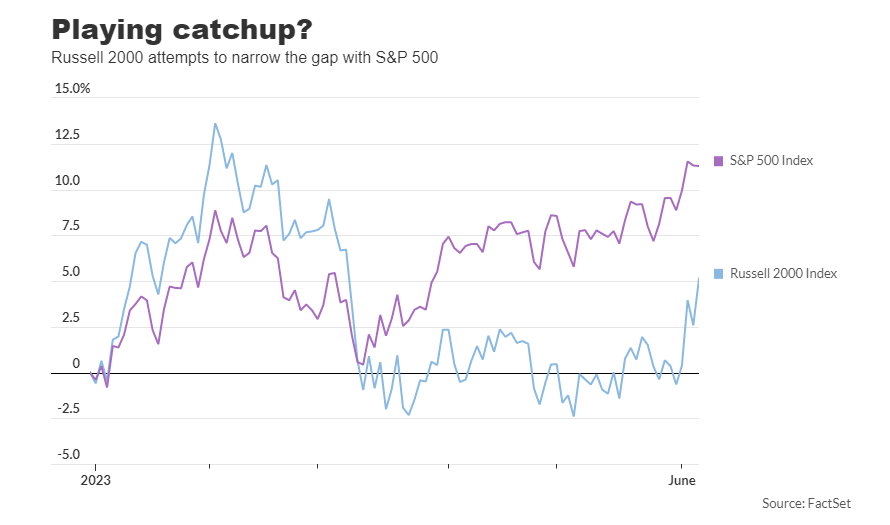 https://www.marketwatch.com/story/small-cap-stocks-are-surging-tuesday-as-broader-u-s-market-sleeps-heres-why-83b78016?mod=search_headline
---
3. Russell 2000 Small Cap Returns Post S&P 500 Coming Out of Bear Market
Dorsey Wright We are working with a limited testing history here, as there simply have not been that many bear market environments for the S&P 500 since the origin of our Russell 2000 data in December 1978. Still, the data adds to the unique story the Russell 2000 has shown over the last eight months. Forward returns for RUT following the conclusion of the S&P 500 bear market have been mixed. Some periods show sharp upside movement, like 1982, 2009, and 2020. Others show more muted movement or weakness. Those returns also do not seem to be dependent on the extent of the rally leading up to the bear market conclusion.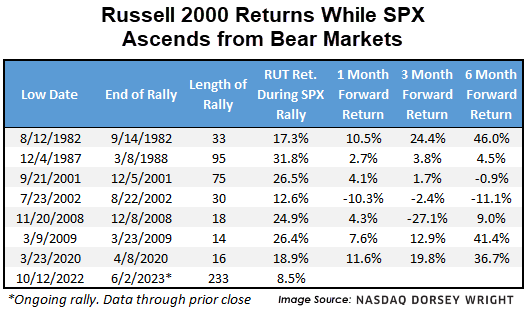 ---
4. America is Undergoing a Factory Construction Boom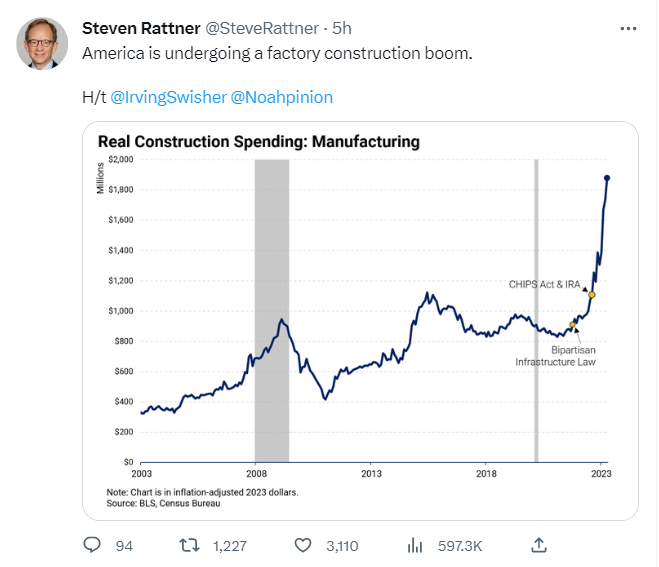 https://twitter.com/SteveRattner
---
5. Last Year's Laggards Chart
Capital Group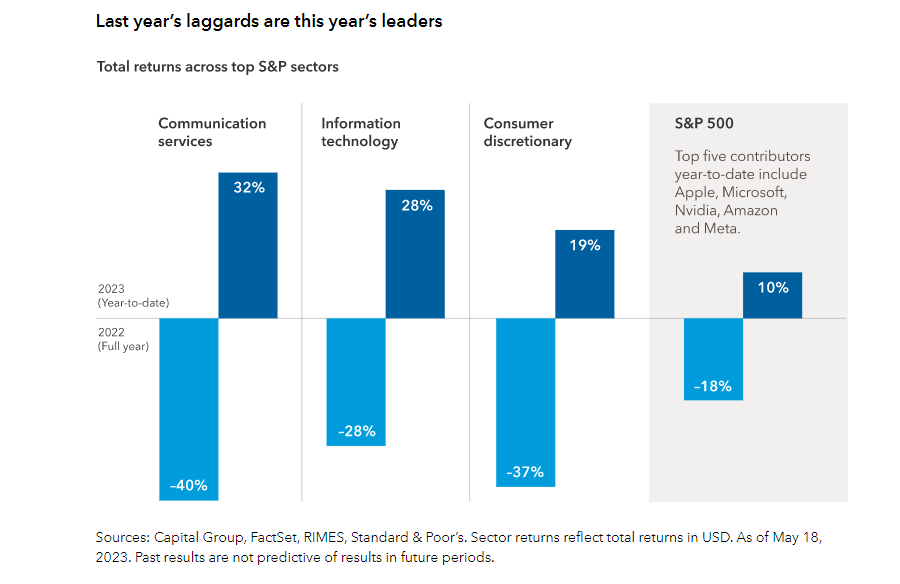 https://www.capitalgroup.com/ria/insights/articles/big-tech-turnaround-can-it-continue.html?sfid=238885404&cid=81002566&et_cid=81002566&cgsrc=SFMC&alias=A-btn-BigTechRally
---
6. NVDA Still Well Below Revenues of Other FAANG Stocks
Bespoke-Recent high flyer and trillion dollar market cap club hopeful, NVIDIA (NVDA), may be one of the largest stocks by market cap in the S&P 500, but it is far from the largest in terms of revenues.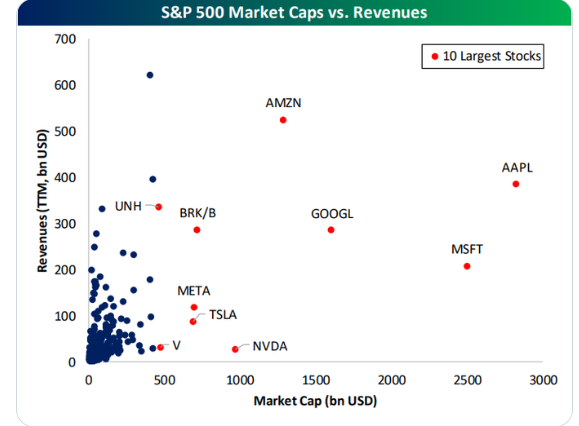 https://twitter.com/bespokeinvest
---
7. Argentina ETF Close to Double Off Bottom
Argentina has upcoming election that has free market conservatives leading.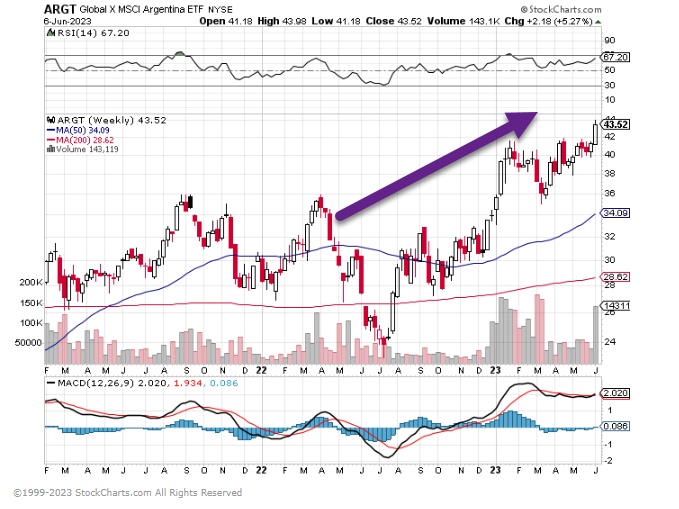 MELI 21% of ETF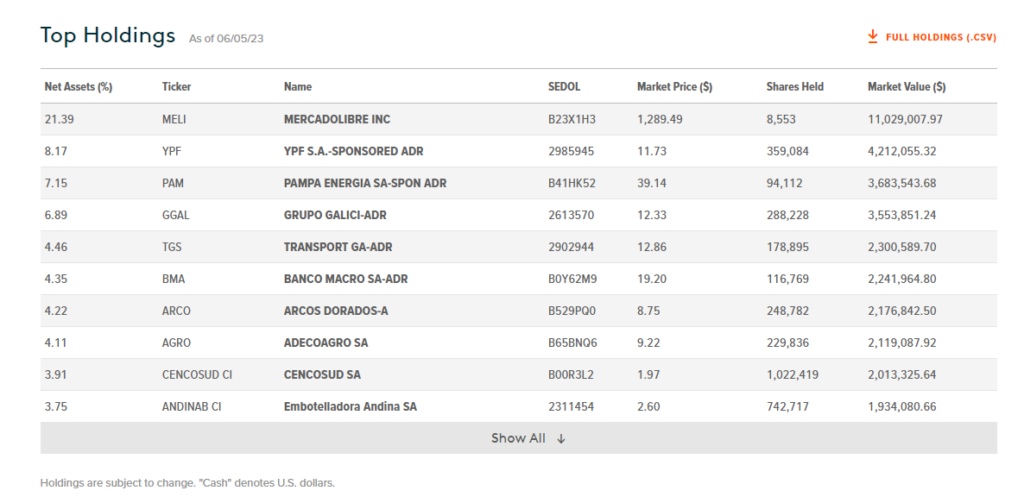 https://www.globalxetfs.com/funds/argt/
---
8. Battery Electric Vehicles…Winner and Losers
The Global Adoption Of Battery Electric Vehicles Is Gaining More Traction
By Sam Korus | @skorusARK
Director of Research, Autonomous Technology & Robotics
Battery electric vehicle (BEV) sales surpassed 10% share of global light vehicle sales in the first quarter of 2023, as shown below. For the past three years, BEV adoption during the first quarter has lagged that in the fourth quarter, perhaps because of Chinese New Year. This year, however, BEV share broke that seasonal trend.
Not all automakers have participated in the upside. Tesla, BYD, VW, and GAC Motor, for example, accounted for ~75% of the year-to-date BEV sales growth on a year-over-year basis through April 20231—even though they account for only ~48% of total sales—while ~40% of automakers reported BEV sales declines. Macroeconomic headwinds seem to be separating the winners from the losers.
Source: Irle, V. 2023. "Global EV Adoption is on steady increase." Twitter. Based on data from EV-volumes.com, as of June 2, 2023. https://twitter.com/viktorirle/status/1664633210158850049
https://ark-invest.com/research-center/
---
9. Interest Only Loans on Commercial Real Estate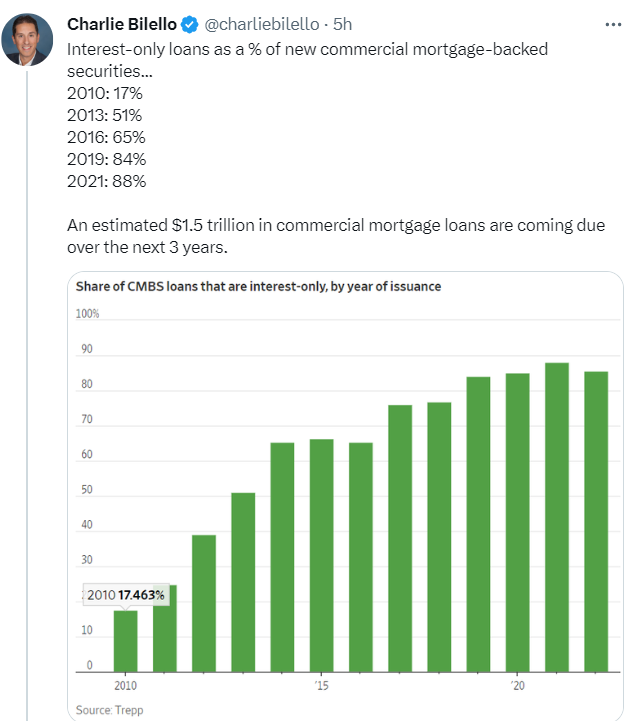 ---
10. It's Terribly Hard to Change Our Minds
The Daily Stoic What new information could there have possibly been for Seneca, in 62 AD, when he finally broke with Nero? Nero had been deranged for years (as detailed in James Romm's excellent book Dying Every Day). He had been blood thirsty for years, unfit for leadership since almost the beginning. Seneca knew better from the beginning–the man was a philosopher and historian and could not have been deceived for long.
​We can sit here and judge. We can shake our heads in bafflement. But we really shouldn't. The fact that Seneca eventually worked up the courage to participate in the Piso Conspiracy to unseat his former boss shouldn't be dismissed as "too little too late" because later is better than never.
Because not everyone did come around. In fact, most people never do–then or now. When we are wrong, when we've had our blinders on, when we've been implicated in something, even complicit in it, it's so terribly, terribly hard to change our minds. It is hard to admit error, harder still to admit guilt, and the hardest to take steps to rectify it.
Instead of condemning those who have the fortitude, the awareness, the conscience (or even the desperate motivation of last-minute self-preservation), we should celebrate it. We should make soft landings for them, so as to encourage future folks. We should, as Marcus Aurelius tried to do, forgive. We should sympathize and realize how easily we could be in their position. We should take note of their example and make sure we are learning from it in our own lives.
Judgment is easy. Changing is hard–hard enough that late is still better than never.