1. Start with a Couple Small ETFs That Doubled Off Corona Bottom
NERD ETF Chart-Esports and Digital Entertainment
https://www.etf.com/NERD#overview
2. ARKK ETF CHART
ARK Innovation ETF
3. Fed Becomes No. 3 Holder of World's Biggest Corporate-Bond ETF
by Katherine Greifeld, 7/1/20
The Federal Reserve became one of the top holders in some of the world's largest credit ETFs less than two months after stepping into the market.
The central bank owns more than 13 million shares of the $54 billion iShares iBoxx $ Investment Grade Corporate Bond exchange-traded fund (LQD) as of June 16, making it the third-largest holder, according to data compiled by Bloomberg. Only Bank of America Corp. and Fisher Asset Management — both of whom have yet to file their second-quarter holdings — own more shares than the U.S. central bank.
The Fed is also the second- and fifth-largest holder of the $29 billion Vanguard Short-Term Corporate Bond ETF (VCSH) and the $36 billion Vanguard Intermediate-Term Corporate Bond ETF (VCIT), respectively.
The Fed began purchasing corporate bond ETFs on May 12 as part of its effort to prop up credit markets in the midst of the coronavirus pandemic, after first announcing the program in late March. Its pledge has boosted markets in the months since, with LQD — which has absorbed the bulk of the Fed's purchasing — ballooning to a record size and rallying to an all-time high. The Fed has accumulated roughly $6.8 billion of ETFs through the so-called Secondary Market Corporate Credit Facility through June 16.The updated holdings will likely be the high-water mark for the Fed's ownership, according to Academy Securities's Peter Tchir. The Fed began purchasing individual corporate bonds in mid-June in addition to ETFs, and Chairman Jerome Powell said the following day that the central bank would reallocate purchases of ETFs toward debt securities."Now that they have SMCCF up and running, they will reduce their run rate on ETFs to make sure they have powder available in case they need it," said Tchir, Academy's head of macro strategy. "They will grow the bond side faster than the ETF side for now."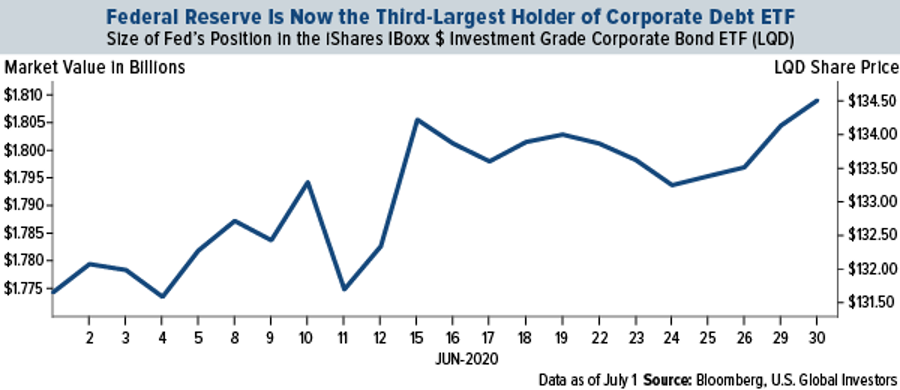 Bloomberg News provided this article. For more articles like this please visit bloomberg.com.https://www.advisorperspectives.com/articles/2020/07/01/fed-becomes-no-3-holder-of-worlds-biggest-corporate-bond-etf
LQD Investment Grade Bonds 30%+ Off Lows.
4. Emerging Markets Next Market to Watch for New Highs
EEM makes run at new highs as Chinese citizens also embrace trading
Chinese Margin borrowing moves higher-WSJ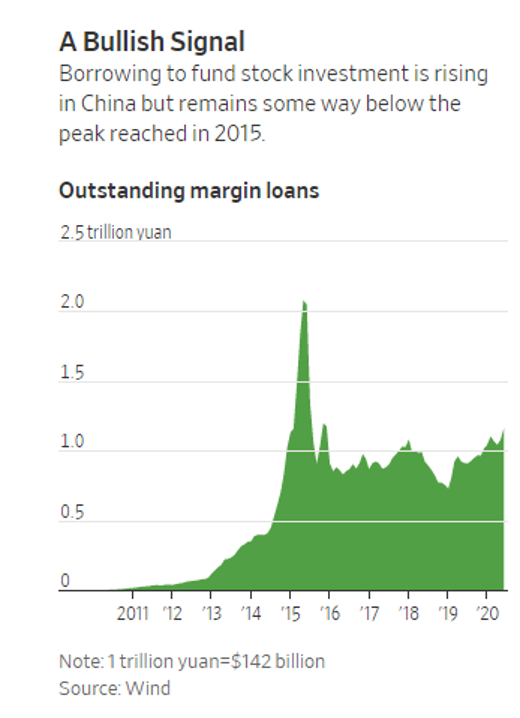 Chinese Stocks Surge as Individual Investors Pile Into Market-Shanghai Composite Index gained 5.7%, hitting its highest since early 2018
https://www.wsj.com/articles/chinese-stocks-surge-as-individual-investors-pile-into-market-11594021438?mod=itp_wsj&ru=yahoo
5. Semiconductor ETF New Highs
Readers Know I Use Semi Stocks to Measure Risk On….New Highs
China's biggest chipmaker is up over 200% this year as it begins $6.6 billion share sale–Arjun Kharpal CNBC
KEY POINTS
SMIC, China's biggest chipmaker, kicked off a major 46.28 billion yuan ($6.6 billion) share sale on Tuesday.
The contract semiconductor manufacturer is seen as a key player in China's ambitions to become more self-sufficient when it comes to chips.
The capital injection could help SMIC catch up with rivals TSMC and Samsung
Electronics, two chipmakers with far more advanced capabilities.

https://www.cnbc.com/2020/07/07/smic-china-chipmaker-6point6-billion-share-sale-begins.html
6. AQR Research Comments on "Broken" Asset Classes
Key Points
Asset classes are often declared irretrievably broken after poor recent performance, implying they are unable to provide reasonable forward-looking returns. These proclamations are often nowcasts, a common and dangerous financial practice of explaining what's already happened as if it's a forecast of the future.
We survey (admittedly) anecdotal examples of so-called broken asset classes. In most cases, their performance fell within their historical range of expected returns. Further, following this declaration they often produced sizeable excess returns.
We offer practical tips for advisor conversations with clients about underperforming asset classes and their role in a portfolio.
A Quick Survey of "Broken" Asset ClassesByJohn WestAmie Ko
https://www.researchaffiliates.com/en_us/publications/articles/810-a-quick-survey-of-broken-asset-classes.html
7. Convertible bond issues surge in coronavirus-hit market
Elizabeth Howcroft, Abhinav Ramnarayan
* Companies issue most convertible bonds since 2007
* Hedge funds make up smaller proportion of convertibles market
* Market could grow by $80-100 billion this year
By Elizabeth Howcroft and Abhinav Ramnarayan
LONDON, July 3 (Reuters) – The volume of convertible bond sales has reached its highest levels since 2007 this year as companies rush to raise cash to see them through the economic impact of COVID-19.
Some $89 billion of bonds that give the investor an option to convert into shares have been issued in 2020, according to Refinitiv data. Sales are mostly in the United States, although European issuance is growing as coronavirus lockdowns end and companies look to shore up their balance sheets.
The surge is a contrast to the 2008 financial crisis, when the market for convertible bonds collapsed as bets by hedge funds on low or unrated companies turned sour.
"When the crisis first kicked off, many companies were looking to raise capital and liquidity. And when the equity markets and debt markets were shut, the (convertibles) market remained open," said Virginie de Grivel Nigam, head of equity-linked for Europe, Middle East and Africa at JP Morgan.
De Grivel Nigam has helped manage convertible bond sales for Germany's HelloFresh, Spanish travel-booking group Amadeus, and British online supermarket Ocado.
Convertible bonds are an alternative to equity placements and bond issues, and allow companies with low or no credit ratings easier access to cash than a regular bond issue.
Investors are more likely to buy convertible bonds from such companies because they offer the prospect of equity gains while still paying a coupon and with their principal repaid at maturity if the option to convert into shares is not exercised.
https://www.reuters.com/article/health-coronavirus-convertiblebonds/convertible-bond-issues-surge-in-coronavirus-hit-market-idUSL8N2DW3NI
CWB CHART-Convertible ETF
8. Household Debt Ratios and Net Worth Positive
JP Morgan Asset Management
https://am.jpmorgan.com/us/en/asset-management/gim/adv/insights/guide-to-the-markets/viewer
9. What Makes a Good Citizen…Pew Research….Voting, Paying Taxes and Follow the Law
What makes a good citizen? Voting, paying taxes, following the law top listBY JOHN GRAMLICH
10. 5 Ways to Remain Undefeated In Life and Cherish Each Moment Successfully
Life is an amalgamation of existence and survival. It often replicates Pandora's box. When we talk about existence, it relates to one's identity. When we talk about survival, stories of struggles, success, victories, and defeats come into the panorama. Survival defines the continuation of existence.
The concept of existence makes us curious about, "who am I"? Whereas, instincts of survival raise queries about "how to know who I am"? This journey from Who to How comprises several halts and platforms to make life interesting and beautiful.
Let's Have a Look at the Surroundings
Have you ever seen a bird building its nest? It appears beautiful yet simple, right? Stop and think about the efforts they have put behind its construction. They collect sticks, twigs, yarn, grass, leaves, mud, and many other things. They prove to be skilled architects of nature. This is one of their necessities to survive.
When the eggs hatched, the baby birds come into existence and struggle to survive in the external environment. They adapt and try to fly. They fall and get scared but never give up because they know this is vital for their survival. Then a day comes when they fly higher and soar in the sky.
Why doesn't their survival seem complicated to us? Why don't they have any emotional and mental breakdowns? Human beings have evolved and are privileged to experience emotions.
What Makes Life Interesting and Brings Meaning to Your Existence?
There are 3 things that brings mean to your existence: Desire, Determination and Struggle.
Desire
Human beings have desire to achieve things. Sometimes desires become the cause of one's misery, but desires can also be the driving force which let you manifest your highest potential. Having desires is important. It motivates us to forge ahead towards victory. It gives us a reason to work and strive for more.
But desire should not dominate you, and you should not depend on it to be happy. Your willpower and attitude determine your approach towards its fulfilment.Many times we don't get the desired results. Sometimes it is better than what we thought, and sometimes it's the opposite. A wise person neither gets swayed away with the victory nor disheartened with failure.
Determination
If the desire is the force, then determination is the velocity. Their product gives us the power to become courageous and fight like an invincible spirit. The determination provides a direction and illuminates your way to success. Hence, determined, every time you get a setback in life. When life throws curve balls, apply the technique of self-motivation and wisdom.
Struggle
When we do not achieve a set goal, we consider ourselves failures. When life doesn't seem easy, when things turn out to be contrary or opposite of our expectations, we define the situation as tough and full of struggles.
The real struggle in life is not with the situation but with ourselves. If you succeed to win over the lowest state of your mind, your weaknesses, you win half of the battle. We win the other half with courage, hope, and a never give up attitude.
Winning is important, but to never get defeated is something even more important. If you remain undefeated no matter what, that's a success.
Here are 5 Ways to Remain Undefeated:
1. Build a Habit of Reading and Self-Motivation
In the moment of delusion and doubt, books prove to be a guiding force and a loyal companion, capable of empowering and motivating you. When we are stuck in a situation and not able to figure anything out, reading an article, blog, book or magazine has been proven to be a saviour.
A habit of reading helps you to learn and grow. It's like self-help pills. You keep yourself motivated. Whenever doubt comes, you seek the writings of ancient wisdom, derive its meaning according to you and keep yourself in a high life state.
2. Thinking and Introspection
Thinking is an art, and introspection is the tool to perform this art. When we spend time with the inner self, we contemplate many things. When we dwell in the dialogue with ourself, we find answers to many questions, and our vision becomes more explicit.
We know ourselves. We don't get affected by people's criticism or applause. We consistently focus on our thoughts and keep moving forward along the chosen path, and that is the key to achieve your goal.
3. Seek Inspiration from a Mentor
A mentor is someone who guides you throughout and enables you to achieve success in your life. A mentor is a source of inspiration. A mentor can be anyone; a teacher, a friend, your parents, grandparents, or even some celebrity. When you get down and gloomy, look at your mentor and many deadlocks of your life open automatically.
4. Connect Yourself to Spirituality
Spirituality is the way of living one's life unaffected by worldly affairs. When we open the gate to eternity, we leave behind our footprints. It will not only guide others but also paves their way to a peaceful life.
Practicing Yoga brings you closer to spirituality and meditation and helps with mental health. Hence, Yoga and meditation have the quality of a lotus flower. No matter what condition you are going through, you will bloom.
It calms your mind, relaxes your body, and improves your concentration. Your stress levels reduce and you achieve the hormonal balance your body and mind is looking for. This balance boosts your confidence and your belief system.It is a capsule for the overall development of your personality and inculcating this habit in our daily routine takes us to a higher level of success.
5. Be Courageous and Never Get Defeated
Courage is a virtue which enables us to make our dreams come true. To keep fighting the battle of life, you must have courage. It helps you to overcome your fear. When you win over your phobias, you increase your potential. You never get defeated, and that is an epic victory one can report.
In the weakest of your moments, when life seems unfair and ruthless, calm down, take a deep breath, close your eyes, and talk to yourself. Pay gratitude for whatever you have. You will find the meaning of your existence and that ethos to survive will never let you get defeated. You will triumph.
Disclaimer
Lansing Street Advisors is a registered investment adviser with the State of Pennsylvania..
To the extent that content includes references to securities, those references do not constitute an offer or solicitation to buy, sell or hold such security as information is provided for educational purposes only. Articles should not be considered investment advice and the information contain within should not be relied upon in assessing whether or not to invest in any securities or asset classes mentioned. Articles have been prepared without regard to the individual financial circumstances and objectives of persons who receive it. Securities discussed may not be suitable for all investors. Please keep in mind that a company's past financial performance, including the performance of its share price, does not guarantee future results.
Material compiled by Lansing Street Advisors is based on publically available data at the time of compilation. Lansing Street Advisors makes no warranties or representation of any kind relating to the accuracy, completeness or timeliness of the data and shall not have liability for any damages of any kind relating to the use such data.
Material for market review represents an assessment of the market environment at a specific point in time and is not intended to be a forecast of future events, or a guarantee of future results.
Indices that may be included herein are unmanaged indices and one cannot directly invest in an index. Index returns do not reflect the impact of any management fees, transaction costs or expenses. The index information included herein is for illustrative purposes only.