1. For the First Time in 11 Year Bull Run….S&P Gets Above the Range
S&P Above 1 Std. Deviation Expensive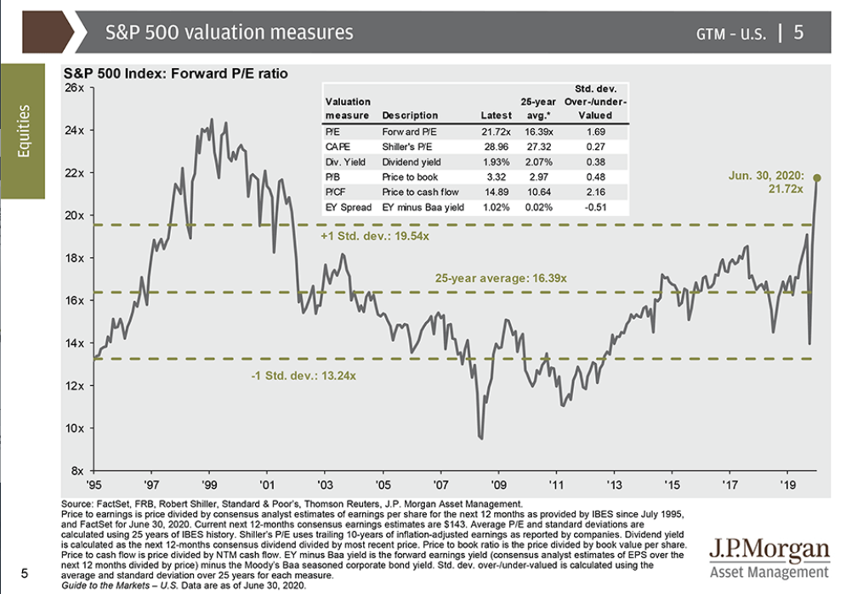 https://am.jpmorgan.com/us/en/asset-management/gim/adv/insights/guide-to-the-markets/viewer
2-3. Visual Capitalist–How Big Tech Makes Their Billions
How Big Tech Makes Their Billions The world's largest companies are all in technology, and four out of five of those "Big Tech" companies have grown to trillion-dollar market capitalizations.

Despite their similarities, each of the five technology companies (Amazon, Apple, Facebook, Microsoft, and Alphabet) have very different cashflow breakdowns and growth trajectories. Some have a diversified mix of applications and cloud services, products, and data accumulation, while others have a more singular focus.

But through growth in almost all segments, Big Tech has eclipsed Big Oil and other major industry groups to comprise the most valuable publicly-traded companies in the world. By continuing to grow, these companies have strengthened the financial position of their billionaire founders and led the tech-heavy NASDAQ to new record highs.

Unfortunately, with growth comes difficulty. Data-use, diversity, and treatment of workers have all become hot-button issues on a global scale, putting Big Tech on the defensive with advertisers and governments alike.

Still, even this hasn't stopped the tech giants from (almost) all posting massive revenue growth. Revenues for Big Tech Keep Increasing Across the board, greater technological adoption is the biggest driver of increased revenues.

Amazon earned the most in total revenue compared with last year's figures, with leaps in almost all of the company's operations. Revenue from online sales and third-party seller services increased by almost $30 billion, while Amazon Web Services and Amazon Prime saw increased revenues of $15 billion combined.

The only chunk of the Amazon pie that didn't increase were physical store sales, which have stagnated after previously being the fastest growing segment.

Big Tech Revenues (2019 vs. 2018)


Services and ads drove increased revenues for the rest of Big Tech as well. Alphabet's ad revenue from Google properties and networks increased by $20 billion. Meanwhile, Google Cloud has seen continued adoption and grown into its own $8.9 billion segment.

For Microsoft, growth in cloud computing and services led to stronger revenue in almost all segments. Most interestingly, growth for Azure services outpaced that of Office and Windows to become the company's largest share of revenue.

And greater adoption of services and ad integration were a big boost for ad-driven Facebook. Largely due to continued increases in average revenue per user, Facebook generated an additional $20 billion in revenue. Comparing the Tech Giants The one company that didn't post massive revenue increases was Apple, though it did see gains in some revenue segments.

iPhone revenue, still the cornerstone of the business, dropped by almost $25 billion. That offset an almost $10 billion increase in revenue from services and about $3 billion from iPad sales.

However, with net income of $55.2 billion, Apple leads Big Tech in both net income and market capitalization.

Big Tech: The Full Picture
Bigger Than Countries They might have different revenue streams and margins, but together the tech giants have grown from Silicon Valley upstarts to global forces.

The tech giants combined for almost $900 billion in revenues in 2019, greater than the GDP of four of the G20 nations. By comparison, Big Tech's earnings would make it the #18 largest country by GDP, ahead of Saudi Arabia and just behind the Netherlands.

Big Tech earns billions by capitalizing on their platforms and growing user databases. Through increased growth and adoption of software, cloud computing, and ad proliferation, those billions should continue to increase.

As technology use has increased in 2020, and is only forecast to continue growing, how much more will Big Tech be able to earn in the future?

https://www.visualcapitalist.com/how-big-tech-makes-their-billions-2020/
4. S&P Hits High Valuation Mark with Dow Transports Still 1000 Points + Below Highs
Transports Still 1000 Points Below Highs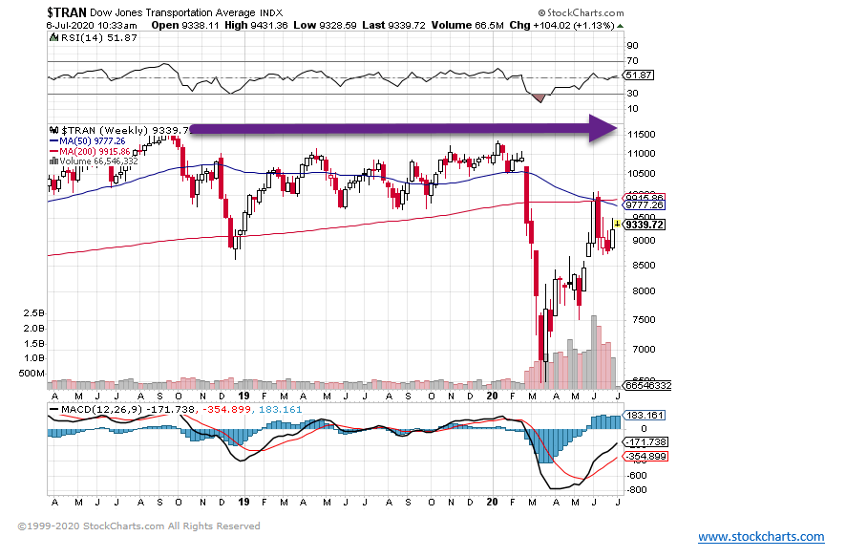 5. China Goes On 5 Day Rip Vs. S&P
FXI (china) +13% vs. SPY +4% 5 Days
www.yahoo.com/finance
6. Personal financial wealth has soared over the past two decades
—nearly tripling on a global basis from $80.5 trillion at the end of 1999 to $226.4 trillion at the end of 2019.1 (See Exhibit 1.) That trajectory is even more impressive in light of the many economic disruptions that have occurred during this period.
https://image-src.bcg.com/Images/BCG-Global-Wealth-2020-Jun-2020_tcm30-251066.pdf
7. The Global Bond Market is About to Meet Japan at Bottom
The World is Getting Closer to the Original QE/ZIRP country Japan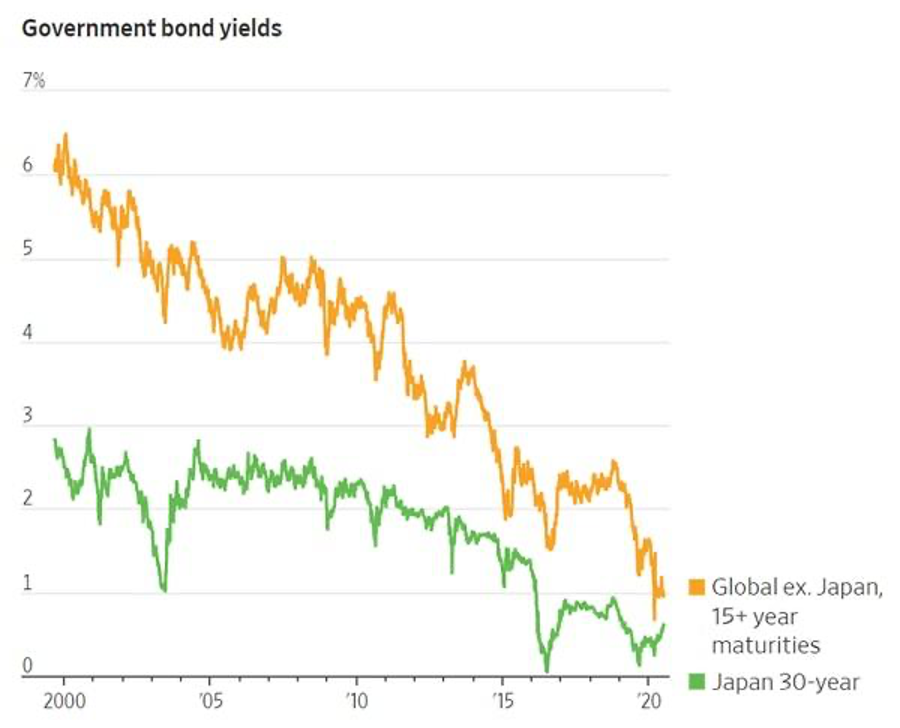 The Global Bond Market Is Turning Japanese, As All Long-Term Rates Plunge Towards Zero
by Tyler Durdenhttps://www.zerohedge.com/markets/global-bond-market-turning-japanese-all-long-term-rates-plunge-towards-zero
8. Student Loan Holders Are Older Than You Think
James Walsh, JDBroadridge Financial Solutions, Inc.
www.broadridgeadvisor.com
9. Corona Virus Riskiest Activity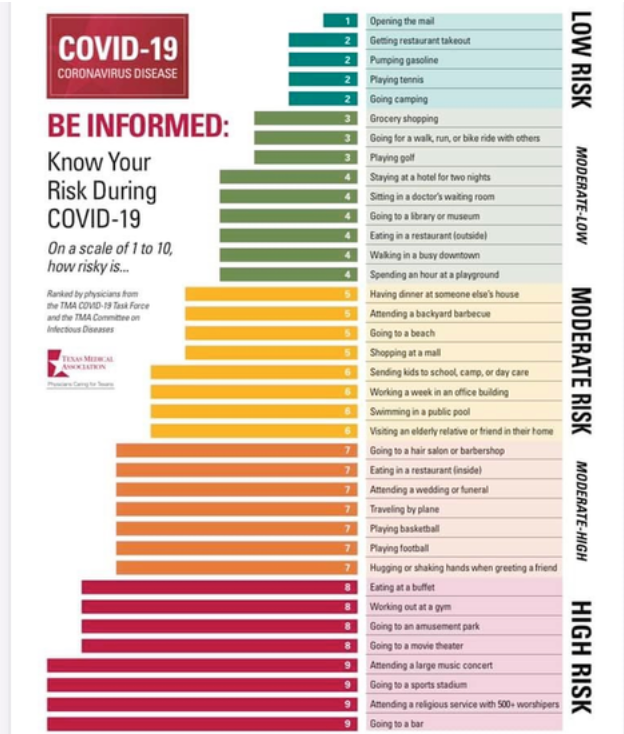 https://www.wfaa.com/article/news/health/coronavirus/riskiest-activities-for-contracting-coronavirus/287-5edff2ab-4e58-4bdd-98fe-4a98520f5ecd
10. $10M a Year Soccer Star Gives Good Answer On Cracked Phone
"Why would I want ten Ferraris, 20 diamond watches, or two planes? What will these objects do for me and for the world? I was hungry, and I had to work in the field; I survived hard times, played football barefooted, I did not have an education and many other things, but today with what I earn thanks to football, I can help my people. I built schools, a stadium, we provide clothes, shoes, food for people who are in extreme poverty. In addition, I give 70 euros per month to all people in a very poor region of Senegal which contributes to their family economy. I do not need to display luxury cars, luxury homes, trips and even planes. I prefer that my people receive a little of what life has given me"
https://english.newsnationtv.com/sports/football/sadio-mane-cracked-iphone-liverpool-premier-league-250281.html#:~:text=Sadio%20Mane%2C%20The%20Liverpool%20Star,Game%20In%20The%20Premier%20League&text=New%20Delhi%3A,superstars%20in%20the%20Liverpool%20team.
Disclaimer

Lansing Street Advisors is a registered investment adviser with the State of Pennsylvania..
To the extent that content includes references to securities, those references do not constitute an offer or solicitation to buy, sell or hold such security as information is provided for educational purposes only. Articles should not be considered investment advice and the information contain within should not be relied upon in assessing whether or not to invest in any securities or asset classes mentioned. Articles have been prepared without regard to the individual financial circumstances and objectives of persons who receive it. Securities discussed may not be suitable for all investors. Please keep in mind that a company's past financial performance, including the performance of its share price, does not guarantee future results.
Material compiled by Lansing Street Advisors is based on publically available data at the time of compilation. Lansing Street Advisors makes no warranties or representation of any kind relating to the accuracy, completeness or timeliness of the data and shall not have liability for any damages of any kind relating to the use such data.
Material for market review represents an assessment of the market environment at a specific point in time and is not intended to be a forecast of future events, or a guarantee of future results.
Indices that may be included herein are unmanaged indices and one cannot directly invest in an index. Index returns do not reflect the impact of any management fees, transaction costs or expenses. The index information included herein is for illustrative purposes only