1. Buybacks Coming Back Next Week…Blackout Period Clears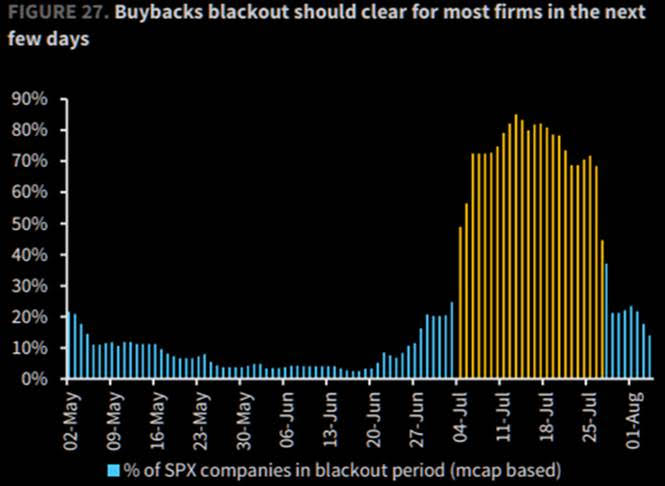 2. Another Bull Market Stock Softbank Holding 200 Week Moving Average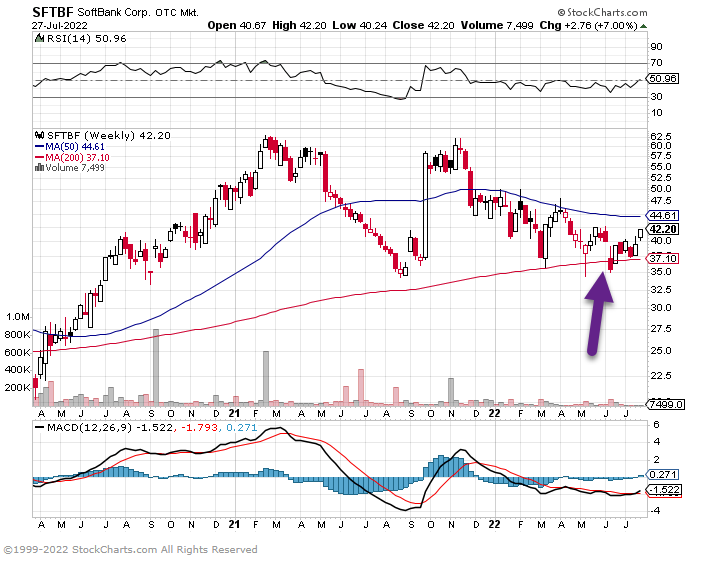 3. Emerging Market Small Cap Holding 200 Week Moving Average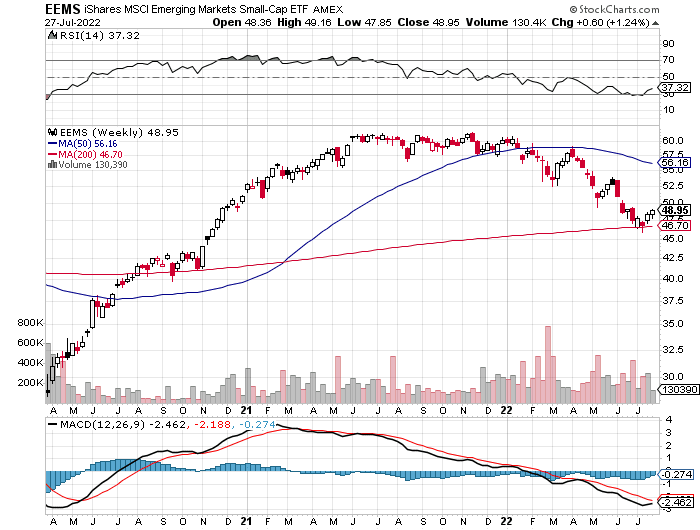 4. One-Year Inflation Break Even 2.9%
Marketwatch-Using CPI inflation swaps, I calculated the one-year forward, one-year inflation break-evens — basically, the expected inflation between July 2023 and July 2024, which is represented in the chart above and sits at 2.9%. By Alfonso Peccatiello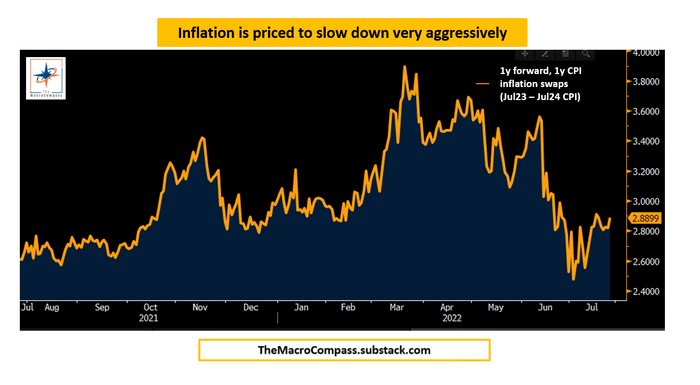 https://www.marketwatch.com/story/the-fed-vowed-to-crush-inflation-with-higher-rates-then-the-stock-market-rallied-heres-why-its-not-good-news-11659037159?mod=home-page
5. Big Options Bets on Volatility Disappear
Options on VIX have been getting cheaper as investors give up bets on big shifts in volatility.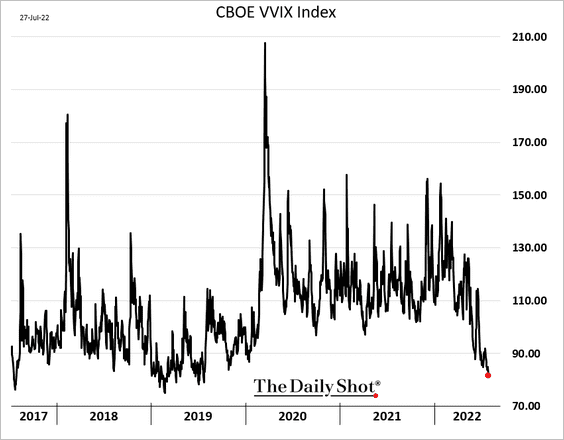 https://dailyshotbrief.com/the-daily-shot-brief-july-28th-2022/
6. Hong Kong Stocks -10% in July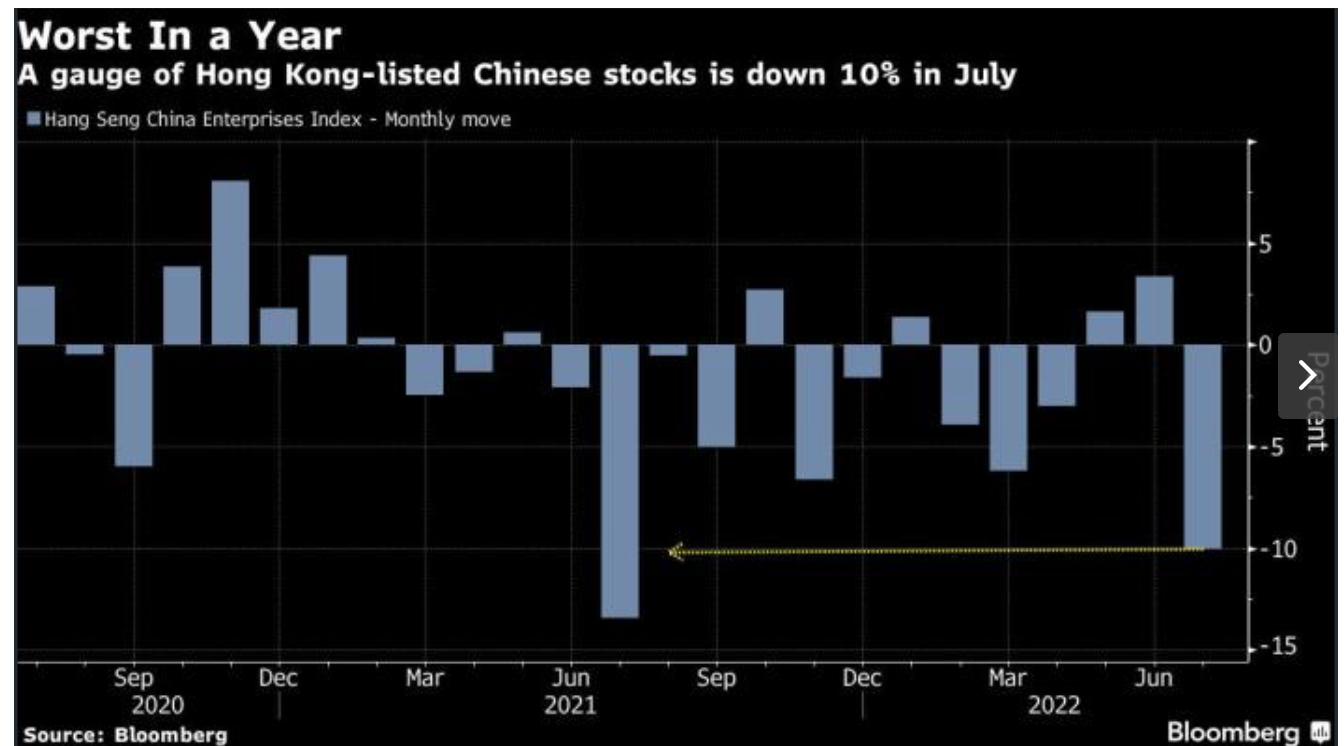 https://finance.yahoo.com/news/gloom-returns-china-stocks-worst-093652919.html
7. Alphabet Revenue Breakdown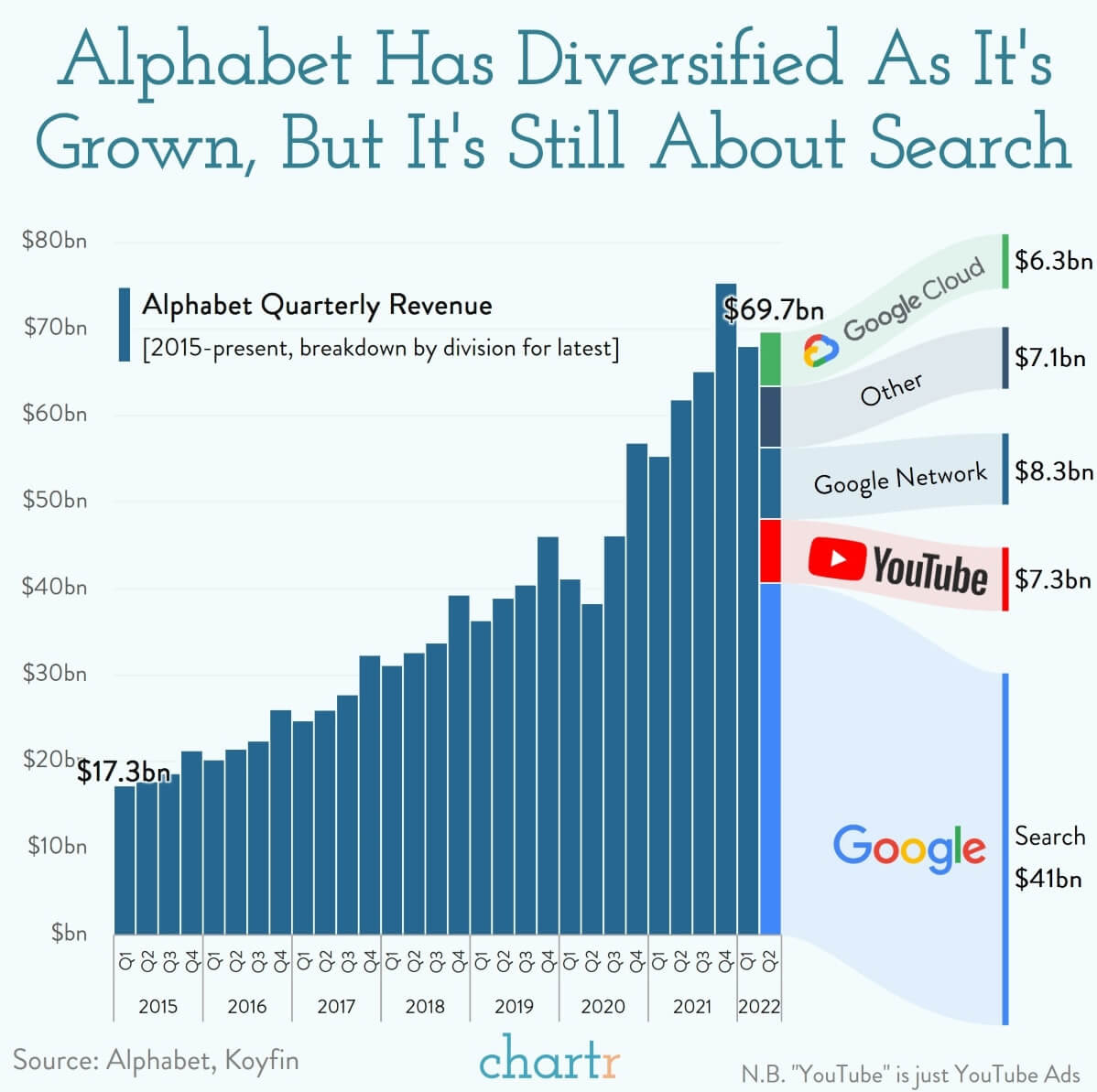 Alphabet is A-OK
It's still all about Search. That was the five-word soundbite that you might have come away with had you combed through Alphabet's latest quarterly update yesterday.
Although the company reported a slowdown, Alphabet still managed to grow its second quarter revenue some 13% in the last year. Whilst not a home-run performance, it was something of a relief following the recent reports of digital ad rivals Snapchat and Twitter, both of which disappointed investors. At the time of writing it's been good enough for Alphabet shares to climb 4% this morning.
Still searching
Google Search, which still represents more than half of Alphabet's total business, saw ad sales grow 14% in the most recent quarter — significantly outperforming YouTube which only grew 5%. That confirms a long-held theory that the search ad market might be less fickle than the social media ad market.
In a recession people might not click that flashy e-commerce ad on Instagram or Snapchat quite as much as they used to, but they seem to still be searching Google for "cheapest car insurance", "restaurants near me" or "best value vacations" — all of which Google can monetize.
8. Until Now Mortgage Rates Have Always Been Higher Than Inflation
John Burns Real Estate This is clearly a "never before" moment in time.
Mortgage rates have always been higher than inflation.
Also, not how tight the spread has been since the Fed started buying mortgage-backed securities in 2009.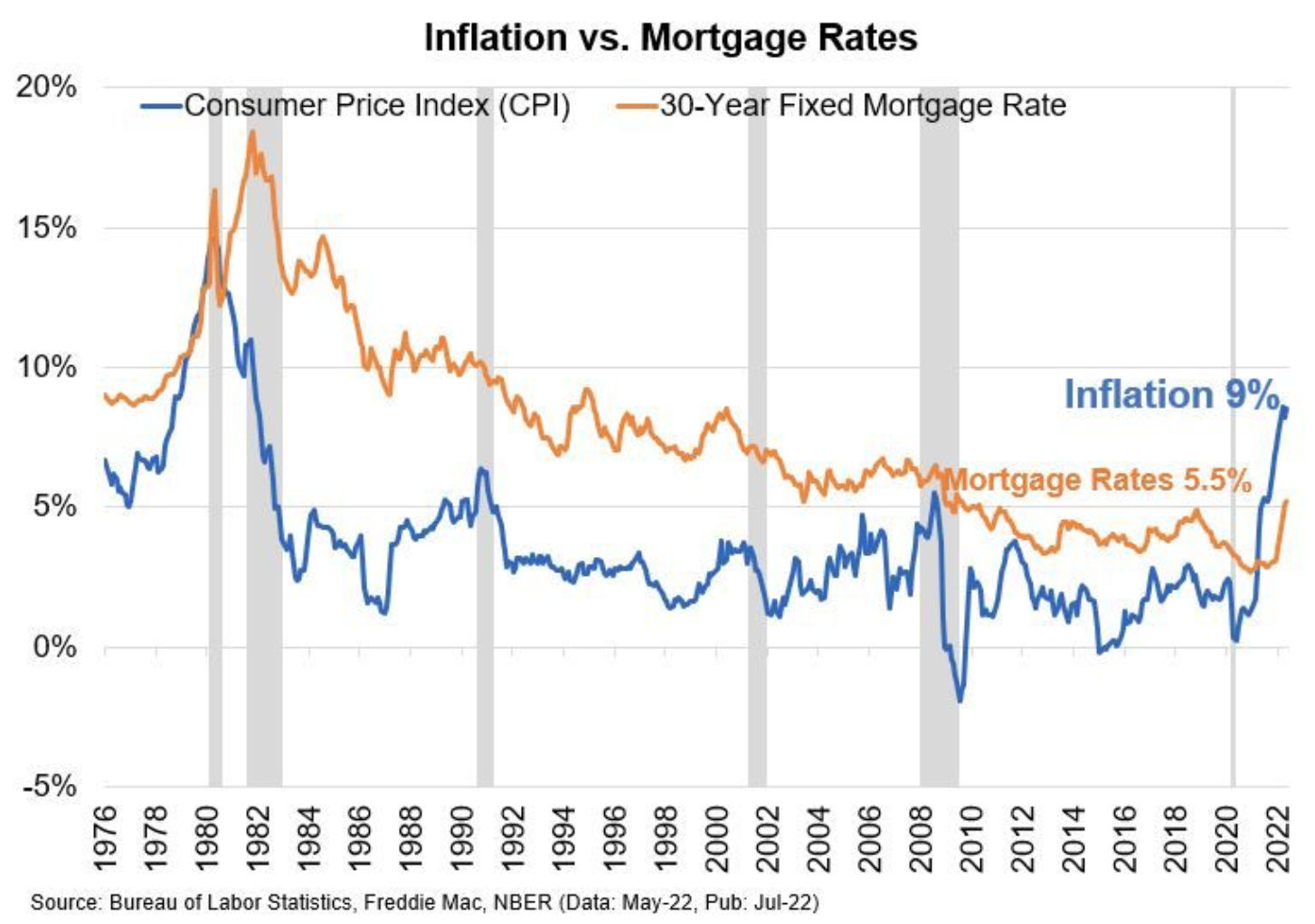 https://www.linkedin.com/in/johnburns7/
9. Coal Consumption Will Set a Record in 2023
Bloomberg Today's Take: Coal is still king
This Sunday marks the 110th anniversary of the beginning of one of the most important energy transitions. On July 31, 1912, Winston Churchill, then Britain's First Lord of the Admiralty, established a Royal Commission on Fuels and Engines to explore shifting the Royal Navy from coal to fuel oil.
Churchill convinced the navy to abandon coal-fired steam boilers. And over the next century, the world energy map transformed itself, first through the rise of oil and later to solar and wind power. The ecological movement became a major political force, pushing the fight against climate change.
And coal? It's still there, king as always.
The International Energy Agency this week said global coal demand in 2022 will match the all-time high set in 2013 of about 8 billion metric tons. And next year, coal consumption will set a fresh record high.
It bears repeating: global demand for coal, the most-polluting fossil fuel, is still rising. The gap between the reality of the coal market and the well-intentioned words uttered at climate conferences has never been wider.
And it isn't just absolute demand. Even as a share of the world's primary energy, coal consumption remains robust. Last year, coal accounted for 27% of the world's primary energy, a couple of percentage points higher than two decades ago, and about the same level as 50 years ago.
With demand rising – in part due to Russia's invasion of Ukraine – and supply stagnant, the world is paying a steep financial cost for coal alongside the environmental toll. In Europe, coal prices this week surged to a record above $400 per ton.
As important as the surge in spot prices is the fact that the whole forward curve has moved much higher in recent weeks. If in March, just after Russia's attack, the market saw a short-term rally, now it's betting on sustained high prices through the rest of 2022, into 2023 and even 2024.
It's an increasingly expensive addiction the world just can't seem to kick.
–Javier Blas, Bloomberg Opinion. https://www.bloomberg.com/opinion/articles/2022-07-29/coal-is-still-king-of-the-energy-system-elements-by-javier-blas?srnd=premium&sref=GGda9y2L
10. Farnam Street Blog …READING TIPS-Taking Notes
The Blank Sheet
The single biggest change you can make to getting more out of the books you read is using the blank sheet method.
Over the years I've tested multiple approaches and this one works best for simplicity and effectiveness — it will 10x your comprehension overnight.
The blank sheet primes your brain for what you're about to read and shows you what you're learning.
Here's how it works:
Before you start reading a new book, take out a blank sheet of paper. Write down what you know about the book / subject you're about to read — a mind map if you will.
After you finish a reading session, spend a few minutes adding to the map with a different color.
Before you start your next reading session, review the page.
When you're done reading, put these 'blank sheets' into a binder that you periodically review.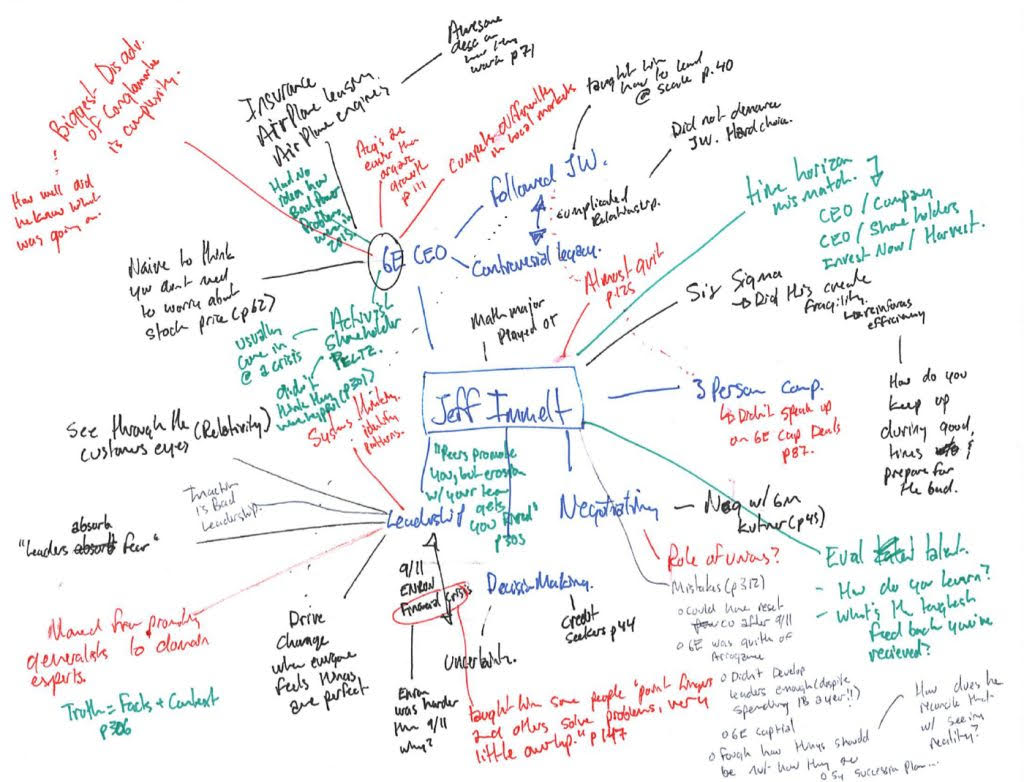 An example I made when I was reading a new book by Jeff Immelt—someone whom I was preparing to interview for The Knowledge Project.
Why does this work so well?
The blank sheet primes your brain for what you're about to read and shows you what you're learning.
When you first start with a blank sheet, you're forced to search your memory and put on paper what you know (or what you think you know) about a subject.
As you read, you literally see that knowledge grow as you add new knowledge to the foundation. Often, you'll even remove things you thought you knew.
Reviewing what you knew about a subject, as well as what you learned before a reading session not only improves memory and recall but helps connects ideas. Most of the early connections come from putting the authors' raw material onto your foundation.
If you don't know anything about the subject before you start, don't worry. You'll be able to borrow the scaffolding in the book to get you started.
As your cognitive fluency in a subject grows, you'll start connecting ideas across disciplines, disagreeing with authors about specific points, and even developing your own ideas.
When you're done with the book put the page into a binder. Review the binder every few months. This last step is essential for establishing deep fluency and connecting ideas across disciplines.
Conventional Notes
Forget the teacher that yelled at you for writing in your book when you were a kid. You bought this thing. It's your property. You need to write in the margins.
Here is a very simple process to take notes while reading:
At the end of each chapter write a few bullet points that summarize the main idea or specific points. Use your own words and not the authors. Try and connect it to something in your life — a memory or another idea. Also, make note any unanswered questions you had while reading.
When you're done the book, put it down for a week.
Pick up the book again and go through all your notes. In a lot of cases, reading your notes will be as good as reading the book again.
On the inside cover write out the main idea of the book using your own words. If you find yourself stuck, review your notes. (This is called the Feynman Technique). Writing is the process by which we often discover we don't know what we are talking about.
You can even make a custom index on the back cover with themes or topics.
(Optional) Copy out the excerpts by hand and put them on the back of your blank sheet from above or type them out and put them into Evernote. Tag accordingly.
The point of both conventional notes and the blank sheet is to connect new knowledge to old knowledge and point out gaps in your understanding. Writing about what you read is a great way to see what you've learned.