1. S&P Agriculture Index -40% Correction…Gave up all of 2022 Gains
50 day approaching 200 day to downside on chart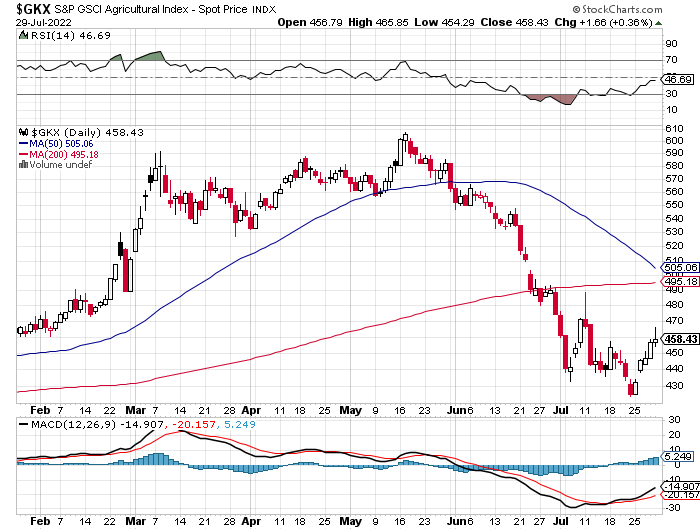 ---
2. Natural Gas Bottomed Below $2 in 2020
Trading Economics Blog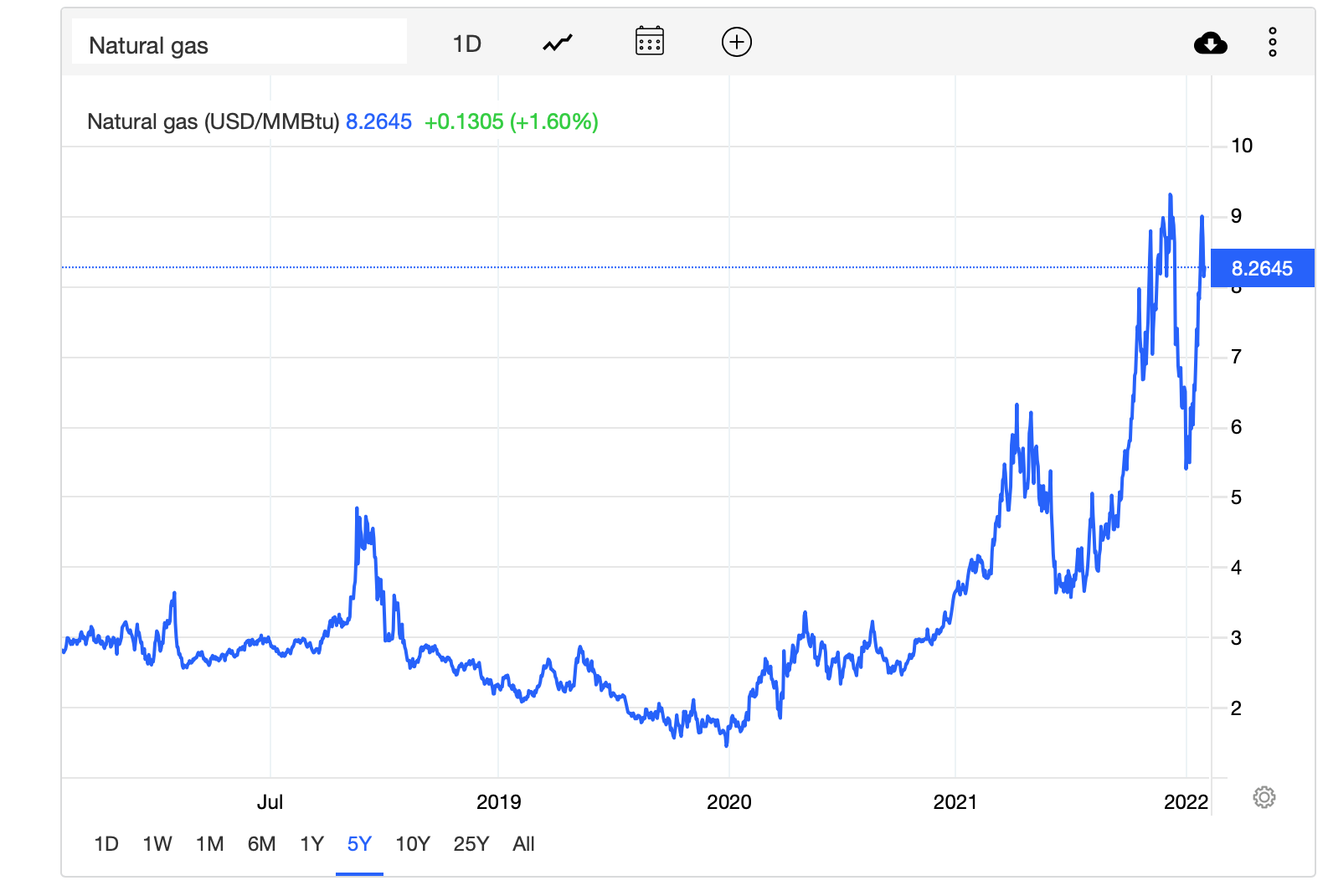 https://tradingeconomics.com/commodity/natural-gas
---
3. Banks Traded Down to 1-1.25x Book Value in 2022 Sell-Off….Some Earnings Misses were Priced In.
@Charlie BilelloRallying on Bad Earnings
The big banks all reported a sharp downturn in net income during the second quarter, but expectations were low enough where the stocks have all moved higher since.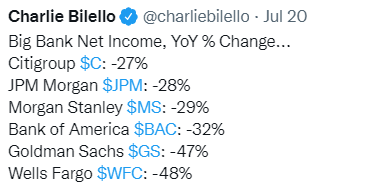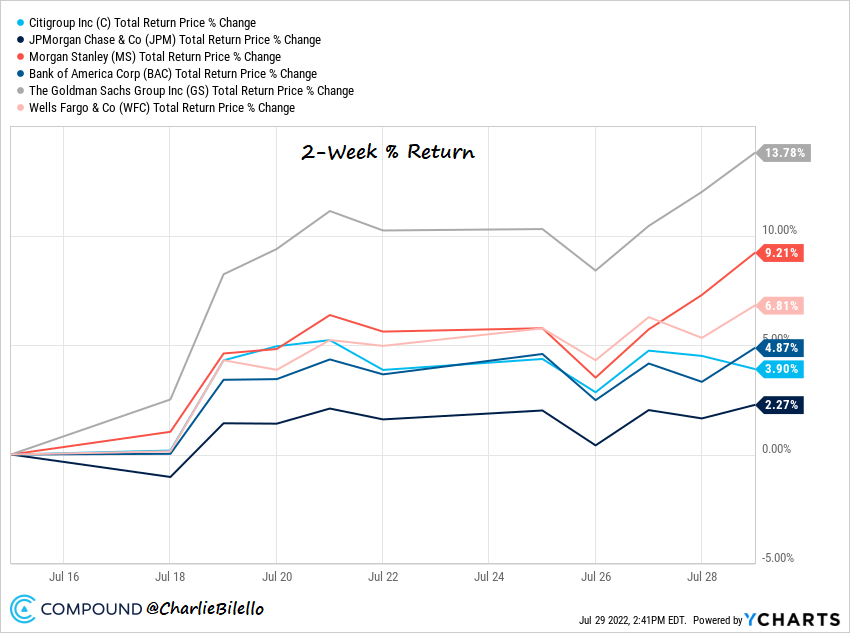 ---
4. U.S. Shale Producers Erasing a Decade of Losses
Bloomberg Kevin Crowley and David Wethe
US shale drillers are expected to post record second-quarter profits in coming days, reversing nearly a decade of debt-fueled losses. 
The top 28 publicly traded US independent oil producers generated $25.5 billion in free cash flow in the three months to June 30, according to estimates compiled by Bloomberg. In that space of time they'll have made enough cash to erase one-fourth of what they lost over the previous decade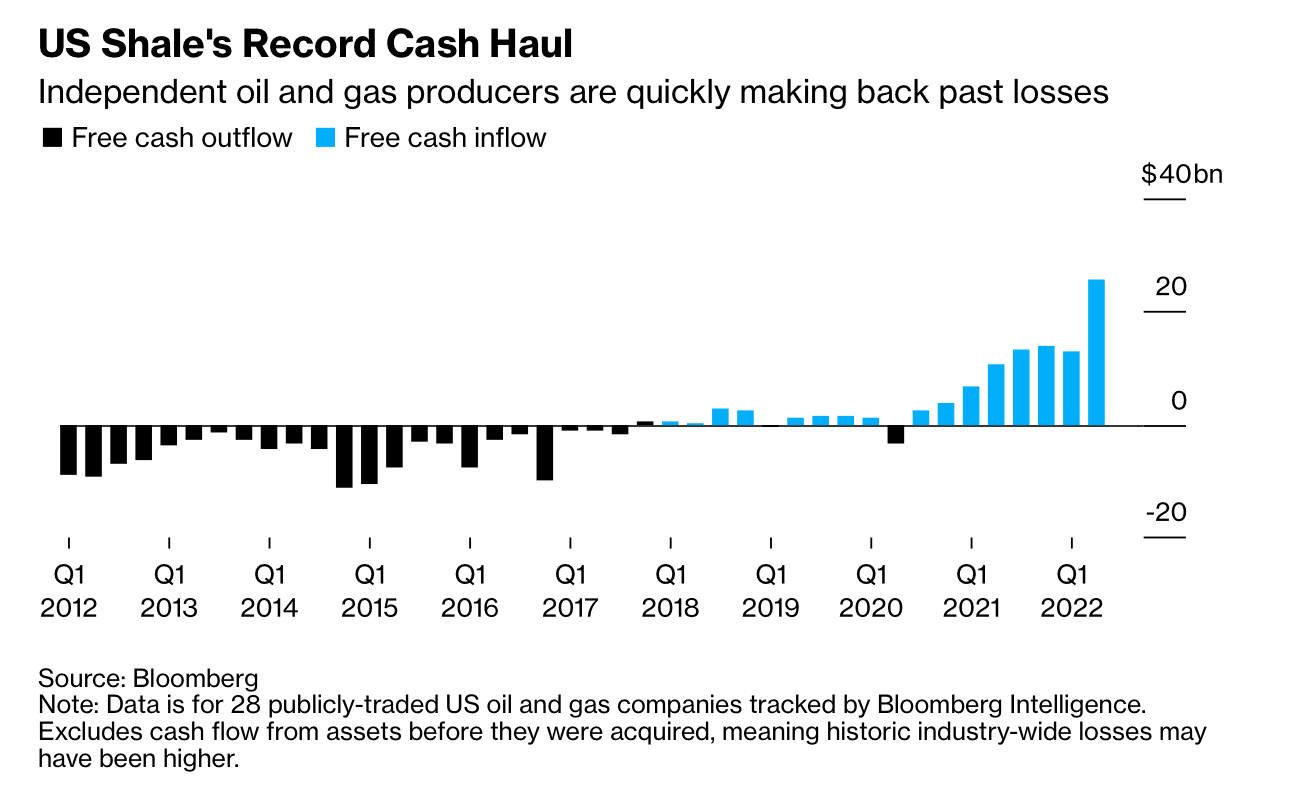 https://www.bloomberg.com/news/articles/2022-07-31/shale-profits-finally-blossoming-after-decade-of-steep-losses?srnd=premium&sref=GGda9y2L
---
5. Huge U.S. Dollar Moves vs. Euro and Yen Pullback this Week
U.S. Dollar to Euro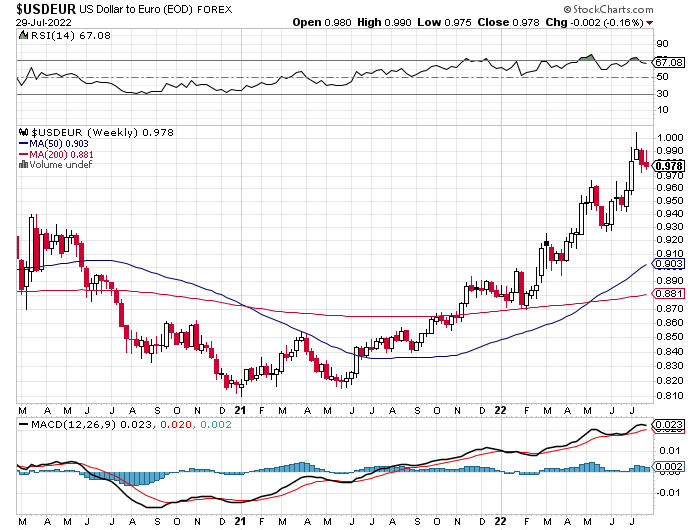 U.S. Dollar to Yen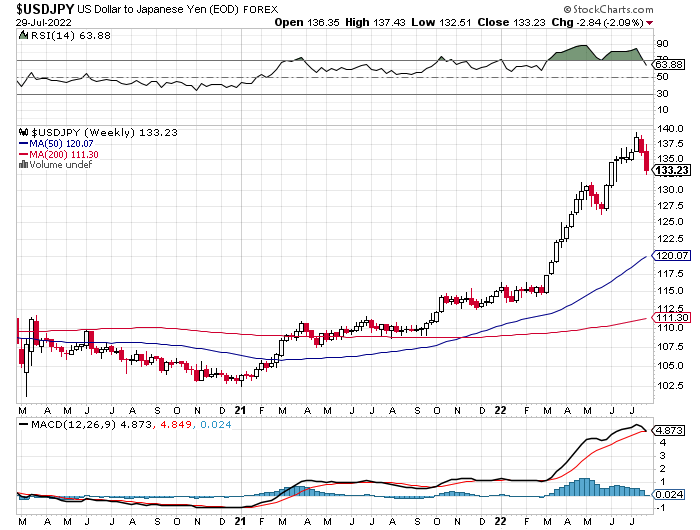 ---
6. Bitcoin Correlation to S&P Rolls Over Since May Highs.
Dan Morehead Pantera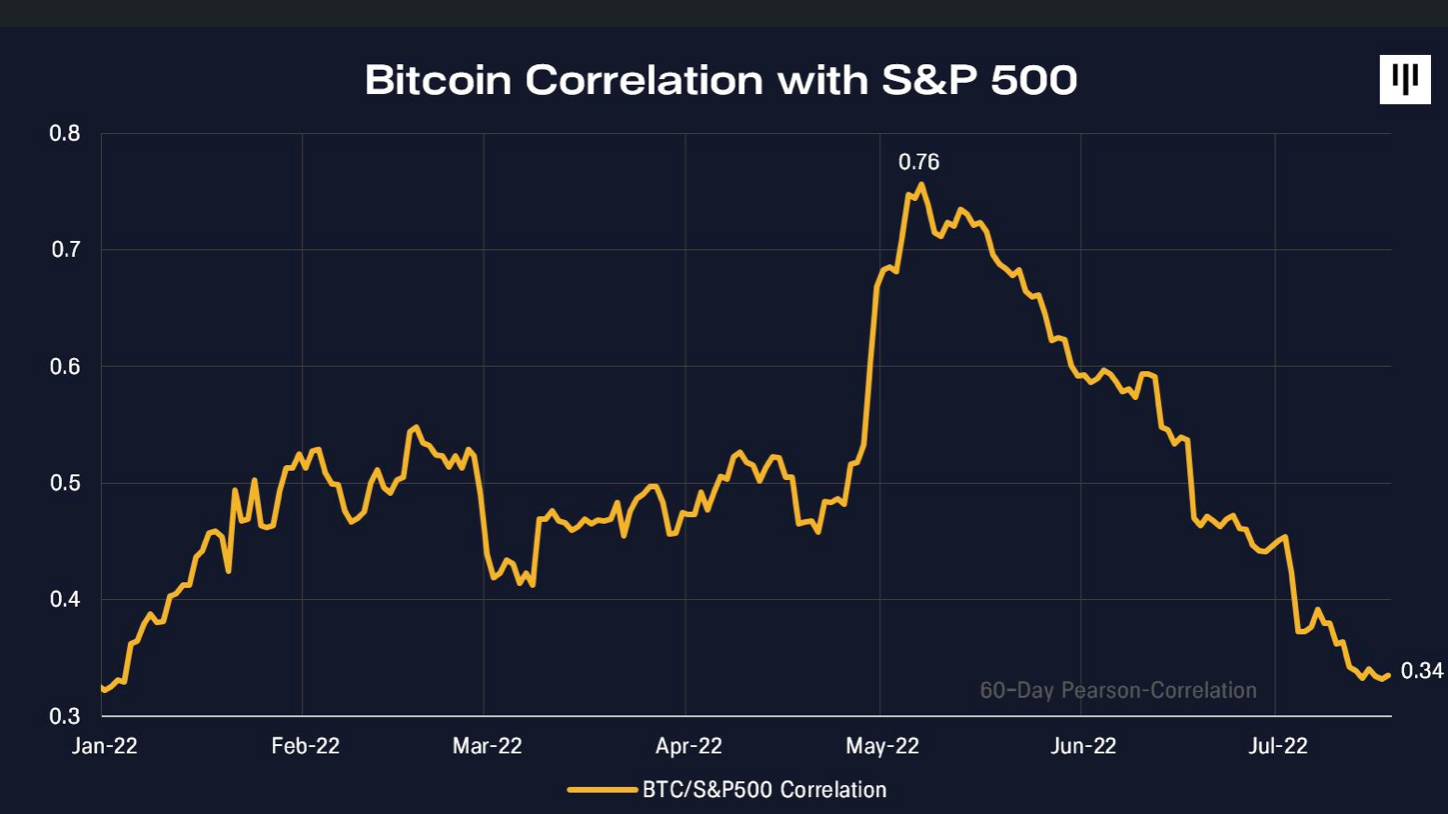 https://www.linkedin.com/in/dmorehead/
---
7. Post WWII Productivity Revolution Led by U.S.
Scott Galloway–The World We Made
The ascent of the American economy after World War II, coupled with the advances of technology, brought unprecedented prosperity not just to the U.S., but to the human race. It's tempting to let the costs of that prosperity obscure it, but a sober accounting of America and the world today would be incomplete without recognizing our enormous gains.
The world is significantly wealthier, freer, healthier, and better educated than it was forty years ago. In 1980, over 40% of humanity lived in extreme poverty. Today, less than 10% does. In 1980, 44% of humanity had no democratic rights. Today, it is less than 25%. A child born in 1980 had a life expectancy of 63 years. A child born today should live a decade longer. In 1980, 30% of people fifteen years and older had no formal education. By 2015, that share had been cut in half.
These were global gains, but America lay at the heart of them. U.S. innovation in everything from transport to advertising supercharged the consumer culture of the postwar era into an upward dance between demand and manufacturing agility.
The billions lifted from poverty since 1980 were largely in Asia, and their means of ascent was making consumer goods for U.S. and European markets. Those same economies are today converting to knowledge work and middle-class lifestyles, in substantial part on the foundation of digital technologies developed in the former orange groves of the Bay Area.
We tend to focus on things that did occur, but we shouldn't overlook crises that were averted. The demise of the Soviet Union posed an apocalyptic risk. By 1989, the Soviets commanded 39,000 nuclear warheads and the world's largest standing army. Managing the sudden collapse of one of history's largest empires could have gone very, very badly. At one point, the Soviet government sold twenty naval combat ships for cases of Pepsi. But postwar institutions crafted and nurtured by the Western nations held firm.
For better or worse (it's both), the headline change is increased global connectivity. The term "globalization" has been loaded up with the anxieties of our era, but it represents a profound change in the human condition beyond the concerns of the moment. Never before has human knowledge been so widespread, nor have creators, from artists to manufacturers, had access to such a breadth of markets—and competitors.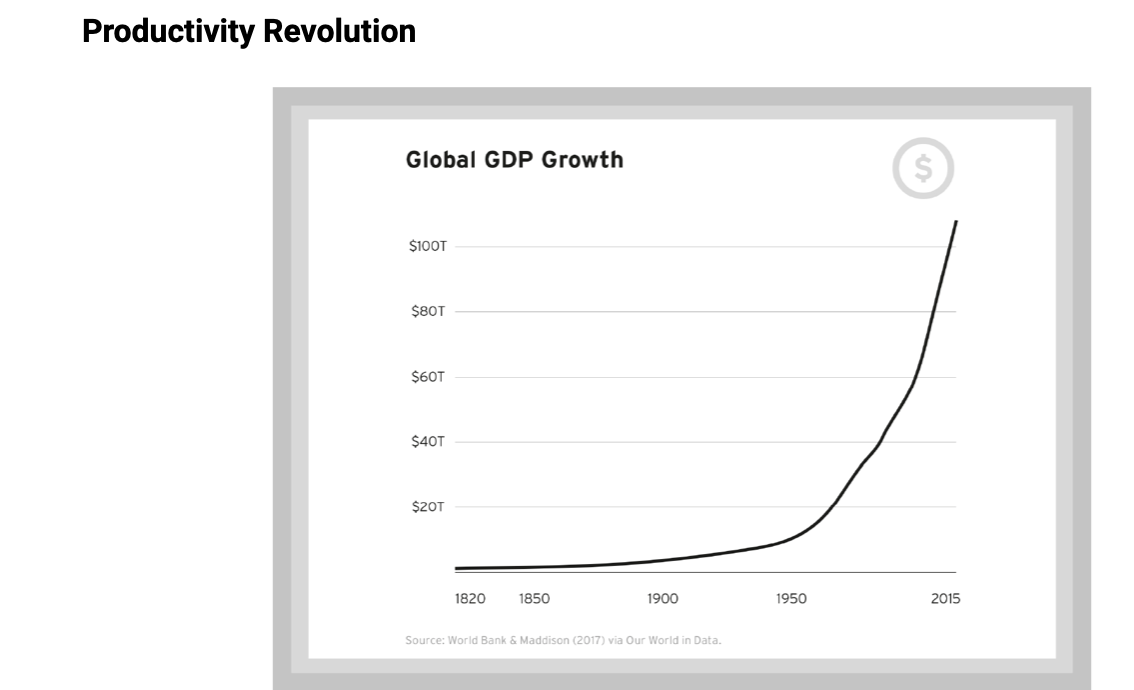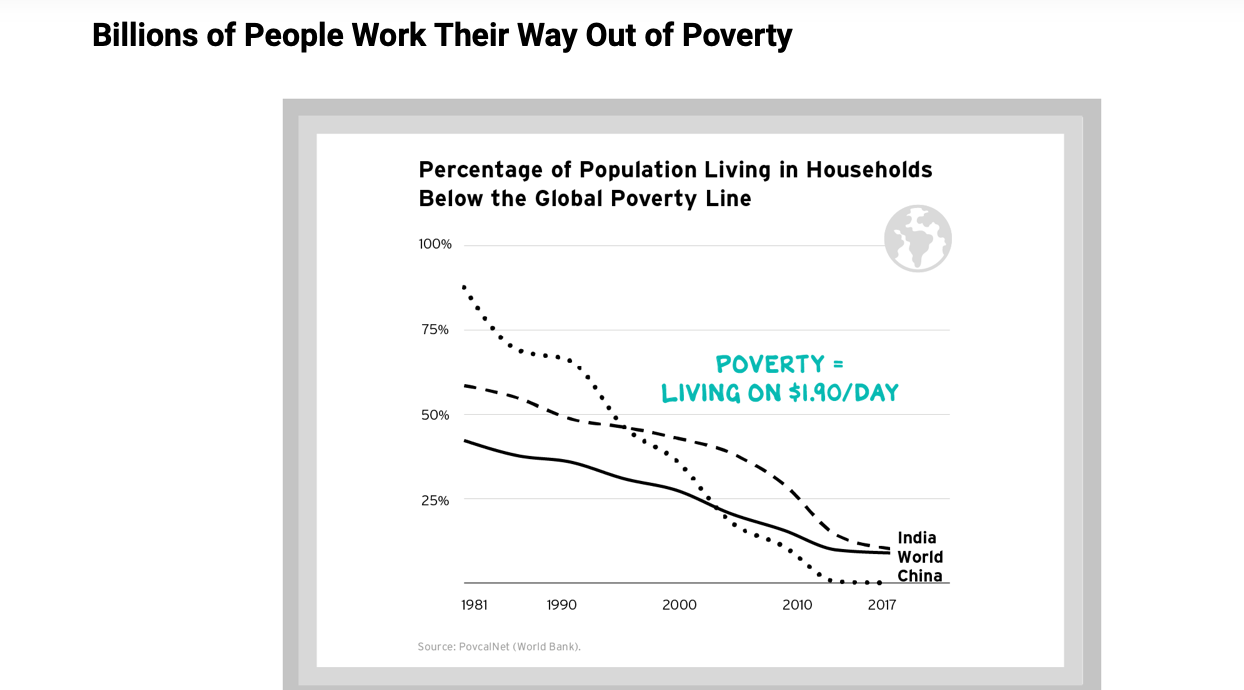 https://www.profgalloway.com/a-touch-better/
---
8. Pelaton Market Cap $50B to $3B
Dated chart but now $3B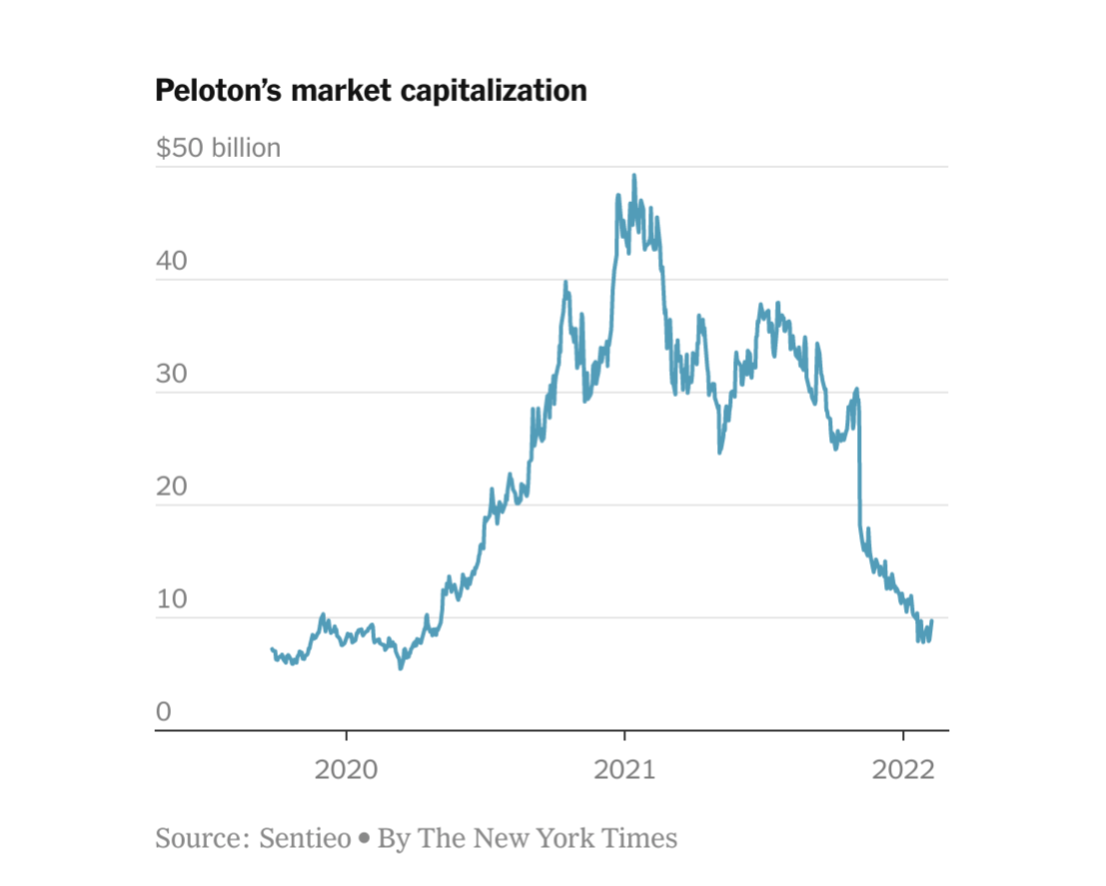 https://www.nytimes.com/2022/02/08/business/dealbook/peloton-ceo-sale.html
---
9. Housing—Bidding War Rate Drops Below 50%
Redfin-The bidding-war rate dipped below 50% for the first time since the start of the pandemic in June as rising mortgage rates and inflation took a bite out of homebuyer budgets.
Nationwide, 49.9% of home offers written by Redfin agents faced competition on a seasonally adjusted basis in June. That's the lowest share since May 2020 and the first time the bidding-war rate has been below 50% since that same month, when the housing market was at a near standstill due to the onset of the coronavirus pandemic. June's bidding-war rate compares with a revised rate of 65% one year earlier and 57.3% one month earlier, and marks the fifth-straight monthly decline.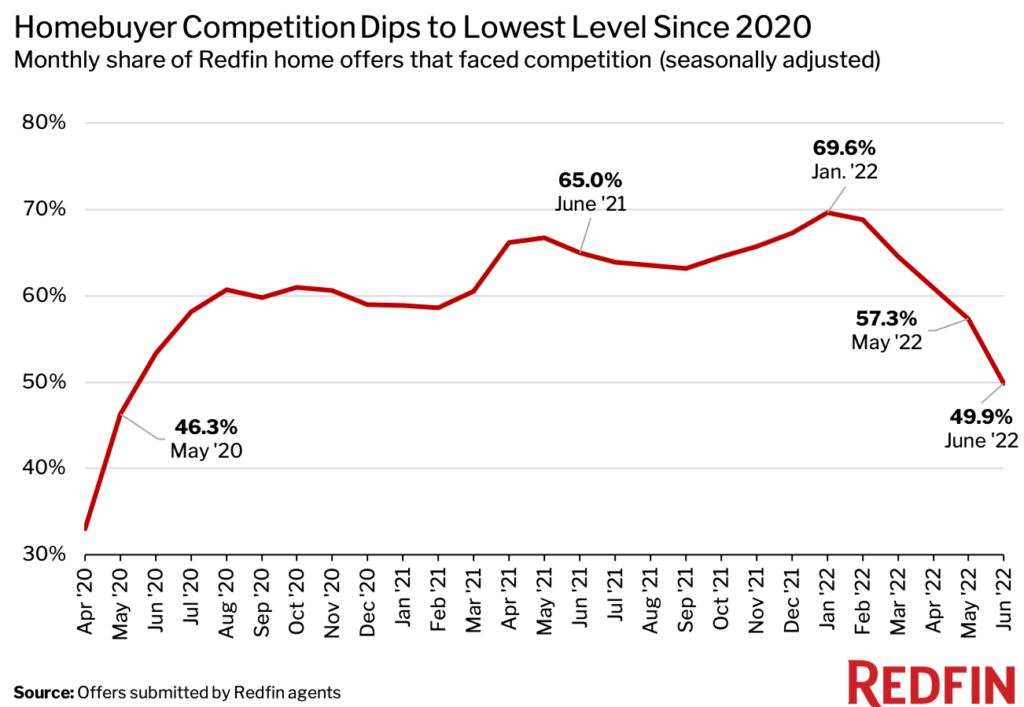 On an unadjusted basis, June's bidding-war rate was 51.5%, down from 66.7% one year earlier and 62.5% one month earlier.
An offer is considered part of a bidding war if a Redfin agent reported that it received at least one competing bid. The statistics in this analysis are subject to revision. Data below on property type and metro area is not seasonally adjusted. Redfin's bidding-war data goes back through April 2020.
Housing-market competition is declining because higher mortgage rates, high home prices, inflation and a falling stock market have eroded homebuyer budgets, causing some house hunters to drop out of the market. Roughly 60,000 home-purchase agreements were called offin June, equal to 14.9% of homes that went under contract that month. That's the highest percentage on record, with the exception of the start of the pandemic. The typical monthly mortgage payment for a homebuyer is now $2,387 at the current 5.51% mortgage rate, up 44% from a year ago.
"While the market is cooling, it's not coming to a crashing halt," said Shoshana Godwin, a Redfin real estate agent in Seattle. "House hunters who can still afford to buy should consider taking advantage of the slowdown given that there's way less competition."
https://www.redfin.com/news/real-estate-bidding-wars-june-2022/
---
10. 5 critical thinking benefits for life success-Tips from Sharvi
Critical thinking is a helpful approach when it comes to handling issues, making decisions, arguments, and better communication.  It can come to you naturally, or you may want to develop it as a skill and habit.  Read my blog post for more…
'Critical thinking is the analysis of facts to form a judgment.[1] The subject is complex, and several different definitions exist, which generally include the rational, skeptical, unbiased analysis, or evaluation of factual evidence. Critical thinking is self-directed, self-disciplined, self-monitored, and self-corrective thinking.[2] It presupposes assent to rigorous standards of excellence and mindful command of their use. It entails effective communication and problem-solving abilities as well as a commitment to overcome native egocentrism[3][4] and sociocentrism.' – as on Wikipedia
As a self-improvement blogger who shares what I've learnt (formally and informally) and through life experiences, I'm pleased to write about this topic for my readers!  Critical thinking is a vital skill that you can develop if you don't already have it.  Most important of all, it will support you in many spheres of life, both personally and professionally.
Here are 5 key benefits:
1. Careful consideration
Considering the matter and analyzing things properly are key to having a better quality result.  When I find myself pondering about something that I know will have an important impact, I prefer taking a pen and paper to work on my thoughts and collect facts to help me better understand what I need to do.  I then make use of what I've written down to work on things.
2. Well informed decisions
Certain decisions that you make have more impact on your life than others.  Generally, all of them have some significance, however, some could be more crucial, based on the possible consequences.  When I write things down to analyze, it supports better decisions as an outcome of the exercise.  If I don't know all the facts, I find them out.
3. Emotions
Putting on paper helps to release emotions in the form of gratitude journaling.  Jotting down what needs logical evaluation, is also a great tip that has helped me much.  While being grateful helps me feel better about what I already have in life, some decisions are best taken by setting aside emotions and taking a more rational approach for the best results.
4. Solve issues
There are various problem-solving frameworks and approaches.  They are practical methods that are known to walk you through the steps of careful analysis, evaluation of different options, and finding the best alternative for yourself.  I have used such methods and have seen that they bring out the best in me.
5. Better results
There's no right or wrong way to make most decisions, especially personal ones.  However, the quality of them could be crucial to the final result.  When I believe that something is serious enough, I do take the time to think critically about it.  This also helps to reduce any relevant potential risks as a part of the outcome.
If you already practice critical thinking, then you must have seen the gains that come with it.  For those who want to learn and develop the skill, starting now is the best time to do so.  Improving communication skills, making better decisions and arguments are vital to success!
Conclusion
Critical thinking is your ally in many areas of life.  Use it to your benefit by honing an existing skill, or else, embrace it for the better.  Would you like to leave a comment to tell us about your experience?  If you know someone who needs to read my article, please share it.  Thanks and cheers!
https://tipsfromsharvi.com/2021/06/15/critical-thinking-success/