1.Growth Stocks Dominating 2017
IWF Russell 1000 Growth +17% vs. IWD Value +5%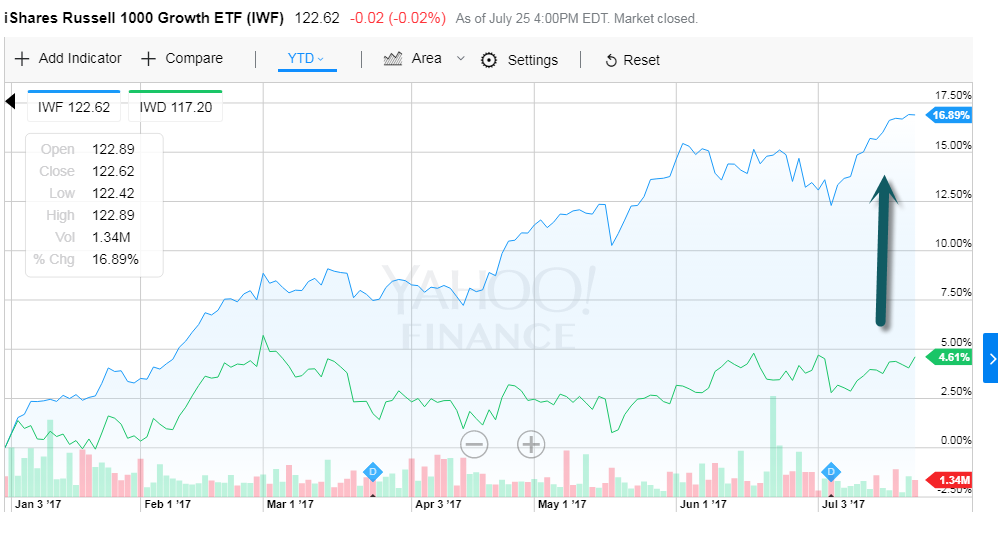 2.A Hint of Coming Inflation??  Copper Hits 2 Year Highs.
For Technical Minded…Copper just broke above downtrend line going back to 2010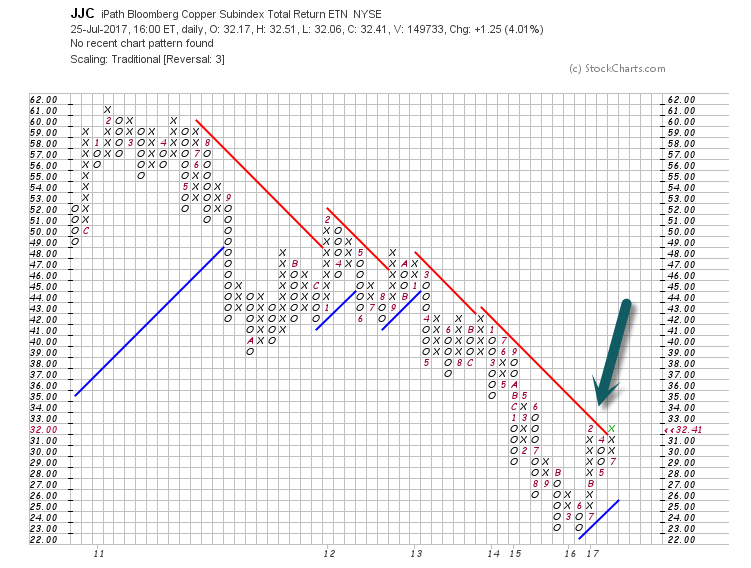 JJC Copper ETF closes above weekly chart 200day moving average.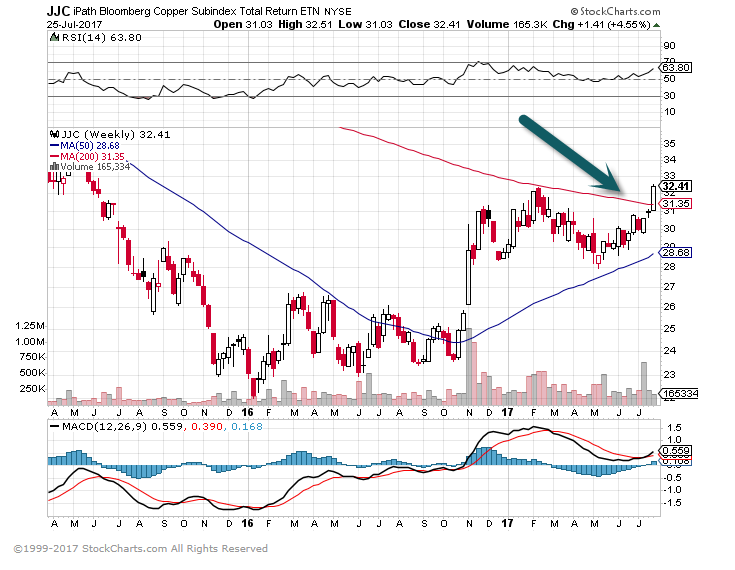 3.Homebuilders Hit New High…. Housing starts rose a better-than-expected 8.3 percent in June, ending three straight months of declines
XHB Homebuilder ETF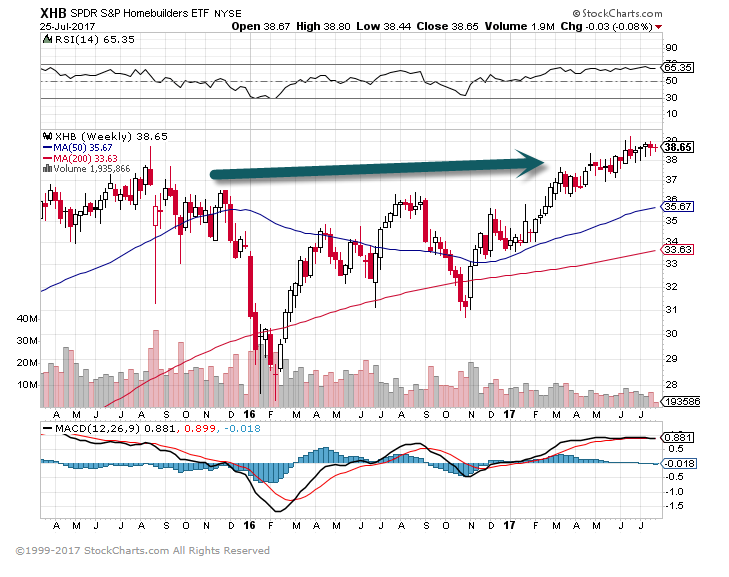 DR HORTON: Homes sales are booming
Arunima Banerjee, Reuters
(Reuters) – D.R. Horton Inc, the largest U.S. homebuilder, reported a quarterly profit that narrowly beat analysts' estimates as home sales rose.
Orders, an indicator of future revenue for homebuilders, rose 11.3 percent to 13,040 homes in the third quarter ended June 30.
The homebuilder, which mainly sells single-family homes, said it sold 12,497 homes in the quarter, compared with 10,739 a year earlier.
An improving job market continues to fuel demand for housing in the United States.
Housing starts rose a better-than-expected 8.3 percent in June, ending three straight months of declines. But, the industry continued to face labor shortage.
The company's net income rose to $289 million, or 76 cents per share, in the third quarter ended June 30 from $249.8 million, or 66 cents per share, a year earlier.
Analysts on average had expected a profit of 75 cents per share, according to Thomson Reuters I/B/E/S.
Home sales revenue rose 17.4 percent to $3.66 billion.
Up to Tuesday's close, the company's shares had risen 35.4 percent this year. (Reporting by Arunima Banerjee in Bengaluru; Editing by Anil D'Silva and Saumyadeb Chakrabarty)
Copyright 2017. Follow Reuters on Twitter.
http://www.businessinsider.com/dr-horton-q3-2017-2017-7
4.Global Debt Hits 327% of Global GDP…All time high and maybe the reason we will not see rapid rate rise
The Institute of International Finance is perhaps best known for its periodic – and concerning – reports summarizing global leverage statistics, and its latest Q1 report was the most troubling yet, because what it found was that in a period of so-called "coordinated growth", global debt hit a new all time high of $217 trillion, or over 327% of global GDP, up $50 trillion over the past decade. So much for Ray Dalio's beautiful deleveraging, oh and for those economists who are still confused why r-star remains near 0%, the chart  below has all the answers.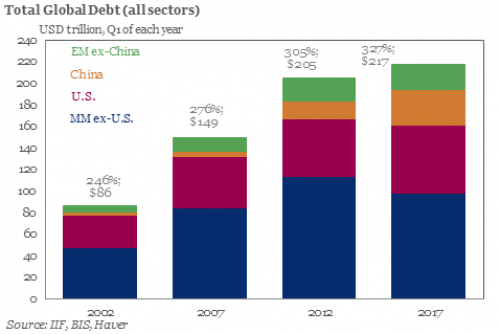 http://www.zerohedge.com/news/2017-06-29/global-debt-hits-new-record-high-217-trillion-327-gdp
5.Federal Regulations Cost Increase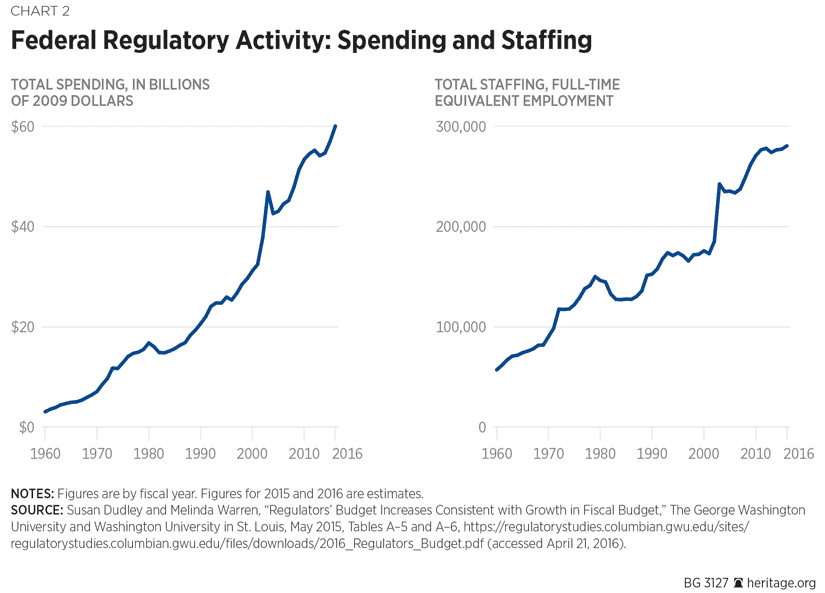 http://www.heritage.org/government-regulation/report/red-tape-rising-2016-obama-regs-top-100-billion-annually
6.Who Knew?  One of the Most Famous Movie Lines Ever Would Come So True.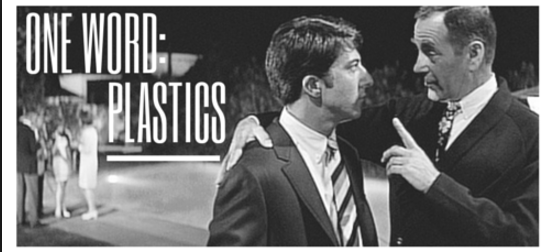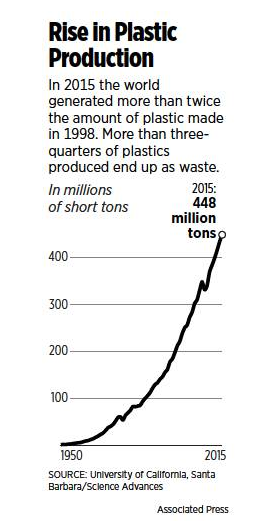 WASHINGTON — Industry has made more than 9.1 billion tons of plastic since 1950 and there's enough left over to bury Manhattan under more than two miles of trash, according to a new cradle-to-grave global study.
Plastics don't break down like other man-made materials, so three-quarters of the stuff ends up as waste in landfills, littered on land and floating in oceans, lakes and rivers, according to the research reported in Wednesday's journal Science Advances.
"At the current rate, we are really heading toward a plastic planet," said study lead author Roland Geyer, an industrial ecologist at the University of California, Santa Barbara.
The plastics boom started after World War II, and now plastics are everywhere. They are used in packaging like plastic bottles and consumer goods like cellphones and refrigerators. They are in pipes and other construction material. They are in cars and clothing, usually as polyester.
Study coauthor Jenna Jambeck of the University of Georgia said the world first needs to know how much plastic waste there is worldwide before it can tackle the problem.
They calculated that of the 9.1 billion tons made, nearly 7 billion tons are no longer used. Only 9 percent got recycled and another 12 percent was incinerated, leaving 5.5 billion tons of plastic waste on land and in water.
Using the plastics industry's own data, Geyer, Jambeck and Kara Lavender Law found that the amount of plastics made and thrown out is accelerating. In 2015, the world created 448 million tons of plastic — more than twice as much as made in 1998.
China makes the most plastic, followed by Europe and North America.
"The growth is astonishing, and it doesn't look like it's slowing down soon," Geyer said.
About 35 percent of the plastic made is for packaging, such as water bottles. Geyer said his figures are higher than other calculations because he includes plastics material woven into fibers.
An official of a U.S. trade group said the plastics industry recognizes the problem and is working to increase recycling and reduce waste.
"Plastics are used because they are efficient, they are cost effective and they do their jobs," said Steve Russell, vice president of plastics for the American Chemistry Council, which represents manufacturers. "And if we didn't have them, the impact on the environment would be worse."
Using alternatives to plastics for packaging and consumer goods such as glass, paper or aluminum requires more energy, Russell said.
The world still makes more concrete and steel than plastic, but the big difference is that they stay longer in buildings and cars and degrade better than plastic, Geyer said. Except for what is burned, "all the plastics that we made since 1950 are still with us," he said.
http://digital.olivesoftware.com/Olive/ODN/PhiladelphiaInquirer/shared/ShowArticle.aspx?doc=PHQP%2F2017%2F07%2F21&entity=Ar00600&sk=74D1ADD8&mode=text
7.Read of the Day…I am skeptical on "The Fading American Dream" headline but social class is biggest global and U.S. issue.
These Three Trends Are Eating Up the American Retirement Dream
The government's latest report on Social Security is bad enough. Trends in income inequality and health care make it worse.
All of this is shrinking the definition of the American dream. Millennials in particular sound disillusioned. Over 50 years, "children's prospects of earning more than their parents have fallen from 90 percent to 50 percent," according to home page of The Equality of Opportunity Project, a research effort that analyzes income mobility. The Project is citing figures from a 2016 study, (PDF) The Fading American Dream: Trends in Absolute Income Mobility Since 1940.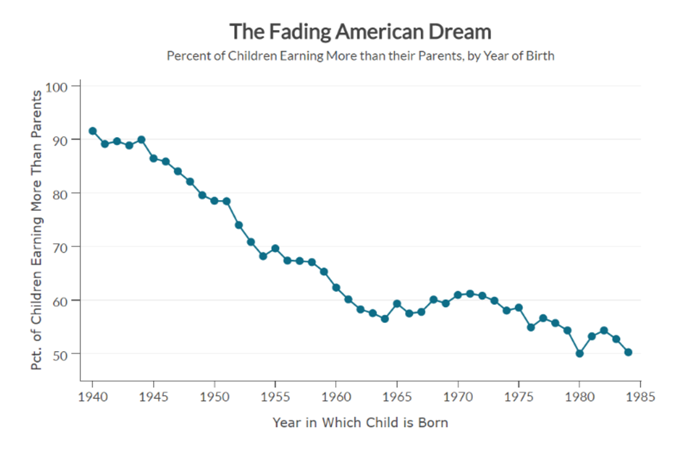 Credit: The Equality of Opportunity Project
http://www.wealthmanagement.com/retirement-planning/these-three-trends-are-eating-american-retirement-dream?NL=WM-023&Issue=WM-023_20170725_WM-023_778&sfvc4enews=42&cl=article_1&utm_rid=CPG09000007333628&utm_campaign=10120&utm_medium=email&elq2=e87f55de57074bafb9323b79a951ebfa8
8.This Former Navy SEAL Explains Why You Need to Transform How You Run Meetings
They need to function as enablers of networks, not extensions of hierarchies
Meetings used to be a fairly intimate affair. Key people would gather once a week to compare notes and make important decisions. Today, however, they seem to be taking over. We have so many meetings, conference calls, video conferences and impromptu get togethers that it scarcely seems that we have time for anything else.
This is no illusion. A recent article in Harvard Business Review, cited research suggesting that executives spend an average of nearly 23 hours a week in meetings, up from less than 10 hours in the 1960. That's more than half of a standard 40-hour work week and it doesn't include unscheduled meetings or hallway run-ins.
Still, we need to stop complaining about meetings and start making them more productive. As Chris Fussell, a former Navy SEAL and currently a partner at the McChrystal Group, explains in his new book, One Mission, today we operate in a far more complex environment that requires a high degree of collaboration and interoperability. So meetings today need to function as enablers of networks, not extensions of hierarchies.
How The Nature Of Work Has Evolved
One reason we have more meetings is that the nature of work has changed. Let's think about a basic task like designing a marketing plan. It used to be fairly straightforward. You contacted suppliers for rates, worked out what would be the most cost effective options and made an order. Most of the time was spent on negotiations — usually over the phone — and making necessary calculations, which you did quietly in your office.
Today, however, those tasks are mostly automated. Marketing plans, however, have become exponentially more complex, focusing not just on mass media, but a dizzying array or mobile, social and interactive options. These then need to be coordinated among a wide array of specialist teams in order to produce a coherent initiative.
It's not just marketing either. Scientists are experiencing the same pressures that corporate executives do. The journal Nature recently noted that the average scientific paper today has four times as many authors as one did in 1950. The work they are doing is also far more interdisciplinary and done at greater distances than in the past.
Everywhere you look, we are increasingly collaborating in teams and our work has become more social and less cognitive.
The Shift From Hierarchies To Networks
Another major shift has been that of moving from hierarchies to networks. Let's return to the marketing example above. It used to be that the plan would have been formulated at the VP level and everyone below would execute according to the specifications given in the plan. A weekly update meeting would have sufficed for management to monitor progress.
Today, however, there can be dozens of teams working on a single marketing plan and each one needs to coordinate not only with suppliers, but internal teams such as technology, strategy, sales and e-commerce. Clearly, a single meeting will no longer suffice because we need to be not only vertical aligned according to the hierarchy, but also horizontally aligned across the network.
A wide variety of communication technologies, including email, instant messaging, conference calls and videoconferencing has arisen in order to meet the challenges of the networked marketplace. However, these often create even more demands on our time, increase frustration, stress and overwork.
A big part of the problem is that while the function of meetings has changed — to facilitate networks rather than hierarchies — the structure of the meetings themselves have remained largely the same.
Meetings To Impress vs. Meetings To Express
Typically, meetings reflect and reinforce the hierarchy in the organization. The highest ranking member sets the agenda and runs the meeting, allotting time as he or she sees fit. Going around the room, each person offers their input with the manager's perspective in mind. Career opportunities often reflect performance in settings like these.
As Fussell explains in his book, this pattern can be an impediment to agility and interoperability. "The meeting structure is based on an outdated bureaucratic model. We need to reimagine meetings around a network model, where the goal is not to necessarily make decisions, but to share information so that decisions can be made and executed at the tactical level," he told me.
His firm advises its clients to implement a version of the "O&I" forum that was developed to combat terrorists Iraq. The purpose of the O&I forum is to ensure maximum communication across a diverse set of actors. The meeting is not run by the highest ranking officer, but a meeting coordinator and is composed of 5-minute updates designed to inform, not impress.
In the military version, thousands of people would be tune into daily O&I meetings, including a wide array of partner agencies as well as military officers and front-line soldiers in the field. Since moving to the private sector, the format has been implemented at organizations as diverse as Under Armor, Intuit, a state agency in Oklahoma and a real estate investment bank.
The purpose of these meetings is not to devise strategy or even to coordinate a specific action, but to enable connections among those that attend. For example, the London office at an investment bank wouldn't be expected to tout the success of the latest deal, but to inform everyone on a new trend, like a emerging investor class, so that others can follow-up to get more information and insight.
Making Collaboration A Competitive Advantage
The purpose of organizations used to be to execute strategy formulated at the top. Today, however, events move far too quickly to be addressed by annual or even quarterly planning. It is not enough to race as fast as we can down a chosen course, we need to notice when a more prodigious one begins to appear. We need to manage not for stability, but disruption.
So today we need to rethink the role of leaders, whose role is no longer primarily to plan and direct action, but to shape organizational culture and maximize agility and interoperability. That cannot be achieved with fluffy rhetoric or newfangled organizational charts, but needs to be implemented at the ground level on a day-to-day basis.
The basic building block of organizational culture is how meetings are run. We need to redesign them to become platforms for building connections and sharing information rather than vehicles to transmit and enforce strategic directives that have been handed down from above. Today, collaboration is becoming a key competitive advantage and our meetings should reflect that.
We also need to understand that the value of a meeting is not what happens within its confines, but what it catalyzes beyond. If we can use meetings to widen and deepen connections within the organization, then they can enhance our ability to adapt and innovate. Otherwise, we're just wasting our time.
The opinions expressed here by Inc.com columnists are their own, not those of Inc.com.
PUBLISHED ON: JUL 15, 2017
https://www.inc.com/greg-satell/this-former-navy-seal-says-you-should-change-how-y.html