1.Tech Expensive?  Double Digits Earnings Growth and Highest Percentage of Names Exceeding Earnings.
Tech sector stocks: Growth at a reasonable price
The tech sector posted double-digit earnings growth in the last two quarters, and it boasts the highest percentage of firms exceeding earnings expectations in the past four quarters among the 11 Global Industry Classification Standard (GICS) sectors.2
Such strong earnings growth momentum is expected to continue through 2017, evidenced by the rising earnings estimates shown in the chart below. The global economic environment is driving the sector's growth prospects, as some of the headwinds the sector faced last year have turned into tailwinds. Since the tech sector has more foreign sales exposure than other sectors, it is more likely to benefit from the weaker US dollar and improving global growth we have seen this year.3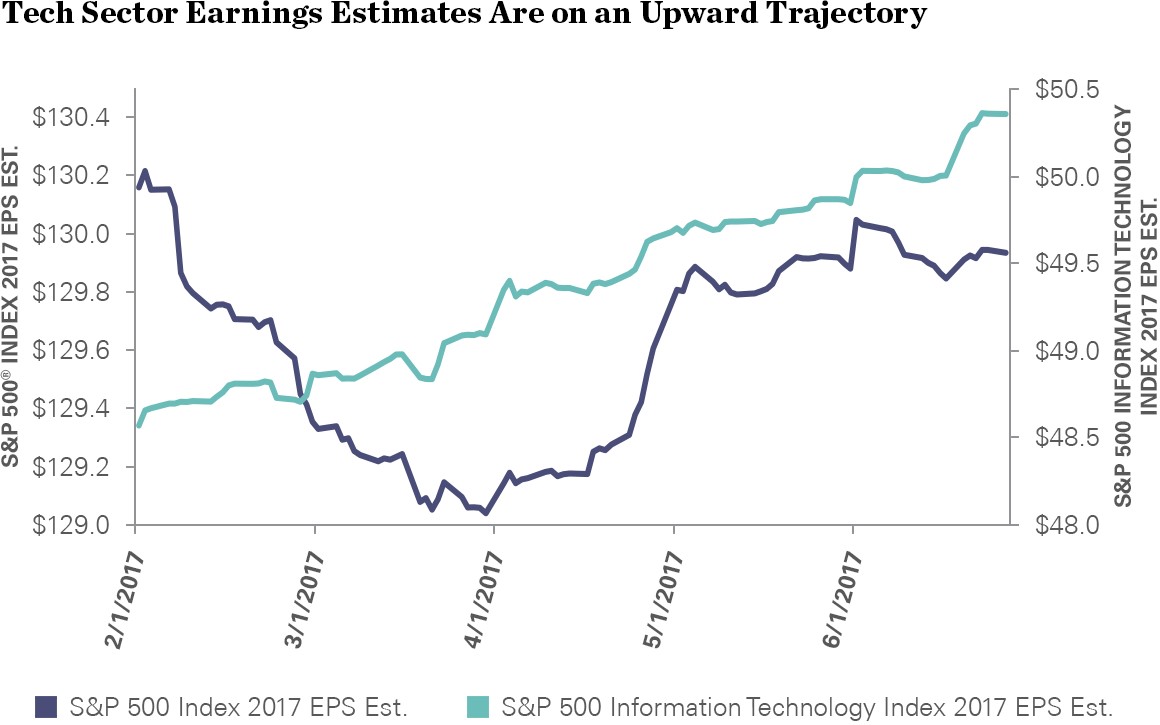 Source: Bloomberg Finance L.P., as of 6/27/2017. EPS estimates are based on consensus analyst estimates compiled by FactSet.
http://blog.spdrs.com/post/spotting-trends-despite-the-tech-sell-off-the-sector-still-offers-opportunity
Jul 21, 2017
The chart below appears in each week's Sector Snapshots report and shows the 10-day advance decline line for the S&P 500 Technology sector over the last year.  Throughout the month of June, we saw a steady decline in this reading as it drifted from extreme overbought to oversold levels.  Since the beginning of July, however, the fireworks started to fly and breadth has come roaring back to levels not seen in at least a year.
Taking a longer term look at the Technology sector's 10-day A/D line, would you believe that the reading through yesterday's close was the fifth best single day reading on record?  Also, the only other times we have ever seen a higher reading were also during the month of July.  What is it about July and the Tech sector? In a B.I.G Tips report we just sent out to clients, we looked at prior extreme breadth readings for the Technology sector to see how it performed going forward.  For anyone trying to decide whether to take profits or add exposure to the sector, the results are a must see!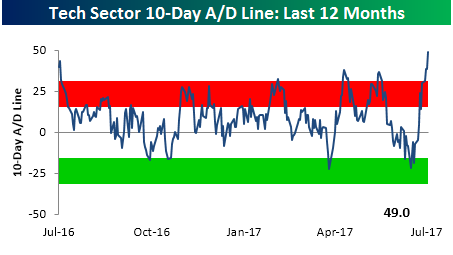 https://www.bespokepremium.com/think-big-blog/
3.Close to 60% of Sales for S&P Tech Sector Come from Overseas….Dollar Weakness a Big Boost.
Red-hot stocks are getting a boost from an unexpected source
Joe Ciolli
Then, amid doubts that the pro-growth agenda floated by Trump would get done in timely fashion, the dollar's fortune reversed, shocking just about everyone. And it's done so in spectacular fashion, falling roughly 8% since the start of 2017.
That's resulted in an unexpected boost for US corporate earnings that are already the best in five years. A weaker dollar makes exports more profitable, which helps companies doing business overseas — most notably the multinational conglomerates with big weightings in stock indexes. And good, old-fashioned profitability has historically been the biggest driver of equity bull markets.
"The US dollar has been exceptionally and unexpectedly weak this year," a group of Morgan Stanley strategists led by Michael J. Wilson wrote in a client note. "A weaker US dollar is positively related to S&P 500 sales growth and earnings revisions."
Even if the US dollar climbs 5% from current levels through year-end, S&P 500 revenue growth will still rise, according to data compiled by Morgan Stanley. And that's the most bearish scenario laid out by the firm in this chart: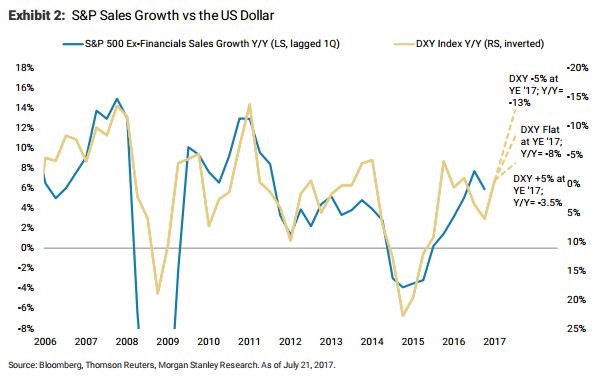 A weaker dollar helps US corporate sales growth in each of Morgan Stanley's three scenarios. Morgan Stanley
Now that we know the benefits of a weak dollar, let's take a deeper look at the causes. Trump's lack of policy follow-through has certainly hindered the currency, but it's far from the only driver.
Weaker-than-expected US economic data has also contributed to dollar depreciation, especially when compared to Europe and parts of emerging markets, says Morgan Stanley.
The firm also attributes a surprisingly hawkish European Central Bank, which many on Wall Street think will start tapering its asset purchase program later this year. Not to mention the Federal Reserve, which is expected to begin unwinding its massive balance sheet before the end of the year.
http://www.businessinsider.com/stock-market-earnings-season-weak-us-dollar-profit-growth-2017-7
4.Five Lower Highs in Naz 100 Volatility Since 2015
5.Huge Bet is Made Against VIX—I am giving the trader a name…"The Unknown VIX Trader"…I Am Watching this Outcome Closely….
Wall Street trader makes $265 million bet on VIX surging by October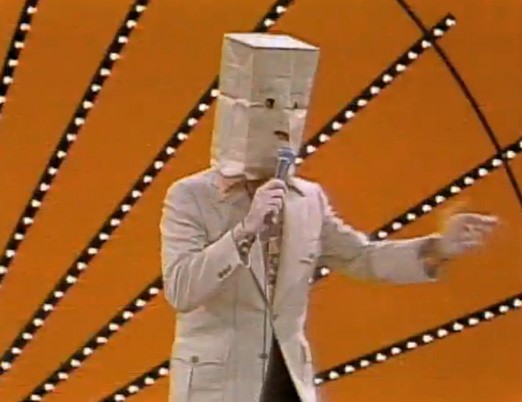 Wall Street trader makes $265 million bet on VIX surging by October
Big bet on a powerful resurgence in market turbulence sees 'fear gauge' at 25 in three months
By
GUNJAN BANERJI
How much is a Wall Street trader set to make from one VIX wager? $265 million!
One investor has bet on a powerful resurgence in market turbulence—a wager that could net a profit of about $265 million if Wall Street's fear gauge more than doubles in the next three months.
An unknown investor made a massive trade via the options market Friday, as the CBOE Volatility Index VIX, -2.76% the so-called fear gauge that tracks investor expectations for equity volatility, fell to its lowest since December 1993.
About 1 million options contracts changed hands on a bet that the CBOE volatility gauge, called VIX, will rise to 25 by October. That's a level the VIX hasn't reached since June 2016, when the U.K. surprised global markets by voting to exit from the European Union.
If he or she is correct, Friday's investor could see a payout of about $265 million, according to Stefan Wintner, vice president who covers volatility strategies at the commodity trading adviser Dunn Capital Management, which is based in Florida.
An expanded version of this article appears at WSJ.com
6.Bank Loans Break Out as Investors Seek Fixed Income Alternatives.
Since rates are typically reset once per quarter, senior loans typically have low durations – a measure of a bond fund's sensitivity to changes in interest rates. The floating-rate component also offer investors an alternative method of earning yields while mitigating interest-rate risk. Consequently, bank loans are seen as an attractive substitute to traditional corporate debt in a rising rate environment.
https://www.etftrends.com/2017/01/bank-loan-etfs-are-an-ideal-way-to-deal-with-rising-rates/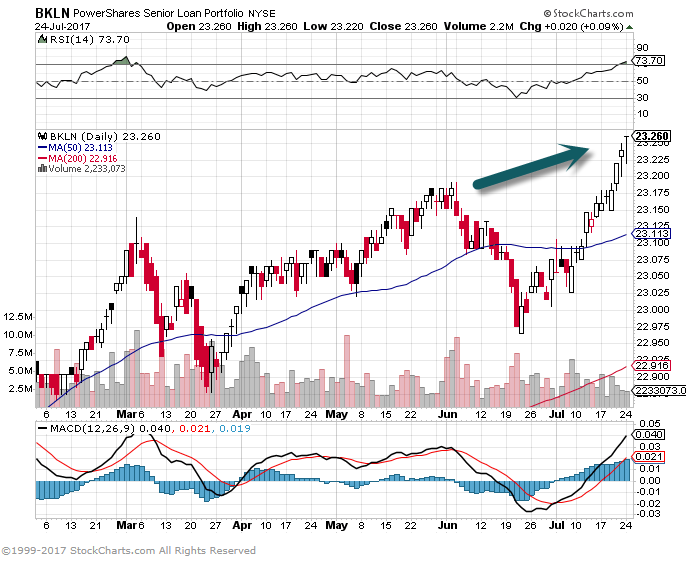 7.Inflation Sinks in Emerging Markets and Earnings Rise.
Emerging Markets: Improved growth and falling inflation (on average) across emerging markets continue to attract capital.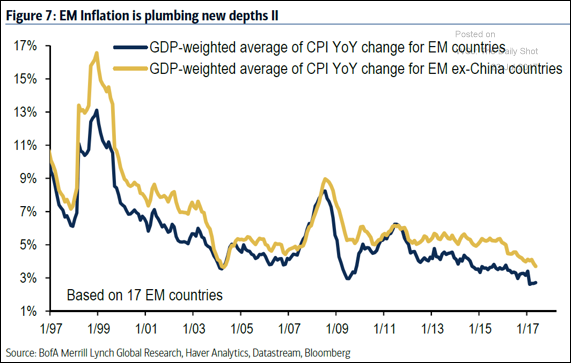 Source: BofAML
Source: BofAML
8.Most Hated Bull Market Ever….#1 Redemptions in ETFs Last Week …S&P 500.  Six of Top 10 Creations Fixed Income
GBIL & IVV On A Roll
Six of the 10 ETFs on the top creations list for the week were fixed-income products. The most interesting was the Goldman Sachs TreasuryAccess 0-1 Year ETF (GBIL), which had another week of robust inflows. The fund now has $650 million in assets under management, up from almost nothing two weeks ago.
Meanwhile, taking the No.1 spot on the inflows list was the iShares Core S&P 500 ETF (IVV). Its $2.6 billion of inflows catapulted assets under management in the fund to $120.8 billion. While still more than $100 billion in assets short of the SPDR S&P 500 ETF (SPY), IVV has been making great strides in catching up to the world's largest ETF.
Helping matters have been the consistent outflows from SPY this year. Just this week, $3.6 billion came out of the fund. Year-to-date, SPY has seen outflows of $10.1 billion, compared to inflows of $20.4 billion for IVV.
For a full list of this week's top inflows and outflows, see the tables below: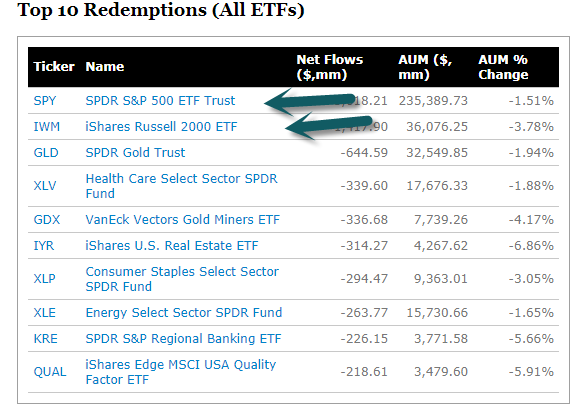 http://www.etf.com/sections/weekly-etf-flows/weekly-etf-flows-2017-07-19-2017-07-13
9.My Millennials Housing Market Tell is Straight Up…..Lumber Rally.
WOOD Lumber ETF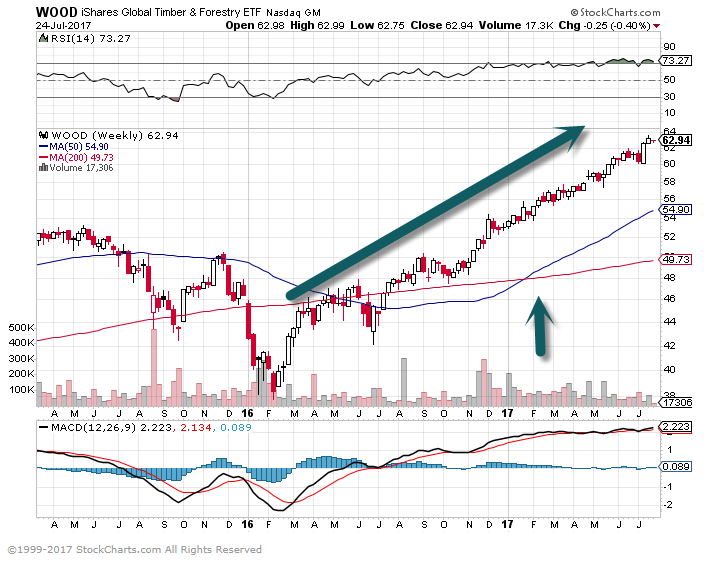 10.5 Key Ways To Begin Self Improvement
Reading Time: 1.5 Minutes
"If you don't like something, change it. If you can't change it, change your attitude."
Maya Angelou
In general, we all want the very same things. We're all striving for a comfortable life in which we can experience a stable sense of happiness, excitement, curiosity, love, relationship and growth.
The reason self-improvement as an idea and as a practice exists at all, is because we find that as we are, we're not experiencing the quality of life we're striving for.
Otherwise we would have no need to improve ourselves; there would be no reason.
There's no lack of ways to begin working on improving yourself. You can work on anything that you don't like about yourself. We all dislike different things about the way we are and so the answer is somewhat unique to each of us.
But self-improvement needs an aim, and there are core methods of coming into relationship with your aim of improvement that serve as universal; they apply to all of us.
Creating time to ponder
Make learning a habit
Stop wasting your nights and get rest
Get to know the nature of your own desires
Take care of yourself physically
If you don't take the time to THINK about why you want to improve, to question how to improve, to learn how to improve, to make time for improvement, and eliminate all excuses for actually improving, chances are you'll never move from where you are right now.
5 Key Ways To Begin Self Improvement
1. Creating time to ponder:
To ponder means to think deeply. To truly deliberate. To have a serious question.
We generally experience our day to day life with very little questioning. We live as if we knew all the answers.
We think we know what's right and wrong, what we like and dislike, how people should behave, what a good life consists of, what success means, what happiness means, how to achieve happiness… even if we think we don't know much, we live our lives as if we knew everything.
We all live with some guiding principles, right?
We're all looking for basically the same thing – a comfortable life in which we can experience a stable sense of happiness, excitement, curiosity, and love.
Isn't it interesting that most people we meet, including ourselves, don't seem to experience the quality of life we're all striving for?
Have you ever questioned why that is?
Have you ever questioned that maybe the lives we've been taught to lead don't lead us where we've been told it will?
Unless we create free time and space in ourselves to really approach these types of questions, we never get to them.
From the moment we wake up, our mind and attention is already taken by all that we have to do in the day. We start our days by literally being taken by our obligations.
Finding time to simply question your life, where its going and whether its going to take you where you want is the most important action you can take – isn't that the whole point of this experience of being alive?
What's self-improvement worth without knowing why you want to improve, and how it will improve the overall quality of your life's experience?
2. Make learning a habit:
If we're not learning, we're dying.
Without being exposed to new modes of thinking, new information, and seeing through new eyes with what we learn, then the quality of our thoughts can't change. If our thoughts don't change, and we don't change the way we live, then our entire lives will be lived the same exact way we've been living up until this point. If we live the same way for the rest of our lives, then in a very serious way, we're already dead.
To be alive is to be alert, active, engaged. If our attention is constantly traveling the same paths, our responses to situations are automatic and without an eye towards growth, then we can't consider ourselves active and engaged.
3. Stop wasting your nights and get rest:
If we're not asleep, what are we usually doing from 10 p.m. to 2 a.m.?
It's one thing to be out with friends or family and enjoying a night out, but its another to be watching hours of t.v., or messing around on the internet or social media.
We're always complaining about time, but do we ever really accept how much of it we spend with what's basically useless and mindless activity?
Do we accept that if we stopped wasting our nights aimlessly, we could get the rest we need and wake up ready and create our day rather than being obligated to respond to it out of "lack of time" for ourselves?
We all have obligations, and we all want to do certain things – have certain desires. Stop wasting time, and take control of it so that your obligations don't rob you of your time.
4. Get to know the nature of your own desire:
Why do you do the things you do?
What are your motivations for taking the actions you take on a daily basis?
Why is it that at one moment you want one thing, and the very next you want a completely contradictory thing? For example, why am I motivated as hell to be be productive, workout, eat healthy at one moment, but the very next I find myself making excuses about it?
We take for granted that we know ourselves – that we understand who we are, how we live and why we do the things we do. Learn to be objective towards yourself. Learn to see the contradiction in your desires. See the conflict.
The only way to even approach the possibility of growth is becoming a master of the contradiction in oneself.
5. Take care of yourself physically:
Physical well-being is obviously extremely important to a high-quality of life. When we're sick or hurt, we can't help but complain about it, feel bad for ourselves, and use it as an excuse for everything.
The easiest way to pass through our physical status taking our attention and willpower is by making sure we don't have to think about it. You do that by exercising and making sure you eat the healthy foods your body needs to run properly.
Without the right oil, water, gas and regular maintenance, a car cannot run efficiently. It's component parts start to break down one by one until the whole machine starts to go down.
Take care of your basic machinery. Allow it to work for you rather than against you.