1. OPEC cut to its Lowest Level of Production Since 1991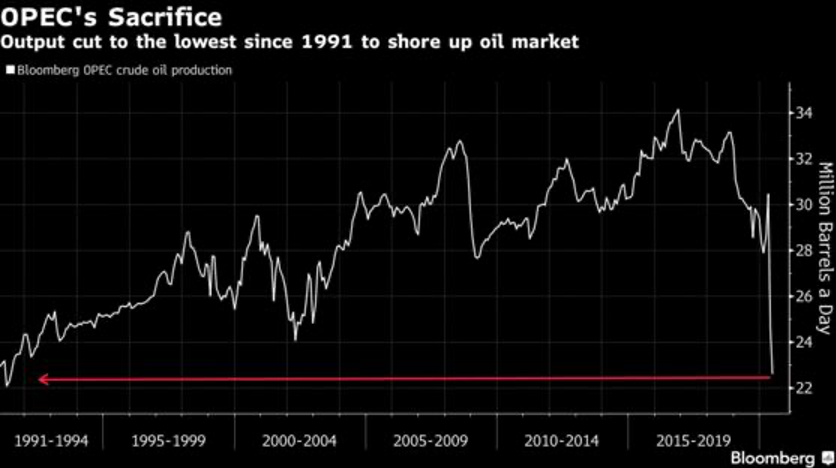 Oil rose for a second day as a bigger-than-expected drop in American crude stockpiles and plunging output from OPEC producers outweighed nervousness about a coronavirus resurgence in the U.S.
Futures held near $40 a barrel in New York after rising 1.4% Wednesday as the Energy Information Administration reported a 7.2 million-barrel decrease in U.S. inventories last week, the biggest decline this year. Sentiment was also aided by a survey showing OPEC output fell to the least since 1991 in June, while Russia reached near total compliance with its OPEC+ quota.
Oil Edges Higher With U.S. Stockpiles Drop Offsetting Virus Fear By Elizabeth Low James Thornhill and Grant Smith
American crude inventories fell last week by the most in 2020
WTI futures climb 0.6% to hold near $40 a barrel in New York
2. Junk Bond Sales Hit Record in June
This Bloomberg chart would have been unlikely if not unthinkable just a few months ago. How could junk bond issuance set a record in an economy experiencing rapidly rising defaults? The answer is of course the Fed — particularly its direct bond purchases encouraging excessive risk taking.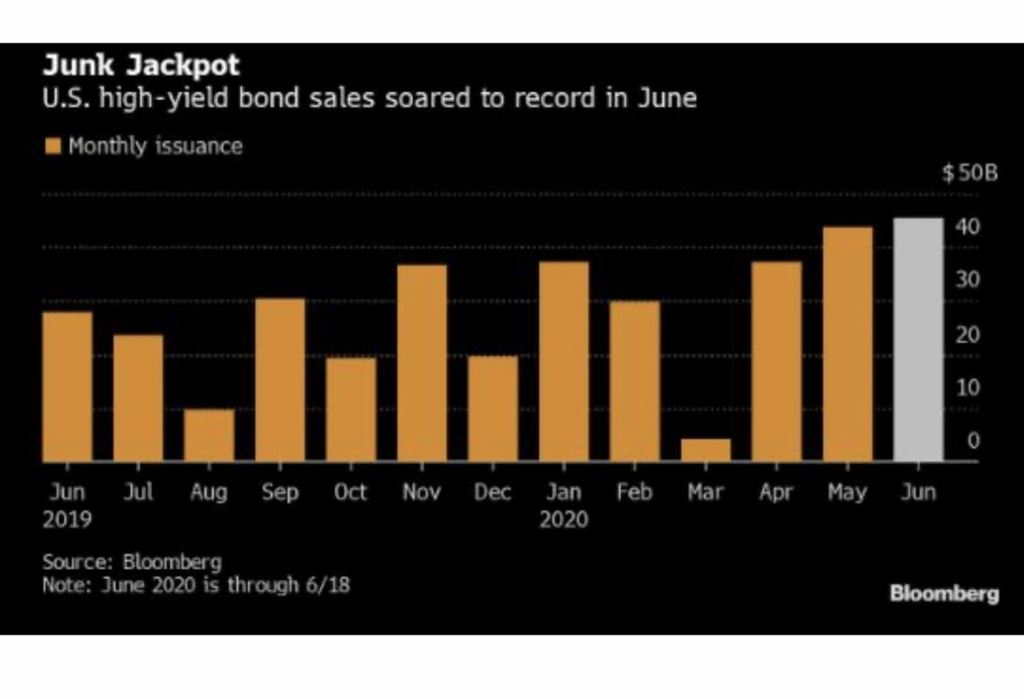 https://www.linkedin.com/feed/update/urn:li:activity:6679888472330924032/
3. Junk Bonds Hit Record While Credit Spreads Remain Elevated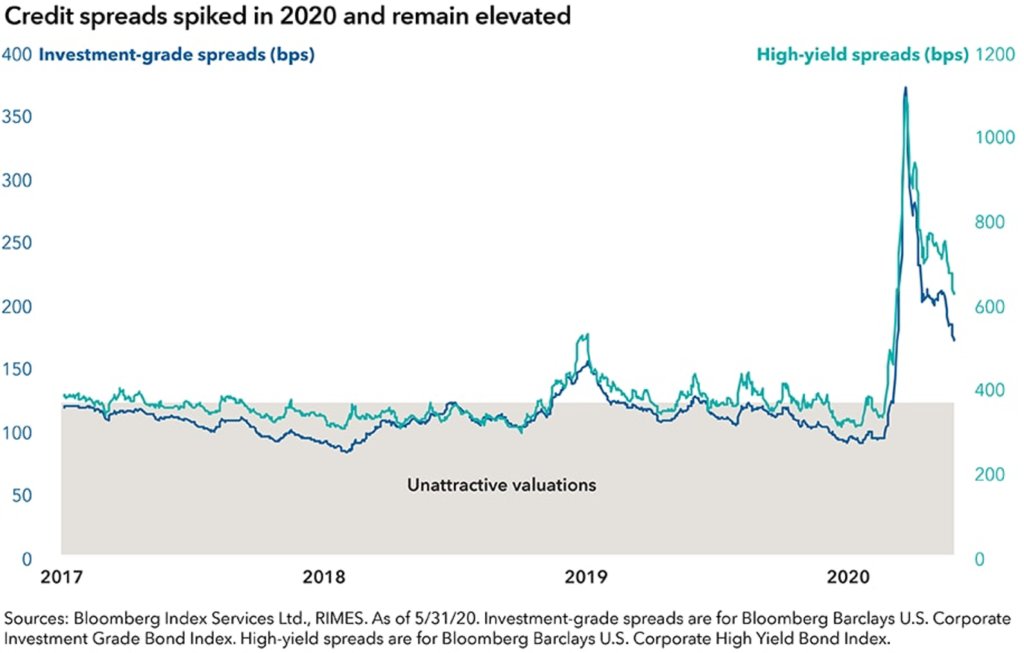 Midyear Outlook: Four actions to take in bond portfolios
https://www.capitalgroup.com/advisor/insights/articles/fixed-income-midyear-outlook-2020.html
4. At the Same Time Specialty Lenders That Exploded Post 2008 Face Funding Challenges
WSJ
Similar to some other types of asset managers, middle-market lending companies typically rely on credit lines from banks to help fund their investments. Such debt carries low interest rates and can boost lenders' returns during good times.
There is a flip side, though. In stressed environments such as the current one, banks can lower borrowing limits and demand additional collateral, or cash, if assets lose value. Lenders can also be squeezed from both sides if their own portfolio companies rush to draw down credit lines, which happened in March.
"These capital structures can only handle so much loan-value deterioration," said Finian O'Shea, a BDC analyst at Wells Fargo Securities. The lenders that raised cash may not have violated any terms in their credit facilities, but "the reason they did those things is to relieve that potential pressure," he said.
Specialty Lenders Face Funding Challenge as Covid-19 Boosts Defaults-Firms have raised money by selling shares at discounted prices and issuing bonds at high interest rates By
Sam Goldfarb
and Sebastian Pellejero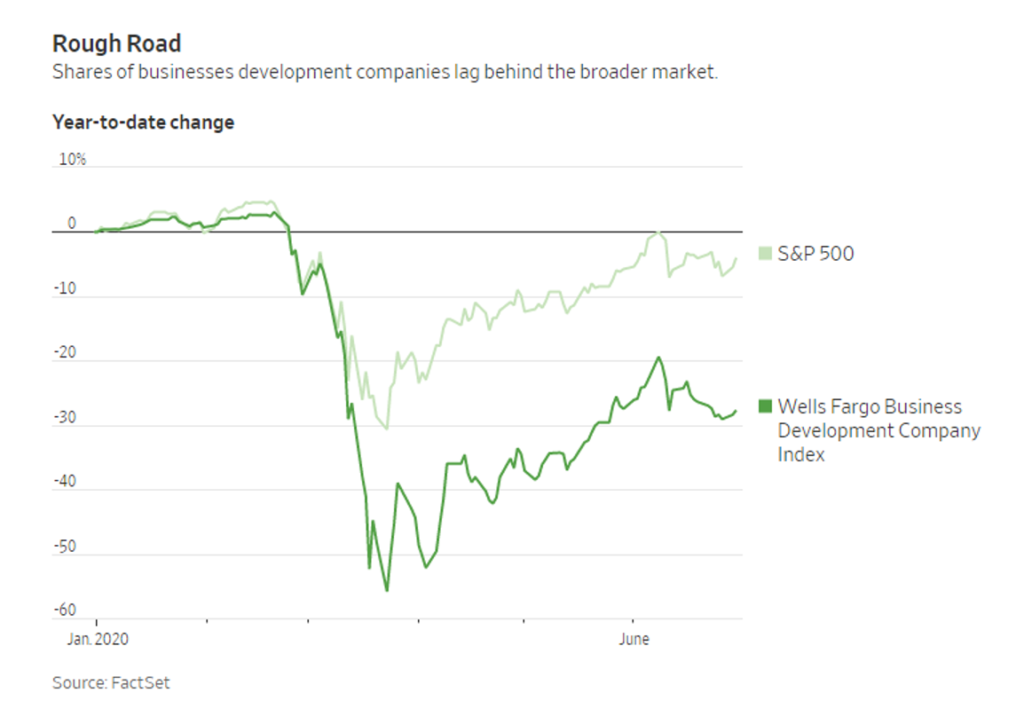 https://www.wsj.com/articles/specialty-lenders-face-funding-challenge-as-covid-19-boosts-defaults-11593595805
5. Last 3 Months Euro Currency +2.5% vs. U.S. Dollar -2.5%
One Question for 2020…Will U.S. Dollar Bull Run End?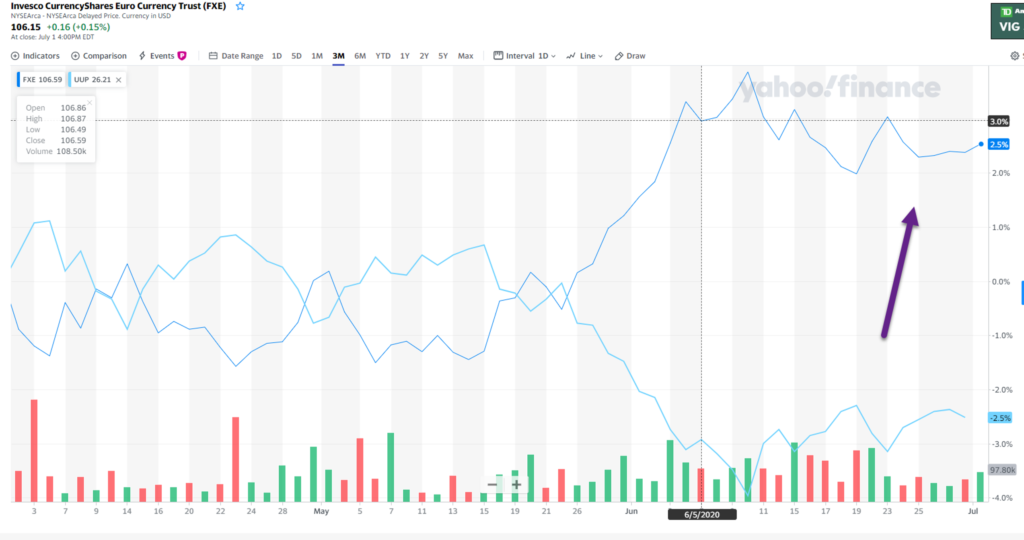 6. Sector Exposure Differentiations in Low Volatility Funds…..SPLV vs. USMV
Big Disparities in some sector holdings large cap low vol funds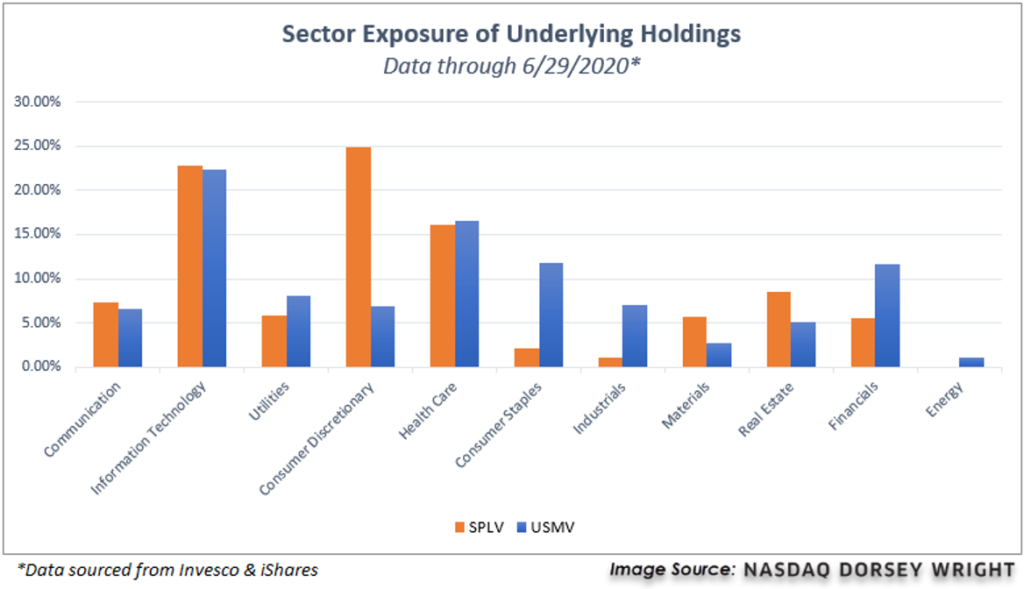 7. Best Quarters Followed by Higher Returns 90-100% of Time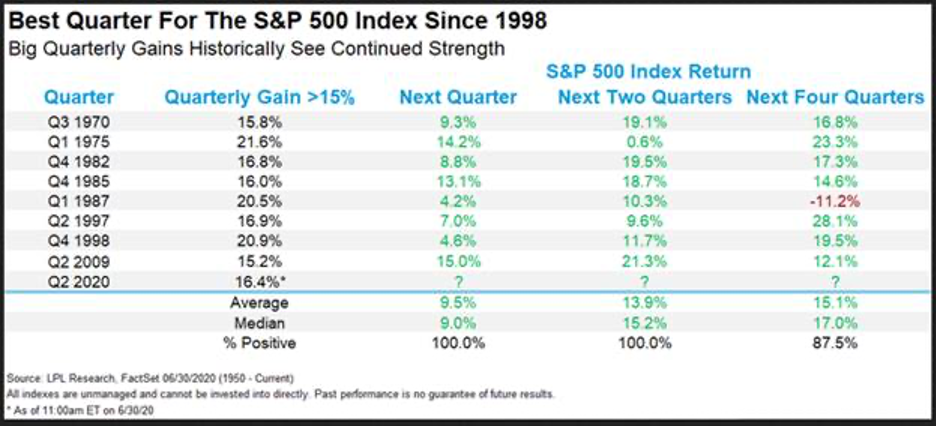 We just wrapped the best quarter for the S&P 500 since 1998. LPL notes when we pop 15% in a quarter, we are Higher the next quarter 8 for 8.
From Dave Lutz at Jones Trading
8. Handicapping the Next Round of Stimulus
Stimulus checks, back-to-work bonuses, bigger jobless benefits? What the next relief bill might look like
PUBLISHED WED, JUL 1 20202:54 PM EDTUPDATED WED, JUL 1 20205:27 PM EDT
KEY POINTS
Washington negotiations over the next coronavirus relief package will likely get serious later this month.
Many Americans are hoping for more direct financial relief through stimulus checks and enhanced unemployment. Meanwhile, some lawmakers have also discussed implementing back-to-work bonuses.
One political analyst says that all three options could make the final cut as politicians work to get the U.S. economy back on track.
When it comes to the next coronavirus stimulus package and providing more direct financial aid, the question on most Americans' lips is, "Will they or won't they?"close dialog
One political analyst predicts it's likely lawmakers will go for all three options on the table to provide direct financial help to Americans, even as Washington politicians engage in a war of words on Capitol Hill.
"There is going to be a pot of money, and it is going to go towards a combination of round two stimulus checks, continued unemployment and back-to-work bonuses," said Ed Mills, Washington policy analyst at Raymond James.
The reason, Mills said, is that the climbing cases of coronavirus are in states that voted Republican in 2016 and could help push members of that party to provide more support, particularly because it's an election year. Democratic politicians have already expressed their backing for more financial relief.
Looming deadlines will also put pressure on lawmakers, Mills predicts. For 46 states, July 1 is the start of the fiscal year. Because 49 states aren't allowed to run deficits, that will mean an uptick in state and local layoffs unless something changes, he said.
Meanwhile, the extra $600 weekly in unemployment benefits is set to expire in late July. That's as many states are pressing pause on reopening plans as coronavirus cases rise.
"To the extent that it's really looked at as one pot of money to deal with multiple issues, the easiest compromise is a lower dollar amount," Mills said. "I think if I were to anticipate something that gets reduced first it would be the unemployment benefits."
Congress is set to return from its holiday recess on July 20, at which point legislators will face pressure to take action.
"Sometime between the week of July 20 and the week of July 27, I expect a lot of pressure on Congress to get something done," Mills said. "And I ultimately do expect that they will do it."
More stimulus checks
The federal CARES Act that was passed in March included $1,200 stimulus checks for millions of Americans.
President Donald Trump signaled in a recent interview that he would be open to sending out more checks to Americans.
"We will be doing another stimulus package," Trump said. "It'll be very good. It'll be very generous."
The Democratic-led House has passed a bill called the HEROES Act that includes a second set of stimulus checks — only this time the payments would be more generous. Families would be able to receive up to $6,000, as dependents would get $1,200, up from $500, for a maximum of three children. Adult dependents and non-Americans would also be eligible for the stimulus funds.
Still, some experts say that stimulus checks don't necessarily target those who need the money the most. For many Americans who are not living on federal benefits, the amount they received was determined by their 2018 or 2019 tax returns, not what they are earning this year.
But the money did have a stimulative effect on the economy, Mills said.
"There is a multiplier effect of the fiscal stimulus checks that really stabilized consumer spending," Mills said. "We saw that discretionary income was up year over year in April."
Extra unemployment benefits
The added unemployment benefits —$600 per week — were also put in place with the CARES Act and are set to expire in late July.
That has prompted many to petition Congress to continue those benefits. House Democrats outlined a plan to do just that in the HEROES Act, which would extend that extra money through January.
But this week Senate Majority Leader Mitch McConnell called the cash a "bonus not to go back to work." Basic unemployment benefits should be continued, he said.
Senate Democrats also unveiled a proposal to continue those enhanced benefits until states' unemployment rates fall, at which point they would be phased out.
Lawmakers may have less room for negotiation on this than they think, Mills said.
"The question that members of Congress haven't answered is there are tens of millions of Americans who are unemployed," Mills said. "There are not tens of millions of job openings right now."
Some economists have proposed reducing the extra $600 per week to up to $400 per week in order to eliminate the disincentive to return to work.
Back-to-work bonuses
Republicans have favored another perk to give Americans an incentive to work again.
These so-called back-to-work bonuses could take different forms.
Sen. Rob Portman, R-Ohio, has a plan to give Americans who return to work a $450 weekly bonus. Rep. Kevin Brady, R-Texas, has proposed giving returning workers a one-time $1,200 payment.
What has not gotten enough discussion is the mechanics of how such a plan will work, Mills said.
When choosing between one-time or weekly payments, lawmakers will probably go for the method that is easiest to deploy, he said.
https://www.cnbc.com/2020/07/01/the-next-relief-bill-could-include-stimulus-checks-work-bonuses.html?__source=sharebar|linkedin&par=sharebar
9. Country Garden Opens Restaurant Operated Completely By Robots
Lana BandoimContributor
I write about food tech and science.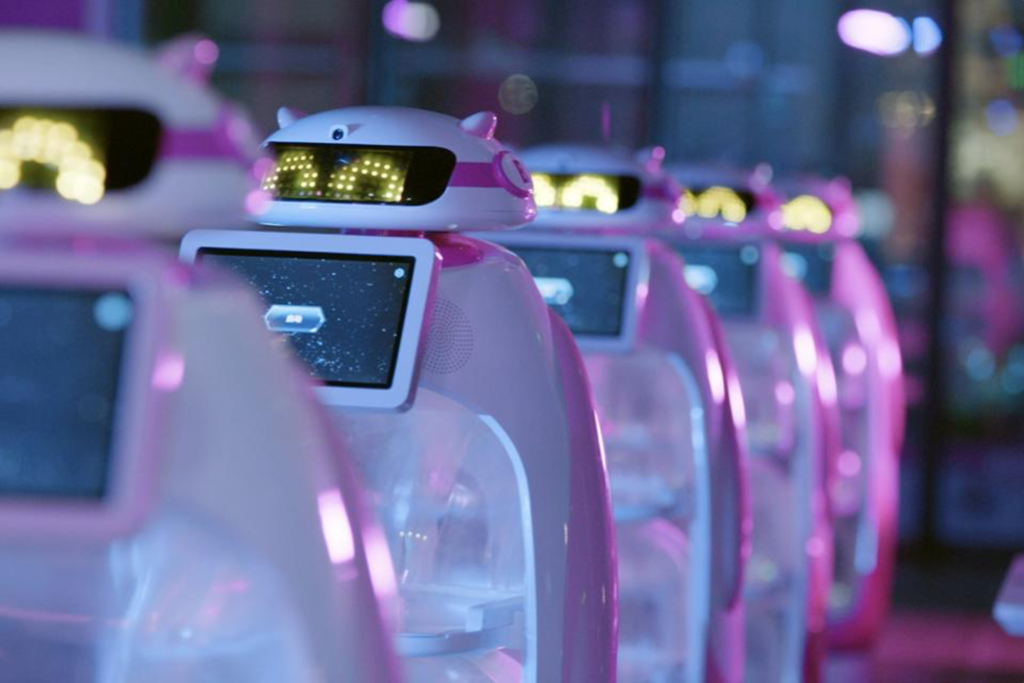 Country Garden robot restaurant complex.
COUNTRY GARDEN HOLDINGS
Country Garden, a property developer in China, revealed that its subsidiary Qianxi Robot Catering Group (Qianxi Group) opened a restaurant complex operated completely by robots. Located in Shunde, which is a city in China's Guangdong province, the restaurant eliminates most human-to-human contact and may be a harbinger of how businesses plan to handle the aftermath of the coronavirus outbreak.
"Country Garden assistant executive officer and Qianxi Group general manager Qiu Mi explained that Qianxi Group has built a complete industry chain encompassing back-end supply production (the centralized kitchens) and robotic cooking alongside the operation of restaurants and the management of robots," Country Garden shared.
The restaurant complex is 2,000 square meters or about 21,527 square feet, and it has 20 robots equipped to serve a variety of dishes, including Chinese food, fast food, clay-pot rice and hot pot. The menu has 200 items, but they are available within 20 seconds of ordering. The restaurant can handle 600 diners at once.
Most Popular In: Food & Drink
"During 2020, the group plans to build more centralized kitchens to further expand in the cities of Guangdong-Hong Kong-Macao Greater Bay Area, while achieving mass production of robots with an expected output of some 5,000 units per year," Country Garden shared.
In the past, restaurants that used robots to greet guests or carry orders back to the table still relied on human chefs. The new restaurant complex removes humans completely from the food production and preparation stages with robots taking over all the tasks. To allay customers' fears about dining in a fully-automated robot restaurant, Qianxi Group's robots have received safety certifications.
"China officially released the technical specification for robot safety certification in the food sector on June 22. The technical specification, jointly formulated by the National Robot Testing and Accreditation Center (NRTAC) and Qianxi Group's technology subsidiary Zhiyuan, is the first of its kind in the country. Qianxi Group's lineup of second-generation robots, including some trained to cook clay pot rice and others trained to make mini-ice creams, have taken the lead in receiving China Robot (CR) certifications from the NRTAC," Country Garden explained.
Country Garden robot restaurant complex.
Part of the motivation for creating a restaurant complex run by robots without people is the coronavirus outbreak. Some customers are still afraid to return to restaurants even if the staff wears masks and sanitizes tables. Others are less hesitant but may feel safer knowing that there was no human contact with their food during the preparation of their meal. It is easier to sanitize a robot and its equipment than to make sure a human is completely disease-free.
The movement toward robot-controlled restaurants started long before the coronavirus outbreak. From robot fry cooks to robot greeters, eateries have been testing the technology for years. Now, concerns about health and safety while dining out are pushing the tech forward and increasing its acceptance.
https://www.forbes.com/sites/lanabandoim/2020/06/30/country-garden-opens-restaurant-operated-completely-by-robots/#46bdf80946d6
10. 1 Personal Rule of Success That Warren Buffett Swears By
How to get rid of what's holding you back from reaching your full potential.
BY MARCEL SCHWANTES, FOUNDER AND CHIEF HUMAN OFFICER, LEADERSHIP FROM THE CORE@MARCELSCHWANTES
Warren Buffett's simple wisdom isn't exactly earth-shattering, but it's still brilliant. Soon to be 90 years young, the Berkshire Hathaway CEO has shared with the world common-sense investment and life rules that have worked for him.
It will also work for us if we allow these life lessons to resonate deep in our souls, and then apply them to transform our lives. One of those Buffett rules is rather straightforward: Get rid of your bad behaviors.
Most of us have a sense of what's holding us back from reaching our full potential, and Buffett doesn't mince words when it comes to conquering your worst self.
Article continues after sponsored content
I see people with these self-destructive behavior patterns. They really are entrapped by them.
The solution is quite simple. He advised graduating students at the University of Florida to learn and practice good habits early on before it's too late. Here's Buffett:
You can get rid of [a bad behavior] a lot easier at your age than at my age, because most behaviors are habitual. The chains of habit are too light to be felt until they are too heavy to be broken.
Sure, it's much easier to shake off bad habits in your 20s than in your 50s or 60s. But whatever your age, getting rid of your most self-destructive habits is crucial for success.
What bad behaviors to get rid of
When we were children, our parents would tell us things like: Stop talking with your mouth full, don't burp in public, and stop hitting your brother. Has anything changed now that we wear big-boy pants?
Hardly. We've elevated mud-slinging in the playground to accepted corporate norms and behaviors that are taken unfortunately for granted. Here are five bad behaviors to consider getting rid of.
1. Workplace gossip
Gossip is stealthy and many working professionals are unaware of when it happens, even when they're the perpetrators of gossip.
In its worse and darkest sense, gossip is used by people to further their own reputations and interests at the expense of their colleagues. And yet, it's hard to walk away from a juicy story and, for those addicted to gossip (yes, it's a thing), even harder to keep to themselves.
So when gossip permeates the hallways of an organization to the point where the workplace becomes a hostile work environment, there are dire consequences:
A gradual decline in trust and morale.
Emotional drama that disrupts work productivity.
Anxiety and tension increase.
Divisiveness as people take sides.
Unexpected turnover and loss of good talent.
2. Fear-based management
If you want to foster trust and a collaborative, high-performing team or organization, hop off the autocratic high-horse and stop instilling fear into the hearts and minds of people.
This means, as a leader, allowing freedom for others to experiment, lead themselves, stretch, and make mistakes. This will unleash discretionary effort and your team will produce great results.
When leadership is less about control and more about encouraging autonomy and collective wisdom, things happen. Let me rephrase that: Financial growth happens.
3. The inability to actively listen
Effective communication isn't just about talking; great conversationalists listen intuitively to others' stories, asking questions, and searching conversations for depth, meaning, and understanding.
This takes the skill of being present and in the moment, meaning you cease having the need to talk over others to get your point across, which works to your advantage. Because when you listen — truly listen — you hear peoples' objections, anxieties, and fears, as well as the solution to problems.
4. Lying
Lying is a fascinating psychological enigma. When I looked over the research about why people lie, it typically boils down to two reasons:
Sometimes people lie because of something that's really about them;
Other times, they lie because there is something about you that tempts them to do it.
Don't take that last point personally. Your colleagues may lie because of your very best qualities as well. But truth be told, it's your worst qualities that will trigger the most lies in others.
In Yudhijit Bhattacharjee's terrific National Geographic article, "Why We Lie: The Science Behind Our Deceptive Ways," he said something very thought-provoking:
Lying, it turns out, is something that most of us are very adept at. We lie with ease, in ways big and small, to strangers, co-workers, friends, and loved ones. Our capacity for dishonesty is as fundamental to us as our need to trust others, which ironically makes us terrible at detecting lies. Being deceitful is woven into our very fabric, so much so that it would be truthful to say that to lie is human.
So if to lie is human, you can bet it's happening frequently in your workplace or business. To counter the problem of deception and lying, being aware of the reasons people do it brings you that much closer to protecting yourself against the effects of lying.
5. Lack of integrity
That brings us to something obviously lacking at work — integrity. Let me bring back Buffett to illustrate. In one of his annual letters to Berkshire Hathaway shareholders years back, Buffett wrote: "It takes 20 years to build a reputation and five minutes to ruin it. If you think about that, you'll do things differently."
How do you ruin your reputation in five minutes? Don't take responsibility for your actions. Anyone's reputation, whole career, or success can quickly fall like a house of cards no matter the hard effort made or accolades won over the years.
Buffett is saying that, without integrity running through your veins, you're going to eventually fail. He is so sure that integrity is the life force that gives a person his or her influence and success, he once said that if you hire or promote people with intelligence and energy but who lack integrity, "you really want them to be dumb and lazy."
The question is, which of these do you need to get rid of?
JUN 27, 2020
Like this column? Sign up to subscribe to email alerts and you'll never miss a post.The opinions expressed here by Inc.com columnists are their own, not those of Inc.com.https://www.inc.com/marcel-schwantes/warren-buffett-rule-success-full-potential.html?cid=sf01003
Disclaimer
Lansing Street Advisors is a registered investment adviser with the State of Pennsylvania..
To the extent that content includes references to securities, those references do not constitute an offer or solicitation to buy, sell or hold such security as information is provided for educational purposes only. Articles should not be considered investment advice and the information contain within should not be relied upon in assessing whether or not to invest in any securities or asset classes mentioned. Articles have been prepared without regard to the individual financial circumstances and objectives of persons who receive it. Securities discussed may not be suitable for all investors. Please keep in mind that a company's past financial performance, including the performance of its share price, does not guarantee future results.
Material compiled by Lansing Street Advisors is based on publically available data at the time of compilation. Lansing Street Advisors makes no warranties or representation of any kind relating to the accuracy, completeness or timeliness of the data and shall not have liability for any damages of any kind relating to the use such data.
Material for market review represents an assessment of the market environment at a specific point in time and is not intended to be a forecast of future events, or a guarantee of future results.
Indices that may be included herein are unmanaged indices and one cannot directly invest in an index. Index returns do not reflect the impact of any management fees, transaction costs or expenses. The index information included herein is for illustrative purposes only