1. ESG Fund Flows Doubled Year Over Year….65% of Domestic Large Cap ESG Outperformed.
According to Morningstar data, about 65% of the domestic large-cap stock ESG funds beat the S&P 500 in 2020, including all 10 of the largest ones. In 2020, ESG funds more than doubled the $21.4 billion in inflows received in the previous year. Index-tracking ESG funds have grown particularly fast; many look more like broad-market index funds than their active counterparts, making them an easier transition for investors.
Active, ESG, and Thematic ETFs Were 2020's Big Winners. Expect More-Barrons
https://www.barrons.com/articles/active-esg-and-thematic-etfs-were-2020s-big-winners-expect-more-51609414200?mod=past_editions
https://www.advisorperspectives.com/articles/2020/10/12/what-the-growth-of-esg-investing-means-for-advisors
2. Largest ESG ETF—Assets Increased 8x.
The largest ESG ETF, the iShares ESG Aware MSCI USA (ESGU), saw assets increase eightfold last year, to more than $13 billion from $1.5 billion at the end of 2019.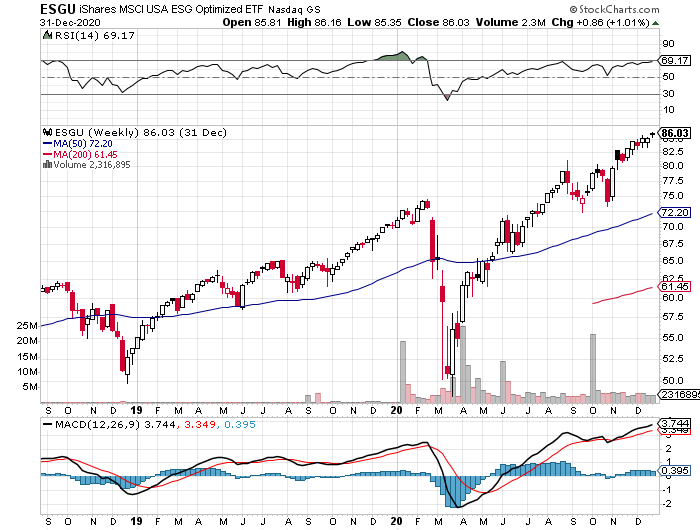 ©1999-2021 StockCharts.com All Rights Reserved
3. The Nasdaq 100 peaked 60% above its 200-day moving average in 2000
Today Nasdaq trades 23% higher on daily chart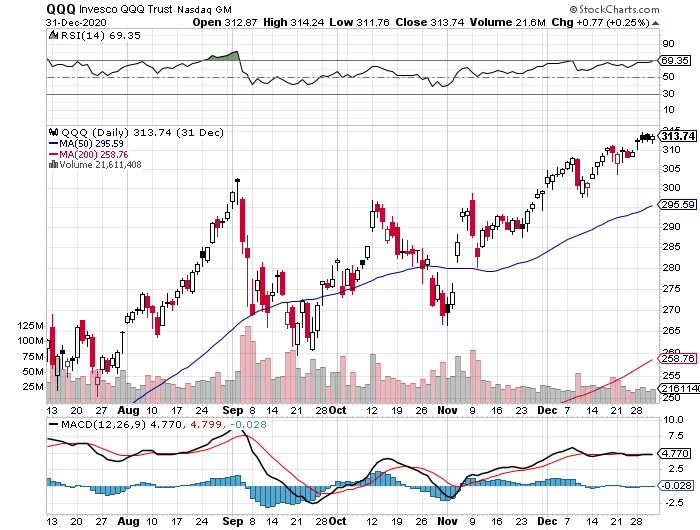 ©1999-2021 StockCharts.com All Rights Reserved
However on the longer-term weekly chart …I have Naz 100 67% over 200 day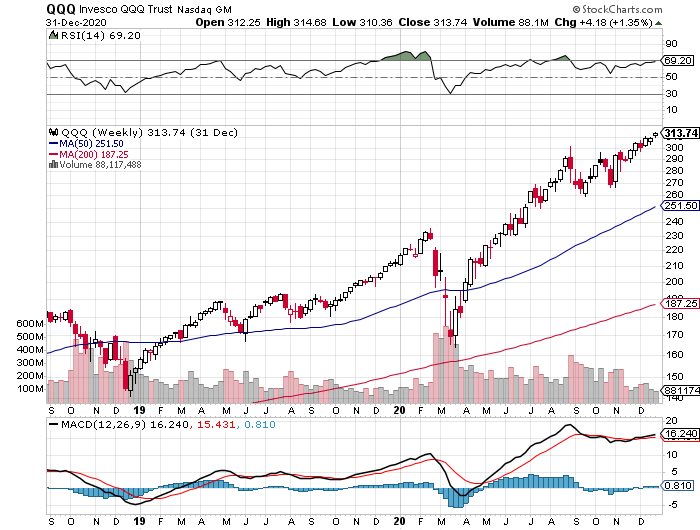 ©1999-2021 StockCharts.com All Rights Reserved
4. Convertibles ETF +51% 2020
CWB-SPDR Convertible ETF 2020 chart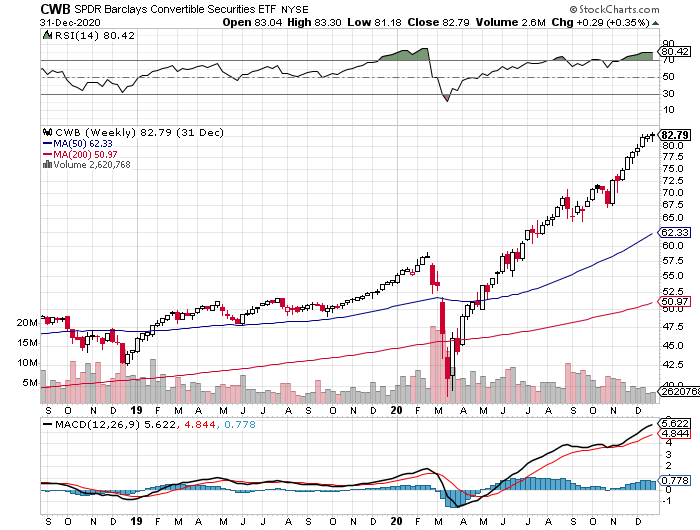 ©1999-2021 StockCharts.com All Rights Reserved
5. Tech's top seven companies added $3.4 trillion in value in 2020
KEY POINTS
· Apple's market cap jumped by almost $1 trillion this year, followed by Amazon, which increased by over $700 billion.
· Tesla catapulted into the ranks of the mega-cap companies after its stock surged almost ninefold.
· Nvidia more than doubled in value as demand picked up for its gaming and data center processors.
Tech's biggest companies just wrapped up a huge year.
The seven most valuable U.S. technology companies — Apple, Microsoft, Amazon, Alphabet, Facebook, Tesla and Nvidia — picked up a combined $3.4 trillion in market cap in 2020, powering through a global pandemic and broader economic crisis.
Between continued optimism over iPhone sales, Microsoft's growing Teams collaboration product, Amazon's ongoing control of e-commerce and the strength of Google and Facebook's online ad duopoly, Big Tech was neither slowed by Covid-19 nor the rising number of investigations into its dominance.
Tesla's wild rally served as the biggest surprise.
The stock climbed almost ninefold this year, lifting the electric car maker's market cap from $76 billion at the beginning of the year to $669 billion at Thursday's close. Despite initial factory closures due to the pandemic, Tesla bounced back to deliver a record number of vehicles in the third quarter.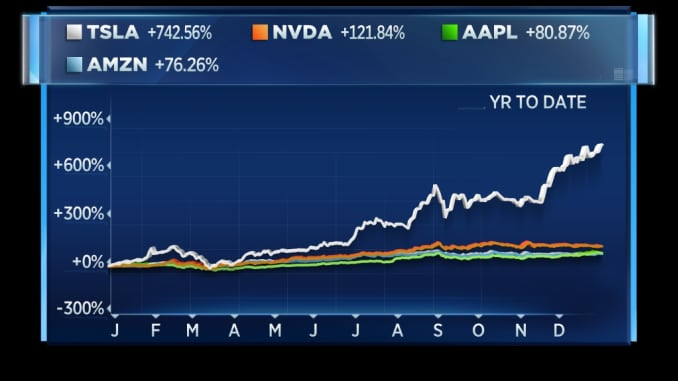 Tesla led tech stocks in 2020
CNBC
https://www.cnbc.com/2020/12/31/techs-top-seven-companies-added-3point4-trillion-in-value-in-2020.html
6. Market Timers Most Bullish Since 2000
Rarely have market timers been as bullish as they are now, which is a warning sign for stocks
By Mark Hulbert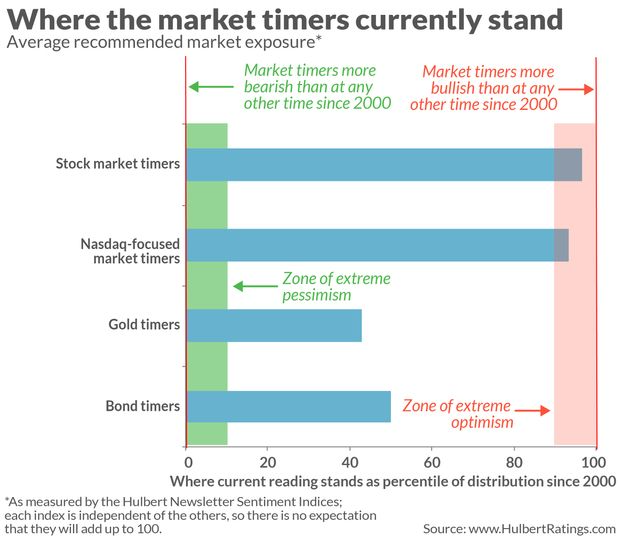 This average stands at 67.8%, which is higher than 96.6% of all other daily readings since 2000. As I have pointed out in many columns over the past year, the stock market typically struggles in the wake of any HSNSI reading in the top 10% of the historical distribution.

https://www.marketwatch.com/story/rarely-have-market-timers-been-as-bullish-as-they-are-now-which-is-a-warning-sign-for-stocks-11609359596
Found at Abnormal Returns Blog. www.abnormalreturns.com
7. U.S. Population Growth is the Lowest in 100 Years
U.S. Population Growth Lowest In 100 Years: Business & Economic Implications
Bill ConerlySenior Contributor\https://www.forbes.com/sites/billconerly/2020/01/09/us-population-growth-lowest-in-100-years-business–economic-implications/?sh=701664566fc6
8. 20 striking findings from 2020
Around eight-in-ten registered voters in the U.S. (83%) said in the summer that it "really mattered" who won this year's presidential election, the highest share in any presidential election year since at least 2000. Two decades ago, by comparison, just half of registered voters said it "really mattered" who won the contest between George W. Bush and Al Gore.

The election itself underscored voters' engagement this year: President-elect Joe Biden received more than 81 million votes, while Donald Trump got more than 74 million – the highest and second-highest totals in American history.
For the first time since at least the Great Depression, a majority of young adults in the U.S. were living with their parents this year. Millions of Americans, especially young adults, moved in with family members as the coronavirus spread. In July, 52% of adults ages 18 to 29 were living with one or both parents, up from 47% in February, before the pandemic. The share of young adults living with their parents rose among men and women, in all major racial and ethnic groups and among metropolitan as well as rural residents. Growth was sharpest among the youngest adults – those ages 18 to 24 – as well as among White young adults.
Read All 20 Below
Found at The Big Picture Blog https://ritholtz.com
9. Top New Year's Resolutions 2021
Happy New Year! New Year's resolutions:
Source: Statista
From the Daily Shot https://dailyshotbrief.com/the-daily-shot-brief-december-30th-2020/
10. 21 Simple Ways to Take a Mindfulness Pause Right Now
Even if you have never tried this kind of awareness before, there are many simple ways to take a quick mindfulness pause. To begin to develop this habit, just pause briefly and focus your attention on where you are right now. Here are 21 ideas to help you practice this powerful way to transform your life.
1. Pause between bites of food and savor the taste.
2. Really pay attention to your experience as you wash your face or brush your teeth.
3. Turn off your personal electronic devices for an hour.
4. Stretch and notice the sensations in your body.
5. Listen carefully with no agenda to the person speaking to you.
6. For just a few breaths, observe that you are breathing—the feeling of the in-breath and out-breath.
7. Focus your attention on what you're doing right here, right now.
8. Look around and really notice your surroundings.
9. Offer someone a few positive words from your heart.
10. Read an inspiring poem.
11. Sing a song in the shower—just for fun, no judgment.
12. Observe the sunrise or sunset.
13. Notice a bird singing.
14. Stop for a moment and just sit or stand quietly.
15. Appreciate someone in your life.
16. Write a personal note of gratitude.
17. Play with a child or a pet.
18. Meditate.
19. Notice the sounds in your environment without judgment.
20. Clasp your hands together and notice the sensations.
21. Listen to music.
https://www.psychologytoday.com/us/blog/flourish-and-thrive/202010/21-ways-help-yourself-get-unstuck-today?collection=1137425
Disclosure
Lansing Street Advisors is a registered investment adviser with the State of Pennsylvania..
To the extent that content includes references to securities, those references do not constitute an offer or solicitation to buy, sell or hold such security as information is provided for educational purposes only. Articles should not be considered investment advice and the information contain within should not be relied upon in assessing whether or not to invest in any securities or asset classes mentioned. Articles have been prepared without regard to the individual financial circumstances and objectives of persons who receive it. Securities discussed may not be suitable for all investors. Please keep in mind that a company's past financial performance, including the performance of its share price, does not guarantee future results.
Material compiled by Lansing Street Advisors is based on publicly available data at the time of compilation. Lansing Street Advisors makes no warranties or representation of any kind relating to the accuracy, completeness or timeliness of the data and shall not have liability for any damages of any kind relating to the use such data.
Material for market review represents an assessment of the market environment at a specific point in time and is not intended to be a forecast of future events, or a guarantee of future results.
Indices that may be included herein are unmanaged indices and one cannot directly invest in an index. Index returns do not reflect the impact of any management fees, transaction costs or expenses. The index information included herein is for illustrative purposes only.