1. Goldman Most Shorted +23% YTD Before Yesterday…Companies That Miss Earnings Outperforming
ZeroHedge Blog As shorts were squeezed – with Goldman's most shorted basket rising 23% since our Jan 9 post…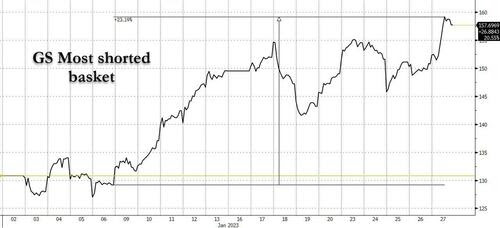 To this, Nocerino adds that we have been seeing weaker report being bought (ie: MSFT). And as we pointed out on Friday, "companies who miss earnings on EPS have outperformed at the largest pace on record." Hardly a bearish signal.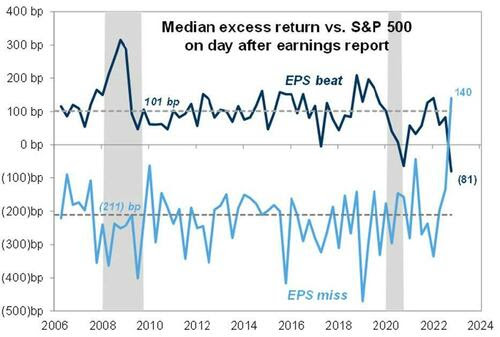 https://www.zerohedge.com/markets/furious-squeeze-sent-nasdaq-its-best-start-over-20-years-and-why-bears-are-really-sweating
---
2. Follow-Up to Yesterday's Chart on Stock Buybacks.
Dave Lutz Jones Trading–GS thinks the bulk of Companies are outside of the "Buyback Blackout" Window – Approc $4bn of demand overall daily now.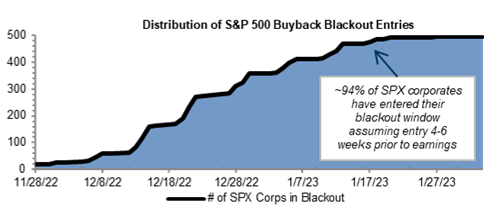 ---
3. Set Up for Interesting Fed Comments this Week…Despite Fastest Pace Ever in Rate Increases…Financial Conditions are Easing
Bloomberg Steve Matthews and Michael Mackenzie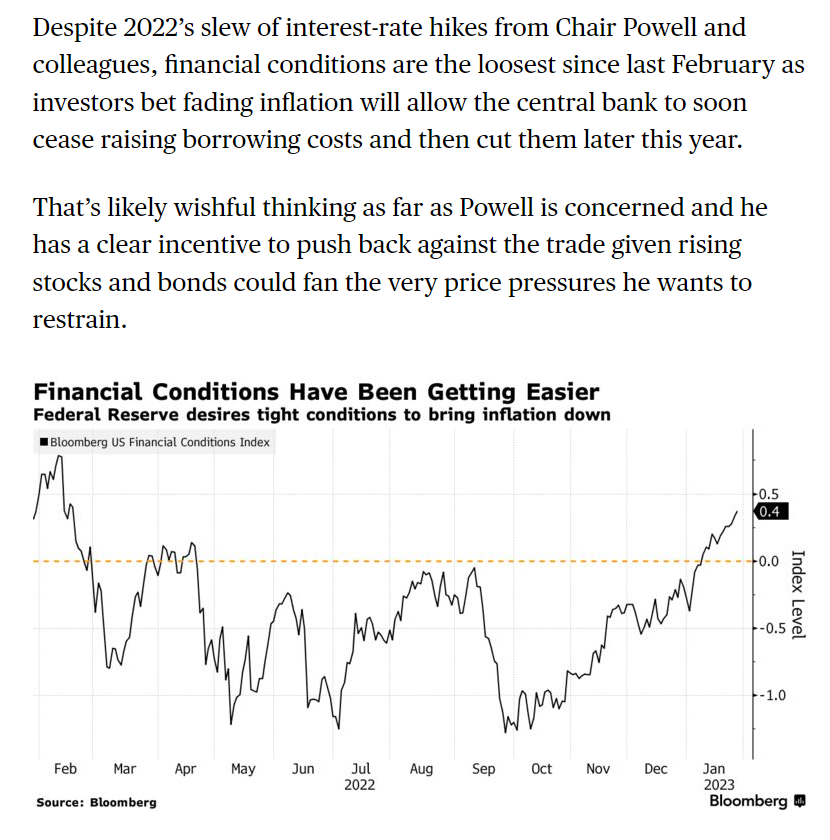 https://www.bloomberg.com/news/articles/2023-01-30/fed-s-wall-street-clash-sets-stage-for-powell-s-hawkish-message?srnd=premium&sref=GGda9y2L
---
4. Gold Miners vs. U.S. Dollar
This chart shows GDX (gold miners) vs. Weakening U.S. Dollar….Straight up since November
---
5. Oil Inventories Bouncing Around Lows
John Mauldain Advisor Perspectives Blog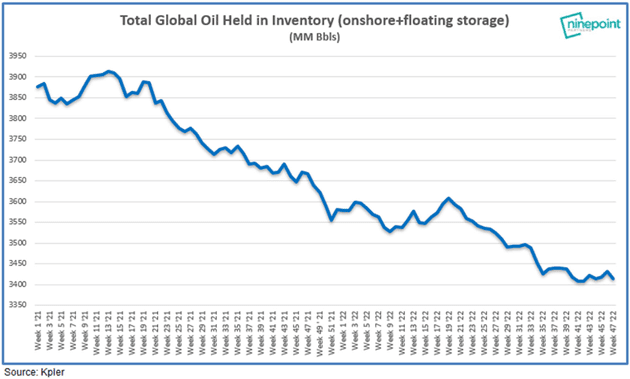 Notice in the chart below that both the oil giants (supermajors) and midsized oil and gas public companies are barely replacing their current falling production with new production, even as the Biden administration asks them to produce more oil. It's a longer story, but many public companies not only have pressure from board members and institutions to reduce production (the whole ESG/climate change environment), but for many companies the market is undervaluing any new production. If you are a CEO, the markets reward you for buying your own shares at a discount to their net NAV. Consequently, we see less projected capital expenditures for new production.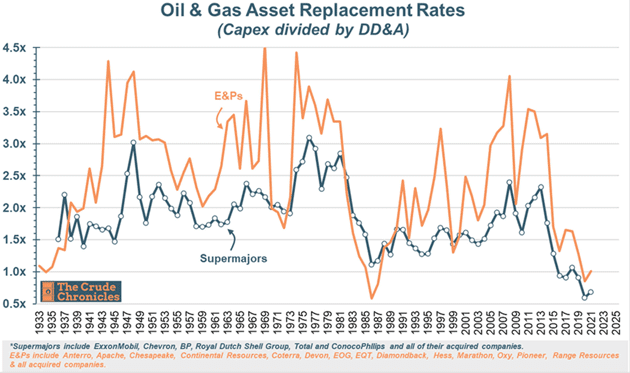 Source: The Crude Chronicles
https://www.advisorperspectives.com/commentaries/2023/01/28/growth-pains
---
6. Largest Betting States in U.S.
The Daily Shot Blog Food for Thought: Lastly,  here are the largest sports betting states.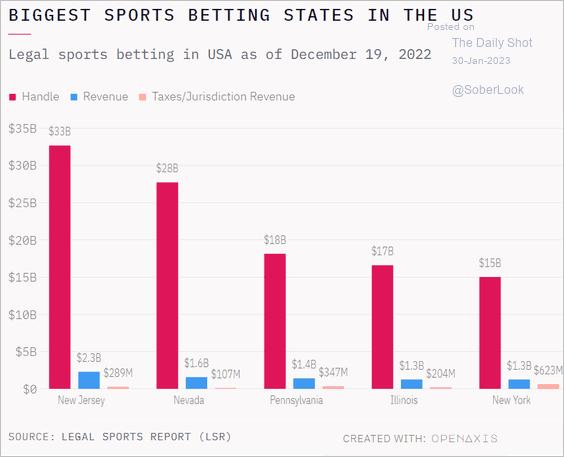 Source: @OpenAxisHQ
---
7. How do most Americans Become Millionaires?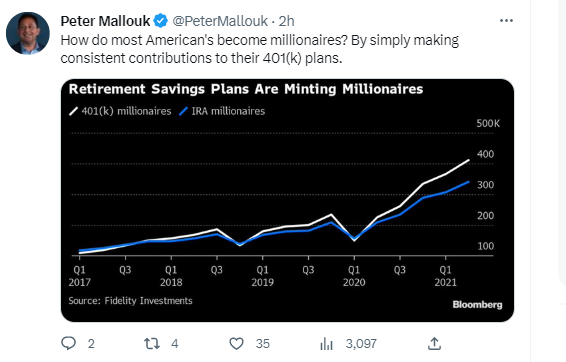 https://twitter.com/PeterMallouk
---
8. SEC Whistleblower Cases Double in 3 Years
For your information-Last week, the SEC announced its biggest whistleblower reward so far this year, compensating four joint informants $28m after they "significantly contributed to the success of the action" against the wrongdoers.
Surprisingly, a multi-million dollar payout isn't uncommon in the world of financial whistleblowing. Just last month, one source was awarded $37m for their efforts in a healthcare bribery case, becoming one of the top ten highest-paid individual informants in the history of the SEC's whistleblowing scheme.

Snitches get richesCompensating whistleblowers has cost the SEC over $1.3bn since it devised the program in 2010 to incentivize industry insiders to help catch financial criminals. And, while tips have risen almost every year since, the last couple have seen the whistleblowing volume taken to the next level. Whistleblowing tips grew 76% from 6,911 in 2020 to more than 12,000 in each of the last 2 years.Along with increased awareness of the SEC program, it's hard to argue with the fact that — in the age of remote working — reporting the boss's underhand dealings is much easier if you're not making watercooler small talk with them every day.
One new fertile space for financial crime has been crypto. Last year, more than 1,700 tips found their way to the SEC about crypto-related crimes, a category that has grown quickly alongside the sector, with Gemini & Genesis the latest crypto companies targeted by the SEC.
---
9. Undeveloped Land Prices Dropping.
@RickPalaciosJr  John Burns Real Estate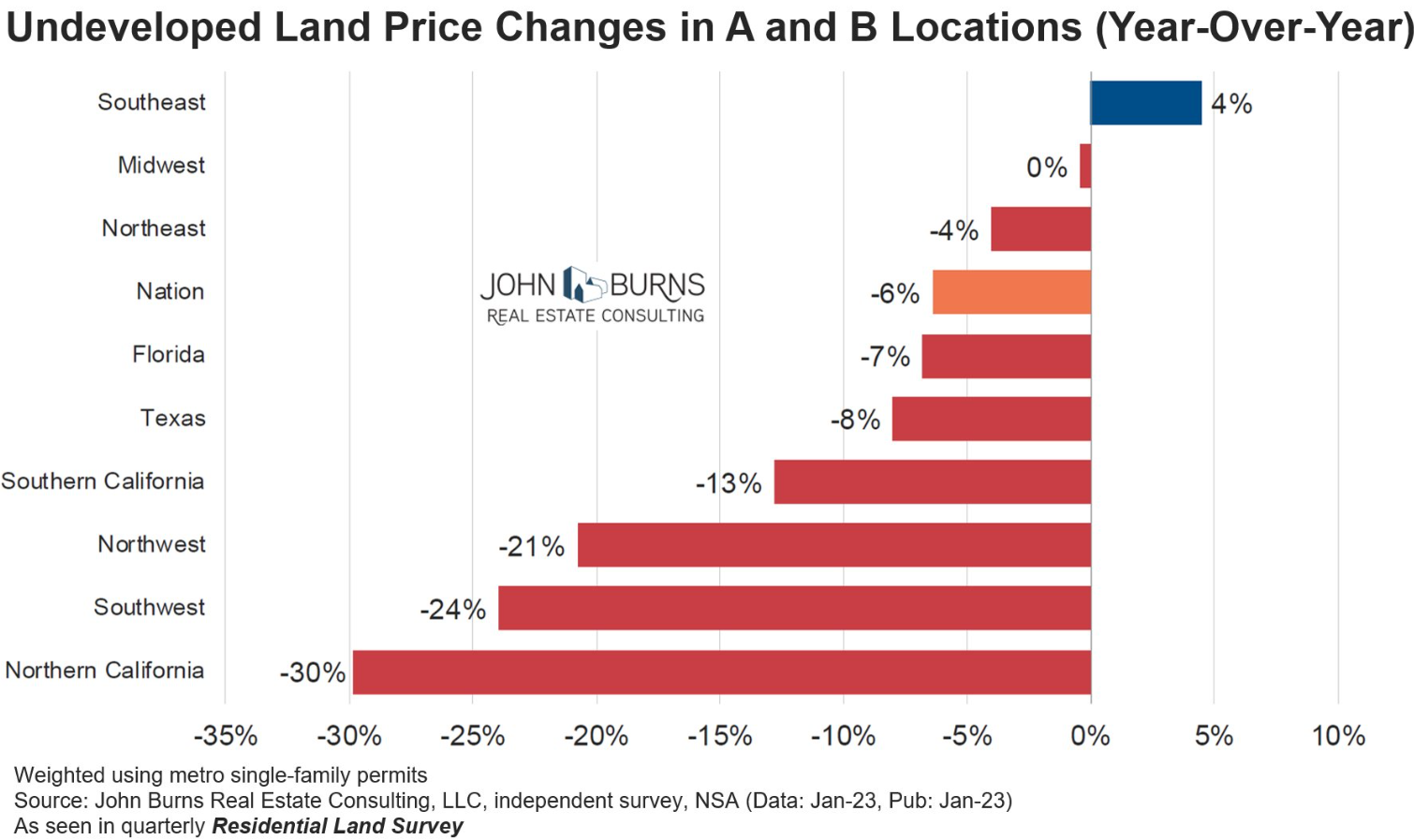 https://twitter.com/RickPalaciosJr
---
10. 11 Things That 0% Interest Rates Caused