1. Rally in Stocks After Job Cuts at Tech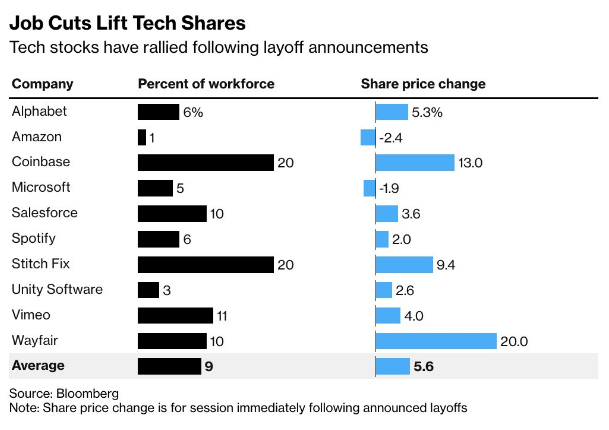 Found at Irrelevant Investor Blog https://theirrelevantinvestor.com/
---
2. Sector Performance January
Sector Divergence-On this last trading day of January, below is a snapshot of how the major US sector ETFs have performed so far this year.  Over these last few weeks as the broad market has rallied, we've definitely seen some sector divergence.  Defensive sectors like Consumer Staples (XLP) and Utilities (XLU) have come under selling pressure, while cyclical sectors more tied to the business cycle have surged.  Communication Services (XLC) and Consumer Discretionary (XLY) are both up more than 12% YTD already, while Technology (XLK), Materials (XLB), Real Estate (XLRE), and Financials (XLF) are up more than 5%.  The only sectors down on the year are Consumer Staples, Utilities, and Health Care (XLV).  At the moment, four sectors are overbought (more than one standard deviation above their 50-DMAs) versus three that are oversold (more than one standard deviation below their 50-DMAs).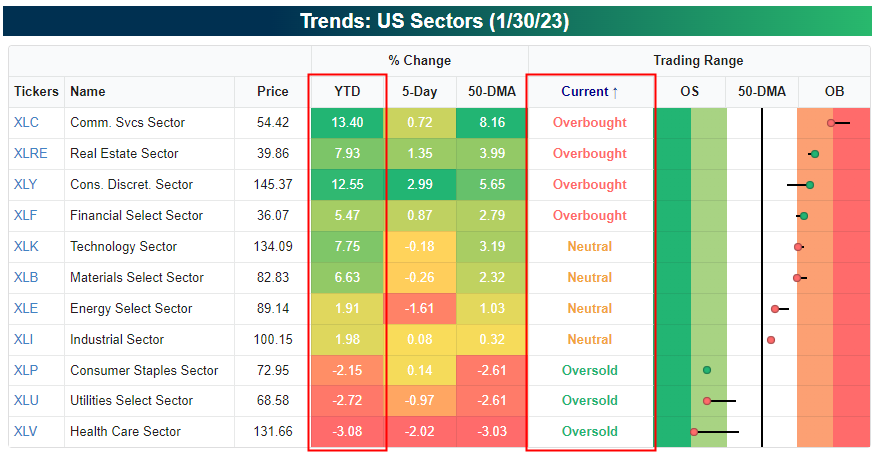 https://www.bespokepremium.com/interactive/posts/think-big-blog/sector-divergence
---
3. Money Flows to China…Hedge Funds and Actively Managed Longs
Zerohedge…But a closer look under the hood suggests a deep split between different types of investors. Hedge funds, who tend to be nimble, have increased their net exposure to Chinese stocks to 13%, from about 7% late last year, according to data from Goldman Sachs's Prime Services unit. That isn't far away from a peak of 15% in 2020, just before Beijing started cracking down on tech companies.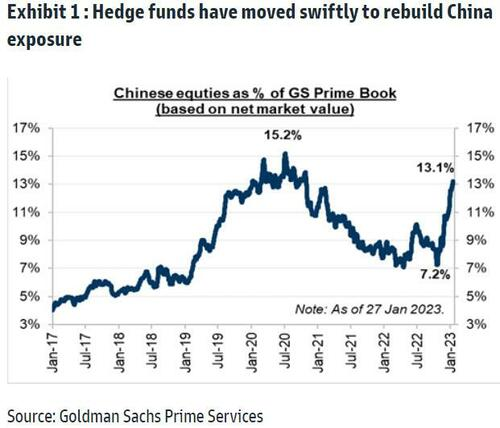 In comparison, while global mutual funds' holding of Chinese stocks has increased to 8% from 6%, they still are  underweight China by 420 basis points relative to their benchmarks, as of December. The current position ranks in the 19th percentile over the past decade, analysts including Sunil Koul wrote in a note.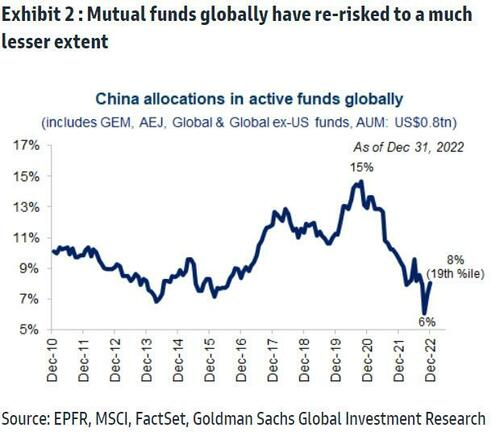 https://www.zerohedge.com/markets/hedge-funds-push-chinese-holdings-close-record
---
4. Rise in Auto Delinquencies-Remember We Showed the Rise in $1000 a Month Car Payments
Now, more Americans are falling behind on their car payments than during the financial crisis. In December, the percentage of subprime auto borrowers who were at least 60 days late on their bills rose to 5.67%, up from a seven-year low of 2.58% in April 2021, according to Fitch Ratings. That compares to 5.04% in January 2009, the peak during the Great Recession.  Bloomberg ByClaire Ballentine
Rise in Auto Delinquencies
The percentage of borrowers at least 60 days late on their car payments is rising
Source: Fitch Ratings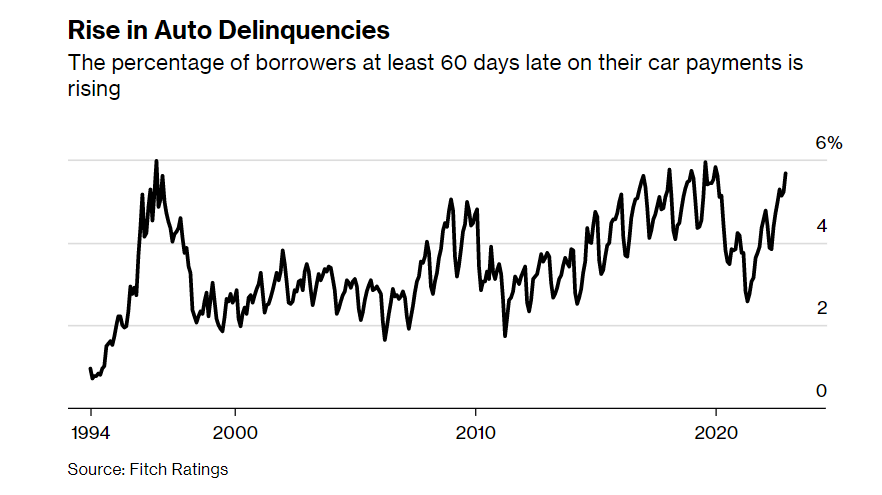 https://www.bloomberg.com/news/articles/2023-01-27/car-repossessions-grow-as-inflation-slams-consumers?leadSource=uverify%20wall
---
5. Demand for Gold Soars to Highest in a Decade as U.S. Dollar Weakens
Dave Lutz at Jones Trading GOT GOLD?– Demand for gold surged to its highest in more than a decade in 2022, fuelled by "colossal" central bank purchases that underscored the safe haven asset's appeal during times of geopolitical upheaval. Annual gold demand increased 18 per cent last year to 4,741 tonnes, the largest amount since 2011, driven by a 55-year high in central bank purchases, according to the World Gold Council, an industry-backed group.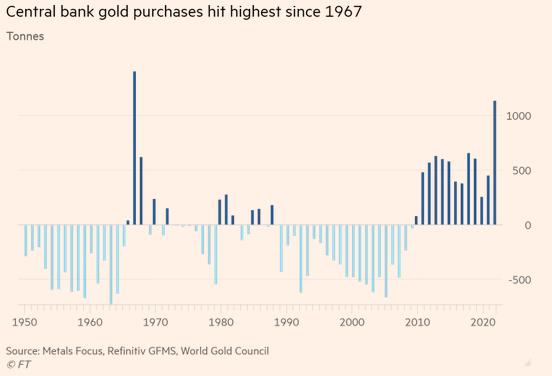 Central banks hoovered up gold at a historic rate in the second half of the year, a move many analysts attribute to a desire to diversify reserves away from the dollar after the US froze Russia's reserves denominated in the currency as part of its sanctions against Moscow. Retail investors also piled into the yellow metal in a bid to protect themselves from high inflation. Central bank purchases of gold hit 417 tonnes in the final three months of the year, roughly 12 times higher than the same quarter a year ago. It took the annual total to more than double of the previous year at 1,136 tonnes, FT reports.
---
6. Lumber Rally But a Blip on Long-Term Chart
Lumber 50week crossed below 200week before recent oversold bounce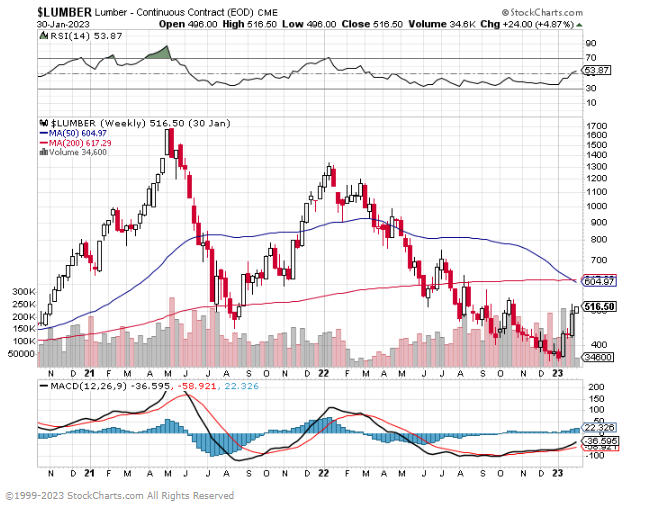 ---
7. Rates: Treasury futures positioning is extraordinarily bearish.
The Daily Shot Brief Blog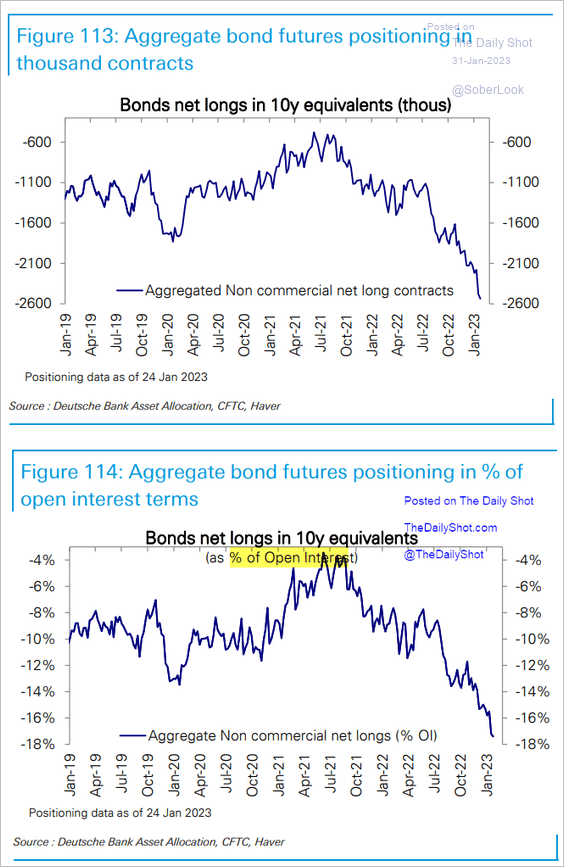 ---
8. The number of 'millionaire renters' has tripled — here's where they live
Marketwatch BY Aarthi Swaminathan A growing number of millionaires are forgoing homeownership in big cities, either because of sky-high home prices or because they prefer to rent.
That's according to a new report on the nation's increasingly wealthy renters from RentCafe, a nationwide apartment-search website. An estimated 2.6 million high-earning households live in rentals, and some are a "new ritzy kind of tenant: the millionaire renter," the RentCafe report said.
The number of people who make over $150,000 a year and rent grew by 82% from 2015 to 2020, according the report. In contrast, the number of renters nationwide over the same time period grew by 3.2%.
The data came from the Integrated Public Use Microdata Series, which incorporates census and survey data. IPUMS is part of an effort run by the University of Minnesota.
The "millionaire renter" seems like an "unlikely new kind of tenant," the report said. The number of households that earn more than $1 million in income and rent reached 3,381 in 2020, three times as many as in 2015.
The growth in millionaire renters is partly due to high home prices. As of December 2022 , the median rent for an apartment in Manhattan was $4,048, according to Douglas Elliman. The median sales price was $1.1 million.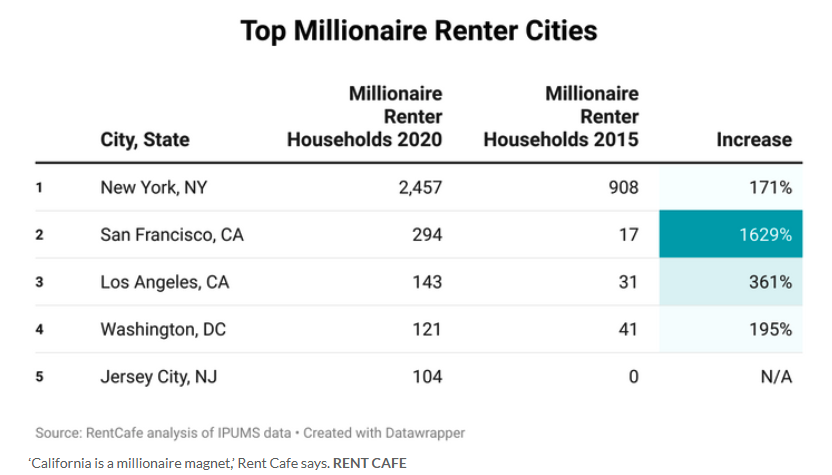 https://www.marketwatch.com/story/the-number-of-millionaire-renters-has-tripled-here-are-the-cities-where-theyre-most-likely-to-live-11675109227?mod=home-page
---
9. More and More Data=More and More Cognitive Biases
What the NFL Playoffs and Tech Layoffs Have in Common
They have never had so much data to guide their decisions. But teams and companies still get hiring and firing wrong because of psychological biases.
WSJ By Ben CohenTo understand the forces behind the recent layoffs that have ravaged the tech industry, it helps to start with a curious decision by one Bay Area organization.
At the end of last year's National Football League draft, with 261 players off the board and time running out, Brock Purdy was still waiting to hear his name called. Then his phone rang. The San Francisco 49ers were taking him with the very last pick. 
In that moment, Mr. Purdy became Mr. Irrelevant, the nickname given to the final player chosen in every NFL draft. A series of increasingly unlikely events would make the quarterback more relevant than he or anyone else imagined. 
The unheralded Brock Purdy came into his rookie season as a third-stringer. When one of the players ahead of him was injured, he earned a promotion to backup. But then came another injury, and he suddenly became the starter. That was seven games ago. The Niners haven't lost since. 
This weekend, with a television audience of around 50 million people watching at home, the undefeated Brock Purdy will play for a spot in the Super Bowl. 
It's an amazing story that reveals so much about the circumstances required for success in any business. It also shows that even in professional sports, where performance is neatly quantified into numbers for anyone to scrutinize, the market for talent remains inefficient. Football teams have never had so much data to guide them. They are still prone to all sorts of cognitive biases that distort their hiring and firing decisions. 
The consequences of human psychology can be found in many other workplaces across Northern California these days, as it happens, and one scholar in the heart of Silicon Valley says the brutal round of tech layoffs can also be explained by irrational behavior. 
The reason workers are losing their jobs is not the one that companies provide, said Jeffrey Pfeffer, a professor of organizational behavior at the Stanford Graduate School of Business. It's not economic concerns. It's a social contagion. Why have layoffs spread from Amazon.com and Meta Platforms to Google and Microsoft and affected enough people to fill an NFL stadium? His provocative theory is that many of the world's richest companies are simply imitating each other. FOMO has infected FAAMG stocks. 
as the San Francisco 49ers' starting quarterback, was the last player picked in the 2022 NFL draft, earning him the moniker
"They are doing it because other companies are doing it," Dr. Pfeffer told the university's news service.
https://www.wsj.com/articles/nfl-playoffs-brock-purdy-tech-layoffs-11674680339?mod=itp_wsj&ru=yahoo
---
10. MIT neuroscientist shares 4 things she never does to eliminate 'brain fog and forgetfulness'
Tara Swart, Contributor@TARASWART The alarm goes off. You get dressed, grab your coffee, and head to work. But by lunchtime, you start to feel disorganized. You reread emails because you lack focus and mental clarity.
There's nothing worse than brain fog. In addition to stress and lack of sleep, it can be caused by the immune system creating an inflammatory response in the brain. This can lead to symptoms like poor concentration and memory, or difficulty making decisions.
As a neuroscientist, I study the causes of brain fog and forgetfulness. To avoid them, here are four things I never do:
1. I never let my body get tense for too long.
Even if you think you're relaxed, your body may be physically tense (e.g., stiff neck, back or shoulder pain). This can be a result of stress from things like unfinished tasks or looming deadlines.
So when I notice that my body is tense, I immediately do an exercise called "box breathing":
1.               Inhale through your nose as you slowly count to four seconds.
2.               Hold your breath for a count of four seconds.
3.               Exhale through your nose, releasing all the air from your lungs, as you slowly count to four seconds.
4.               Hold your breath for a count of four seconds.
5.               Repeat for at least four rounds.
Box breathing is a simple way to help calm your brain. Studies also show that it can reduce levels of cortisol, which is the chemical produced when the body is under stress.
2. I never use screens one hour before bedtime.
As tempting as it might be to scroll through Instagram or watch TV before bedtime, these activities can be too stimulating for the brain.
Instead, I try to read a book before turning out the lights. If that doesn't help me sleep, I do a "relaxation body scan," squeezing and releasing muscles — starting at my toes and all the way up to my head.
Ideally, we need about eight hours of sleep a night. More than that can lead to a depressed mood, and less than that doesn't give the brain enough time to rest and reset.
3. I never load up on glucose.
If your gut isn't healthy, your brainpower can falter, too. I strengthen my gut-brain axis by maintaining a diet rich in hydrating foods, healthy fats and digestible protein.
Most important of all, I try to avoid sugar. Your brain uses glucose (sugar) as fuel, but refined carbohydrates like high fructose corn syrup found in sodas are not good sources of fuel. Your brain gets a burst of too much glucose, then too little.
This can lead to irritability, tiredness, mental confusion, and impaired judgment.
I also eat foods rich in magnesium — whole grains, leafy greens, dried beans and legumes — to help regulate my mood and sleep cycle. And I make sure to have my last caffeinated drink of the day before 10:00 a.m.
4. I never go a day without meditating.
I meditate for at least 12 minutes a day.
Doing this at nighttime can help mitigate brain fog the next day:
1.               Remove all distractions from your room.
2.               Sit or lie down in a comfortable position.
3.               Take deep breaths.
4.               Quietly observe your thoughts.
5.               Whatever thoughts come, simply acknowledge them return your focus to your breathing.
If you don't like to meditate, you can do a mindful activity such as cooking or taking a quiet walk.
I also recommend coming up with a mantra that you can say in the morning, like: "Brain fog is a state of mind. I will go to bed early tonight and be fine tomorrow."
By articulating your goals to yourself out loud, you can start to be more intentional about changing your habits. And through that repetition, your brain and body will start to follow suit.
Dr. Tara Swart Bieber is a neuroscientist, medical doctor and senior lecturer at MIT Sloan. She is the author of "The Source: The Secrets of the Universe, the Science of the Brain," and hosts the podcast Reinvent Yourself with Dr. Tara. She works with leaders to help them achieve mental resilience and peak brain performance, improving their ability to manage stress, regulate emotions and retain information. Follow her on Twitter and Instagram.
https://www.cnbc.com/2023/01/31/neuroscientist-how-to-avoid-brain-fog.html