1. It's Not 1999 Yet.
Nick Maggiulli—Of Dollars and Data Blog
Markets often rhyme but rarely repeat
With the many eye-popping valuations of various technology IPOs in 2020, it can feel a bit reminiscent of 1999. And while stock prices might be high, 2020 is no 1999. Just take a look at the growth in the NASDAQ from 1995-1999 compared to 2016-2020 and you will see that it's night and day:
This chart illustrates that there is a big difference between "bubble" and "BUBBLE." As my colleague Michael Batnick recently argued:
I don't think the stock market is in a bubble, but it's surrounded by them.
Though we aren't in 1999, some investors definitely are. Markets often rhyme but rarely repeat.
https://ofdollarsanddata.com/10-investing-lessons-from-2020/
Found at Crossing Wall Street Blog https://www.crossingwallstreet.com/
2. Free Cash Flow….FANG
Michael Batnick, @michaelbatnick
$200 billion in free cash flow, growing 21% year over year.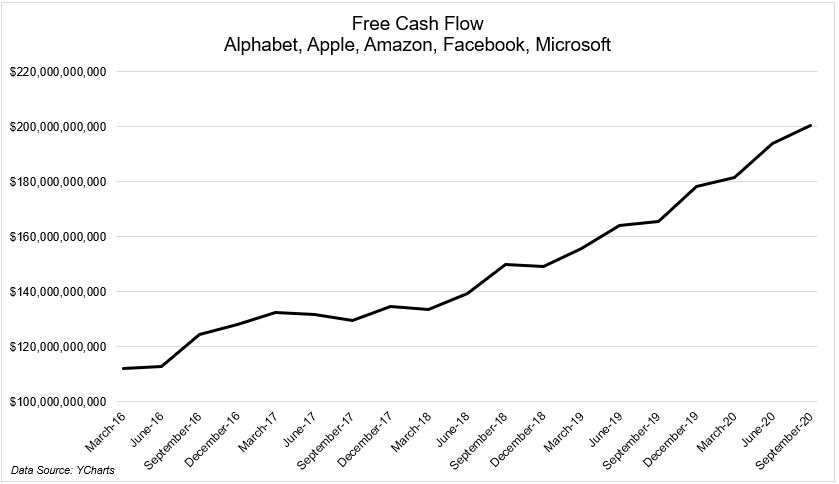 3. History of New Presidents First 100 DAY Returns.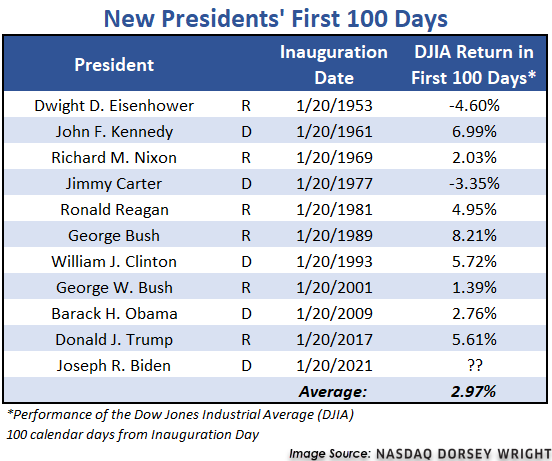 4. Record Low Household Debt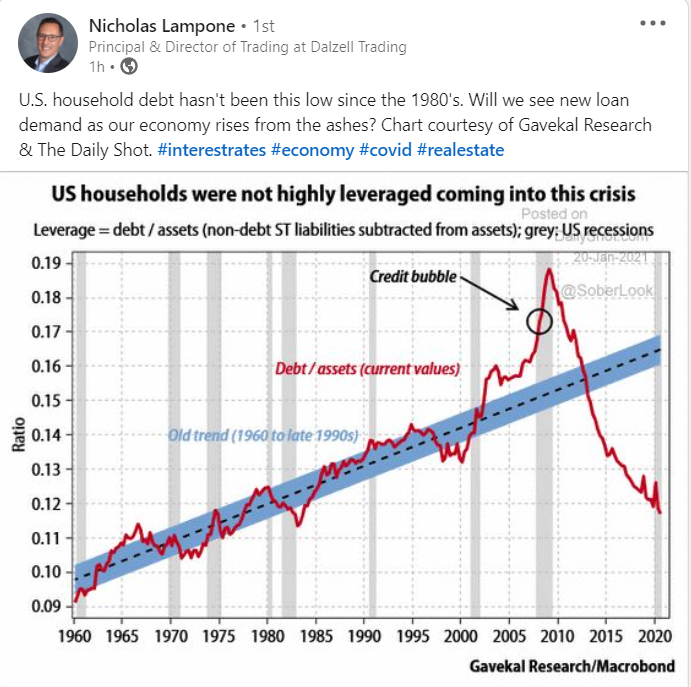 5. Watching VIX Index for Break of $20
6. New Highs for Purchase Applications
Wed, Jan 20, 2021One of the few economic data points released today was weekly mortgage applications from the Mortgage Bankers Association (MBA), and the data was positive. Seasonally adjusted purchases rose 2.7% week over week to the highest level since the last week of November of 2008. That eclipses the previous high of the cycle from late November of last year.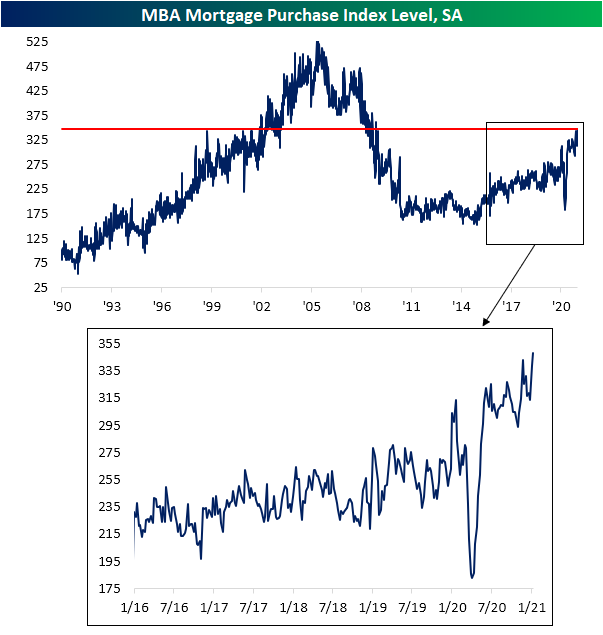 https://www.bespokepremium.com/interactive/posts/think-big-blog/new-highs-for-purchase-applications
7. Europe Closes Last Bastion of Open Outcry Trading
Morning Brew
FINANCELME Might Exchange Its Hallowed "Ring"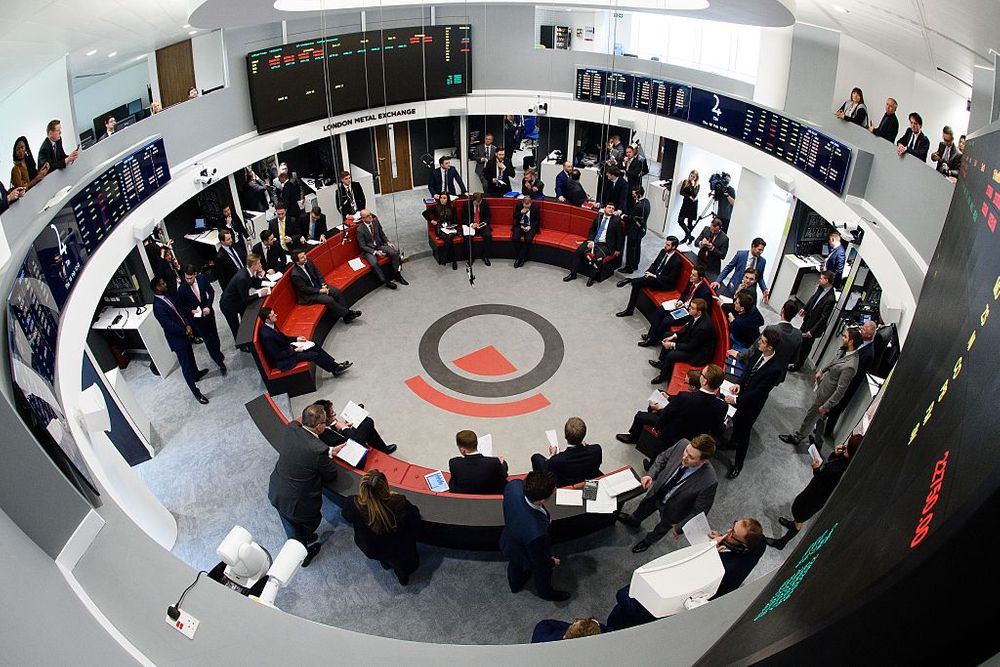 LEON NEAL/AFP via Getty ImagesYesterday, the London Metals Exchange (LME) kicked off a consultation on potentially closing its famous "Ring," Europe's last bastion of "open-outcry" trading. Yes, that's exactly what it sounds like—in the Ring, traders swap metals via hand signals and yelling. The NYSE and Chicago's Mercantile Exchange are among the remaining few that practice it. Like most buildings in Europe, the Ring is even older than you'd anticipate at 144 years of age. Whatever the British equivalent of "fratty" is, that's the Ring's rep. In 2019, the LME had to institute a no-day-drinking rule and crack down on meetings at strip clubs and casinos. Zoom out: The LME plays a key role in the commodities market, and its prices are viewed as important benchmarks for metals.But last March, lockdowns forced the four words you're tired of reading—a shift to digital. And LME leadership thinks it's gone well enough to consider scrapping the famous Ring altogether. Looking ahead…the LME hopes to make a final decision in April.
8. 66% of Fortune 500 Companies Incorporated in Delaware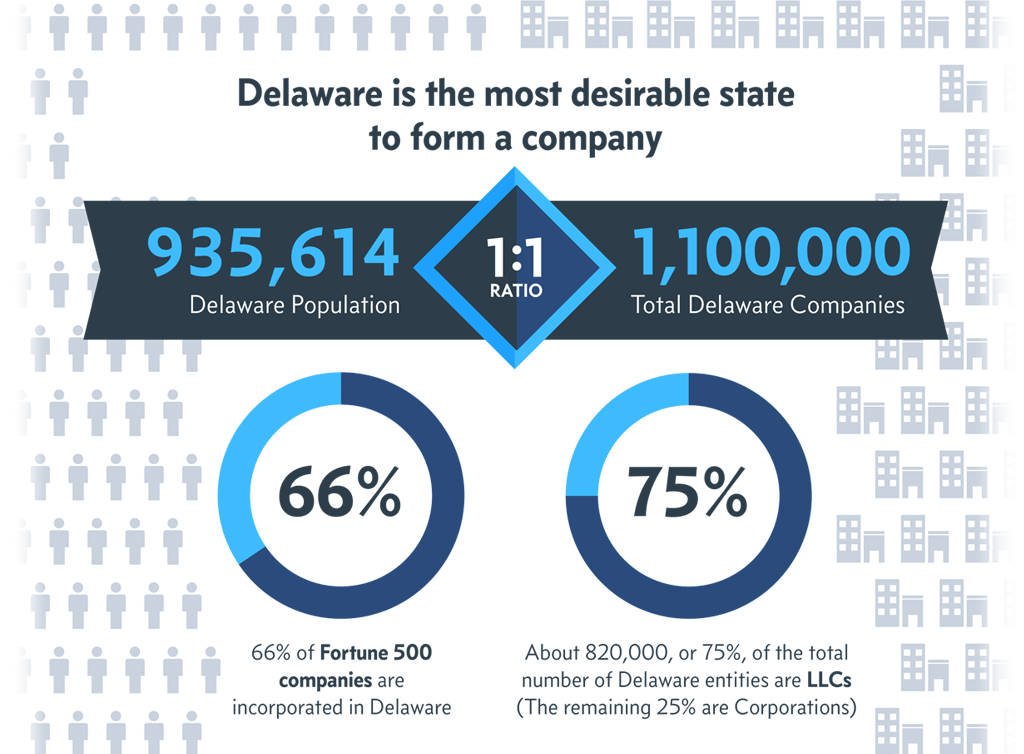 https://www.incnow.com/why-incorporate-in-delaware/
9. Congress Religious Breakdown
PEW Research
https://www.pewforum.org/2021/01/04/faith-on-the-hill-2021/
10. How to Give Tough Feedback That Helps People Grow
Over the years, I've asked hundreds of executive students what skills they believe are essential for leaders. "The ability to give tough feedback" comes up frequently. But what exactly is "tough feedback"? The phrase connotes bad news, like when you have to tell a team member that they've screwed up on something important. Tough also signifies the way we think we need to be when giving negative feedback: firm, resolute, and unyielding.
But "tough" also points to the discomfort some of us experience when giving negative feedback, and to the challenge of doing so in a way that motivates change instead of making the other person feel defensive. Managers fall into a number of common traps. We might be angry at an employee and use the feedback conversation to blow off steam rather than to coach. Or we may delay giving needed feedback because we anticipate that the employee will become argumentative and refuse to accept responsibility. We might try surrounding negative feedback with positive feedback, like a bitter-tasting pill in a spoonful of honey. But this approach is misguided, because we don't want the negative feedback to slip by unnoticed in the honey. Instead, it's essential to create conditions in which the receiver can take in feedback, reflect on it, and learn from it.
To get a feel for what this looks like in practice, I juxtapose two feedback conversations that occurred following a workplace conflict. MJ Paulitz, a physical therapist in the Pacific Northwest, was treating a hospital patient one day when a fellow staff member paged her. Following procedure, she excused herself and stepped out of the treatment room to respond to the page. The colleague who sent it didn't answer her phone when MJ called, nor had she left a message describing the situation that warranted the page. This happened two more times during the
MJ's first feedback session took place in her supervisor's office. She recalls, "When I went into his office, he had already decided that I was the person at fault, he had all the information he needed, and he wasn't interested in hearing my side of the story. He did not address the three times she pulled me out of patient care. He did not acknowledge that that might have been the fuse that set me off." Her supervisor referred MJ to the human resources department for corrective action. She left seething with a sense of injustice.
MJ describes the subsequent feedback conversation with human resources as transformative. "The woman in HR could see that I had a lot of just-under-the-surface feelings, and she acknowledged them. The way she did it was genius: she eased into it. She didn't make me go first. Instead, she said, 'I can only imagine what you're feeling right now. Here you are in my office, in corrective action. If it were me, I might be feeling angry, frustrated, embarrassed… Are any of these true for you?' That made a huge difference."
With trust established, MJ was ready to take responsibility for her behavior and commit to changing it. Next the HR person said, "Now let's talk about how you reacted to those feelings in the moment." She created a space that opened up a genuine dialogue.
The subsequent conversation created powerful learning that has stuck with MJ to this day. "Oftentimes when we're feeling a strong emotion, we go down what the HR person called a "cowpath," because it's well worn, very narrow, and always leads to the same place. Let's say you're angry. What do you do? You blow up. It's okay that you feel those things; it's just not okay to blow up. She asked me to think about what I could do to get on a different path."
"The feedback from the HR person helped me learn to find the space between what I'm feeling and the next thing that slides out of my mouth. She gave me the opportunity to grow internally. What made it work was establishing a safe space, trust, and rapport, and then getting down to 'you need to change' — rather than starting with 'you need to change,' which is what my supervisor did. I did need to change; that was the whole point of the corrective action. But she couldn't start there, because I would have become defensive, shut down and not taken responsibility. I still to this day think that my co-worker should have been reprimanded. But I also own my part in it. I see that I went down that cowpath, and I know that I won't do it a second time."
The difference in the two feedback sessions illustrated above boils down to coaching, which deepens self-awareness and catalyzes growth, versus reprimanding, which sparks self-protection and avoidance of responsibility. To summarize, powerful, high-impact feedback conversations share the following elements:
An intention to help the employee grow, rather than to show him he was wrong. The feedback should increase, not drain, the employee's motivation and resources for change. When preparing for a feedback conversation as a manager, reflect on what you hope to achieve and on what impact you'd like to have on the employee, perhaps by doing a short meditation just before the meeting.
Openness on the part of the feedback giver, which is essential to creating a high-quality connection that facilitates change. If you start off feeling uncomfortable and self-protective, your employee will match that energy, and you'll each leave the conversation frustrated with the other person.
Inviting the employee into the problem-solving process. You can ask questions such as: What ideas do you have? What are you taking away from this conversation? What steps will you take, by when, and how will I know?
Giving developmental feedback that sparks growth is a critical challenge to master, because it can make the difference between an employee who contributes powerfully and positively to the organization and one who feels diminished by the organization and contributes far less. A single conversation can switch an employee on — or shut her down. A true developmental leader sees the raw material for brilliance in every employee and creates the conditions to let it shine, even when the challenge is tough.
https://hbr.org/2015/08/how-to-give-tough-feedback-that-helps-people-grow?utm_campaign=hbr&utm_medium=social&utm_source=linkedin#how-to-give-feedback?utm_medium=social&utm_campaign=hbr&utm_source=linkedin&tpcc=orgsocial_edit
Lansing Street Advisors is a registered investment adviser with the State of Pennsylvania..
To the extent that content includes references to securities, those references do not constitute an offer or solicitation to buy, sell or hold such security as information is provided for educational purposes only. Articles should not be considered investment advice and the information contain within should not be relied upon in assessing whether or not to invest in any securities or asset classes mentioned. Articles have been prepared without regard to the individual financial circumstances and objectives of persons who receive it. Securities discussed may not be suitable for all investors. Please keep in mind that a company's past financial performance, including the performance of its share price, does not guarantee future results.
Material compiled by Lansing Street Advisors is based on publicly available data at the time of compilation. Lansing Street Advisors makes no warranties or representation of any kind relating to the accuracy, completeness or timeliness of the data and shall not have liability for any damages of any kind relating to the use such data.
Material for market review represents an assessment of the market environment at a specific point in time and is not intended to be a forecast of future events, or a guarantee of future results.
Indices that may be included herein are unmanaged indices and one cannot directly invest in an index. Index returns do not reflect the impact of any management fees, transaction costs or expenses. The index information included herein is for illustrative purposes only.