1. Small Trader Call Buying Exceeded 9% of Total NYSE Volume Last Week
SentimentTrader didn't think traders could get any more speculative than they were at the end of August. "We were wrong – For the first time, small trader call buying (adjusted for equivalent shares) exceeded 9% of total NYSE volume last week"
From Dave Lutz at Jones Trading
2. Follow up from Yeterday's Top 10 Mention of Platform Companies…….Wisdom Tree Covers Group with PLAT ETF
PLAT ETF Wisdom Tree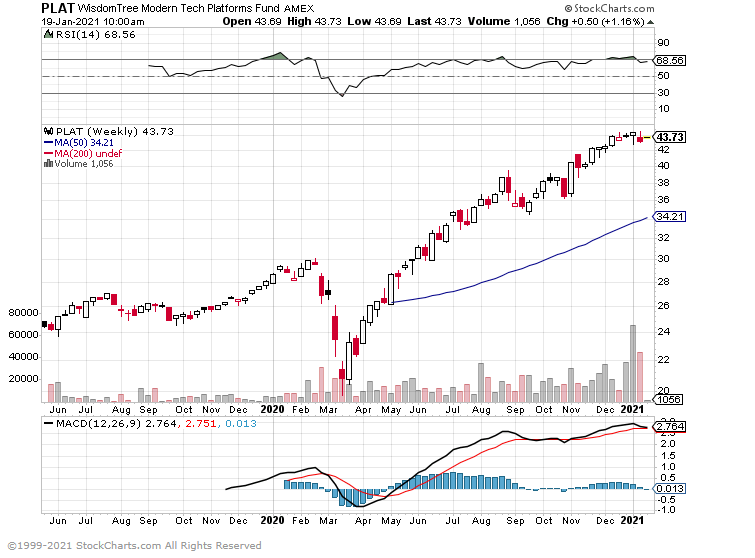 Top Holdings

https://www.etf.com/PLAT#overview
3. Marijuana ETFs Heat Up
ETF.com Outside of sectors, an interesting pocket rallying on the heels of the election was marijuana ETFs. The largest of the group, the ETFMG Alternative Harvest ETF (MJ), with nearly $1 billion in assets under management, was up 10% in early trade. The AdvisorShares Pure Cannabis ETF (YOLO), an actively managed ETF, was up 8.77%. Pot stocks were hot.
Because marijuana is a controlled substance, businesses engaged in the selling and cultivation of cannabis are blocked from using the federal banking system, which is a major roadblock for an industry striving to go mainstream. The inability to use credit cards or FDIC-insured banks for transactions has been a limitation for the industry, as well as a hindrance to investment. Democrats are expected to be friendlier to this industry, possibly opening the doors for decriminalization at the federal level, and for investment access to what's considered a very growth-y part of the market.
Cinthia Murphy can be reached at cmuprhy@etf.com
4. Tesla Global Share of Car Market 0.7%
Wolf Street–This 500,000 in deliveries globally is a big number for Tesla. But it's a minuscule number in the overall global auto market, which in 2020 is estimated at 73 million deliveries. Tesla's global market share in 2020 has reached a whopping 0.7%.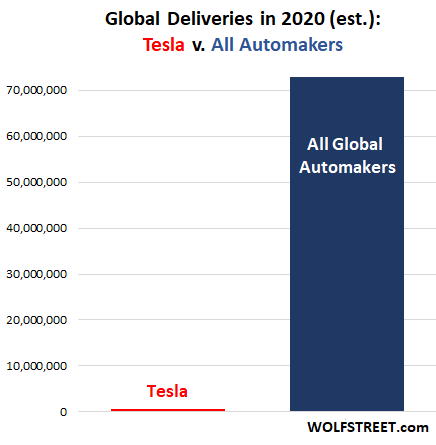 Tesla Finally Almost Hit 500,000 Deliveries, Two Years Behind its Promise, for a Global Market Share of… 0.7% by Wolf Richter
https://wolfstreet.com/2021/01/02/tesla-finally-almost-hit-500000-deliveries-2-years-behind-its-2016-promise-for-a-global-market-share-of-0-7/
5. Oil Tanker Owners Pay to Move Crude in Wake of Saudi Supply Cuts
Oil Tanker Owners Pay to Move Crude in Wake of Saudi Supply Cuts
Alex Longley
(Bloomberg) — Saudi Arabia's oil production cuts have hit the tanker market so hard that the biggest vessels in the market are effectively subsidizing cargo deliveries on the industry's main trade route.
Supertankers delivering 2 million barrel cargoes of the kingdom's oil to China are losing $736 a day for the privilege, according to data from the Baltic Exchange in London on Tuesday. While owners might, in practice, be able to mitigate such losses by ordering captains to sail the vessels slower, the reality is that some ships are losing money on Middle East-to-Asia deliveries, according to Halvor Ellefsen, a shipbroker at Fearnleys.
"Even the most economical ships out there are struggling to get positive numbers," he said. "It's carnage right now."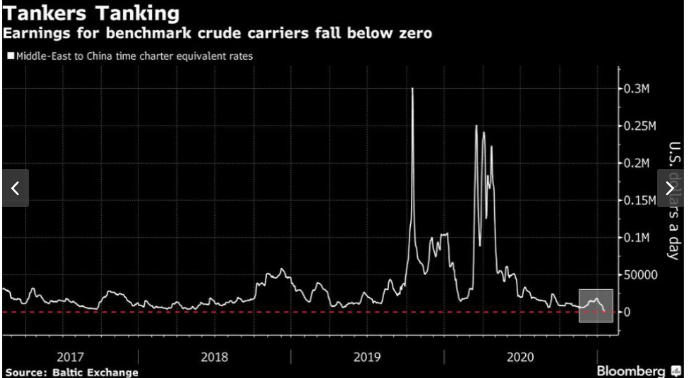 https://finance.yahoo.com/news/oil-tanker-owners-pay-move-180003204.html
6. Foreigners Bought a Record Amount of U.S. Stocks
But what really stood out, foreigners bought a record $316 billion in US equities in the LTM period ending November 2020: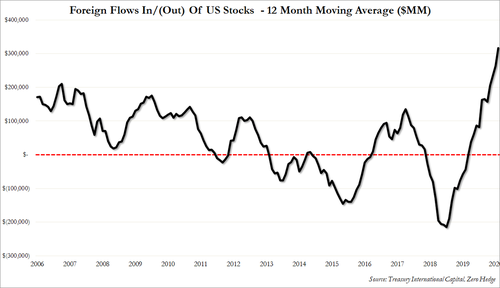 Foreigners Bought A Record Amount Of US Stocks In The Year Ending November, China Restarted Bond-BuyingBY TYLER DURDEN
https://www.zerohedge.com/markets/chinas-holdings-us-treasuries-rise-first-time-6-months-foreigners-keep-buying-us-stocks
7. An electric-car battery that can be charged as fast as filling up your gas tank was just shown off by a startup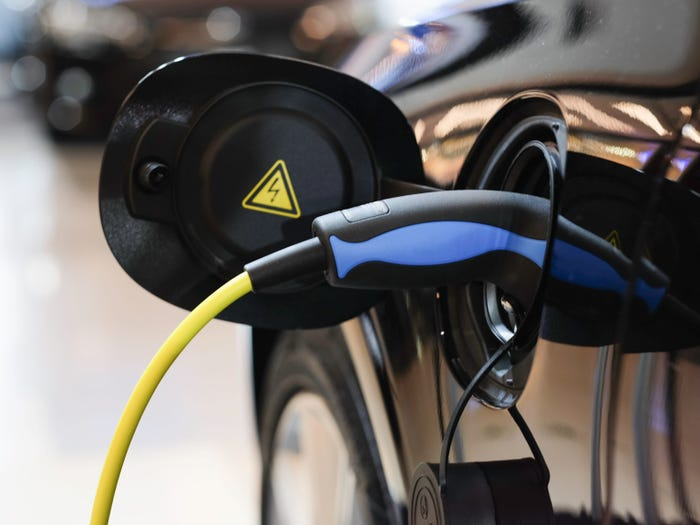 Electric vehicle charging. Jackyenjoyphotography/Getty Images
An electric-car battery that can be charged in five minutes was announced on Monday.
Standard electric-vehicle batteries take about 8 hours to fully charge.
The faster-charging capability would make EVs more accessible to the general public.
An electric-car battery that can be charged in 5 minutes, the amount of time it takes to fill up a tank of gas, has been produced for the first time in a factory in China.
The new lithium-ion batteries were developed by Israeli company StoreDot and manufactured by Eve Energy in China. The company has produced 1,000 sample batteries compliant with Li-ion battery certifications, StoreDot announced Tuesday.
The samples will be used to showcase the company's technology to potential buyers and investors looking to get a jump on the EV market, including BP, Daimler, Samsung Ventures, and TDK.
Faster-charging batteries would make electric vehicles more functional
For many drivers, electric cars are not feasible for long trips due to the amount of time it takes to charge the vehicles. Current electric-car batteries on the market can take anywhere from 30 minutes to 12 hours to charge, though a typical EV takes about 8 hours to charge from empty to full, according to PodPoint, an electric-vehicle-charger manufacturer.
Electric vehicles are a crucial part of Biden's $2 trillion climate change plan, in which he wants an entirely green electric power grid by 2035 with cars running on electricity instead of gasoline. StoreDot's new battery technology would make this green future more feasible, eliminating what CEO Doron Myersdorf calls electric vehicle's biggest barrier: "range and charging anxiety."
"Today's announcement marks an important milestone, moving XFC for the first time beyond innovation in the lab to a commercially-viable product that is scalable for mass production," Myersdorf said. in the press release. "We're on the cusp of achieving a revolution in the EV charging experience that will remove the critical barrier to mass adoption of EVs."
https://www.businessinsider.com/fast-charging-electric-car-battery-5-minutes-2021-1
8. Total Inventory of Homes for Sale in U.S….Unreal.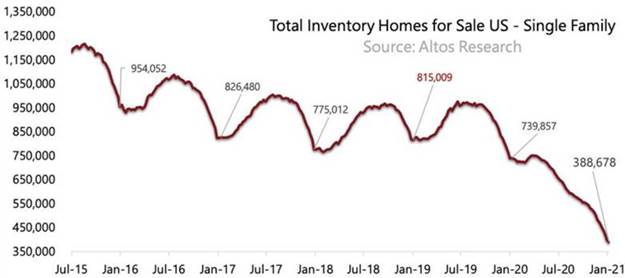 This is unreal, On the inventory watch, we're down to just 389,000 single family homes on the market in the USA. "Many new listings are getting offers so quickly they're bypassing our active market data and just going straight to pending-contract" note Analysts – Also, Canada's housing market has less than 100,000 active listings for sale. That's the lowest inventory on record based on more than 30 years of data
From Dave Lutz at Jones Trading
9. Largest Single-Home Construction Markets
#Houston is by far the largest single family construction market in the country, and getting bigger every day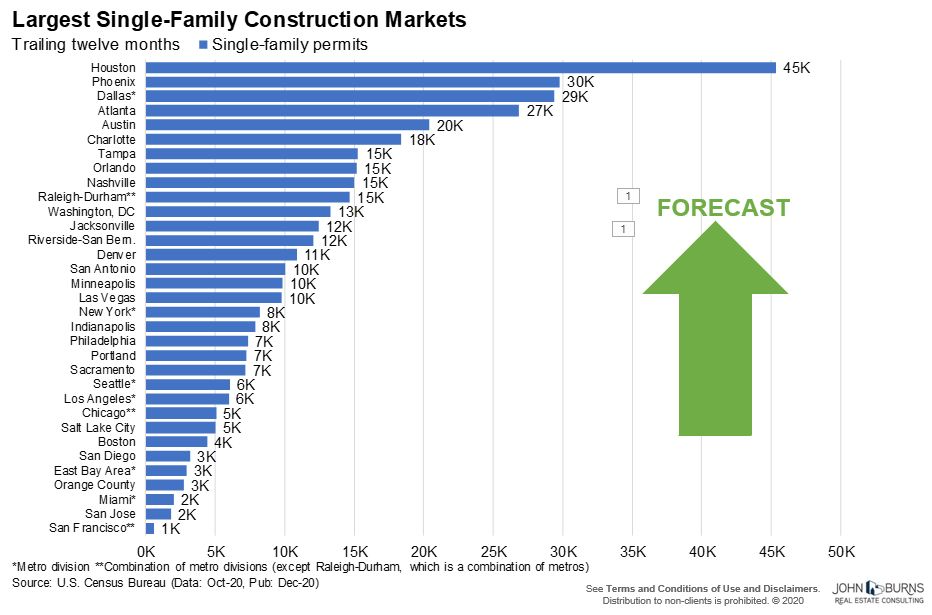 https://www.linkedin.com/in/johnburns7/
10. The Most Surveilled Cities in the World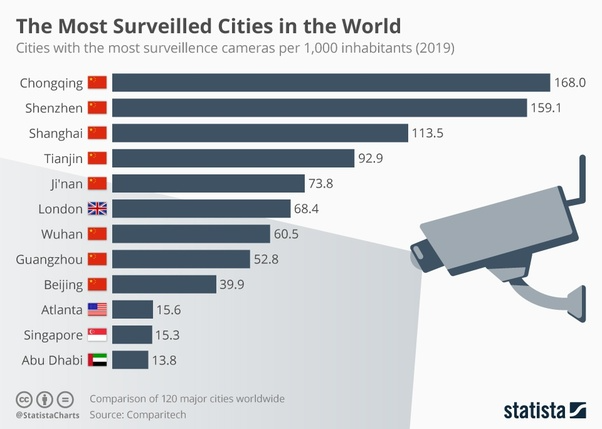 Lansing Street Advisors is a registered investment adviser with the State of Pennsylvania..
To the extent that content includes references to securities, those references do not constitute an offer or solicitation to buy, sell or hold such security as information is provided for educational purposes only. Articles should not be considered investment advice and the information contain within should not be relied upon in assessing whether or not to invest in any securities or asset classes mentioned. Articles have been prepared without regard to the individual financial circumstances and objectives of persons who receive it. Securities discussed may not be suitable for all investors. Please keep in mind that a company's past financial performance, including the performance of its share price, does not guarantee future results.
Material compiled by Lansing Street Advisors is based on publicly available data at the time of compilation. Lansing Street Advisors makes no warranties or representation of any kind relating to the accuracy, completeness or timeliness of the data and shall not have liability for any damages of any kind relating to the use such data.
Material for market review represents an assessment of the market environment at a specific point in time and is not intended to be a forecast of future events, or a guarantee of future results.
Indices that may be included herein are unmanaged indices and one cannot directly invest in an index. Index returns do not reflect the impact of any management fees, transaction costs or expenses. The index information included herein is for illustrative purposes only.