1. S&P 500 correction now 5.5%, biggest since November 2020.
Jim Bianco Research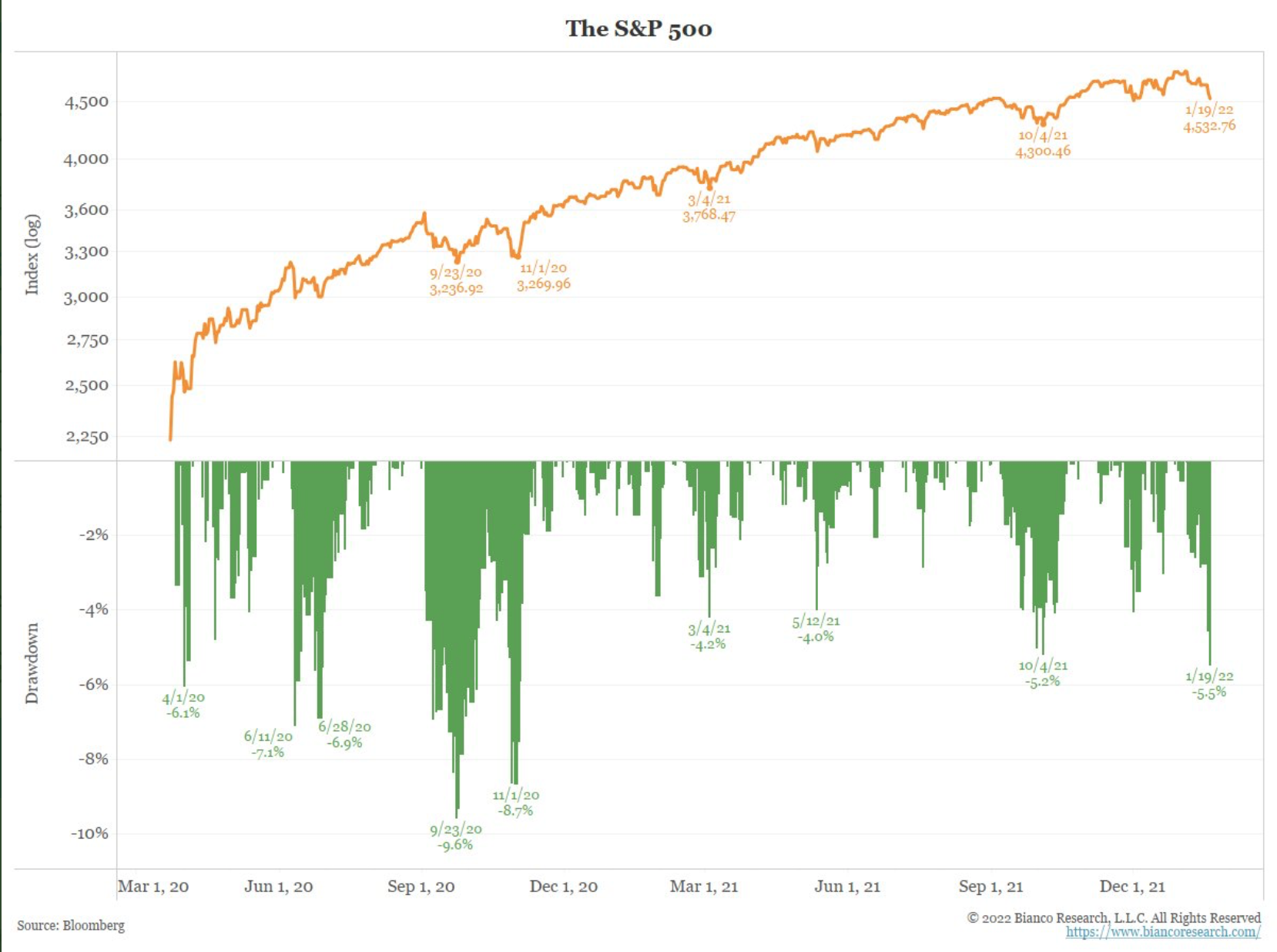 https://twitter.com/biancoresearch
2. Small Cap -16% from Highs
IWM small cap 50day going thru 200day to downside on chart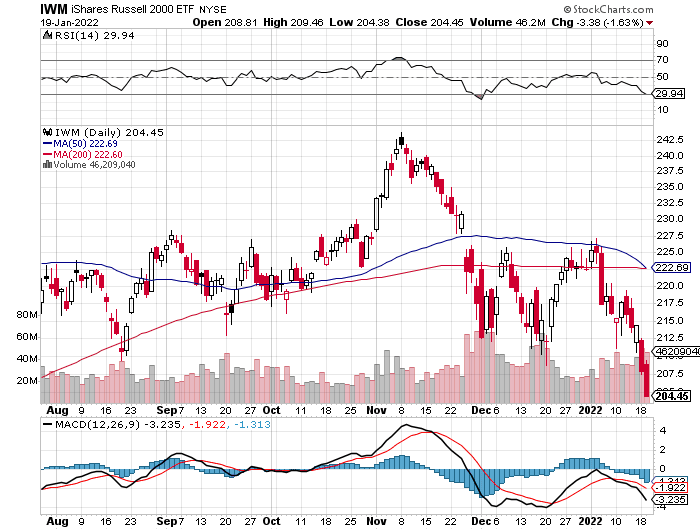 3. Short-Treasury ETF Only Back to October Highs
TBF ETF hit resistance at October high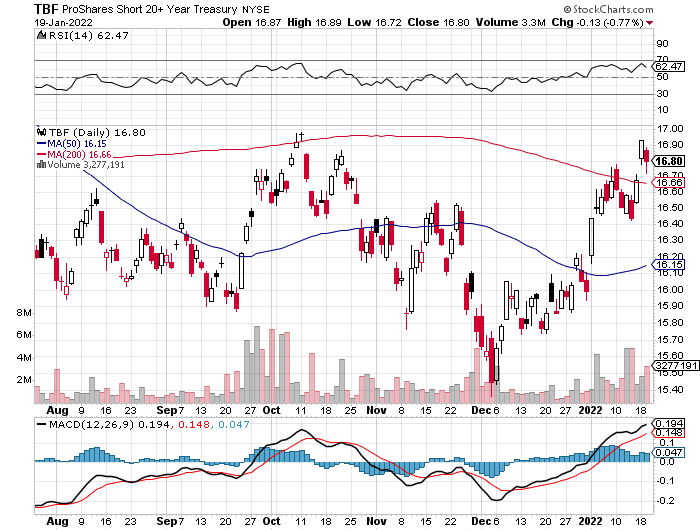 4. Here's what surging bond yields say about S&P 500 returns in next 6 months
"We have found that the current yield as a percentile of its recent range, along with the pace, or rate of change it has shown over the recent path has a big impact on the forward returns" for the S&P 500 SPX, -0.97%, wrote Jeff deGraaf, founder of Renaissance Macro Research, in a Wednesday note (see chart below).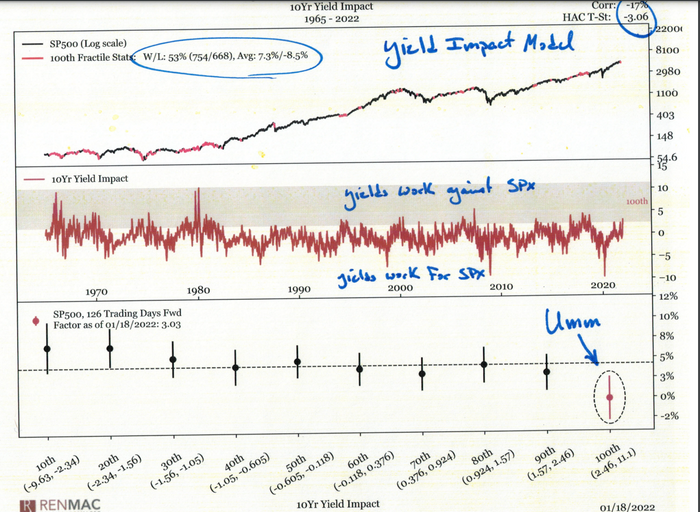 RENAISSANCE MACRO RESEARCH
"The lower the level of rates and the faster the collapse in those rates, the better for stocks out [six months] forward. The higher the level and the faster the surge in rates, the worse the returns for the SPX going out" six months, deGraaf wrote.
With the 10-year yield having broken above resistance at 1.77%, the pace of the advance has pushed RenMac's yield impact model into its highest historical decile, "and one that pressures forward equity returns historically," he said, as shown in the bottom third of the chart.
https://www.marketwatch.com/story/heres-the-warning-signal-that-surging-bond-yields-are-sending-stock-market-investors-11642608225?mod=home-page
5. Peloton Insiders Dump Half A Billion Dollars In Stock Before Crash
BY TYLER DURDEN-ZEROHEDGE
Company executives and insiders unloaded $496 million worth of stock in 2021, right before and during the decline that began in early 1Q21. The stock sales mainly were done above $100 and were part of 10b5-1 plans.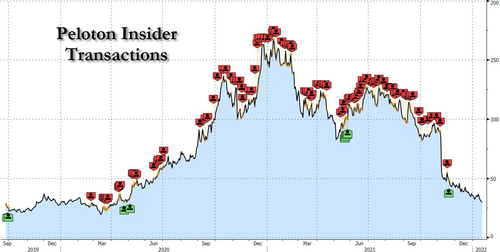 Insider selling began as Peloton became a household name during the pandemic as millions of people canceled their gym memberships and bought a bike or treadmill. Growth prospects looked great during the first year of the pandemic as demand was pulled forward. Executives and insiders knew demand would not last forever as shares traded at rich multiples, even at one point trading at $170 per share in early 2021.
https://www.zerohedge.com/markets/peloton-insiders-dump-nearly-half-billion-dollars-stock-crash
PTON $180 to $31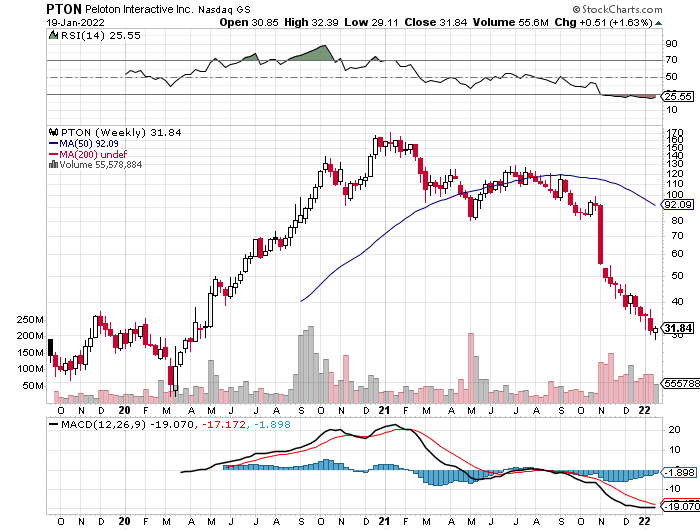 6. Grayscale Bitcoin and Ethereum Trusts -50% Corrections from Highs
GBTC Bitcoin Trust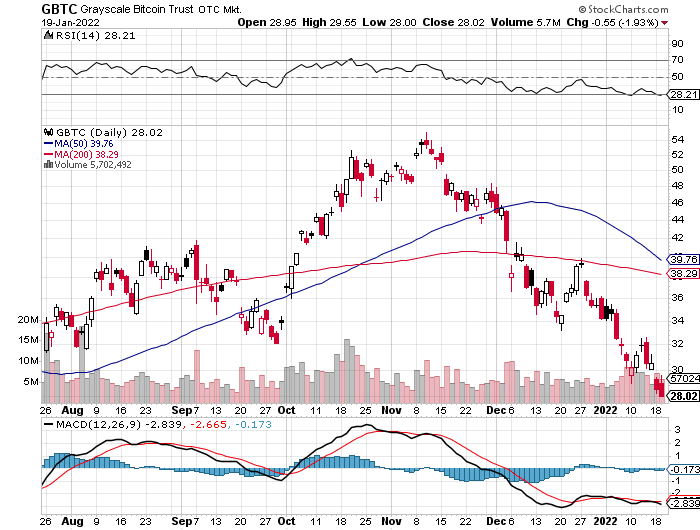 ETHE Ethereum Trust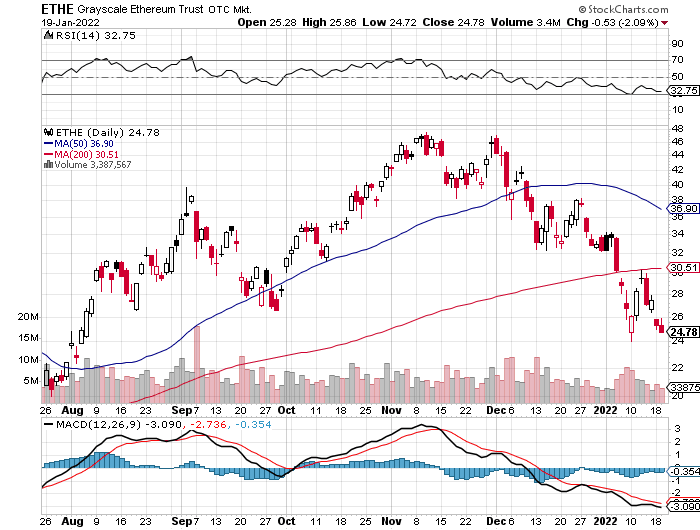 7. Traders Bet That Oil at $100 Is a Question of When, Not If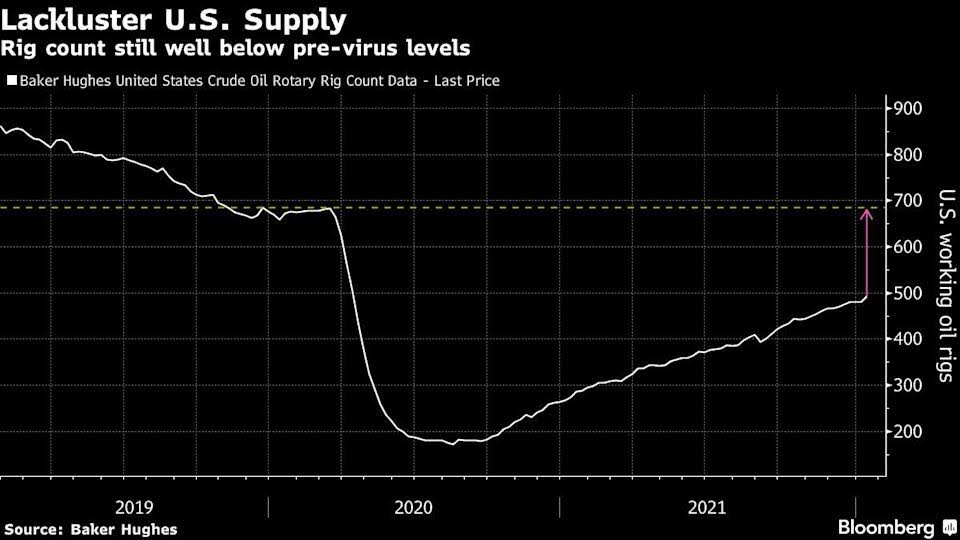 Bloomberg Andrew Janes and Serene Cheong
Demand is roaring, with spot market cargoes being snapped up at sharply higher premiums. It's the same in the product space. Middle-distillate stockpiles at the Asian energy hub of Singapore have fallen to the least since 2013. The world is short of diesel, and even jet fuel — the oil product hit hardest by the pandemic — is coming back strong as long-distance air travel starts to resume. With the exception of a major virus outbreak in China (see below) or a scary new strain emerging, it's hard to see a demand reversal.
No Supply Buffers
Global crude stockpiles finally fell back to pre-pandemic levels in early-January, according to oil analytics firm Kayrros, with drawdowns led by sharp declines in China and the U.S., where inventories are at the lowest since late-2018. The tightening supply backdrop has pushed oil's market structure deeper into backwardation, where prompt oil costs more than longer-dated contracts, further reducing the incentive to store crude for later sales.
The market currently has no supply buffers, making it more susceptible to price spikes driven by supply shocks, according to Amrita Sen, chief oil analyst at industry consultant Energy Aspects Ltd. "When you have buffers, small outages like what we have seen over December and January matter a lot less," she said in a Bloomberg TV interview. "But we don't have that luxury."
See also: Dwindling OPEC+ Spare Capacity Sets Oil Up for Sizzling Summer
OPEC+ Struggles to Pump More
OPEC+ has officially been restoring output at the rate of 400,000 barrels a day each month. But in reality, the alliance isn't managing to get close to that target. African members, in particular, are struggling to ramp up production, with OPEC only adding 90,000 barrels a day in December as a supply boost by Saudi Arabia was offset by losses in Libya and Nigeria. Even Russia, part of the wider alliance, has said it may only be able to deliver about half of its scheduled supply increases over the next six months.
Those supply issues look set to be a major factor pushing oil toward the $100-a-barrel mark. Iran could prove to be a wildcard, however, if the long-running nuclear talks come to fruition and pave the way for a resumption in official crude exports. But the market impact might not be that large, given that a lot of shipments from the Islamic Republic — as well as Venezuela — are already finding their way to China despite American sanctions.
U.S. Shale Response
While U.S. oil output has been increasing it's still not enough to cool the price rally. Supply from the Permian Basin — American's most prolific shale patch that spans Texas and New Mexico — rose to a record in December. Low production costs make the Permian the most appealing to drillers eager to cash in on rising prices, but higher overheads in other areas and supply-chain snarls have so far stifled a faster ramp-up in activity.
The number of working oil rigs in the U.S. has climbed back close to 500 from below 200 in the second half of 2020, according to data from Baker Hughes, but is still more than 200 below levels in March of that year. Shares of U.S. energy companies are surging as oil rallies, but the big question — which will be critical in determining if crude gets to three figures — is whether shale drillers will use the extra cash to boost production this year.
https://ca.news.yahoo.com/only-china-virus-outbreak-shale-084115815.html
8. New Business Applications Have Been Unprecedented Since Start of Pandemic
United States: New business applications have been unprecedented since the start of the pandemic.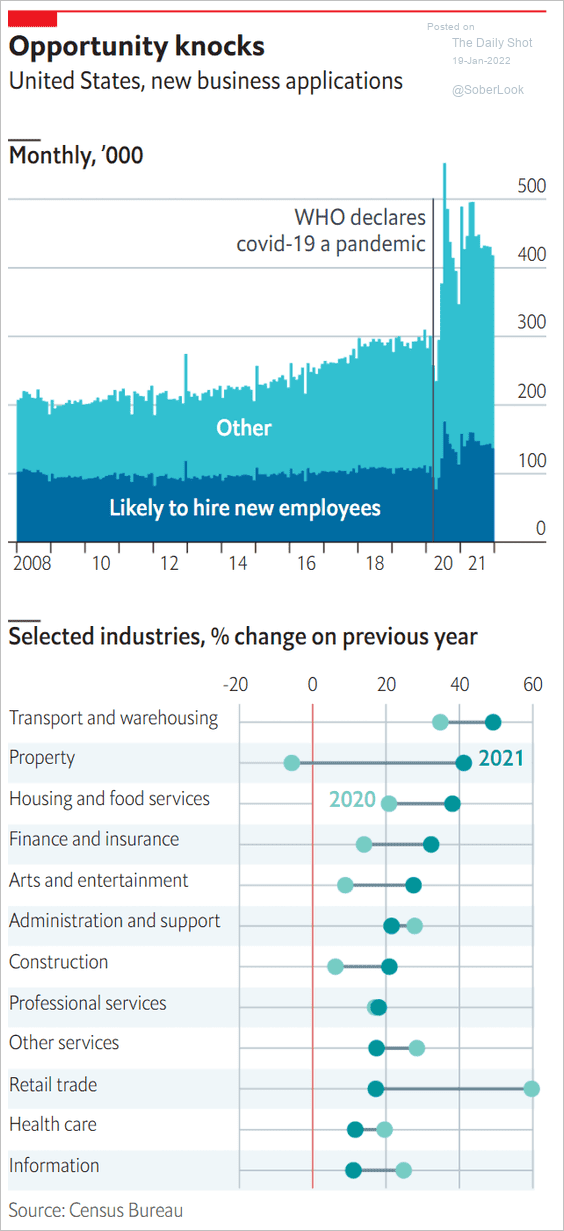 https://dailyshotbrief.com/the-daily-shot-brief-january-19th-2022/
9. Scientists find potential cure for arthritis pain — by using electricity to regrow cartilage
STORRS, Conn. — A new method of regrowing cartilage by zapping the bone could bring pain relief to millions of people who suffer from arthritis. The technique, which researchers at the University of Connecticut have successfully tested on rabbits, uses small electric shocks to stimulate cartilage growth.
Normally, pads of cartilage cushion these areas, but they can become worn with age or through injury, causing the bones to rub and making everyday activities like walking incredibly painful. Currently, treatments involve replacing damaged cartilage with a healthy piece taken from elsewhere in the patient's body or from a donor.
However, healthy cartilage is in short supply and removing it from other parts of the body could cause more problems. To address this, scientists have explored ways of getting the body to regrow its own healthy cartilage, but attempts have failed so far.
Now, scientists have discovered the missing ingredient for the cartilage to grow back properly — electricity.
"The regrown cartilage doesn't behave like native cartilage. It breaks, under the normal stresses of the joint," says co-author Dr. Thanh Nguyen in a university release.
Building a new 'scaffold' for arthritis patients
The researchers designed a "scaffold" — a technique doctors commonly use to repair or reconstruct missing or injured body tissue.
The new scaffold is made of a biodegradable material doctors use to stitch up surgical wounds, called poly-L lactic acid (PLLA). The substance is piezo-electric, meaning it produces a little burst of electricity when squeezed.
This way, when the patient starts walking and the joint moves, the movement generates a weak but steady electrical field, encouraging cells to grow into cartilage.
"Piezoelectricity is a phenomenon that also exists in the human body. Bone, cartilage, collagen, DNA and various proteins have a piezoelectric response. Our approach to healing cartilage is highly clinically translational, and we will look into the related healing mechanism," says lead author Dr. Yang Liu.
Healthy cartilage started growing back and the test subjects did not need any other ingredients or stem cells, which can cause nasty side-effects. The team recently tested the scaffold in the knee of an injured rabbit, who could then exercise on a treadmill.
"This is a fascinating result, but we need to test this in a larger animal," Dr. Liu says.
The researchers are hoping to study animals treated with the scaffolding for up to two years to make sure the cartilage is durable. Dr. Liu adds that young animals heal more easily than older ones. If the piezoelectric scaffolding helps older patients heal as well, their invention will truly be a bioengineering breakthrough.
The findings are published in the journal Science Translational Medicine.
South West News Service writer Tom Campbell contributed to this report.
https://www.studyfinds.org/arthritis-pain-regrowing-cartilage/
10. How to Get (and Stay) Focused
Nir Eyal-Psychology Today
Here's how to make the most out of your time and life.
KEY POINTS
Stop focusing on the problem and focus on finding a solution.
Learn to indulge in moderation.
Understand your triggers in order to get and stay focused.
This post is part 2 of a two-part series. You can read the first article here. Now that you have a clear picture of what causes people to lose focus, it's time to learn the tools to overcome distraction. The following three tools can be used to help you regain your focus:
Complain Better
Emotional Intelligence 2.0 author, Dr. Travis Bradberry, argues that frequent complaining is a detrimental habit that can – and should – be broken. Complaining releases the stress hormone cortisol which negatively affects mood, reduces energy levels, and can ironically lead to more of the uncomfortable emotions we seek to escape through distractions.10
It's time to learn how to complain better. Instead of complaining by focusing on the problem, Bradberry suggests adopting a "solution-oriented" approach.
Next time you feel the urge to complain about a looming deadline or difficult task, stop to consider the real source of the problem. For instance, ask yourself whether a solution to the problem of not wanting to do a task can be found in changing your perception of the work. If so, changing your mind proves much easier and healthier than trying to avoid it. A little self-awareness through introspection can go a long way.
Schedule Your Indulgences
In a 1992 study, researchers found that participants who cited being unable to lose weight despite dieting underestimated their daily caloric intake by 47%.11 These same participants overestimated their daily activity level by 51%. This study suggests that we have a tendency to overestimate behaviors we know to be good for us – how much we exercise, how healthy we eat, how often we clean our homes. We do the opposite when it comes to behaviors we know have detrimental effects – alcohol consumption, sugar intake, and monthly entertainment spending.12 While frivolous indulgences are satisfying in the short-term, they tend to move us away from what we really want. An episode of TV can feel relaxing and satisfying. But what happens after one, two, three…? One episode feels good. A whole series can fill you with regret. When it comes to indulgences, there's nothing wrong with enjoying yourself. However, the key to moderation is intent. By setting aside time for the things likely to distract you, you ensure to control them instead of letting them control you. Instead of watching television or scrolling social media whenever the urge strikes, put that activity on your calendar, just as you would timebox any task. By planning ahead, you give yourself the peace of mind knowing you'll soon have time for something fun, without being taken off track when you want to stay focused.
Master Your Triggers
In a George Mason University study, researchers found that distractions have a negative impact on the quantity and quality of our work.13 During the study, 54 participants were asked to outline and write essays on three different topics. Researchers found that interruptions negatively affected both the quality and quantity of work produced. This study supports research that distractions eat up time as well as decrease quality of work. According to one University of California study, it takes approximately twenty-three minutes to get back on track after being distracted.14 Triggers to distraction come in two categories – Internal Triggers and External Triggers. Getting and staying focused requires understanding and mastering both.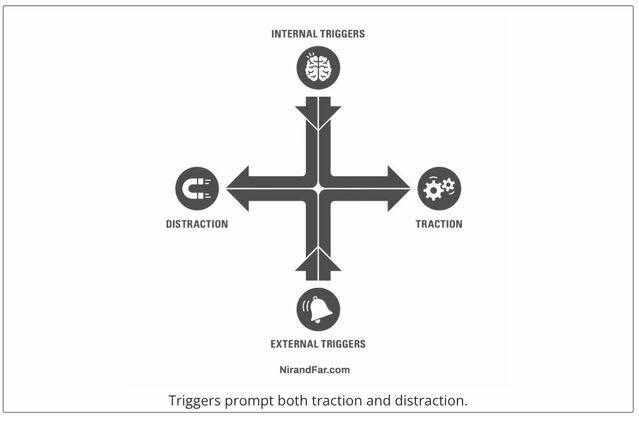 External Triggers: Cellphones, work colleagues, and even our kids, can all take us off track when we planned to focus. These triggers in our environment are called "external triggers." External triggers are relatively easy to control – turn your phone off, logout of social media, put a sign on your computer monitor telling colleagues you're busy, and so on. Internal triggers, on the other hand, are more difficult to recognize and correct. Internal Triggers: Internal triggers come from within. They are uncomfortable emotional states you seek to escape. Understanding the internal triggers driving you to distraction is critical to staying focused. When do you feel the urge to check your phone? Do you check it when you feel lonely? Bored? Anxious? Overwhelmed? If so, what's the source of these negative emotions? Reflecting on why you get distracted and learning healthier ways to respond is an integral part of developing sustained focus. While you may be unable to control what you feel, you are able to put practices in place to help guide what you do in response to the desire to escape into distraction. Is your habit of falling out of focus when you feel a negative emotion helping or hampering your ability to stay focused? If you are honest about why you become distracted and understand your negative emotions, you can respond in a healthier way in line with your values and goals.
Becoming indistractable requires an understanding of why you lose focus and learning the skills to do as you say. Establishing healthy habits, breaking out of your unproductive routines, and making time for what matters help you stay focused. By learning not to complain, scheduling indulgences, and understanding your internal triggers, you can harness the power to stay focused.
Nir's Note: This article was written in collaboration with the NirAndFar.com team.
https://www.psychologytoday.com/us/blog/automatic-you/202110/how-get-and-stay-focused?collection=1170955