1. Shipping Prices Huge Spike
A headwind for the global economy: Shipping goods gets prices amid higher demand and a shrinking pool of empty boxes. Costly containers adding to general supply chain shocks due to pandemic, threatening to stifle already weakened globalization, BBG reports.
2. JNJ Vaccine One Shot Vaccine
The Johnson & Johnson vaccine, in particular, has the potential to be a game-changer, says Evercore ISI strategist Dennis DeBusschere. Unlike the Moderna and Pfizer offerings, Johnson & Johnson's only requires one shot. If the data is good—and early trial results suggest it will be—sentiment could shift suddenly for the better. Investors will be closely watching the vaccine's efficacy rate, which is now expected to be somewhere around 80%. A higher number, and the market could take off, just like it did back in November. But even a lower number should be good for the market—and all of us—if the vaccine shows it can reduce the severity of the disease, DeBusschere says. Fear Comes to the Stock Market. What Comes Next.
https://www.barrons.com/articles/the-stock-market-fell-the-most-since-october-why-big-tech-is-part-of-the-problem-51610759892?mod=past_editions
By Ben Levisohn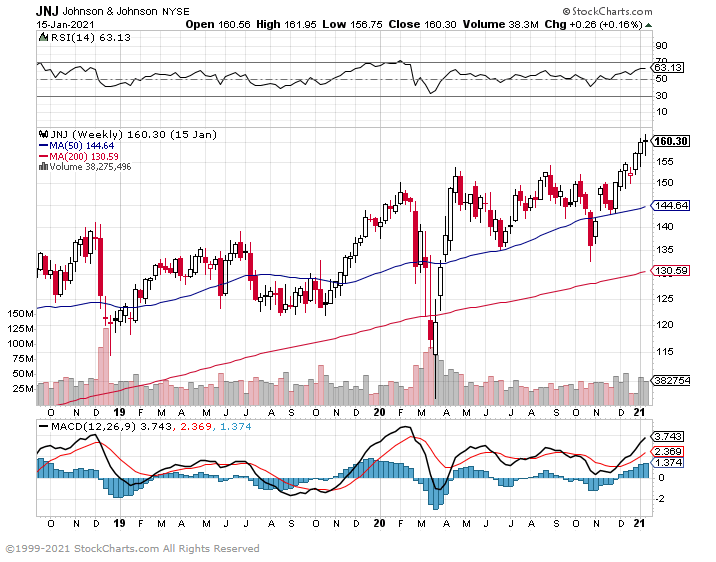 3. Investor Sentiment Euphoric
SCHWAB Nevertheless, investor sentiment is at euphoric levels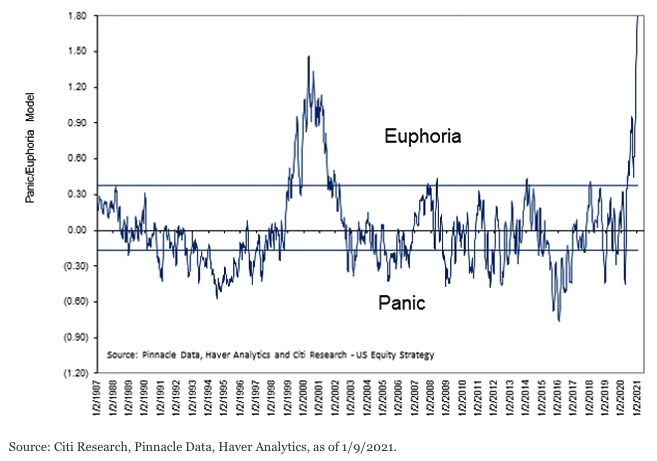 Because of the disconnect between investor sentiment and actual economic growth, sentiment is a persistent risk to stocks. A significant negative catalyst—in the form of virus-/vaccine-related bad news, a deterioration in fundamentals, or ongoing political turmoil—could spark a near-term downturn. For now, though, momentum and liquidity remain the driving forces for the market's climb higher.
Schwab Market Perspective: A Narrow Path Upby Liz Ann Sonders, Jeffrey Kleintop, Kathy Jones of Charles Schwab, 1/15/21
https://www.advisorperspectives.com/commentaries/2021/01/15/schwab-market-perspective-a-narrow-path-up
4. 2020 Count of 1% and 2% Move Days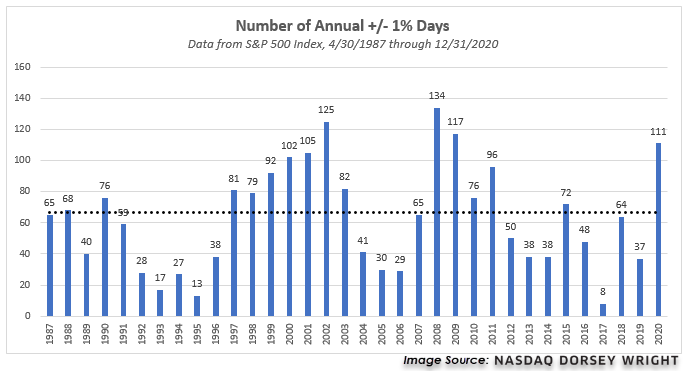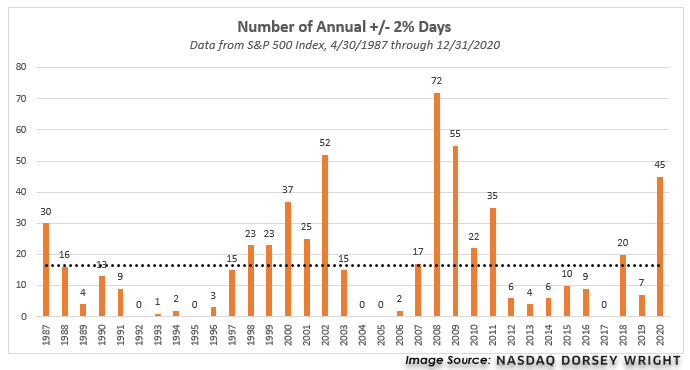 www.dorseywright.com
5. 100 "Platform Companies" Now in S&P
The Rise of the Platform-Sparkline Capital
March of the Unicorns 🦄
Last week, Airbnb and DoorDash had their highly anticipated initial public offerings (IPOs). DoorDash went first. The IPO priced at the top of the range and rocketed +86% on the first day of trading to a $72 billion valuation. Airbnb followed the next day to even greater euphoria, jumping +113% to a $100 billion valuation. Even Airbnb's CEO was left speechless.
Exhibit 1
And There Was Much Rejoicing!
Source: Pitchbook, Bloomberg, Sparkline
While operating in very different industries, these companies employ a common business model. They are both platform companies. Platform companies externalize the means of production. They do not own homes or employ drivers. Instead, they profit from orchestrating networks of external consumers and producers.
This marks only one of many milestones in the platform parade. Many iconic platform companies such as Uber and Slack went public in the past couple years. Even Warren Buffett, who publicly eschewed IPOs for decades, invested $735 million in Snowflake's public debut.
Exhibit 2
The Platform Parade 🎉
Source: S&P, Sparkline
Despite all the fanfare, these newly public companies are dwarfed by their platform predecessors. The five largest US companies (Apple, Microsoft, Amazon, Google, Facebook) all operate extremely successful technology platforms. These tech giants represent $7.4 trillion in market cap and 22% of the S&P 500. The unique features of the platform model have helped these firms reach an unprecedented scale.
The "platformization" of the stock market is not just about splashy IPOs and tech giants. The number of platforms in the top 500 US stocks has steadily grown from 40 to 100.
Exhibit 3
It Feels Good to Be a Platform
Source: SEC, Sparkline
We expect this trend to continue. There are 500 private companies valued over $1 billion. Many of these "unicorns" are platform businesses ripe to join the public markets in the next several years.
https://www.sparklinecapital.com/post/the-platform-economy
6. ETF Flows Dominate but They Still Only Represent 3% of Industry Fees Paid
But ETFs represent just 3% of total industry fees paid by investors. All passive funds represent only 6%.
The ETF Educator Blog
7. Disney Subscriber Growth Killing It.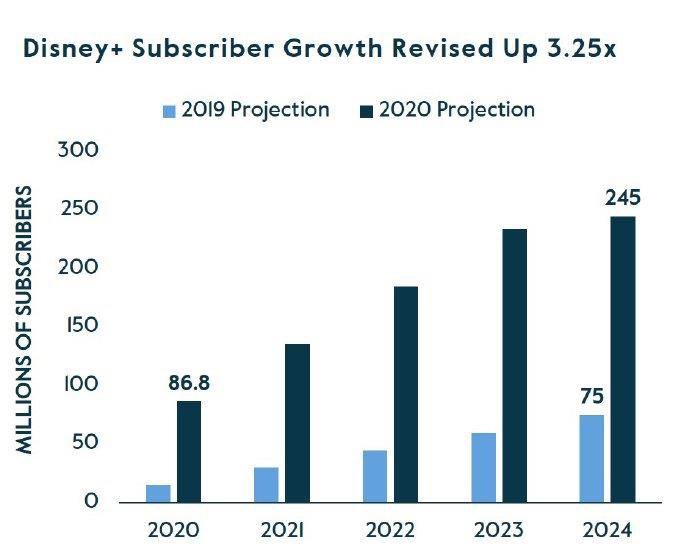 Peter Mallouk
https://twitter.com/PeterMallouk
8. Majority of U.S. Households (60%) Have a Pet.
PAWZ Pet Care ETF Double Off Bottom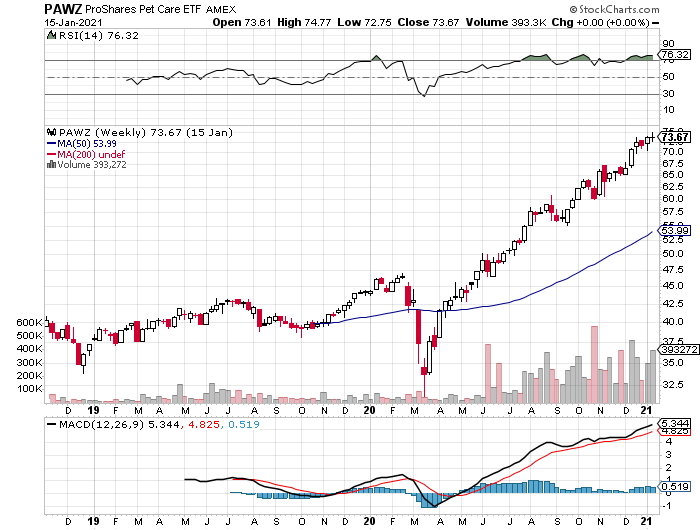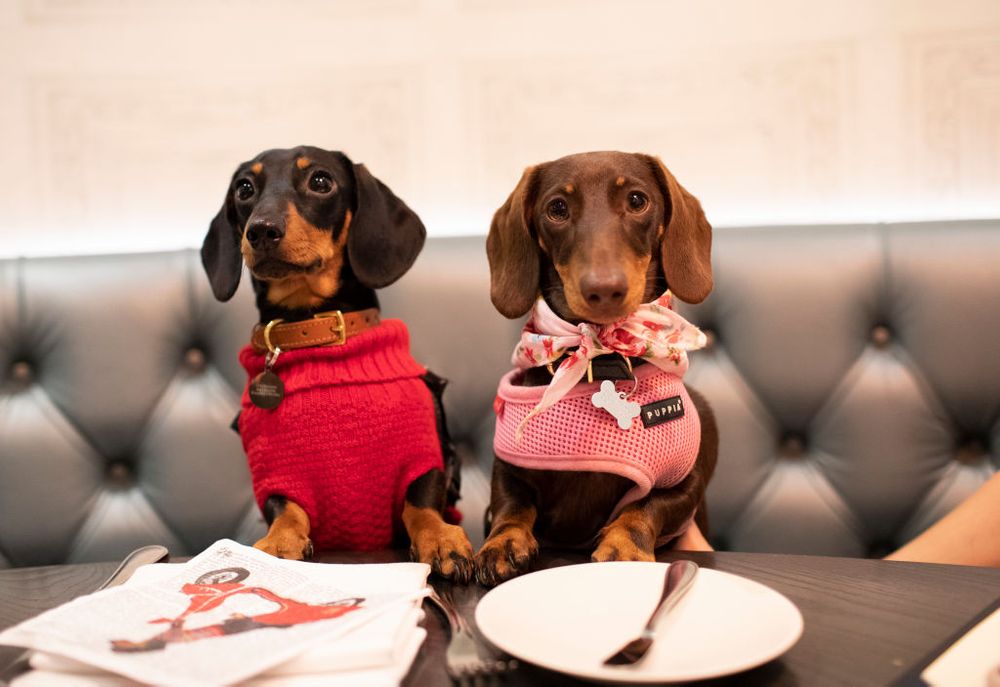 John Phillips/Getty Images
Like any child who grew up with four dogs, I have 1) slept in a dog house 2) barked like Eliza Thornberry and 3) ate a kibble pellet I can only describe as tasting "brown." But pet food has come a long way since I had my little snack. "Human-grade" food fills doggy bowls and, just this week, Ben & Jerry's launched a line of frozen "Doggie Desserts."Horsemeat hawking nearly $100 billion industryDog food's earliest recipes, as chronicled by Quartz, should be added to the list of "least fun historical facts" and promptly forgotten—horse meat was a primary ingredient in pet food into the 1940s. But if we can learn anything from comparing Snoopy's lifestyle to Jiffpom's, it's that pets have dramatically climbed the household status ladder. Spending on pets and pet care has increased 4%–5% every year since 2008. Dog treat sales in particular have spiked 44% in the past five years, per Euromonitor. The reason why is simple: Most US households (an estimated 57%–67%) have a pet, and that number's only growing. Animal shelters are being emptied out, with 25% of pet-owning homes adding another to their families last year. And—judging from a sample size of my 70-ish coworkers—many WFHers are adopting their very first good boys and girls, too. (Shoutout to Morning Brew CEO Alex Lieberman's bernedoodle pup, Rambo.)Consumer goods giants have noticed the increased spending on kibbles and other bits, and are nudging their noses into the growing category. Roll the acquisition reel…General Mills bought upscale pet food maker Blue Buffalo in 2018 for $8 billion.Smucker's acquired Big Heart Pet Brands (the maker of Meow Mix and Milk-Bone) in 2015, which quickly became a "key driver" of sales, and scooped up Ainsworth Pet Nutrition (Nutrish) in 2018 for $1.9 billion.Nestlé bought natural pet food brand Lily's Kitchen last year, adding to its existing portfolio of Purina and Friskies.Beyond the big dogs, boutique brands for gourmet pet meals, supplements, CBD treats, and more health products have cropped up to cater to anthropomorphizers everywhere. Moving down the supply chain from production to distribution…If pet store aisles are yellow, e-commerce sites are goldOnline pet food sales grew about 32% last year, spurred by more frequent shopping from home during the pandemic. The industry's alpha is Amazon, accounting for 39% of all pet food and supplies sales. But legacy retailers are learning new tricks, too:PetSmart acquired online pet product retailer Chewy in 2017. Thanks to the tremendous growth in pet e-commerce, Chewy shares gained more than 270% over the last year. Petco poured $300+ million into its digital operations during the pandemic. This Thursday, Petco went public to a warm reception from investors, jumping 63% on its first day of trading. (For more on Petco's IPO, read Retail Brew's interview with the CEO.)Zoom out: Pet food sales were already shifting online pre-Covid, but like Hollywood blockbusters debuting on-demand, the pandemic sped up the transition by years. Warning: Health fads aren't always good for FidoGrain-free food has been investigated by the FDA for reportedly causing a heart condition in some dogs. On Monday, a Midwestern pet food company expanded its recall of dry dog and cat food products after more than 70 dogs died and 80 became ill. The FDA was empowered to investigate cases like these in 2011 with the passage of the Food Safety Modernization Act.Zoom out: As greater attention (and money) is spent on pets, animal rights advocates are pushing the legal system to treat pets more like family members rather than property. A few years ago, Alaska became the first state to require courts to take pets' "well-being" into account during divorce cases.
9. History of House Control ..Smallest Majority Ever.
LPL Blog
10. 8 Work Habits Found in Extremely Valuable Employees
How do you define a valuable employee?
BY MARCEL SCHWANTES@MARCELSCHWANTES
How do you define a valuable employee? Is it experience or maybe work ethic? Do you see competence in a specific area as the be-all and end-all of determining employee value?
What about soft skills? Do they hold the same value when interviewing for a rock star engineer or strategist position? Well, they should.
While technical skills and other hard skills defined in the job description matter, it's an employee's people skills and a whole host of other personal attributes that are crucial for long-term success.
Most companies undervalue soft skills or the impact people development will have on an organization. They assume the hard stuff holds more weight and makes the business go around. In turn, when difficult personalities and egos emerge, when sudden change and uncertainty takes place, and when conflict seems inevitable, it's the employees with the natural ability to communicate and respond to crisis who hold the most value.
Article continues after video.
When crafting the people elements for fostering a great company culture, here are eight employees you'll want to consider hiring:
1. People who are active listeners.
Effective communication isn't just about talking; it is also the ability to listen and understand what's happening on the other side of the fence. The best people-centered employees will listen and reflect back what they hear to clarify ("What I hear you saying is …"), and they'll ask questions to probe the other person's feelings or opinions. This can be as simple as: "Tell me how you feel about this."
2. People with emotional intelligence (EQ).
While IQ still remains the best predictor of job success, once you land a job and start thinking about increasing your role, managing multiple priorities, getting promoted, leading others, and navigating political landscapes, IQ will be begging for EQ to show up. Daniel Goleman, the foremost authority on emotional intelligence, has put together these nine important questions to help a person evaluate his or her emotional intelligence.
3. People with a high degree of patience.
People with patience have the capacity to process a situation about to go south, get perspective, listen without judgment to someone they disagree with, and hold back from reacting head on. Practicing this rare business virtue may mean deciding to sit on your decision. By thinking over things with a rational and level head, you'll eventually arrive at a more sane conclusion. These are the people you want to build a company culture around.
4. People who avoid drama.
Employees with emotional intelligence have a clear advantage: they cut through the drama by telling the facts as they see them and how it affects them. Let me unpack that further: These people are able to diffuse an emotionally-charged moment with a calm demeanor, explain the outcome they're hoping for, and ask for other ideas for solutions with an open mind. By hiring people with the ability to manage conflict, you'll see more constructive, productive, and respectful discussions taking place, which can help resolve hairy situations to everyone's satisfaction.
5. People who can manage their emotions.
Self-control (or "self-management") is a personal competence developed in every person. The question behind self-control is: Can I manage my emotions and behavior to a positive outcome? Not everyone can. Daniel Goleman says this about people with self-control:
"Reasonable people–the ones who maintain control over their emotions–are the people who can sustain safe, fair environments. In these settings, drama is very low and productivity is very high. Top performers flock to these organizations and are not apt to leave them."
6. People who reject the idea of multitasking.
Productive people are successful in managing their time because they avoid juggling many things. Research says multitasking is a myth and can be damaging to our brains. You end up splitting your focus over many tasks, losing focus, lowering the quality of your work and taking longer to hit your goals.
7. People who value and practice well-being during work hours.
Top employees are looking for companies that allow them to integrate work and life during their schedule, and the smartest bosses are giving them that flexibility because it makes business sense. One example is the workplace habit of taking short, frequent breaks. A 2016 study showed that hourly five-minute walking breaks (out in nature with a friend, for example) boosted energy levels, sharpened focus, and improved mood throughout the day. These "microbursts of activity" increase motivation and concentration and enhance creativity, according to researchers at Stanford University.
8. People who self-manage extremely well.
Forget time management?–you want people who are good managers of "self." By managing your life, tasks, and priorities efficiently, you can seamlessly transition to more productivity, higher work satisfaction, and better personal well-being. And that's what the most valuable employees do to reach their most optimal level of self-management. For example:
1. As noted earlier, they don't multitask or juggle too many things.
2. They start and end meetings on time, and don't get sidetracked or allow the agenda to get hijacked.
3. They set boundaries and say no to people when needed, so their time is protected.
4. They identify the time of the day when they're most productive and focus their energy on doing the most important things during those times.
5. They're aware of time-wasters such as visitors dropping by their workspace to gossip; they ensure they don't spend time in useless meetings, distracting phone calls, and anything that else that disrupts their state of flow.
Your turn: What traits or behaviors have you seen the most valuable employees exhibiting?
https://www.inc.com/marcel-schwantes/7-work-habits-found-in-extremely-valuable-employees.html?cid=sf01003
Lansing Street Advisors is a registered investment adviser with the State of Pennsylvania..
To the extent that content includes references to securities, those references do not constitute an offer or solicitation to buy, sell or hold such security as information is provided for educational purposes only. Articles should not be considered investment advice and the information contain within should not be relied upon in assessing whether or not to invest in any securities or asset classes mentioned. Articles have been prepared without regard to the individual financial circumstances and objectives of persons who receive it. Securities discussed may not be suitable for all investors. Please keep in mind that a company's past financial performance, including the performance of its share price, does not guarantee future results.
Material compiled by Lansing Street Advisors is based on publicly available data at the time of compilation. Lansing Street Advisors makes no warranties or representation of any kind relating to the accuracy, completeness or timeliness of the data and shall not have liability for any damages of any kind relating to the use such data.
Material for market review represents an assessment of the market environment at a specific point in time and is not intended to be a forecast of future events, or a guarantee of future results.
Indices that may be included herein are unmanaged indices and one cannot directly invest in an index. Index returns do not reflect the impact of any management fees, transaction costs or expenses. The index information included herein is for illustrative purposes only.