1. Best Performers 2021 -Decile of Stocks with the Highest Short Interest
Heavily Shorted Stocks Stand Tall in 2021-In the chart below, we show the average YTD performance of Russell 3000 stocks broken into deciles based on their short interest. The decile of stocks with the highest short interest as a percentage of float have by far been the best performers YTD, up for an average of 14.16%. Even excluding GME, the decile's average YTD performance is a 13.93% gain. As you move across the deciles with lower short interest levels, performance gets worse. The tenth decile of stocks which consists of stocks with average short interest levels below 1% of float has only risen 3.6% on average.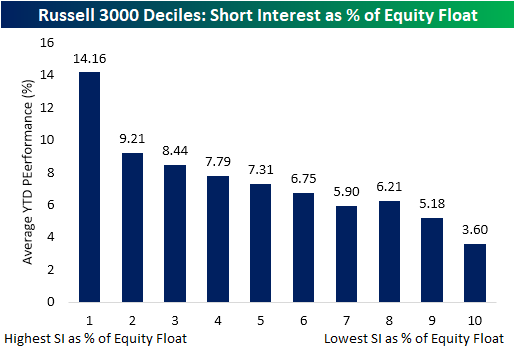 https://www.bespokepremium.com/interactive/posts/think-big-blog/heavily-shorted-stocks-stand-tall-in-2021
2.Investors Are Not Yet "All In" After Rush to Bonds 2020
Investors, who had shunned equities in favor of fixed income during most of the last bull market, are starting to warm up to stocks. In the final two months of 2020, equity funds attracted $190 billion of fresh money, a record high, according to data compiled Deutsche Bank AG. Still, that pales in comparison to the total outflows of $725 billion since the start of 2018.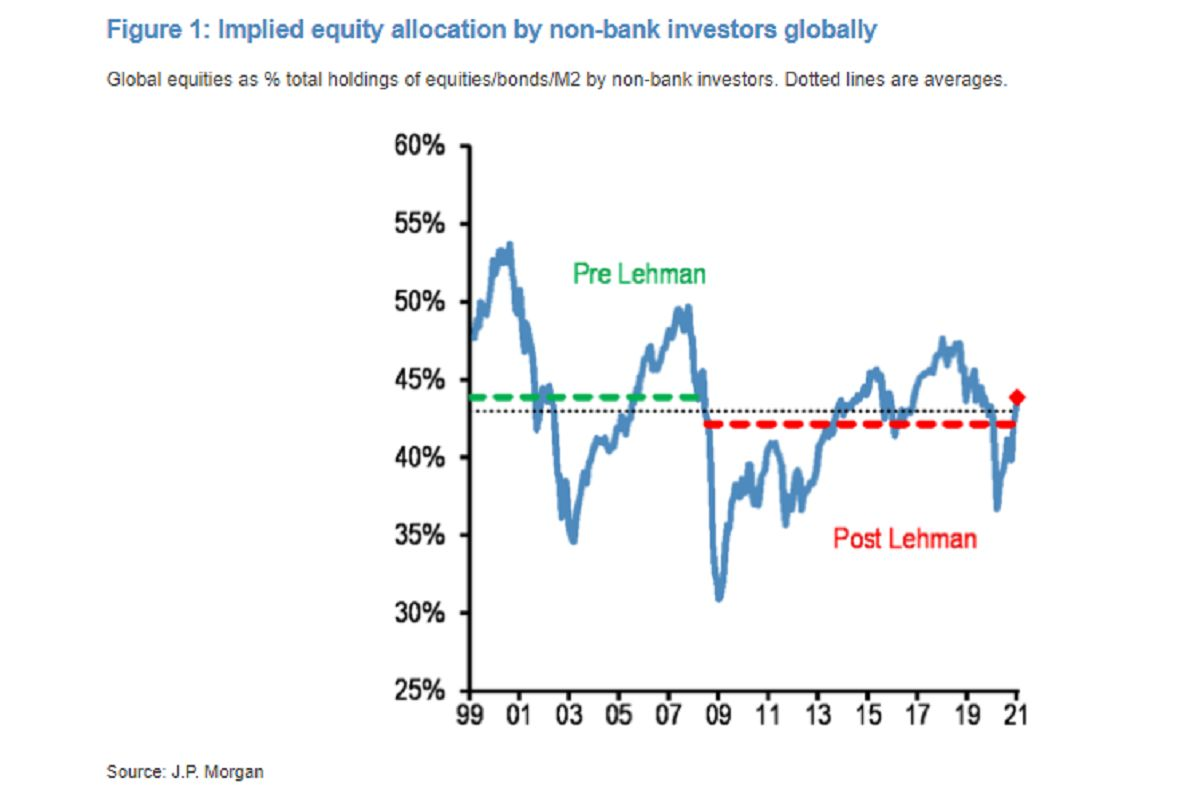 The valuation case against stocks is poised to weaken. S&P 500 firms, climbing out of a pandemic-fomented recession, are in the process of ending a streak of profit declines, with income forecast to grow double-digit percentages this year and next.
A 'Very Young' Bull Market in Stocks Is Still Minting Believers- Lu Wang
https://www.msn.com/en-us/money/markets/a-e2-80-98very-young-e2-80-99-bull-market-in-stocks-is-still-minting-believers/ar-BB1cOi4i?ocid=uxbndlbing
Lu Wang 1 day ago
3. ARK ETF's $3B to $30B
ETF Chart of Year
It's only fitting the ETF chart of the year depicts the astounding asset growth of five ARK Invest ETFs. The success of ARK and Cathie Wood will be discussed and debated for years. These five ETFs began 2020 with around $3 billion in assets. Simply amazing.
THE ETF Educator – https://theetfeducator.com/2018/08/11/etfs-in-pictures-ii/
4. ETFs Cover Every Lifestyle?
VEGN-U.S. Vegan Climate ETF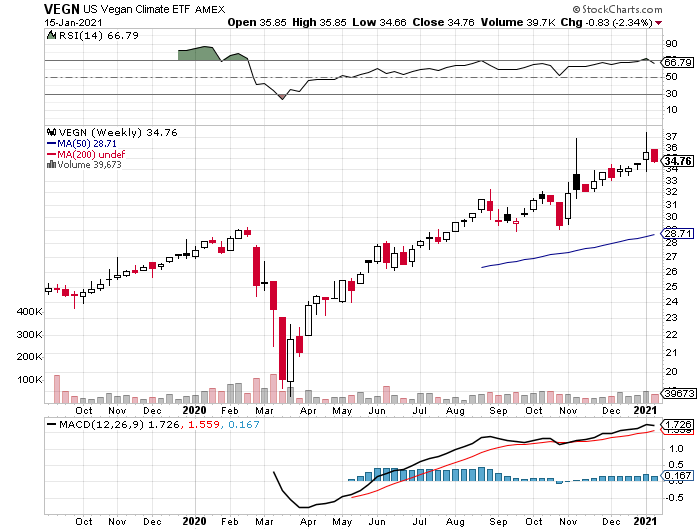 ©1999-2021 StockCharts.com All Rights Reserved
Are they really that different? Top Holdings TSLA, AAPL, MSFT, NVDA, MA
All Holdings from VEGN
NameHolding Allocation
https://www.etf.com/VEGN#tradability
5. Copper New Highs
JJC Ipath Copper 5 Year Highs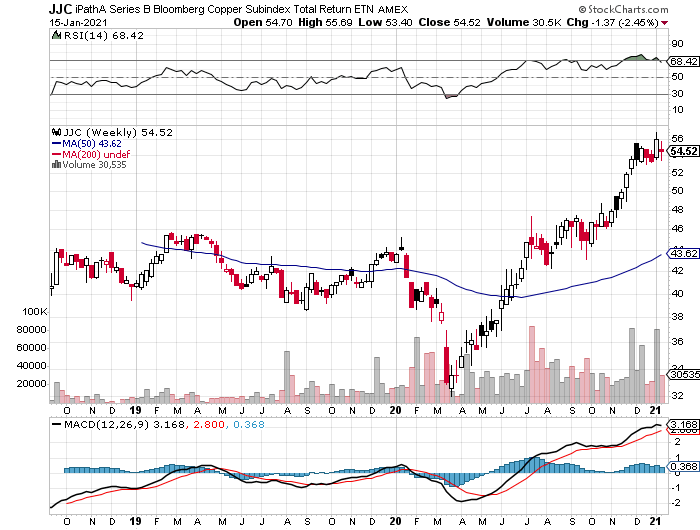 ©1999-2021 StockCharts.com All Rights Reserved
6. Inflation Assets Outperform by the Most in 15 Years
Bank of America says inflation assets include commodities GSG, -1.45%, real estate, Treasury inflation-protected securities, U.S. banks and value stocks. Deflation assets include government bonds TNX, -2.83%, corporate bonds, the S&P 500 SPX, -0.72% and growth stocks.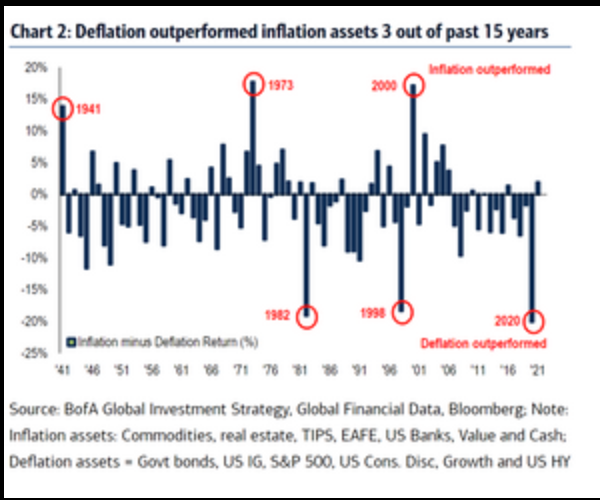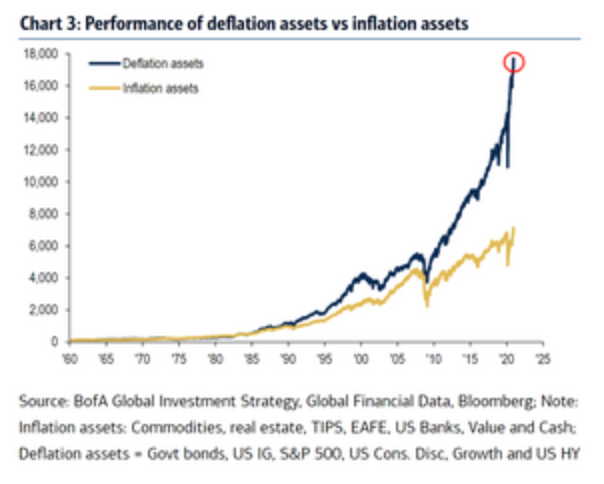 Money pours into energy sector and TIPS as inflation plays outperform by most in 15 years
https://www.marketwatch.com/story/inflation-plays-are-outperforming-deflation-assets-by-the-most-in-15-years-as-money-pours-into-energy-sector-and-tips-11610706546?mod=home-page
7. Trading of Fractional Shares Exploding.
Clark.com You might have heard of Robinhood, a finance startup that has done perhaps more advertising around fractional share trading than its competitors. But as awareness around fractional shares has risen over the last couple of years, much larger and more established brokerages have gotten into the fractional share game.
Here are some of the places you can currently buy and sell fractional shares, along with some pertinent information about each:
| | |
| --- | --- |
| Brokerage | Details |
| Acorns | Rounds up debit and credit card purchases, invests changeStart for $1/monthNo minimums or trade fees |
| Bumped | Offers free fractional shares in companies you frequentNo feesNo minimum investment |
| Fidelity | "Stocks by the Slice" gives you access to more than 7,000 U.S. stocks and ETFsAs little as $1.00 per tradeNo account fees or minimums |
| Robinhood | Invests in thousands of stocks from your smartphoneNo minimum investmentNo commissions or fees |
| Schwab | Buy fractional shares of any S&P 500 stock for as little as $5 per "slice"No commission on stock purchases |
| Stash | Buy fractional shares of ETFs for as little as $5Start for $1/monthNo commissions |
| Stockpile | Buy fractional shares in 1,000+ stocks and ETFsPay $0.99 per tradeNo sign-up fee, monthly fees, or minimums |
Which of these services you choose will depend on what you're looking for. Some — like Acorns and Bumped — allow you to save and invest with little effort on your part. Others — like Fidelity and Schwab — are traditional brokerage accounts that you will need to fund and manage.
8. Best of CES Conf. 2021
Best of CES Conf-WSJ- By Joanna SternNicole Nguyen and Wilson Rothman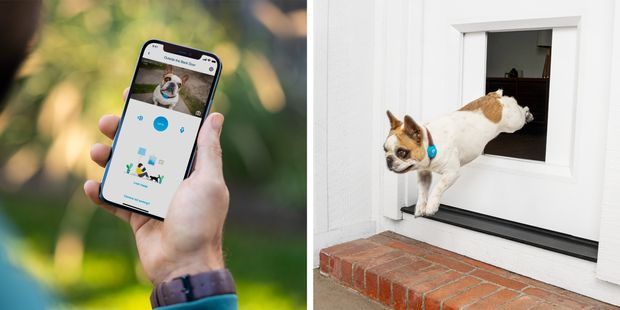 MyQ Pet Portal
Who let the dog out? Finally, there's a high-tech answer: this self-opening pet door for indoor-outdoor cats and dogs. We've seen lots of gadgets that allow humans to interact with their pets remotely, including automated feeders, pet cams and laser pointers. At last, there's a Wi-Fi-enabled door with a built-in camera and two-way audio, controllable through an app. A Bluetooth sensor attached to your pet's collar can also open the door at close range. Embedded safety sensors mean fuzzy friends won't get stuck upon exit or re-entry. Doors come in different materials and require professional installation. Available for preorder now and shipping this spring for $2,999 to $4,500; myqpetportal.com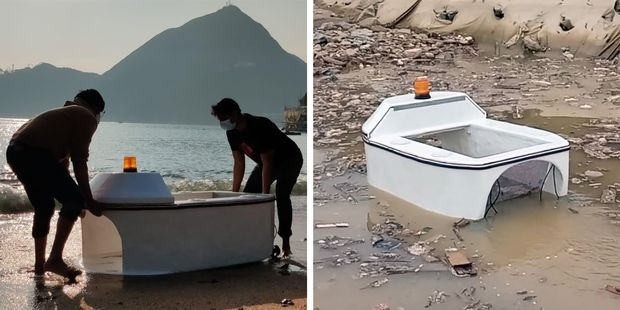 PHOTO: CLEARBOT
Clearbot Trash-Collecting, Self-Driving Boats
Imagine swarms of cute little robotic boats, wandering rivers, lakes and other bodies of water, collecting all the garbage that has been so carelessly dumped there. That's exactly what the team at Open Ocean Engineering, with backing from Hong Kong University, has set out to build. The solar-powered floating drones use computer vision to detect trash and swarm patterns akin to their airborne cousins to move about in a coordinated way—with all of it kept to minimal cost. Aimed at commercial release in mid-2022; clearbot.dev
Best of CES 2021
See full list
https://www.wsj.com/articles/best-of-ces-2021-the-virtual-tech-shows-weirdest-and-most-wondrous-gadgets-11610719200?mod=itp_wsj&ru=yahoo
9. Bitcoin: Magic Internet Money—Research Affiliates Article on Bitcoin
By Alex Pickard
Investing in Bitcoin in 2021
Bitcoin in 2021 is arguably harder to understand than bitcoin in 2013. Whereas in the early days bitcoin was easily defined as an online cash system, today it is much more ambiguous. Most proponents claim bitcoin is an unseizable, censorship-resistant, "digital gold" that provides inflation protection. Of course, like many narratives, this one relies on proponents' completely ignoring the data.
So, let's consider the data. Bitcoin, like gold, is a vehicle for speculation. It is not a vehicle for investment, not a store of value, and not an inflation hedge. BTC is not a capital asset: it does not generate cash flows derived from economic returns on capital. Its extreme volatility invalidates claims of a reliable store of value and calls into question any inflation-hedging properties. In 2018, the price of bitcoin plummeted by 83%, while inflation expectations (five-year-forward five-year BEI) remained anchored at 2%. Then, from year-end 2018 to year-end 2020, the price of bitcoin rose sevenfold, while forward BEI ended the year again at 2%.
Bitcoin is not unseizable. A quick google search of "bitcoin seized" will uncover countless instances of governments' confiscating bitcoin from illicit businesses, including Silk Road. This reality contradicts part of the old narrative about bitcoin—that it is useful for criminals. Bitcoin is easily trackable on the public bitcoin blockchain, making it a bad choice of currency to use when committing crime.5 The popular financial press seems to have caught on to this fact, as "good for crime" is rarely mentioned anymore.
"Bitcoin proponents promote the BTC narrative and then point to the price chart as confirmation of their story."
Events of August 2017 altered the trajectory of bitcoin. A little known but drastically important change occurred to the bitcoin source code with the addition of segregated witness (separating signature data, or witness, from transaction data) (Nguyen, 2017)6 and the contemporaneous decision by BTC miners to keep the block size at 1MB.7
The technical details of the change are outside the scope of this article, but the outcome is that bitcoin is no longer a digital cash system as described by Nakamoto (2008). No longer can Amazon or any other online merchant adopt it for use as a medium of exchange. Essentially overnight it became "digital gold" with no use other than for people to buy and hodl (a misspelling of "hold" that was first used on a message board in 2013) and hope more people would buy and hodl, and increase the price of BTC until everyone on earth sells their fiat currency for BTC, and then…? Well, what exactly happens then, when BTC can only handle about 350,000 transactions per day and 7.8 billion people need to buy goods and services?8
Despite all of this, it is hard to resist the siren song of bitcoin when, over the last two years, the price seemingly never goes down. Bitcoin proponents promote the BTC narrative and then point to the price chart as confirmation of their story. Perhaps they are on to something, or perhaps BTC is just a bubble driven by a frenzy of retail, and some institutional, money eager to get a piece of the action. Alternatively, and far likelier in my opinion, is that this "bubble" is more fraud than frenzy.
10. Plan A–Lowering Inflammation Lengthens Life
It is well-documented that stress kills–happiness heals
The COVID-19 virus is a member of the Corona virus family that usually just causes the common cold. The problem is that we now have a strain that is potentially fatal. However, there are some strong hints of how to survive it, and it revolves around first learning to thrive.
Roadmap to a solution
What are the clues? Over 90% of people who have died of COVID-19 have some other chronic medical condition(s). (1) The common perception is that in this scenario, the body simply gets overwhelmed. The pre-existing situation is unsolvable and the outcome is inevitable. This idea could not be farther from the truth.
All the chronic conditions are associated with elevated inflammatory markers from the body responding to threats, whether physiological or psychological. A major mediator of this response is the immune system. Mental threats are more problematic than physical threats in that you cannot escape disturbing thoughts and emotions, and repressing them is even worse. As a result, every human being is exposed to some level of elevated stresshormones and inflammation.
Many people have learned to process threat in a way that causes little damage. However, many, if not most, of us have not been taught the necessary skills and therefore are exposed to sustained elevations of inflammatory cells. It is the essence of chronic disease. In 2014, over 150 million Americans suffered from at least one chronic disease with annual cost of 3.7 trillion dollars—almost 20% of the gross domestic product. (2)
Cardiovascular disease, peripheral vascular disease, Parkinson's disease, autoimmune disorders, obesity, adult-onset diabetes, anxiety, depression, obsessive compulsive disorder, bipolar disorder—all are chronic conditions connected to sustained inflammatory and metabolic destruction of tissues. It is all the same process with different clinical manifestations, and many people suffer from multiple illnesses.
Plan A–Lowering Inflammation Lengthens Life
This document, Plan A, presents 12 categories of interventions that will lower your levels of inflammation. Included are such measures as ways to understand and treat anxiety, employ expressive writing, deploy calming techniques, get adequate sleep, address anger, address family issues, examine your nutrition, maintain an exercise regimen, stay on top of medical problems, play, give back, and regain your life vision.
If most severe cases of COVID are connected with chronic medical conditions, then address them. By starting with lower levels of inflammation, there is a better chance of staying below the critical threshold where the inflammatory process spins out of control, there is diffuse damage to many different organs, and the lungs fill up with fluid.
This plan was assembled by a group of physicians and scientists who feel strongly that this approach will have an impact in lowering the severity of this deadly disease. There are now multiple professionals advocating a similar approach. One group looked at it from using preventative medications, but it can be achieved with these other means.
Happiness is a learned skill, and it is well-documented that those who understand how to experience rich meaningful relationships and keep life in perspective, live longer with a better quality of life. Dealing with COVID-19 requires the same approach as dealing with chronic disease–lower the levels of threat and inflammation and create safety. Obviously, events occur at a much faster rate with COVID–19 than with chronic disease states.
Lansing Street Advisors is a registered investment adviser with the State of Pennsylvania..
To the extent that content includes references to securities, those references do not constitute an offer or solicitation to buy, sell or hold such security as information is provided for educational purposes only. Articles should not be considered investment advice and the information contain within should not be relied upon in assessing whether or not to invest in any securities or asset classes mentioned. Articles have been prepared without regard to the individual financial circumstances and objectives of persons who receive it. Securities discussed may not be suitable for all investors. Please keep in mind that a company's past financial performance, including the performance of its share price, does not guarantee future results.
Material compiled by Lansing Street Advisors is based on publicly available data at the time of compilation. Lansing Street Advisors makes no warranties or representation of any kind relating to the accuracy, completeness or timeliness of the data and shall not have liability for any damages of any kind relating to the use such data.
Material for market review represents an assessment of the market environment at a specific point in time and is not intended to be a forecast of future events, or a guarantee of future results.
Indices that may be included herein are unmanaged indices and one cannot directly invest in an index. Index returns do not reflect the impact of any management fees, transaction costs or expenses. The index information included herein is for illustrative purposes only.