1. 2021 State of Venture Capital…VC Funding Jumps 106%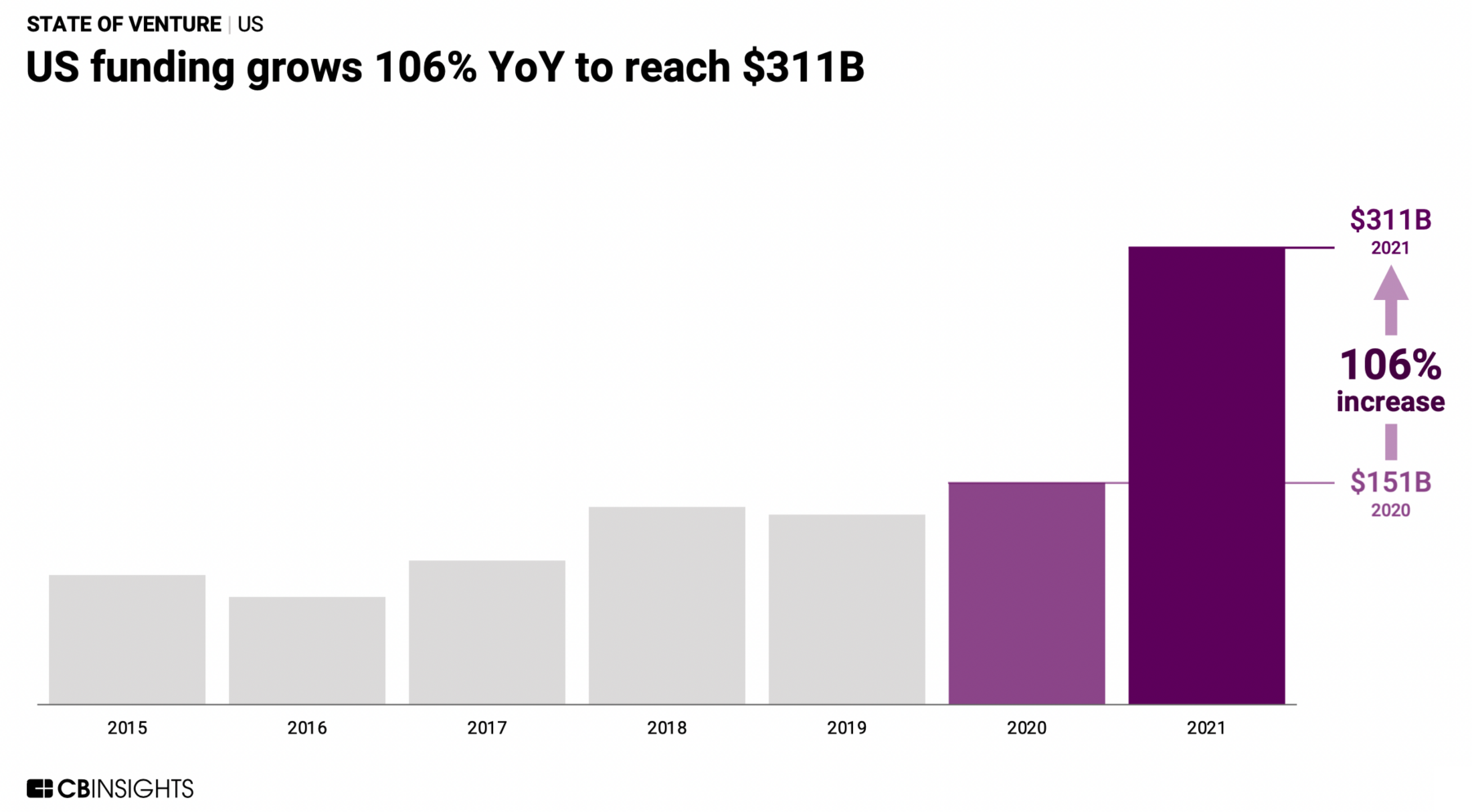 I have noted that it seemed like VC money was everywhere, and now we have the data to confirm that. According to CBI's State Of Venture 2021 Report, global venture funding was up 111% in 2021 hitting $620.8B. As the chart above shows, the US accounted for more than half of that, growing 107% in 2021 to reach $311.2B in investments.
We looked at fintech companies in Faster / Better / Cheaper, and as it turns out, that sector accounted for the largest amount of those VC dollars globally at $132B, or 21% of total venture funding. (This is an all-time high).
Not surprisingly, Silicon Valley led the US in VC funding in 2021, with more than $100B invested (Q4'21 was a record $29.3B); New York was 2nd at $65 billion, followed by Boston ($31B), L.A. ($24B), Seattle (~$7B), D.C. (~$5B), and Denver (~$5B). The U.S. led in global exits in 2021, followed by Europe and Asia.
If you are interested in these sorts of things, the rest of the deck is worth checking out . . .
Source:State Of Venture 2021 Report Chris BendtsenCB Insights January 12, 2022https://bit.ly/3npfVtg https://ritholtz.com/2022/01/2021-state-of-venture-capital/
2. Commodities ETF Breaking Out.
COMT Commodity ETF New Highs…50day thru 200day to upside back in Sept.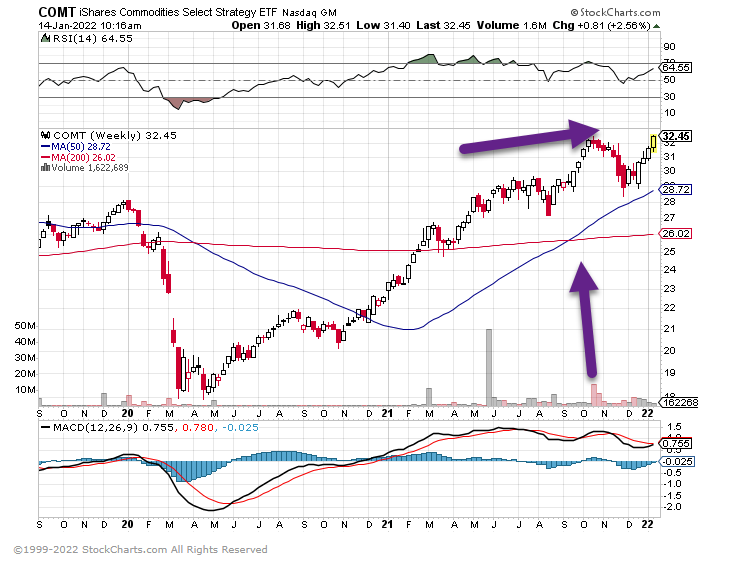 3. Did you know that 22% of all U.S. Dollars were created in 2020 alone? Read that again. 1/5th of all U.S. Dollars were created in 2020.
The Free Press Report-On December 2020 there were $15.4 trillion dollars in the world. At today's date, there are $20.9 trillion dollars. In layman's terms this is described as printing money.
In practice the Fed creates digital dollars to buy government bonds in the secondary market, known as quantitative easing. The buying of government bonds keeps bond prices high and yields low.
Assuming the interest payment on the $28.5 trillion of Federal debt is 0.07% this implies the yearly interest payment is $18.9 billion. But what if we assumed the interest rate started to move? We mapped the potential annual interest obligations out below:
1% – $270 billion
2% – $540 billion
3% – $810 billion
4% – $1.08 trillion
5% – $1.35 trillion
6% – $1.62 trillion
7% – $1.89 trillion
8% – $2.16 trillion
9% – $2.43 trillion
10% – $2.70 trillion
15% – $4.05 trillion
20% – 5.40 trillion
The United States is in big trouble if interest rates move. A move to a measly 3% interest rate implies the yearly interest payable would be around $810 billion — a 4,185% increase from the current rate.
But what if inflation gets out of control, bonds are sold off and interest rates move back to the levels we saw in the 80s? Annual interest payable on $28.5 trillion in debt would be in the trillion dollar range.
https://patriotone.substack.com
4. Inflation and Biden (or any President)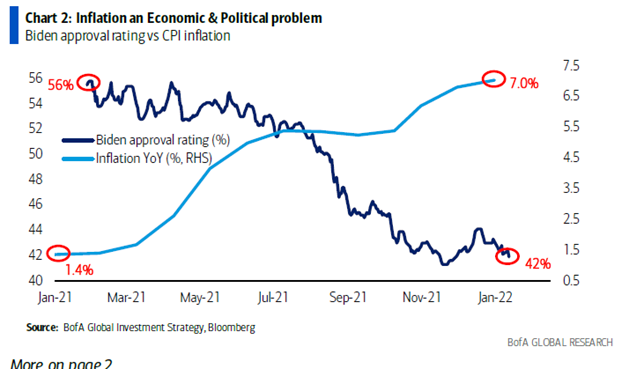 Dan Stratemeier
Managing Director-Equities, Event Driven Strategies-Jefferies LLC
6. Russell 2000 Small Cap and Nasdaq 100 Experience Record High Correlation to Start the Year
Dorsey Wright–The Russell 2000 (RUT) and Nasdaq 100 (NDX) are experiencing their highest correlation since 2012. In fact, with a current correlation (through 1/12) of 0.76, it ranks in the 98th percentile of all (daily) observations going back to 1994.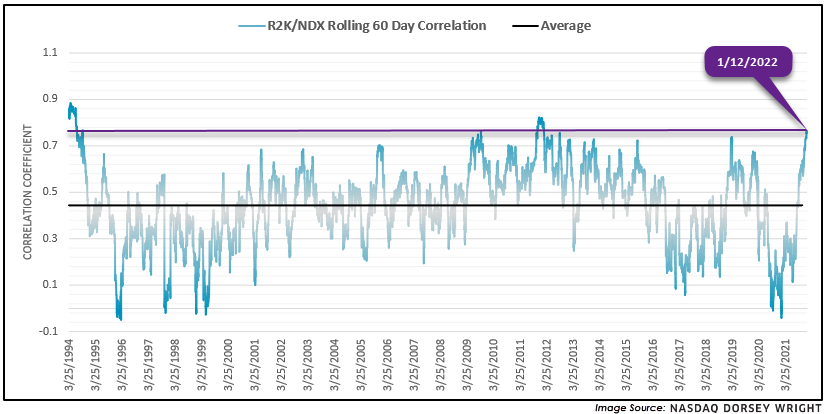 7. 60 Day Returns Nasdaq 100…Mega Cap -.38% vs. Smallest Stocks -14%
The image below shows the 60-day returns of Nasdaq-100 stocks by market cap. We can see that there is a clear performance bias favoring the largest stocks in the index. The 10 largest stocks are down -0.38% on average over the period while the 10 smallest stocks are down -14%. Meanwhile, the top half of stocks by market cap have outperformed the bottom half by nearly 5%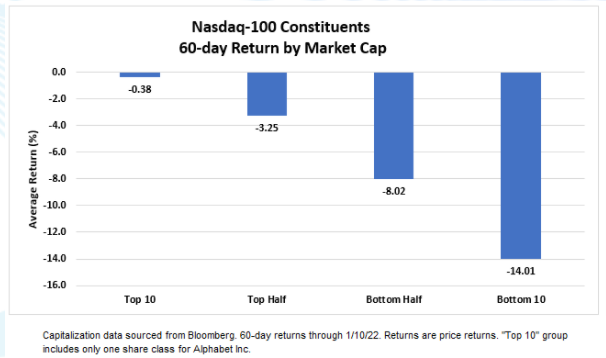 There has been an even more pronounced relationship between recent performance and earnings. Stocks with lower price-to-earnings (PE) ratios have outperformed those with high PE ratios or negative earnings. The chart below groups the stocks in the Nasdaq-100 by PE. The 10 lowest-PE NDX stocks, which have an average PE ratio of 13, have gained an average of 4.47% over the last two months while the 10 highest-PE stocks, with an average PE ratio of 382, are down more than 13% over the same period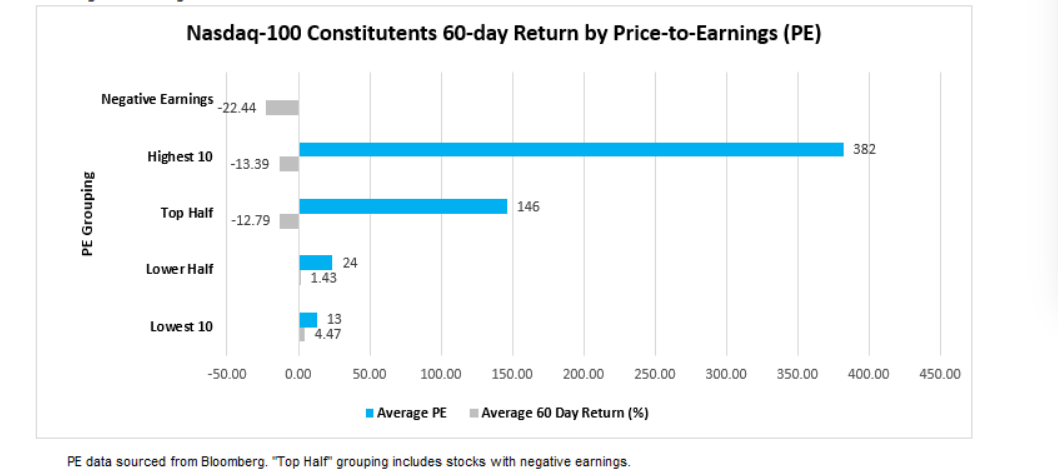 https://oxlive.dorseywright.com/research/bigwire/2022/01/11/01-11-2022
8. Netflix -26% from Highs…Trades Back to August 2020 Levels.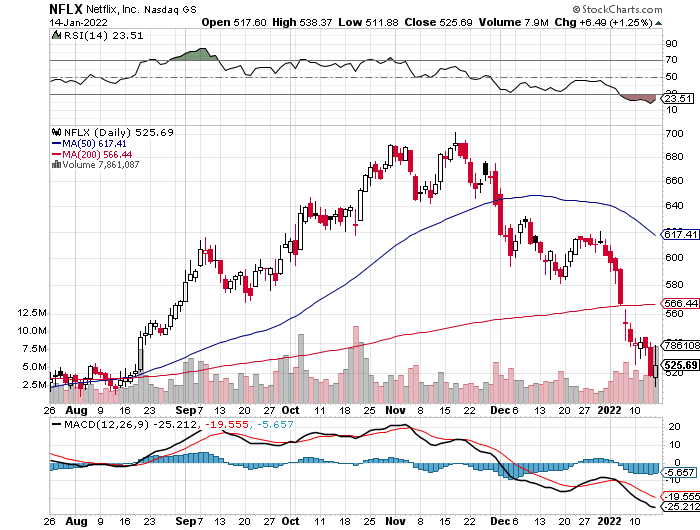 9. Bets against Beyond Meat have made the plant-based food company the most shorted stock on the Russell 1000 Index
Natasha Dailey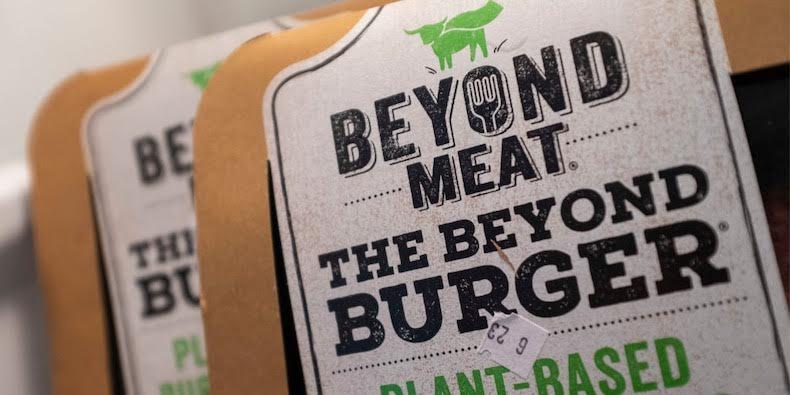 Getty Images
About 37% of Beyond Meat's available shares are shorted, new data show.
That makes the plant-based food maker the most heavily shorted company on the Russell 1000 Index.
Short sellers made $735 million in 2021 betting against Beyond Meat as the stock sank.
Bearish bets against Beyond Meat stock are piling up, with famed short-seller Jim Chanos also reportedly joining in.
According to the latest data from financial analytics firm S3 Partners, short interest in the plant-based food company is now about 37% of available shares, or $1.38 billion. That up from 26% in early October, and it means Beyond Meat is the most shorted company on the Russell 1000 Index, according to Bloomberg.
Betting against the company was a profitable position last year, considering short sellers made $735 million in profits, Ihor Dusaniwsky of S3 Partners told Insider in an email. In the new year though, short sellers so far have lost $126 million as Beyond Meat stock has rallied 10%.
Now Chanos, the short seller best known for predicting Enron's collapse, is betting against Beyond Meat because he said it's stopped being a growth company, he told The Financial Times. His firm, Kynikos Associates, did not immediately respond to Insider's request for comment.
In 2019, Beyond Meat became the first plant-based meat startup to go public, and it had an explosive IPO. Last year, the meat-alternative company briefly became a meme stock as it rallied alongside other popular retail-trader names like AMC and GameStop.
But while shares have risen so far in 2022, the stock price has lost about 43% of its value in the last 12 months. Meanwhile, the Russell 1000 Index, which includes the top 1,000 US companies by market value, rose 20% over the same time period.
Beyond Meat stock sank 20% in November after posting a wider-than-expected loss for the third quarter and issuing a weak sales outlook. The company predicted continued labor problems and caution among customers amid the ongoing COVID-19 pandemic. Beyond Meat did not immediately respond to Insider's request for comment for the story.
Bets against Beyond Meat have made the plant-based food company the most shorted stock on the Russell 1000 Index | Markets Insider (businessinsider.com)
10. Design Your Environment
Farnam Street Tiny Thought
Environment is the hidden force that guides behavior. One reason it's so effective is that it speaks to your subconscious mind and not your conscious mind.
Default behaviors love the path of least resistance. Not only does our environment choose that path but it pushes us in that direction.
Most of the time when we think of 'environment' we think only of our visible environment. Consider your house. Seeing a bag of chips on the counter makes eating healthy harder. In the same way, removing chips from the house altogether makes eating them harder. To get a bag of chips you have to get in your car and go to the store.
If we limit our understanding of environmental influences only to what we can see, we miss a large part of its powerful force. Let's look at hidden environmental forces that shape our behavior.
We become what we consume. What you read today becomes the raw material of your thoughts tomorrow. High-quality inputs offer high-quality raw materials to assemble in the future. A person with an environment with rich sources of information makes better choices than someone consuming low-quality sources of information. Not only do they have better raw material, but they also have a broader perspective and a calmer mind. The same applies to food. What we eat today is what we become tomorrow. All things being equal, the person that eats healthier will live longer and avoid more problems than someone who does not.
Who we spend time with matters. My grandfather, like many, used to tell me you are the average of the five people you spend the most time with. A lot of wisdom, like this, gets easily dismissed because it's not entirely accurate. That's unfortunate because it's very useful. By choosing who you spend time with today, you change your trajectory tomorrow.
Another bit of wisdom hiding in plain sight is that people tend to hang around people like themselves. That explains why if your friends watch TV every night, you eventually will too. You can take this in all sorts of directions. If you spend a lot of time with people who are kind and thoughtful, you will act that way too. If you spend time with people who share a certain politics, you eventually see things similarly. It also explains why, if you start spending time with people who are unlike you in certain ways you want to cultivate, you will become like them. All of this happens without conscious awareness.
By choosing who you spend time with you are also choosing who you want to be. This is the environmental force at work on your subconscious and your biological instincts.
Here are three lessons you can take from this:
1. Curate your information diet to be rich and diverse. Follow people who think differently than you. Read old books. Remember that what you put into your mind today is the raw material you have to work with tomorrow.
2. Surround yourself with people whose default behavior is your desired behavior. If you want to run more, join a group that runs every day. Spend less time with people whose default behavior isn't your desired behavior.
3. Design your environment knowing it will influence your future self. You can easily make undesired behaviors harder and desired behaviors easier.
Understanding the invisible influence of your environment allows you to turn your desired behaviors into your default behaviors.