1. TWO CHARTS TO WATCH IN JANUARY..GOLD AND DOLLAR
GLD-50 DAY ABOUT TO CROSS ABOVE 200 DAY TO THE UPSIDE (BULLISH)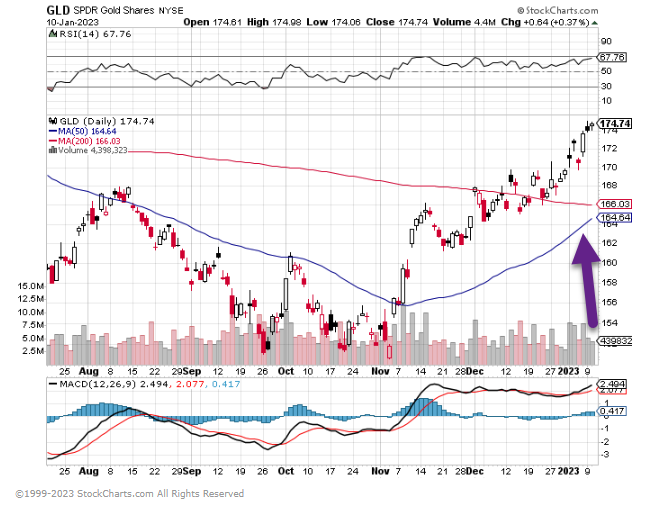 U.S. DOLLAR 50DAY ABOUT TO CROSS THRU 200 DAY TO DOWNSIDE (BEARISH)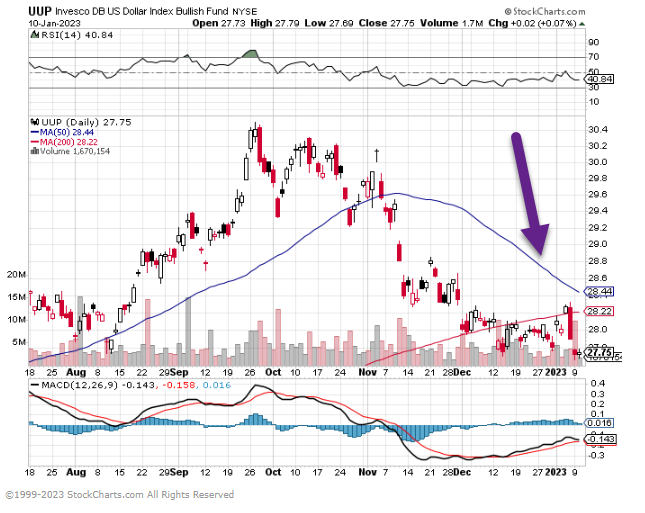 ---
2. TIP CHART STRAIGHT DOWN
TIPS SOLD OFF MOST OF 2022…CLOSED BELOW 200 WEEK MOVING AVERAGE ON LONGER-TERM CHART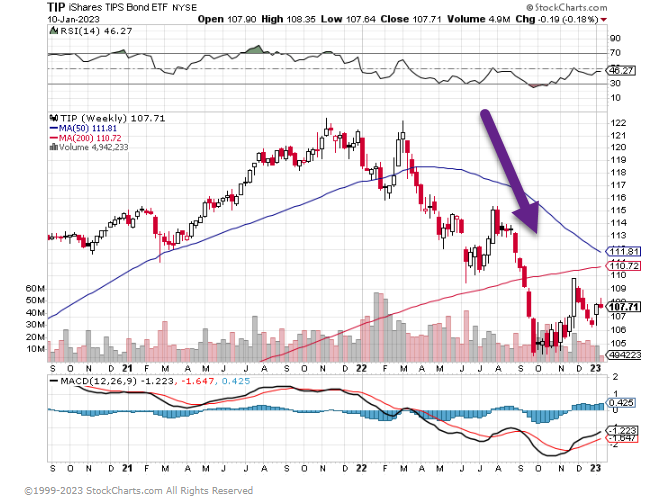 ---
3. HOUSING MAKES UP 1/3 OF CPI BUT REPORTING LAGS SIGNIFICANTLY
Important New Inflation Indicator Joseph Politano -Apricitas Economics
Using the same underlying BLS microdata that composes the housing component of the CPI, the NTRR uses information on lease turnover to track rent growth in units that change tenants. The ATRR covers all housing units but attributes rent changes to when they happened, as opposed to the official CPI data which tracks price changes when units are surveyed.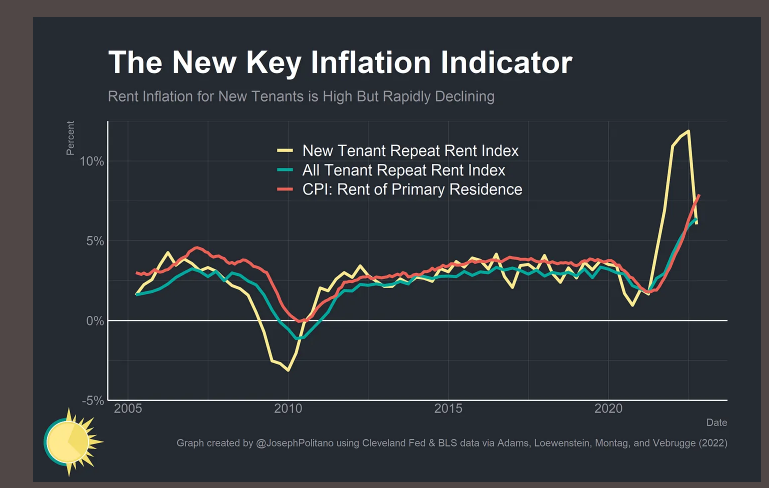 HTTPS://WWW.APRICITAS.IO/P/THE-MOST-IMPORTANT-NEW-INFLATION
FROM BARRY RITHOLTZ THE BIG PICTURE HTTPS://RITHOLTZ.COM/2023/01/10-TUESDAY-AM-READS-410/
---
4. WORLD WRESTLING 5 YEARS +180% VS. S&P +40%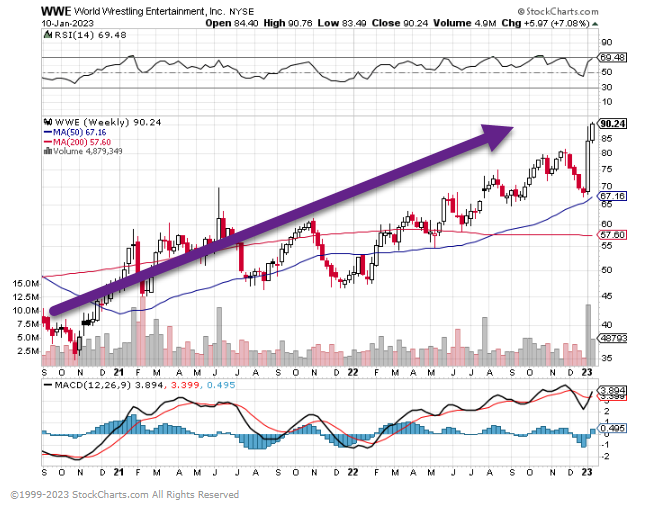 ---
5. Chips Made in USA May Cost Up to 50% More than Asia
Barrons–Chang has said that factories in the U.S. won't be cost competitive with the firm's Taiwan fabrication plants, or fabs. Chips currently made at the company's Oregon site cost 50% more than the same semiconductors made in Asia, Chang said during an interview last year at the Brookings Institution.
https://www.barrons.com/articles/tech-stocks-employees-layoffs-consumer-demand-51673021476?mod=past_editions
Taiwan Semi 25% Bounce Off Bottom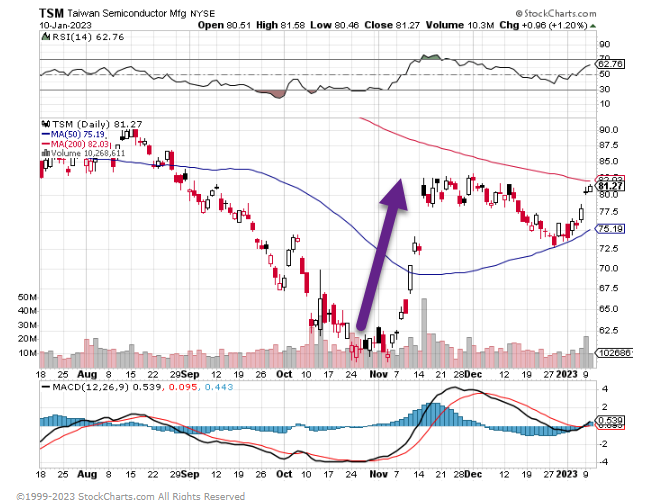 ---
6. Huge Move from Bond Mutual Funds to Bond ETFs
BND Chart –Barrons Todd Sohn, ETF strategist at Strategas, says the bond bear market accelerated the shift, noting that over the past 12 months, a record $634 billion has moved from bond mutual funds into ETFs.
https://www.barrons.com/articles/bond-funds-investing-portfolio-income-generating-51672717225?mod=past_editions
BND Vanguard Total Bond ETF-Hits 200day Twice in Past Month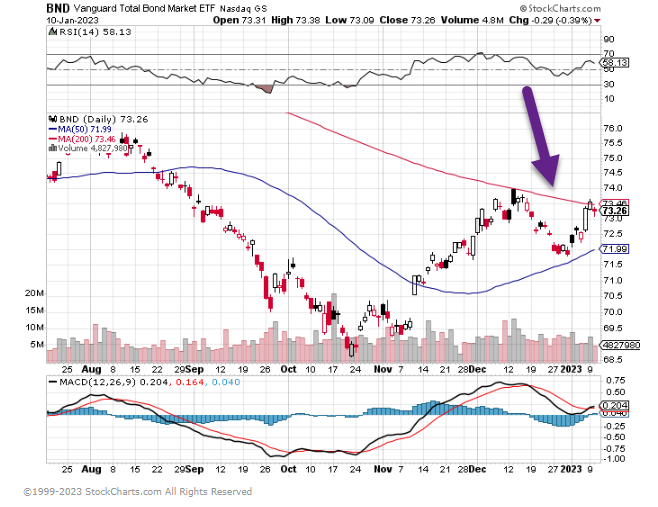 ---
7. San Fran Public Transportation No Recovery…Wolf Street Blog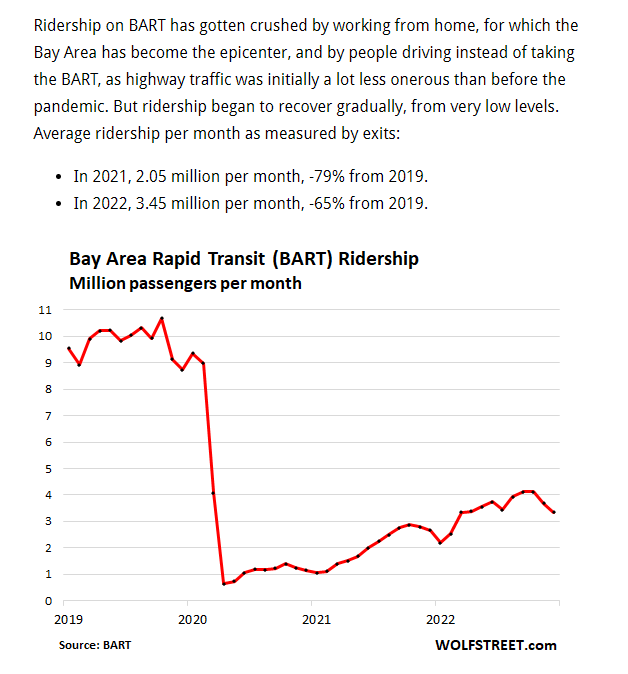 https://wolfstreet.com/2023/01/09/are-tech-layoffs-in-san-francisco-and-silicon-valley-the-latest-hit-to-bay-area-rapid-transit-bart/
---
8. Small Business Confidence Sliding Lower
From Dave Lutz at Jones Trading NOT CONFIDENT– U.S. small-business confidence slid to a six-month low in December, according to a survey on Tuesday, which also showed that inflation and worker shortages remained major issues for firm owners.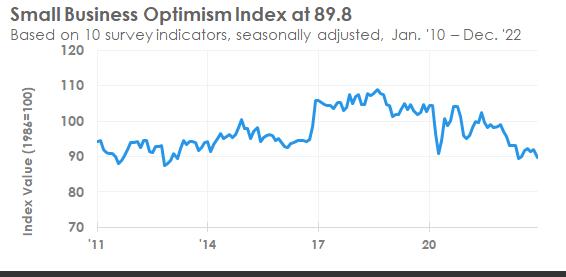 The National Federation of Independent Business (NFIB) said its Small Business Optimism Index fell 2.1 points to 89.8 last month – the lowest since June – amid a decline in the share of owners who expected better business conditions over the next six months.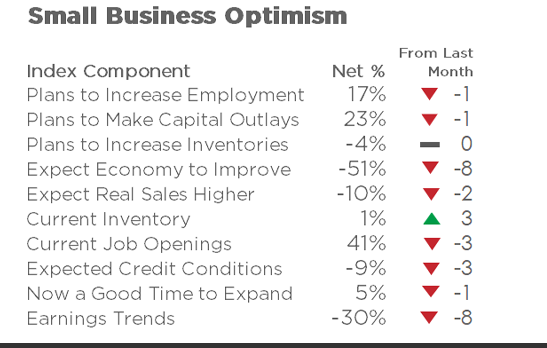 The net share of owners expecting better business conditions over the next six months fell to -51% last month from -43% in November. It was -61% as recently as June.  Thirty-two percent of owners reported that inflation was their single most important problem, unchanged from November and 5 points lower than July's reading, which was the highest since the fourth quarter of 1979
---
9. Not Surprising But % Of Homes Selling Above List Plummets
From Liz Ann Sonders Schwab Perhaps no surprise but % of homes selling above their list price (as of November 2022) has fallen to 30%, which is way below peak of 53% in March 2022 (Redfin)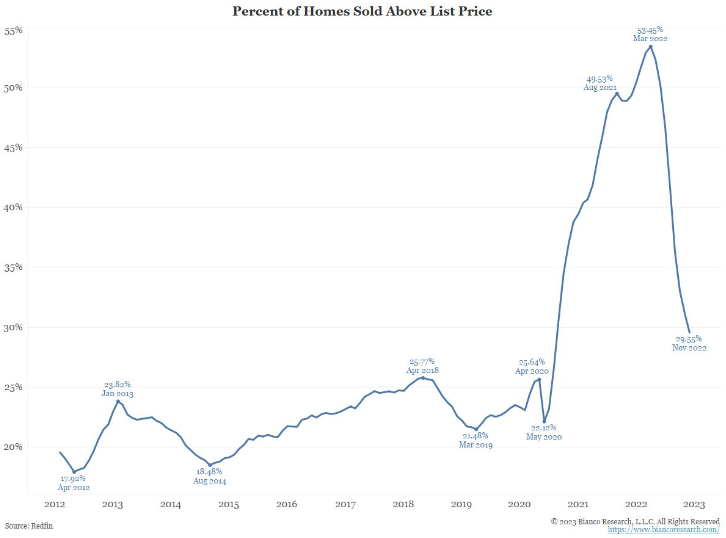 (99+) Liz Ann Sonders | LinkedIn
---
10. WHAT STATES ARE THE WORST IN….
NO ONE CAN BE GOOD AT EVERYTHING! THESE ARE EACH STATE'S WORST QUALITY
The key to being successful in life is knowing your strengths. However, you also need to know where you fall short in order to improve. As much pride as we each have in America and our home states, it's important to recognize that there are things each of us can do to make our states more wonderful.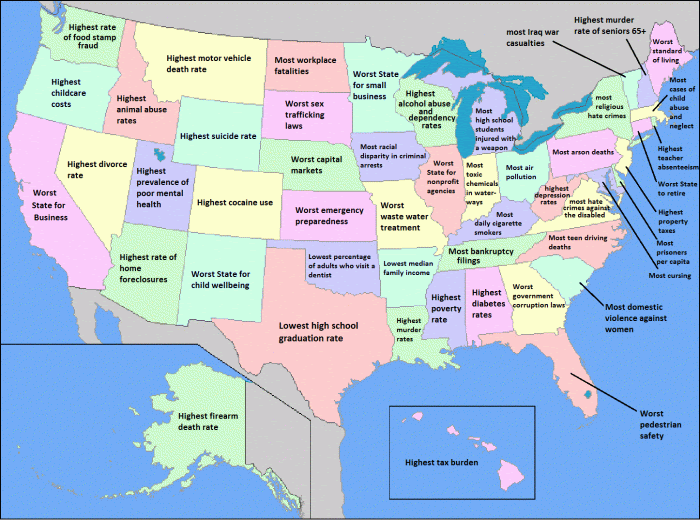 https://dailytimewaste.com/article/tw/1106113480/maps-that-reveal-curious-truths-about-america/?utm_source=twitter&utm_campaign=z7-us-d-mapustwt-sv-tw156-6&twclid=23r1ze0ulfbgl17jjbiv3h6130&pg=18