1. Alibaba Almost a Double Off Bottom
BABA $59 Low in November to $155 Last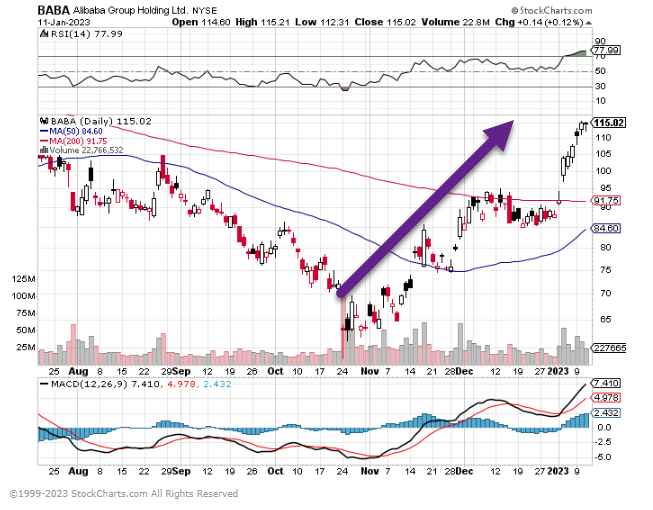 ---
2. China Re-Opening Watch Copper…Copper 50% Consumed by China
JJC Copper ETF 50day approaching 200day to upside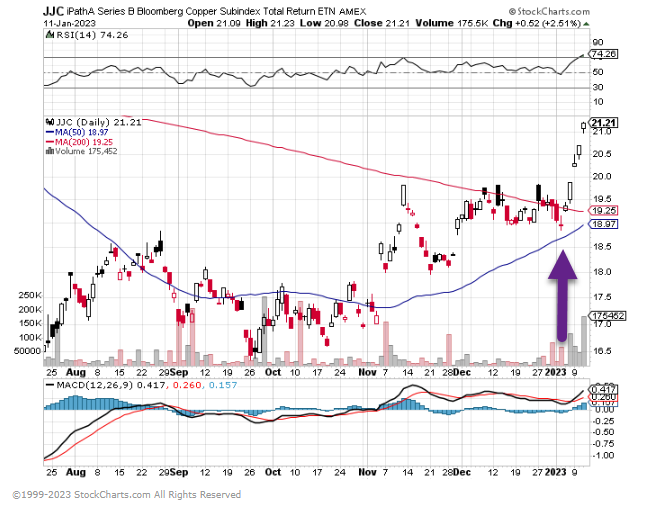 Statista-Distribution of refined copper consumption worldwide in 2021, by region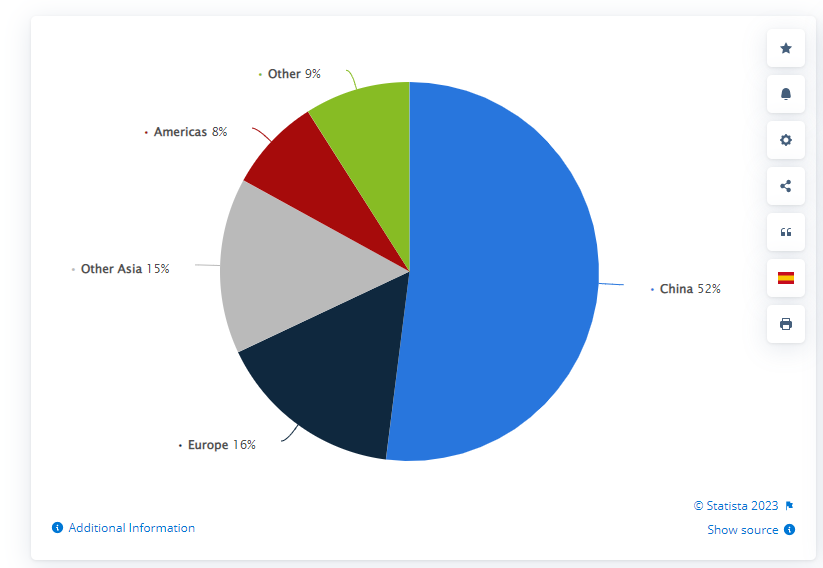 https://www.statista.com/statistics/693466/distribution-of-global-refined-copper-consumption-by-region/
---
3. Europe 50 Bullish Chart Action
Stoxx Europe 50day thru 200day to upside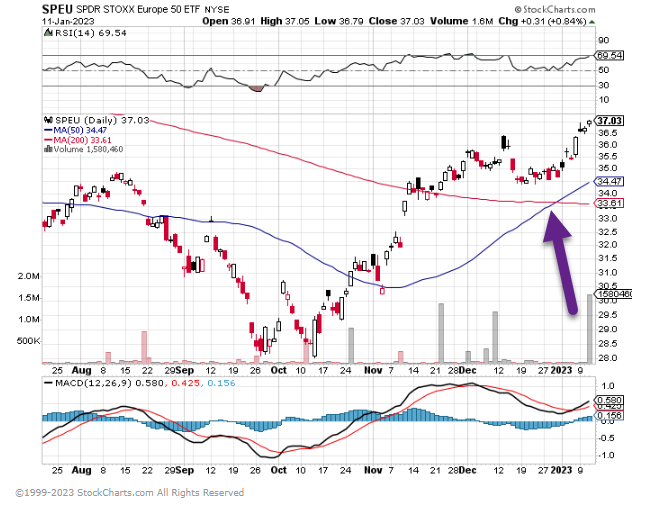 ---
4. Industrials U.S. Sector Approaching Break-Out Highs
VIS ETF Held 200 Week Twice in 2022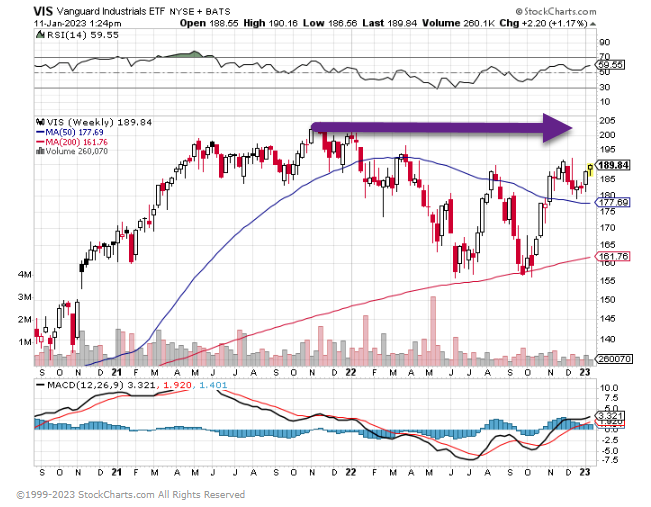 ---
5. IWM Russell 2000 Small Cap 4th Run Since November Above 200day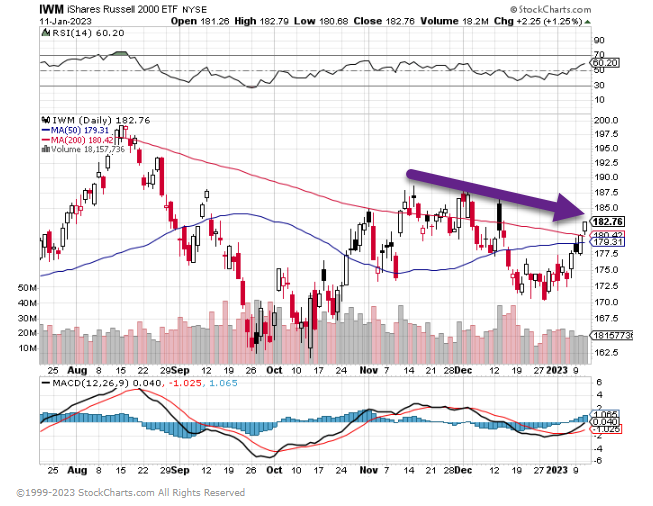 ---
6. Jack Ablin with Chart on Months to Economic Indicator Lows After Fed Stops Raising Rates
Jack Ablin Cresset Capital–We expect economic indicators to begin to fall in line with interest rate reality in 2023. However, history suggests the full impact won't be felt for many months, considering peak tightening, according to the futures market, isn't expected until sometime in Q2. S&P profits could bottom in 2024 and unemployment may not peak until 2025, if this tightening cycle follows historical norms.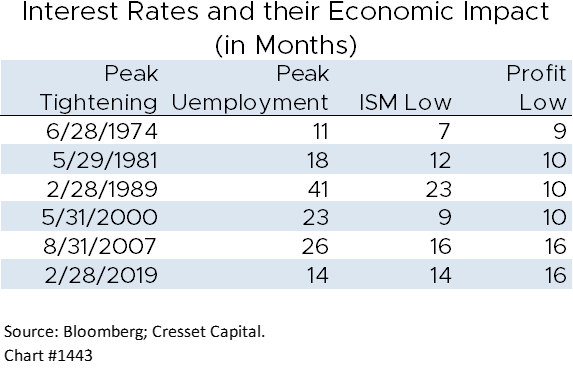 How Interest Rates Will Affect the Economy in 2023 | Cresset Capital
---
7. U.S. Natural Gas Exports vs. Imports -WSJ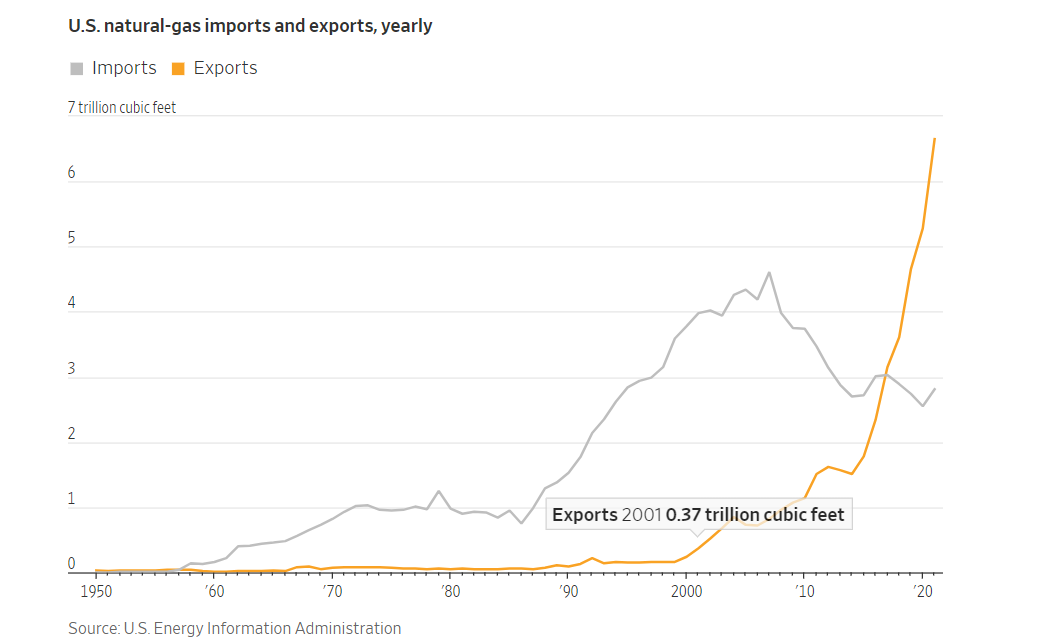 https://www.wsj.com/articles/oil-and-gas-are-back-and-booming-11673363006?mod=business_lead_pos5
---
8. Russian prisoners sent to the front lines in Ukraine have been publicly executed for not charging into enemy fire, captured inmates say
John Haltiwanger -Business Insider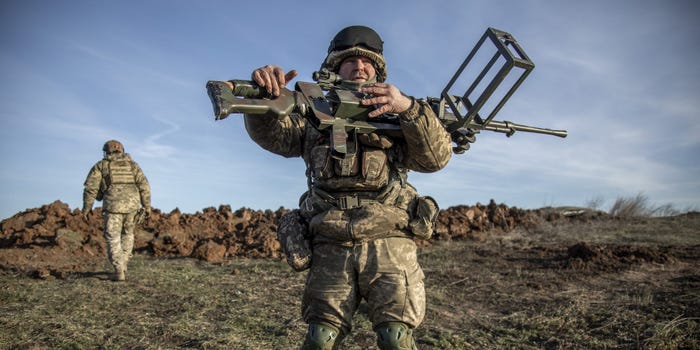 A Ukrainian military member on the front lines in Donetsk, Ukraine, December 4. Narciso Contreras/Getty Images
Captured members of a Russian mercenary group say defiant troops are publicly executed in Ukraine.
The infamous Wagner Group has recruited prisoners to fight on the front lines.
One captured former inmate described many of the recruited prisoners as "completely insane."
Top editors give you the stories you want — delivered right to your inbox each weekday.
Captured Russian inmates who have been sent to the front lines in Ukraine as part of the Wagner Group, an infamous mercenary organization with ties to the Kremlin, say they've witnessed public executions of deserters and disobedient troops, according to a Tuesday report from Polygon Media and the independent Mozhem Obyasnit news outlet. 
"Those who disobey are eliminated — and it's done publicly," Yevgeny Novikov, a former inmate who the report said was recruited by the mercenary group, said, according to a translation of the report from The Daily Beast.
Novikov said there were "squadrons of liquidators" that dealt with troops considered problematic.
In one instance, according to The Beast's translation, Novikov said: "Shelling began, one of the prisoners laid down and didn't cover his own [men]. The shelling stopped, he went back, and the higher-up shouted to him: 'Why didn't you go forward?' And they killed him. The higher-up is killed if his team deserts."
https://www.businessinsider.com/russian-prisoners-wagner-group-ukraine-executed-deserting-disobedient-report-2023-1
---
9. Golden Globes Viewership -75% From Early 2000's Peak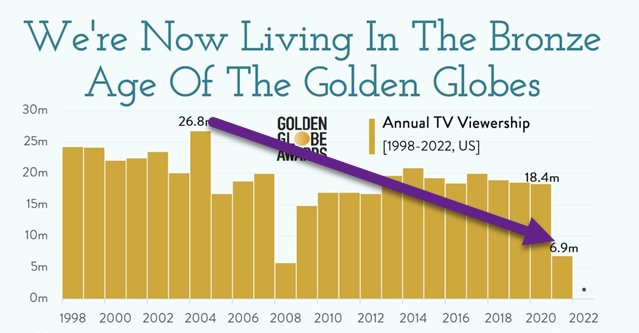 ---
10. Why We Overeat?
Psychology Today Thomas Rutledge Ph.D.
https://www.psychologytoday.com/us/blog/the-healthy-journey/202301/why-we-overeat