1. S&P Dividend Yield vs. Treasuries 2022
Bespoke Investment Group Blog Two years ago at the end of 2020, the S&P's dividend yield was higher than the entire Treasury curve except for the 30-year. Fast forward to now and the S&P's dividend looks puny compared to 4%+ yields on T-Bills.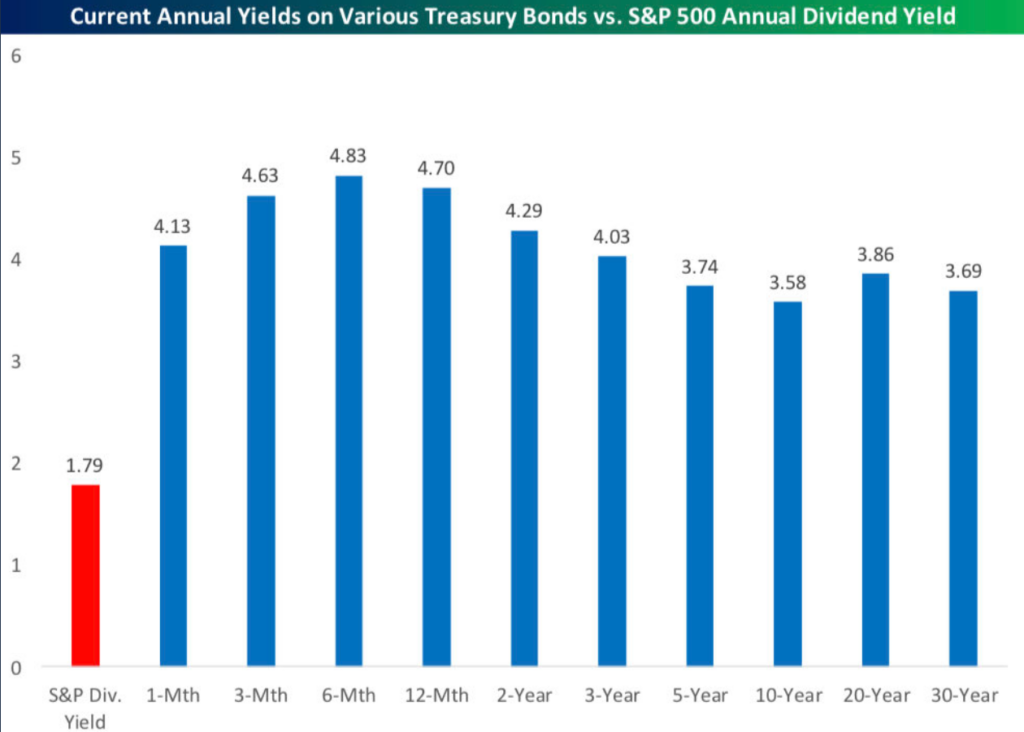 https://www.bespokepremium.com/interactive/research/think-big-blog/
---
2. One Bullish Factor for Markets…Sentiment at Extreme Bearishness.
From Dave Lutz Jones Trading Reminder from Last Week, BofA notes the extreme bearish sentiment of Analysts is very bullish for Stocks.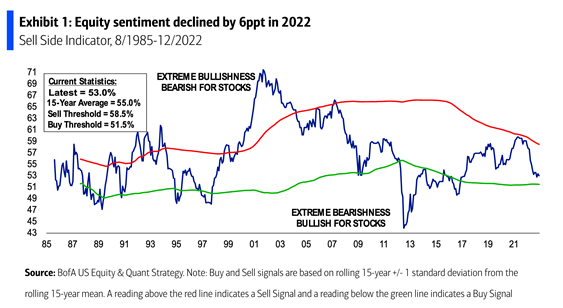 ---
3. Consumer Confidence at Historic Lows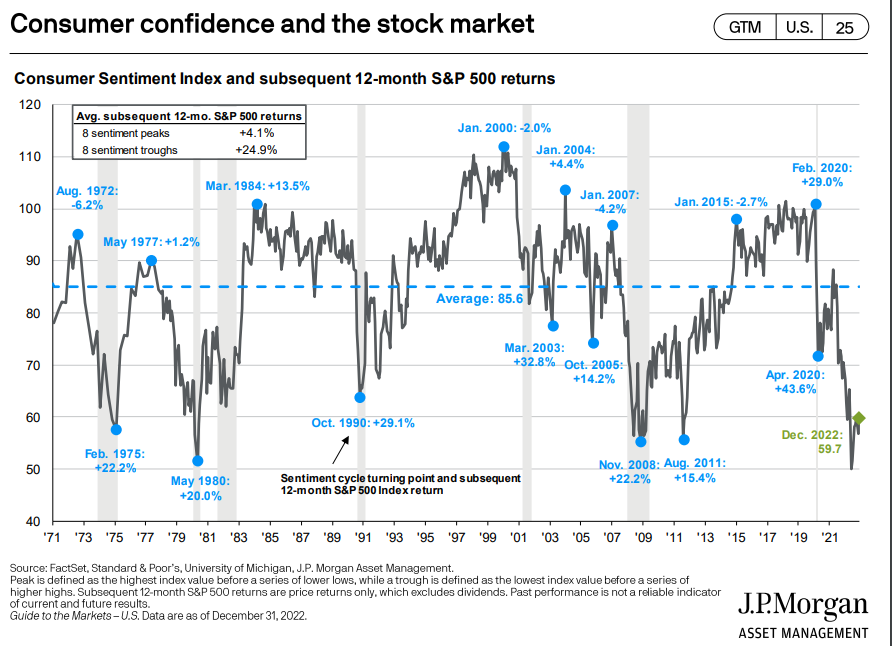 https://am.jpmorgan.com/content/dam/jpm-am-aem/global/en/insights/market-insights/guide-to-the-markets/mi-guide-to-the-markets-us.pdf\
---
4. And Presidential Cycle Seasonality Positive.
Presidential Cycle Present?  We know seasonality works different in bear markets vs all markets, but still a very interesting chart considering where sentiment is.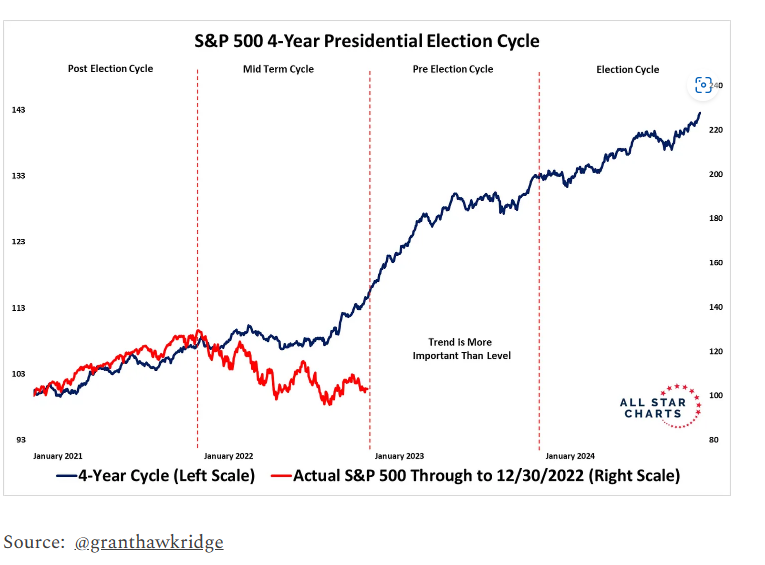 ---
5. Jeremy Siegel Wisdom Tree "Inflation Basically Dead"…I  Agree.
The broad U6 measure of unemployment dropped to an all-time low in the nearly 30-year history of the series. The labor force participate rate increased, bringing some workers off the sidelines and that also is positive for wage gain moderation.

The bottom line of all this price and inflation data: all measures are very encouraging and inflation is basically dead in my view. Commodities and natural gas prices in particular, have just plummeted with warmer weather. Gas prices are way off their highs.

What does this mean for the Fed? There is widespread expectation of a 25-basis point hike at the February 1st meeting. I reiterate I don't think the Fed should do this hike, as the cumulative tightening is enough. But if the Consumer Price Index (CPI) and Producer Price Index (PPI) reports come in as I expect and softer, there is a chance the February hike is the last of this cycle.

Weekly Siegel Commentary – Weekly Siegel Commentary (wisdomtree.com
US U-6 Unemployment Rate U-6 Unemployment Level
Measures the percentage of the U.S. labor force that is unemployed, plus those who are underemployed, marginally attached to the workforce, and have given up looking for work.
6.40% for Dec 2022

---
6. Credit Boom…$1.2Trillion in Loans Made 2022
JOSEPH WANG  FED GUY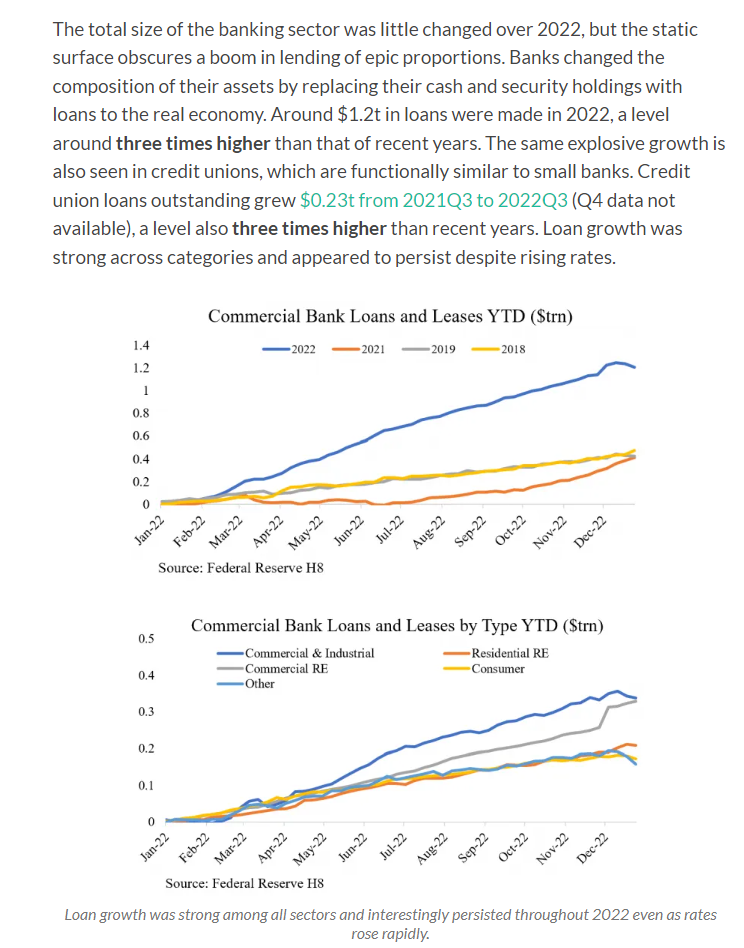 https://fedguy.com/credit-boom/
---
7. CNBC REAL ESTATE-Consumer confidence in housing finally rises, thanks to falling home prices
Diana Olick@IN/DIANAOLICK@DIANAOLICKCNBC@DIANAOLICK
KEY POINTS

A monthly housing sentiment index from Fannie Mae showed sentiment improving from November to December.

The share of respondents saying now is a good time to buy a home was still low, at just 21%, but it was up from 16% in October and November.

More consumers now believe home prices will fall in the next 12 months, and more also said they believe mortgage rates will come down.
https://www.cnbc.com/2023/01/09/consumer-confidence-in-housing-rises-as-prices-fall.html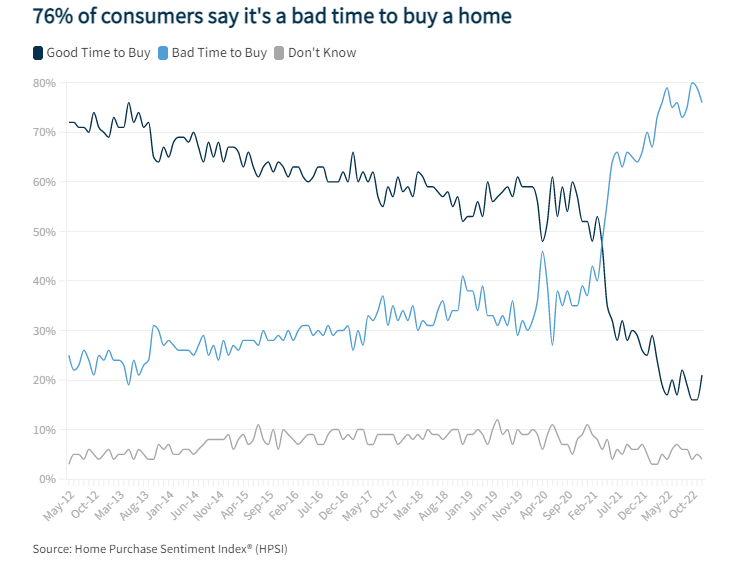 https://www.fanniemae.com/research-and-insights/surveys-indices/national-housing-survey
---
8. Good News…U.S. Patents Being Granted at Record Rates
Yesterday was the final day of the Consumer Electronics Show (CES), the world's largest tech trade show, which has been offering a glimpse into the future of consumer tech for more than 50 years. This year's show, attended by roughly 100,000 tech enthusiasts, included color-changing cars, urine-scanning devices and an oven that prevents burnt food.

The innovation acceleration…

Many of the innovative technologies displayed at CES are likely covered by a patent — and digging through patent filings is a good way of picking up on future tech trends. Filings mentioning "metaverse", for example, have risen significantly, as have those mentioning "foldable technology", "electric vehicles" and "sustainable technology".The total number of patents filed in the US has also risen, with record numbers being granted in recent years. That trend has also been reflected globally, with 2021 setting a new global record number of IP filings for patents, trademarks and designs to protect innovations — with Asia filing 64% of the 1.7 million patents filed worldwide.

… or just a paperwork pile-up?Preparing a patent submission usually requires lawyers or experts, and total costs can routinely run into the many thousands for complex ideas or submissions. That is why tech giants, who can monetize their intellectual property more efficiently than individual inventors, always top the patent tables.

Interestingly, IBM — which topped the patent league tables for 29 years in a row before losing its crown to Samsung — has just switched tack. The company dropped its patent count by 44% last year in a bid to free up resources from the time-consuming patent process.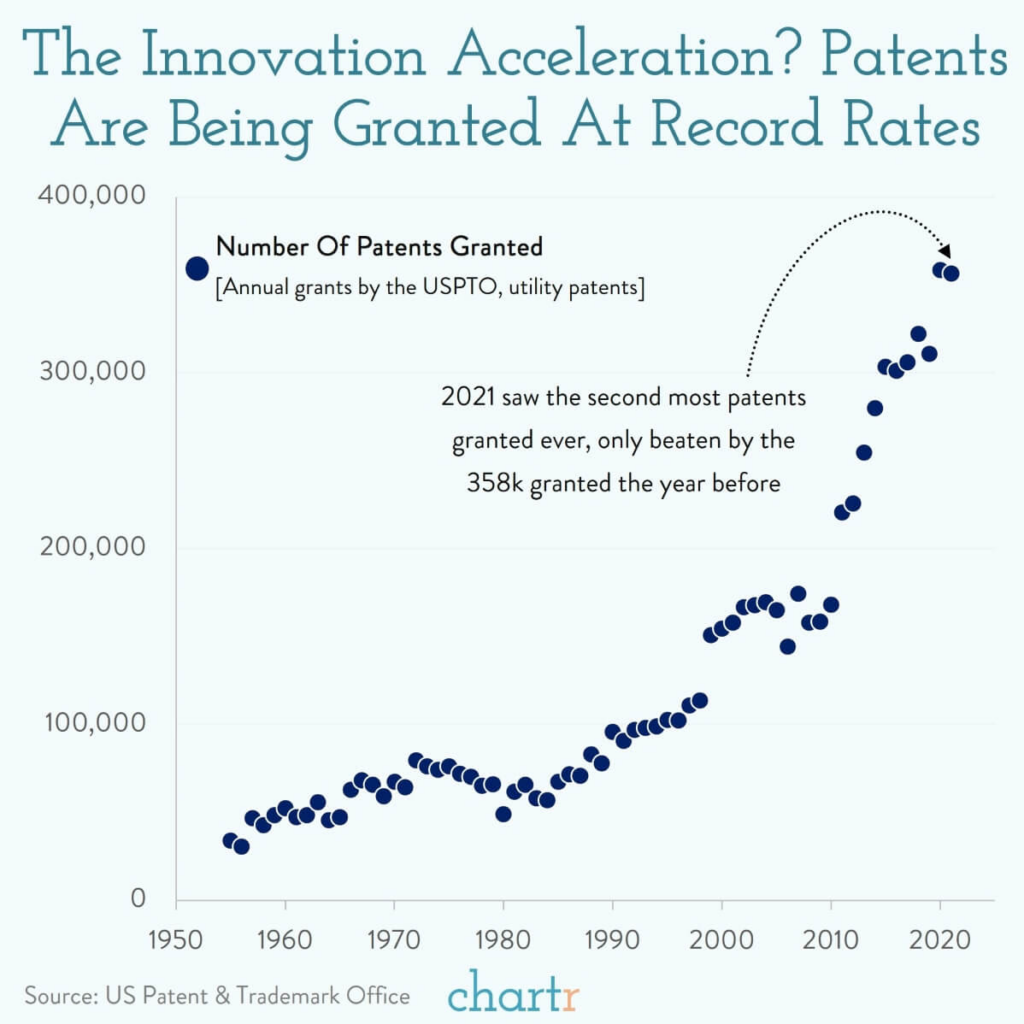 ---
9. Rolls-Royce heralds 'momentous year' as car sales exceed 6,000 for first time
Yahoo Finance Neil Lancefield, PA Transport Correspondent
Mon, 9 January 2023 at 8:06 am GMT-5·2-min read
Rolls-Royce Motor Cars has exceeded annual sales of more than 6,000 cars for the first time in its 118-year history, the company announced.
It said it achieved "particularly strong year-on-year growth" during 2022 in the Middle East, Asia-Pacific, the USA and Europe.
A "single-digit" drop in sales was recorded in Greater China – which includes mainland China and areas such as Hong Kong – due to "ongoing headwinds" but this was "successfully counterbalanced by increased sales in other markets", according to the car maker.
– ADVERTISEMENT –
Some 6,021 cars were delivered to customers last year, a rise of 8% compared with 2021.
The value of bespoke commissions also reached record levels in 2022, with clients "willing to pay around half a million euros (£440,000) for their unique Rolls-Royce motor car", according to the BMW-owned company.
Demand for all models "remains exceptionally strong" with advance orders "secured far into 2023", it added.
Rolls-Royce Motor Cars chief executive Torsten Muller-Otvos described 2022 as a "momentous year" for the company, which is based in Goodwood, West Sussex.
He said: "Not only did we reveal Rolls-Royce Spectre, our marque's first ever fully-electric series model to the world, it was also the first year we ever delivered more than 6,000 cars in a single 12-month period, with strong demand across our entire product portfolio.
"But as a true house of luxury, sales are not our sole measure of success: we are not and never will be a volume manufacturer.
"Bespoke is Rolls-Royce, and commissions were also at record levels last year, with our clients' requests becoming ever more imaginative and technically demanding – a challenge we enthusiastically embrace."
He added: "This success has not been achieved overnight.
"In 2023, we mark the 20th anniversary of the home of Rolls-Royce at Goodwood, during which time we've transformed our business through a long-term strategy based on continuous and sustainable growth, careful management and planning, an unwavering focus on profit and a respectful but forward-thinking reinvention of the Rolls-Royce brand."
More than 150 jobs were created at the company's headquarters in 2022, taking the site's total workforce to 2,500.
https://uk.news.yahoo.com/royce-royce-heralds-momentous-car-093000116.html?guccounter=1&guce_referrer=aHR0cHM6Ly93d3cuZHJ1ZGdlcmVwb3J0LmNvbS8&guce_referrer_sig=AQAAABaxgD3vkantSTwAN56dkGoK5Rw4d0avaQdTYY4dZpKMm37KUbi7qfWvfEPXfGUTvf3kHVb0bG-6PfoWwUl51m1W7S20zZHY2xyE8ppACsZJCnzORY_snAgRU7ShuWE9bKufrCJiWpaLAvDlqxJp0gVoos2gM_BiDcIqGIGQU0yw
---
Want to live a longer, healthier life? How much water you drink can be a major factor. 
BY JEFF HADEN, CONTRIBUTING EDITOR, INC.@JEFF_HADEN
What do you and ice cream have in common? You're both about 60 percent water. 
What you don't have in common — assuming ice cream doesn't lounge around thinking deep thoughts — is the effect water has on your mental abilities. Studies show you need be only 1 percent dehydrated to experience a 5 percent decrease in cognitive function, and a 2 percent decrease in brain hydration can result in short-term memory loss. 
And then there's this: A National Institutes of Health study just published in eBioMedicine found that not drinking enough water is also associated with a significantly higher risk of developing chronic diseases, a higher risk of dying early, and a higher risk of being biologically older than your chronological age. 
What you also don't have in common with ice cream is that longevity matters. (Since ice cream is my healthy-diet Achilles' heel, it has an extremely short life span in my house.) 
Obviously, we all want to live long, healthy lives. But longevity is also an important factor in success. The longer you live, the more likely you are to be able to start a thriving business.
The longer you live, the more you can leverage the power of time. As Morgan Housel writes in The Psychology of Money, "Effectively all of Warren Buffett's financial success can be tied to the financial base he built in his pubescent years and the longevity he maintained in his geriatric years. His skill is investing, but his secret is time."
So yeah: Drinking enough water matters. 
How Much Water Should You Drink?
First a little background. Serum sodium levels in your blood increase when you drink less fluids. 
When the researchers analyzed data collected over a 30-year period, they found that: 
People with serum sodium at the higher end of the normal range had worse health outcomes than those at the lower end of normal.
People with high levels of serum sodium had a 15 percent higher chance of being biologically older than their chronological age, and a 64 percent higher risk of developing chronic diseases like heart failure, stroke, chronic lung disease, diabetes, and dementia.
People with extremely high levels of serum sodium had a 50 percent higher risk of being biologically older and a 21 percent higher risk of dying early. 
The tricky part, of course, is knowing your serum sodium levels. But since serum sodium levels are typically a lagging indicator of fluid consumption, drinking enough water should, for most people, be sufficient.
According to the National Academy of Medicine, women should drink about 72 ounces of water per day, men 104. (The actual fluid intake amount needed is higher, but we also get liquid from water-heavy foods like fruits, vegetables, and, um, ice cream.) You might need more, depending on your level of physical activity, but that's a good place to start.
Since keeping track is a pain — and because we all tend to overestimate the "good" things we do and underestimate the "bad" — the key is to follow a few simple rules. 
For example:
Drink an eight-ounce glass of water before every meal. If you're trying to lose weight, that's a great double dip, since you'll partly fill your stomach and feel full faster. Three meals? Twenty-four ounces.
Use a water bottle to keep track. Mine holds 32 ounces. I put a piece of tape on the cap and mark off how many times I empty it. Drinking two bottles puts you over or close to the target, respective to gender, and three well above. I usually drink four in a day, so I'm more than good to go (frequent bathroom visits pun intended). 
Easy. And effective.
Also keep in mind that other liquids count. If you drink a bottle of diet soda a day, that counts. Coffee counts. Tea counts.
Yeah, you could get all technical and say caffeine is a diuretic and liquids with caffeine shouldn't count towards your target, but then again, research shows caffeine doesn't appear to increase the risk of dehydration. 
So keep it simple. As with most things in life, success is based on doing the right things most of the time. You don't have to be perfect. Didn't drink enough fluids today? 
No problem. Get back on track tomorrow. 
The key is to focus on doing more of what is good for you, and do it more often. That approach is not only good for improving your health and longevity, but for achieving anything worthwhile.
Because we are what we are, but with consistent effort over a period of time, we can become what we hope to become.
Including a lot healthier, over a lot longer lifespan.
https://www.inc.com/jeff-haden/a-new-study-shows-improved-health-increased-longevity-comes-down-to-rule-of-72-104.html?utm_source=newsletters&utm_medium=email&utm_campaign=INC%20-%20This%20Morning%20Newsletter.Newsletter%20-%20Inc%20-%20This%20Morning%201-9-23&leadId=1548979&mkt_tok=NjEwLUxFRS04NzIAAAGJNYVV–c63qBlbHUVjStpSnENYk4h88Lk_30LLUBcZi34lky88nHFfby0aZqbbK5wX1MS9ZhAQzO0Vlot30UfkkLP5rB1oMqRq5NnSM_t