1. U.S. 30 Year Treasury Approaching 2%
30 Year Treasury ..2% on Horizon..See red 200 day moving average turning upwards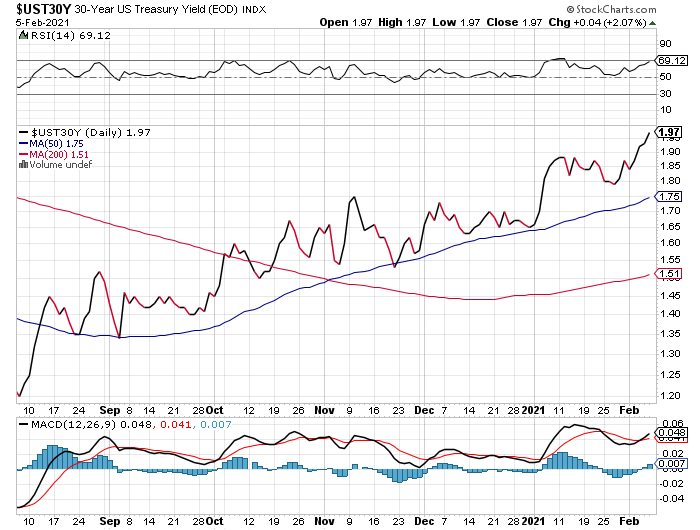 ©1999-2021 StockCharts.com All Rights Reserved
10 Year Treasury Yield-1.19%…see red 200 day moving average turning up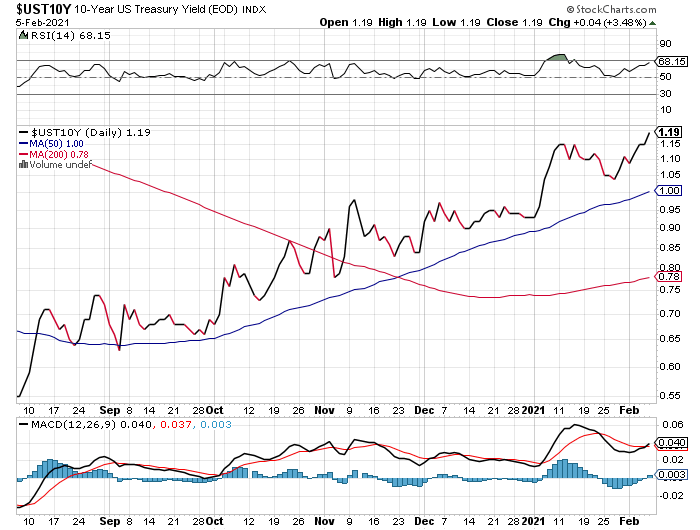 ©1999-2021 StockCharts.com All Rights Reserved
2. The Risk of 10 Year Hitting 1.75%
Barros-Savita Subramanian, Bank of America's
Today, close to 70% of stocks pay a dividend that's higher than the 10-year Treasury, which is very close to a record high. [The 10-year currently yields 1.12%.] If rates rise to 1.75%, which our economist is expecting, that proportion drops to 44%. And all of a sudden, that story vaporizes. That's the swing factor. And that's one reason we're less optimistic about equities, not to mention all of the speculations we see.
https://www.barrons.com/articles/the-biden-stock-market-wont-be-like-the-trump-market-what-to-expect-51612535400?mod=past_editions
Ratio of S&P 500® Dividend Yield to 10-Year Treasury Yield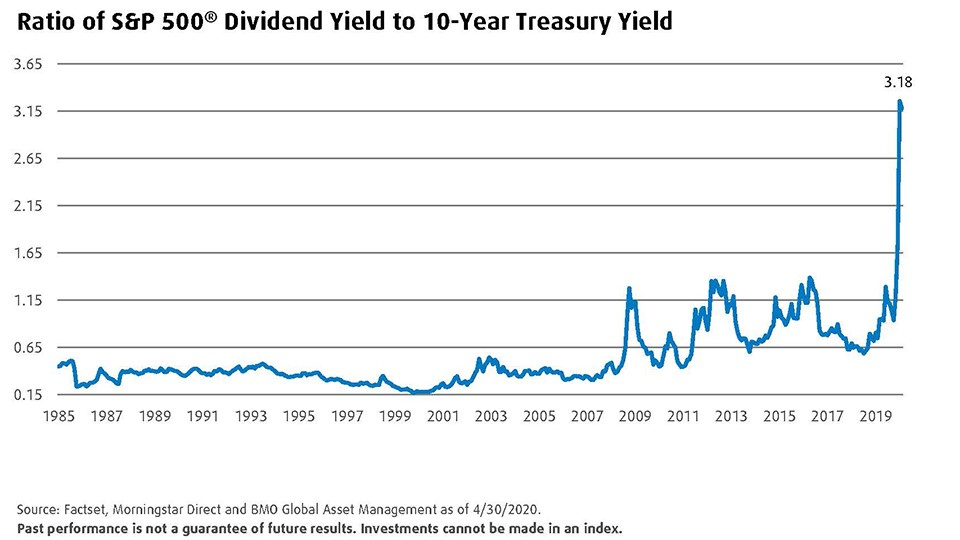 https://www.bmogam.com/us-en/advisors/market-charts/ratio-of-sp-500-dividend-yield-to-10-year-treasury-yield/
3. Sell Side Indicator
Also from Subramanian Barrons interview
Sell-side indicator, a very good market-timing model that looks at Wall Street's average recommendation to stocks in a balanced fund. That model is now spitting out close to 60%, which would be a sell signal, close to 2007 and almost exactly at the same level as March 2000. All of these ducks are lining up.
Chart courtesy BofA Research.
https://www.investopedia.com/stocks-stumble-as-early-gains-turn-to-losses-to-start-2021-5094280
4. Energy Leading Sector 2021
Bespoke Investment Group
The chart below shows sector performance for S&P 500 (large-cap) sectors this week. Leading the market higher this week, Energy led the way with a gain of 8.3%, followed by Communication Services (+7.3%), Financials (+6.6%), and Consumer Discretionary (+6.0%). At the other end of the spectrum, Health Care was the only sector that didn't rally more than 1%.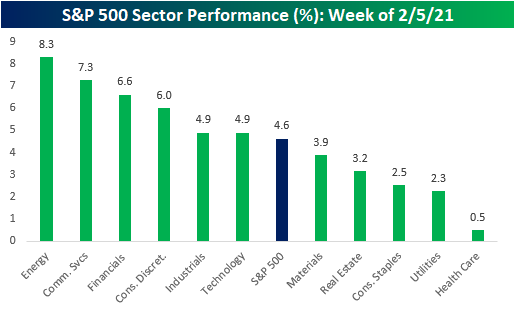 https://www.bespokepremium.com/interactive/posts/think-big-blog/sector-performance-disparities
5. Peloton Traded Down Last Weak After Beating Earnings.
Siegel notes that Peloton, sometimes called the Netflix (NFLX) of connected fitness, had recently traded at 22% of the stock market value of the streaming giant, but has only about 1% of its subscriber base. By
Jack Hough –Barrons
https://www.barrons.com/articles/why-warehouse-reits-are-better-bets-than-office-reits-51612572899?mod=past_editions
See chart 3 lower highs in a row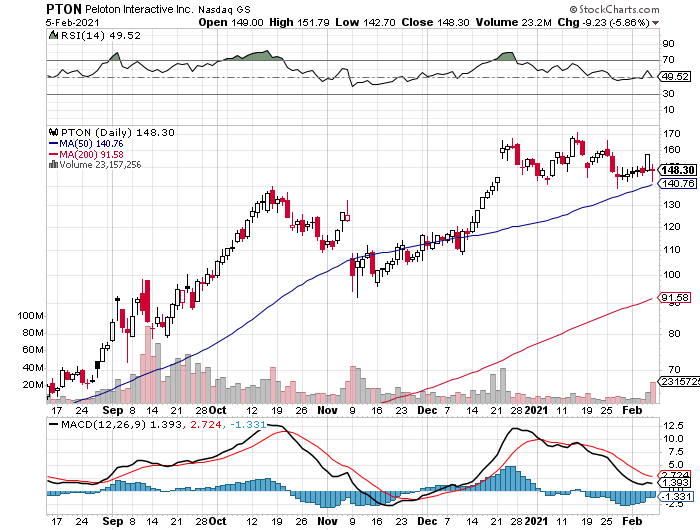 ©1999-2021 StockCharts.com All Rights Reserved
6. History of the Drop in Commissions and Trading Spreads
Ben Carlson-And the average commission throughout the 1960s and 1970s up to that point was roughly 1% of every trade (and even more at many brokerages).
Charles Jones of the Columbia Business school looked at the history of trading costs in a research paper called A Century of Stock Market Liquidity and Trading Costs: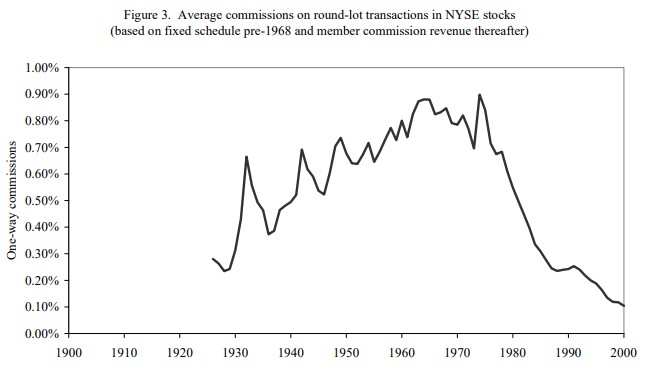 You can clearly see the impact May Day had on the cost of trading. Jones wrote his report in the early-2000s, but it's pretty easy to piece together what happened next — the majority of trading platforms went to $0 trading commissions in 2019.1 Were we to extend this graph the line would now be on the floor.
Bid-ask spreads, the unseen cost of trading, have also come down substantially over the years: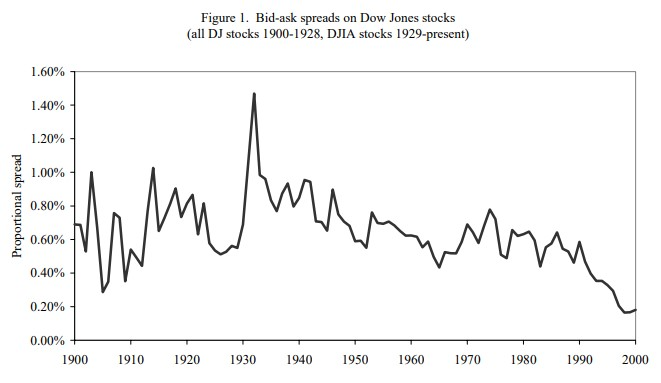 And this chart was before algorithmic trading and high-frequency trading existed so execution is cheaper today on this front as well.
How The "Dumb" Money Won-Posted February 2, 2021 by Ben Carlson
https://awealthofcommonsense.com/2021/02/how-the-dumb-money-won/
7. Value Line "Appreciation Potential" Chart
Little 'appreciation potential'
Value Line has for decades graded the 3-to-5-year "appreciation potential" of a universe of more than 1,500 stocks and calculated the median projection as a general gauge of how attractive equities are. Academic research has shown it to be a pretty good way to handicap market prospects.
It reached a record low lately – similar to January 2018 and several other points when uptrends at least stalled if not buckled. (This represents less the point spread of this year's game than the implied odds of stocks becoming an all-time dynasty from here.)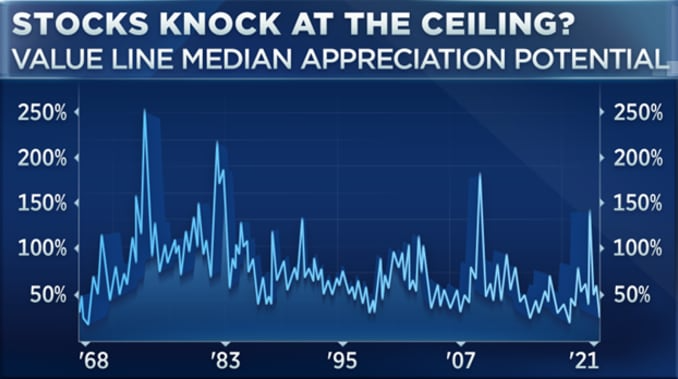 Handicapping the market's upside from here as stocks run up the score on bonds, stretch valuations
https://www.cnbc.com/2021/02/06/mike-santoli-handicapping-the-markets-upside-from-here.html
8. Gold, silver coin demand surging, straining U.S. Mint's capacity
FILE PHOTO: A quality control agent examines a 2013 enhanced silver eagle silver coin at the United States West Point Mint facility in West Point, New York June 5, 2013. REUTERS/Shannon Stapleton
NEW YORK (Reuters) – The United States Mint said on Tuesday it was unable to meet surging demand for its gold and silver bullion coins in 2020 and through January, due partly to pandemic-driven demand and plant capacity issues.
Sales of U.S. gold bullion coins rose 258% in 2020 while silver coin demand was up 28%, the U.S. Mint said Tuesday. Heavy buying has continued in 2021, it said, squeezing supplies, which had already been tight as the coronavirus affected production.
A social media-driven buying spree lifted silver futures to an eight-year high on Monday, but dealers in the market for coins were already grappling with a supply shortage and shipping delays before that rally.
The Mint, a division of the U.S. Treasury, had limited distribution of its silver coins to suppliers as it is currently changing the designs for its American Eagle Gold and Silver Bullion Coins.
"There was going to be a backlog in the silver bullion supply chain that rendered Silver Eagles more scarce either way," said Everett Millman at Gainesville Coins in Florida. He expected delays until mid-March for the most popular products.
"The silver coins and silver bars that are available have acquired significantly higher premia," he added.
In January, 220,500 American Eagle gold bullion coins were sold, up 290% from 56,500 a year earlier, the Mint said.
For this year, the U.S. Mint has a limited window to produce its current gold and silver coins, with redesigned coins expected to debut in the summer. It is limiting distribution of its gold, silver and platinum coins to specific dealers because of heavy demand, and a limited number of suppliers of metals, it said in a statement.
Reporting by Devika Krishna Kumar in New York and Arpan Varghese in Bengaluru; editing by Richard Pullin
https://www.reuters.com/article/us-usa-precious-coins-demand-idUSKBN2A22Y6?taid=6019d39bd7ca330001c4f11f&utm_campaign=trueAnthem:+Trending+Content&utm_medium=trueAnthem&utm_source=twitter
9. Elon Musk spoke with Miami's mayor about building a $30 million tunnel under the city
Miami's mayor is interested in Elon Musk's plan to build a tunnel under Miami's congested downtown.
Musk said his startup, The Boring Company, could dig a tunnel for $30 million in six months.
Musk claims the project would "solve traffic" in Miami, but critics aren't convinced.
Miami appears to be one step closer to having a system of Elon Musk-built tunnels running under the city.
Musk and Miami Mayor Francis Suarez spoke Friday about the potential for congestion-reducing tunnels built by the entrepreneur's Boring Company, a startup that wants to build networks of underground roads for electric vehicles.
"I think we have a unique opportunity to create a signature project not just for Miami, but for the world," Suarez said in a video posted to Twitter following the call. "[Musk is] focused on trying to deliver a project that will have the maximum utility for our residents for the least amount of money. The order of magnitude in terms of cost savings is significant."
According to Suarez, Musk said the tunnel would cost around $30 million and would take six months to complete. In 2018, Miami-Dade County transit officials had estimated that the project — which seeks to create a two-mile-long tunnel under the Miami River — would cost nearly $1 billion and would span four years, The Miami Herald reported.
Musk expressed interest in boring tunnels under Miami last month, when he tweeted: "Cars & trucks stuck in traffic generate megatons of toxic gases & particulate, but @boringcompany road tunnels under Miami would solve traffic & be an example to the world."
Digging tunnels under US cities is notoriously expensive. New York's Second Avenue Subway line cost an astronomical $2.6 billion per mile, and the cost per mile for other underground rail systems in the country tends to be in the range of $200 million to $900 million, according to transit researcher Alon Levy.
But Musk's company claims it can bore tunnels for much less, in part because the underground motorways will be designed for EVs and built using electric tunneling equipment, so they won't need the same rigorous and costly venting as other tunnels. Musk is also the CEO of electric-car maker Tesla.
Suarez did not say how the project would be funded, but said he would discuss the project with Florida Governor Ron DeSantis and Miami-Dade County's mayor.
The Boring Company is working on several tunnel projects around North America. It is close to opening the first leg of a network under Las Vegas that would use Teslas to ferry passengers to key destinations like the Las Vegas Convention Center, the Strip, and the airport.
Detractors of the plans say that Musk has essentially reinvented public transit, but with lower-capacity vehicles. They also argue that tunneling ignores the issue of induced demand — when adding extra lanes on a highway, for instance, invites more people to drive rather than reducing congestion.
BUSINESS INSIDER. https://www.businessinsider.com/elon-musk-boring-company-tesla-tunnel-under-miami-30-million-2021-2
10. 5 Thought Patterns that Fuel the Fear of Failure
Practical tools to overcome these patterns and reduce anxiety.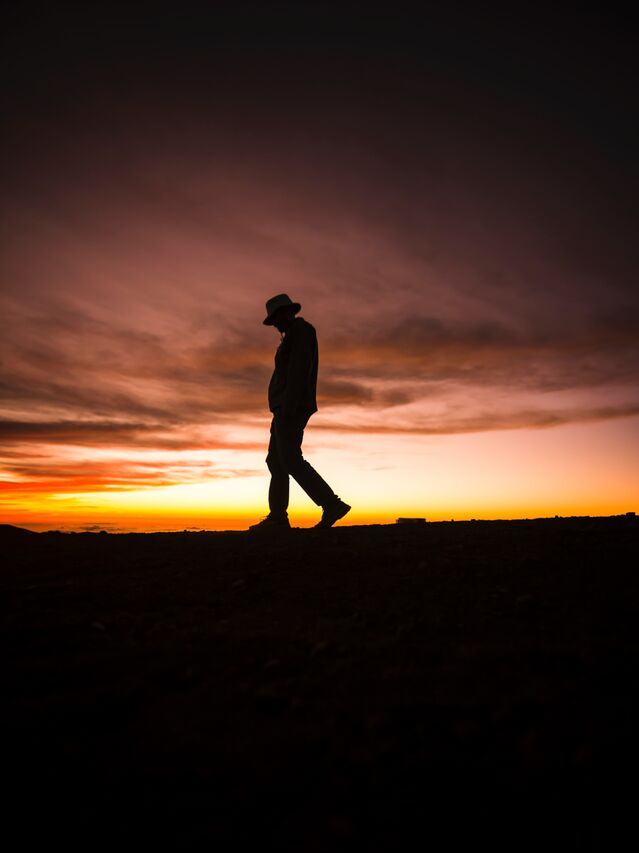 Source: Steve Halama/Unsplash
The need to achieve is engrained in our DNA.
Spend a few minutes talking to someone and their deepest ambitions will come to light. It may be pursuing a job promotion, earning a degree, finding a life partner or starting a business. As a psychiatrist, I have the privilege of sitting in the front row as people share with me their deepest aspirations.
Unfortunately, I have witnessed countless dreams fall to ashes not because of failed attempts but because of the Failure to Attempt. There is an anxietythat keeps us anchored and prevents us from moving towards our goals. Our fear of failure keeps us frozen in place as the train of life passes us by.
Our mind generates inaccurate thoughts, known as cognitive distortions, which fuel our fear of failure. By correcting these thoughts, we can reduce this anxiety and get back on track to reach our goals.
Here are five cognitive distortions and how to overcome them.
1. Failure is personal
We take failure personally and forget that it's a universal human experience. Everyone experiences failure.
We compare ourselves to successful people and forget that they have also experienced many letdowns on their journey to the top.
As an example, consider the words of Michael Jordan, the legendary basketball player. He said, "I've missed more than 9,000 shots in my career. I've lost almost 300 games. Twenty-six times, I've been trusted to take the game winning shot and missed. I've failed over and over and over again in my life. And that is why I succeed."
Let us also consider Thomas Edison who was the driving force behind innovations such as the light bulb and motion picture cameras. He said, "I have not failed. I've just found 10,000 ways that won't work."
If legends such as Jordan and Edison have experienced failures then how could you or I be exempt from this universal experience? The key is not to take failure personally but recognize it as a valuable learning experience that we all go through.
2. The cost of failure is great
We magnify our fear of failure by jumping to the conclusion that there will be great fallout if we fail. As a result, we avoid applying for a job promotion, the school of our interest or even asking someone out for a cup of coffee.
We jump to conclusions without questioning their validity. For example, how much do you stand to lose if you are rejected for that job promotion, school application or date?
I conceptualize opportunity as being offered a key that may unlock a door. Your life may improve by walking through it. Any time you take a chance, you are simply grabbing a key to unlock the door. What is the worst that can happen if the key fails to work? You are stuck in the same reality holding a seemingly useless key.
Remember that not taking any action towards your goals is the equivalent of declining a key. By falling for the fear of failure, you are guaranteeing the outcome. There is a zero percent chance of the door opening. Why not grab a key and give yourself a chance?
3. There is no benefit to failure
We have a tendency to fixate on the negative aspects of failure and filter out its potential benefits. We avoid pursuing our goals because we dread the disappointment and shame that may result from failing. However, we forget that failure is a valuable life experience because it provides us with a golden opportunity to learn and grow. I would even argue that we grow more from our failures than our successes.
As a personal example, I applied to a number of psychiatry residency programs during my final year of medical school. As part of the Match process, I ranked the residency programs in my order of preference. When the results arrived on Match Day, I found out that I landed on my second choice. As an achievement-oriented individual, I was initially disappointed that I had failed to land my top choice. Looking back, I am grateful for the way things turned out. By landing in Cleveland, I met my wife and the rest is history.
4. If I fail, then I am a failure
Failure is emotionally painful because we interpret it as a personal indictment. When we fail, we experience shame and a reduction in self-worth.
Failure has no reflection on your self-worth. It may be an indication that you have room for personal growth and need to go back to the drawing board to hone your skills.
You may have even failed because you were simply unlucky. For example, you may have been a strong applicant for a job opening but you were competing against hundreds of other strong applicants.
However, your self-worth is not determined by your level of achievement. No amount of success makes you more worthy. No amount of failure makes you less worthy. Your self-worth is an essential and undeniable part of your humanity. You are worthy because you are human.
5. I have nothing to lose by staying put
We avoid taking action because we fixate exclusively on what might go wrong. However, we fail to consider that there are two sides to each coin. Keeping the status quo can come at a great cost.
As an example, imagine that you are working for a company that is hemorrhaging money. You are hearing whispers that layoffs are imminent. You may be afraid of your job security but decide not to explore your options for fear that no one will hire you. Hence, you put your head down and hope for the best.
Can you see how staying put in such a scenario can come at a great cost? You are putting all your eggs in a brittle basket by hoping that your company turns it around or that you are spared during the layoffs. Why not respond to the warning signs by taking action? You may update your resume, explore job openings in your market or even talk to a recruiter.
You relinquish your agency by allowing the fear of failure to take over. I find this more anxiety-provoking than the fear of failure. I would rather take matters into my own hands and fail on an endeavor than allow others to dictate my fate. At least I will learn a thing or two in the process of failing.
Remember that you do not live in a bubble. The cost of staying put does not only affect you. It also affects those around you. By falling for the fear of failure, you are depriving your loved ones of the benefits that come from pursuing your fullest potential.
https://www.psychologytoday.com/us/blog/anxiety-in-high-achievers/202102/5-thought-patterns-fuel-the-fear-failure
Lansing Street Advisors is a registered investment adviser with the State of Pennsylvania..
To the extent that content includes references to securities, those references do not constitute an offer or solicitation to buy, sell or hold such security as information is provided for educational purposes only. Articles should not be considered investment advice and the information contain within should not be relied upon in assessing whether or not to invest in any securities or asset classes mentioned. Articles have been prepared without regard to the individual financial circumstances and objectives of persons who receive it. Securities discussed may not be suitable for all investors. Please keep in mind that a company's past financial performance, including the performance of its share price, does not guarantee future results.
Material compiled by Lansing Street Advisors is based on publicly available data at the time of compilation. Lansing Street Advisors makes no warranties or representation of any kind relating to the accuracy, completeness or timeliness of the data and shall not have liability for any damages of any kind relating to the use such data.
Material for market review represents an assessment of the market environment at a specific point in time and is not intended to be a forecast of future events, or a guarantee of future results.
Indices that may be included herein are unmanaged indices and one cannot directly invest in an index. Index returns do not reflect the impact of any management fees, transaction costs or expenses. The index information included herein is for illustrative purposes only.