1.Micro Cap Stocks Leading Market.
IWC Microcap ETF 50day thru 200 day to upside….+20 YTD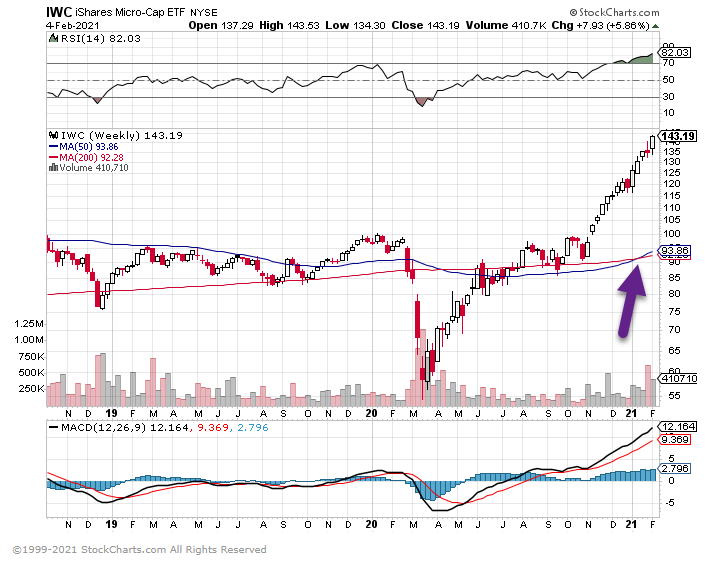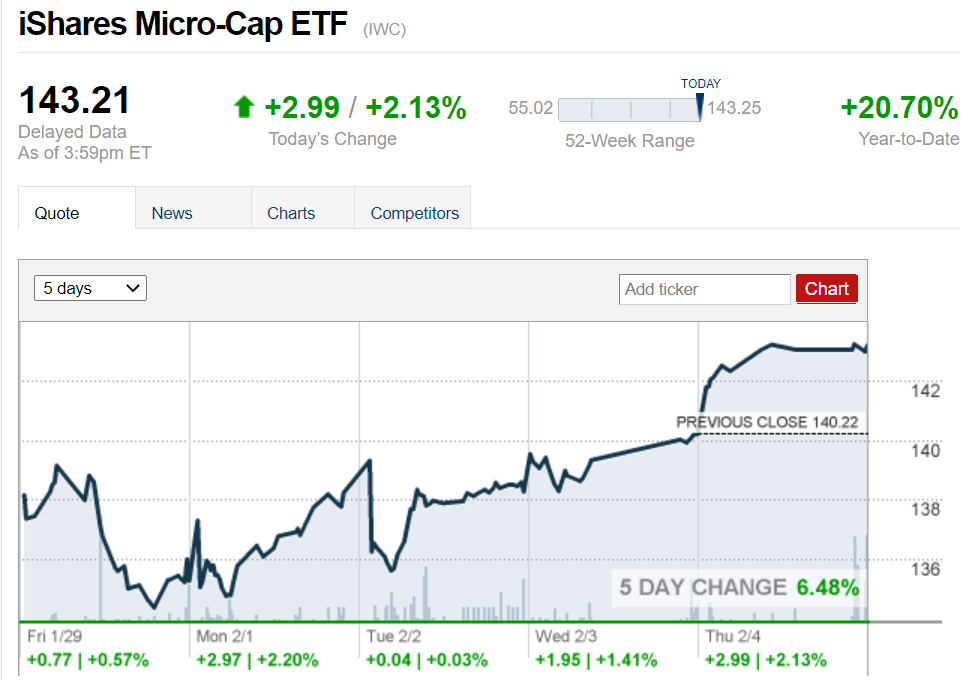 https://money.cnn.com/quote/etf/etf.html?symb=IWC
2.U.S. Stock Trading Hits a Record.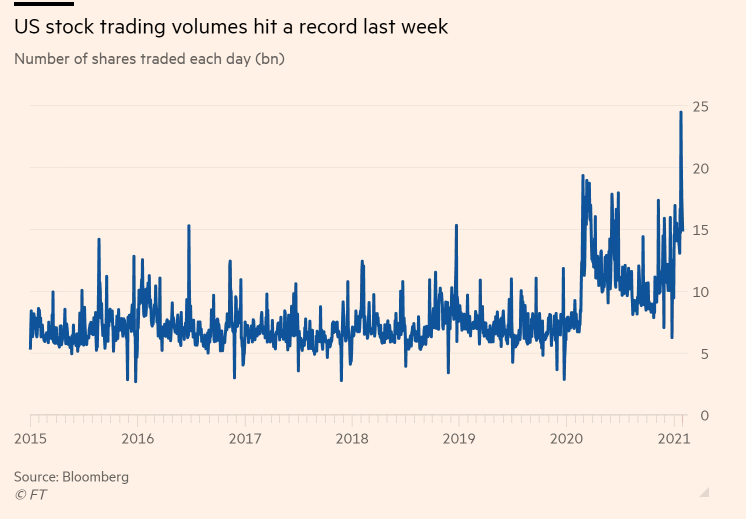 Please use the sharing tools found via the share button at the top or side of articles. Copying articles to share with others is a breach of FT.com T&Cs and Copyright Policy. Email licensing@ft.com to buy additional rights. Subscribers may share up to 10 or 20 articles per month using the gift article service. More information can be found here.
https://www.ft.com/content/e4f9100e-7ef6-4807-89f9-4015db1750fd?utm_source=morning_brew

3. Margin Debt Sets Records.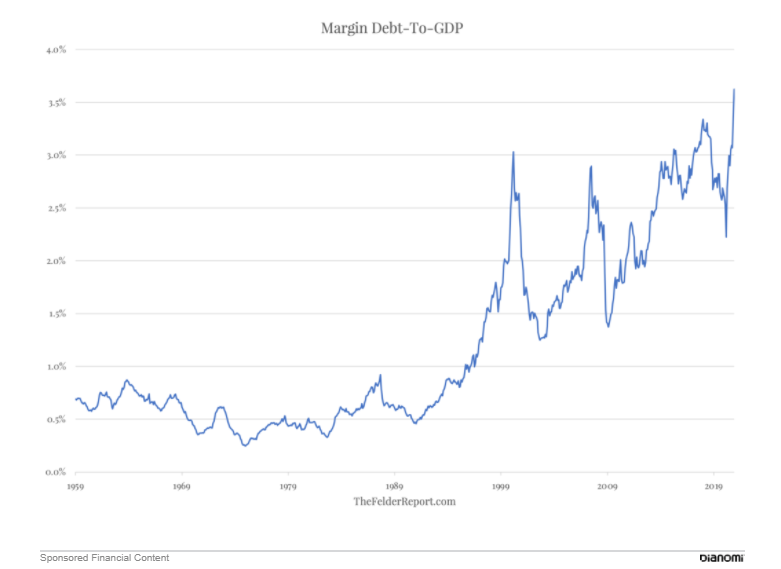 Not only is the overall level of margin debt hitting new highs, the 9-month increase in the total amount of margin debt also just soared to a new record. It's hard to believe that both of these could be possible simultaneously, that off of such a massive base the amount of debt used to speculate could increase so rapidly, but there you have it.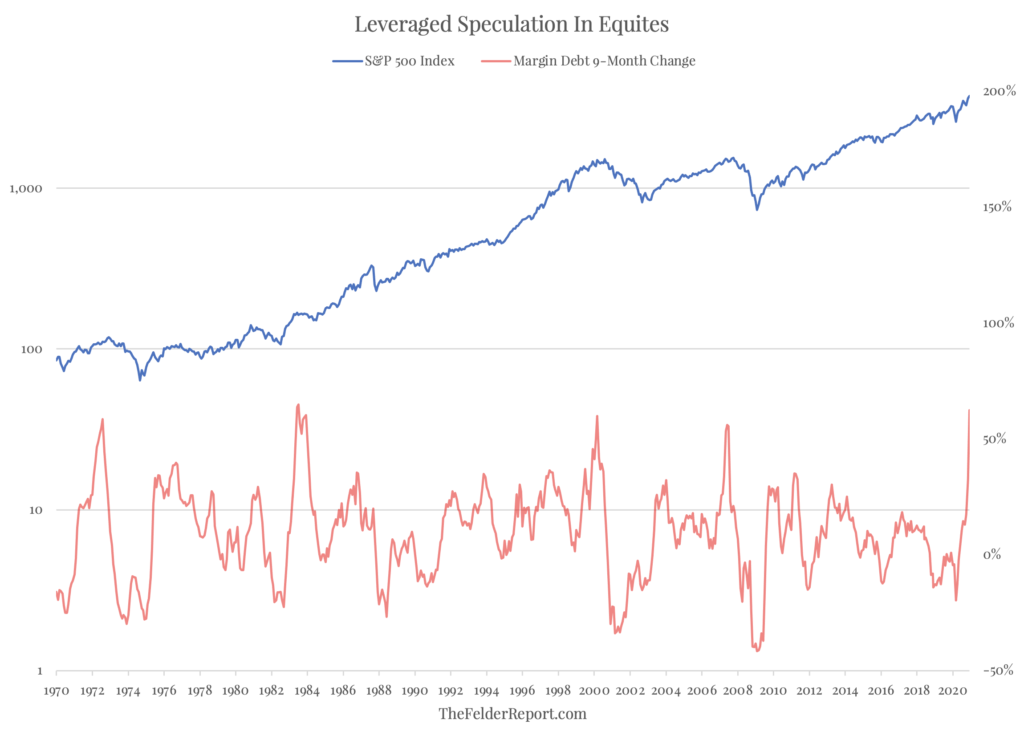 Close observers of the chart above will notice two things: first, when margin debt has soared in the past like it just did, it almost always coincides with a major stock market peak (see: 1972, 2000 and 2007 – 1983 was the exception and when you consider that valuations were extremely cheap at the time and margin debt was coming off relatively miniscule base it's not hard to see why the correction following that increase was relatively muted.)
The 'Index Of The Volume Of Speculation' Blows Off by jessefelder https://www.investmentwatchblog.com/the-index-of-the-volume-of-speculation-blows-off/
4. Another View of Margin Debt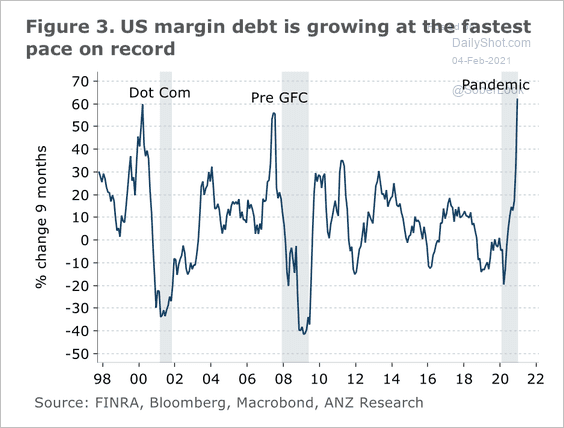 Gianluca De Stefano
@Theimmigrant84
5. 'Meme' Stocks with 100%+ Gains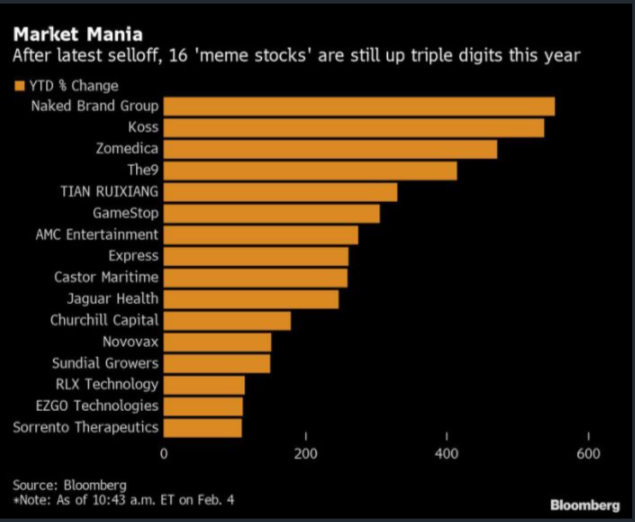 https://finance.yahoo.com/news/still-16-meme-stocks-least-162201532.html
6. ARK Family of ETFs….$3B to $50B One Year….Double Pimco. Only Vanguard has more YTD Flow than ARK.
Eric Balchunas, @EricBalchunas
MILESTONES: ARK Fam hit $50b in assets today, up from $3b this time last yr and double any other active issuer (Pimco has about $25b). They in three-way-ish tie for 7th biggest issuer spot. They also crossed $10b in flows YTD. Only Vgrd more. $ARKK is now #2 in YTD flows as well.
7. 5 Reasons Not to Worry About Corporate Debt
Posted by lplresearch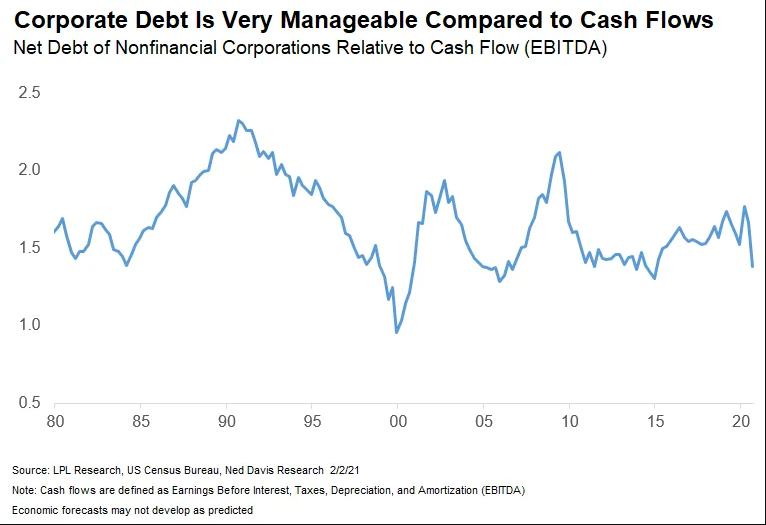 Economic Blog
Wednesday, February 3, 2021
Our latest installment in debt week for the LPL Research team is on corporate debt. On Monday in our Weekly Market Commentary: Markets Shrug Off Debt Levels, we discussed federal debt, and Tuesday we tackled household debt.
Here we share five reasons why investors should not be concerned about corporate America's debt load.
1) Companies have plenty of cash flow to cover the debt. It's not the amount of debt that matters so much as the cash flows that are available to service that debt. As shown in the LPL Chart of the Day, corporate net debt relative to cash flow for nonfinancial corporations was actually below average in the most recent quarterly data point (source: US Commerce Department). The most recent reading of 1.38 is below the long-term average (post-1980) of 1.65 (a lower number is better, reflecting less debt, more cash flow, or both). So while corporate leverage has increased in recent years, the amount of cash flow being generated by companies has increased as well.
https://lplresearch.com/2021/02/03/5-reasons-not-to-worry-about-corporate-debt/
8. Projected First Quarter Sales Growth—5 Companies
Investment U
Cupid's Pandemic Plays-Special occasions like Valentine's Day call for gifts, gifts and more gifts.
Loved ones receive Hallmark cards, bouquets, boxes of chocolate, stuffed animals, jewelry… sometimes all of the above.
That's why there are more than a few companies throwing lovey-dovey commercials your way. They're looking for that V-Day sales bump.
But this year will look different from years past. Thanks to the pandemic, we can't bet on record spending in restaurants or movie theaters. Much of the gift-giving and celebrating has been moved online.
That's part of the reason these five companies are expecting double-digit revenue increases in the first quarter. And some of them aren't Cupid's usual targets.
https://investmentu.com/5-pandemic-friendly-businesses-to-invest-in-before-valentines-day/
9. Barstool's Portnoy out of 'meme stocks' with $700K loss
Feb. 02, 2021 10:13 AM ETGameStop Corp. (GME)By: Kim Khan, SA News Editor200 Comments
https://seekingalpha.com/news/3657239-barstools-portnoy-out-of-gamestop
10. How to Spot a High-Conflict Person
by Dan Solin, 2/3/21
Under the best of circumstances, attempting to win an argument is fruitless.
As I've discussed previously, trying to persuade someone invariably causes measurable stress. Even using data to support your position works against you: The other person twists your facts to support their pre-existing belief.
Evidence-based advisors have encountered this phenomenon when they try to convince others of the merits of indexed investing. How often have you heard responses like these:
Some mutual funds outperform. Why do you assume my broker and I can't pick them?
What about Warren Buffett?
I want an advisor who knows when to enter and exit the market.
While your chances of winning an argument on any given topic are slim, there's one situation where it's non-existent.
That's when you're confronted with a high-conflict personality.
Signs of a high-conflict person
Bill Eddy is the president of the High Conflict Institute and an authority on high-conflict personalities. To identify those people, he looks for the following behavior patterns:
Preoccupation with blaming others;
All-or-nothing thinking and solutions;
Unmanaged or intense emotions; and
Extreme behavior and/or threats.
We've all confronted this behavior in our personal and business lives. Nothing is ever their fault, so they take no personal accountability.
They see the world in black and white, often escalating minor disagreements into huge conflicts. A minor argument with a spouse quickly turns into the possibility of divorce.
They have poor control over their emotions and can have violent reactions to trivial incidents.
They engage in threats which are out of proportion to the event at issue. Eddy gives this example: "I will kill myself if you ever break up with me."
High-conflict personalities are like heat-seeking missiles. They are on high alert for any opportunity to engage in confrontational behavior.
According to Eddy, about 10% of adults, "tend to have a high-conflict personality."
It's likely you've experienced this personality type in your business or personal life.
Coping strategies
The best strategy for coping with high-conflict personalities is heightened awareness of this behavior. Don't trivialize or rationalize it when you see it.
Once you've identified a high-conflict personality, if it's possible to avoid a relationship with them, that's often your best option.
If you must deal with this type of person, Eddy has these suggestions:
Don't confront them with your "diagnosis." Doing so will trigger more conflict.
Move the conversation from a discussion of past events to future ones. Ask questions like: "What can we do to move forward?"
Keep the conversation focused on facts and not emotions. Expressing frustration or anger won't ameliorate the situation.
Above all, make no effort to change their behavior. A high-conflict person is unable to control themselves. While you view their conduct as irrational, they believe they are appropriately responding to a perceived threat and simply protecting themselves.I would add this thought: If possible, choose the time to engage a high-conflict person. Do they seem more amenable in the morning? Does medication impact their mood?
The first step towards effectively dealing with high-conflict personalities is to identify them. As author and psychiatrist Dan Siegel noted: "Name it to tame it."
For more information about marketing and branding opportunities with Dan's book, Ask: How to Relate to Anyone, click here.
https://www.advisorperspectives.com/articles/2021/02/03/how-to-spot-a-high-conflict-person
Lansing Street Advisors is a registered investment adviser with the State of Pennsylvania..
To the extent that content includes references to securities, those references do not constitute an offer or solicitation to buy, sell or hold such security as information is provided for educational purposes only. Articles should not be considered investment advice and the information contain within should not be relied upon in assessing whether or not to invest in any securities or asset classes mentioned. Articles have been prepared without regard to the individual financial circumstances and objectives of persons who receive it. Securities discussed may not be suitable for all investors. Please keep in mind that a company's past financial performance, including the performance of its share price, does not guarantee future results.
Material compiled by Lansing Street Advisors is based on publicly available data at the time of compilation. Lansing Street Advisors makes no warranties or representation of any kind relating to the accuracy, completeness or timeliness of the data and shall not have liability for any damages of any kind relating to the use such data.
Material for market review represents an assessment of the market environment at a specific point in time and is not intended to be a forecast of future events, or a guarantee of future results.
Indices that may be included herein are unmanaged indices and one cannot directly invest in an index. Index returns do not reflect the impact of any management fees, transaction costs or expenses. The index information included herein is for illustrative purposes only.