1.A clear sign of an options mania
Jason Goepfert-Sentiment Trader
It's a mania. There's no other word for it, at least in the options market.
Speculative trading picked up last June, lasted through July, then exploded in August, preceding a 13%+ correction in many of the most active names in September. This go-round, it picked up in November, eased a bit in December, now has exploded again as we enter February.
It's occurred to such a degree it defies explanation, with record speculative activity among the smallest of traders. The 4-week sum has gone parabolic again.
Last week alone, the smallest of options traders increased the pace of their call buying dramatically. Overall volumes increased, but call buying overwhelmed put buying.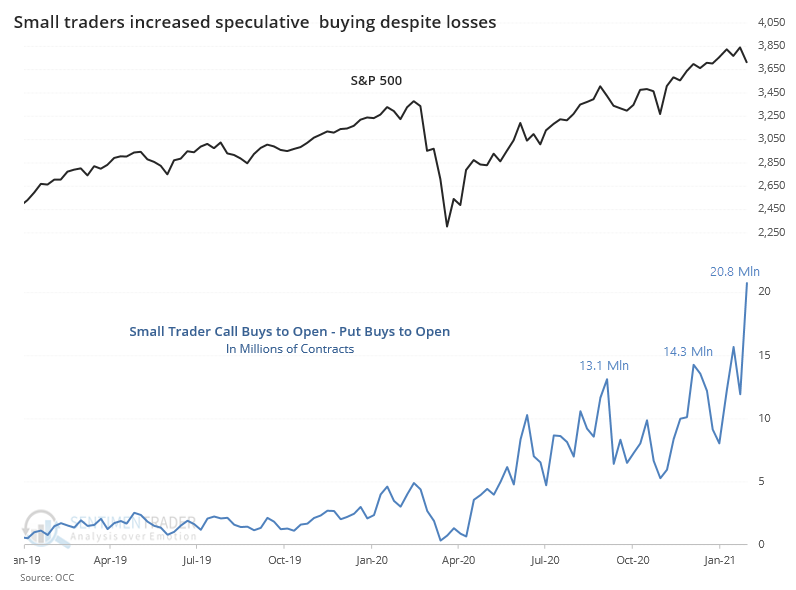 The premiums they spent on those calls were also extreme, with a net $10.5 billion difference between money spent on buying calls to open versus puts.
https://sentimentrader.com/blog/a-clear-sign-of-an-options-mania/ Abnormal Returns https://abnormalreturns.com/2021/02/02/tuesday-links-investor-intentions/
2. Inflation?
Jim Reid Deutsche Bank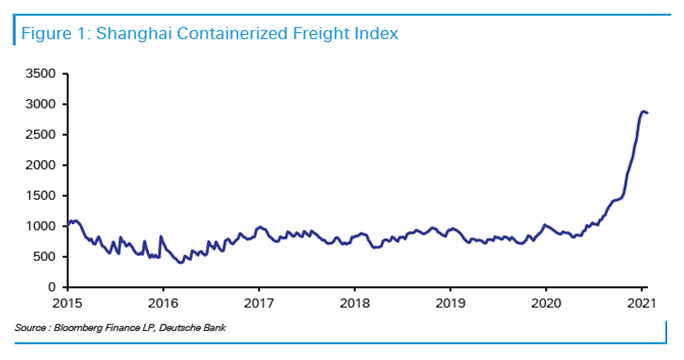 Today we saw the highest Euro Area core inflation print for 5 years (albeit driven by some one-off factors) in a week where US prices paid in the manufacturing ISM were at 10-year highs. The pandemic has created many economic side effects and one of the less-reported news items in recent weeks has been the massive surge in shipping rates. Today's chart shows the Shanghai Containerized Freight Index, which are weekly spot container freight rates (export) from the port of Shanghai, with the current reading more than triple its levels in May last year. Other freight indices show a similar story.
There are a number of reasons for why this has happened. Supply growth has shrunk considerably in recent years, with the 3 major shipping alliances having become far more disciplined around capacity. Furthermore, recent supply chain disruption from a lack of containers (boxes in the wrong place), COVID (lack of staff) and weather (East Coast cold snap) haven't helped matters either. Then on the demand side, you've got the fact that economic growth has come back much stronger than many expected at the height of the pandemic last year, not least with multiple vaccines coming online as we speak.
The bigger question over the medium-to-longer term is whether this will just be a temporary phenomenon or speaks to a broader structural issue. Our equity research analyst in this space, Andy Chu, thinks that given the consolidation in the industry, that even as shipping rates do fall back from their current peaks, they'll settle down at higher levels compared to their historical norms. On the other hand, some argue that the freight carriers are over-earning right now and won't be able to resist putting extra capacity into the market and order more ships, in turn, putting downward pressure on prices.
Does this rise in shipping costs portend a larger rise in inflation in 2021 as pent-up demand and excess savings are released…?
More shipping data in DB's monthly from Andy Chu's Transport team, "Transportation Leading Indicators: Going Places". Link here.
3. Europe Inflation Went Positive for First Time in 6 Months…Commodities Continue Higher.
Commodity Index-CRB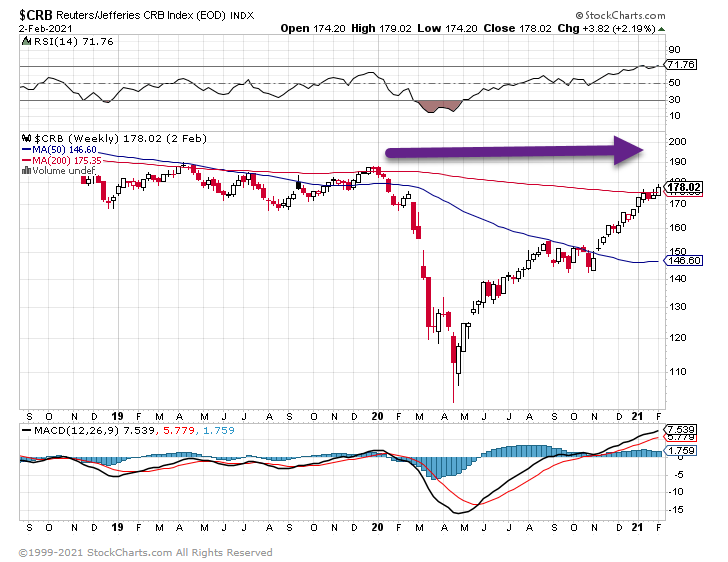 $204 2018 Highs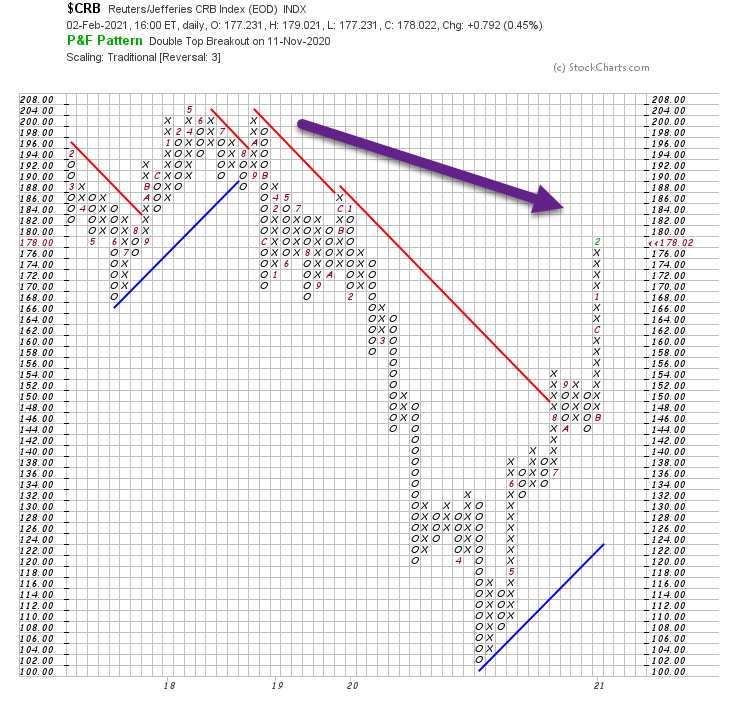 4. Inflation? 30 Year Treasury -12% Off Highs.
30-Year Treasury Bond Price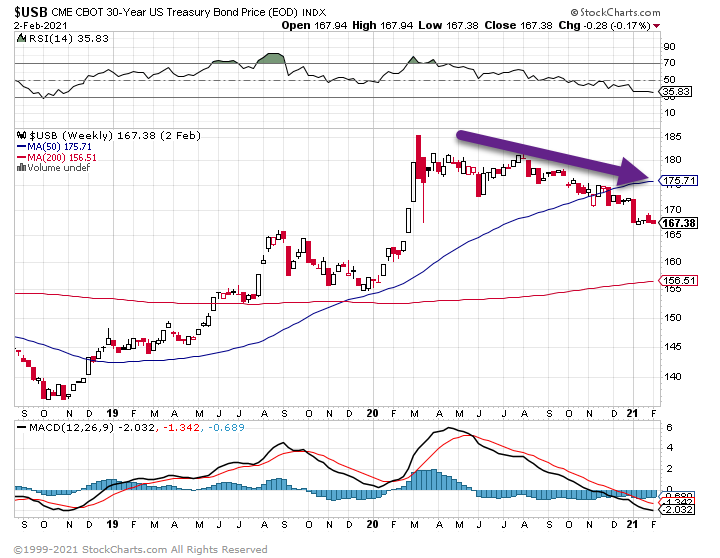 5. 10 Year Treasury Yield Doubled Off Bottom.
Index of 10 Year Treasury Yield +100% off Covid Bottom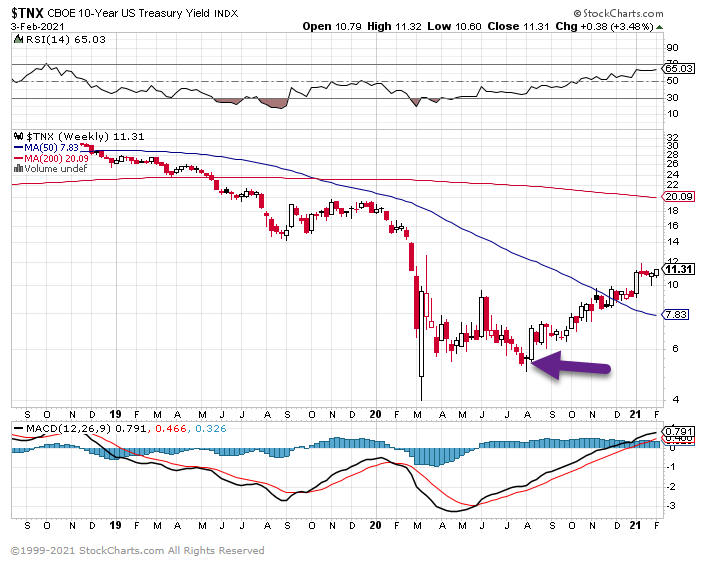 6. Wealth is Aging
American Funds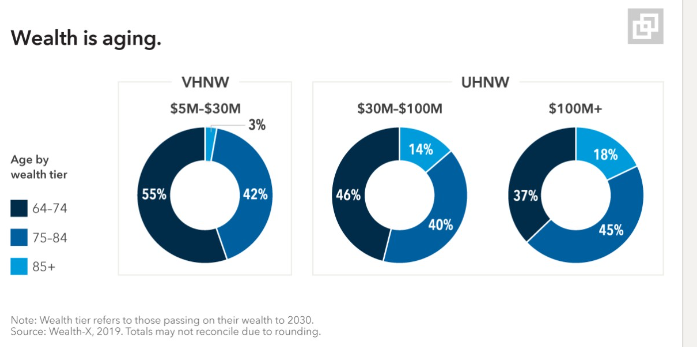 https://www.capitalgroup.com/ria/insights/articles/focus-on-clients-and-heirs.html?cid=sm_pd_li_hg_rhn_ria_181353621
7. Young and middle-aged adults responsible for most COVID spread
Caitlin Owens, author of Vitals
Data: Monod, et al. 2021, "Age groups that sustain resurging COVID-19 epidemics in the United States"; Chart: Axios Visuals
The coronavirus pandemic in the U.S. has been chiefly driven by young and middle-aged people, while killing mostly older people.
Driving the news: Adults aged 20-49 were responsible for the vast majority of virus transmission last year, even after schools reopened in the fall, according to a new study published in Science.
Why it matters: The U.S. vaccination effort is racing to keep up with the spread of new, more transmissible variants of the virus. Millions more Americans could be infected before a substantial portion of the population is vaccinated, making transmission patterns deeply relevant.
The notion that non-vulnerable people can go about their normal lives, while vulnerable people self-isolate, has not borne out in the U.S.
By the numbers: Three-quarters of new infections originated from adults 20-49 until mid-August of last year. Adults 35-49 contributed the most to spread.
In October, after a large portion of U.S. students returned to school, this age group was still responsible forabout 72% of new infections.
The study estimates that school reopenings increased total infections by about 26% as of October, and deaths by about 6% — because children and teenagers spread the virus to adults, who are "more transmission efficient."
Between the lines: Young and middle-aged adults "naturally have most contacts to other adults aged 20 and above, which are more susceptible" to the virus, and they were more mobile from April on, per the study.
The bottom line: "This suggests that additional interventions to adults aged 20-49, including rapid mass vaccination if vaccines prove to block transmission, could bring resurgent COVID-19 epidemics under control," the authors conclude.
https://www.axios.com/young-adults-coronavirus-spread-a998cf65-fcf3-472b-a1ed-e29938356351.html
8. Daily Vaccines Per 100 People
Ben Rabidoux
https://twitter.com/BenRabidoux
9. The 10 best U.S. cities for remote workers in 2021
By Sarah Kuta
Fast internet? Check. Fun things to do? Check. Affordable? Inclusive? Check and check.
When the pandemic hit the U.S. last year, millions of jobs switched to remote work basically overnight, and as the year unfolded, many of those employers and employees realized this virtual work setup was, well, working. Major companies announced they'd be extending their work-from-home policies through at least 2021, if not indefinitely. People who had always been anchored to a city because of their job are now asking themselves a big question:
If you can work from anywhere, where do you want to live?
While you might technically be able to live anywhere, some places are certainly better suited for remote work than others. If you're working virtually, you need fast, reliable internet. You need fun things to do when you're not on the clock. You need a welcoming and inclusive community. You need easy access to transportation if you need to get back to the office at some point. You need cool places to co-work and meet up with people (when that's something we can all do again).
To help you narrow down your list of dream remote work cities, Livability partnered with Fourth Economy to compile a list of the 10 Best Remote-Ready Cities in the U.S. Our metrics combined Livability's 2020 Top 100 Best Places to Live rankings with indicators and data from Fourth Economy's Community Index. Categories and amenities we focused on included broadband access, local jobs that could be done from home, affordability, a robust regional economy, and quality of life.
Here are the 10 cities that came out on top:
10. Duluth, Minn.
Unparalleled access to nature and outdoor recreation opportunities for every season make Duluth, Minn, a top place to work remotely. This northern Minnesota city sits right on Lake Superior, just a few miles from the border with Wisconsin, which means that right after you close your laptop for the day, you can head outside and make the most of your prime location.
Don't miss: We want clean air and a pastoral life — where should we retire on a budget of $40,000 a year?
You can hit the St. Louis River in your kayak or stand-up paddleboard before logging onto Slack each morning, ride your bike along the Duluth Lakewalk between Zoom ZM, +2.59% calls or play a round of golf on weekends. There's skiing, snowboarding, snowshoeing, ice fishing, cross-country skiing, and sledding in the winter. Year-round, you can grab a pair of binoculars and search for birds, enjoy the ever-changing views of the lake and explore Duluth's 100 parks and 150 miles of natural-surface hiking trails.
Duluth also boasts superfast high-speed internet connections that can support three to four people at one time, so if you've got roommates or a partner who's also working from home, you won't have to strategically stagger your videoconference calls.
This pro-business community is home to lots of startups and small companies, a deep pool of educated workers and an affordable cost of living. And if you want to level-up your skills and go for a promotion, you'll have plenty of options nearby: University of Minnesota Duluth, Lake Superior College, The College of St. Scholastica, University of Wisconsin-Superior and Fond du Lac Tribal and Community College are all easily accessible.
9. Tucson, Ariz.
Not only is Tucson, Ariz., an affordable place to live and work remotely, but it also offers its 545,000 residents an incredibly high quality of life, with lots of ways to stay active and involved.
The warm southwestern climate is a huge perk of living here, since it makes it easy to get outside and explore during your lunch break and on the weekends — right out your front door, you'll have your pick of miles of hiking trails and off-road bike trails, tons of rock climbing routes, satisfying bird-watching areas and more. Tucson is also a powerhouse of arts and culture, with a robust community of visual arts groups, top-tier performing arts venues, inspiring art galleries, innovative filmmakers and tons of public art to explore when you're not working.
Also see: I want to move to the South, I want the beach — and a liberal mind-set. Where should I retire?
This city is home to the University of Arizona, a four-year public research institution, so if you're charged with recruiting top talent for your company or if you just want to broaden your skill set, you'll have everything you need at your fingertips. Other schools in Tucson include Pima Community College, Pima Medical Institute and Southwest University of Visual Arts.
In addition to high-speed internet throughout the city, Tucson is also home to a half-dozen co-working spaces (including one specifically designed for nonprofits!), so you'll be able to find a community of fellow remote workers and entrepreneurs right off the bat.
8. Albuquerque
Working remotely can be isolating, but in Albuquerque, you'll find a true sense of community and place, no matter what your interests are outside of work. Whether you love watching (or learning!) flamenco, learning about Hispanic and Native American heritage, eating farm-to-table meals, wandering through art galleries or hitting the hiking trails after work, you'll be able to find your niche right away in this eclectic southwestern city.
If you decide to change career paths or you just want to bolster your resume, Albuquerque has an incredible mix of high-wage jobs and offers great access to continuing education, professional certificate programs, workshops, lectures and seminars. Nearby schools include the University of New Mexico (the state's flagship university), Carrington College, Southwestern Indian Polytechnic Institute, Southwest University of Visual Arts, Brookline College Albuquerque and Central New Mexico Community College.
Plus, thanks to Albuquerque's high desert climate and 300-plus days of sunshine each year, you can enjoy outdoor recreation all year long — skiing, mountain biking, road cycling, rock climbing, running, golf and more. And if you want a change of scenery from your home office, the city is also home to several welcoming co-working spaces, including FatPipe ABQ Co-working Space, Ideas and Coffee Co-working, FreeRange and Optimum Co-working.
7. Sacramento, Calif.
Sacramento, CA, is a diverse community where all remote workers can thrive, no matter their backgrounds, thanks to the community's focus on inclusion and equity.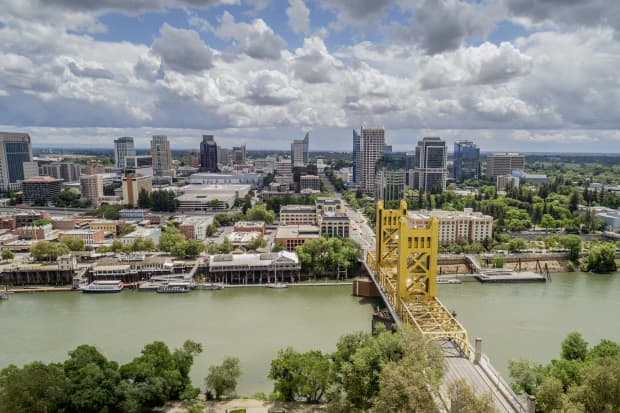 Sacramento's Tower Bridge on the Sacramento River.
This northern California city, the state's capital, is home to more than 500,000 residents, tons of high-paying careers and high-speed internet for all, so you'll be in good company when you work remotely from Sacramento. And if you want to be surrounded by some of Sacramento's best and brightest minds, you can work from The Urban Hive, Capsity Coworking, Outlet Co-working, Trade Coffee & Coworking and a handful of other fun and inviting co-working spaces around town.
After work, head to the city's farmers market (one of Sacramento's nicknames is "America's Farm-to-Fork Capital"), try one of the amazing restaurants, or hop on your bike and hit the 28-mile Jedediah Smith Memorial Trail, a paved multiuse path that snakes along the American River. Another fun way to stretch your legs after a day of being glued to your laptop? Snapping photos of the many murals and public art installations sprinkled throughout the city.
For a California city, Sacramento is affordable, with residents' average rent or mortgage payments clocking in significantly lower than other cities in the state, so you'll be able to make the most of your remote work paycheck, too.
"The Sacramento region continues to be a dynamic location for remote workers who are looking to be around innovators and creators, but also would like to explore the beautiful outdoors. We have an outdoor-friendly climate with 265 days of sunny weather with close proximity to Lake Tahoe and wine country in Napa, Sonoma, Placer and El Dorado counties. Additionally, the region offers a robust culinary scene with 10+ Michelin restaurants and 250 local wineries and breweries to enjoy after your Zoom calls." — Michelle Willard, Vice President, Marketing & Communications, Greater Sacramento Economic Council
6. Frederick, Md.
With lightning-fast high-speed internet and a diverse community, Frederick, Md., stands out as a remote work hot spot. Perhaps nowhere in the country blends history with technology as reverently and creatively as Frederick: many of the upper floors of the city's historic downtown buildings are occupied by tech companies and startups doing cutting-edge work in 200-year-old spaces.
Read: We want to retire in 'an area like the Berkshires, but warmer' — where should we go?
This central Maryland city is just the right size with 72,000 residents, so you'll be able to find your happy hour crew or a lunch buddy with ease, even though you don't have co-workers nearby. Co-working spaces like Cowork Frederick can help you stay motivated and inspired whether you're working on a big project or trying to tackle a complicated problem. And if you ever decide to strike out on your own, you'll be surrounded by startups and entrepreneurs who have specifically chosen Frederick as their young companies' headquarters.
"History and technology blends together in a unique way here. Coupled with great schools, restaurants, things to do, and amazing quality of life, it's no surprise that Frederick is one of the country's top places for remote work." Richard Griffin, Director of Economic Development, City of Frederick
If your remote job requires you to visit your company's H.Q. from time to time, Frederick offers unparalleled access to much of the East Coast. It's less than an hour's drive from both Washington, D.C., and Baltimore (and their many airports), with easy access to Philadelphia and New York City, too.
And for quality of life, Frederick offers a little something for everyone. This growing city has a small-town vibe with all the amenities of a big city, ranging from museums and historical sites to performing arts venues and fine dining restaurants. On the weekends, you can meander along the Frederick Wine Trail, get lost among the trees at Gambrill State Park or immerse yourself in Civil War history.
5. Fort Collins, Colo.
If you love stretching your legs after a long conference call or grabbing a refreshing craft beer after work, Fort Collins is for you. This outdoorsy northern Colorado city, crowned the No. 1 Best Place to Live in America on Livability's 2020 Top 100 list, is nestled against the foothills of the Rocky Mountains, which means you'll be able to get outside and stay active all year long. Plus, the various outdoor activities will help you make new friends and network with fellow remote work professionals — there are meetups and social groups for everything from hiking to gravel biking here.
Also on MarketWatch: Why remote work, schooling in rural America needs Biden's infrastructure plan
But Fort Collins is about so much more than outdoor rec. It's also a foodie town, complete with innovative restaurants and pioneering craft breweries to explore after work or on the weekends. Plan your own self-guided bike-to-brewery tour at spots like Odell Brewing Company, New Belgium, Funkwerks and Horse & Dragon, then head over to Ginger and Baker for a slice of decadent pie.
You'll get to take advantage of Fort Collins' superfast high-speed internet connection at your home office, which can support you, your spouse, your roommate, and even a houseguest or two, without any lag. If you want to freshen up your professional portfolio or just feel inspired, you can enroll in classes or attend a lecture at Colorado State University, a four-year, public land-grant university with formal and informal opportunities for continuing education.
4. Oak Park, Ill.
You might know Oak Park, Ill., for being architect Frank Lloyd Wright's muse — it's where he lived and worked for many years in the early 1900s. But, in addition to all the inspiring architecture, this Chicago suburb is also a great place to be a remote worker, thanks to its diverse business community, inclusive culture and strong sense of place.
Oak Park is home to some 52,000 residents, which means you'll be able to dive right in, get involved and find your crew. This small city, which spans 4½ square miles, has a strong identity all its own that's steeped in arts and culture, social justice and community. Check out groups like Compound Yellow, an artist-run space in Oak Park where you can volunteer your professional services, take a workshop or just flex your creative muscles after hours of staring at your laptop screen.
Oak Park also hosts dozens of free events each year, designed to bring together families, working professionals, retirees and everyone in between — you'll get to know your neighbors by attending concerts, festivals, movies in the park, carnivals and more.
If your remote job requires you to travel (or you like to take advantage of your ability to work from anywhere!), you'll be just 30 minutes by car from O'Hare International Airport and Chicago Midway International airport, which offer flights to destinations all over the world. You're just a short train or bus ride from downtown Chicago, too.
3. Bellingham, Wash.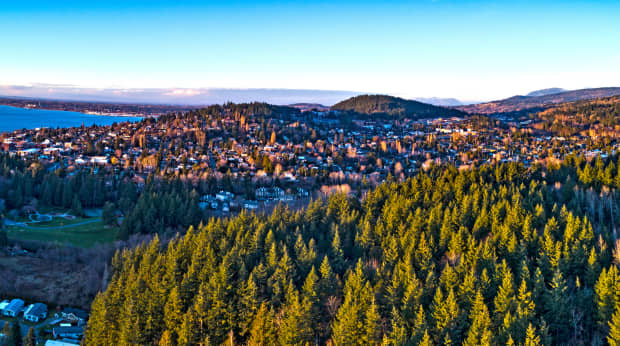 Bellingham, Washington.
ISTOCK
Bellingham's natural beauty and year-round recreation activities will help you stay motivated and work efficiently at your remote job — as soon as you're done for the day (or even during lunch!), you can head outside and get moving. Bellingham is located right on the water of Bellingham Bay, just 20 miles south of the Canadian border. From your home office or your back deck, you may have views of the water, the Cascade Mountains, the San Juan Islands and the vast wilderness of northern Washington.
For remote workers, Bellingham also offers robust high-speed internet that can support three to four people at a time, abundant options for continuing education, networking opportunities and co-working spaces both large and small. Attend after-work seminars or enroll in a formal program at one of the Bellingham region's many colleges and universities, including Western Washington University, Whatcom Community College and Bellingham Technical College.
Bellingham is also home to a thriving arts and entertainment scene, a growing selection of craft breweries, many museums and fun annual events that bring the community together. If you get bored with the four walls of your home office, you can hop on your bike or walk to many of Bellingham's hip coffee shops — like Caffe Adagio or The Lettered Streets Coffeehouse — to get a little work done.
2. Grand Rapids, Mich.
Grand Rapids, Mich., is a great place to grow your career, whether you report to a traditional workplace or you're a freelancer, entrepreneur or remote worker hustling on your own every day. This western Michigan city (located just below the pinkie finger of Michigan's "mitten") has tons of resources and programs to help you develop leadership skills, learn a new skill set or simply take the next step in your career.
Don't miss: Love working from home? Here are 20 of the best jobs and careers for being remote
Beyond that, Grand Rapids is an eclectic and vibrant place to live, with tons of young professionals, modern bars and restaurants and quick access to outdoor recreation. It's home to some 200,000 people and feels like a bustling big city, minus all the hassle.
You'll get to choose from eight distinct neighborhoods, each with its own character and charm (and plenty of history!) Whether you're looking for a downtown loft or a sprawling backyard, you'll find the perfect place to put down roots while also enjoying your remote work freedom. Plus, your paycheck will stretch further in Grand Rapids, which offers an affordable cost of living without sacrificing life quality.
Above all else, you'll find that Grand Rapids residents are supportive and welcoming. You won't have any trouble making new friends or building a community here, which is a hugely important consideration when you don't have a built-in network of co-workers.
1. Columbus, Ohio
Columbus, Ohio, takes the top spot for remote-ready cities in 2021, thanks to its forward-looking outlook, high quality of life, affordability and welcoming attitude — it's a well-rounded community where remote workers of all backgrounds can thrive.
For your off-work hours, this central Ohio city offers 20 parks and more than 200 miles of trails to explore, plus lots of nearby state parks and regional wilderness areas. The city's thriving arts and entertainment scene ranges from family-friendly festivals like the annual Jazz & Rib fest to world-class museums like the Columbus Museum of Art.
Related: Will COVID-19 push more employees to work remotely after the pandemic? This economist says yes
If you love sports, you'll have plenty of options in Columbus, home to The Ohio State University Buckeyes (Division 1 college athletics), the Columbus Blue Jackets (pro hockey), the Columbus Crew SC (pro soccer) and the Columbus Clippers (pro baseball), the Triple-A affiliate of the Cleveland Indians.
"Columbus is just a really easy place to live. There are very few compromises living in a place like this. You have access to anything you want to do, which includes physical access to everything, but also you can afford to do things, and you have access to a power structure, too. If you raise your hand and you're willing to do the work, you're going to get called on and get involved. We don't care where you're from. We want smart people. We want ambition."—Kenny McDonald, President & CEO, One ColumbUS
Columbus, home to 892,000 residents, has nearly a dozen diverse neighborhoods within its bounds, each with its own vibe and energy. Whether you're looking for a condo in the Arena District or a historic brick house in German Village, you'll be decorating your home office in no time. Plus, Columbus is actively investing in its transportation infrastructure, thanks to a $50 million Smart City Challenge grant it won in 2016 — when you're dashing off to client meetings or heading to your co-working space in the morning, you'll be able to get around easily via public transit, bike, electric vehicle or even your own two feet.
Read the original article on Livability.
https://www.marketwatch.com/story/the-10-best-u-s-cities-for-remote-workers-in-2021-11611874617?mod=home-page
10. THIS IS THE BEST DIET FOR YOUR BRAIN
· BY KEITH ROWE
Have you ever struggled to maintain a diet? We've all been ther
Maybe you do a good job of staying on your meal plan during the week, but struggle to keep it up during the weekend. Or maybe you feel like you deserve to splurge a little. Or maybe you feel stressed, moody, or lonely, all of which can lead to emotional eating (or overeating).
Even if you occasionally let your diet slip, you don't have to allow yoyo cycling to ruin your chances of shedding excess body weight and enjoying a more vibrant lifestyle. The ability to sustain a healthy diet starts in the brain.
Your Brain and Food
The brain is your command and control center. It makes either good or bad decisions about the foods you eat. It also tells you:
· What, when, and how much to eat
· What to buy at the grocery store
· What to order in a restaurant
It's important to identify and acknowledge what emotions are driving you to make bad food choices. Sometimes it isn't even an emotional trigger, but the sight or smell of unhealthy foods that make you crave them. You can take back control of your cravings by making simple changes to your daily habits.
Here are some simple and thoughtful strategies that can help you establish a brain-healthy diet.
10 Ways to Master a Brain Healthy Diet
1. Feng Shui Your Refrigerator
Don't let the default arrangement of your refrigerator dictate how you organize your groceries. Instead of storing veggies and fruit in the dark drawer at the bottom of the fridge, where they're likely to be forgotten, put them in glass containers at eye level. That way, every time you open the refrigerator door, you'll see the nutrient-dense, brain-healthy foods first.
2. Drink Before You Eat
No, this doesn't apply to alcohol. Try drinking a glass of water (8-10 ounces) 30 minutes before each meal. This will help fill your stomach before you eat, so you'll eat less during the meal.
The practice of eating something healthy to boost satiation before a meal has been around a long time – and it still works. Many soup diets and cleanses can help fill you up, creating fewer hunger signals to the brain, which can help you ingest less during meals. Some people may find that broth can satisfy food cravings pre-meals, and help you eat less during the main event.
3. Add Some Spice
Most people get bored eating the same thing day after day. When you bake a sheet of chicken or fish, season each one differently – season one with curry, another with garlic, ginger, etc. This way, each day's meat will have a different flavor.
Herbs and spices are one of the few food categories that provide both nutrition and flavor. Hippocrates listed over 500 medicinal uses for herbs and spices that included ways to prevent illness and increase longevity. Herbs and spices contain so many health-promoting substances, it almost makes more sense to store them in the medicine cabinet than the spice rack.
4. Mindful Eating
Mindful eating is when you pay attention to what you're thinking, feeling, and tasting in the moment. This is especially important for people who sit on the couch all day, mindlessly devouring bags of cookies or chips.
By contrast, when you eat mindfully, you pause after each bite of food and become aware of the smells, tastes, and textures. You can learn to savor each bite and experience gratitude for the food you're eating. Also, mindful eating can help you become more aware of when you feel full so that you don't overeat.
5. Eat More Vegetables
Research shows that 90% of Americans don't get the recommended daily servings of fruits and vegetables in their diet. One of the simplest ways to increase your intake of veggies is to introduce them into your breakfasts. Just toss a few handfuls of spinach, kale, or mushrooms into your eggs for a major nutrient boost.
6. Slow Down
Do you often find yourself too busy to eat? Do you skip meals or eat on the go? Even when you have five minutes to sit down and eat, do you still tend to rush through a meal?
Try spending more time chewing. This will allow your stomach to gradually expand and send the signals back to your brain when it needs to turn off the hunger switch. Also, skipping meals is a bad idea – it slows your metabolism, which may cause overeating.
7. Streamline Prep Time
Pick one day of the week to shop for vegetables and nutrient-rich foods to help keep your brain active and healthy. When you get home, spend some time chopping up veggies and storing them in the fridge.
Having veggies ready to go will be a huge help during meal and snack times. You can quickly add them to eggs, salads, and other meals. This will cut down on prep time for all your meals during the week and will help ensure that you actually eat the veggies you purchased.
8. Proper Portions
Get rid of large entrée plates and serve meals on smaller appetizer-size plates (or salad bowls) for better portion control. Try using chopsticks and appetizer-sized cutlery to help you take smaller bites. Also, many stores sell portion-sized plates and Tupperware that can help you adjust the portion size of your meals.
9. Mix It Up
If you pretty much eat the same things every day, you might be missing out on some vital nutrients. The next time you go to a farmer's market or the produce section of a grocery store, force yourself to try something new. There are a variety of seasonal vegetables and fruits to help you mix things up and eat natural foods from the full spectrum of colors and flavors.
In addition to leafy green vegetables like spinach, kale, broccoli, and collard greens, different colored vegetables, such as red bell peppers, squash, and cauliflower, all have tremendous health benefits. They provide an enormous array of vitamins, essential minerals, free radical-blocking carotenoids, and power-packed flavonoids. These foods not only elevate antioxidant levels in your body, they also have a wide variety of additional health benefits – so always do your best to eat from the rainbow.
10. Take a Breath
If you eat when you're stressed or worried, it can impair the digestive process and interfere with the absorption of the nutrients in the foods you're eating. A quick trick to aid your digestive system is to take a few deep breaths before eating.
This easy strategy helps your body create a state of relaxation that prepares your digestive system to release the enzymes needed to break down the foods you're about to eat, and aid in the absorption of nutrients from those foods. Just take 4 to 5 deep breaths before you start eating and you may find that you're calmer and better able to enjoy your meal.
These are just a few ways to improve your brain health with nutritious foods. Try them out and feel free to share them with your friends and family.
At BrainMD, we're dedicated to providing the highest purity nutrients to improve your physical health and overall well-being. For more information about our full list of brain healthy supplements, please visit us at BrainMD.
Lansing Street Advisors is a registered investment adviser with the State of Pennsylvania..
To the extent that content includes references to securities, those references do not constitute an offer or solicitation to buy, sell or hold such security as information is provided for educational purposes only. Articles should not be considered investment advice and the information contain within should not be relied upon in assessing whether or not to invest in any securities or asset classes mentioned. Articles have been prepared without regard to the individual financial circumstances and objectives of persons who receive it. Securities discussed may not be suitable for all investors. Please keep in mind that a company's past financial performance, including the performance of its share price, does not guarantee future results.
Material compiled by Lansing Street Advisors is based on publicly available data at the time of compilation. Lansing Street Advisors makes no warranties or representation of any kind relating to the accuracy, completeness or timeliness of the data and shall not have liability for any damages of any kind relating to the use such data.
Material for market review represents an assessment of the market environment at a specific point in time and is not intended to be a forecast of future events, or a guarantee of future results.
Indices that may be included herein are unmanaged indices and one cannot directly invest in an index. Index returns do not reflect the impact of any management fees, transaction costs or expenses. The index information included herein is for illustrative purposes only.