1. Fed Futures Pricing 50% Chance of 3 Additions 25 bps. Raises
Dorsey Wright Fed futures are now pricing a better than 50% chance of at least three additional 25 bps rate increases (or one 50 and one 25) by June as expectations for the terminal rate of interest rates have risen following the stronger-than-expected January jobs report and hot January CPI print.

---
2. Stock-Bond Correlation is Negative Again
The Daily Shot Equities: The stock/bond correlation is negative again.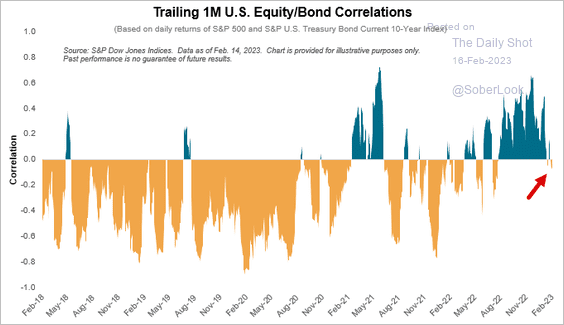 Source: S&P Dow Jones Indices
---
3. Spread Between BBB-Rated Bonds and 90 Day Treasuries at Historic Lows
Jonathan Baird The interest rate spread between BBB-rated bonds (a hair away from being classified as "junk") and US 90-day Treasuries has descended to low levels that typically precede distinctly unpleasant stock market developments. That enthusiasm for corporate debt of dubious creditworthiness is so high during a period of rapidly rising rates says much about the divergence of investor sentiment and economic reality.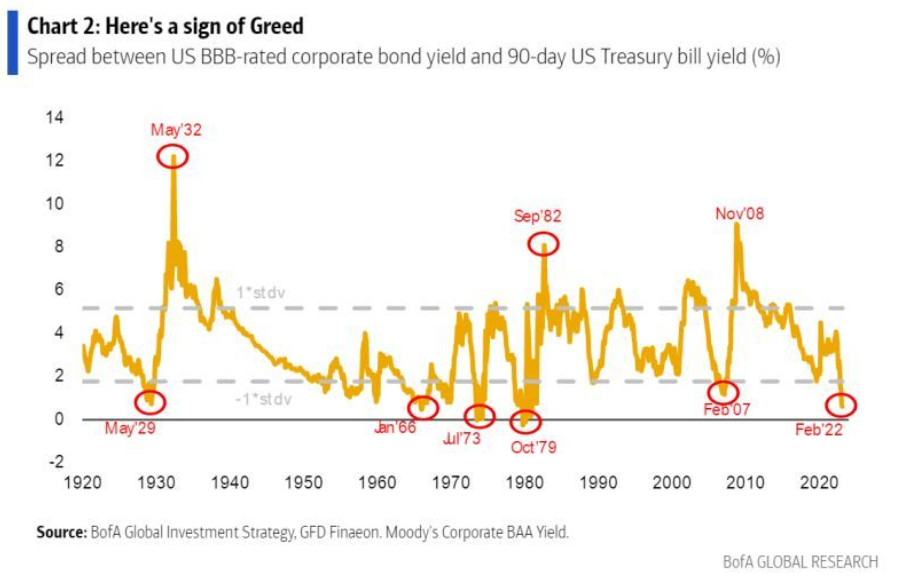 https://www.linkedin.com/in/jonathanbaird88/
---
4. Strong Corporate Credit Fundamentals Limit Spread Widening
Guggenheim Partners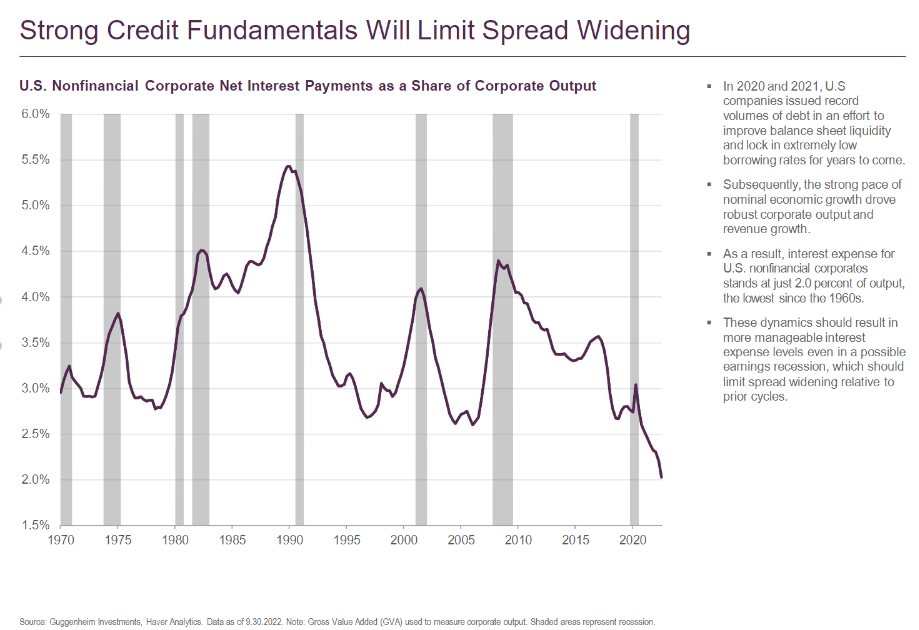 10 Macro Themes for 2023
https://www.guggenheiminvestments.com/perspectives/macroeconomic-research/10-macroeconomic-themes-for-2023
---
5. 40% of Warren Buffett Portfolio is AAPL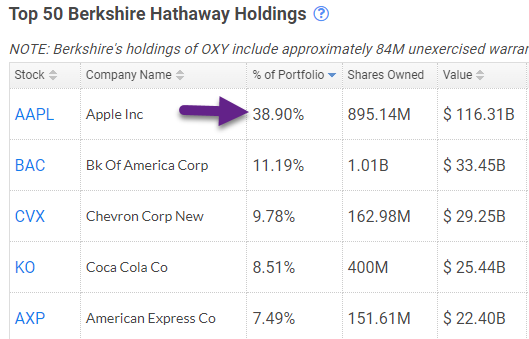 https://hedgefollow.com/funds/Berkshire+Hathaway
---
6. International Equity Technical Update
Jack Ablin Cresset Capital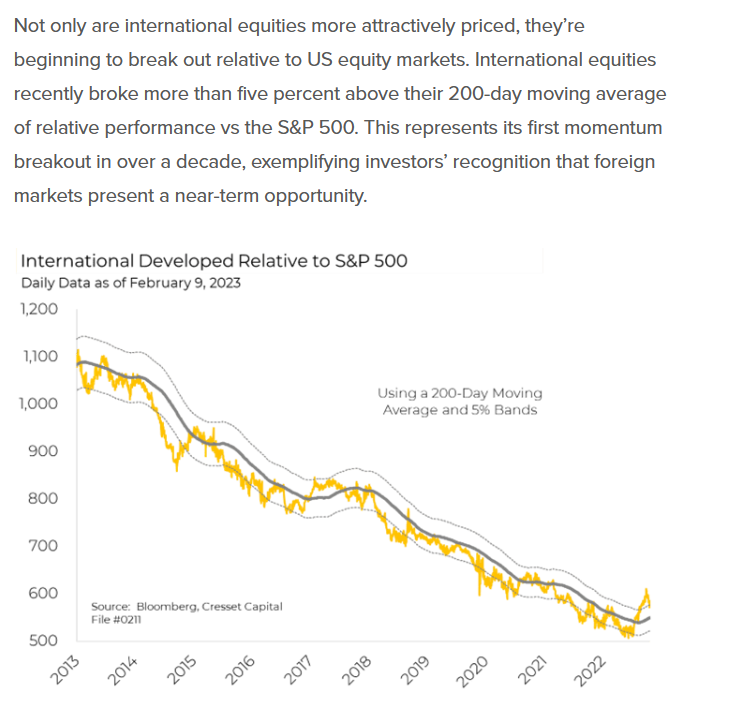 Why the Theories of Sir Isaac Newton Matter to Investing | Cresset Capital
---
7. Debt of Retailer $6 Trillion
A $6 Trillion Wave of Money Revives an Arcane Corner of Wall Street-Neil Callanan and Abhinav Ramnarayan
(Bloomberg) — Locked out of debt markets and facing significantly higher borrowing costs, executives at troubled companies are looking for help in an almost dormant corner of Wall Street.
High-profile financial advisers including Houlihan Lokey Inc., Lazard Ltd. and Evercore Inc. say they're experiencing a surge in enquiries for so-called liability management as corporates bloated with debt find themselves searching for solutions to the end of a decade of almost free money.
Companies are grappling with the twin burdens of higher interest rates and slower economic growth, and some have already suspended dividends or put assets up for sale to pay debt. But with $6.3 trillion of outstanding high-yield and investment-grade corporate bonds coming due by the end of 2025, many are seeking alternative ways to protect their balance sheets.
https://finance.yahoo.com/news/6-trillion-bond-wall-revives-050000785.html
---
8. Platinum and Palladium Corrections
Palladium -40% from Highs….50day and 200day sloping downward.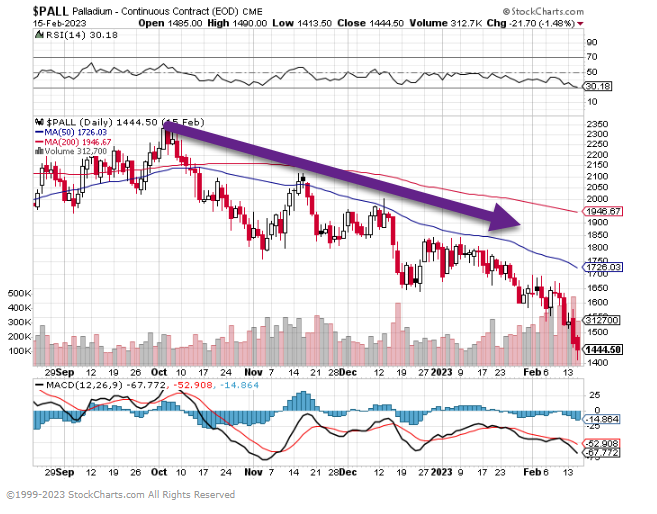 Platinum Closes Below 200day Moving Average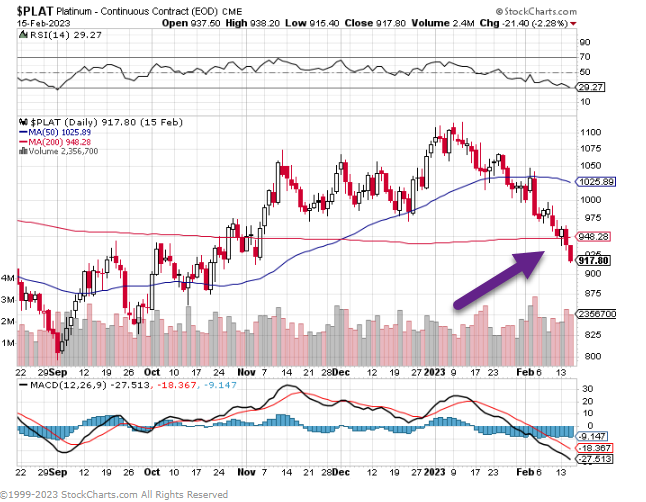 ---
9. Doctors Are Disappearing From Emergency Rooms as Hospitals Look to Cut Costs
By Brett Kelman and Blake Farmer, Nashville Public Radio For Private Equity, Dropping ER Docs Is a 'Simple Equation'
Private equity companies pool money from wealthy investors to buy their way into various industries, often slashing spending and seeking to flip businesses in three to seven years. While this business model is a proven moneymaker on Wall Street, it raises concerns in health care, where critics worry the pressure to turn big profits will influence life-or-death decisions that were once left solely to medical professionals.
Nearly $1 trillion in private equity funds have gone into almost 8,000 health care transactions over the past decade, according to industry tracker PitchBook, including buying into medical staffing companies that many hospitals hire to manage their emergency departments.
Two firms dominate the ER staffing industry: TeamHealth, bought by private equity firm Blackstone in 2016, and Envision Healthcare, bought by KKR in 2018. Trying to undercut these staffing giants is American Physician Partners, a rapidly expanding company that runs ERs in at least 17 states and is 50% owned by private equity firm BBH Capital Partners.
These staffing companies have been among the most aggressive in replacing doctors to cut costs, said Dr. Robert McNamara, a founder of the American Academy of Emergency Medicine and chair of emergency medicine at Temple University.
"It's a relatively simple equation," McNamara said. "Their No. 1 expense is the board-certified emergency physician. So they are going to want to keep that expense as low as possible."
Not everyone sees the trend of private equity in ER staffing in a negative light. Jennifer Orozco, president of the American Academy of Physician Associates, which represents physician assistants, said even if the change — to use more nonphysician providers — is driven by the staffing firms' desire to make more money, patients are still well served by a team approach that includes nurse practitioners and physician assistants.
"Though I see that shift, it's not about profits at the end of the day," Orozco said. "It's about the patient."
The "shift" is nearly invisible to patients because hospitals rarely promote branding from their ER staffing firms and there is little public documentation of private equity investments.
Dr. Arthur Smolensky, a Tennessee emergency medicine specialist attempting to measure private equity's intrusion into ERs, said his review of hospital job postings and employment contracts in 14 major metropolitan areas found that 43% of ER patients were seen in ERs staffed by companies with nonphysician owners, nearly all of whom are private equity investors.
Smolensky hopes to publish his full study, expanding to 55 metro areas, later this year. But this research will merely quantify what many doctors already know: The ER has changed. Demoralized by an increased focus on profit, and wary of a looming surplus of emergency medicine residents because there are fewer jobs to fill, many experienced doctors are leaving the ER on their own, he said.
University in 2020, nurse practitioners join doctors in practicing how to place a chest tube to fix a collapsed lung by snaking a rubber hose through a rack of pork ribs. The NPs, who work for American Physician Partners, will have to perform the procedure under a doctor's supervision before being allowed to do it on their own. (BLAKE FARMER FOR KHN)
"Most of us didn't go into medicine to supervise an army of people that are not as well trained as we are," Smolensky said. "We want to take care of patients."
https://khn.org/news/article/doctors-are-disappearing-from-emergency-rooms-as-hospitals-look-to-cut-costs/
---
10. The Two Skills Your Child Needs for a Successful Life
Psychology Today Jeffrey Bernstein Ph.D.
Life is easier and more fulfilling for children who can cope in these two ways.
According to the Centers for Disease Control and Prevention (CDC), the rates of anxiety, depression, anger, and overall stress have risen among children and teens. Given these daunting challenges, as parents, we must, now more than ever, help our children become skilled at dealing with life's demands.
There are many essential skills that are essential for children to learn to have a productive life. A few examples include communication, technology, financial literacy, writing, and organizational skills. Perhaps you can add to this list.
As I reflect on my over 30 years of work as a psychologist, I have now logged 45,000-plus hours of counseling sessions. I don't claim to know it all. Yet, when it comes to what it takes for a child of any age to thrive in a highly competitive world, I believe we can boil it down to two crucial skills.
1.   How to regulate emotions
2.   How to problem-solve through challenges
Briefly, self-regulation of emotions means your child can calm down and cope with their feelings on their own. They can manage stressful situations or know how to remove themselves from them. Problem-solving involves acknowledging problems, reflecting on ways to manage them, and applying the best solutions. (For more, see my book, 10 Days to a Less Defiant Child.)
The great news is that you can teach and inspire your child to regulate their emotions and problem-solve.
4 Ways You Can Help Your Child Regulate Their Emotions and Problem-Solve
Modeling and inspiring successfully managing emotions and problem-solving is your gift that keeps on giving to your children. Here are four ways to do it:
1. Model a growth mindset for self-care. The more your child sees you practice self-care for your emotional health, the more they will instinctually know to take care of their own. Be committed to continually working on your own calming and problem-solving skills.
2. Use calming techniques. Too many parents tell their kids to calm down without first demonstrating ways to regulate those big emotions in the first place. We mistakenly believe that managing our lives should be an autopilot-like experience. It's not. From the time our feet hit the floor in the morning, we are confronted with demands and challenges. We need to use tools to manage these challenges.
Breathing exercises, mindfulness meditation, helpful self-talk, gratitude, reminding ourselves of our strengths, prayer, yoga, or physical activity are just a few tools that can help you manage stress and maintain a calm state of mind.
3. Listen. Really listen. When children feel heard, they feel valued, and their self-esteem is boosted. Listening to children helps to foster open and honest communication, which can lead to more positive relationships and a deeper understanding of their perspectives. When children are allowed to express themselves, they can feel empowered to come up with solutions to their problems.
4. Talk constructively to yourself and them. Children learn by observing the behavior of those around them, so it's important to transparently and actively demonstrate calm behavior in all situations. Here is an example of what you can say when in the face of a conflict:
"There's a reactive side of me, as your parent, that now wants to yell and get controlling. Just being aware and expressing this is helping me stay calmer. How about we talk this out so we can understand each other better?"
https://www.psychologytoday.com/us/blog/liking-the-child-you-love/202301/the-two-top-skills-your-child-needs-for-a-successful-life