1. Single Stock Call Option Highest Ever by WIDE MARGIN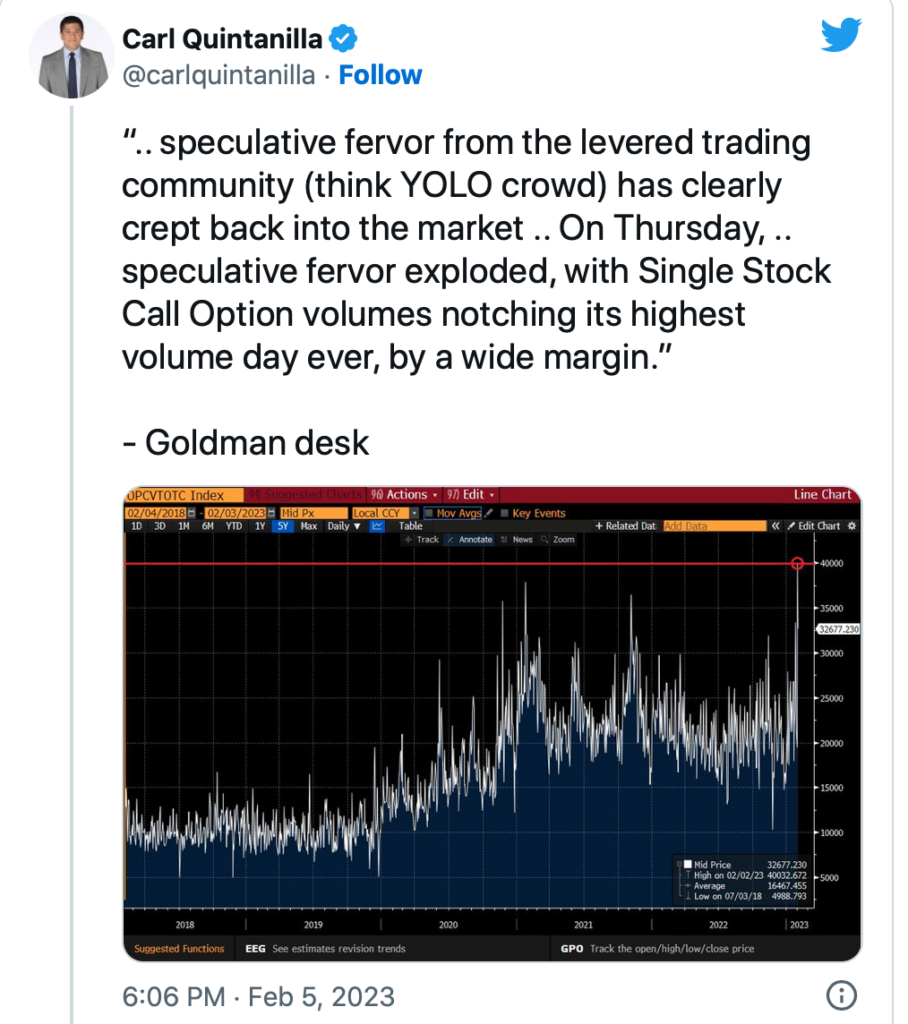 ---
2. Value ETFs Breaking Out to New Highs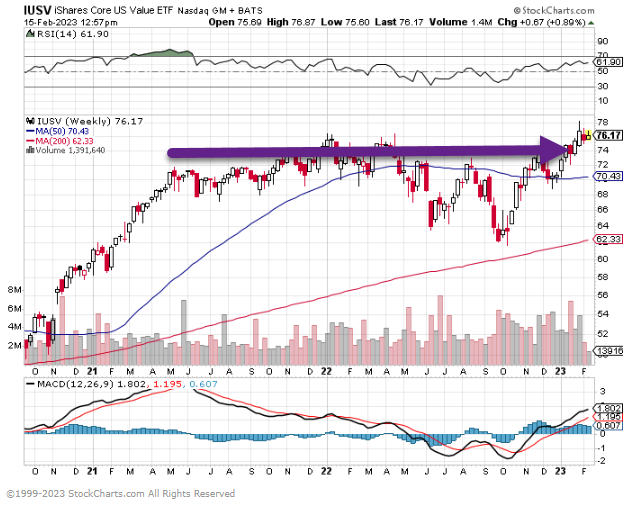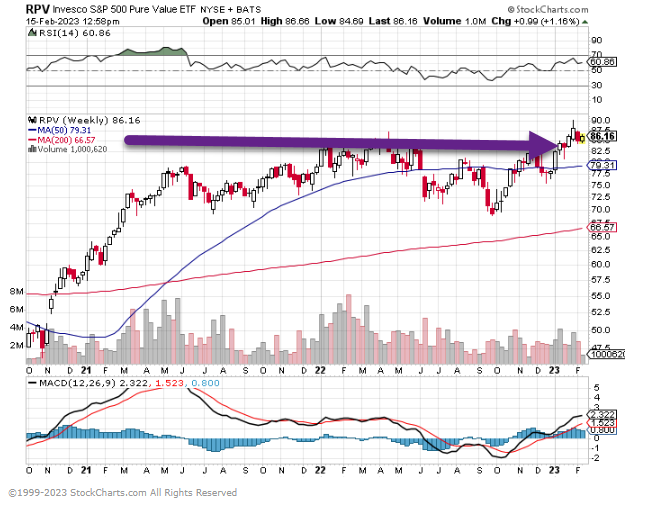 ---
3. S&P 500 Long-Term Weekly Chart
SPY never broke 200 week moving average in red….just closed above 50week moving average in beginning of Feb.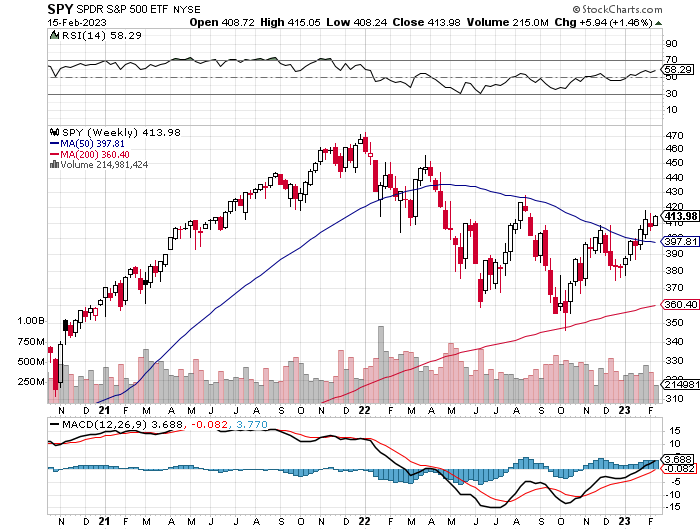 ---
4. The U.S. Stock Market Outperformance Over Europe was Mostly FAANG
BCA RESEARCH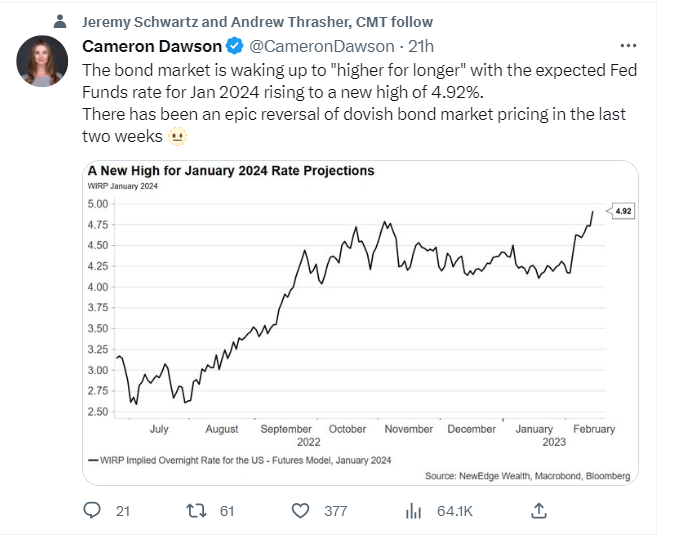 https://twitter.com/CameronDawson
---
5. Six-Month Treasury 5% Handle for First Time Since 2007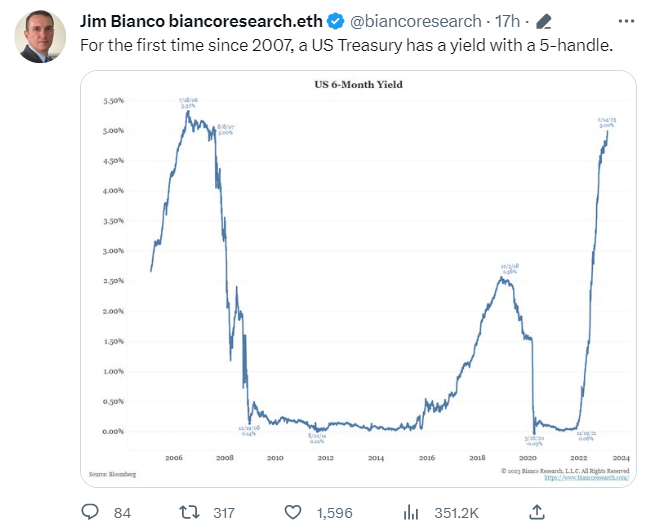 https://twitter.com/biancoresearch
---
6. Bitcoin ETF BITO +45% Year to Date….BITO -45% One-Year Return.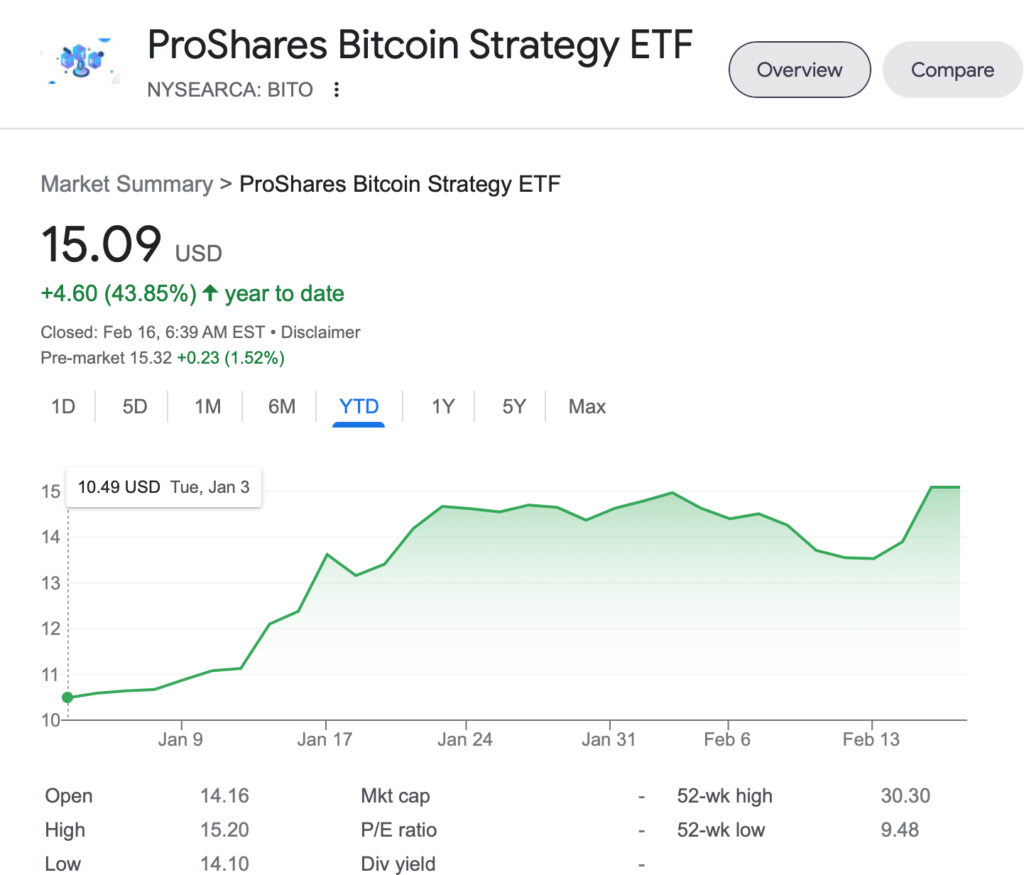 https://www.google.com/finance/quote/BITO:NYSEARCA?sa=X&ved=2ahUKEwiZ48md_Jn9AhX4FVkFHapyCUwQ3ecFegQIJBAY
---
7. Europe ETF Making a Run at 2020 Pre-Covid Highs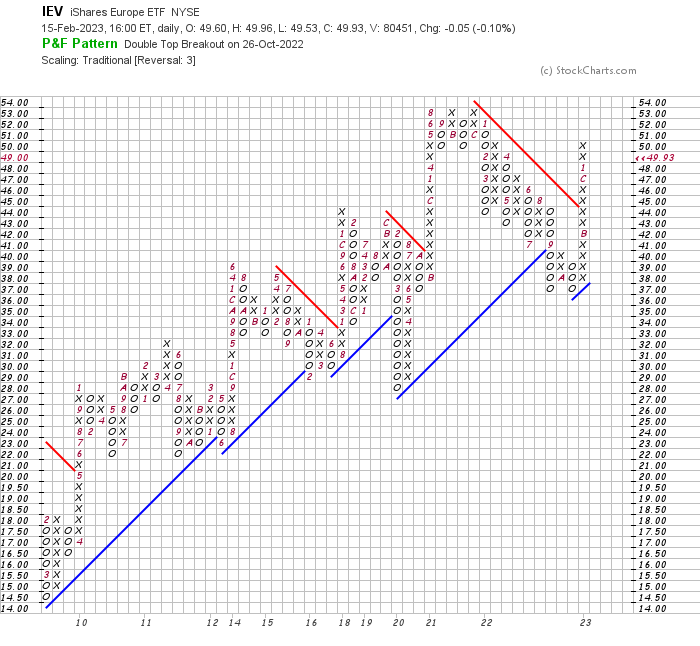 ---
8. Investor Purchases of Homes Fall 45.8%
Marketwatch Aarthi Swaminathan
Investor purchases of homes in the U.S. fell by 45.8% year-over-year in the fourth quarter, according to a new report from real-estate tech company Redfin RDFN, 6.87%.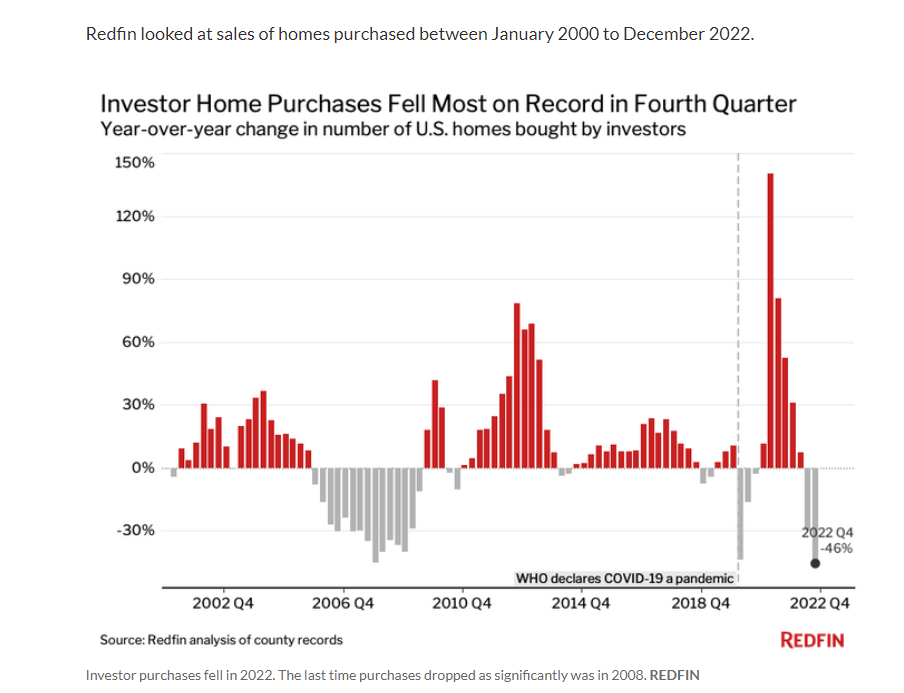 https://www.marketwatch.com/story/investors-back-off-from-the-housing-market-buying-half-as-many-homes-than-a-year-ago-redfin-says-1e40b663?mod=dist_amp_social&link=sfmw_tw&redirect=amp
---
9. Fewer Mom and Pop Investors Plus Higher Rates Reducing Home Equity Lines=Below
Eric Finnegan Shrinking home builder backlogs and fewer large remodeling projects will hit residential building products demand this year.
Case in point: Building materials dealers reported weak customer traffic in January among both PRO customers (builders and remodelers) and do-it-yourselfers (small home improvement projects). Compare this with a year ago, when 56% reported Strong PRO traffic. 
In the words of Biggie Smalls… "Things done changed!"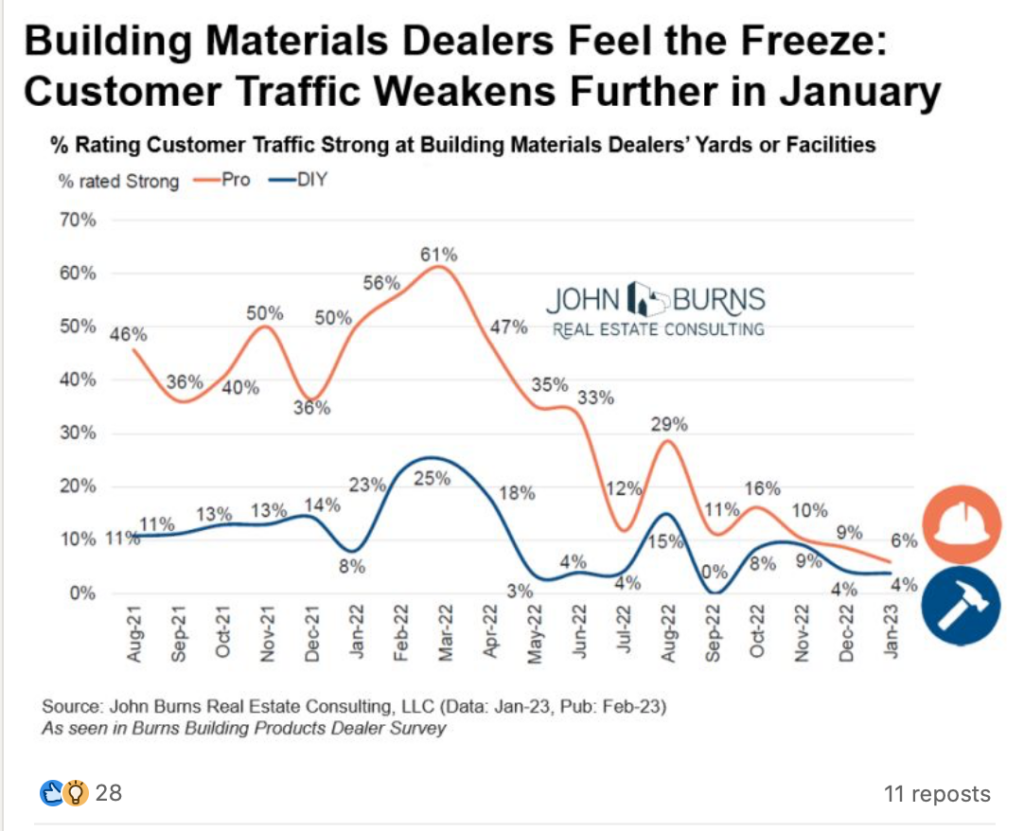 https://www.linkedin.com/in/ericfinnigan1/
---
10. Military Tactic for Emails
Military Leaders Use This Brilliant Tactic to Write Effective Emails
Smart email writers start with the bottom line.
BYCARMINE GALLO, HARVARD INSTRUCTOR, KEYNOTE SPEAKER, AUTHOR, 'THE BEZOS
Good writing skills are essential to advance in the U.S. military — and there's one technique military leaders follow to make their emails clear, concise, and compelling.
Now, what I just wrote is an example of a writing technique called BLUF: Bottom Line Up Front. The method was first introduced in an army training manual and is now taught across different military branches. It's a tactic that will help your writing — and your emails— stand out. 
The tactic came up repeatedly during my visits to two military bases this summer. First, I met with Army Green Berets at Fort Bragg, North Carolina. Second, I spoke to fighter jet pilots for the United States Marine Corps in Yuma, Arizona. Both groups of highly-trained soldiers are taught BLUF because it saves time and makes communication more efficient.01:53
Although many of us send hundreds of texts and direct messages on Slack each day, emailcontinues to be the preferred method of communication around the globe. There are 4.1 billion email users globally. That's a large number, of course, but only a fraction of the emails we send are read.
An email with the Bottom Line Up Front states the purpose of the email in the first paragraph. An email isn't a novel. There's no need to build suspense until the end. More important than the length of an email — which largely depends on the topic — is whether your reader gets the point and gets it fast.
Here's an example of the first paragraph of an email written in the BLUF format. 
This email is going to all sales managers in North America. It explains the new cloud-based sales system the company will implement in Q4.
In two sentences, the reader knows why they're on the string and what the email is about. They can decide to read it now or file it away to read later (hopefully before Q4).
The bottom line should stand out in bold font and answer the following questions in one or two sentences:
1.     Why am I receiving the email?
2.     What information does it convey?
3.     What important dates or deadlines do I need to know?
The military puts a lot of research into effective writing. They found that the most significant problem was failing to convey a focused message quickly. Since many people bury the main point in a lengthy email, BLUF is a framework that forces the writer to start with a clear and concise idea.
Effective writing is understood easily and quickly. Don't frustrate your reader by hiding the main point. Put the bottom line up front, and your readers will appreciate it.
https://www.inc.com/carmine-gallo/military-leaders-use-this-brilliant-tactic-to-write-effective-emails.html?utm_source=linkedin&utm_medium=social&utm_campaign=freeform