1. Biggest Tail Risk 2023 Poll
Marketwatch The chartAs JPM pointed out, the market is behaving as if a war is not happening. Of course, it is over there, and really in the bull's-eye more for Europe than the U.S., which has China and balloons to worry about. But here's a chart from that Bank of America survey of fund managers that offers some food for thought.

It shows that sticky, high inflation remains the biggest tail risk for investors, that is an event with a low probability of happening, but if it does, the damages could be outsize for markets. The second-biggest is geopolitics, and that's as doubts grow of a peace accord between Ukraine and Russia in 2023 (expectations now down to 50% from 63% in January).
https://www.marketwatch.com/story/the-peak-of-this-market-rally-is-almost-here-says-jpmorgan-time-to-ditch-u-s-stocks-and-buy-these-instead-says-wall-street-giant-71eb998a?mod=home-page
---
2. More Seasonality Data
Nasdaq Dorsey Wright-In the table below we looked at all January returns since 1928 where the S&P 500 (SPX) gained at least 5% and then looked at how the market performed the following month. Interestingly, February was positive 64% of the time, which is above the 57% original batting average, and posted an average (and median) return of about 1%, which is also well above the average February return of 0.17%. There are several notable outliers, like in 1946 when the market gained over 7% in January and then lost nearly 7% in February, or in 1934 when the market returned 11% in January and then fell about 3.5% the following month. However, in the aggregate, it appears that seasonality could still be acting as a tailwind here.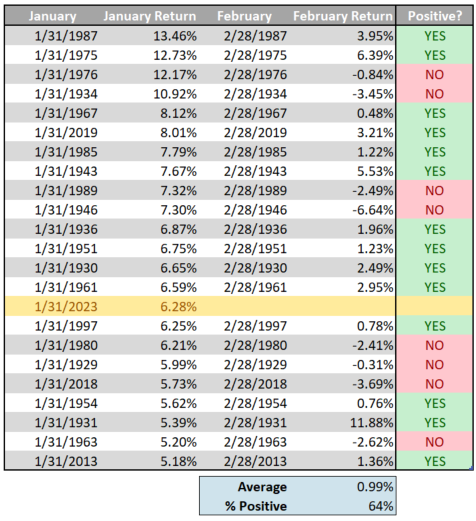 https://www.nasdaq.com/solutions/nasdaq-dorsey-wright
---
3. We are Coming Out of Long Period of Bearish Sentiment in AAII Bull/Bear Measure.
LPL Research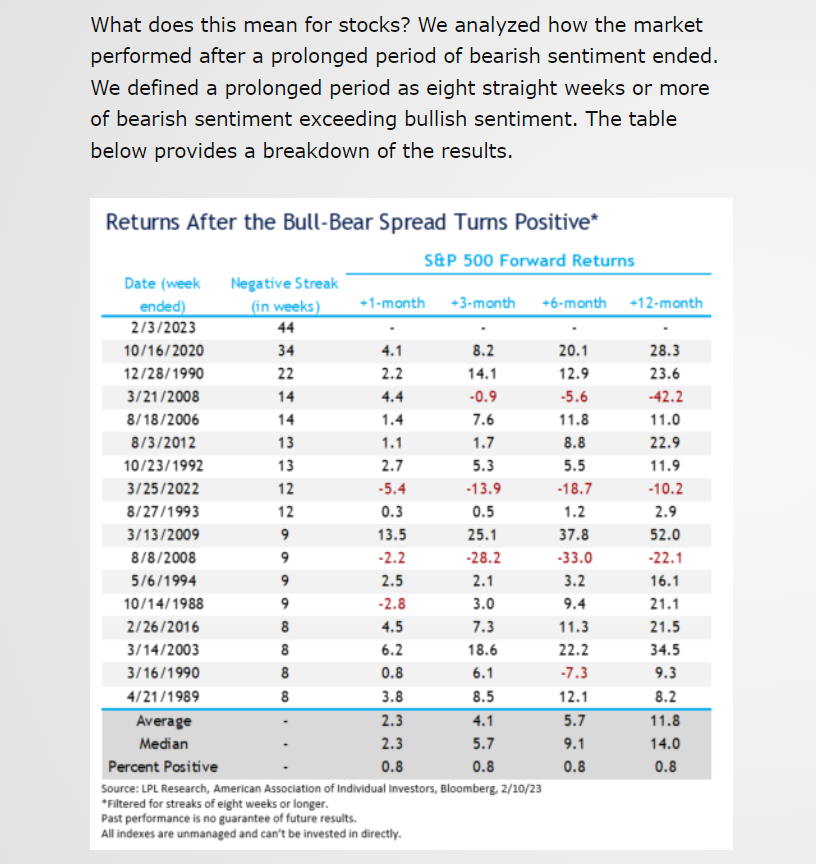 https://iplresearch.com/2023/02/10/are-bears-finally-going-into-hibernation/
---
4. The U.S. Stock Market Outperformance Over Europe was Mostly FAANG
BCA RESEARCH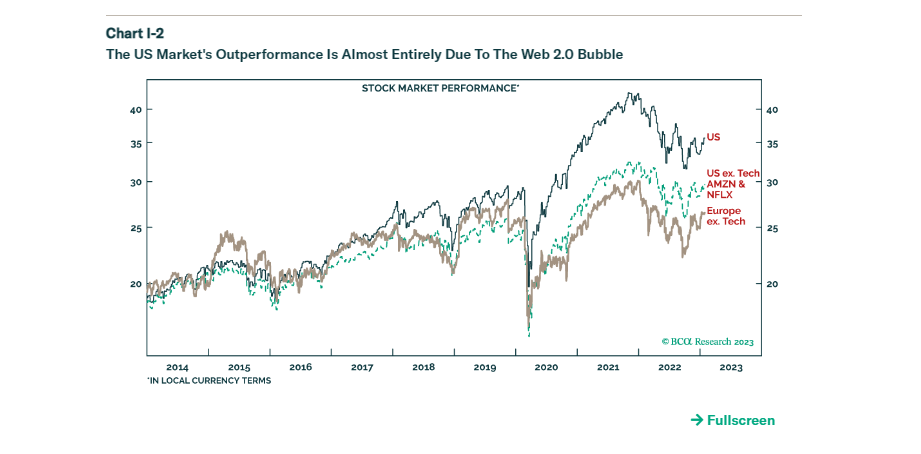 BCA Research – The Web 2.0 Bubble Is Bursting. Here's What It Means
---
5. FAANG Employee Growth Since 2018 Massive…Layoffs Rounding Error.
Paayal Zaveri Business Insider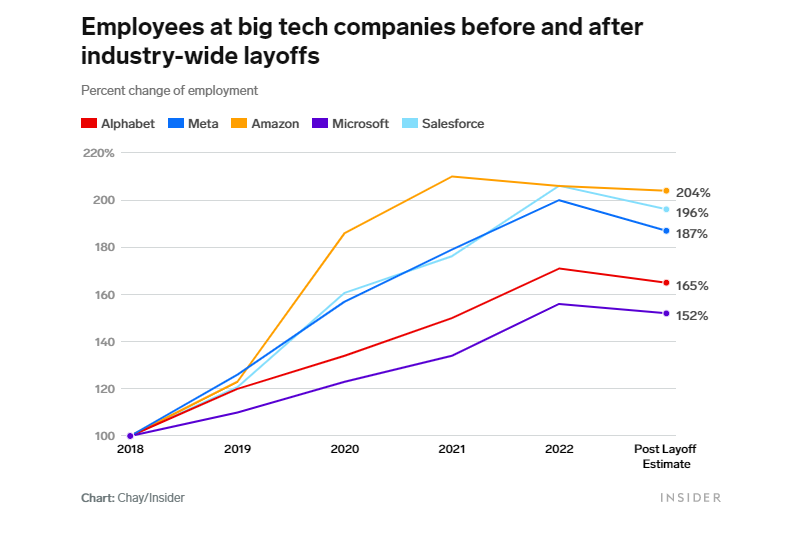 https://www.businessinsider.com/impact-of-big-tech-layoffs-amazon-meta-microsoft-google-salesforce-2023-2#-1
---
6. 10-Year Yield Trades to 200day then Bounces Higher.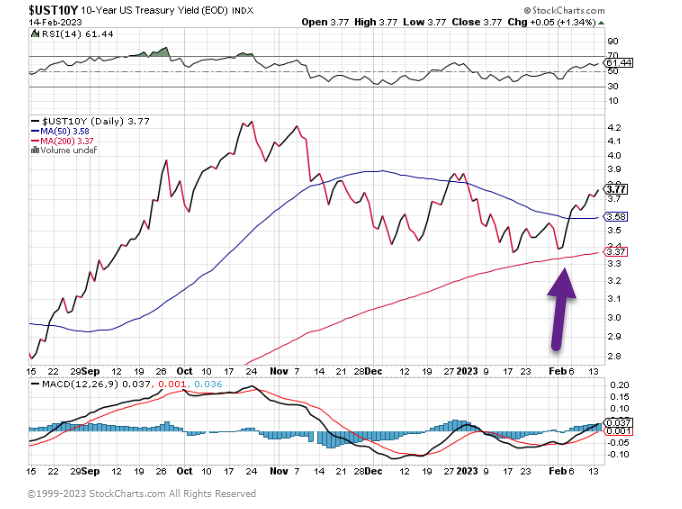 ---
7. Dow Industrials and Transports vs. 2021 Highs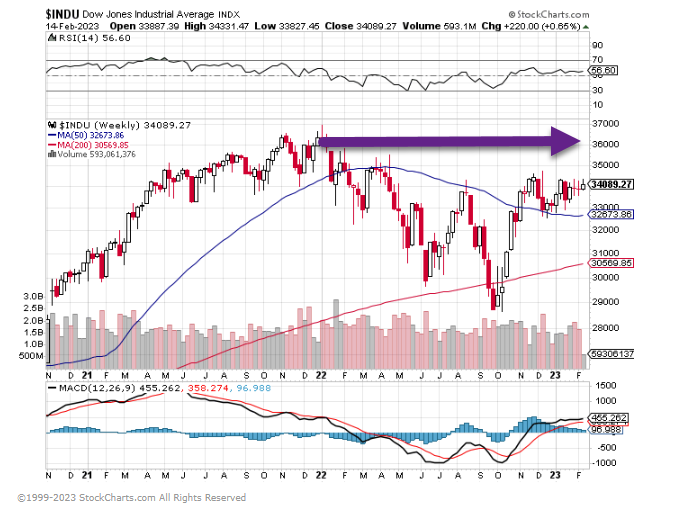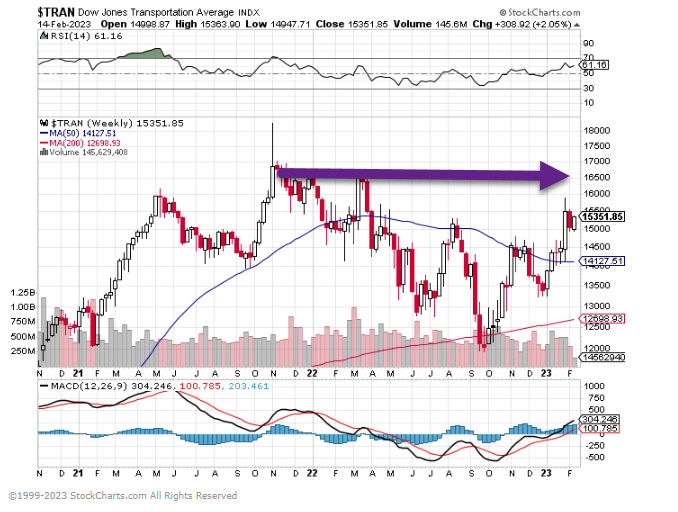 ---
8. America's Priciest Neighborhoods Are Changing as the Ultra-Rich Move to Florida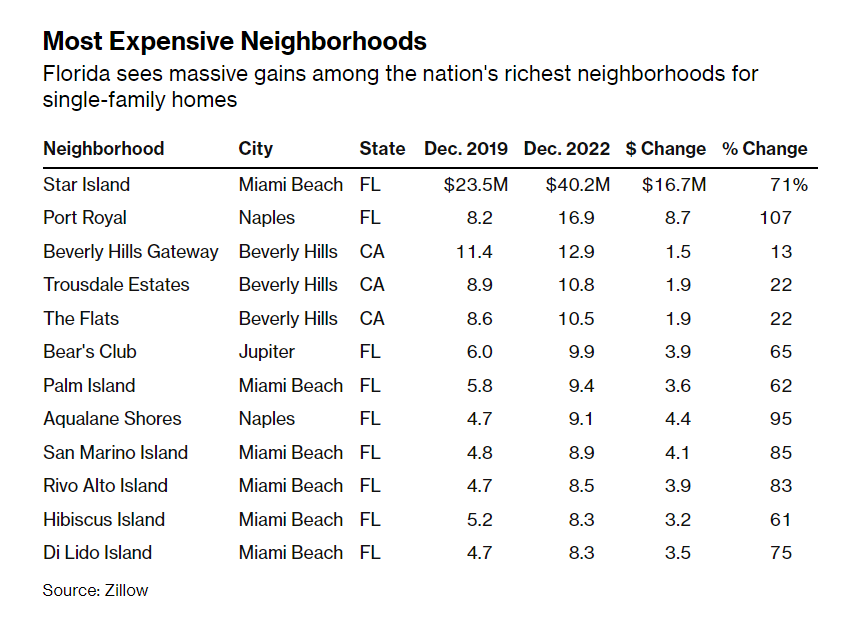 ByAlexandre Tanzi, Felipe Marques, Michael Sasso and Amanda Albright  https://www.bloomberg.com/news/articles/2023-02-14/the-most-expensive-neighborhoods-in-the-us-from-florida-to-new-york?srnd=premium&sref=GGda9y2L
---
9. More than 1 in 6 Americans now 65 or older as U.S. continues graying
Story by Linda Searing More than 1 in 6 Americans now 65 or older as U.S. continues graying© Elizabeth von Oehsen/The Washington Post; iStock
Some 17 percent of people living in the United States, or more than 1 in 6, were 65 or older in 2020, according to a report from the Administration on Aging.
That represents 55.7 million people, an increase of 15.2 million (38 percent) of people 65 and above since 2010, compared with just 2 percent growth in the under-65 population. It also reflects a consistent increase in the nation's older population since 1900, when there were 3.1 million Americans 65 and older (4 percent of the population).
The report projects a climb to roughly 80.8 million residents 65 and older by 2040, more than double the number in 2000. It also predicts a doubling of the number of even older residents by 2040, with the count of those 85 and older expected to grow from 6.7 million in 2020 to 14.4 million by 2040. In 2020, there were nearly 105,000 residents 100 or older.
Much of the aging of the U.S. population stems from the post-World War II baby boom — the period from 1946 to 1964. The report says that nearly half (46 percent) of baby boomers are now 65 and older. Based primarily on data from the Census Bureau, the National Center for Health Statistics and the Bureau of Labor Statistics, the report offers a statistical profile of the country's aging population. For instance, arthritis is the most common chronic condition in the age group, affecting 47 percent of those 65 and older. About a fourth have some type of cancer, and a fifth have diabetes. Also, 9 percent of those 65 and older smoke, 30 percent are obese, 28 percent have cognitive issues, and 95 percent got at least one dose of a coronavirus vaccine. For this age group, 14 percent of expenditures are health-related (compared with 8 percent for all consumers).
The report also includes information on living arrangements, marital status, racial and ethnic composition, geographic distribution, education and more.
This article is part of The Post's "Big Number" series, which takes a brief look at the statistical aspect of health issues. Additional information and relevant research are available through the hyperlinks.
https://www.msn.com/en-us/news/us/more-than-1-in-6-americans-now-65-or-older-as-us-continues-graying/ar-AA17t349
---
10. Jalen Hurts-In Defeat, an Appreciation-WSJ
WSJ By Jason Gay
I'll admit this isn't the ordinary move—an appreciation of the losing quarterback on the morning after the Super Bowl. The usual drill is to rudely step over the losing team, and wrap our love and superlatives around the champions. Within minutes of the confetti drop, the loser is relegated to history. By sunrise, it's like they didn't exist.
But I want to write a bit about Philadelphia's Jalen Hurts, because he didn't play like a loser at all Sunday in Arizona. He played like someone who very much deserved to win—until he and the Eagles didn't.
In the somber postgame, Hurts made a comment that signaled what this 24-year-old leader is all about.
---
---
"You either win or you learn, that's how I feel," Hurts said.
It's a remix of a famous Nelson Mandela quote—I never lose, I win or learn—and I think every coach in America just took out a pen and copied that down. You either win or learn. In how many locker rooms will that bit of healthy wisdom be deployed in over the coming month? I'm going to drop it on my own children after youth soccer losses.
This is the person Hurts is. By now we all know the basics of his story—the acclaimed quarterback from Texas who ascended to the heights of college football as a starter at Alabama, then painfully lost his job in real time in the biggest game of the year.
A season on the bench later, Hurts found his way to the University of Oklahoma, where he ascended to a starring role again. As an NFL prospect, however, Hurts was shortchanged, lacking in those goofy analyst intangibles like "arm talent."
He went to the Eagles in the second round of the 2020 draft. He became the starter by the end of his rookie season. Of course he did. He is beloved in Philly, his underdog persistence a metaphor for a proud city.
Despite his track record, Hurts showed up at this Super Bowl as the game's clear No. 2 star. On the other sideline was Patrick Mahomes, the reigning two-time NFL MVP, a thrill ride package of a quarterback who had already won a ring. Mahomes, too, had been shortchanged by some experts as a draft prospect, but so much greatness has happened since, it's been forgotten.
Every other active quarterback on earth is second billing to Patrick Mahomes. But had I told you Sunday morning that one quarterback would throw for a glittering 304 yards and a touchdown, plus rush for 70 yards and three touchdowns—a spectacular, historic performance—would you have picked Hurts, or Mahomes?
It was Hurts's night, almost the entire night. He made the long throws and the short throws; he dazzled with long runs and short plunges, those outrageous training camp squats and dead lifts proving their worth for every single inch. It was the type of performance that made you want to find every skeptical draft analyst and press their nose into the stat page:
Do you see this? Look at this! No quarterback in 57 Super Bowls has ever played a game like this. 
Even a nightmare fumble in the first half—the Philly quarterback dropped and booted the football straight into the mitts of a Chiefs defender, who scored—didn't unravel Hurts's composure. He remained steady and got Philadelphia settled. As Mahomes winced with a reinjured ankle, Hurts looked like he'd been here before, many times.
Had the Eagles prevailed, the MVP was a lock. Then what happened happened. Mahomes turned back into Mahomes, and the Chiefs surged furiously back to take a late lead. Hurts slipped on a last-second Hail Mary—that Super Bowl turf was an unmitigated disaster—and that was that.
Hurts apologized to his team after the game. It was utterly unnecessary—Philadelphia's failures were almost entirely on the defensive end—but here's his explanation:
"I don't do this to be loved. I don't do this to be hated. I don't do this to seek anyone else's approval. I do it for the guys in the locker room. I do it for all the time that we've invested into this."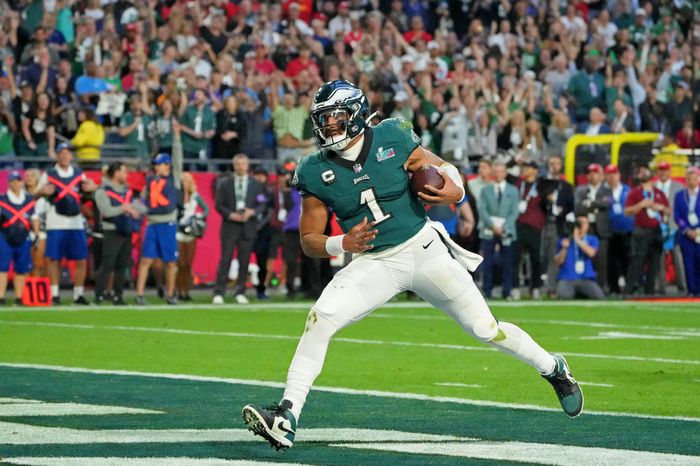 Jalen Hurts rushed for three touchdowns and passed for a touchdown in Super Bowl LVII.PHOTO: KIRBY LEE/USA TODAY SPORTS
The two quarterbacks bumped into each other late in the corridor outside the locker room—a triumphant Mahomes still in his Chiefs uniform; a defeated Hurts already in street clothes for the bus.
Mahomes knew: This scene could easily have been reversed.
"The way he stepped up on this stage, ran and threw the ball and did whatever his team needed to win, that was a special performance," Mahomes said of Hurts. "I don't want it to get lost in the loss."
Hurts didn't win. He will learn.
"The beautiful part about it is everyone experiences different pains, everyone experiences different agonies of life," Hurts said. "You decide if you want to learn from it. You decide if you want that to be a teachable moment. I know I do."
I've nothing more to add. Nothing in football can be promised, but I'm close to certain Jalen Hurts will be back.
https://www.wsj.com/articles/jalen-hurts-eagles-super-bowl-mahomes-5659589f