1. GBTC-Bitcoin Trust New Highs
$7.50 to $47.90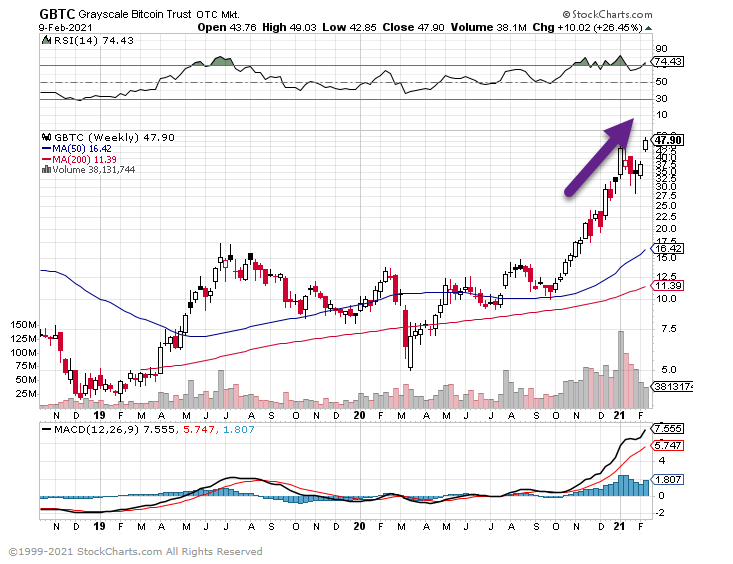 2. Bitcoin Mining Consumes More Electricity in 2021 than All the World's Transportation Systems Combined.
https://cbeci.org If I understand this correctly, bitcoin mining is on track to consume almost as much electricity in 2021 as all the world's transportation systems combined did in 2018 https://iea.org/reports/electricity-information-overview….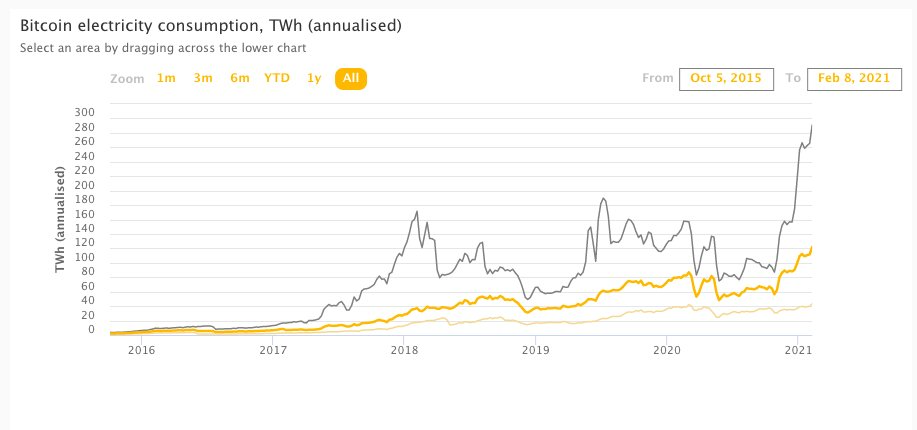 https://twitter.com/jasonzweigwsj/status/1359163712570032138/photo/1
3. Global CAPE Ratio Comparisons.
Updated Global CAPE Ratio Gaps.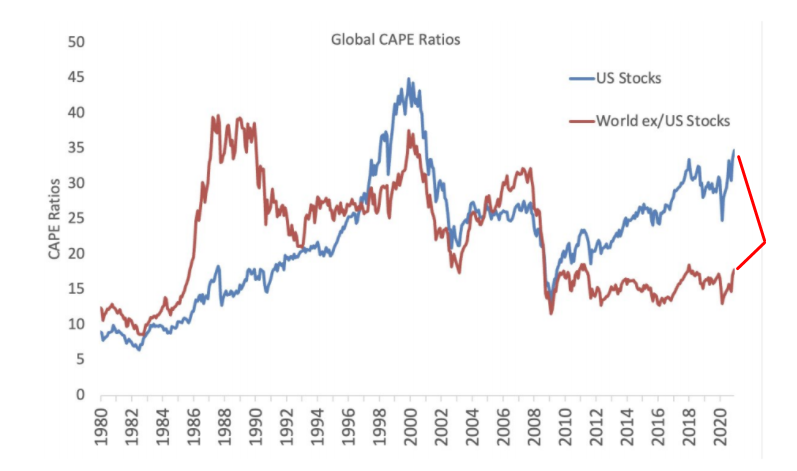 4. Follow Up to Yesterday's Chart on Record Low High Yield Rates…Party City Sells $750 Million Bond as Investors Seek Yield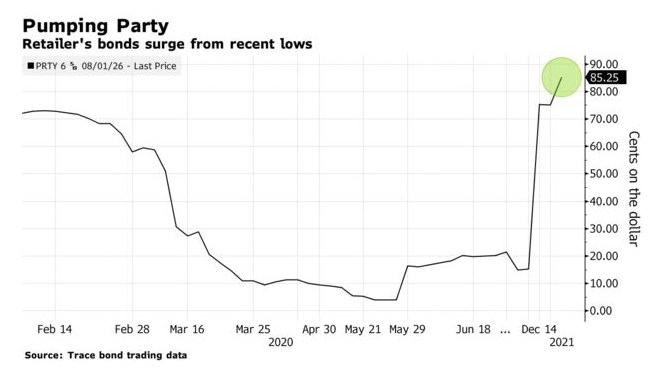 Party City Sells $750 Million Bond as Investors Seek Yield-By Katherine Doherty
Company cut interest rate to 8.75% after strong demand
Retailer has been hit by virus closures and fewer parties
Party City Holdco Inc. sold $750 million of new bonds to repay a loan due next year, becoming the latest company to take advantage of a hot junk bond market after yields hit a new record low.
The party supply retailer boosted the size of the offering by $25 million after receiving strong demand from investors, according to people with knowledge of the matter who asked not to be named discussing a private sale. The company was also able to cut the interest it's paying on the senior secured bonds due 2026 to 8.75%, from initial discussions of a yield in the 9.5% to 10% range.
The new notes jumped to as high as 103 cents on the dollar shortly after being sold at par, according to Trace. JPMorgan Chase & Co. led the deal. A representative for the bank declined to comment.
Party City, which is rated in the CCC tier, sold the debt Tuesday as junk bond yields continue to plunge. Average speculative-grade yields dropped below 4% for the first time ever Monday, and riskier CCC bonds are also paying a record low of 6.21%, according to Bloomberg Barclays index data.The company, one of the world's largest suppliers of party goods, saw its stock and debt prices sink last year after it was forced to temporarily close its stores to stem the spread of Covid-19 and the pandemic kept would-be revelers at home. The shutdowns made matters worse for Party City, which had been facing slumping revenues and a helium shortage in 2019 that hurt balloon sales.
Still, it was able to cut its debt through a bond exchange last year and its notes due 2026 have rebounded from distressed levels to trade around 85.25 cents on the dollar, according to Trace bond trading data. Its loan due 2022 rose nearly a cent to trade around 98.6 cents, according to data compiled by Bloomberg.
Moody's Investors Service rated the new notes Caa1, or seven steps into junk. S&P Global Ratings graded the bonds an equivalent CCC+ and upgraded Party City to CCC+ from CCC "to reflect the improvement in its maturity profile and a highly leveraged capital structure," according to a statement Tuesday.
Elmsford, New York-based Party City has around 830 stores in North America and also sells its wares online.
https://www.bloomberg.com/news/articles/2021-02-09/party-city-plans-new-junk-bond-offering-to-refinance-2022-loan?utm_source=twitter&utm_campaign=socialflow-organic&utm_content=business&cmpid=socialflow-twitter-business&utm_medium=social&sref=GGda9y2L
5. Payment for Order Flow-Who Buys? Who Sells?
WSJ By Alexander Osipovich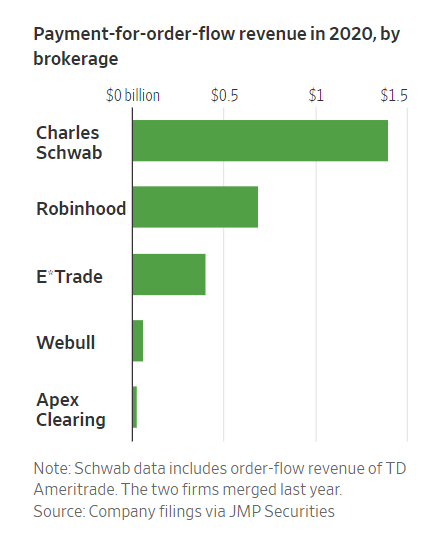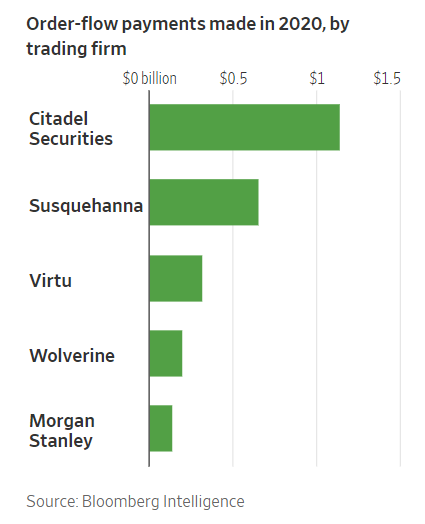 GameStop Mania Drives Scrutiny of Payments to Online Brokers
https://www.wsj.com/articles/gamestop-mania-drives-scrutiny-of-payments-to-online-brokers-11612434601
6. The Argument Against Overvaluation….Earnings
Earnings Growth Set to be the Strongest Since 08 Crisis
Keith Lerner, chief market strategist at Truist Advisory Services, said that concerns of a stock bubble are overdone and not supported by the current batch of fourth-quarter earnings results, which his firm estimates will be the best since the 2008 financial crisis.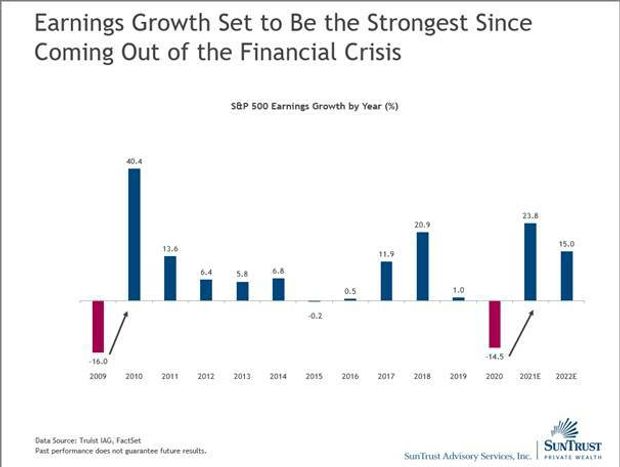 TRUIST ADVISORY SERVICES INC./SUNTRUST ADVISORY SERVICES INC.
Is the stock market due for a correction in 2021? Here's what some experts think
By
https://www.marketwatch.com/story/is-the-stock-market-due-for-a-correction-in-2021-heres-what-some-experts-think-11612916422?mod=home-page
7. Forward P/E Ratios Banks vs. S&P 500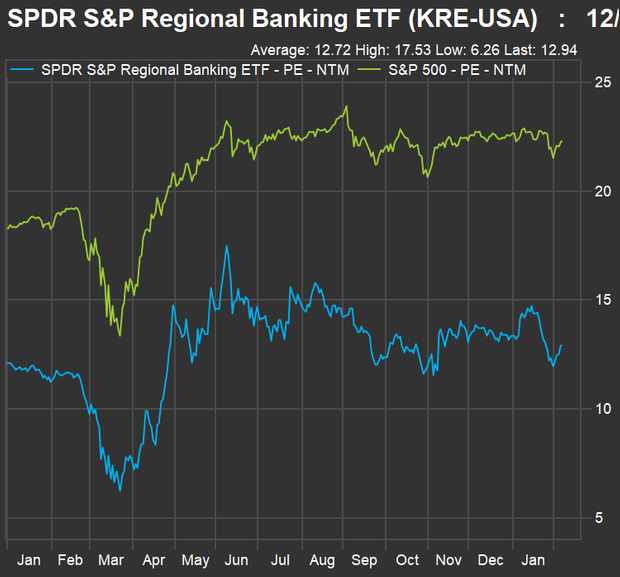 (FACTSET)
https://www.marketwatch.com/story/24-bank-stocks-with-dividends-of-at-least-3-57-three-times-what-10-year-treasurys-pay-11612817887?mod=home-page
8. Jet Fuel's Future…Morning Brew


AVIATIONIt's Like Pleather, but for Engines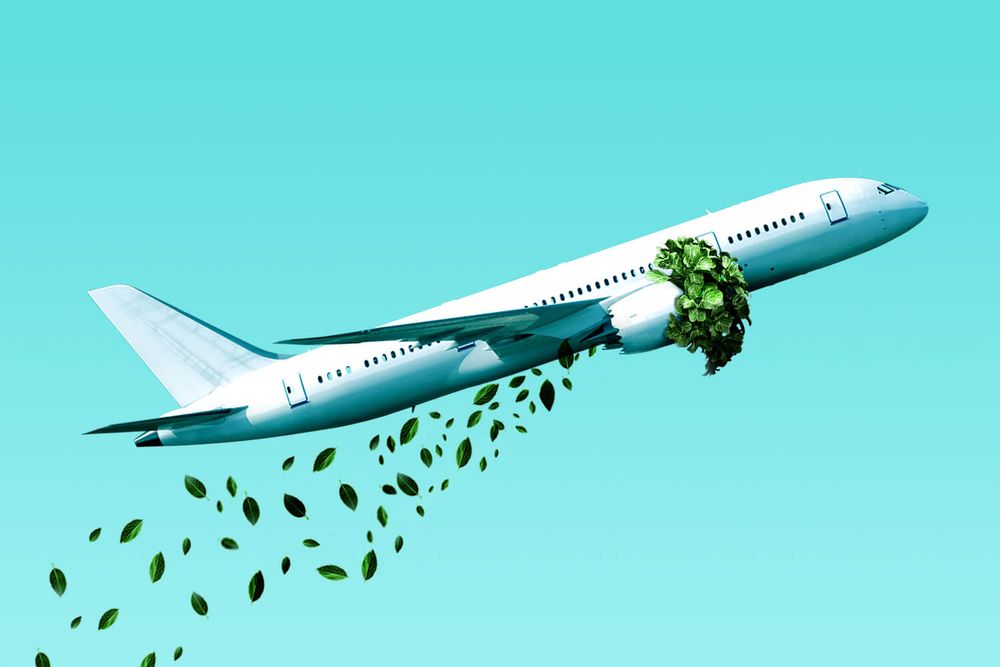 Francis ScialabbaThe Flying Dutchman just got demoted as KLM's signature cocktail. The Amsterdam-based airline said it successfully completed the first passenger flight powered by a synthetic fuel mixture last month. Why it matters: Jet fuel accounts for an estimated 5% of human-induced global warming. With demand for fuel expected to more than double by 2050, aircraft manufacturers and airlines are working on more efficient planes and sustainable fuels.In 2019, EasyJet became the first major carrier to operate net-zero flights by purchasing emissions offsets.United Airlines is investing big in carbon capture. KLM was the first to use plant-derived biofuels for commercial service in 2011—but while biofuels have since become more common, synthetic alternatives are taking longer to develop. Until the aviation industry turns futuristic dreams of electric- and hydrogen-powered planes into a commercial reality, those fuel alternatives are one of the most promising paths to tackle aviation emissions. Bottom line: KLM's sustainably produced kerosene substitute was still mixed with regular fuel, but it's a symbolic step for a gas-guzzling industry looking to ease its climate impact.
9. Food For Thought: Americans' trust in media:
The Daily Shot Blog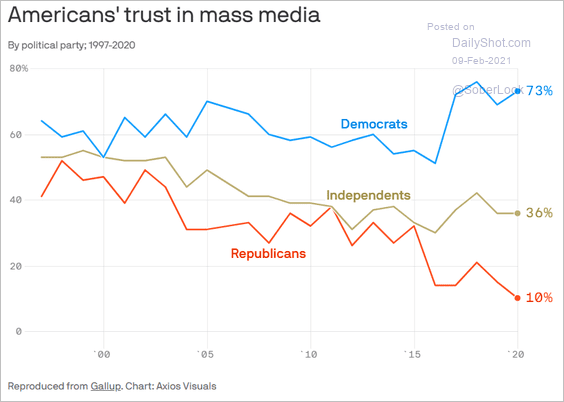 Source: @axios Read full article
---
Edited by Devon Lall Contact the Daily Shot Editor: Editor@DailyShotLetter.com
https://dailyshotbrief.com/the-daily-shot-brief-february-9th-2021/
10. Unplug: Spend The Day On Airplane Mode
"His life will be like that of Jupiter, who, amid the dissolution of the world, when the gods are confounded together and Nature rests for a space from her work, can retire into himself and give himself over to his own thoughts. In some such way as this the sage will act; he will retreat into himself, and live with himself." — Seneca, Letters, 9.16
"It is the part of a wise man to resist pleasures," Epictetus said, "but of a foolish man to be a slave to them."
Have you heard of phantom pocket vibration syndrome? People are so addicted to their phones and so desperate for the dopamine hits from every text message, from every notification of a like or a share or a heart or a retweet, that we actually experience auditory and tactile hallucinations that our phones are ringing.
Or how about nomophobia? It's that feeling when you can't find your phone or you forgot it or it's about to run out of battery or you're without service. It's another psychological condition spawned by smartphone technology in the 21st century from which studies have shown nearly two-thirds of the population suffers. The symptoms include anxiety, stress, panic, respiratory alterations, trembling, perspiration, agitation, disorientation, and tachycardia (an abnormal, increased heart rate).
Now, add 2020 to that cocktail of cognitive torment. Months and months of doomscrolling Twitter when we wake up and before we go to bed. Weeks and weeks of refreshing Johns Hopkins' Covid-19 online dashboard–what the Drudge Report has labeled the "World Sick Map"–for up-to-date case figures, hospitalization numbers, death counts. Days and days this past November of cycling between news sites and cable channels on an endless loop searching for updated vote totals, electoral college projections, recount demands.
All of it is so utterly, overwhelmingly exhausting. A ride that began in a quest for regular dopamine hits, accelerated under the pressure of a fire-hose of cortisol, until it began to spin so fast it felt like we couldn't get off. We couldn't unplug.
Today's challenge requires you to do just that. Use this the first Sunday of 2021 to unplug, to spend the day without your devices. Switch your phone to airplane mode. Give it to your partner to hold for the day. Put it in your dresser. Lock it in the glove box of your car. Wherever. Just put a full 24 hours between you and your phone.
See what life is like untethered. Free of the digital dopamine drip of likes and shares and retweets and hearts and pings and notifications. A drip that is not just a distraction but, with the mayhem of the last year, is also an ambush of cortisol that is frying our brains and distorting our perception of the world. What you will find if you do this is that your life is not going to fall apart because you are out of pocket for an extended period of time. Those urgent calls and texts and emails and news alerts and tweets aren't really so urgent after all.
Though the ancient world was free of smartphones, it was full of distractions and cheap pleasures and all kinds of chatter and activity and temptation. The Stoics wouldn't have prized temperance or moderation as one of their four cardinal virtues if it was easy to abstain from gossip or following the mob or chasing external validation or letting the mind be jerked by every impulse. They wouldn't have worked so hard to gain control over their minds if there weren't external forces constantly trying to steal some of that control. They wouldn't have written so much about the shortness of life if they didn't see people wasting so much precious time. Marcus Aurelius wouldn't have talked about retreating into the soul, Seneca wouldn't have written about his struggles to sit alone with his thoughts, and Epictetus wouldn't have considered those free of compulsion "the gods' equal" if disconnecting and unplugging and being present weren't really, really hard.
It's one of the nice things about being on a plane. Or at least it used to be until the gods of distraction found their way to 35,000 feet. Air travel forced us to disconnect and unplug and be present. It was one of the few places where nothing can get to you. Where you were unreachable. Where you got some uninterrupted time with your own thoughts. Where you could stare out the window for hours, disconnecting from the world and reconnecting with yourself.
That's the kind of experience we want to create today. It's not just about minimizing smartphone usage. It's also about getting reacquainted with yourself and the physical world as it is, not as the digital world would have us believe it to be.
When we interviewed Arianna Huffington, she told us that she has Marcus' inner-retreat quote laminated in her wallet, on her desk, and on her night stand. "It perfectly illustrates the current moment," she elaborated, "the only way to find peace and thrive is to take breaks from the world and make time to regularly renew ourselves by reconnecting with ourselves."
That it comes from one of the Titans of Digital Media is worth emphasizing.
Similarly, when we interviewed computer scientist and author Cal Newport, he explained some of the reasons he advocates for "digital minimalism" and why so many of us have become powerless to the pull of our screens. Mainly, he says, it's the manipulation that is the problem. The other really smart computer scientists specifically engineered these devices and social media platforms to foster compulsive behavior. "The 'like' button wasn't introduced for your benefit," Cal said, "it was instead introduced for the benefits of the early Facebook investors who were getting antsy for their 100x return."
Indeed, there's hardly anything about the smartphone that is there for our benefit:
A study from the University of Chicago published in the Journal of the Association for Consumer Research found that the presence of one's own smartphone may occupy limited-capacity cognitive resources, thereby leaving fewer resources available for other tasks and undercutting cognitive performance.
Another study conducted by behavioral scientists at the University of Arizona found that smartphone dependency predicts greater risk of depression and loneliness.
Surgeons at Cedars-Sinai Medical Center in Los Angeles published a study in The Spine Journal that showed posture-related injuries from smartphone use are increasing. It's an epidemic they call "text neck." When standing upright, the average head places 10 to 12 pounds of force on the cervical spine, but just a 15-degree tilt increases that weight to 27 pounds, and a 60-degree one to 60 pounds. The extra spine stress can lead to earlier wear and tear on your spine, and even require surgery in the worst cases.
If the day is to be spent unplugged, the obvious question is what should you do with that time? With that three to four and a half hours—according to the data—most of us spend on our phones?
The answer from the ancient world might surprise you. You should use that time for leisure, they'd say. But not the lounging around, doing nothing kind of leisure. No, in the ancient world, leisure meant scholé. School. But not the get good grades and get ahead kind of school. No, in the ancient world, it meant learning and study and the pursuit of higher things to enrich one's soul and spirit.
Seneca writing thoughtful letters to friends. Zeno gathering at the Stoa Poikile to discuss ideas in the continual pursuit of living a better life. Marcus attending philosophical lectures and sitting down to reflect in his journal.
To the man, this was leisure, leisure, leisure.
In his essay Leisure, the Basis of Culture, Josef Pieper wrote, "Leisure is a form of that stillness that is necessary preparation for accepting reality; only the person who is still can hear, and whoever is not still, cannot hear…Leisure is the disposition of perceptive understanding, of contemplative beholding, and immersion — in the real."
In How to Live on 24 Hours a Day, Arnold Bennett argues for using leisure time to stretch the mind with some "serious reading" of books that produce "the feeling of strain, of difficulty, of a task which one part of you is anxious to achieve and another part of you is anxious to shirk."
So that is your job today, to follow Marcus Aurelius's advice to carve out "some leisure time…and stop bouncing around." And to follow Seneca's advice to be careful that the things we own don't end up owning us. We have to question anything we can't stop checking or doing or spending time on. As Musonius Rufus said, we have to be wary of anything we do out of "thoughtless habit."
When the ancients, Media Titans, and computer scientists all agree—we'd be foolish not to listen. Spend the day without your device. Enjoy some real leisure. Unplug from the digital world and reconnect with the world of ideas. Consider yourself "the gods' equal."
https://dailystoic.com/day-3-nyny/
Lansing Street Advisors is a registered investment adviser with the State of Pennsylvania..
To the extent that content includes references to securities, those references do not constitute an offer or solicitation to buy, sell or hold such security as information is provided for educational purposes only. Articles should not be considered investment advice and the information contain within should not be relied upon in assessing whether or not to invest in any securities or asset classes mentioned. Articles have been prepared without regard to the individual financial circumstances and objectives of persons who receive it. Securities discussed may not be suitable for all investors. Please keep in mind that a company's past financial performance, including the performance of its share price, does not guarantee future results.
Material compiled by Lansing Street Advisors is based on publicly available data at the time of compilation. Lansing Street Advisors makes no warranties or representation of any kind relating to the accuracy, completeness or timeliness of the data and shall not have liability for any damages of any kind relating to the use such data.
Material for market review represents an assessment of the market environment at a specific point in time and is not intended to be a forecast of future events, or a guarantee of future results.
Indices that may be included herein are unmanaged indices and one cannot directly invest in an index. Index returns do not reflect the impact of any management fees, transaction costs or expenses. The index information included herein is for illustrative purposes only.