1. Macro Hedge Funds "Underinvested"
Dave Lutz at Jones Trading-Twits note on some measures Macro Hedge Funds are significantly underinvested. They're usually "all-in" near Major tops – but right now, they have little interest in Stocks. If this rally keep going, it's only a matter of time until FOMO kicks in.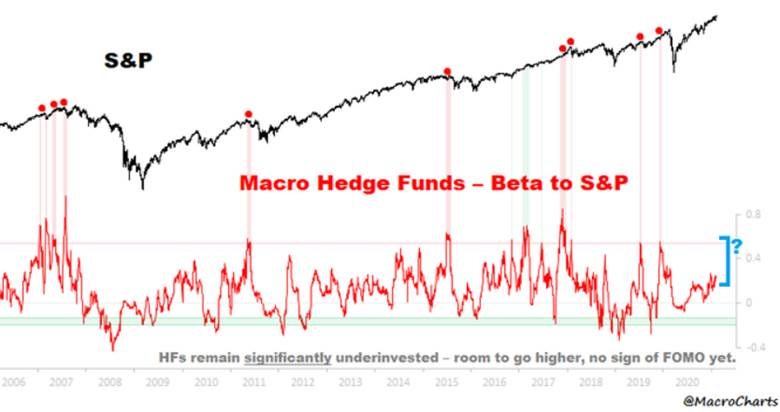 2. Russell 2000 Best Start Since 1991….Biggest Outperformance in 20 Years.
The Russell 2000 small-cap index rose yesterday for a seventh straight day. It's still very early in 2021, but small caps have already surged more than 16% so far. That's the best start to a year since 1991, which happened to be the end of a brief recession. Bloggers note the Russell outperformance is biggest in 20years on some measures
Dave Lutz at Jones Again….2 charts from Macro Jonesy today.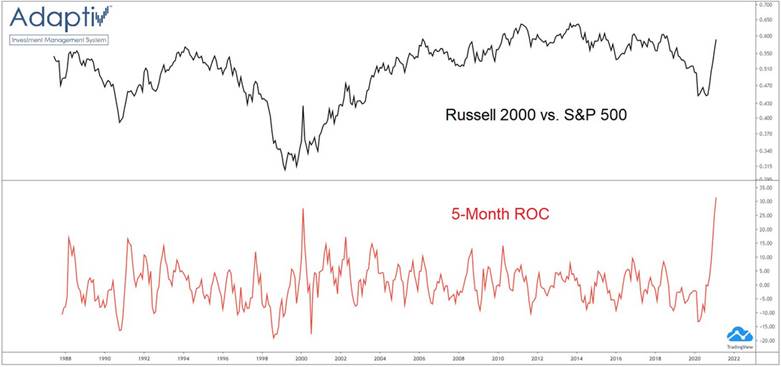 3. Short Interest Update Russell 3000
Bespoke Investment Group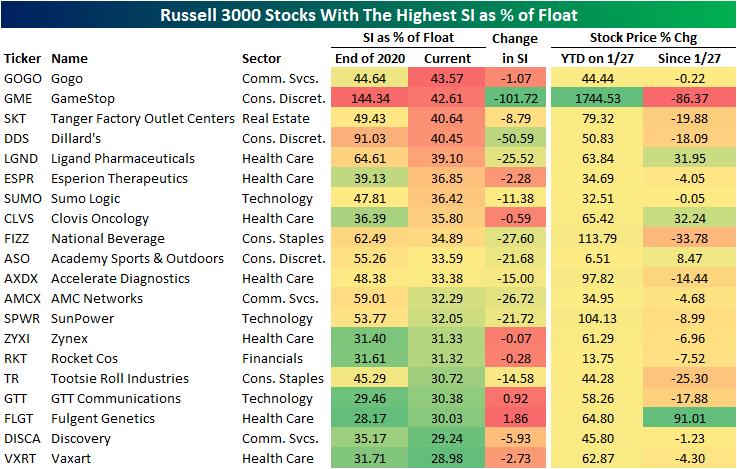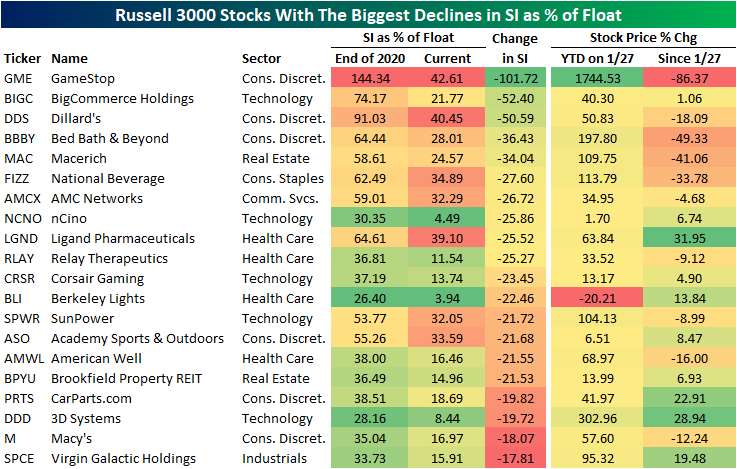 https://www.bespokepremium.com/interactive/posts/think-big-blog/short-interest-update
4. Reddit Boards Lite Up Weed.
Tilray shares soar 39% as Reddit message board sets sights on cannabis sector
Last Updated: Feb. 10, 2021 at 2:22 p.m. ETFirst Published: Feb. 10, 2021 at 12:16 p.m. ET
WallStreetBets subgroup were encouraging each other to make Tilray the next GameStop on Wednesday
Shares of Canadian cannabis company Tilray Inc. soared 39% Wednesday to extend their prior-day gains, as the same investor group that caused the shares of videogame retailer GameStop Inc. to climb to dizzying heights appeared to now have the stock in their crosshairs.
The investor group that exchanges messages on the WallStreetBets subgroup on Reddit were encouraging each other to make Tilray TLRY, +50.91% the next GameStop GME, +1.77% by creating a short squeeze in the stock, as well as to buy Aphria Inc. APHA, +10.74% APHA, +10.90%, with which it is merging.
Korey Bauer, chief investment officer and portfolio manager of the Cannabis Growth Fund from Foothill Capital Management, said Tilray has one of the highest levels of short interest as a percentage of float among cannabis stocks, making it a natural target for the Reddit group.
https://www.marketwatch.com/story/tilray-shares-soar-29-as-reddit-message-board-sets-sights-on-cannabis-sector-11612977363?mod=home-page
Tilray Chart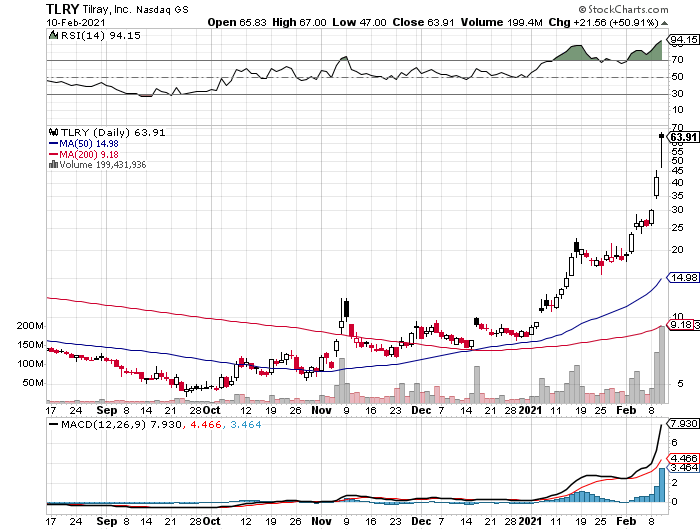 ©1999-2021 StockCharts.com All Rights Reserved
5. Who Owns Bitcoin?
Approximately, 18.625 million bitcoins have been created, or digitally mined in the parlance of cryptocurrency enthusiasts, according to CoinMarketCap.com, but a good chunk of that has been lost, wrote the folks at Copper.
By their estimates, 56% of bitcoins are owned by investors, 18% are lost, 15% are held by so-called traders and the remainder has yet to be mined (see attached chart):

VIA COPPER.CO
Who owns bitcoin? Roughly 80% are held by long-term investors: report
https://www.marketwatch.com/story/who-owns-bitcoin-roughly-80-are-held-by-long-term-investors-report-11612998740?mod=home-page
6. A Look at Oil for Last 20+ Years
Zerohedge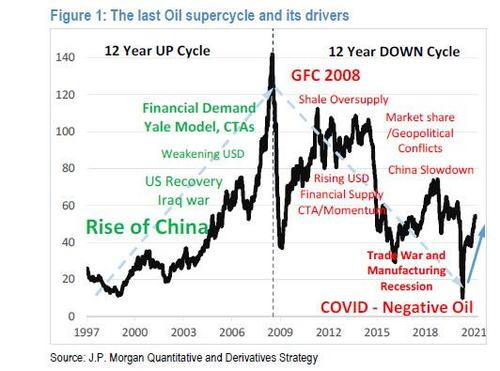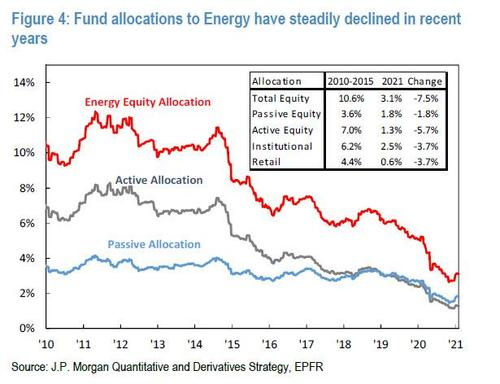 Kolanovic: A New Commodity Supercycle Has Begun-BY TYLER DURDEN
https://www.zerohedge.com/markets/kolanovic-new-commodity-supercycle-has-begun
7. VIX Index Still Holding Above $20 Thru Rally.
VIX Volatility Index refuses to break lower to $10-15 Range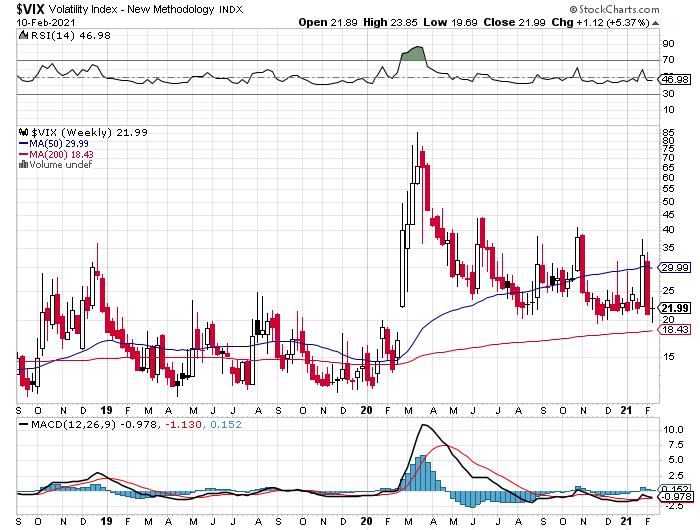 ©1999-2021 StockCharts.com All Rights Reserved
8. Oil Volatility Drops From $200 to $33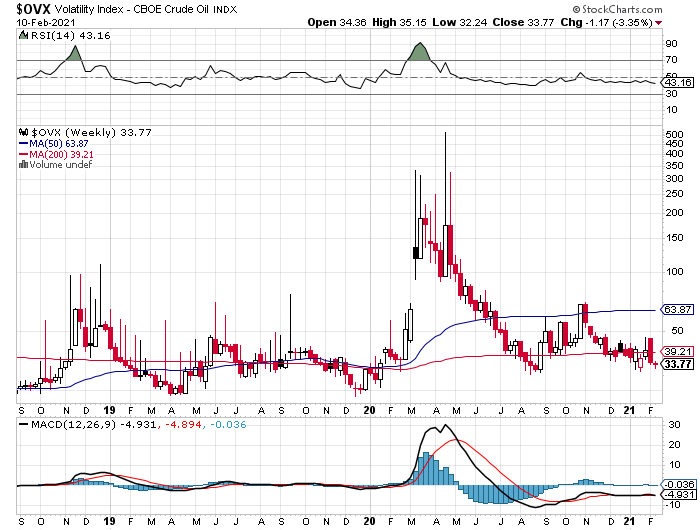 ©1999-2021 StockCharts.com All Rights Reserved
9. Cable News Viewership
Scott Galloway-No Mercy No Malice
CNN has two main sources of revenue: cable subscriptions and advertising. Both depend on viewership, and both are in structural decline.
Twitter/CNN, Scott Gallowa, @profgalloway
https://www.profgalloway.com/twitter-cnn
Found at Barry Ritholtz Blog https://ritholtz.com/2021/02/10-thursday-am-reads-325/
10.Bill Gates Says He Attributes His Success to These 3 Things
On a return visit to his high school, the Microsoft founder opened up about what worked in his career, and what didn't.
By Alexandra Hayes, Senior Content Development Editor at Thrive Global
Bill Gates and Paul Allen, the future co-founders of Microsoft, first met, became friends, and began their collaboration as students at Lakeside School in Seattle. Fortune reports that Gates recently returned to Lakeside to speak to an audience of high schoolers about the mindsets that have driven his achievements. Among the advice he shared with them was to "prioritize sleep" — he said that Why We Sleep, a book written by neuroscientist Matthew Walker, has been particularly influential for him lately.
Here are three additional skill-sets that Gates says are essential to building success.
Exercising curiosity
The benefits of curiosity are well-supported by research, and Gates said his own sense of wonder has propelled him far. Gates is an avid reader, carrying a bag's worth of books whenever he travels. When Gates wants to learn about something, "he'll read five books about it, most of which are too dense for any mortal to read. He almost always knows more than the other person he talks to," one friend said in the recent Netflix documentary Inside Bill's Brain. Gates told the audience of high schoolers at his alma mater that there's never been a better time to be an inquisitive person. "For the curious learner, these are the best of times, because your ability to constantly refresh your knowledge with either podcasts or [online] lectures is better than ever," he said.
Embodying optimism
Gates said that the success of Microsoft, and later the Gates Foundation, was driven by a "very optimistic attitude." Savoring past successes, and then remembering them during times of failure, is a way to drive future wins, he explained. "Inside Microsoft were all sorts of failures, like we didn't ship Windows for two years after we announced it, but there were enough successes that it was really OK," he said.
Learning to delegate
When Microsoft began to scale, Gates recalled struggling to let go of the reigns. He particularly didn't want to give up the hands-on-work of coding. "Initially, I wrote most of the code, and if I didn't, I read your code and edited it," he said. Adjusting to the fact that he couldn't — and shouldn't — review all of it before it was delivered was "strange, like the quality was going to go down," he said. But the company wound up excelling even without his meticulous oversight, and Gates found that he was able to divert his attention to other areas.
Gates also said that effective delegation stems from recognizing your personal strengths and weaknesses. In his case, these skills were programming and people management, respectively. Recognizing that dealing with people would be part of the job, he delegated the task. "Bringing in Steve Ballmer, who really liked management and people, that was a huge benefit. I hired lots of very experienced people," he said.
Follow us here and subscribe here for all the latest news on how you can keep Thriving.
Stay up to date or catch-up on all our podcasts with Arianna Huffington here.
— Published on October 31, 2019
https://thriveglobal.com/stories/bill-gates-high-school-advice-success/
Lansing Street Advisors is a registered investment adviser with the State of Pennsylvania..
To the extent that content includes references to securities, those references do not constitute an offer or solicitation to buy, sell or hold such security as information is provided for educational purposes only. Articles should not be considered investment advice and the information contain within should not be relied upon in assessing whether or not to invest in any securities or asset classes mentioned. Articles have been prepared without regard to the individual financial circumstances and objectives of persons who receive it. Securities discussed may not be suitable for all investors. Please keep in mind that a company's past financial performance, including the performance of its share price, does not guarantee future results.
Material compiled by Lansing Street Advisors is based on publicly available data at the time of compilation. Lansing Street Advisors makes no warranties or representation of any kind relating to the accuracy, completeness or timeliness of the data and shall not have liability for any damages of any kind relating to the use such data.
Material for market review represents an assessment of the market environment at a specific point in time and is not intended to be a forecast of future events, or a guarantee of future results.
Indices that may be included herein are unmanaged indices and one cannot directly invest in an index. Index returns do not reflect the impact of any management fees, transaction costs or expenses. The index information included herein is for illustrative purposes only.