1. Retail Flows Out of U.S. into Europe
From Dave Lutz at Jones Trading FT says US investors appear to be losing faith in their own stock market and pumping money into overseas bourses.  Investors withdrew a net $10bn from US-listed exchange traded funds focused on US stocks during January, according to data from the Investment Company Institute, a trade body. This was the second-largest monthly outflow from domestic equity funds since January 2019 and the eighth largest in the past decade.  At the same time, US investors poured a net $17.8bn into overseas equity ETFs, the largest monthly flow for a year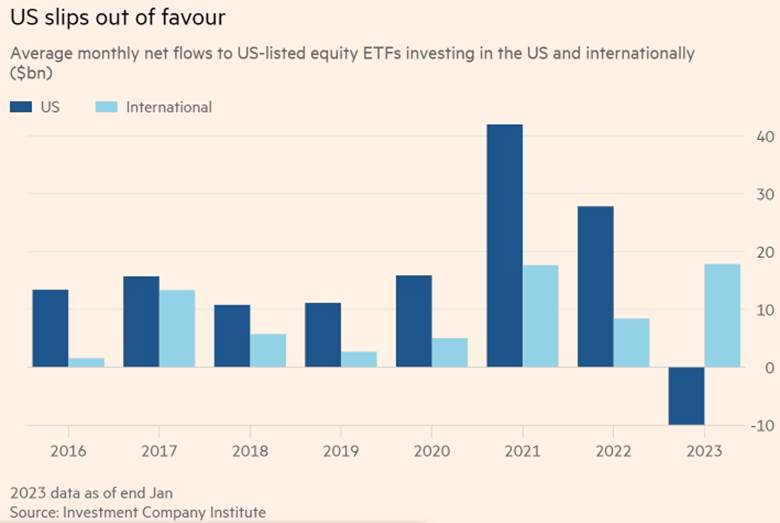 ---
2. 30 Year U.S. Treasury Downtrend Line Going Back to 1983
30-year treasury yield ran up to red downtrend line dating back 30 years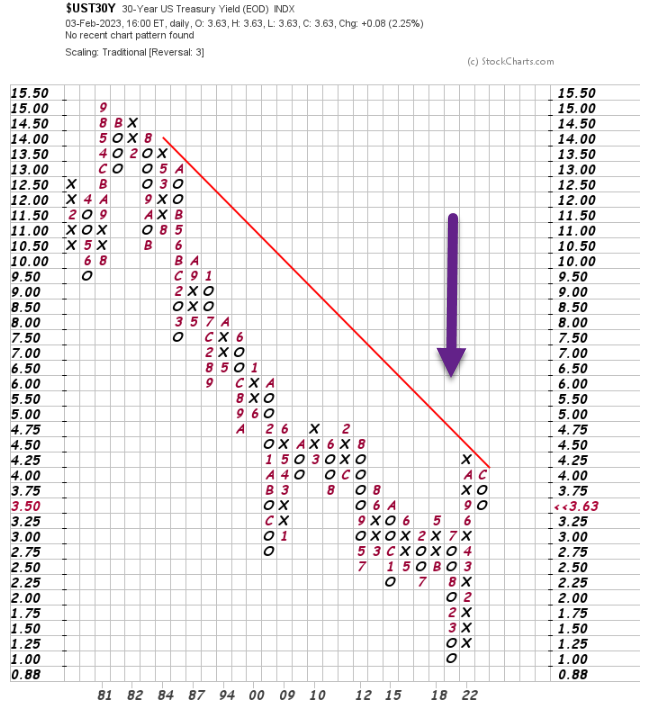 ---
3. Speculation Back..ARKK +42% from Lows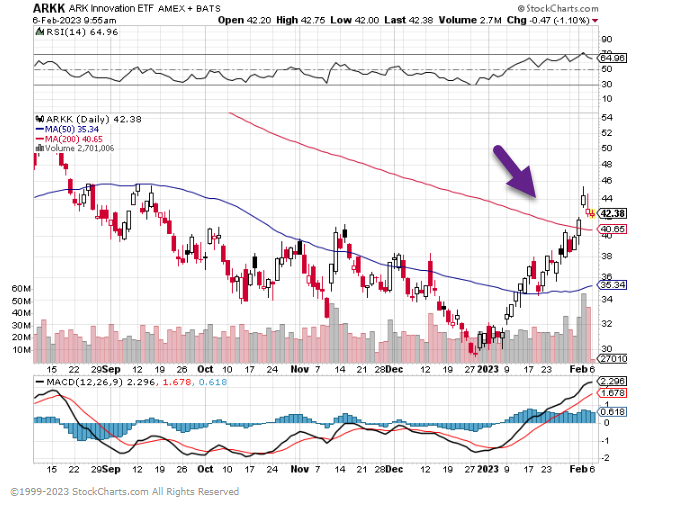 ---
4. TSLA +52% from lows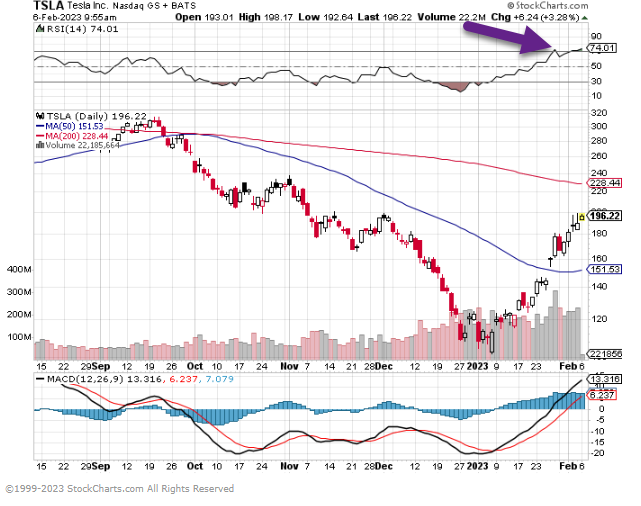 ---
5. RPG S&P 500 Pure Growth Now Majority Energy and Healthcare ….+2.3% YTD
Top Sectors
Top Holdings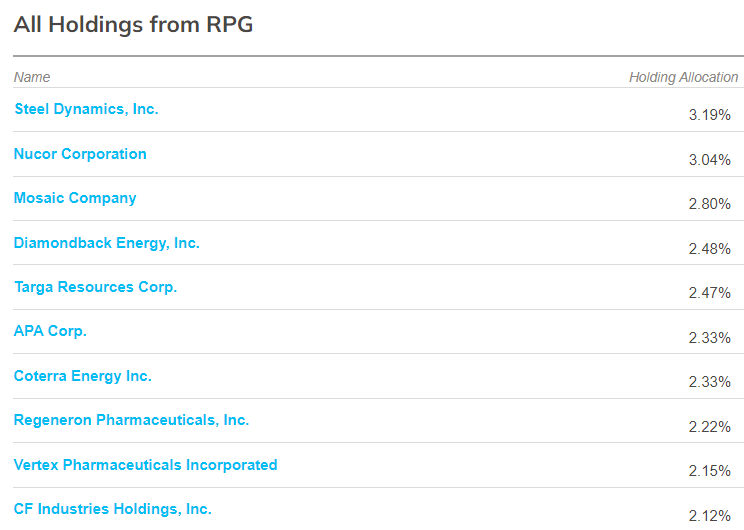 https://www.etf.com/RPG#overview
---
6. Turkey ETF Double Off Low from Fall 2022..Holding Up Post Tragic Earthquake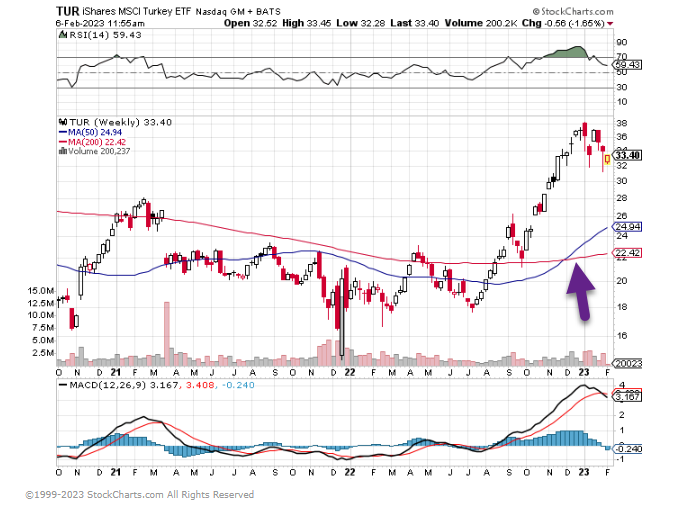 ---
7. Credit Card Interest Rates Now 19%…Yet to be Determined Effect on Consumer Spending.
But the recession will not commence until the US consumer really pulls back, and one major driver of that will be interest rates. Credit Credit debt has been rising fast of late, and the cost of that debt is has now spiked to over 19%. This is the highest rate on record with data going back to 1995. How long will it take before this starts to impact spending? That will be one of the key questions for the economy this year.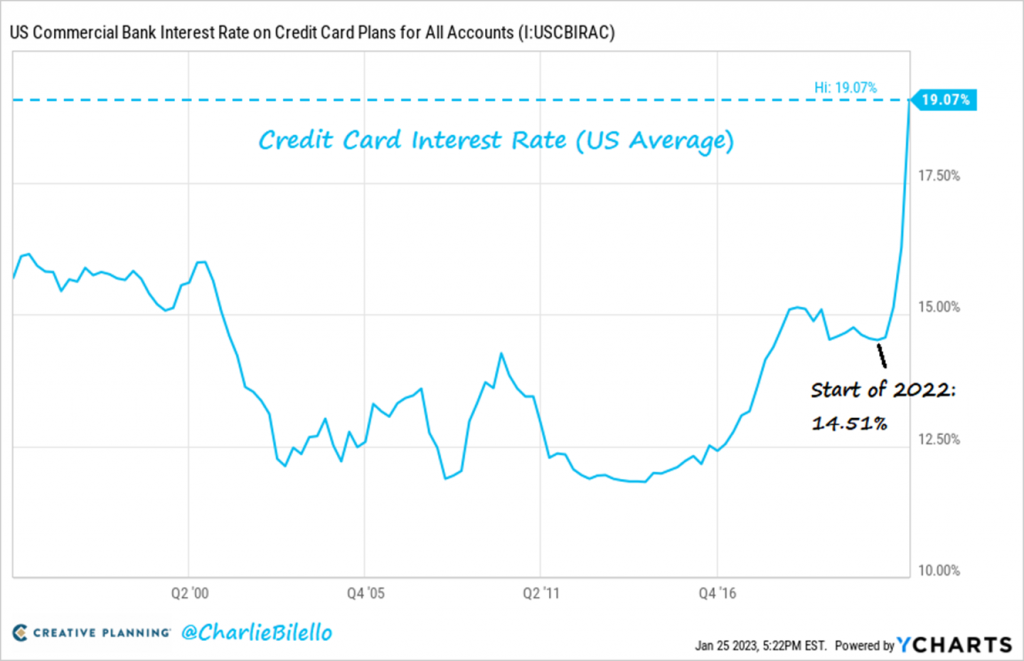 The Week in Charts (2/3/23) – Charlie Bilello's Blog
---
8. 40% of Internet Users Log Onto Facebook Every Day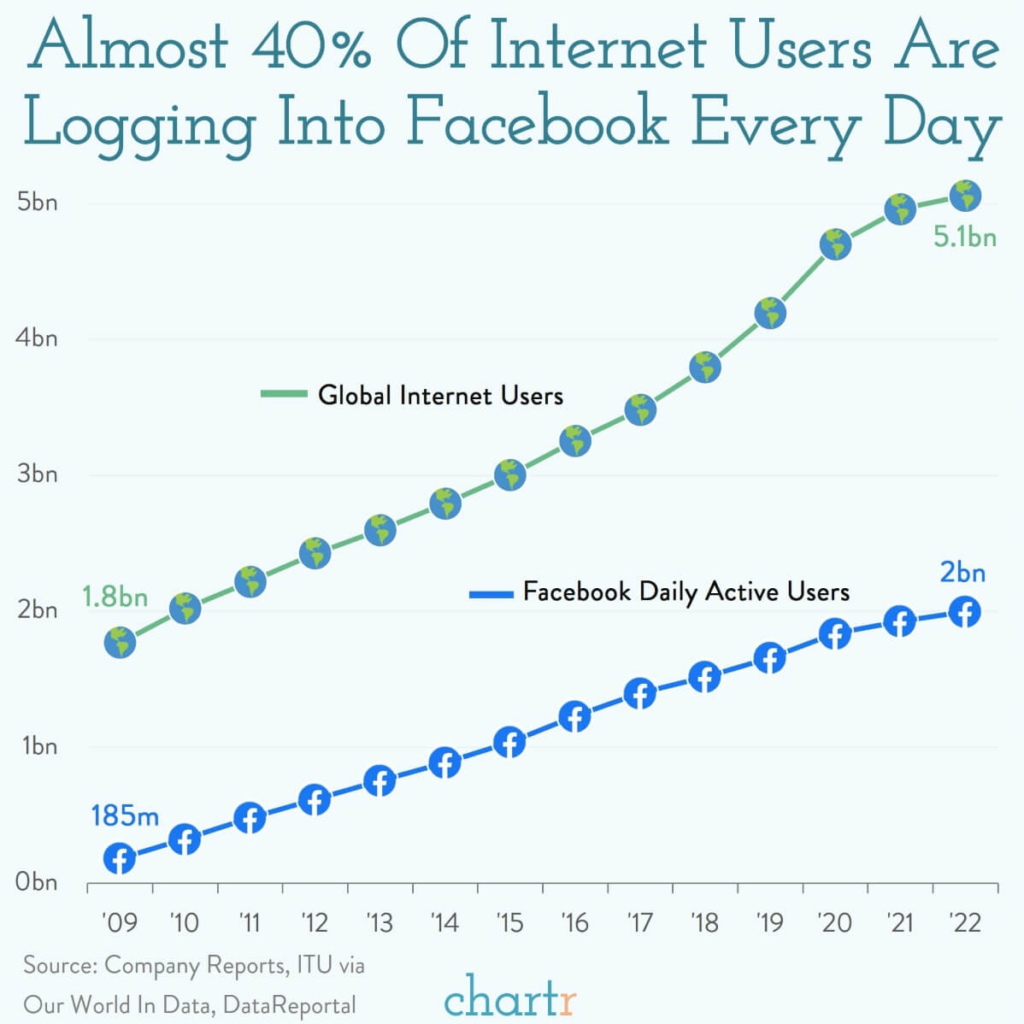 Maximum efficiency–Meta's share price soared nearly 20% on Friday, after an earnings report in which CEO Mark Zuckerberg heralded 2023 as the "year of efficiency" for the company that turned 19 on Saturday. 
Admittedly, when Zuck founded the company it looked a lot different. Meta, or Facebook, or The Facebook, started life as a simple online student directory, rather than the tech behemoth that is currently preoccupied with building a — very expensive — virtual world for work and play.
Not dead yetEven though the founder's focus has obviously shifted in the intervening years, the social heart of the tech giant is still beating strongly as Facebook prepares to enter its third decade.
Indeed, the number of active Facebookers hasn't really stopped growing. At the end of 2022, Meta revealed that a staggering 2 billion people log in every single day to like, post and poke on Facebook. That means that nearly 40% of all global internet users are on Facebook daily. The figures become even more mind-boggling when you take into account Meta's full "family of apps" (WhatsApp, Messenger and Instagram), which reported 2.96 billion daily active users, meaning not far off 60% of all internet users log into a Meta product everyday.
---
9. Bachelor Programs Gains and Losses
Gray Associates Elaine Rowles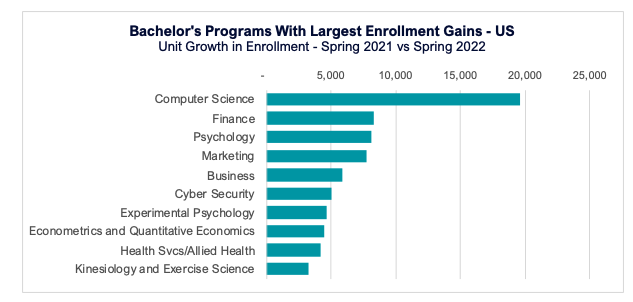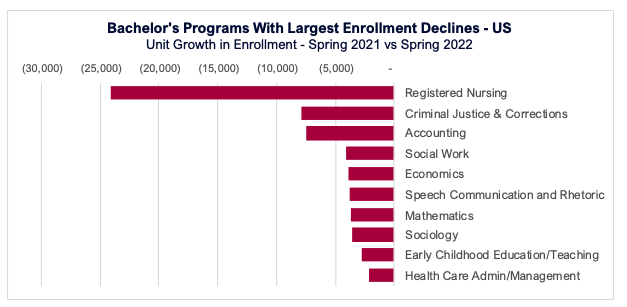 https://www.grayassociates.com/graydata-espresso/bachelors-programs-whats-hot-and-whats-not/
---
10. You Don't Control What the Fates Decide for You
The Daily Stoic Blog Things go wrong. We get screwed over. We make mistakes. It happens. The idea that it shouldn't affect a Stoic? Preposterous. No amount of training, Seneca writes, takes away natural feelings. So it's OK that you don't like what happened. What matters is what happens next.
Take NFL coach Steve Wilks, for instance, who was recently passed over for a head coaching job he more than deserved. He took over as the interim coach for the ailing Carolina Panthers when they were 1-4 and led the team to a 7-10 finish. He won the overwhelming support of the locker room, and impressed the league.
And yet there he was…passed over for the job for a white head coach who had been fired just months before after leading the Colts to a 3-5-1 record. Was there a racial component to this? Maybe (Wilks has experienced that before). But whether it is or isn't doesn't change the fact that it's still a thing that sucks–no one wants to lose out on a job. And if it is in fact another example of the race problem in the NFL, it only makes it more frustrating and painful.
This is why Wilks' comments after he didn't get the job are so perfect. "The sun rose this morning and by the grace of God so did I," he explained. "I'm disappointed but not defeated. Many people aren't built for this but I know what it means to persevere and see it through." Disappointed but not defeated. The Stoics knew disappointment well…but they rarely despaired. They would have liked Wilks' attitude, as well as the distinction that Hemingway made in The Old Man and The Sea, "Man is not made for defeat. A man can be destroyed but not defeated."
​You don't control what the fates decide for you. You don't choose to be passed over for a job. Nobody wants to come face to face with an error or an unpleasant reality. But you do control whether you give up, whether you let it break your heart, whether you are defeated.