1. Total Asset Class Returns 2000-2009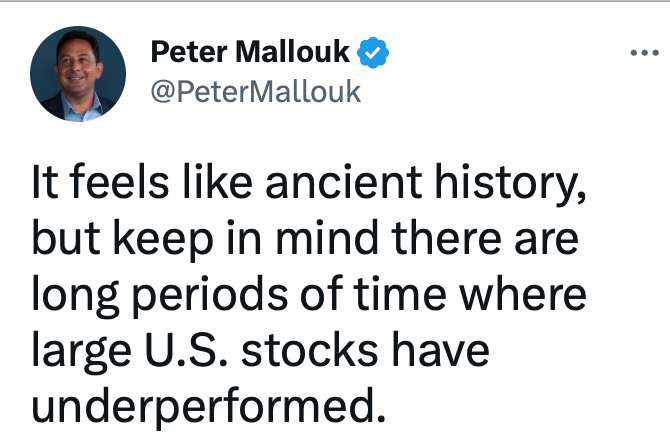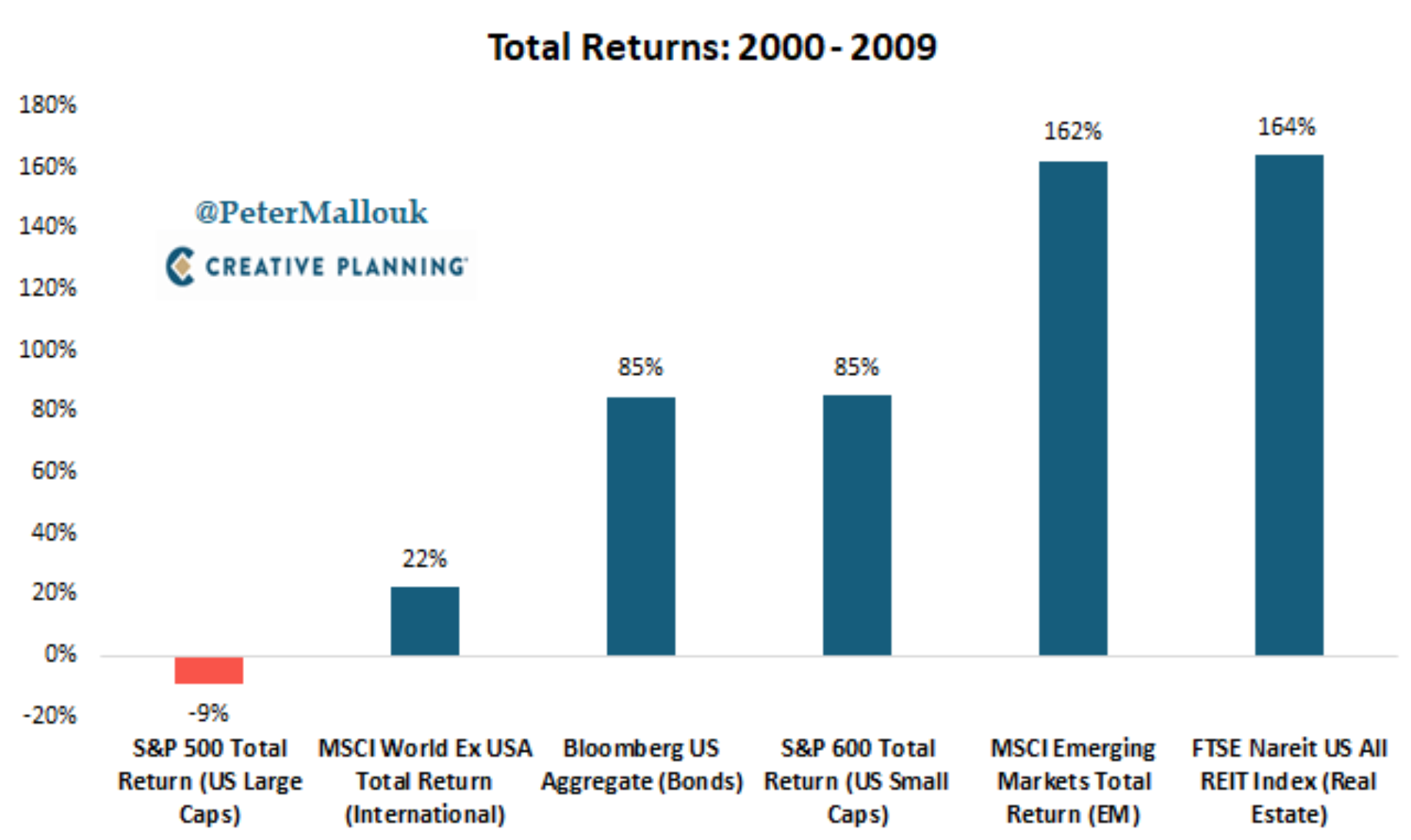 https://twitter.com/PeterMallouk
---
2. Unemployment and Recessions.
Liz Ann Sonders Schwab Regardless of your outlook, saying the economy is 'nowhere near a recession because the unemployment is so low' goes against history of unemployment rate always near (or at) its lowest right before recession starts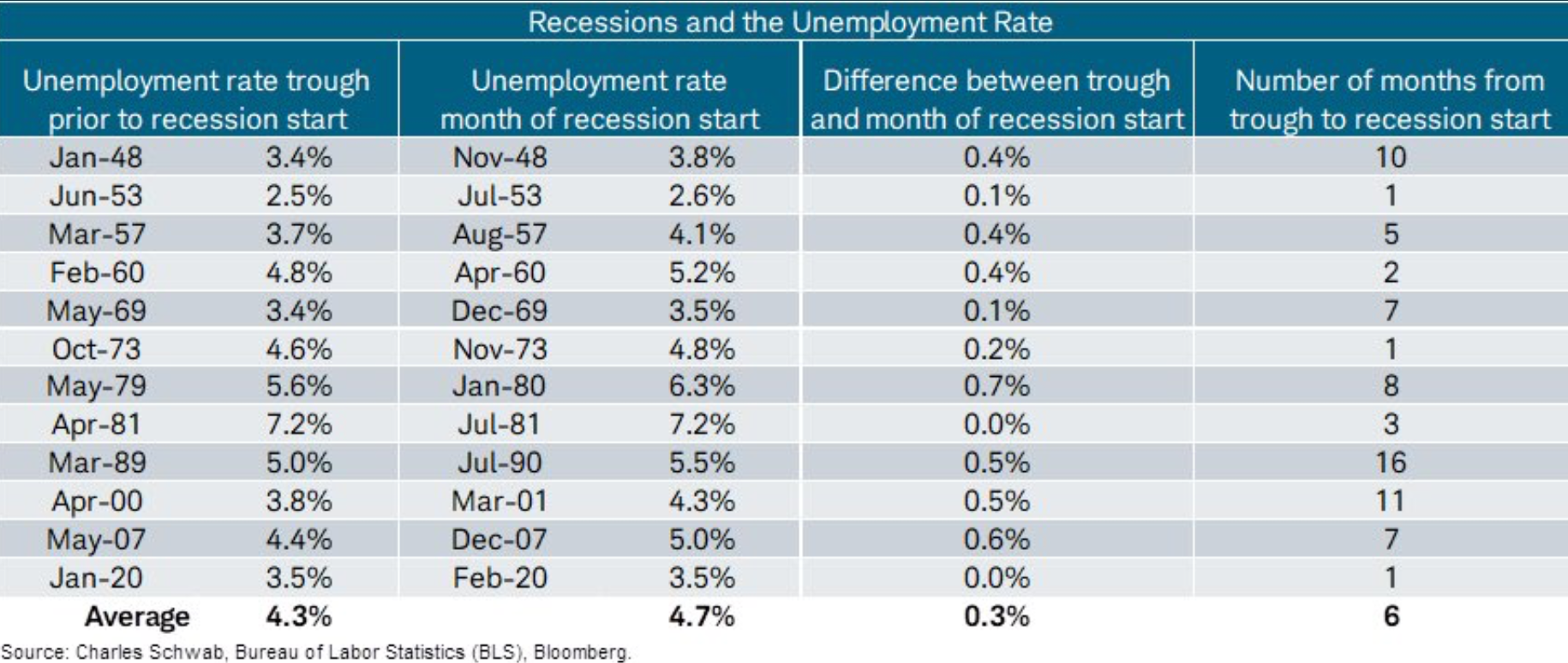 https://twitter.com/LizAnnSonders
---
3. European Financials About to Break Above Levels Going Back to 2018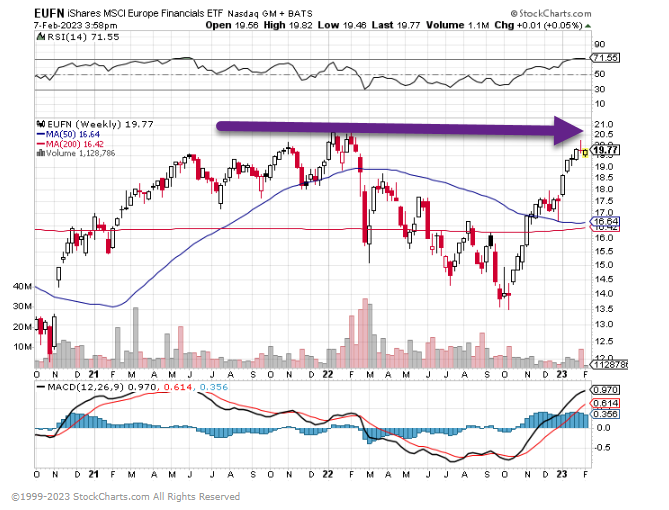 ---
4. Euro and Yen Updates.
Foreign Currencies Hit Record Cheap Levels 2022….Now…Euro 50day thru 200day to upside 2023.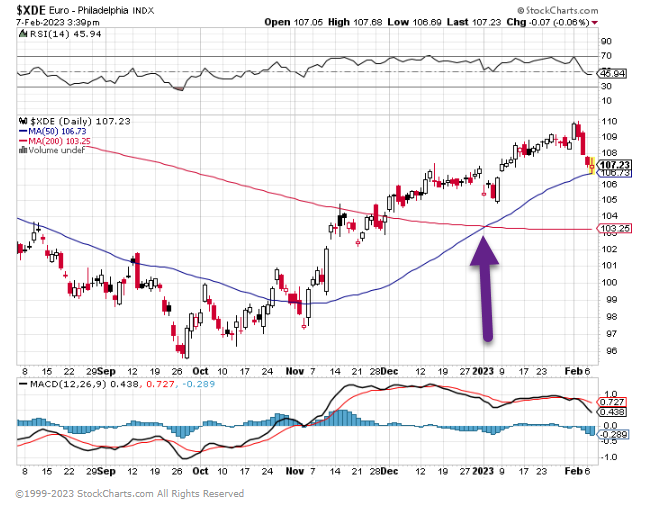 Yen 50 day thru 200 day to upside 2023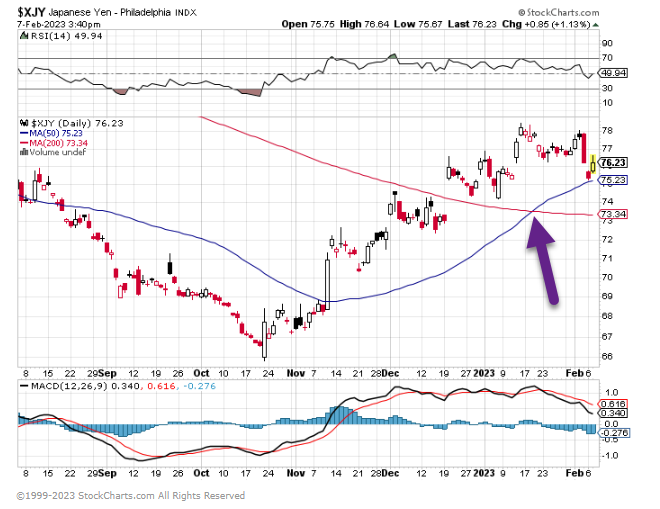 ---
5. Japan's Wages Jump by Biggest Margin in Almost 26 Years
Strength of wage growth a key factor for Bank of Japan policy
Household spending fell in December as inflation weighs
Erica Yokoyama and Toru Fujioka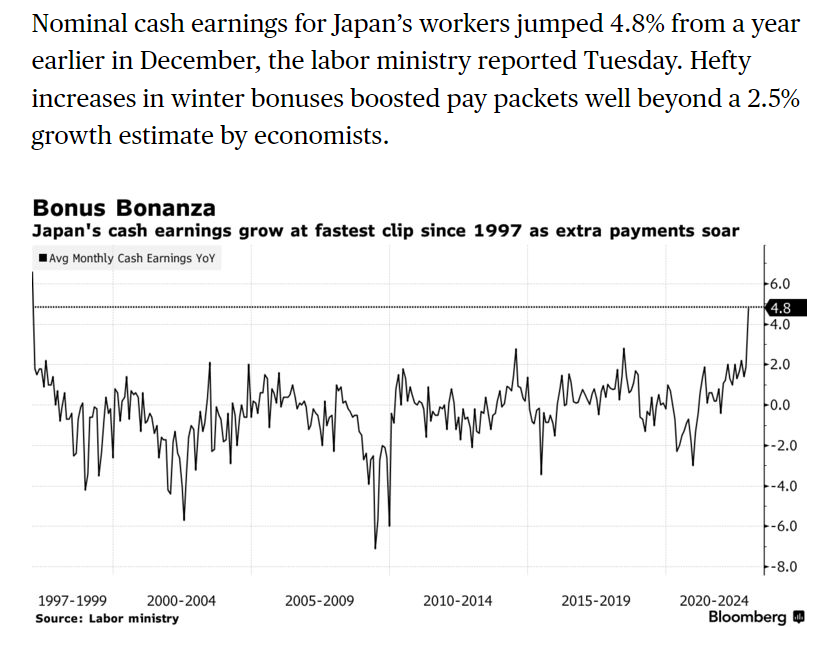 https://www.bloomberg.com/news/articles/2023-02-06/japan-s-nominal-wages-jump-by-biggest-margin-in-nearly-26-years?sref=GGda9y2L
---
6. UBER +70% From Low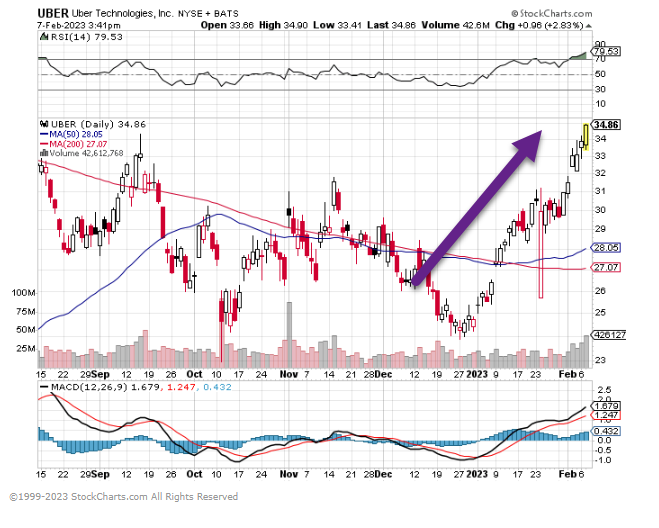 ---
7. Amazon Ran Right Up to 200day and Reversed Back Down …Finished Down Yesterday vs. Naz +1.9%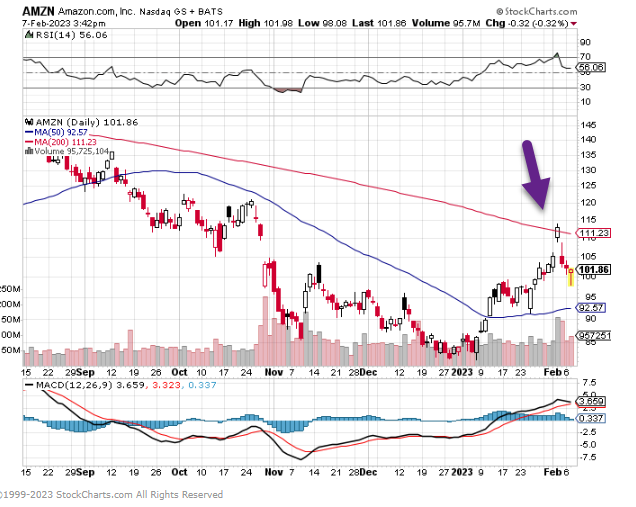 ---
8. Small Cap Value Up Against New High Going Back to January 2021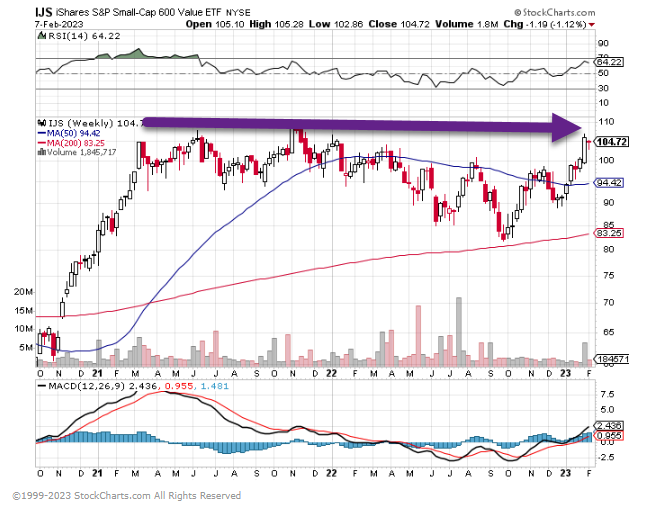 ---
9. Electric car batteries get a second life storing solar power
Axios Alex Fitzpatrick
B2U Storage Solutions' Sierra facility in Lancaster, Calif. Photo courtesy of B2U Storage Solutions
A California energy startup has turned more than a thousand electric vehicle (EV) batteries into solar power storage capsules, in an intriguing effort to prove out an alternative to traditional recycling.
Why it matters: Electric cars are cleaner than their gas-guzzling counterparts, but their batteries extract a significant ecological toll in the form of mining and manufacturing.
Repurposing old EV batteries can maximize their lifetime use, thus squeezing more benefit out of each battery made.

Energy storage

, meanwhile, can help alleviate solar energy's intermittency problem — meaning, batteries can store solar power to be used when the sun isn't shining.
Driving the news: B2U Storage Solutions' Sierra facility has reached 25MWh of solar storage capacity using second-life EV batteries from Honda and Nissan, the company announced Tuesday.
During the day, the Lancaster, Calif. facility's batteries are charged up by nearby solar panels. The company then sells power back to the grid at night, when the rates for solar power are higher.
The facility generated more than $1 million in revenue last year, the company says.
The intrigue: B2U's big breakthrough is a proprietary plug-and-play technology that uses battery packs' existing management systems.
That, says co-founder and president Freeman Hall, "virtually eliminates the repurposing costs" and makes the company's tech "a very pragmatic operation as we go forward."
What they're saying: Repurposed EV batteries work well for solar storage, in part because the job is much less stressful compared to powering a car, says Hall.
"The current we're applying isn't even a tenth of what they're rated for, and we don't push them all the way to the top end or the bottom end in terms of their rated voltage levels."
That should translate into a long second lifespan.
Reality check: 25MWh isn't huge — the world's biggest solar storage facilities advertise hundreds of MWh.
Yes, but: The point of B2U's Sierra facility is simply to demonstrate that second-life EV batteries can be used as solar storage at worthwhile scale.
"As we have that track record laid out over time, get that cycle history, get that dataset, demonstrate effectiveness, then we're in a better position to scale as the number of batteries going forward expands," Hall says.
Meanwhile: Battery recycling firms, such as Redwood Materials and Lithion, are also gaining steam.
What we're watching: Whether other use cases crop up.
Car manufacturers may explore similar technology to help decarbonize their production lines, while airports and airlines are also interested in small-scale onsite energy storage, as Axios' Joann Muller has reported.
What's next: As early EV owners upgrade to newer models, the available supply of used batteries is expected to skyrocket — and many could be turned into alternative energy storage solutions.
Go deeper: Energy storage is starting to rival new transmission
https://www.axios.com/2023/02/07/electric-car-batteries-solar-power-storage
---
10. I treat people with gambling disorder – and I'm starting to see more and more young men who are betting on sports
We believe in the free flow of information
As a therapist who treats people with gambling problems, I've noticed a shift over the past few years – not only in the profile of the typical clients I treat, but also in the way their gambling problems develop.
In 2018, the U.S. Supreme Court made the landmark decision to allow states to legalize sports wagering. Tennessee, where I am studying clinical psychology, took advantage of this ruling, and in late 2020, the state legalized online and mobile sports betting.
With most sportsbooks offering betting apps, my clients are finding it more difficult to quit gambling than ever before. Unlike other forms of gambling, such as playing roulette or slots at a casino, these apps are on their phones and in their pockets, accompanying them wherever they go.
This availability makes it that much harder to resist any urges that might arise – and presents unique challenges for helping clients reduce their gambling.
Do experts have something to add to public debate?
We think so
A new type of client emerges
When I first started treating people for gambling disorder in 2019, my clients were usually older and gambled in casinos, with slot machines and card games among their favorite forms of gambling. They also tended to be poorer and often talked about how they began gambling to make some side money, viewing it as a second job. Many of them had retired and would say things like, "Going to the casino gets me out of the house" or "The casino is like my 'Cheers'" – a nod to the popular watering hole in the eponymous sitcom.
That all changed when sports betting was legalized in Tennessee in November 2020.
Since then, I've noticed that my average client has started to look different. I'm now providing therapy to younger men, mostly in their 20s, who are seeking treatment for problems with sports betting. These clients tend to earn more money and be wealthier than my previous clients – a pattern that sports betting researchers have observed.
Several of them reported being avid sports fans or having a competitive streak. And they thought they could "beat the system" due to their extensive sports knowledge.
Many of them started betting on sports after hearing promotions for various betting companies. Even if you're a casual sports fan with no interest in betting, you can't miss these ads, which regularly air during televised sporting events. For example, some ads for FanDuel, one of the more popular sports betting apps, highlight a "No Sweat First Bet," with new users eligible for a risk-free bet of up to $1,000.
There's also a social element to sports betting. One client talked about betting on sports as a way to bond with relatives who also gambled. Similarly, a few college students I have treated told me that they started betting because they wanted to fit in with their fraternity brothers.
The apps don't make it easy to set limits
But once gambling issues begin, it can be hard for these clients to stop. Most of them started by placing smaller bets on a single outcome. Over time, they start to bet more to recoup their losses. Before they knew it, their bets had increased, with many not realizing how this change even happened.
Betting apps are available on any smartphone and are connected to clients' bank accounts, making it quick and easy to deposit more funds. This often leads clients to lose track of how much money they have lost. As one client told me, "It's easier to spend money on these apps because you never really see it. The transactions are all done electronically."
These apps do not make it easy for those with gambling problems to sign up for cool-off periods or self-exclusion. Cool-off periods allow the user to set a time frame – from a few hours to several months – where they will be unable to log into their betting account. Self-exclusion allows the user to ban themselves from the app for longer periods of time. Specific exclusion lengths differ by state. In Tennessee, there are one-year, five-year and lifetime ban options.
While many apps have these features, my clients often have to search online for this information, and even when they do find it, they can't figure out how to put these guardrails in place. If they wish to set a cool-off period or ban themselves from all sports betting apps, they must do so from each app, one at a time, which can be tedious.
It's impossible to avoid sports and smartphones
Sports betting presents unique challenges for treating gambling problems.
In addiction treatment, therapists, like me, often encourage clients to fill their time with activities that aren't connected to gambling or to avoid situations where they may be likely to gamble. But when gambling is available at the touch of a button, it becomes harder to determine what situations may lead to gambling, which makes it harder to figure out what to avoid.
Before the apps, clients had to make plans for how and when to gamble. Now, all they have to do is pick up their phone and open an app. It is also incredibly difficult, if not impossible, to ask a client to stop using their smartphone or stop watching sports.
This is why I often tailor treatment to each client's needs and circumstances. Some may wish to quit altogether, while others may simply want to cut back on their gambling. This has forced me to consider other possible alternatives, such as showing them how to set screen time limits for sportsbook apps or talking about strategies to watch less sports.
Most people who bet on sports don't develop gambling problems. But with so few regulations in place – advertising or otherwise – those who are the most at risk are especially vulnerable to developing problems.
https://theconversation.com/i-treat-people-with-gambling-disorder-and-im-starting-to-see-more-and-more-young-men-who-are-betting-on-sports-198285
Found at Abnormal Returns Blog www.abnormalreturns.com