1. Short-Dated Options Explode…New Speculative Tool.
BARRONS Randall W. Forsyth
Now, insouciant speculation has returned in another acronym, 0DTE, which stands for Zero Days to Expiration options. Short-term calls and puts have long been favorites of speculative traders because they cost less than lengthier contracts. To help traders scratch that speculative itch, the exchanges have been offering ever-shorter options until they got to 0DTE. 
And their growth has been explosive, so much so that their trading volume is swamping the turnover in the underlying securities, reports Doug Kass, who heads Seabreeze Partners and flagged the 0DTE phenomenon for us. He likens it to the speculative frenzy once seen in the trading of hot initial public offerings, when new shares would change hands several times on their first day, he said in a phone interview.
https://www.barrons.com/articles/zero-options-fuel-frenzy-wall-street-casino-meme-stocks-51675445766
ADVISOR PERPECTIVES BLOG-There's another attraction to trading cheap 0DTE options, according to Julian Emanuel, chief equity and derivative strategist at Evercore ISI. Unlike the era of TINA—There Is No Alternative to equities—when interest rates were pinned to near zero, investors now can comfortably earn more than 4% in money-market funds. At the same time, after getting burned when the FAANG and meme-stock bubbles deflated, many individuals are wary of plunging back into the market. But they can get back into the action by putting just a few percent of their portfolios into 0DTE options, where only the small price of the option is at risk.
So an unintended consequence of the Federal Reserve's interest-rate hikes has been to facilitate speculation in short-dated options while investors earn a reasonable risk-free return on the bulk of their money, Emanuel says.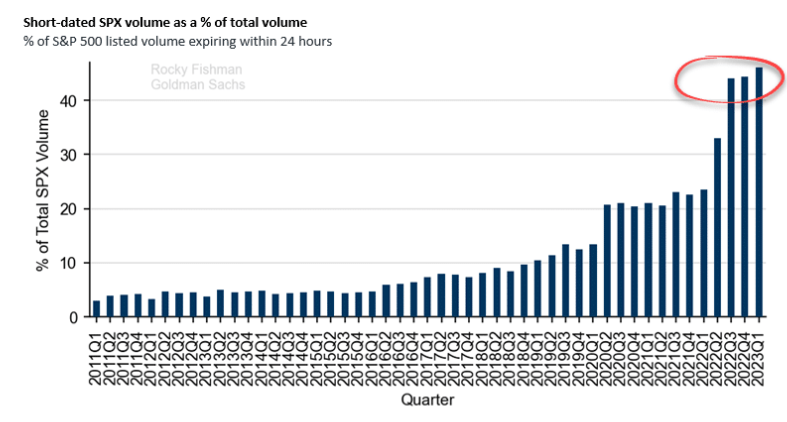 https://www.advisorperspectives.com
---
2. Behavioural Finance at its Best….Retail Investors Sold 60/40 at Record Pace at End of 2022….Q1 2023 95th percentile performance for asset class
Capital Group We saw a lot of folks exit balanced strategies in 2022," says Hilda Applbaum, an equity portfolio manager for American Balanced Fund®. "While there is a lot of wisdom in markets, there also is a herd mentality. I believe many investors have become disbelievers in balanced strategies at the wrong time. I am confident that, going forward, balanced portfolios — whether they are a 60/40 split or 65/35 — may continue to be a successful approach for most investors over the long term."
Investors have pulled billions of dollars from balanced strategies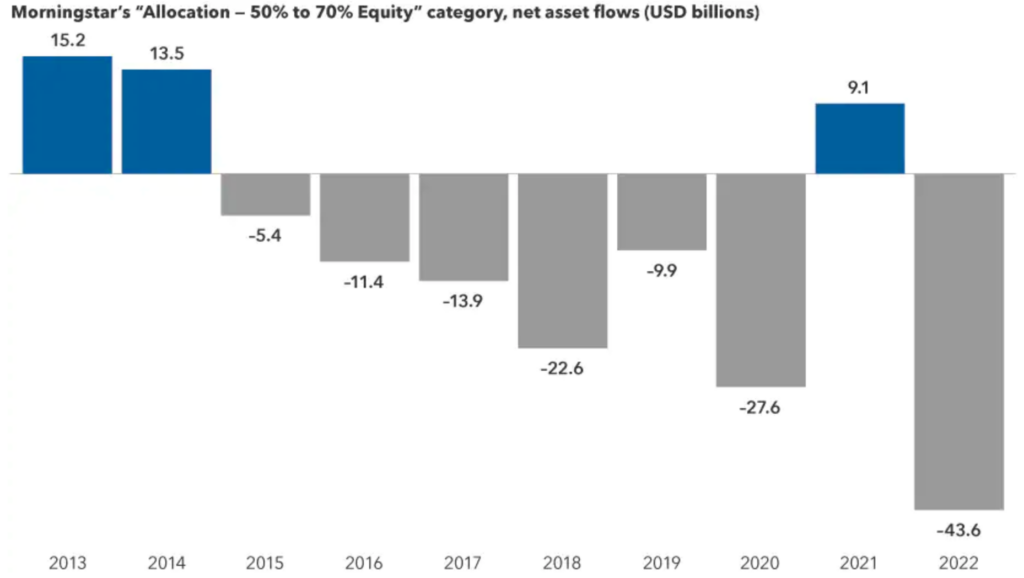 Sources: Capital Group, Morningstar. Figures reflect the total estimated combined net flow of funds across exchange-traded funds (ETFs) and mutual funds that fall into the Morningstar category "Allocation — 50% to 70% Equity," and broadly represent funds that reflect a roughly 60/40 blend between equity and bond exposure, respectively. Data as of 12/31/2022.
https://www.capitalgroup.com/advisor/insights/articles/3-reasons-60-40-portfolios-comeback.html?sfid=1988901890&cid=80925380&et_cid=80925380&cgsrc=SFMC&alias=D-btn-LP-6-A1cta-Advisor
---
3. Highest Short-Interest Crypto Stocks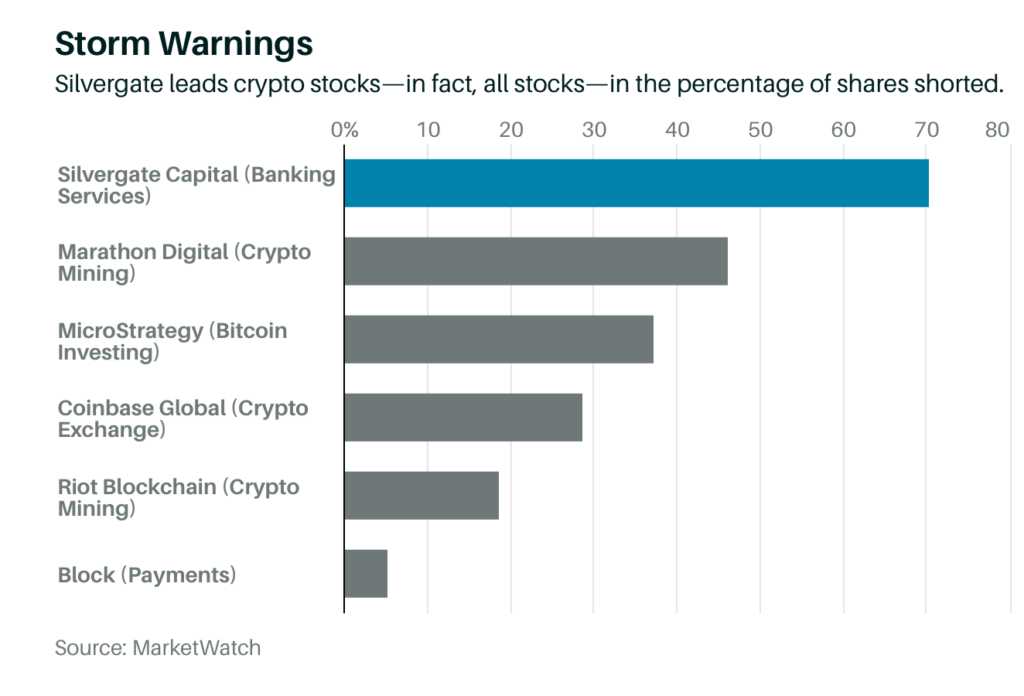 https://www.barrons.com/articles/crypto-blackrock-silvergate-coinbase-51675466445?mod=past_editions
---
4. High Short-Interest Stocks in Russell 1000 Highest Performance YTD
Bespoke Investment Group-We may be just a little more than a month into the new year, but there have already been a handful of Russell 1,000 stocks that have posted absolutely massive moves. There are currently seven Russell 1,000 stocks that have doubled year to date, some of which are more embattled high-growth stocks like Carvana (CVNA) and Peloton (PTON). Breaking down the index into deciles based on which stocks have the highest levels of short interest clearly shows that the top performers have also been those which have been most heavily bet against by investors.  Whereas the decile of stocks with the lowest levels of short interest has risen a mere 4.4%, the decile of most heavily shorted names is up a substantial 36.3%.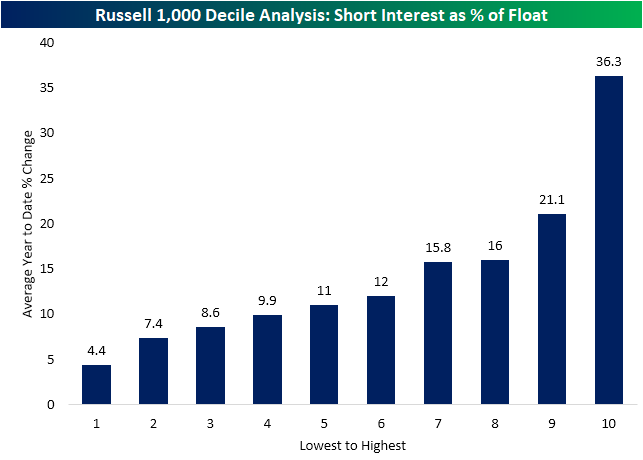 https://www.bespokepremium.com/interactive/posts/think-big-blog/new-chapter-in-the-meme-stock-mania
---
5. LPL Research on History of S&P 500 Golden Cross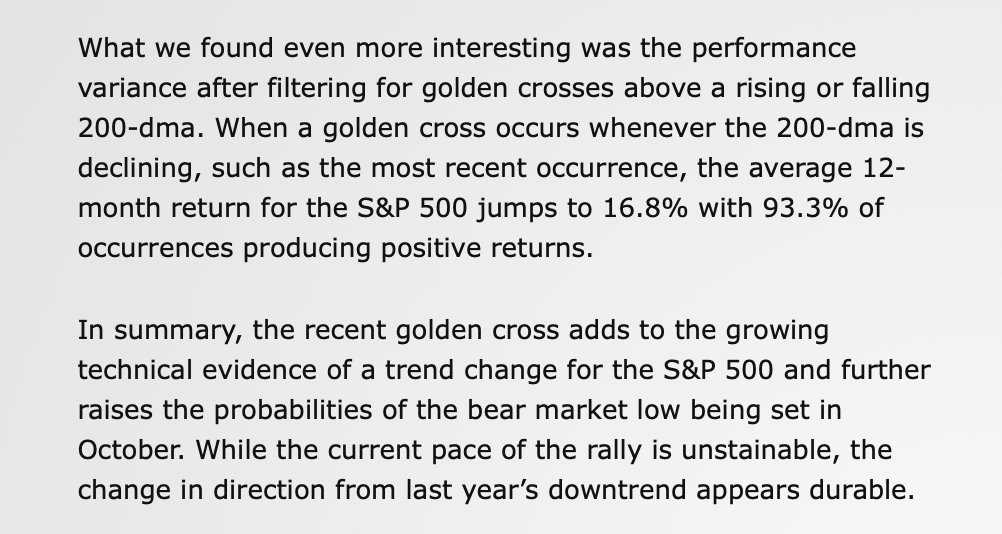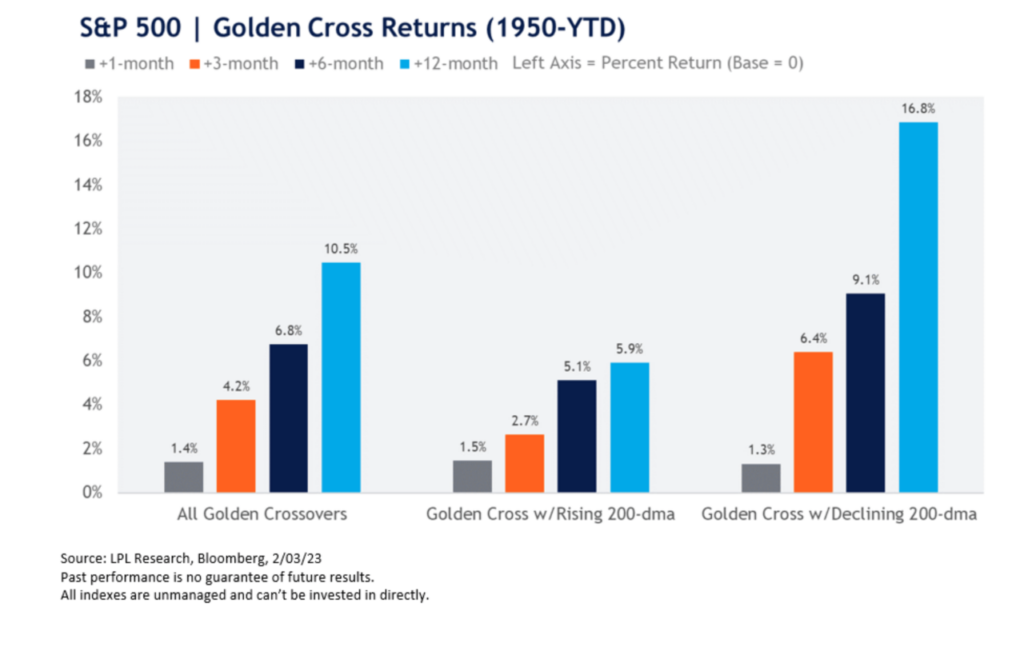 https://lplresearch.com/2023/02/03/golden-cross-not-just-another-flash-in-the-pan/
---
6. Natural Gas Futures Update
Wisdom Tree Nitesh Shah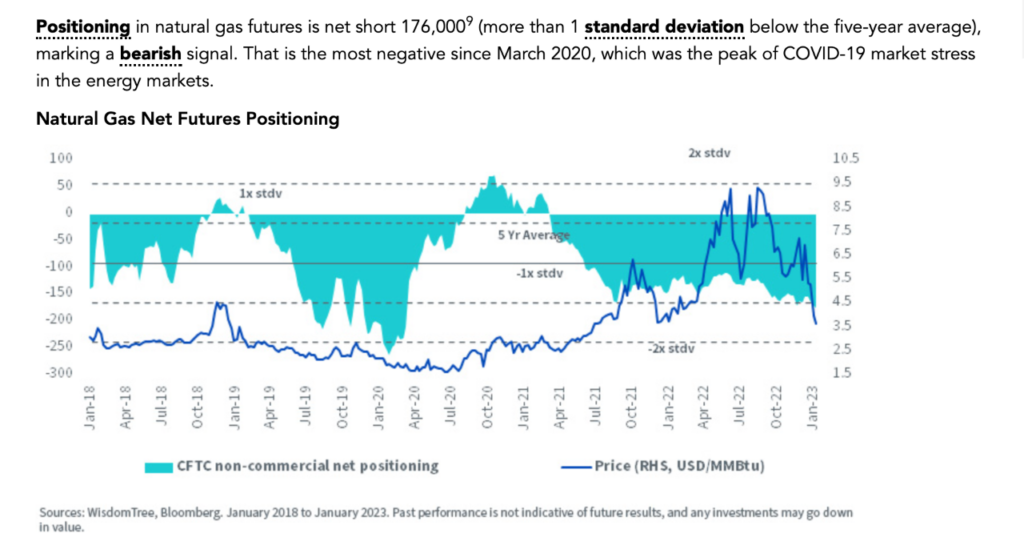 https://www.wisdomtree.com/investments/blog/2023/01/30/have-we-hit-peak-bearishness-on-natural-gas-yet?utm_source=segment&utm_medium=email&utm_campaign=blogalertrecap
---
7. Weak Dollar …Stocks Selling Internationally Outperform
Equities: Companies with international sales exposure continue to outperform as the US dollar softens.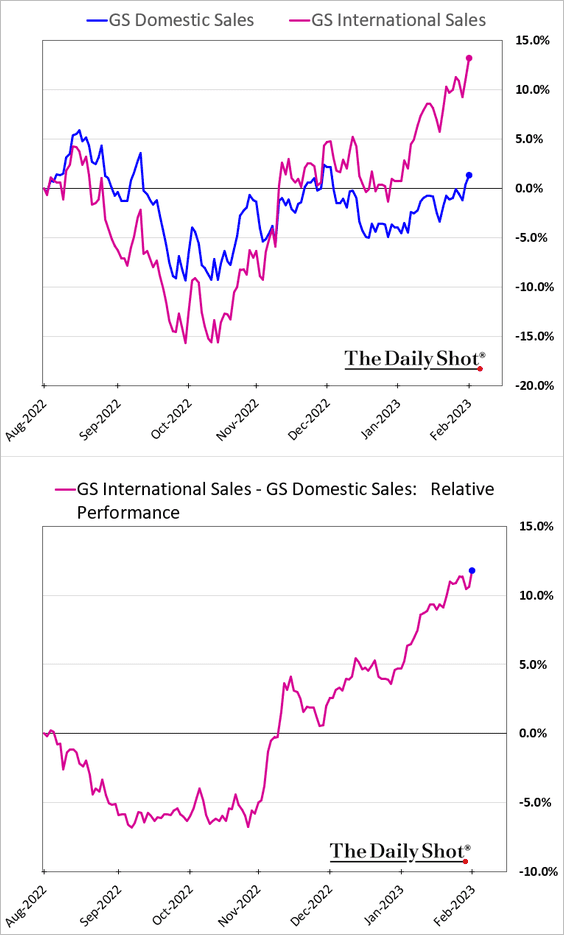 Source: Daily Shot
---
8. Broker Dealer Index ETF Breaking Out to New Highs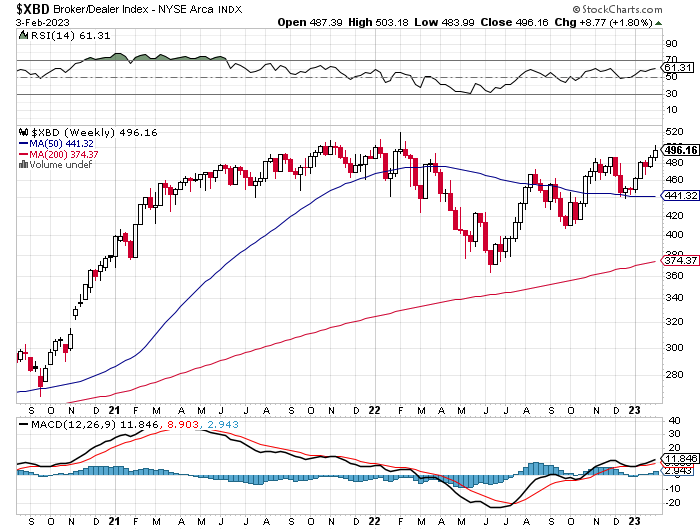 ---
9. Infrastructure ETF Breaks Out to New Highs
Jobs report showed 25k construction jobs added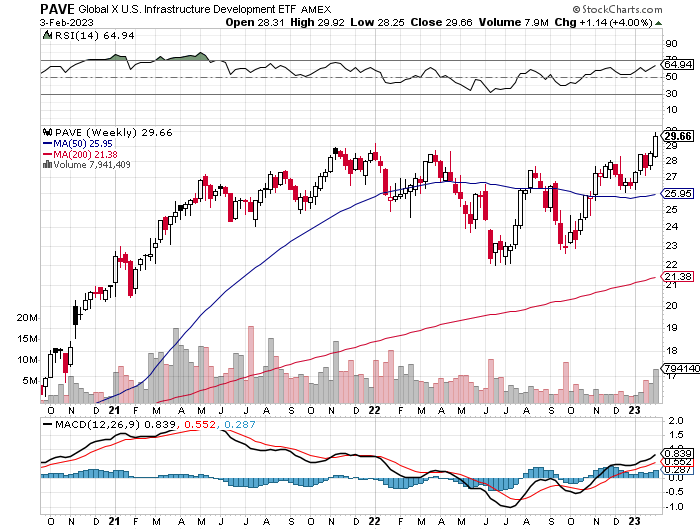 ---
10. Eagles coach Nick Sirianni: Highly successful people 'get a little bit better' each day—but there's 1 thing in your way
After the Philadelphia Eagles advanced to this year's Super Bowl, head coach Nick Sirianni set a simple goal for his players over their next two weeks of practices — be a little bit better today than you were yesterday.
The only obstacle in the way: "distractions from the outside world," Sirianni said at a press conference last week, two days after the Eagles defeated the San Francisco 49ers to set up a Super Bowl matchup against the Kansas City Chiefs on Feb. 12.
"Our job is to get a little better each day, to climb," Sirianni said. "We don't need to think about getting way down the road here, but how do we get a little better today?"
For Sirianni, who's in his second season as the Eagles' head coach, that's the key to achieving success. Small-scale focus adds up: Experts recommend breaking down ambitious goals — like winning the Super Bowl — into smaller, achievable tasks that can be sustained over a longer period of time.
As long as you stay focused, anyway. On average, returning to your original level of focus after a distraction takes more than 23 minutes, according to a University of California-Irvine study. 
Defeating workplace distractions is a three-step process that starts with acknowledging their existence, behavioral expert Nir Eyal told CNBC Make It last month. Break down the stigma by sharing your own struggles with distractions.
Then, make sure the entire team is on the same page schedule-wise. When is everyone collectively focused on specific tasks? When can people take time to ask questions or take breaks?
Lastly, focus only on what's most important.
In an office setting, for example, most emails and Slack messages — even ones from your boss — are probably less timely than we pretend they are, Eyal said. Unless you save them for after you've completed your current task, they're often just distractions.
"Nothing terrible happens," Eyal said. "We think these things are urgent, [but] there are very few emergencies that you have to respond to right now."
Sirianni, who appears to be carefully following that playbook, added a fourth observation last week: You might need to identify what most easily distracts you, or the people around you. List what you didn't accomplish in a given day, and then backtrack to see what specifically held you up.
"Everybody's distractions look different," Sirianni said.
Managing distractions isn't always easy, especially over lengthy periods of time. Luckily for Sirianni, he only needs his players to stay focused for one more game this season.
"It will be a challenge," he said. "But … when you're playing for something that's bigger than yourself, because of the relationships that you have with your teammates and your coaches, then you're willing to sacrifice things."
https://www.cnbc.com/2023/02/06/philadelphia-eagles-coach-nick-sirianni-how-to-eliminate-distractions.html