1. Asset Classes-Historical Average Vs. Last 10 Years
If not stocks, what else?
What about other asset classes? Take a look at the chart below, which plots each asset's annualized inflation-adjusted return over the last decade against its long-term average. The asset that performed the worst since 2010, relative to its historical average, was gold, followed closely by international stocks and U.S. bonds.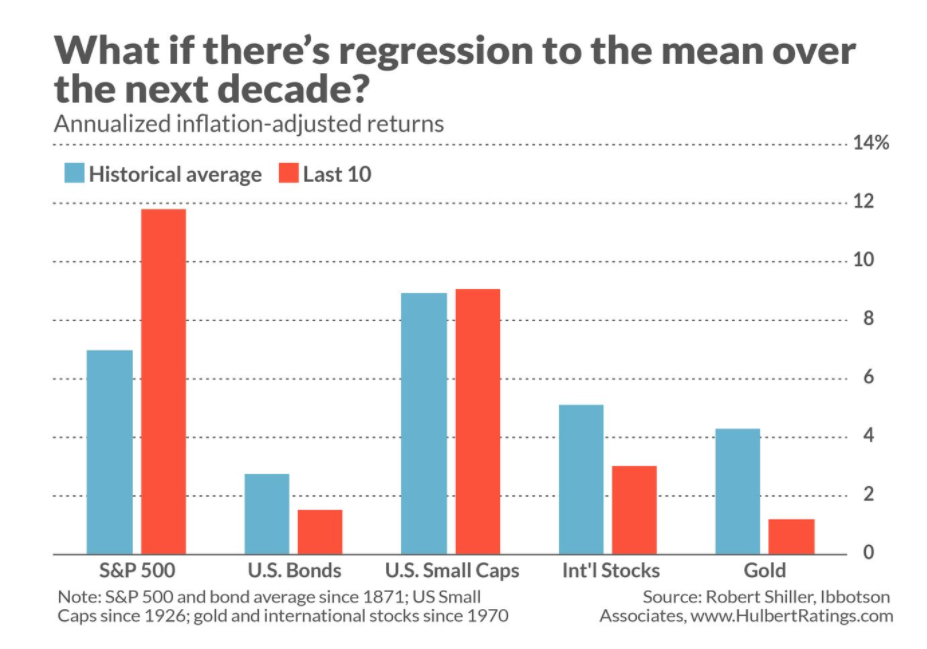 Opinion: Why the 2020s could favor market-timers over buy-and-hold U.S. stock investors–By Mark Hulbert
https://www.marketwatch.com/story/why-the-2020s-could-favor-market-timers-over-buy-and-hold-us-stock-investors-2020-12-01?mod=home-page
2. Insider Selling.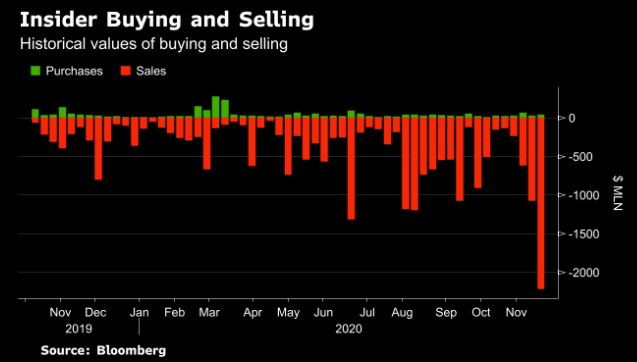 Chris Akins Sharp Group
https://www.linkedin.com/in/christopher-akins-19a40472/
3. December Performance Following Strong November
LPL BLOG
Turning to December, this month is widely known to be quite bullish, as Santa comes to town, people feel good, and stocks tend to do well. As shown in the LPL Chart of the Day, since 1950, December has been the second best month of the year, with only November better. December had been the best month of the year until the historic 9.2% drop in 2018. As a result, December hasn't been quite as strong over the past 10 and 20 years.
Breaking it down even more, a big rally in November can potentially steal some of December's thunder. As after a 5% or 10% rally in November, the returns in December are more muted. The flipside to this though is if the S&P 500 is up more than 10% for the year (like 2020), then stocks have benefited from some performance chasing and have tended to do better.
4. Market Caps and YTD Performance Drivers in November
In yesterday's B.I.G. Tip report, we showed a decile analysis of performance in the month of November based upon a range of metrics. One of the most notable themes was performance based on market cap. Whereas for most of this year the stocks with the largest market caps have outperformed, the opposite was true in November. If the small-cap Russell 2000's return to new all-time highs wasn't indication enough, the decile of Russell 1000 stocks with the smallest market caps rose an average of 28.5% in November. That is head and shoulders better than the next decile (the 9th) in which the average stock rose 17.09%. As you move up the ladder in terms of market cap, performance worsened with the largest stocks seeing some of the worst performance on the month. The first decile saw an average gain of 12.39%. That group includes stocks with market caps above $100 billion including the trillion-dollar club: Apple (AAPL), Microsoft (MSFT), Amazon (AMZN), and Google (GOOG).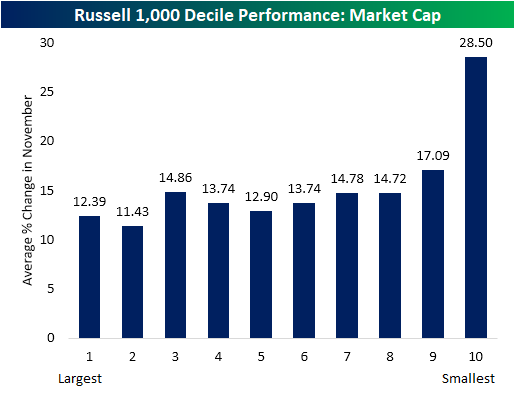 Again, some of the stocks with the largest market caps have also been the ones that have risen the most this year. Given this, the stocks that were up the most on a year-to-date basis through the end of October were also the ones that underperformed the most in November and vice versa. As shown below, the decile of stocks that have been the top performers from the start of the year through October averaged a gain of 12% in November. The second decile averaged an even smaller 9.35% rally. On the other end of the spectrum, November saw heavy rotation into the stocks that had been most beaten up this year. The decile of the worst performers averaged a substantial 38.08% rally in November. Deciles 8 and 9 similarly saw big rallies of 16.05% and 21.45%, respectively. These deciles included a lot of reopening stocks like airlines, energy, travel, regional banks, and brick and mortar heavy retail. Click here to view Bespoke's premium membership options for our best research available.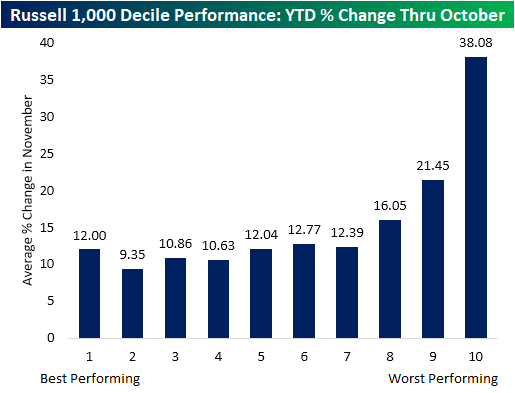 https://www.bespokepremium.com/interactive/posts/think-big-blog/market-caps-and-ytd-performance-drivers-in-november
5. Steel ETF More Than Doubles Off Bottom..#1 Application for Steel "Building and Infrastructure"…More Than Half of Usage
The Major Applications of Steel-This metal alloy is used for seven major markets, including buildings
By Terence Bell
Steel is both the most widely used and most recycled metal material on Earth. From stainless and high-temperature steels to flat carbon products, steel in its various forms and alloys offer different properties to meet a wide range of applications. For these reasons, as well as the metal's combination of high strength and relatively low production cost, steel is now used in countless products.
Steel applications can be divided into seven primary market sectors. The figures are the percentages of steel production dedicated to them, according to the World Steel Association (WSA):
Buildings and infrastructure, 51%
Mechanical equipment, 15%
Automotive, 12%
Metal products, 11%
Other transport, 5%
Domestic appliances, 3%
Electrical equipment, 3%
https://www.thoughtco.com/steel-applications-2340171
SLX STEEL ETF….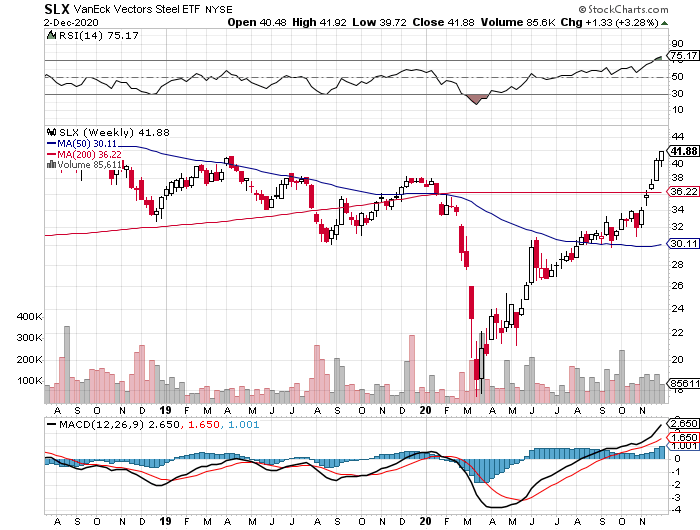 ©1999-2020 StockCharts.com All Rights Reserved
6. Why did renewables become so cheap so fast?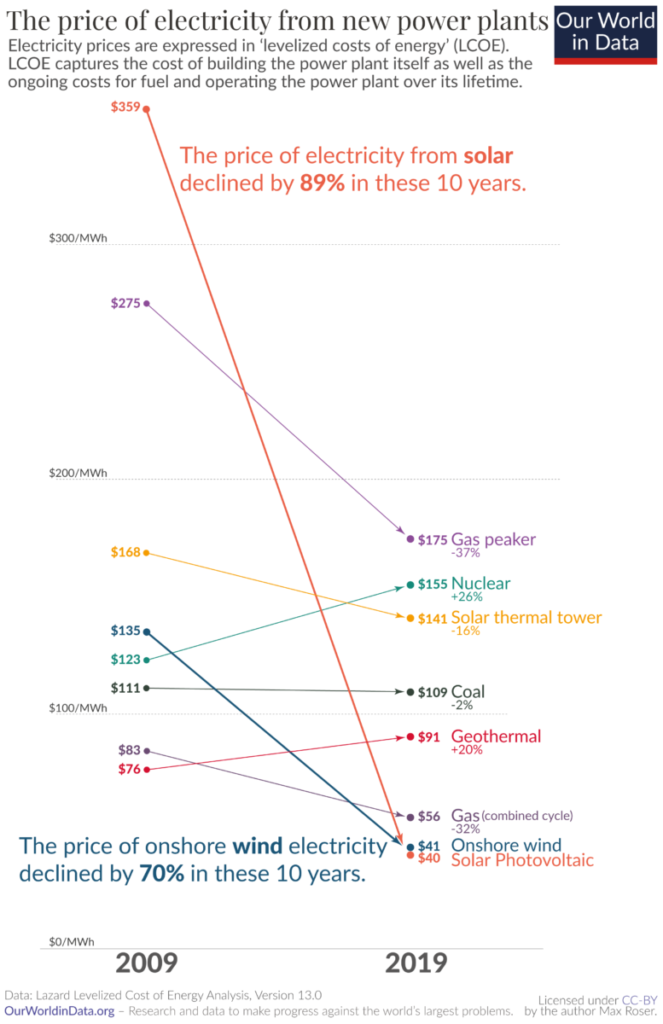 Source: Our World In Data
From Barry Ritholtz Blog https://ritholtz.com/2020/12/10-wednesday-am-reads-216/
7. Call Option Volume Higher Than Ever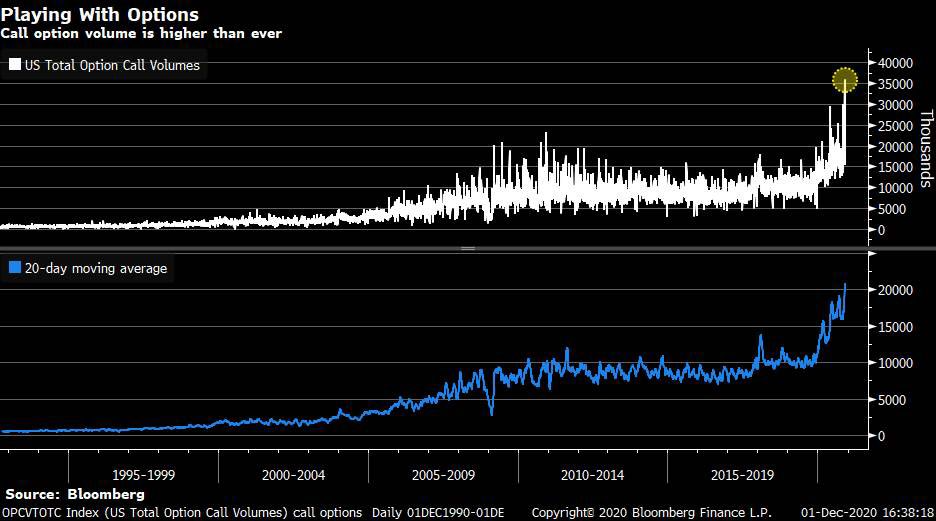 Liz Ann Sonders, @LizAnnSonders
Options market has not calmed down … over last 20 days, an average of > 20 million call contracts have traded each day across U.S. exchanges, highest ever; on day before Thanksgiving, a record 35 million call options changed hands
@Bloomberg, 7:17 AM · Dec 2, 2020·Twitter for iPad
8. China becomes EU's largest trade partner
By Tu Lei Source: Global Times Published: 2020/9/18 23:13:40

China has become the EU's largest trade partner for the first time, latest data shows, highlighting that the economic ties of the close comprehensive strategic partnership between China and the EU are intertwined with each other's industrial chain.

The data also discredits some media reports that Beijing's hopes of using Europe as a counterweight to the US have faltered, as China faces rising anger over its policies and behavior including trade. Chinese experts said the noise will not have any impact on sound trade relations between the two economies.

The latest data from Eurostat shows China has become the EU's largest trade partner for the first time, surpassing the US by 5.2 billion euro ($6.16 billion). From January to July, trade between China and the EU rose 2.6 percent to 328.7 billion euro amid COVID-19.

China is now the EU's largest source of imports, accounting for 21.9 percent of its total imports, and the third-largest export market at 10.3 percent, Eurostat said.
The two partners have close bilateral networks of production, innovation, trade, investment and finance, and in the past few years, China has taken many measures to open up from manufacturing to the service and financial industries, which have created better condition for China-EU investment cooperation, Xu Hongcai, deputy director of economic policy commission at China Association of Policy Science, told the Global Times on Friday.

Ties between China and Europe are widening, and have become more firm in recent years. Since the outbreak of the epidemic, Chinese leaders have closely interacted with European leaders and actively carried out "cloud diplomacy," and China has also continued to support European countries to fight the virus.

Chinese, German and EU leaders held a virtual summit on Monday, reaffirming to further strengthen cooperation, ranging from trade to epidemic control. It sent a signal that the parties remain committed to pursuing pragmatic engagement rather than focusing on differences, and also injects impetus to the global economy.

The leaders announced the signing of the China-EU agreement on geographical indications. They also agreed to establish a China-EU High Level Environment and Climate Dialogue and a China-EU High Level Digital Cooperation Dialogue, and to forge China-EU green and digital partnerships. Those results show the partners have been the biggest economies in the world amid trade tensions, created by an increasingly destructive US government, Chinese experts said.

However, some noise continues to surface, as the US is seeking to meddle in China-Europe relations, even claiming there is rising dissatisfaction with China's policies in Europe.

A report from the New York Times Thursday said China is facing rising anger and frustration in Europe, from trade to human rights, and even Pavel Novotny, the outspoken district mayor in Prague, called the Chinese "impudent, thoughtless, uncouth clowns" and demanded an apology after Chinese Foreign Minister Wang Yi rebuked Czech Senate Speaker Milos Vystrcil for visiting Taiwan Province this month.

Last month, US Secretary of State Mike Pompeo traveled to Europe on what some Chinese experts called a trip of lies and fear-mongering over China.

Obviously, the US is instigating Sino-EU relations, for US sees there are different views on China and EU relations, but EU is politically mature, Chinese experts said, adding the US has been buried in crises ranging from the outbreak of COVID-19 to social turbulence, but China and EU are taking more practical way to recover from the COVID-19 shock.

"It is normal for politicians to use the media to hype the 'China threat' theory. But sings that the two partners are moving forward together are becoming clearer and more stable, and the noise will not stop cooperation between the two economies," Zhao Junjie, a research fellow at the Chinese Academy of Social Sciences' Institute of European Studies, told the Global Times on Friday.
https://www.globaltimes.cn/content/1201350.shtml
9. Identify The MAGIC TIME to Get More Done
The "Magic Time" Secret to Tripling Productivity
You literally CAN triple your productivity thanks to a simple yet powerful technique that I discovered the hard way back in 2004.
(Hopefully you'll add it to your routine faster than I did – it took me almost two years to truly harness the power of this trouble-free method).
Since then, I've been working on perfecting my daily schedule and today I'm running on all cylinders thanks to this little secret along with my ability to resist my email inbox well into the workday.
I call it my Magic Time.
And the good news is that you have your own version of it, too.
Everyone does – let me explain:
We all have a time in our day when we are literally THREE times as productive as any other time of day.
You probably already know when you're at your most productive, and when it's a struggle to force your mind to concentrate and focus.
If we spend those precious, highly productive minutes checking emails or reading the newspaper, we're wasting the most valuable opportunity to progress towards our goals.
There's a three-step formula to creating your own Magic Time routine:
10. What It Takes to Make Good Decisions
Stephen A. Schwarzman Influencer
Chairman, CEO & Co-Founder of Blackstone, New York Times Bestselling Author of What It Takes, Philanthropist
To me, investing is like playing basketball without a shot clock.
As long as you have the ball, all you have to do to win is just keep passing until you're sure you have a shot you can make. While other teams might lose patience and take off-balance, low-percentage shots from behind the three-point line, at Blackstone we wait for exactly the right moment. We keep moving and passing until we can get the ball into the hands of our seven-foot center standing right underneath the basket. We obsess about the downside of every potential deal until we are certain we cannot miss.
So what does it take to get the perfect shot? Below are a few rules that guide our decision making — rules designed to help us seize opportunity and manage risk.
1. Bring more people to the table.
It is easy to fall for a good sales pitch. Once during the early days of Blackstone, I heard pitches from two partners who had opposing views on whether or not we should invest in a steel company called Edgcomb. I backed the partner pushing for the deal – in large part because he had the stronger presentation with more detailed information supporting his view. The investment ended up failing spectacularly.
I vowed this would never happen again. Blackstone needed a process for making investments. Since then, all senior partners are involved in our investment decisions – there is no "King Solomon" single-handedly green-lighting a deal. We never talk to just the lead partner on any potential investment. Everyone involved – regardless of their seniority – is expected to voice their opinion and participate so that we can incorporate all perspectives into our analysis.
By working together, debating opposing points of view and applying our collective wisdom and experience to evaluate an investment's risks, we are able to examine our deals more objectively.
2. Take your time.
We also began insisting that anyone with a proposal has to write a thorough memorandum and circulate it at least two days before any meeting so it can be carefully and logically evaluated. Finance is full of people with charm and flip charts who talk so well and present so quickly you can't keep up. The two-day requirement gives readers time to mark up the memo, spot any holes, and refine their questions.
We want a dispassionate and objective review of deals – not decisions made under pressure. Often others will push you to make a decision for their own purposes, internal politics, or some other external need. But you can almost always say, "I think I need a little more time to think about this. I'll get back to you." It's a great way to diffuse the pressure in a given situation and make a decision when you are ready.
3. Focus on the risk.
Blackstone's investment discussions focus almost exclusively on the downside. It is the job of everyone in the room to find potential problems that haven't been addressed and handicap the impacts of the risks that have been identified. This process can be challenging for the people presenting a deal, but the "only criticism" rule allows us to critique each other's proposals without worrying that we might be hurting someone's feelings.
Once this process concludes, whoever is running the deal has a list of problems to address and questions to answer. In doing so, they may even uncover new risks that haven't yet been identified. Then, they are ready to come back for another round of discussion. The team does this again, and by the third round, we hope, there are no longer any nasty surprises lurking in the deal.
4. Everyone owns the outcome.
The final way we depersonalize and derisk our investment process is to encourage a greater sense of collective responsibility. Because every partner on our investment committee participates in assessing a proposed investment, they also share responsibility for whatever decision is made. If something goes wrong with a deal, the team who initially proposed it bears no more blame than anyone else. We make every decision in the same predictable manner and we all own the outcomes.
Published by
Chairman, CEO & Co-Founder of Blackstone, New York Times Bestselling Author of What It Takes, Philanthropist
https://www.linkedin.com/pulse/what-takes-make-good-decisions-stephen-a-schwarzman%2F/?trackingId=vsEB7VsVTC254Q4IHO7ABQ%3D%3D
Disclosure
Lansing Street Advisors is a registered investment adviser with the State of Pennsylvania..
To the extent that content includes references to securities, those references do not constitute an offer or solicitation to buy, sell or hold such security as information is provided for educational purposes only. Articles should not be considered investment advice and the information contain within should not be relied upon in assessing whether or not to invest in any securities or asset classes mentioned. Articles have been prepared without regard to the individual financial circumstances and objectives of persons who receive it. Securities discussed may not be suitable for all investors. Please keep in mind that a company's past financial performance, including the performance of its share price, does not guarantee future results.
Material compiled by Lansing Street Advisors is based on publicly available data at the time of compilation. Lansing Street Advisors makes no warranties or representation of any kind relating to the accuracy, completeness or timeliness of the data and shall not have liability for any damages of any kind relating to the use such data.
Material for market review represents an assessment of the market environment at a specific point in time and is not intended to be a forecast of future events, or a guarantee of future results.
Indices that may be included herein are unmanaged indices and one cannot directly invest in an index. Index returns do not reflect the impact of any management fees, transaction costs or expenses. The index information included herein is for illustrative purposes only.