1. NIO –EV 10 Bagger
Chinese EV Stock $1.20-$45 One Year.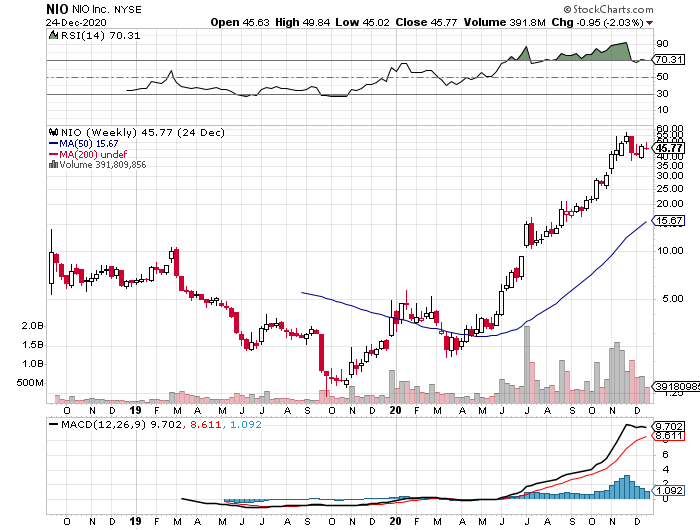 ©1999-2020 StockCharts.com All Rights Reserved
2. EV Bull ETF Listings.
Marketwatch-As we discussed with five professional investors in September, it is a good idea to look beyond the vehicle manufacturers themselves when seeking investments that will rise as the world switches to EVs.
To come up with a broad list of related stocks, we looked at the holdings of three ETFs:
· SPDR S&P Kensho Smart Mobility ETF HAIL, -0.85% — 56 stocks, largest holding: Nio (12.6%).
· Global X Autonomous & Electric Vehicles ETF DRIV, -0.08% — 75 stocks, largest holding: Tesla (4%).
· iShares Self-driving EV & Tech ETF IDRV, +0.02% — 100 stocks, largest holding: Tesla (9.3%).
HAIL ETF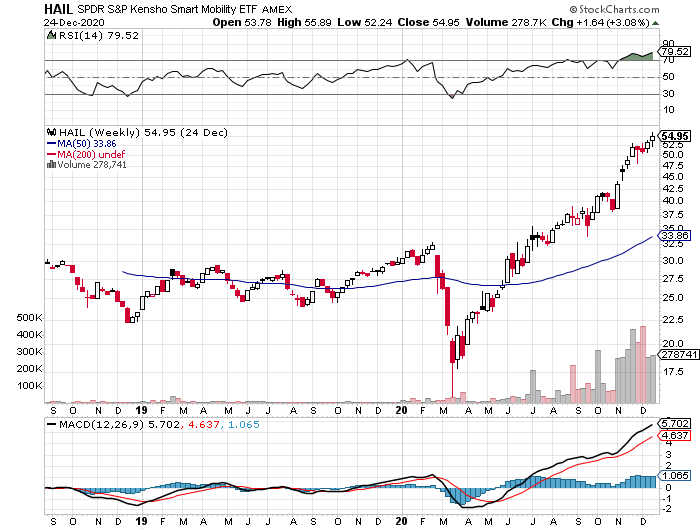 ©1999-2020 StockCharts.com All Rights Reserved
DRIV ETF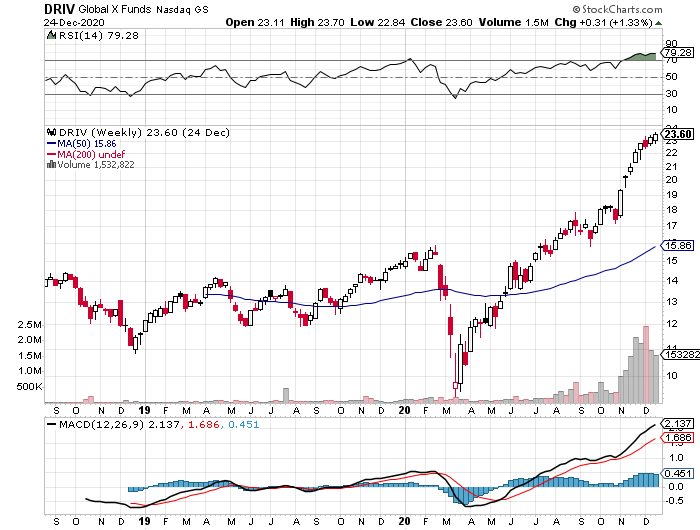 ©1999-2020 StockCharts.com All Rights Reserved
IDRV ETF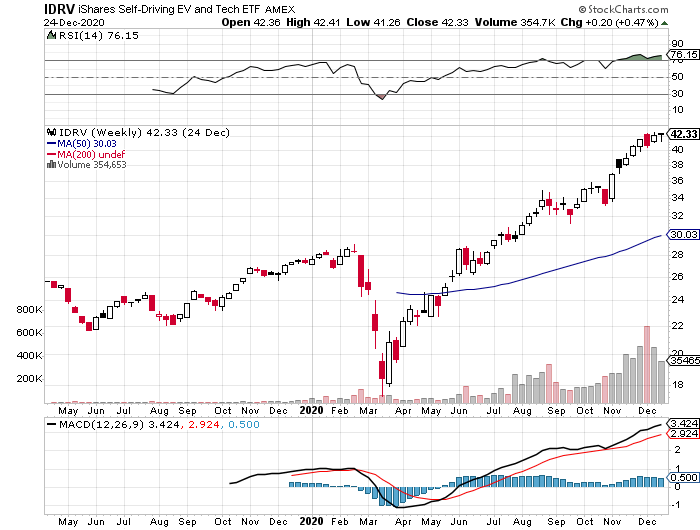 ©1999-2020 StockCharts.com All Rights Reserved
3. Stock Screen from the 3 EV ETFs-Phil Doren Marketwatch
Adding the three portfolio groups above together and removing duplicates left a list of 165 stocks, including 74 listed in the U.S.
Here are the 20 stocks covered by at least 10 analysts, with at least two-thirds at "buy" or equivalent ratings, with the most implied upside potential for the next 12 months, based on consensus price targets
20 electric vehicle stocks besides Tesla and Nio that analysts expect to rise the most over the next year-Marketwatch
https://www.marketwatch.com/story/20-electric-vehicle-stocks-outside-of-tesla-and-nio-expected-by-analysts-to-rise-the-most-over-the-next-year-11606926496?mod=mw_quote_news
Here are the 20 stocks covered by at least 10 analysts, with at least two-thirds at "buy" or equivalent ratings, with the most implied upside potential for the next 12 months, based on consensus price targets.
| | | | | | | | | | |
| --- | --- | --- | --- | --- | --- | --- | --- | --- | --- |
| COMPANY | TICKER | COUNTRY | INDUSTRY | SHARE 'BUY' RATINGS | CLOSING PRICE – DEC. 2 | CONSENSUS PRICE TARGET | IMPLIED 12-MONTH UPSIDE POTENTIAL | FORWARD P/E | TOTAL RETURN – 2020 THROUGH DEC. 2 |
| HONDA MOTOR CO. LTD. | JP:7267 | JAPAN | MOTOR VEHICLES | 100% | 2,899.50 | 3,678.13 | 27% | 10.3 | -4% |
| Iljin Materials Co. Ltd. | KR:020150 | South Korea | Electronic Production Equipment | 100% | 46,800.00 | 59,000.00 | 26% | 29.4 | 9% |
| Hyundai Mobis Co., Ltd | KR:012330 | South Korea | Industrial Machinery | 96% | 242,500.00 | 302,500.00 | 25% | 8.1 | -5% |
| Hyundai Motor Co. | KR:005380 | South Korea | Motor Vehicles | 96% | 183,500.00 | 228,884.61 | 25% | 8.4 | 52% |
| Honda Motor Co. Ltd. ADR | HMC | Japan | Motor Vehicles | 100% | 28.36 | 34.63 | 22% | 10.0 | 2% |
| Ballard Power Systems Inc. | CA:BLDP | Canada | Electrical Products | 82% | 25.83 | 31.33 | 21% | N/A | 178% |
| Baidu, Inc. ADR Class A | BIDU | China | Internet Software/Services | 75% | 140.26 | 169.20 | 21% | 15.3 | 11% |
| KIA Motors Corp. | KR:000270 | South Korea | Motor Vehicles | 100% | 59,800.00 | 71,115.38 | 19% | 7.3 | 35% |
| Samsung Electronics Co. Ltd. | KR:005930 | South Korea | Telecommunications Equipment | 91% | 67,800.00 | 79,076.19 | 17% | 14.4 | 24% |
| Volkswagen AG Pref. | DE:VOW3 | Germany | Motor Vehicles | 74% | 147.36 | 169.81 | 15% | 6.0 | -13% |
| LG Chem Ltd. | KR:051910 | South Korea | Chemicals: Specialty | 97% | 809,000.00 | 930,862.06 | 15% | 26.8 | 155% |
| Samsung Electro-Mechanics Co. Ltd. | KR:009150 | South Korea | Electronic Components | 100% | 162,000.00 | 184,035.72 | 14% | 16.5 | 30% |
| Microsoft Corp. | MSFT | U.S. | Packaged Software | 91% | 216.21 | 243.92 | 13% | 32.0 | 39% |
| Siemens AG | DE:SIE | Germany | Industrial Conglomerates | 69% | 112.94 | 125.38 | 11% | 20.4 | 11% |
| Micron Technology, Inc. | MU | U.S. | Semiconductors | 80% | 67.08 | 74.23 | 11% | 18.6 | 25% |
| General Motors Co. | GM | U.S. | Motor Vehicles | 82% | 44.68 | 49.27 | 10% | 6.6 | 24% |
| NVIDIA Corp. | NVDA | U.S. | Semiconductors | 77% | 535.60 | 590.26 | 10% | 47.9 | 128% |
| Analog Devices, Inc. | ADI | U.S. | Semiconductors | 83% | 140.73 | 154.85 | 10% | 24.9 | 20% |
| Magna International Inc. | CA:MG | Canada | Auto Parts: OEM | 67% | 80.37 | 87.22 | 9% | 9.2 | 17% |
| Alphabet Inc. Class A | GOOGL | U.S. | Internet Software/Services | 88% | 1,795.36 | 1,929.15 | 7% | 30.3 | 34% |
FactSet
The table includes a lot of data, including forward P/E ratios, which you can see if you scroll to the right. Share prices and targets are in local currencies.
4. What Apple Would Want From the Auto Market. It's Not About Making Cars…Internet of Cars
There are obvious reasons Apple would be interested in the automotive market—and it starts with a huge addressable market. Apple's sales are already enormous: The Street expects $330 billion in the September 2022 fiscal year. To show meaningful growth, Apple needs to target large markets. And in 2019, the world's 26 largest auto makers had sales of more than $2 trillion
Jonas thinks that the value of services in the "internet of cars"—multiply monthly active users (drivers) by average revenue per driver—could dwarf sales from simply selling cars. "The world's 1.2 billion light vehicles travel in excess of 10 trillion miles per year, and humanity spends over 600 billion hours of time inside automobiles annually…the equivalent of 68 million years," he said.
Now, imagine those were autonomous cars. That would free up a lot of consumer time to watch Apple TV+, listen to Apple Music, read Apple News, and play in Apple Arcade on iPhones, iPads, or MacBooks. By
https://www.barrons.com/articles/2-trillion-reasons-why-the-apple-icar-rumors-will-never-go-away-51608668648?mod=article_inline
---
5. Apple Spent $18.8B in R&D…Room to Move Toward Internet of Cars?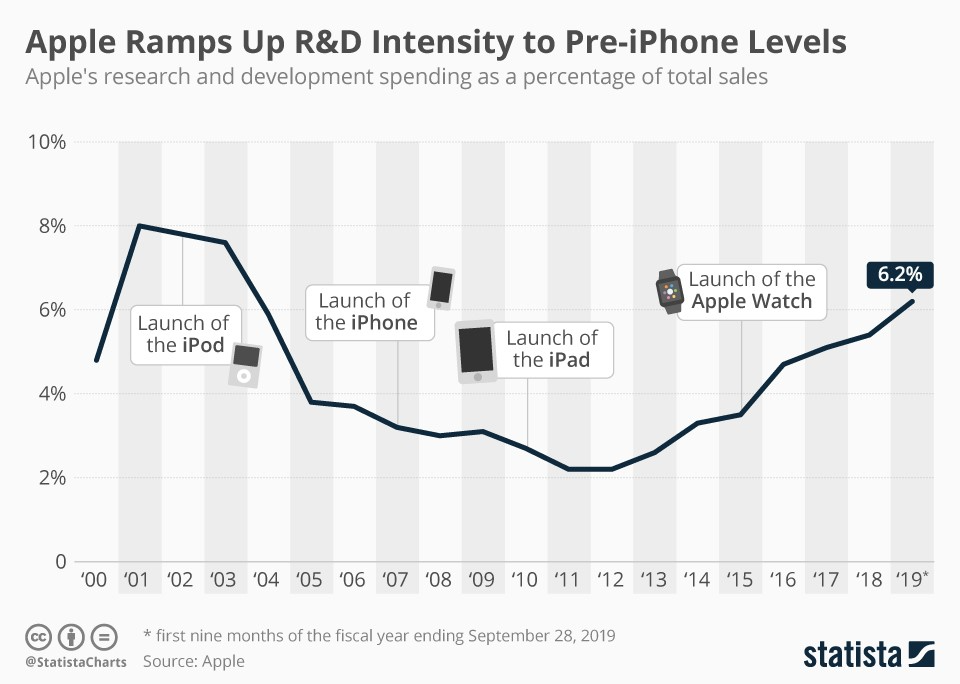 DESCRIPTION
This chart shows how much money Apple spends on research and development relative to its revenue.
6. Bulls Driven by S&P Yield Well Above 10 Year Treasury…1% Watch.
Rates on 10-year notes got as high as 0.971% on Wednesday after investors shifted out of bonds as Brexit negotiations looked headed for resolution, something that did indeed arrive on Christmas Eve. And major catalysts ahead — a trio of U.S. auctions totaling a record $176 billion amid low liquidity in a holiday-shortened week, plus the Jan. 5 vote in Georgia– could further diminish the appeal of Treasuries, increasing rates.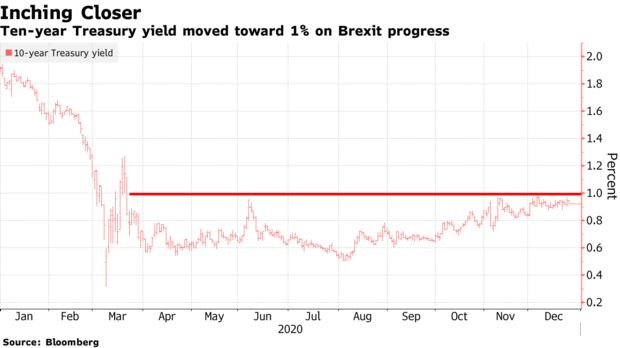 Bond Traders Close Out Chaotic Year With Key 1% Level in Sight
https://www.bloomberg.com/news/articles/2020-12-26/bond-traders-close-out-chaotic-year-with-key-1-level-in-sight?srnd=premium&sref=GGda9y2L
Don't Fear Rising Bond Yields-Barrons
Paulsen's Perspective
The Leuthold Group
Dec. 22: The relationship between bond yields and the stock market changes dramatically, depending on whether the 10-year bond yield is above or below 3%. When bonds yielded higher than 3% (almost three-quarters of the time since 1900), the stock market did best when yields dropped (+11.7% annualized return), and struggled when yields rose (-0.2% annualized return).
Nevertheless, with yields below 3%, their impact is nearly the opposite. Stocks increased at just a +4.2% average annualized pace when yields declined from sub-3% levels (only one-third of the gain experienced when bond yields fell from above 3%), and amazingly, when yields climbed from sub-3%, the stock market rose at a +16.8% average annualized clip! Moreover, the frequency of monthly stock-market advances, when yields move up, is also shockingly different. The stock market rose 52% of the time when yields increased from levels above 3%. But, when yields rose from an initial level below 3%, the stock market moved up 68% of the time!
—James W. Paulsen
https://www.barrons.com/articles/teslas-inclusion-in-the-s-p-500-leaves-less-room-for-some-sectors-51608851739?mod=past_editions
7. IPO's Doubling on the First Day
Irrelevant Investor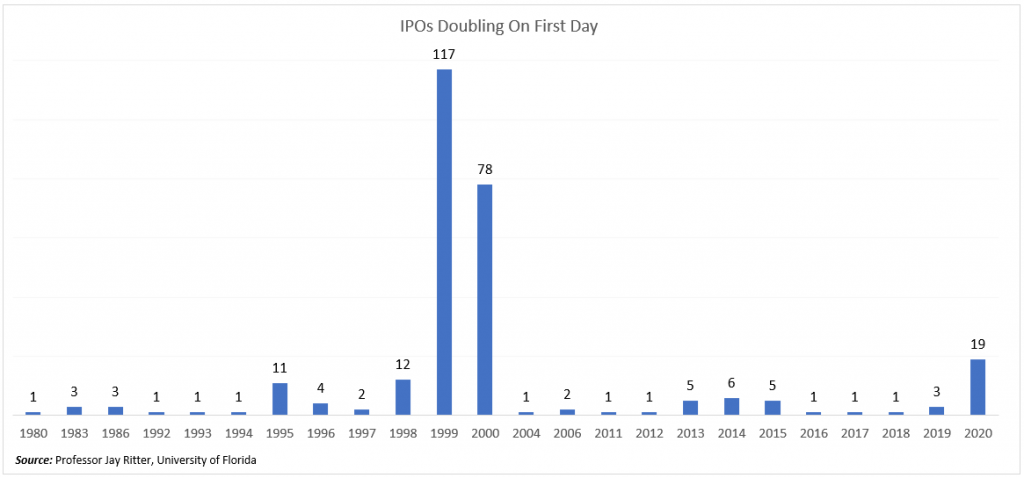 A lot of people are making a lot of money in a very short period of time.
https://theirrelevantinvestor.com
8. 65% of Nursing Homes Operate at a Loss
Survey: Majority of nursing homes won't make it next year if COVID-19 operating losses continue
by Robert King |
Two-thirds of nursing homes say in a recent survey they won't be around next year if they have to continue to face higher costs and operating losses due to COVID-19.
The survey released Wednesday by the American Health Care Association and National Center for Assisted Living looked at the financial and staffing challenges facing nursing homes, which have been slammed by the pandemic.
"Our nursing home providers are facing the worst financial crisis in the history of the industry due to increased costs related to COVID (testing, personal protective equipment, staffing) and chronic Medicaid underfunding," said Mark Parkinson, president, and CEO of the association, in a statement.
According to recent research from McKinsey, the drastic increase in the prevalence of behavioral health conditions in the U.S. due to Covid-19 will drive an estimated $140 billion in additional healthcare costs by the end of 2021. This whitepaper examines the key challenges in addressing untreated and insufficiently treated depression and shares a proven approach for identifying, engaging, treating and activating complex populations who face barriers to care.
The survey of 953 nursing homes found that 66% won't make it another year at the current operating pace. Right now, 65% are operating at a loss or negative margin and 25% are operating at a margin of zero to 3%.
The biggest drain on nursing home finances has been staffing. Nine out of 10 of the nursing homes surveyed had to get additional staff or pay overtime.
Another 58% said that additional staff costs were their top cost incurred due to COVID-19 and another 70% had to hire additional staff.
https://www.fiercehealthcare.com/hospitals/survey-majority-nursing-homes-won-t-make-it-next-year-if-covid-19-operating-losses
American Health Care Association
9. 10 Home Office Essentials for Less Than $50 That Can Seriously Spruce up Your Space
Upgrade your home office on a budget.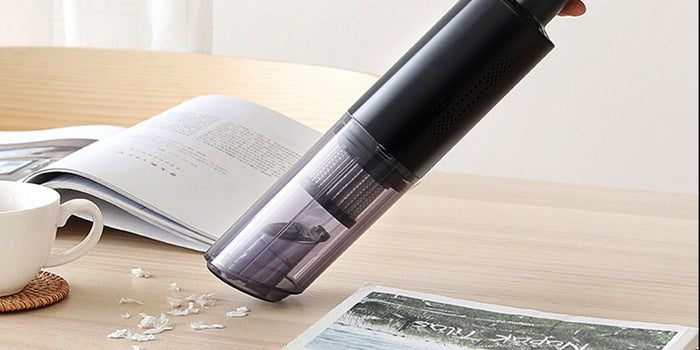 Image credit: Electronic Avenue
Disclosure: Our goal is to feature products and services that we think you'll find interesting and useful. If you purchase them, Entrepreneur may get a small share of the revenue from the sale from our commerce partners.
Most people transitioned to working from home in 2020, and many people can expect the work from home life to continue in 2021. If you haven't gotten your home office in the shape you want it to be in, now's a great time to do so.
We've rounded up some of the most useful home office accessories, all of which are on sale for an extra 20 percent off with promo code HOLIDAY20. That code brings everything down to less than $50! But act fast, these sales are live for a limited time only.
Ensure your coffee or tea stays at the perfect temperature for as long as it takes you to drink it with this electric mug warmer. It's adjustable so you can find the right temperature for you.
Get the Electric Smart Mug Warmer for $18.40 (Reg. $59) with promo code HOLIDAY20.
Keep your home office nice and cozy with this digital space heater. Its 350W energy-smart heating power and programmable settings will ensure your office is warm and cozy all winter long.
Get the Cool-to-Touch Digi Heater for $28.00 (Reg. $69) with promo code HOLIDAY20.
3. Handheld Cordless Mini Vacuum Cleaner
They say a clean office indicates a clean mind. So keep your mind clean with this flexible cordless vacuum that works efficiently on both carpet and hardwood.
Get the Handheld Cordless Mini Vacuum Cleaner for $32.00 (Reg. $99) with promo code HOLIDAY20.
4. LED Lamp with Wireless Charging
Upgrade your desk lighting with a two-in-one device. This adjustable lamp gives you a solid source of light while also charging your Qi-enabled devices wirelessly.
Get the LED Lamp with Wireless Charging for $32.00 (Reg. $59) with promo code HOLIDAY20.
5. Gourmia® GCM6850 Digital Accelerated Cold Brew Coffee Maker
Who says you have to go out to the coffee shop for great cold brew? With this fast-brewing machine, you can make delicious cold brew at home in just a few minutes.
Get the Gourmia® GCM6850 Digital Accelerated Cold Brew Coffee Maker for $48.00(Reg. $109) with promo code HOLIDAY20.
6. Work From Home Desk Organizer
Spark joy in your home office with this simple home desk organizer. It has a smart, convenient design that ensures everything has its place, reducing your office clutter.
Get the Work From Home Desk Organizer for $55.00 (Reg. $60).
7. Portable Laptop Stand with Mouse Pad
Like to work in different areas of the house throughout the day? Take your workstation anywhere with this portable, folding laptop stand that has an integrated mouse pad.
Get the Portable Laptop Stand with Mouse Pad for $37.56 (Reg. $54) with promo code HOLIDAY20.
8. U-STREAM Home Streaming Studio with 10″ Ring Light & Tripod
If you're spending a lot of time on Zoom, you might as well look your best. This home streaming studio includes a ring light and tripod to help you get the best lighting and angles possible.
Get the U-STREAM Home Streaming Studio with 10″ Ring Light & Tripod for $40.00 (Reg. $99) with promo code HOLIDAY20.
9. blurams Outdoor Pro Security Camera Outdoor System
When home is where your work and your family are, you owe it to yourself to upgrade security. This weatherproof camera has motion sensors, night vision, an alarm system, and more to protect your home.
Get the blurams Outdoor Pro Security Camera Outdoor System for $48.00 (Reg. $89) with promo code HOLIDAY20.
10. EZE Back Memory Foam Seat Cushion
Protect your posture without strapping yourself into a harness. This ergonomic seat cushion helps promote healthier posture with a rounded, cushioned design.
Get the EZE Back Memory Foam Seat Cushion for $40.00 (Reg. $69) with promo code HOLIDAY20.
https://www.entrepreneur.com/article/362219
10. 7 Ways to Learn More Effectively
Parenting from a Neuroscience Perspective
What neuroscience tells us about how to maximize our learning potential.
When I was a schoolgirl, my typical study routine went something like this: cram for hours before an exam, write the exam decently enough, and forget literally everything that was learnt a few days later. It didn't matter then to me, because I was still managing to do passably well in my tests, but the long-term learning just was not taking place.
Turns out this is not all that surprising from a neuroscience point of view. For studying to be effective, there are a few strategies we need to employ. Call it hacking your brain, if you will. Here is my list of seven things you can do to make learning (be it a new skill, a new language, or even study material at school) more effective. I wish now that I had this knowledge when I was in school or college, but hey, it's never too late to learn, is it?
1. Break up your learning into small chunks
Studies have shown that rather than studying for long stretches at a time, giving ourselves small breaks in between can greatly enhance focus. The problem here is not that we have brief attention spans – it is that constantly paying attention to the same stimulus can cause our brains to regard it as potentially unimportant. An optical illusion called "Troxler Fading" is a good analogy to this – constantly fixating on a particular point can cause unchanging points in our peripheral vision to 'fade away'.
The scientist who performed this study wondered if a similar principle might apply to thoughts as well – constant attention to a particular thought or group of thoughts might just cause it to disappear from our awareness! This is where taking little breaks in between learning can be useful.
One of the most practical and oft-quoted applications of this idea is the Pomodoro technique. This technique involves working for a stretch of 25 minutes, followed by a short 5-minute break. This break is important, as we have discussed, to get our minds off the problem and activate different regions of the brain from those we were using while we were focused on the task. This not only provides us an opportunity to get more creative, but also keeps our temptation to get distracted in check.
2. Sleep is essential for successful learning
Barbara Oakley, in her excellent Talk at Google on how the brain learns, coins the term "focused mode" for the parts of the brain that are activated when challenged with a familiar problem. In "focused mode", she says, many of the neural connections are already made. But when we start to learn something completely new, another mode of the brain, the "default mode", comes into play. The default mode network comprises a range of brain regions that are active when a person is at rest. These are probably the regions at work when we say "I don't know how that idea came to me while I was washing the dishes. I wasn't even thinking about the problem at hand!". Given that it comprises of diffuse brain regions, the default mode network can be useful at associating seemingly unrelated concepts or ideas.
This is one of the reasons why sleep is so important to learning. Studies have shown that sleep is essential for a few reasons – for one, the process of consolidating short-term memories to long-term ones happens in part during sleep. It has also been demonstrated in mice that sleep drives clearance of by-products of neural activity from the brain, leading to a possible restorative effect.
3. Interleaving related skills is a more effective technique than "blocking"
While teaching children new concepts, "blocking" related or similar skills has been the norm. For example, when teaching children to write, they are told to first practice writing a bunch of As, followed by a bunch of B's and so on. However, it has been shown that interleaving skills, that is, asking them to write an A followed by a B and then a C, and then go back to writing an A, is far more effective at producing lasting learning.
Why does this happen? It could be that interleaving helps learners discriminate between similar concepts more easily than blocked practice does. Studies have also suggested that interleaving might help strengthen memory associations. Unlike blocking, which requires just the retrieval of one solution set at a time, interleaving requires our brains to be continually engaged, bringing up different solutions into short term memory and using them.
4. Teach a topic you're learning to someone else (or pretend to do so)
I don't remember much of what I studied in school, but the topics that I do recall very well are those that I had been assigned to teach my peers. It has been shown that this enhanced learning while teaching could possibly be the result of retrieving what we have previously learnt, rather than just passively re-reading the material. In other words, it is a way of testing ourselves without actually doing so.
Several studies have shown that children who served as tutors ended up having a greater understanding of the topic themselves. If you don't have the luxury of having a study group or a willing partner to listen to your teachings, simply learning a concept while assuming you have to teach it to others can be a great way to learn more effectively.
5. Take notes in class (or while watching an online course video), but work on expanding on those notes immediately after the lesson
In his extremely popular lecture on how to study smart, Marty Lobdell tells his students how important it is to take notes in class. There is no way to remember something you have learnt in class (no matter how attentive you think you were) if you weren't jotting down notes.
But here is what he says is even more important – as soon as class is over, go back to your notes and expand on them based on the lecture you just listened to. If this is not done, you run the risk of your notes seeming incomprehensible when you look back at them after a few days.
6. Couple facts with concepts in order to maximize learning
It is inevitable, during learning, to have to memorize certain facts. Medical students, for instance, need to learn the names of all the muscles in the human body. Lobdell suggests, in the same lecture I mentioned previously, that the students would do better to learn the function of each muscle when they are learning its name.
Human memory is essentially an associative process, so we have a better chance of learning and remembering something well if we learn it in context. Rather than just memorizing, for instance, that Mahatma Gandhi was assassinated in the year 1948, I'd do better if I knew already that India attained its independence in the year 1947 and he was killed just a year later.
7. Use tests as a way to learn, rather than an assessment tool
Not only are tests useful to understand how much we have learnt and how well we have learnt it, but they can also be excellent as learning tools. This again goes back to how retrieving information makes it easier to recall it in the future, compared to just being presented with information.
Studies have shown that taking a memory test post learning enhances later retention of the material learned; a phenomenon termed the "testing effect". This is true even of unsuccessful tests, where a person generates wrong answers before going on to learn the correct ones. Rather than confuse a person (as most people would imagine), it seems to be that merely trying to generate the correct answer activates semantic networks that are used later to remember the learned fact better.
While it is important to equip ourselves with the tools needed to make ourselves better learners, it is also essential to remember that we are all working with depleting mental resources due to the pandemic and its effects, and to be kind to ourselves at this time.
https://www.psychologytoday.com/us/blog/parenting-neuroscience-perspective/202012/7-ways-learn-more-effectively
Disclosure
Lansing Street Advisors is a registered investment adviser with the State of Pennsylvania..
To the extent that content includes references to securities, those references do not constitute an offer or solicitation to buy, sell or hold such security as information is provided for educational purposes only. Articles should not be considered investment advice and the information contain within should not be relied upon in assessing whether or not to invest in any securities or asset classes mentioned. Articles have been prepared without regard to the individual financial circumstances and objectives of persons who receive it. Securities discussed may not be suitable for all investors. Please keep in mind that a company's past financial performance, including the performance of its share price, does not guarantee future results.
Material compiled by Lansing Street Advisors is based on publicly available data at the time of compilation. Lansing Street Advisors makes no warranties or representation of any kind relating to the accuracy, completeness or timeliness of the data and shall not have liability for any damages of any kind relating to the use such data.
Material for market review represents an assessment of the market environment at a specific point in time and is not intended to be a forecast of future events, or a guarantee of future results.
Indices that may be included herein are unmanaged indices and one cannot directly invest in an index. Index returns do not reflect the impact of any management fees, transaction costs or expenses. The index information included herein is for illustrative purposes only.