1. 3 Reasons Why You Shouldn't Wait For the Stock Market to Crash
"I can't invest now. The stock market is too high."
Everybody who has ever put a dollar into the market has had this thought at some point in time. But all-time highs are nothing to fear. In fact, returns are stronger after all-time highs because rising prices attract more buyers which leads to higher prices. This tends to continue until something comes along and knocks this cycle off of its course.
2. Tesla Going for Market Cap King Over Apple.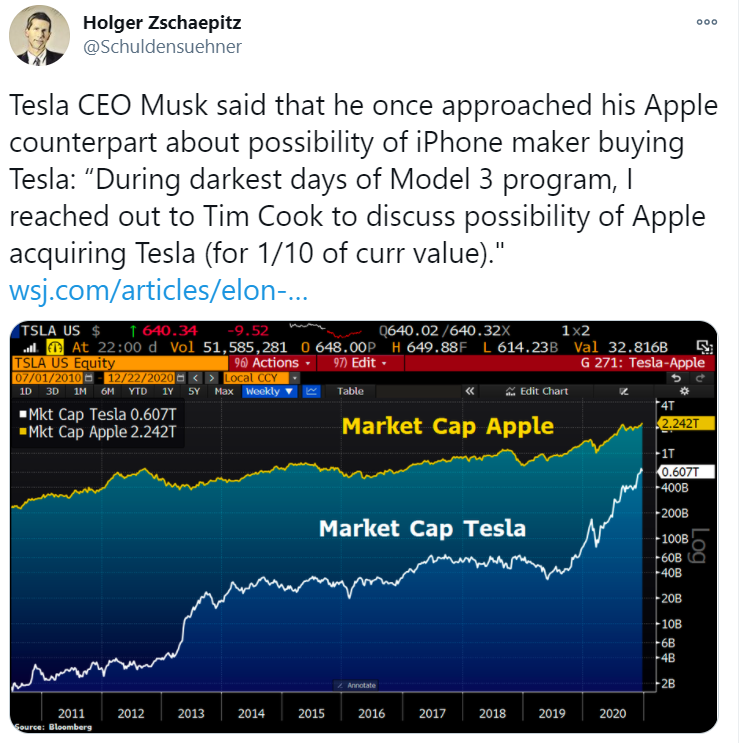 3. A Reversal Of Buybacks
While corporations are increasing their cash hoards and issuing debt, they are taking advantage of investors' "irrational exuberance" to sell shares into the market. The outcome is the same. There is less corporate demand underlying the financial markets.
Review the chart above that showed nearly all of the previous equity buying came from corporations. Corporations have now switched by markedly decreasing share buybacks from the 2015-2019 levels. Now they are beginning to increase outstanding shares.
Notably, over the last 20-years, the only two previous periods where corporations were increasing the number of shares outstanding was during the 2000 and 2008 recessions. (Important note: Increasing shares counts reverses the bottom-line EPS boost.)
A Major Support For Asset Prices Has Reversed
by Lance Roberts of Real Investment Advice, 12/21/20
https://www.advisorperspectives.com/commentaries/2020/12/21/a-major-support-for-asset-prices-has-reversed
4. Russell 2000 Chart 34% Above 200 day…A Record.
From forgotten asset class to double off bottom…small cap now stretched over 200day.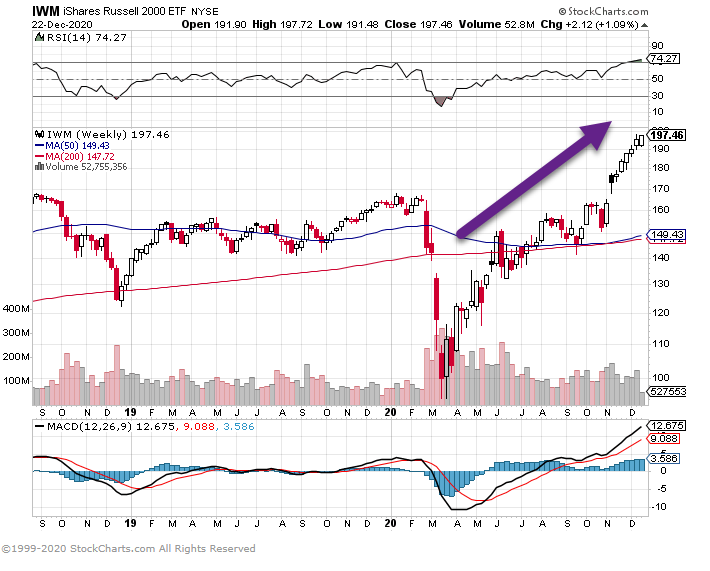 5. History of Santa Claus Rally
CNBC
According to Stovall, a Santa Claus rally involves the last five trading days of the old calendar year plus the first two days of the new one. He also looks at the overall strength of the first five days of the new year.
He highlights the S&P 500′s performance since 1945. (It's important to note the S&P technically started in 1957, but it was built on an earlier index of 400 companies.)
In all years, he finds the average S&P 500 gain going back is 9%.
But when the market staged a Santa Claus rally, the average yearly return was 10% in the next year. When the rally happened in just the first five days of the new year, it was 12%. When both rallies happened, the S&P returned an average of 13%.
If the rallies don't materialize, it could mean another rough patch is ahead.
"The old adage is if Santa Clause should fail to call, the bear will come to Broad and Wall," said Stovall. "While it doesn't necessarily lead to bear markets, of those times in which we did have no Santa Claus rally, the market rose only half of what it normally does in the subsequent calendar year, and fell 72% of those times."
Market bull delivers year-end optimism as fresh virus fears spark jitters
Stephanie Landsman@STEPHLANDSMAN
https://www.cnbc.com/2020/12/21/market-bull-delivers-year-end-optimism-as-virus-fears-spark-jitters.html
6. European Tech Investing Hits Record Highs
Analysis: From famine to feast, investment in European tech startups roars back
https://www.reuters.com/article/tech-europe-yearend-analysis/analysis-from-famine-to-feast-investment-in-european-tech-startups-roars-back-idUSKBN28W0M5
7. Americans Are Pro-Immigration.


Reuters
Something similar may be going on with immigration, which has also gotten a lot more popular lately.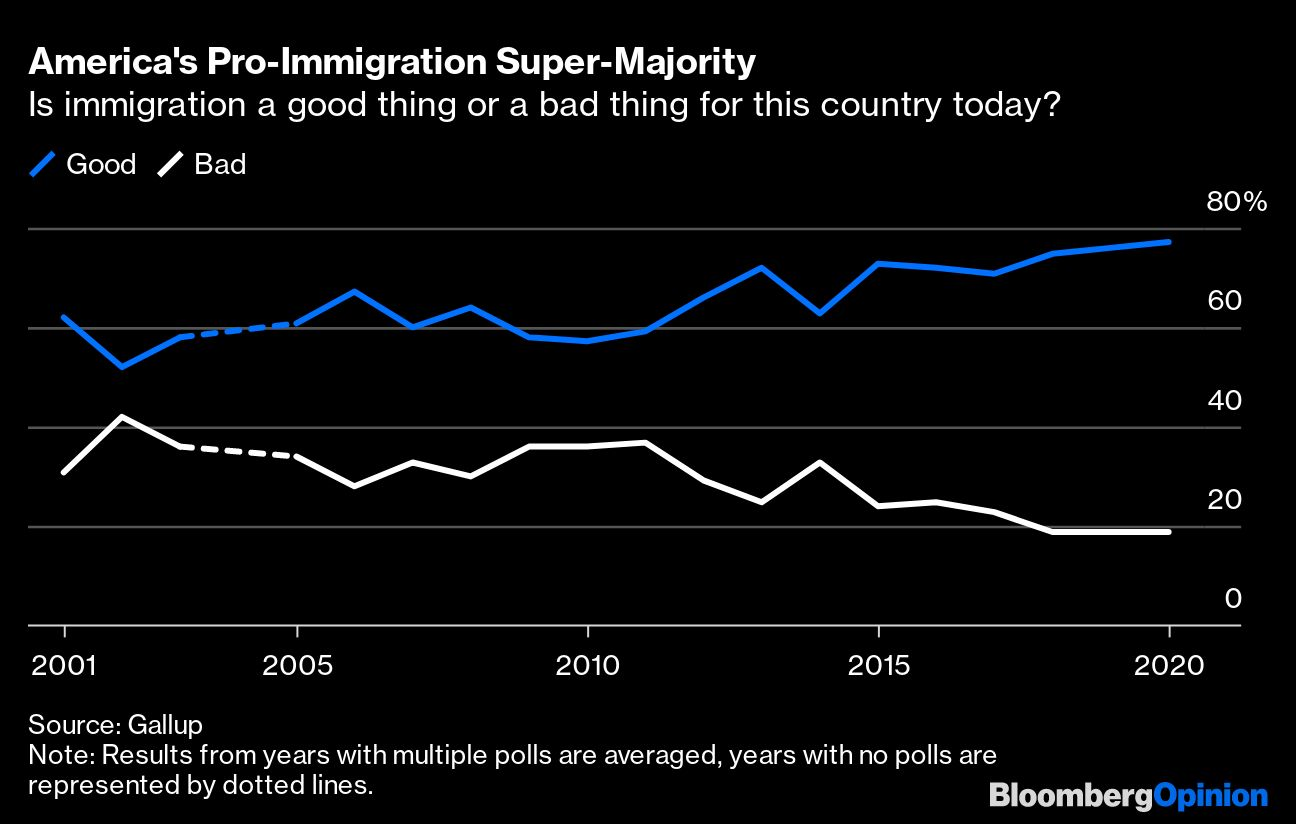 © Bloomberg America's Pro-Immigration Super-Majority
https://www.msn.com/en-us/news/politics/americans-sure-do-agree-on-a-lot/ar-BB1bV6hp?fullscreen=true#image=2
8. Big Tech's stealth push to influence the Biden administration
By Nandita Bose
8 MIN READ
WASHINGTON (Reuters) – Silicon Valley is working behind the scenes to secure senior roles for tech allies in lesser-known but still vital parts of president-elect Joe Biden's administration, even as the pushback against Big Tech from progressive groups and regulators grows.
FILE PHOTO: U.S. President-elect Joe Biden arrives to address a drive-in campaign rally on behalf of Democratic U.S. Senate candidates from Georgia Jon Ossoff and Raphael Warnock, ahead of their January 5 runoff elections, at Pullman Yard in Atlanta, Georgia, U.S., December 15, 2020. REUTERS/Mike Segar
The Biden transition team has already stacked its agency review teams with more tech executives than tech critics. It has also added to its staff several officials from Big Tech companies, which emerged as top donors to the campaign.
Now, executives and employees at tech companies such as Alphabet Inc-owned Google, Amazon.com Inc, Facebook Inc, Microsoft Corp are pushing to place candidates in senior roles at government agencies, according to four sources with knowledge of the matter.
The agencies many of these executives are aiming for include the U.S. Commerce Department, Office of the United States Trade Representative, the Office of Information & Regulatory Affairs – a key agency under the White House Office of Management & Budget which drafts policies impacting the tech industry, the State Department and the Department of Defense, according to the sources.
Many company executives, who in some cases helped raise money for the Biden campaign or have ties to those on the president-elect's transition team, still have a huge commercial interest in pushing candidates with industry ties at the Department of Justice and the Federal Trade Commission – both of which are investigating whether Big Tech abused its market power. But the spotlight on those agencies from progressive interest groups and members of Congress is likely to make it much harder for Silicon Valley to succeed, the sources said.
To be sure, there is no formal process via which such names and recommendations are being floated by company executives to the transition team. A Biden transition spokesman Cameron French said agency review team members and future administration appointees will be committed to implementing Biden's policy ideas.
"Each member of the Biden-Harris transition and incoming administration will have values that align with the President and Vice President-elect on a host of issues including the tech sector," he said.
Facebook and Microsoft declined comment. Amazon's public policy and communications chief Jay Carney told Reuters that Amazon is not trying to get anyone from the company placed in the new administration. "Any suggestion to the contrary is completely false," Carney said.
Google spokesman Jose Castaneda said "as a company, we make no recommendations and are unaware of any such communications."
https://www.reuters.com/article/usa-tech-biden-insight/big-techs-stealth-push-to-influence-the-biden-administration-idUSKBN28V170
9. Money and Happiness.
Popular Science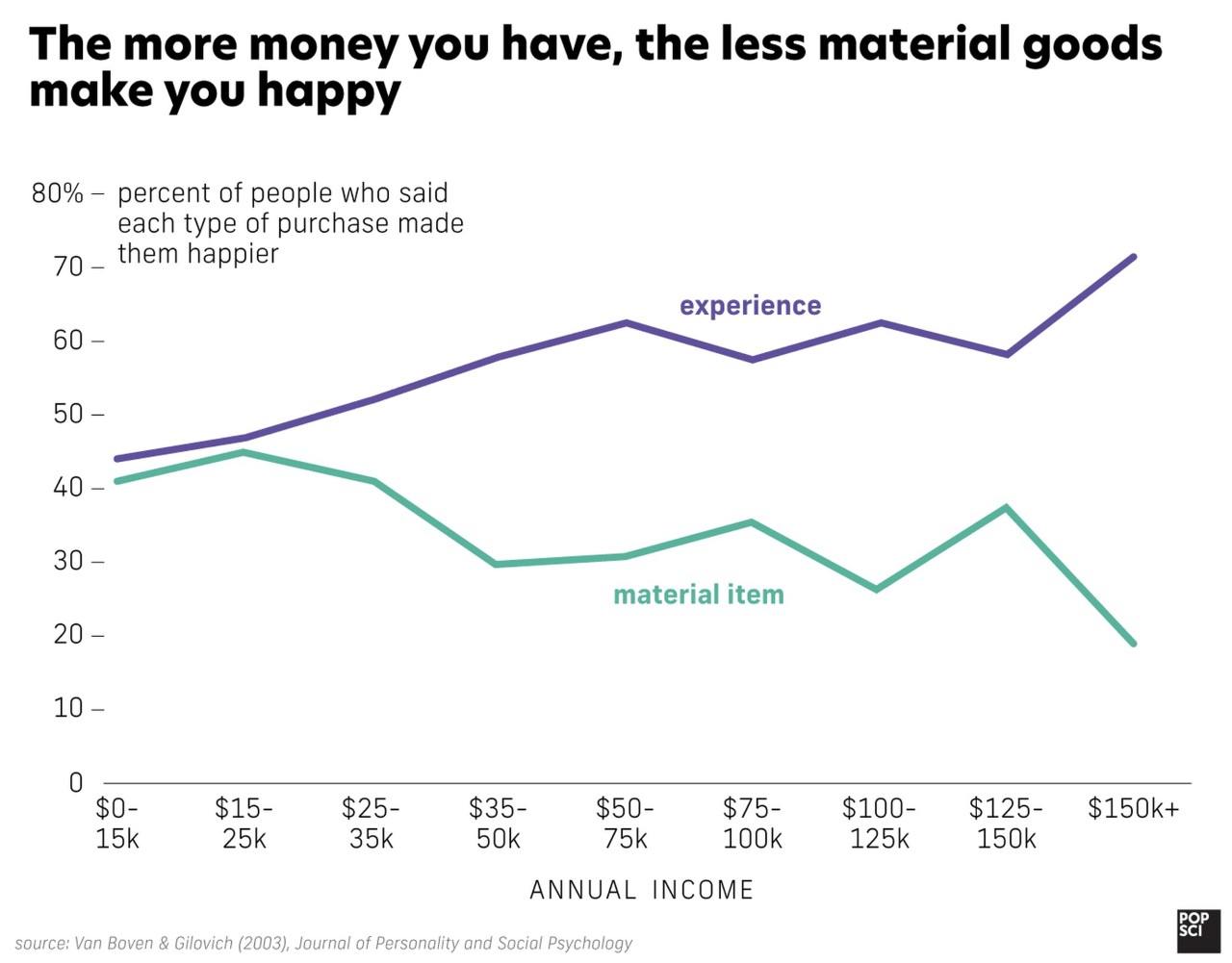 Infographic by Sara Chodosh
https://www.popsci.com/story/science/how-to-spend-money-happiness/
Found at Abnormal Returns Blog www.abnormalreturns.com
10. The Power of Purpose and Meaning in Life
A new study reveals the pervasive effects of feeling that life is worthwhile.
The feeling that one's life has meaning can come from any number of things—from work (paid or unpaid) that feels worthwhile, from cherished relationships, from religious faith or even from regularly appreciating the sunset. While it does not much matter what gives you purpose, it does matter that you find it somewhere. A growing body of research has found that the feeling that one's life has meaning is associated with a host of positive health outcomes. And now a new study of older adults published in Proceedings of the National Academy of Sciences goes even further by revealing that the sense that one is living a worthwhile life appears to be positively linked to just about every aspect of our lives, not just health. The new study also followed people over time and found that the more worthwhile they found their lives the more positive changes they experienced over the following four years.
"These associations seem quite pervasive, right across a whole spectrum of our experience," says lead author Andrew Steptoe, a psychologist and epidemiologist at University College London who oversaw the study. "It's not only related to health but to social functions, psychological and emotional experiences, economic prosperity, things like sleeping well and time spent doing different kinds of activities."
The paper was part of an ongoing British study of older adults known as the English Longitudinal Study of Aging (ELSA), which Steptoe directs. The new results are based on data from more than 7300 adults over the age of 50 (the mean age was 67.2). Every two years or so, participants sit for extensive interviews and a series of medical tests. They were asked to rate how worthwhile they felt their lives to be on a scale of one to ten. The average worthwhile rating was 7.41 though ratings were slightly higher in women than in men (7.46 vs 7.35). Importantly, the results are correlational, meaning they show an association between the worthwhile ratings and other aspects of life, but do not necessarily mean that one causes the other.
Nevertheless, the findings suggest that there is something essential about living a meaningful life. On many levels that's not surprising. The concept of having a purpose in life dates to the Ancient Greeks at least. Contemporary thinking on the subject stems from the 1940s writings of physician Viktor Frankl, who believed that having a purpose in life helped him survive three years in Auschwitz. After the war, Frankl developed a set of 13 questions as a way to measure purpose in life.
The ELSA study tested the viability of a similar set of questions that have been incorporated into regular surveys by the United Kingdom's Office of National Statistics, its equivalent of the U.S. Census Bureau. Steptoe believes their strong findings speak to the value of assessing quality of life in this way on a national level.
One of the areas that stood out to Steptoe were the findings about people's social lives. Higher worthwhile ratings were associated with stronger personal relationships (marriage was important but so was regular contact with friends) and with broader social engagement such as involvement in civic organizations, cultural activity, and volunteering. People with high ratings were less likely to be lonely. "I'm struck by the consistency of associations between these feelings [of living a meaningful life] and social and cultural activity," Steptoe says. "On the other hand, the people who had low ratings tended to spend a lot of time alone. They tend to watch television more and do more passive activities." He believes the message is clear, particularly for older men and women, that it's important to remain socially engaged, if at all possible. "It's encouraging oneself to go out and about and continue to participate in society rather than withdraw from it."
On the health front, those with higher worthwhile ratings had better mental and physical health. That translated into fewer depressive symptoms, less chronic disease, less chronic pain, and less disability. They also had greater upper body strength, walked, were less obese, and had more favorable biomarker profiles such as white blood cell count, vitamin D, and high-density lipoprotein cholesterol (the good cholesterol). They engaged in more physical activity, ate more fruits and vegetables, slept better, and were less likely to smoke.
It is possible that strong social connections and good health contribute to people's sense that their lives have meaning. But Steptoe and his colleague Daisy Fancourt also conducted a longitudinal analysis over four years. They found that people who were low in some measures in 2012 but who had higher worthwhile ratings were more likely to see improvements in those measures by 2016. In other words, someone who was physically inactive at baseline but gave high ratings was more likely to have become regularly active later on than someone with lower ratings.
"I think it's a two-way process," says Steptoe. "The sorts of things we do are going to be influencing these judgments of the purpose and worthwhileness of what we do in life. But those things in turn are going to be either stimulating or inhibiting future activities. It's a virtuous circle."
Copyright Lydia Denworth 2019.
https://www.psychologytoday.com/us/blog/brain-waves/201901/the-power-purpose-and-meaning-in-life?collection=1137428
Disclosure
Lansing Street Advisors is a registered investment adviser with the State of Pennsylvania..
To the extent that content includes references to securities, those references do not constitute an offer or solicitation to buy, sell or hold such security as information is provided for educational purposes only. Articles should not be considered investment advice and the information contain within should not be relied upon in assessing whether or not to invest in any securities or asset classes mentioned. Articles have been prepared without regard to the individual financial circumstances and objectives of persons who receive it. Securities discussed may not be suitable for all investors. Please keep in mind that a company's past financial performance, including the performance of its share price, does not guarantee future results.
Material compiled by Lansing Street Advisors is based on publicly available data at the time of compilation. Lansing Street Advisors makes no warranties or representation of any kind relating to the accuracy, completeness or timeliness of the data and shall not have liability for any damages of any kind relating to the use such data.
Material for market review represents an assessment of the market environment at a specific point in time and is not intended to be a forecast of future events, or a guarantee of future results.
Indices that may be included herein are unmanaged indices and one cannot directly invest in an index. Index returns do not reflect the impact of any management fees, transaction costs or expenses. The index information included herein is for illustrative purposes only.