1.Retail Trading Explosion.
Callum Thomas Top Down Charts
https://www.linkedin.com/in/callum-thomas-4990063/
2. Tesla Added to S&P…….AIV Coming Out….2 years TSLA +900% vs. AIV -23%
TSLA VS AIV CHART
3. Country ETFs All Short-Term Overbought as Everything Rallies.
Bespoke Blog-An Overbought World
The majority of global equity markets tracked in our Global Macro Dashboard found a short-term bottom at some point in late October including the US. As shown below, of the 23 ETFs tracking each of these countries' equity markets, nearly all are up double digits since the end of October. A dozen have risen over 20% and Brazil (EWZ) has risen more than any other country, gaining over 40%. China (MCHI), on the other hand, is the only hold out as it has risen just 3.44% over the past month and a half. Given these moves, most of these ETFs are overbought as defined as trading at least one standard deviation above their 50-DMAs. Only Hong Kong (EWH) and China (MCHI) are not overbought by this measure while India (INDA) is currently the most overbought ETF trading 1.92 standard deviations from its 50-DMA. That is even though it is at the low end of the performance range of these country ETFs listed. Top-performing Brazil, on the other hand, is the second most overbought ETF trading 1.85 standard deviations above its 50-day. In percentage terms, Brazil is also the ETF trading the furthest above its 50-DMA.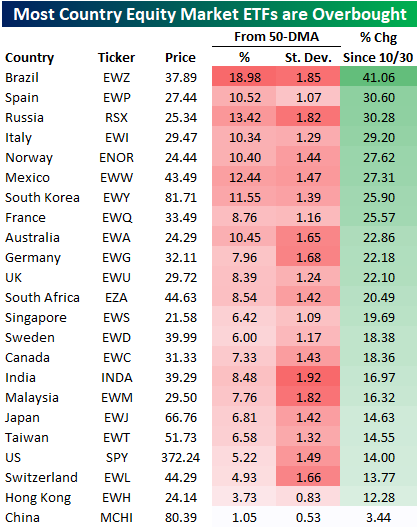 https://www.bespokepremium.com/interactive/posts/think-big-blog/an-overbought-world
4. Call Option Trading on Stocks Another Surge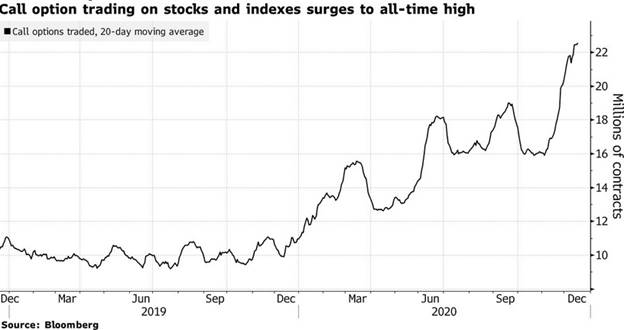 From Dave Lutz at Jones Trading.
5. Has the U.S. dollar peaked?
Capital Group

Capital Group currency analyst Jens Søndergaard cautions that the shift could take time: "I believe the dollar is overvalued, but to get a proper dollar bear market, we need evidence that growth outside the U.S. is firming up."
In the near term that will largely depend on the trajectory of the virus, as well as how quickly a vaccine is approved and administered throughout the world.
"Once global growth does take off, and we have a proper recovery from the pandemic," Søndergaard adds, "I think in all likelihood we will see the dollar weaken further."
---
Jody Jonsson is an equity portfolio manager with 31 years of investment experience, 29 at Capital. She holds an MBA from Stanford and a bachelor's from Princeton. Jody is a CFA charter holder and a member of the CFA Institute.
Noriko Chen is an equity portfolio manager with 28 years of experience. She has a bachelor's from Williams College and a Japanese language degree from Keio University, Tokyo.
Jens Søndergaard is a currency analyst at Capital Group. Before joining Capital in 2013, he was a senior economist at Nomura and the Bank of England and an assistant professor at Johns Hopkins. He holds a PhD in economics and a master's in foreign service from Georgetown.
https://www.capitalgroup.com/advisor/insights/articles/2021-international-outlook.html?cid=sm_pd_tw_bb_capi_co_450870606
6. Scoop: SoftBank to file for SPAC
Dan Primack, author of Pro Rata, Illustration: Sarah Grillo/Axios
SoftBank on Monday will file to raise between $500 million and $600 million via an IPO of its first SPAC, Axios has learned from multiple sources.
Look ahead: The investment giant is said to be prepping at least two additional SPACs, which are blank check vehicles that raise money to buy a company and take it public via a reverse merger.
Details: As Axios previously reported, the SPAC is intended to buy a company in which SoftBank has not previously invested.
The SPAC sponsor will be SoftBank Investment Advisers, which manages the $100 billion Vision Fund and Vision Fund 2 (unknown size, funded entirely from SoftBank's balance sheet).
SoftBank has never before raised a SPAC, but it did have portfolio company OpenDoor agree in September to be acquired by a SPAC at a $4.8 billion enterprise value. It also recently lost a pair of partners to Gores Group, where they'll focus on SPACs.
Underwriters on the offering are expected to be Citi, Deutsche Bank and Cantor Fitzgerald. [Correction: An earlier version of this article mentioned Goldman Sachs, but sources say it is no longer involved].
A SoftBank spokesperson declined to comment. https://www.axios.com/softbank-spac-monday-de58a7f0-3f13-40dd-bafc-5194e7cd4a73.html?utm_source=morning_brew
Softbank Chart 3x Off Covid Low

7. Fleeing New Yorkers resulted in an estimated $34 billion in lost income -study
2 MIN READ
FILE PHOTO: A man runs along the Brooklyn Heights Promenade as fog covers lower Manhattan in New York, U.S. November 30, 2020. REUTERS/Brendan McDermid
(Reuters) -Millions of people have moved out of New York City during the pandemic, but at the same time, millions of others with lower incomes have taken their place, according to a study released on Tuesday.
All told, a net 70,000 people left the metropolitan region this year, resulting in roughly $34 billion in lost income, according to estimates from Unacast here, a location analytics company.
About 3.57 million people left New York City this year between Jan. 1 and Dec. 7, according to Unacast, which analyzed anonymized cell phone location data. Some 3.5 million people earning lower average incomes moved into the city during that same period, the report showed
"The exodus isn't as big as people have been talking about," said Thomas Walle, chief executive and co-founder of Unacast. "Maybe the greater impact is how the population is changing and how the demographics are changing."
In Tribeca, a wealthy neighborhood in downtown Manhattan, residents who left this year earned an average income of about $140,000, Walle said. The typical person moving into the neighborhood earned an average $82,000, he said.
The dual hit to population and income across the city can have lasting consequences for New York City as it recovers from the economic crisis caused by the pandemic, Walle said. "The big question is, 'How does real estate and retail in particular adapt to that?'" he said.In the longer run, the changing demographics could lead to more affordable brands taking the place of higher-end stores, the researchers noted. At the same time, real estate developers may need to offer more lower-priced housing options, Walle said.
A separate report released earlier this year by StreetEasy found that vacancies rose and rents dropped between February and July in high-end neighborhoods, including the financial district downtown. But rents continued to rise in more affordable neighborhoods.
Reporting by Jonnelle Marte; Editing by Stephen Coates
Our Standards: The Thomson Reuters Trust Principles.
https://www.reuters.com/article/usa-economy-nyc-idUKKBN28P1Q8?taid=5fd901da6bd4b60001875fc9&utm_campaign=trueAnthem:+Trending+Content&utm_medium=trueAnthem&utm_source=twitter
8. Where Tech Workers are Moving? 2020's Tech Migration Trends.
Where Tech Workers Are Moving: New LinkedIn Data vs. the Narrative
The Austin surge that wasn't. Plus booming Seattle, miraculous Madison, and sluggish San Francisco.
9. Are Wine Experts Con Artists?
Spoiler: No, they are not.
When the sommelier comes to my table in the restaurant, I wonder whether they really are better at wine tasting than any of the guests. They make a surprising amount of money and they have to undergo very lengthy training. But are they really good or are they just good at pretending?
It has been known for a while that professional wine-tasters are sometimes bad at distinguishing red wine and white wine if they smell or taste them without having any information about the wine's color (either because they are drinking it from black glasses or because the white wine is colored red with tasteless colorant). While the experiment that this conclusion is based on is often misreported, one can see how you can grab headlines with this. If wine experts can't even tell red and white wine apart, what on earth do they have to pontificate about?
Even worse, some studies show that the bias from the perceived color is even stronger in wine experts than novices like you or me. If years of culinary schooling and wine tasting lead to more confusion, what's the point?
A recent set of studies helps us to understand how these experiments that seem to show that wine experts are worse off than laypeople may be misleading. This study is about olfactory and gustatory mental imagery.
When you close your eyes and visualize an apple, this brings up visual mental imagery. It is seeing with the mind's eye. But mental imagery is also present in the other sense modalities. One example of auditory mental imagery is earworms, those little tunes that you keep hearing 'in the mind's ear' although you really don't want to.
And we also have mental imagery of smell and taste. When we see a photograph of a food item we like, this automatically triggers mental imagery of its smell (olfactory imagery) and mental imagery of its taste (gustatory imagery). I argued here that this explains the mind-boggling popularity of cooking shows.
Is the olfactory and gustatory mental imagery of wine experts better than ours? A recent study shows that it is, but only for wine-related stimuli. Novices have, on average, better visual mental imagery, but wine experts have better olfactory and gustatory imagery, but not for stimuli like roses or peanut butter, but only for wine-related smells and flavors.
This explains why wine experts bumble so badly sometimes. When they taste white wine that is colored red with odorless colorant, they form an expectation on the basis of what they see and form their olfactory and gustatory mental imagery on the basis of that as well. And given that their vision is tricked with the colorant, their olfactory and gustatory mental imagery is also tricked. And as they have more robust and more reliable olfactory and gustatory mental imagery, this leads them astray more.
In short, wine experts are not con artists. They are much better at tasting and smelling wine than you or I. But it is exactly this ability that makes it easier to fool them sometimes.
https://www.psychologytoday.com/us/blog/psychology-tomorrow/202012/are-wine-experts-con-artists
10. 7 Things Steve Jobs Said That You Should Say Every Single Day
What you do is based on what you think. So borrow a few thoughts from Steve.
BY JEFF HADEN, CONTRIBUTING EDITOR, INC.@JEFF_HADEN
He came, he saw, he conquered–and he left behind some words to live by:
1. "Innovation distinguishes between a leader and a follower."
Ideas without action aren't ideas. They're regrets.
Every day, most people let hesitation and uncertainty stop them from acting on an idea. (Fear of the unknown and fear of failure are often what stop me, and they may be what stop you, too.)
Think about a few of the ideas you've had, whether for a new business, a new career, or even just a part-time job.
In retrospect, how many of your ideas could have turned out well, especially if you had given it your absolute best? Would a decent percentage have turned out well?
My guess is, probably so — so start trusting your analysis, your judgment, and even your instincts a little more.
You certainly won't get it right all the time, but if you do nothing and allow your ideas to become regrets, you will always get it wrong.
2. "I'm convinced that about half of what separates successful entrepreneurs from the non-successful ones is pure perseverance."
Everyone says they go the extra mile. Almost no one actually does. Most people who do go there think, "Wait–no one else is here. Why am I doing this?" And they leave, never to return.
That's why the extra mile is such a lonely place.
That's also why the extra mile is a place filled with opportunities.
Be early. Stay late. Make the extra phone call. Send the extra email. Do the extra research. Help a customer unload or unpack a shipment.
Don't wait to be asked — offer. Don't just tell employees what to do — show them what to do, and work beside them.
Every time you do something, think of one extra thing you can do, especially if other people aren't doing that extra thing.
Sure, it's hard. But that's what will make you different.
And over time, that's what will make you successful.
3. "My model for business is the Beatles. They were four guys who kept each other's kind of negative tendencies in check. They balanced each other, and the total was greater than the sum of the parts. That's how I see business: Great things in business are never done by one person, they're done by a team of people."
Some of your employees drive you nuts. Some of your customers are obnoxious. Some of your friends are selfish, all-about-me jerks.
Stop whining. You chose them.
If the people around you make you unhappy, it's not their fault. It's your fault. They're in your professional or personal life because you drew them to you–and you let them remain.
Think about the type of people you want to work with. Think about the types of customers you would enjoy serving. Think about the friends you want to have.
Then change what you do so you can start attracting those people. Hardworking people want to work with hardworking people. Kind people like to associate with kind people.
Exceptional employees want to work for exceptional bosses.
Be the best you can be, and work to surround yourself with people who are even better.
4. "My favorite things in life don't cost any money. It's really clear that the most precious resource we all have is time."
Deadlines and time frames establish parameters, but usually not in a good way. Most people given two weeks to complete a task will instinctively adjust their effort so it actually takes two weeks–even if it shouldn't.
So forget deadlines, at least as a way to manage your activity. Tasks should take only as long as they need to take. Do everything as quickly and effectively as you can. Then, use your "free" time to get other things done just as quickly and effectively.
Average people allow time to impose its will on them; exceptional people impose their will on their time.
5. "Sometimes when you innovate, you make mistakes. It is best to admit them quickly, and get on with improving your other innovations."
Ask most people why they have been successful. Their answers will be filled with personal pronouns like "I" and "me." Only occasionally will you hear "we."
Then ask them why they failed. Most will revert to childhood and instinctively distance themselves, like a kid who says "My toy got broken" instead of "I broke my toy." They'll say the economy tanked. They'll say the market wasn't ready. They'll say their suppliers couldn't keep up.
They'll say it was someone or something else.
And by distancing themselves, they don't learn from their failures.
Occasionally, something completely outside our control will cause us to fail. Most of the time, though, it's us. And that's OK. Every successful person has failed, numerous times. Most of them have failed a lot more often than we have. That's why they're successful now.
Embrace every failure. Own it, learn from it, and take full responsibility for making sure that next time, things will turn out differently.
6. "I didn't return to Apple to make a fortune. I've been very lucky in my life and already have one. When I was 25, my net worth was $100 million or so. I decided then that I wasn't going to let it ruin my life. There's no way you could ever spend it all, and I don't view wealth as something that validates my intelligence."
Money is important. Money does a lot of things. (One of the most important is to create choices.)
But after a certain point, money doesn't make people happier. After about $75,000 a year, money doesn't buy more (or less) happiness. "Beyond $75,000 … higher income is neither the road to experience happiness nor the road to relief of unhappiness or stress," says a study published in the Proceedings of the National Academy of Sciences.
And if you don't buy that, here's another take: "The materialistic drive and satisfaction with life are negatively related." (Or in non-research speak, chasing possessions tends to make you less happy.)
Think of it as the bigger house syndrome. You want a bigger house. You need a bigger house. (Not really, but it sure feels like you do.) So you buy it. Life is good–until a couple months later, when your bigger house is now just your house.
New always becomes the new normal.
That's because "things" provide only momentary bursts of happiness. To be happier, don't chase as many things. Chase experiences.
Someday you won't remember what you had, but you'll never forget what you did.
7. "Your work is going to fill a large part of your life, and the only way to be truly satisfied is to do what you believe is great work. And the only way to do great work is to love what you do. If you haven't found it yet, keep looking. Don't settle. As with all matters of the heart, you'll know when you find it."
Don't know what you're passionate about? No problem. Pick something interesting. Pick something financially viable–something people will pay you to do or provide.
Then work hard. Improve your skills, whether at managing, selling, creating, implementing–whatever expertise your business requires. The satisfaction and fulfillment of small victories will give you the motivation to keep working hard. Small victories will motivate you to further develop your skills.
The satisfaction of achieving one level of success will spur you on to gain the skills to reach the next level, and the next, and the next.
And one day, you will wake up feeling incredibly fulfilled–because you're doing great work, work you've grown to love.
Inc. helps entrepreneurs change the world. Get the advice you need to start, grow, and lead your business today. Subscribe here for unlimited access.
The opinions expressed here by Inc.com columnists are their own, not those of Inc.com.
https://www.inc.com/jeff-haden/7-things-steve-jobs-said-that-you-should-say-every-single-day.html?cid=sf01003\\
Disclosure
Lansing Street Advisors is a registered investment adviser with the State of Pennsylvania..
To the extent that content includes references to securities, those references do not constitute an offer or solicitation to buy, sell or hold such security as information is provided for educational purposes only. Articles should not be considered investment advice and the information contain within should not be relied upon in assessing whether or not to invest in any securities or asset classes mentioned. Articles have been prepared without regard to the individual financial circumstances and objectives of persons who receive it. Securities discussed may not be suitable for all investors. Please keep in mind that a company's past financial performance, including the performance of its share price, does not guarantee future results.
Material compiled by Lansing Street Advisors is based on publicly available data at the time of compilation. Lansing Street Advisors makes no warranties or representation of any kind relating to the accuracy, completeness or timeliness of the data and shall not have liability for any damages of any kind relating to the use such data.
Material for market review represents an assessment of the market environment at a specific point in time and is not intended to be a forecast of future events, or a guarantee of future results.
Indices that may be included herein are unmanaged indices and one cannot directly invest in an index. Index returns do not reflect the impact of any management fees, transaction costs or expenses. The index information included herein is for illustrative purposes only.