1. Balance Sheets of Developed Market Economies Hit War Time Levels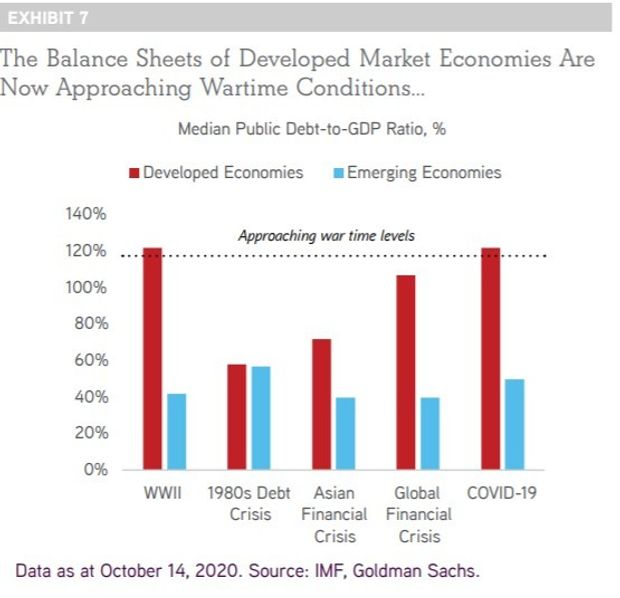 Public debt-to-GDP near WWII levels IMF, GOLDMAN SACHS
What could rattle markets in 2021, even as vaccines are rolling out
https://www.marketwatch.com/story/what-could-rattle-markets-in-2021-even-as-vaccines-are-rolling-out-11608385700?mod=home-page
2. Port of Long Beach Busiest in 109 Year History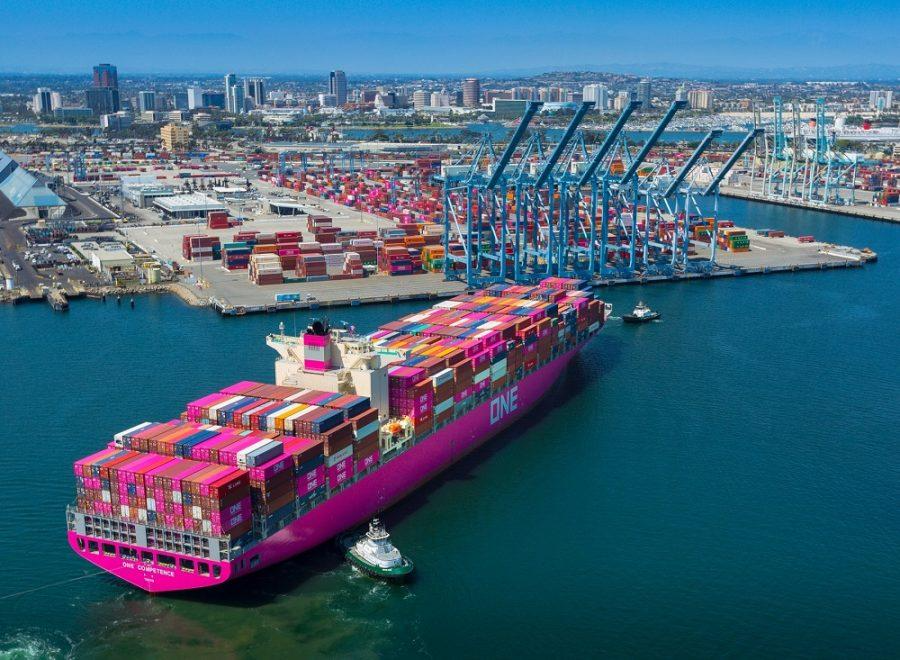 Surge in online spending leads to busiest month on record for Port of Long Beach
July was the busiest month in the 109-year history of the Port of Long Beach after consumer demand rose due to online spending during the coronavirus pandemic, officials said Friday.
The local port moved 753,081 twenty-foot equivalent units, the standard measure used in the cargo industry—nearly 900 more than the previous record set two years ago.
The increased volume is due to a 21% increase in trade last month, spurred by a surge in online spending as consumers stayed home during the pandemic, officials said in a statement. The port also saw an increase in vessels to compensate for those that were canceled in the late winter and spring.
The Port of Long Beach saw steep increases in both imports and exports: Imports rose 20.3% compared to July 2019 while exports rose 24.1%. The rate of empty containers headed back overseas rose 20.8% over 2019.
The port, however, is still down overall from 2019, with volume this year declining by 2.8%.
The Port of Los Angeles, meanwhile, announced that July was its busiest month so far in 2020, and the second-best month in its history. Cargo movement was down last month 6.1% over July 2019, which was its busiest month ever.
"Preliminary data for August indicates solid volumes as retailers continue restocking inventories and preparing for the year-end holiday season," Port of Los Angeles Executive Director Gene Seroka said in a statement.
City News Service contributed to this report.
3. Battery prices have fallen 88 percent over the last decade
Cheaper batteries are making it easier to fight climate change.
TIMOTHY B. LEE – 12/18/2020, 7:30 AM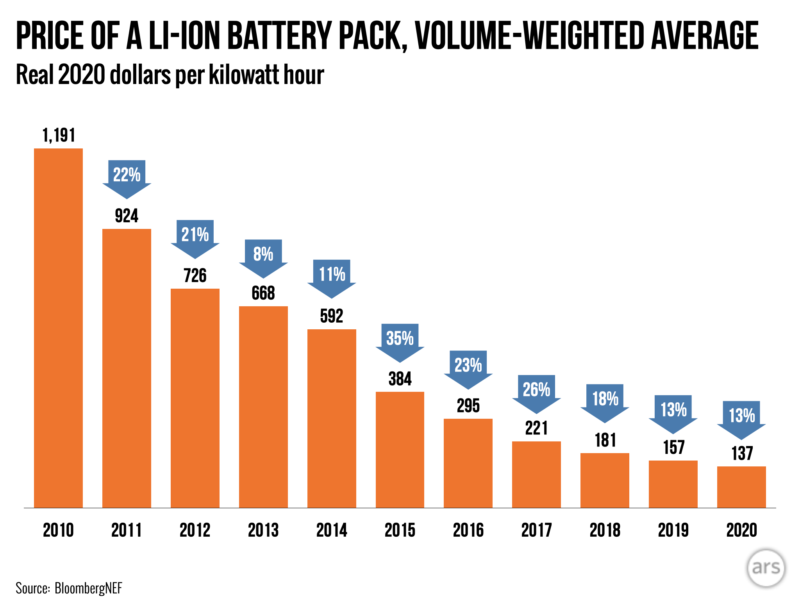 https://arstechnica.com/science/2020/12/battery-prices-have-fallen-88-percent-over-the-last-decade/
4. Bitcoin Trust Doubles Since November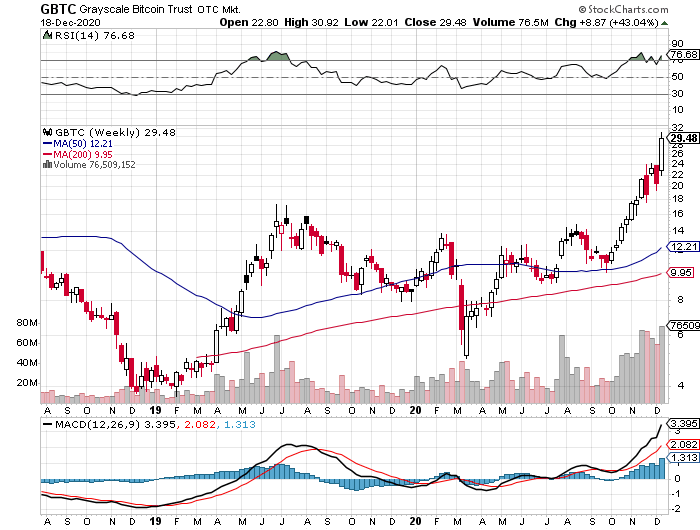 ©1999-2020 StockCharts.com All Rights Reserved
The first publicly-quoted* Bitcoin investment vehicle and the first digital currency investment vehicle to attain the status of an SEC reporting company Grayscale Bitcoin Trust is solely and passively invested in Bitcoin, enabling investors to gain exposure to BTC in the form of a security while avoiding the challenges of buying, storing, and safekeeping BTC directly.
*Publicly quoted on OTCQX® and registered pursuant to Section 12(g) of the Securities Exchange Act of 1934, as amended.
| | |
| --- | --- |
| Investment Objective | Shares (based on Bitcoin per Share as indicated below) track the Bitcoin market price, less fees and expenses* |
| Benchmark Index | TradeBlock XBX Index 24-hour VWAP |
https://grayscale.co/bitcoin-trust/
5. FED Bailing Out Everything Fallen Angel ETF New Highs
ANGL-Van Eck Fallen Angels High Yield ETF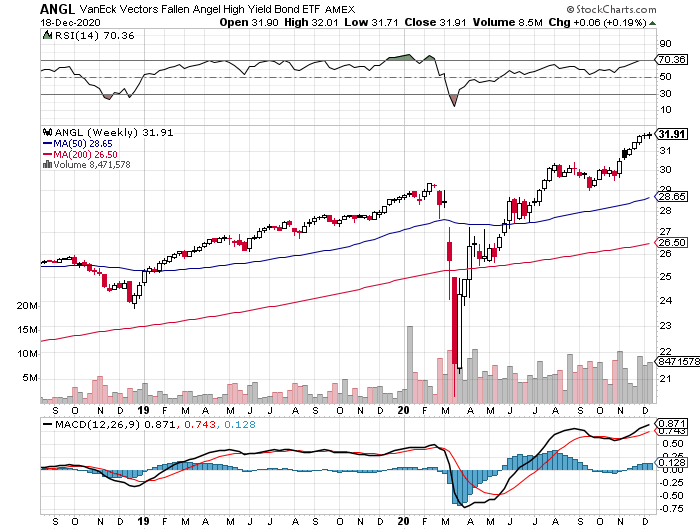 ©1999-2020 StockCharts.com All Rights Reserved
The VanEck Vectors® Fallen Angel High Yield Bond ETF (ANGL®) seeks to replicate as closely as possible, before fees and expenses, the price and yield performance of the ICE US Fallen Angel High Yield 10% Constrained Index (H0CF), which is comprised of below investment grade corporate bonds denominated in U.S. dollars, issued in the U.S. domestic market and that were rated investment grade at the time of issuance.
Top 10 Holdings
SPRINT CAPITAL CORP
KRAFT HEINZ FOODS CO
SPRINT CAPITAL CORP
ROYAL CARIBBEAN CRUISES LTD
OCCIDENTAL PETROLEUM CORP
VODAFONE GROUP PLC
KRAFT HEINZ FOODS CO
FREEPORT-MCMORAN INC
KRAFT HEINZ FOODS CO
https://www.vaneck.com/library/vaneck-vectors-etfs/angl-fact-sheet-pdf/
6. 80% of U.S. wealth is held by people 60 and over

Source: @MichaelBatnick
From Barry Ritholtz Blog https://ritholtz.com/2020/12/sunday-reads-226/
7. Global Music Publishing Business Projected Growth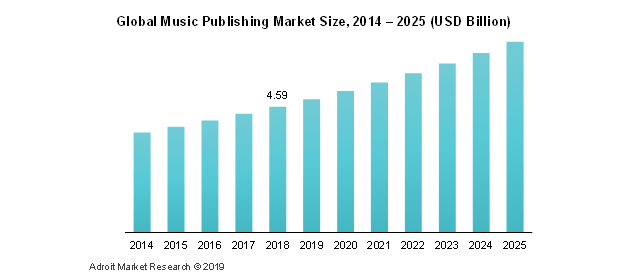 In 2018, the global music publishing market size was valued at USD 4.59 billion. Music publishing is a global multi-billion dollar sector that has developed considerably over the past few years. The music publisher was mainly engaged in the sale of printed music around the turn of the century. However, the function of today's music publisher is much more extensive and complicated as a consequence of technological change. While recording companies create songs recordings and sell phonograph records in all forms and configurations such as cassette tapes and compact discs. Music publisher basically performs the four functions as work with songwriters, protect and implement the copyright of such authors ' songs, license and market the songs for different companies or users, including reproduction, motion pictures and television programs, and allocate the income generated from the reproduction and uses.
https://www.adroitmarketresearch.com/industry-reports/music-publishing-market
8. Hackers Gained Access to 18,000 Government Agencies and Companies.
NYT–That was when hackers, presumed to be working for the SVR, one of the most elite and talented of the Russian spy agencies, first broke into the SolarWinds network management software, which is used across the federal government and by three-quarters of the nation's Fortune 500 companies.
The theory is that the Russians were trying to figure out whether they could get into the "supply chain" of software that would give them broad access to the array of systems that make America tick.
What no one in the Trump administration wants to address, at least publicly, is how the Russians managed to evade billions of dollars in American-built defenses designed to alert agencies to foreign intrusions. That question, too, now seems certain to be left to Mr. Biden to answer.
From their new cyber command center in Fort Meade, Md., the NSA and Cyber Command monitor incoming attacks, the way generations of American military officials jammed underground command centers to look for incoming missile attacks. In this case, the sensors never went off, and the commander of those cyber forces, Gen. Paul M. Nakasone, one of the nation's most experienced cyber warriors, has said not one word in public about what went wrong.
The private sector will face hard questions as well. The majority of infections, Microsoft said, were of private firms, many of them cybersecurity companies. FireEye only detected the attack after Russians cleaned it out too, taking the "Red Team" tools the firm uses to probe corporate and government systems for vulnerabilities.
The Russian attack was carefully calibrated to avoid cybersecurity defenses. It gained access to the updates of the SolarWinds software — akin to the updates Apple and other phone makers push onto cellphones as they charge overnight — betting that small changes in code would not be noticed.
By compromising the updates, they gained access to 18,000 government agencies and companies. From there they planted "back doors" into the networks of some 40 companies, government agencies and think tanks, according to Microsoft, that allowed them to come and go, steal data and — though it apparently has not happened yet — alter data or conduct destructive attacks.
"This was a cybersecurity superspreading event,'' Mr. Smith said in an interview on Thursday evening, calling it "a moment of reckoning."
Trump Contradicts Pompeo Over Russia's Role in Hack
9. Dietary Supplement Use Reaches All Time High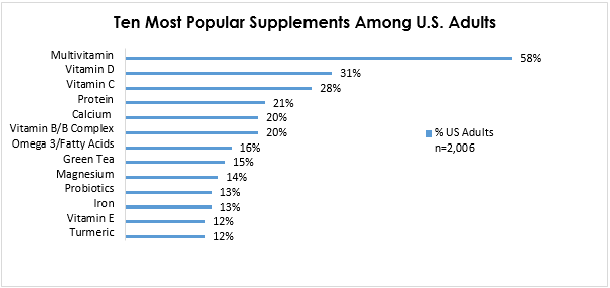 Available-for-purchase consumer survey reaffirms the vital role supplementation plays in the lives of most Americans
Washington, D.C., September 30, 2019—In its 20th year, the CRN Consumer Survey on Dietary Supplements reveals the highest overall dietary supplement usage to date, with 77 percent of Americans reporting they consume dietary supplements. The survey reports the majority of both males and females, aged 18+, take dietary supplements, which is in line with previous surveys' findings. Among all the age groups, adults between the ages 35 – 54 have the highest usage of dietary supplements at 81 percent.

"While the industry continues to innovate, there is no denying that these regulated products have become mainstream. More than three quarters of Americans are taking dietary supplements each year—a crystal clear trend that serves as an indicator of the vital role supplementation plays in their overall health and wellness regimens," said Nancy Weindruch, vice president, communications, Council for Responsible Nutrition (CRN).
Who Takes Dietary Supplements? 77 percent of U.S. adults take dietary supplements.
79 percent of female adults
74 percent of male adults
70 percent of adults 18 – 34
81 percent of adults 35 – 54
79 percent of adults 55+
83 percent of adults with children under 18 in the household
75 percent of adults without children under 18 in the household
81 percent of adults employed full-time
77 percent of adults employed part-time
68 percent of adults without employment
76 percent of retired adults
81 percent of adults who are married
73 percent of adults who live in the Northeast
74 percent of adults who live in the Midwest
80 percent of adults who live in the South
78 percent of adults who live in the West
With respect to the types of supplements being taken, CRN's 2019 survey found that vitamins & minerals continue to be the most commonly consumed supplement category, with 76 percent of Americans having taken these products in the past twelve months. The second most popular category is specialty supplements (40 percent), followed by herbals and botanicals (39 percent), sports nutrition supplements (28 percent), and weight management supplements (17 percent).
https://www.crnusa.org/newsroom/dietary-supplement-use-reaches-all-time-high#:~:text=77%20percent%20of%20U.S.%20adults%20take%20dietary%20supplements.&text=With%20respect%20to%20the%20types,in%20the%20past%20twelve%20months.
10. 5 REASONS WHY MENTAL CLARITY IS SO IMPORTANT
Post Updated on May 4, 2020—The Blissful Mind : CATHERINE BEARD
Have you ever gone throughout the day feeling like you can't quite finish a thought? 'Squirrel brain' is perhaps my favorite way to describe it because it really does feel like your mind is all over the place ?️
When your brain is foggy and you're riddled with indecision, it's hard to make choices that get you to where you want to be. Your inner monologue might feel overwhelming to the point where you can't finish a thought, let alone anything on your to-do list.
Without a clear mindset, it's easy to talk yourself out of things and get frustrated when you can't focus. You're more likely to give in to your inner critic and forget about the goals you're working towards.
For this reason, one of my daily goals is to start and finish my day with mental clarity. With a clear mind, I feel more positive, productive, and content. In this post, I'm sharing why mental clarity is my daily goal, why it's so important, and how you can create mental clarity in your daily life.
What Mental Clarity Means
Mental clarity means having a focused and clear state of mind. When you have mental clarity, your mind isn't clouded with indecision, what-ifs, overwhelm or worry.
As Burak from Idea Vision Action put it, "When I have mental clarity, I appreciate my life. I see how lucky I am and I have been. The issues that keep my mind busy when I'm stressed don't bother me that much when I have mental clarity.."
Every day, I strive for mental clarity. As someone who overthinks things, it's easy for me to get caught up in my own thoughts. When I overthink my to-do list and agonize about what to do first, I often end up talking myself out of things.
Mental clarity feels the opposite of a foggy mind. When I'm focused, away from distractions, and free of self-doubt, I feel like I can accomplish anything I set my mind to.
With a clear mind, I don't worry about what could go wrong because those thoughts don't have time to cross my mind. I'm ultimately able to take action more easily knowing that I'm doing things that align with my goals.
"More is lost by indecision than wrong decision."
Why Mental Clarity Is Important
A lot of people talk about the importance of a positive mindset, but I've always thought that a clear mindset is the key to success. So much of our brain space gets taken up when we're unsure of who we are and what we want. Mental clarity is the best way to bring certainty to your life.
Here are five reasons why mental clarity is so important:
1. Clarity helps you find focus and direction
If you've ever felt lost or directionless in life, you probably know how hard it can be to make progress on anything. When you have clarity around your goals and priorities, it's easier to move towards what you want out of life.
---
2. Clarity makes it easier to get things done
When you're clear on the reasoning behind why you're doing something, it's so much easier to get things done. If you've ever started a project only to give up halfway through, you probably weren't clear on why you were doing it in the first place.
---
3. Clarity makes it easier to prioritize
When your brain is foggy and you're riddled with indecision, it's hard to make choices that get you to where you want to be. Mental clarity helps you to make decisions with ease instead of overthinking. It also makes it easier to organize an overwhelming to-do list and decide what to work on first.
---
4. Clarity helps you push through doubt
When you're unfocused and distracted, it's easy to start doubting yourself. Mental clarity helps you to see yourself honestly and non-judgmentally. Instead of worrying about what others think of you, a clear and focused mind won't even entertain these thoughts.
---
5. Clarity helps you feel content
Have you ever felt guilty for not appreciating your life, even though your life is pretty dang good? Instead of second-guessing whether your life is good enough, mental clarity allows you to see things as they are. It gives you the awareness to appreciate the little things that often go unnoticed so you can feel more content with what is.
---
How do you know if you're lacking mental clarity?
Here are 5 signs you might be lacking mental clarity:
1. You constantly question yourself and what you're doing.
2. You have to ask others for their advice about everything.
3. You say yes to everything because you're not sure what to prioritize.
4. You're overwhelmed with ideas and never know which one to work on first.
5. You start creative projects but fail to finish them.
How To Create Clarity Daily
If you're craving more clarity in your life to help you feel focused, here are five ways to help you achieve it every day:
1. A solid daily routine
Routines define our daily lives, and they take the guesswork out of what to do. This could be in the form of a morning routine, evening routine, or even a weekly routine where you theme your days for different projects. For example, you could make Mondays your admin days, Tuesdays big projects days, Wednesdays client days, etc.
There are three things I've incorporated into my morning routine to help me get out of my head before the day starts:
· Journaling – gets my random thoughts and doubts out of my head
· Meditation – creates quiet moments away from the chatter of everything else
· Workout – gives me a chance to focus on my body instead of my thoughts
Related Post: How to start your day with clarity and focus
---
2. Focus on your future vision
I have a page at the front of my daily notebook (I use this type from TUL) with a list of things I want to accomplish in my lifetime. These include big things like owning a condo and smaller things like meditating daily. You can create your own vision list here.
Reviewing this list every day reminds me of what I'm working towards. That way, I'm less likely to get distracted by what others are doing or compare my life to someone else's. I know what's important to me and what the path I want to take looks like.
---
3. Define your priorities to avoid distractions
Defining my life and work priorities has been a game-changer for helping me to keep a clear mind. Instead of overthinking where I should put my time and energy, I go through my priorities list to help me decide. Knowing what your top three priorities are will help you to make decisions from a place of alignment. Click here to learn how to define your top priorities if you're unsure of what they are.
---
4. Plan your day the night before
One of the biggest time-sucks is trying to figure out what to do right before you need to do it. I always plan my to-do list the night before and time-block my schedule so that I know exactly what to do when I wake up.
My mind is clearer at night than when I first wake up so I'm more motivated to schedule things out. When I don't feel like planning before bed, I remind myself to do something today that will make life easier tomorrow.
---
5. Take action
Action creates clarity. We try to tell ourselves that thinking about things will help us decide the best course of action, but often we won't know what the right decision is until we've taken action.
Whatever you're overthinking, make a decision and roll with it. You will learn whether you made the right decision or not, and you can course-correct if necessary.
Related post: Why searching for answers is keeping you stuck
---
What does mental clarity look like to you?
I hope this post has encouraged you to strive for mental clarity in your daily life. There are so many benefits to a clear and focused mind, and you can get your mind into that state when you focus on what matters every single day.
Leave a comment with your thoughts. Do you struggle with mental clarity yourself? What helps you to clear your mind?
Disclosure
Lansing Street Advisors is a registered investment adviser with the State of Pennsylvania..
To the extent that content includes references to securities, those references do not constitute an offer or solicitation to buy, sell or hold such security as information is provided for educational purposes only. Articles should not be considered investment advice and the information contain within should not be relied upon in assessing whether or not to invest in any securities or asset classes mentioned. Articles have been prepared without regard to the individual financial circumstances and objectives of persons who receive it. Securities discussed may not be suitable for all investors. Please keep in mind that a company's past financial performance, including the performance of its share price, does not guarantee future results.
Material compiled by Lansing Street Advisors is based on publicly available data at the time of compilation. Lansing Street Advisors makes no warranties or representation of any kind relating to the accuracy, completeness or timeliness of the data and shall not have liability for any damages of any kind relating to the use such data.
Material for market review represents an assessment of the market environment at a specific point in time and is not intended to be a forecast of future events, or a guarantee of future results.
Indices that may be included herein are unmanaged indices and one cannot directly invest in an index. Index returns do not reflect the impact of any management fees, transaction costs or expenses. The index information included herein is for illustrative purposes only.