1. What Happens After 95% Surge Off Lows in Small Cap
That said, SentimenTrader notes a surge of 95% off a low has preceded losses in the small-cap index over the next 3 months every time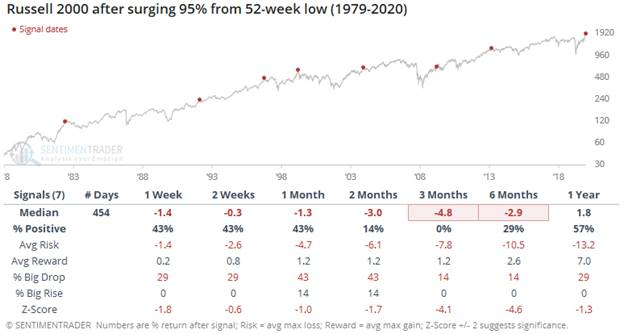 From Dave Lutz at Jones Trading
2. The Only Coal ETF Is Closing. What It Means for Investors.
Barrons-The only coal-focused exchange-traded fund is closing at 12 years old, another sign of investors' desire to withdraw from the industry.
The VanEck Vectors Coal ETF, which went public in January 2008 under the ticker KOL, stopped trading this month and will return investors' money on Dec. 22. It had about $35 million in assets. At its height in 2011, the ETF had $908 million, said Ed Lopez, head of ETF Product at VanEck Associates.
The move comes as other investment companies withdraw from funding coal businesses.
In January, BlackRock said the firm's actively managed funds would no longer hold shares of companies that derive more than 25% of revenues from thermal coal. It unveiled a major expansion of its sustainable-investing lineup.
This month, New York state's $226 billion pension fund set itself the goal of reducing net emissions of greenhouse gases from its portfolio to zero by 2040. It said it is divesting from coal and tar sands and will next review fracking companies, major oil companies, fossil-fuel companies and oil-and- gas transportation and pipelines.
A number of big money managers have also set net-zero targets for their portfolios, as the Paris Agreement to curb the rise in global temperatures marks its fifth anniversary. In such an environment, it's no surprise that coal's fans are diminishing.
In a statement, VanEck said it "continuously monitors and evaluates its ETF offerings across a number of factors, including performance, liquidity, assets under management and investor interest, among others. The decision was made to liquidate the fund based on an analysis of these factors."
VanEck has been adding green offerings in recent years, including the $240 million VanEck Vectors Low Carbon Energy ETF (ticker: SMOG) and the $50 million VanEck Vectors Green Bond ETF (GRNB).
Write to Leslie P. Norton at leslie.norton@barrons.com
https://www.barrons.com/articles/the-only-coal-etf-is-closing-what-it-means-for-investors-51608225200?mod=hp_DAY_10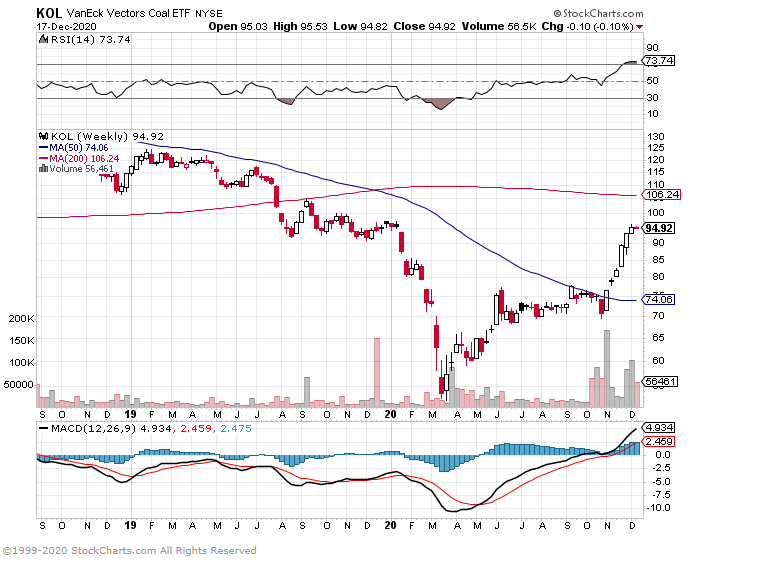 3. Plunging Lithium Battery Prices
DESCRIPTION
This chart shows the volume-weighted average of lithium-ion battery prices from all sectors (in USD).
https://www.statista.com/chart/23807/lithium-ion-battery-prices/
4. Real Returns in S&P 500 Relative to CAPE Ratio
10-year Annualized REAL Returns Since 1881 (relative to starting CAPE)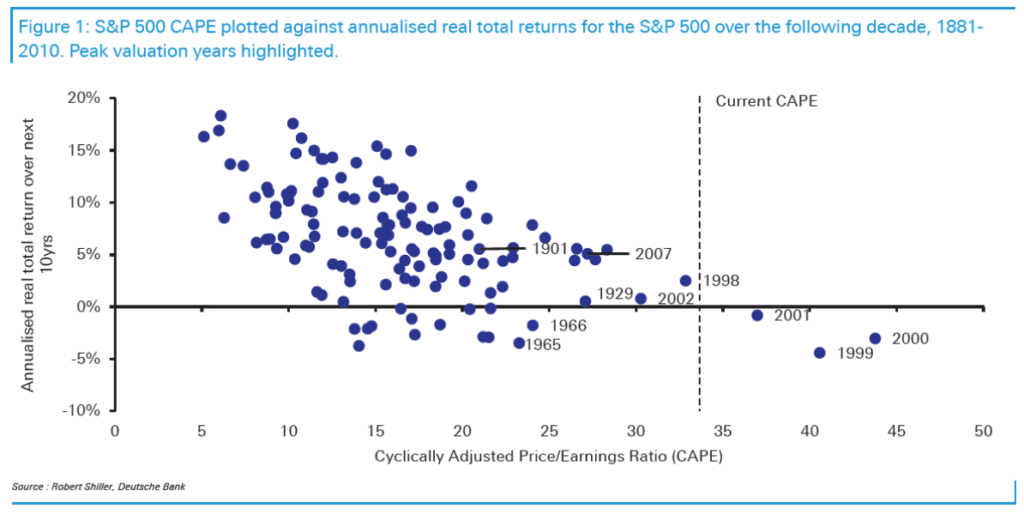 Source: Jim Reid, Deutsche Bank
Found at Barry Ritholtz Blog https://ritholtz.com/2020/12/10-wednesday-am-reads-218/
5. Buyback ETFs Hit New Highs…S&P 500 Companies Increased Cash by Over 30% During Covid.
DRB-Nasdaq Buyback Stocks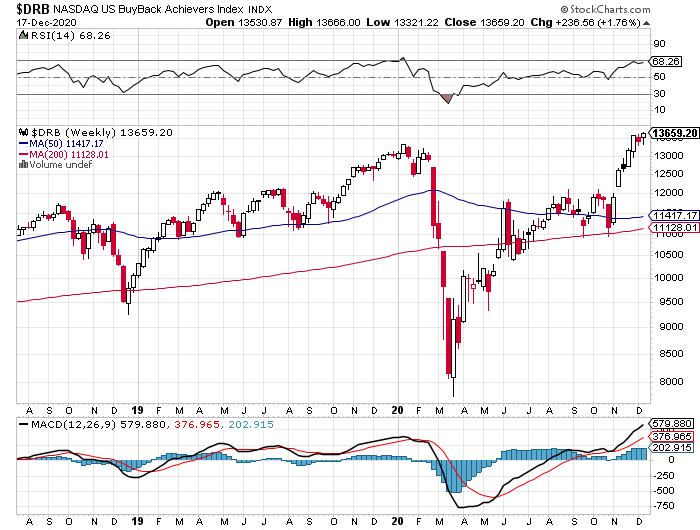 ©1999-2020 StockCharts.com All Rights Reserved
PKW Buyback ETF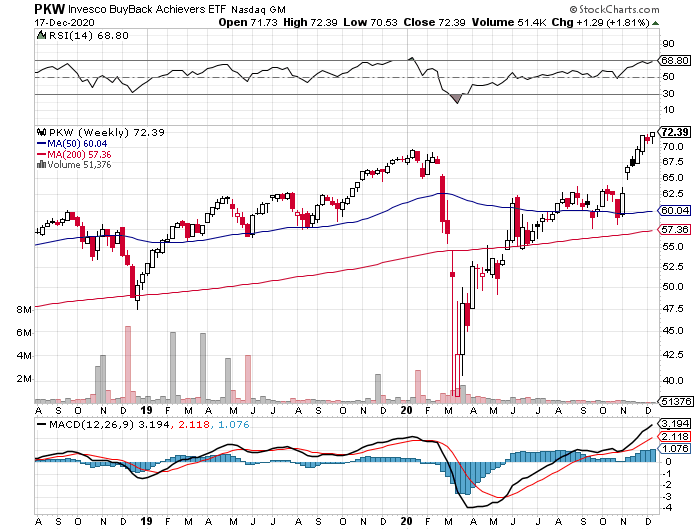 ©1999-2020 StockCharts.com All Rights Reserved
6. Dollar Plunges to New 2018 Levels.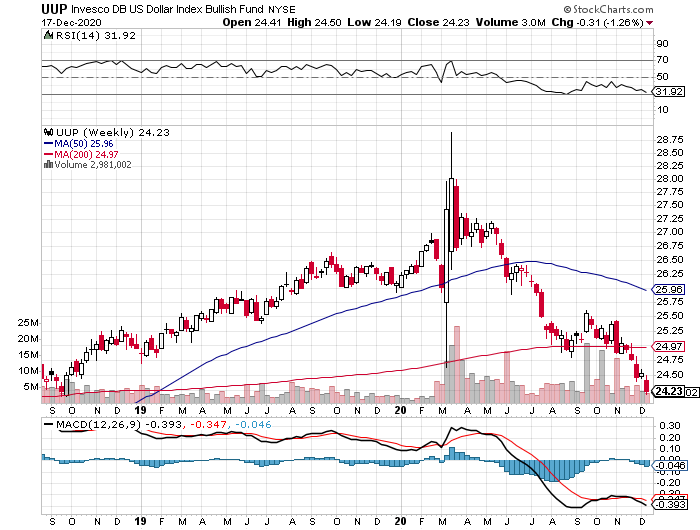 ©1999-2020 StockCharts.com All Rights Reserved
7. There's No Such Thing as a Free Stock Trade..Robinhood Fined $65m by SEC
There's no such thing as a free stock trade-Marketwatch
When Robinhood users want to buy or sell a stock, the app, like other retail broker-dealers, isn't carrying out the trade itself, the SEC order said. Robinhood routes orders to companies that pay to receive the order and carry out the trade.
But broker-dealers like Robinhood have what's called a "a duty of best execution" where they have to seek the most favorable terms for a customer order, according to the SEC. (That could mean execution price, or other factors like execution speed, Roper noted.)
The problem when retail broker-dealers are paid to route orders is that it creates a potential conflict of interest, where the brokerage could put its own financial interests over a customer who just wants a quick trade, the SEC said.
Sometimes, laggy trades can tack on a mere penny or a half a penny as orders catch up to constantly moving markets, but it all adds up and never benefits investors, said Lev Bagramian, senior securities policy advisor at Better Markets, an investor protection watchdog organization.
Robinhood allegedly fell short of its duty, the SEC said. "Customers received inferior execution prices compared to what they would have received from Robinhood's competitors. …These inferior prices were caused in large part by the unusually high amounts Robinhood charged the principal trading firms for the opportunity to obtain Robinhood's customer order flow," the order said.
See also: Is Robinhood making money off those day-trading millennials? Well, yes. That's kind of the point.
For Roper, the case boils down to this: "You're saving a penny to lose a nickel."
'You're paying. You just don't know how you're a paying.'
— Barbara Roper, director of investor protection at the Consumer Federation of America
And it's a reminder that $0 doesn't mean no cost, she added. "You're paying. You just don't know how you're a paying. This is not a charitable operation. It's a money making business. If you're not paying for something, you are going to pay for it in a way you can't see."
"The settlement relates to historical practices that do not reflect Robinhood today," said Dan Gallagher, Robinhood's chief legal officer and a former SEC commissioner. "We recognize the responsibility that comes with having helped millions of investors make their first investments, and we're committed to continuing to evolve Robinhood as we grow to meet our customers' needs."
'You're saving a penny to lose a nickel.' Why Robinhood's $65M fine is a cautionary tale for retail investors
https://www.marketwatch.com/story/youre-saving-a-penny-to-lose-a-nickel-why-robinhoods-65m-fine-is-a-cautionary-tale-for-retail-investors-2020-12-17?mod=home-page
8. Amazon Faces Unionization Push in Alabama, a Test in Labor Organizing Bid
Election to be scheduled for workers at company's Bessemer facility-WSJ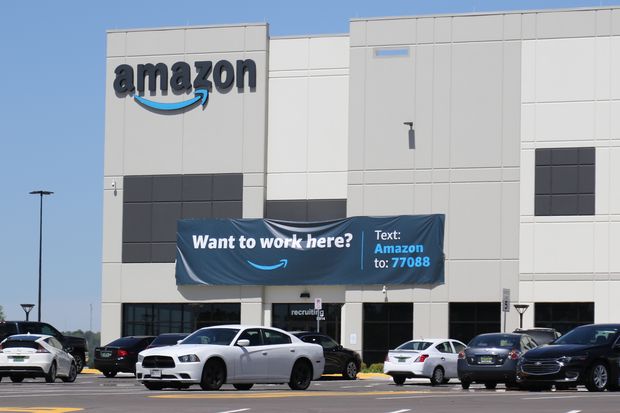 A unionization vote is slated at a Bessemer, Ala., Amazon warehouse, seen in April 2020.
PHOTO: MICHAEL WADE/ICON SMI/ZUMA PRESS
By Sebastian Herrera
Amazon.com Inc. AMZN -0.15% workers at an Alabama warehouse received approval to hold a unionization vote, the first such election since 2014 at the nation's second-largest employer, testing the potential for additional labor organizing at the retailing giant.
The National Labor Relations Board Tuesday ruled that employees at Amazon's Bessemer, Ala., warehouse can decide whether to create a bargaining unit within the Retail, Wholesale and Department Store Union, according to an NLRB official. The date of the election and other terms have yet to be determined. A hearing about the vote is scheduled for Friday.
A majority of the workers would have to choose unionization for the employees to gain representation. The Alabama warehouse has about 1,500 full- and part-time employees, according to the union, although Amazon has said the total is higher.
Though many hurdles remain, labor experts say a successful campaign by workers could inspire similar efforts at other Amazon warehouses. The company has more than 800,000 U.S. employees, second only to Walmart Inc. WMT 0.46% in the country, as well as more than 760 facilities in its fulfillment network, according to logistics consultant MWPVL International.
An Amazon spokeswoman said the company didn't believe "this group represents the majority of our employees' views. Our employees choose to work at Amazon because we offer some of the best jobs available."
A spokeswoman for the retail and wholesale union, or RWDSU, declined to comment.
Hourly Amazon workers have never previously formed or joined a union in the U.S. The same is trueat Walmart Inc., which has about 1.5 million U.S. employees.
https://www.wsj.com/articles/amazon-faces-unionization-push-in-alabama-a-test-in-labor-organizing-bid-11608160275?mod=itp_wsj&ru=yahoo
9. Michaela Morris: My top fine wines of 2020
See Michaela's top fine wines of 2020
Conti Costanti, Brunello di Montalcino, Tuscany, Italy, 2015
After sitting out the 2014 vintage, Andrea Costanti calls 2015 a beautiful year and one of the best in the history of Brunello. He deemed…
Gaja, Sperss, Langhe, Piedmont, Italy, 1996
Acquired in 1988, Gaja's Sperss vineyard straddles the Marenca and Rivette MEGA (Menzioni Geografiche Aggiuntive or cru) of Serralunga d'Alba. 1996 is the first year…
Isole e Olena, Cepparello, Toscana, Tuscany, Italy, 2016
Paolo de Marchi's 'study in Sangiovese' is a selection of the vintage's finest grapes from Isole e Olena's oldest vineyards, high up in Chianti Classico's…
Vietti, Rocche di Castiglione, Barolo, Castiglione Falletto 2016
Rocche di Castiglione is prized for its pure white, limestone rich soil which gives wines of extraordinary finesse and fragrance. It is epitomised here in…
Cantina del Pino, Ovello, Barbaresco, Barbaresco, 2016
With a stunning view across the vineyards towards the town of Barbaresco, this estate boasts two hectares at the highest point of Ovello. Despite the…
Colombera & Garella, Pizzaguerra, Lessona, Piedmont, 2016
Based in Bramaterra, the Colombera family has recently expanded its vineyard holdings to neighbouring Lessona. Upfront, evocative fragrances of wild ripe red berries, dried mint…
Tantalus, Old Vines Riesling, Okanagan Valley, 2017
Tantalus has been a reference for top quality Riesling in British Columbia since its first release, the 2005 vintage. The Old Vines bottling hails from…
Istine, Vigna Istine, Chianti, Classico, Tuscany, 2017
Surrounded by forest, the Istine vineyard is located between the towns of Radda and Castellina. The northwest facing site sits between 480 to 550 metres…
Accornero, Bricco del Bosco Vigne Vecchie, Grignolino del Monferrato Casalese 2013
Ermanno Accornero crafts two Grignolinos: a deliciously fragrant, youthful and frisky version which sees a short passage in stainless steel, and this complex, long-macerated, oak-aged…
10. "Neurotic Needs"
German psychoanalyst Karen Horney (1885-1952) had her own take on the idea of psychological flexibility. Horney believed that neurosis resulted from anxiety caused by interpersonal relationships, particularly parent-child relations. Horney maintained that we are all faced with the need to solve "the problem of the other" and the anxiety that attends it. In her 1942 book Self-Analysis (p.51-56), Horney described the 10 basic "neurotic needs," rigidly excessive drives that serve to defend against anxiety:
1. The Need for Affection and Approval: An abiding desire to be liked by all, to please and appease, and to avoid rejection and hostility from others.
2. The Need for a Partner Who Will Take Over One's Life: An extreme fear of abandonment leading to outsize expectations of one's love object.
3. The Need to Restrict One's Life Within Narrow Borders: A fear of ambition, of striving, of being noticed.
4. The Need for Power: Seeking power for its own sake and despising weakness.
5. The Need to Exploit Others: Seeing others as objects to be used and exploited to achieve one's desired objectives, such as power, money, or sex.
6. The Need for Prestige: Valuing oneself by the amount of acclaim and public recognition one has achieved and fearing public embarrassment and loss of status.
7. The Need for Personal Admiration: A need to be admired emerging from one's narcissistic, exaggerated sense of self, rather than for one's actual abilities.
8. The Need for Personal Achievement: An insatiable need to achieve more and more, emerging from insecurity.
9. The Need for Self-Sufficiency and Independence: Distancing from others in order to avoid dependency or "being tied down."
10. The Need for Perfection and Unassailability: A need for infallibility, involving a constant effort to identify and correct one's perceived flaws.
Psychological Flexibility: A Core Mental Health AssetDeveloping better psychological flexibility is a basic goal of therapy.
https://www.psychologytoday.com/us/blog/insight-therapy/201909/psychological-flexibility-core-mental-health-asset?collection=1154723
Disclosure
Lansing Street Advisors is a registered investment adviser with the State of Pennsylvania..
To the extent that content includes references to securities, those references do not constitute an offer or solicitation to buy, sell or hold such security as information is provided for educational purposes only. Articles should not be considered investment advice and the information contain within should not be relied upon in assessing whether or not to invest in any securities or asset classes mentioned. Articles have been prepared without regard to the individual financial circumstances and objectives of persons who receive it. Securities discussed may not be suitable for all investors. Please keep in mind that a company's past financial performance, including the performance of its share price, does not guarantee future results.
Material compiled by Lansing Street Advisors is based on publicly available data at the time of compilation. Lansing Street Advisors makes no warranties or representation of any kind relating to the accuracy, completeness or timeliness of the data and shall not have liability for any damages of any kind relating to the use such data.
Material for market review represents an assessment of the market environment at a specific point in time and is not intended to be a forecast of future events, or a guarantee of future results.
Indices that may be included herein are unmanaged indices and one cannot directly invest in an index. Index returns do not reflect the impact of any management fees, transaction costs or expenses. The index information included herein is for illustrative purposes only