1. Hedge Fund Leverage Near Record Levels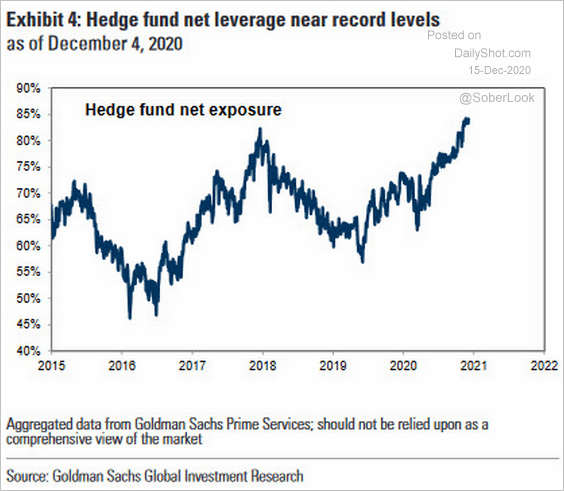 The Daily Shot https://dailyshotbrief.com/the-daily-shot-brief-december-15th-2020/
2. Greatest Inflow to Value Vs. Growth ETFs in Short History.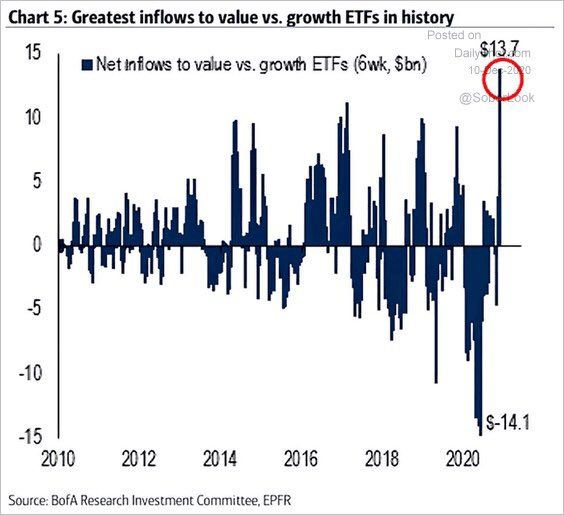 Jonathan Baird
https://www.linkedin.com/in/jonathanbaird88/
3. Second Half of December is Historically Santa Rally
LPL Blog–Lastly, will Santa come in December? We discussed this in detail at the start of the month in Big Gains Steal From Santa, but the truth of the matter is the S&P 500 Index is flat on average half way through the month and nearly all of the impressive December gains take place the second half of the month.
As shown in the LPL Chart of the Day, if Santa is going to come in 2020, now is the time for the reindeer to get ready and for stocks to potentially bounce.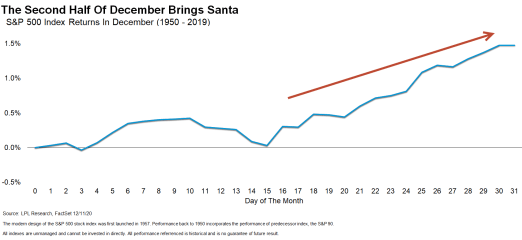 4. China Web Retailer Soars 400% on Second Day After IPO in U.S.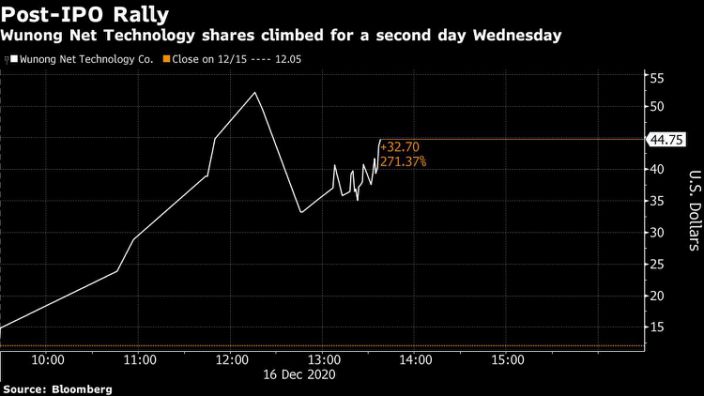 Katrina Lewis
(Bloomberg) — Wunong Net Technology Co. shares soared as much as 402% on Wednesday as the e-commerce company extended its climb in a second day of trading since its initial public offering, showcasing Wall Street's recent appetite for newly listed companies.
Stock in the retailer — which sells "non-genetically modified" food products through its online store — soared on the day as it triggered 12 volatility halts as of 2 p.m. in New York.
Shares rose 141% on Tuesday after the Shenzhen-based company raised $30 million in its IPO.
The stock's debut is among a flurry of listings before the end of the year, which includes last week's blockbuster offerings by DoorDash Inc., which climbed 86% on its first day, and Airbnb Inc., which surged 113%.
Read more: Airbnb, DoorDash Rallies Stoke Debate on Pricing IPOs (1)
For more articles like this, please visit us at bloomberg.com
https://finance.yahoo.com/news/china-retailer-soars-400-second-191820663.html
5. Fed pledges to continue buying bonds until economy makes "substantial" progress
Dion Rabouin, author of Markets
The Federal Reserve kept rates unchanged at 0%–0.25% at its latest policy meeting, but changed its statement to include a promise to continue to buy at least $120 billion of bonds each month "until substantial further progress has been made toward the Committee's maximum employment and price stability goals."
Why it matters: Fed chair Jerome Powell consistently stressed during his press conference that the Fed was nowhere close to reducing its massive bond-buying program, even though its evaluation of the economy had improved and would continue to provide monetary policy support.
That's great news for stock traders because it means the central bank will continue to push investors out of less risky assets like government bonds and money will keep flowing into riskier investments like equities.
Driving the news: Stock prices initially edged lower after the release of the statement, but turned higher during Powell's press conference as he doubled and tripled down on the Fed's commitment to keep monetary policy "highly accommodative" for "quite some time."
He also argued that there was more the Fed could do to support the economy (and financial markets).
What they're saying: "These asset purchases help foster smooth market functioning and accommodative financial conditions, thereby supporting the flow of credit to households and businesses," the Federal Open Market Committee said in a statement that gained unanimous approval.
Watch this space: Powell even weighed in on the debate over whether stock prices had reached unreasonable levels as many on Wall Street have warned in recent weeks, noting that while historic market metrics like companies' price-to-earnings ratios were high, "that's maybe not as relevant in a world where we think the 10-year Treasury is going to be lower than it's been historically from a return perspective."
The Fed is "not too concerned" about stock valuations, Powell added.
"We're thinking this could be another long expansion and what we're saying is we're going to keep policy highly accommodative until inflation is well down the tracks."
The big picture: "The key to Fed policy is not what they do from meeting to meeting, but how the public and markets perceive they will act over time," Lou Brien, rates strategist at DRW Trading, said in a note to clients.
This post has been updated throughout.
https://www.axios.com/fed-bond-buying-68515659-0956-43f0-aa93-7bd883829276.html
30 Year Treasury Yield Chart…50day thru 200day to upside…1.22 to 1.66 since August.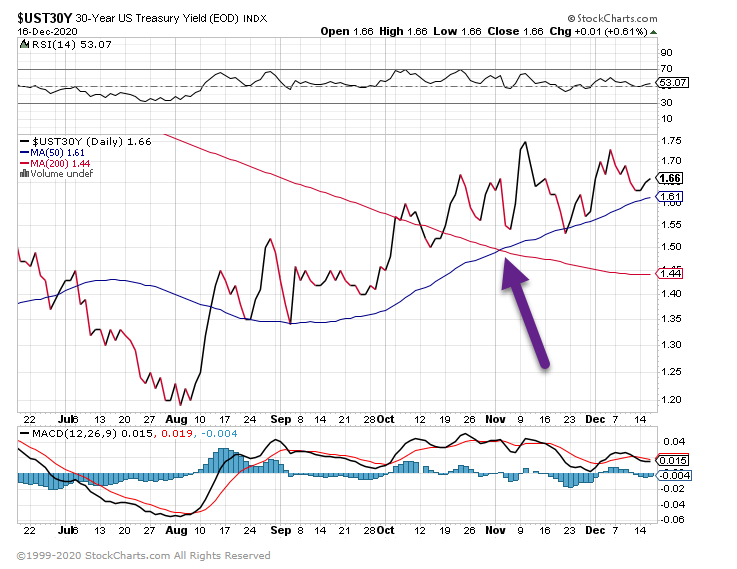 6. Homebuilder Sentiment Unfazed
Wed, Dec 16, 2020
In every month from August through November, NAHB's reading on homebuilder sentiment came in at record highs. That streak was bound to come to an end eventually, and it happened this month. The December reading released today was expected to decline from a record of 90 down to 88. Instead, the drop was even larger as the index fell to 86. Although lower, that is still the second-highest reading on record dating back to 1985.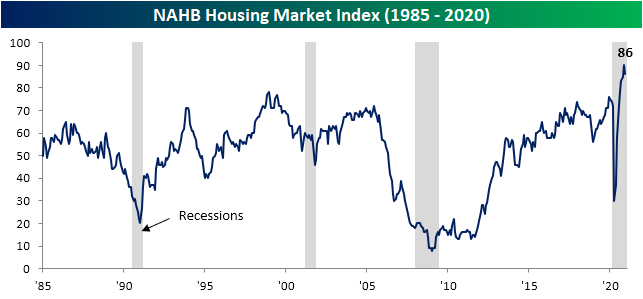 https://www.bespokepremium.com/interactive/posts/think-big-blog/homebuilder-sentiment-unfazed
7. Big Fines and Strict Rules Unveiled Against 'Big Tech' in Europe
European Union and British authorities released draft laws to halt the spread of harmful content and improve competition.
LONDON — Authorities in the European Union and Britain built momentum on Tuesday for tougher oversight of the technology industry, as they introduced new regulations to pressure the world's biggest tech companies to take down harmful content and open themselves up to more competition.
In Brussels, European Union leaders unveiled proposals to crimp the power of "gatekeeper" platforms like Amazon, Apple, Facebook, Google and Microsoft, which policymakers argue deserve more oversight given their outsize influence. The proposed E.U. laws would require the companies to do more to prevent the spread of hate speech and sale of counterfeit merchandise, and disclose more information about how services like targeted advertising work.
In Britain, which is preparing to exit the bloc, the government proposed banning some harmful internet content like terrorism material, suicide videos and child abuse, which could result in billions of dollars in fines. Separately, Irish regulators announced a fine of 450,000 euros (about $547,000) against Twitter for violating E.U. data protection laws, one of the first penalties of its kind.
The string of announcements helped reinforce Europe as home to some the world's toughest policies toward the technology industry.
"The European Union wants to be the leader in the tech regulation," said Christoph Schmon, the international policy director for the Electronic Frontier Foundation.
But the region is no longer alone in its efforts to limit the power of Big Tech. In the United States, regulators sued Facebook last week for illegally squashing competition, and Google was hit with an antitrust lawsuit in October. In China, the government has begun to clamp down on local tech giants like Alibaba. Australia, India and Brazil are among others debating new regulations.
Governments are increasingly scrutinizing tech companies that have become critical infrastructure for billions of people and businesses to communicate, shop, learn about the world and be entertained. The result could be that the technology sector becomes more like banking, telecommunications and health care — industries of such size and importance that they are subject to more government supervision.
"2021 will be the year of regulation for the tech giants — they are a mature industry now, not shiny young start-ups," said James Lewis, a senior vice president at the Center for Strategic and International Studies. "We used to say too big to fail for banks, but banks are highly regulated and these guys are moving in this direction too."
8. Views of Russia and Putin remain negative across 14 nations
A median of 66% of adults in those countries express an unfavorable view of Russia, with majorities in 12 of the 14 countries holding that view. Only a median of 29% hold a positive opinion of Russia.
9.Air Travel Charts to Miami, LA, San Fran.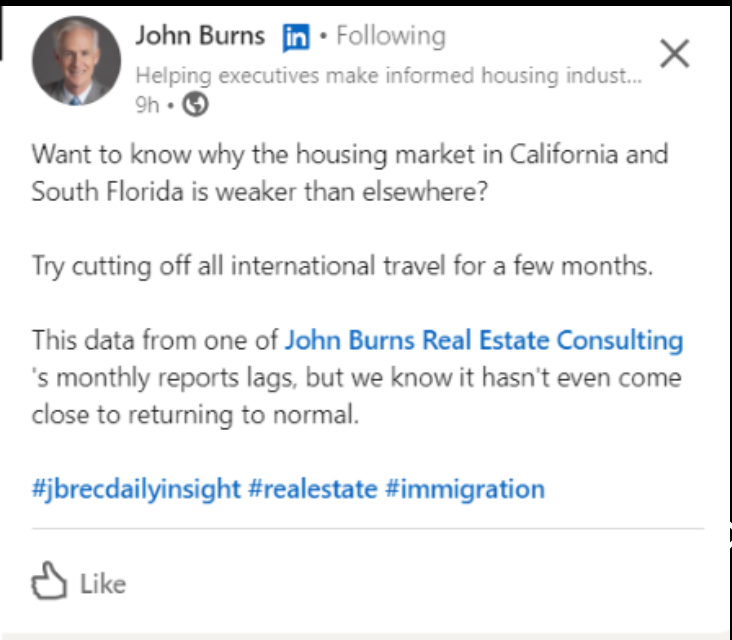 https://www.linkedin.com/in/johnburns7/
10. 5 Common Traits Of Top Leaders
Louis Carter is CEO and Founder of Best Practice Institute, author of Change Champion's Field Guide and In Great Company (McGraw Hill).
As a professional coach and leadership advisor, I have had the opportunity to work with company CEOs and even generals and world leaders. The most significant revelation I've had from these encounters is that most successful leaders tend to have some of the same traits, and anyone can develop these traits regardless of their giftedness.
Here are five traits that top leaders tend to have in common, plus my advice on how you can develop these qualities yourself.
1. Taking Action
As a leader, you need to back your words with action. It is good to be a talker, but what drives you forward is your ability to act.
If you expect your employees to be dedicated to their work, you have to show the same dedication. A study published in the Journal of Business Ethics found that "managers who lead by example will boost team values and commitment." Make sure you are practicing what you preach.
2. The Ability To Motivate
Many top leaders share a relentless drive and determination to reach the pinnacle, but they can also instill this motivation in the people working for them. Mark Zuckerberg, for example, motivates his employees to innovate by empowering them. While he focuses on the high-level direction of Facebook, he gives employees the leeway to take risks and experiment.
This exemplifies a pulling strategy for leadership. According to an article published by the Journal of Managerial Issues, an effective leader is one who embraces an influence-based pulling strategy to motivate followers, rather than using a pushing method that focuses on the use of force.
Encouraging and empowering everyone in your team to perform to the best of their abilities is your responsibility. To become a successful leader, use your influence to promote the success of those around you.
3. Not Being Content
The most innovative leaders are never completely satisfied with what they have and are always looking to improve. Jeff Bezos didn't become the world's wealthiest person by being satisfied with doing what every other retailer was doing. It is the ability to constantly innovate and evolve that has helped him grow Amazon to what it is today.
Take steps toward not being content by keeping a log of your accomplishments. I recommend to clients to create a set of key objectives they want to accomplish that are on a big level, like "create a new SaaS product." Then, they break these objectives up into smaller key results to show all of the work they must accomplish to get there. Having these finer steps gives them more awareness of the marathon rather than a series of completions. We are defined not by our one large accomplishment; we are defined by how many times we fail, not content with the progress, and get back up and keep moving toward achieving continuously.
4. Being Accountable
If you look at many of the world's top leaders, accountability for outcomes is one thing that sets them apart. They don't shy away from taking responsibility for their actions.
According to an article published in the Journal of Leadership, Accountability and Ethics, good leadership requires self-accountability. Be clear about your duties and responsibilities. Ensure that you are truthful with yourself and others. Admit your mistakes, apologize and move on when you're at fault.
5. Taking Big Risks
The best leaders put themselves on the line. They have a "high risk, high reward" mindset. Just take a look at Elon Musk, who personally invested millions in SpaceX with the hopes of commercializing space travel. CNBC reported that Musk believed the chance of failure was immense, but he still decided to go ahead with it.
If you don't take risks, you are unlikely to succeed as a leader. Taking risks is often a prerequisite for success. Jumping into an environment of uncertainty helps you evolve. You won't always come out as the winner, but that is where the magic is most likely to happen.
Taking a step with the possibility of failure is fraught with anxiety and stress. Try doing a cost-benefit analysis. Consider the costs and the benefits of not taking a specific action. Conversely, weigh the benefits and costs of taking the action. Inaction has its place; however, the risk associated with a high-reward behavior is almost always worth it.
Conclusion
These five traits are common among leaders. Most of the successful leaders I've talked to or observed take action, are great motivators, are never content, hold themselves accountable for their actions and are always willing and ready to take risks. Your chances of success as a leader are the same as any other person — even the world's top leaders. You, too, can develop these leadership qualities.
Louis Carter is CEO/Founder of Best Practice Institute, author of Change Champion's Field Guide and In Great Company (McGraw Hill).…
https://www.forbes.com/sites/forbescoachescouncil/2020/11/10/5-common-traits-of-top-leaders/?sh=1f222c0f335c
Disclosure
Lansing Street Advisors is a registered investment adviser with the State of Pennsylvania..
To the extent that content includes references to securities, those references do not constitute an offer or solicitation to buy, sell or hold such security as information is provided for educational purposes only. Articles should not be considered investment advice and the information contain within should not be relied upon in assessing whether or not to invest in any securities or asset classes mentioned. Articles have been prepared without regard to the individual financial circumstances and objectives of persons who receive it. Securities discussed may not be suitable for all investors. Please keep in mind that a company's past financial performance, including the performance of its share price, does not guarantee future results.
Material compiled by Lansing Street Advisors is based on publicly available data at the time of compilation. Lansing Street Advisors makes no warranties or representation of any kind relating to the accuracy, completeness or timeliness of the data and shall not have liability for any damages of any kind relating to the use such data.
Material for market review represents an assessment of the market environment at a specific point in time and is not intended to be a forecast of future events, or a guarantee of future results.
Indices that may be included herein are unmanaged indices and one cannot directly invest in an index. Index returns do not reflect the impact of any management fees, transaction costs or expenses. The index information included herein is for illustrative purposes only