1. Tech Leader Cloud Computing -50% YTD
WCLD Cloud Computing ETF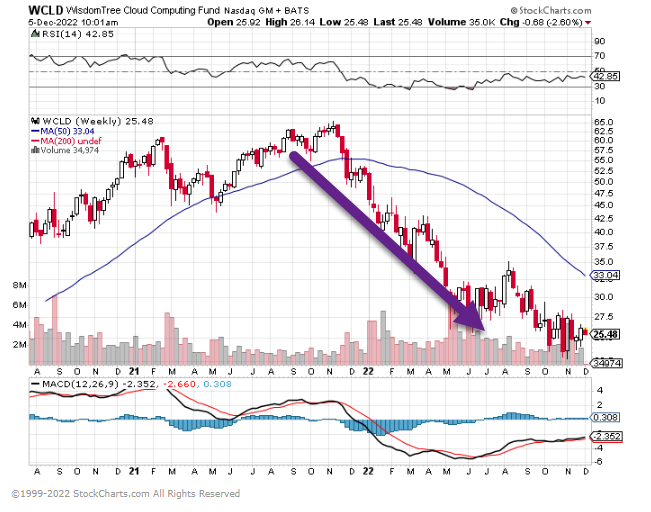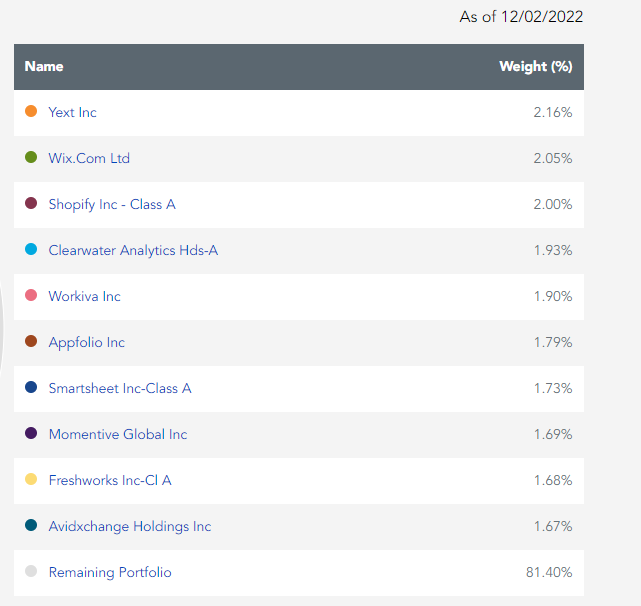 https://www.wisdomtree.com/investments/etfs/megatrends/wcld
---
2. Amazon Chart 50day thru 200day to Downside on Weekly Chart
AMZN bearish technical signal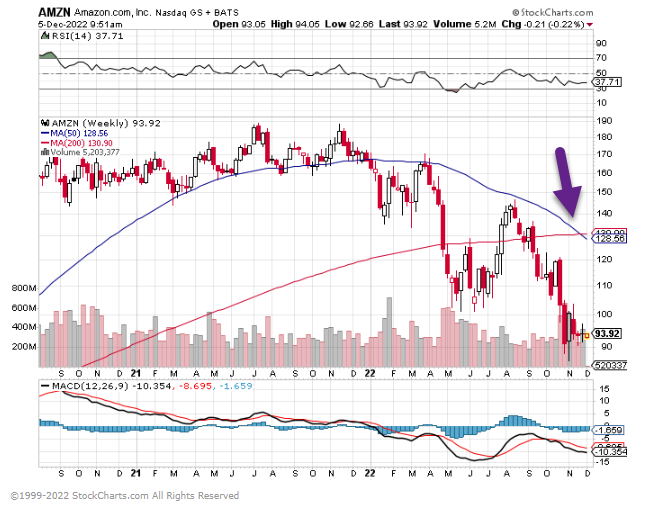 ---
3. FSLR +176% Since Signing of Inflation Reduction Act
First Solar Spike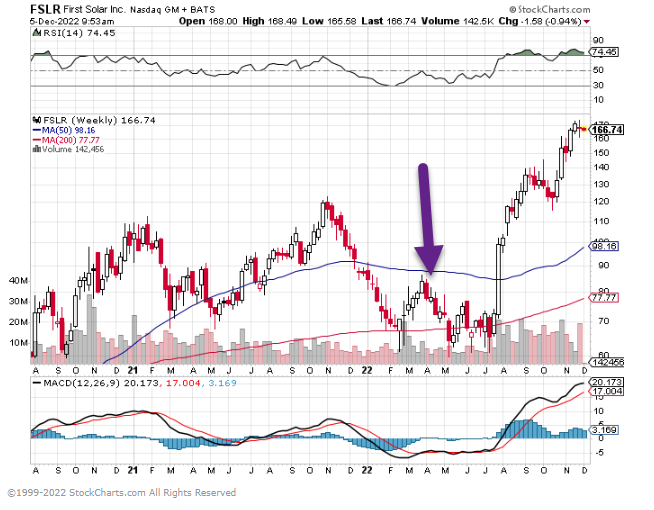 ---
4. Credit Suisse Stock Makes New Lows as Saudi's Invest
Dec 4 (Reuters) – Investors including Saudi Arabia's crown prince and a U.S. private-equity firm run by a former Barclays CEO have shown interest in investing $1 billion or more in Credit Suisse's (CSGN.S) new investment banking unit, the Wall Street Journal reported on Sunday. https://www.reuters.com/markets/deals/credit-suisses-investment-bank-draws-interest-saudi-crown-prince-wsj-2022-12-05/#:~:text=Dec%204%20(Reuters)%20%2D%20Investors,Street%20Journal%20reported%20on%20Sunday.
Chart CS New Lows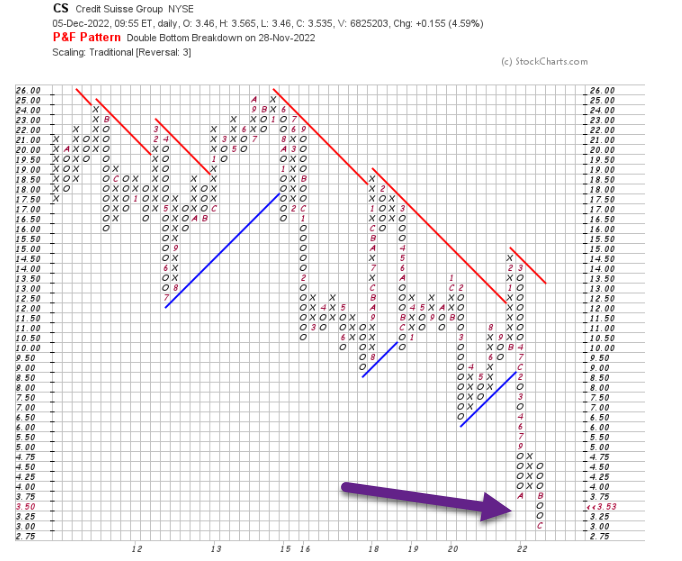 Meanwhile Warren Buffett Invests in Jefferies ….2 Year Chart JEF +55% vs. CS -75%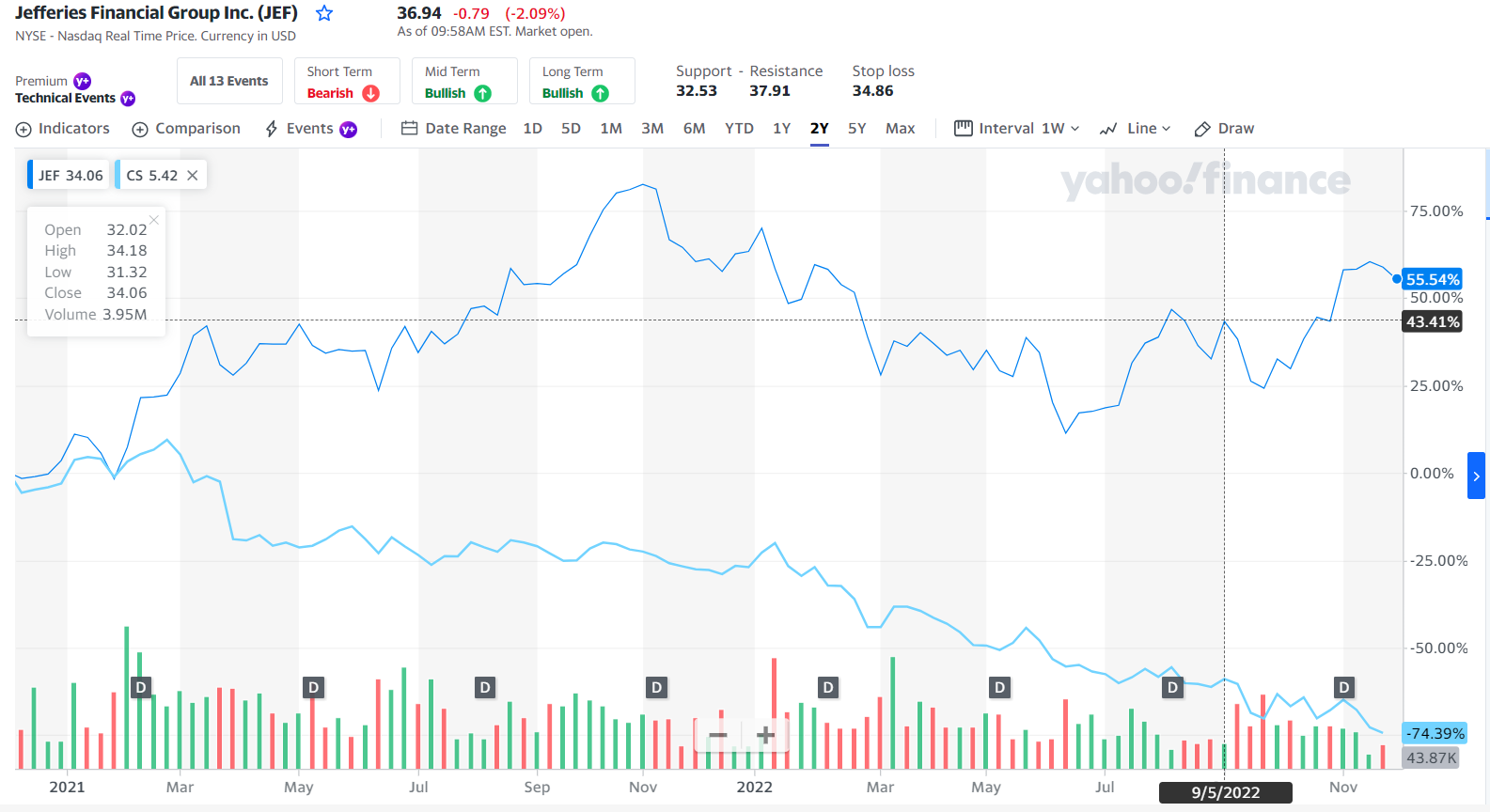 ---
5. PKW Buyback ETF Another Chart Holding Above 200 Week Moving Average
Stocks with highest buybacks holding key technical level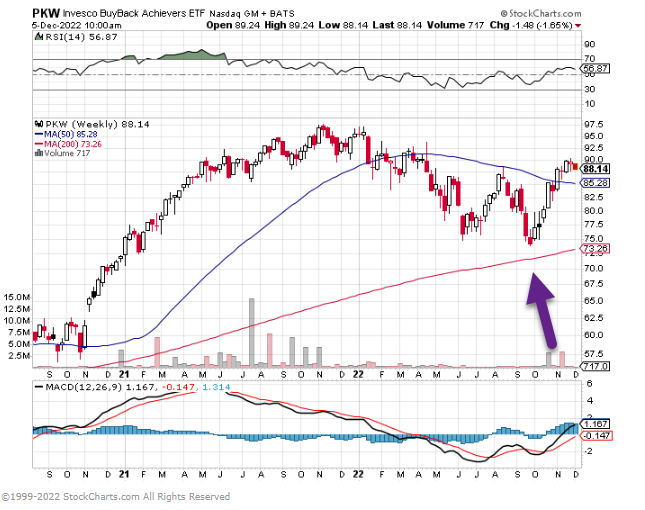 ---
6. The Average Price of a Used Tesla is Plummeting …-15% Since August
@Charlie Bilello The average price of a used Tesla is down nearly 15% over the last 90 days, $11.5k lower than the peak in July.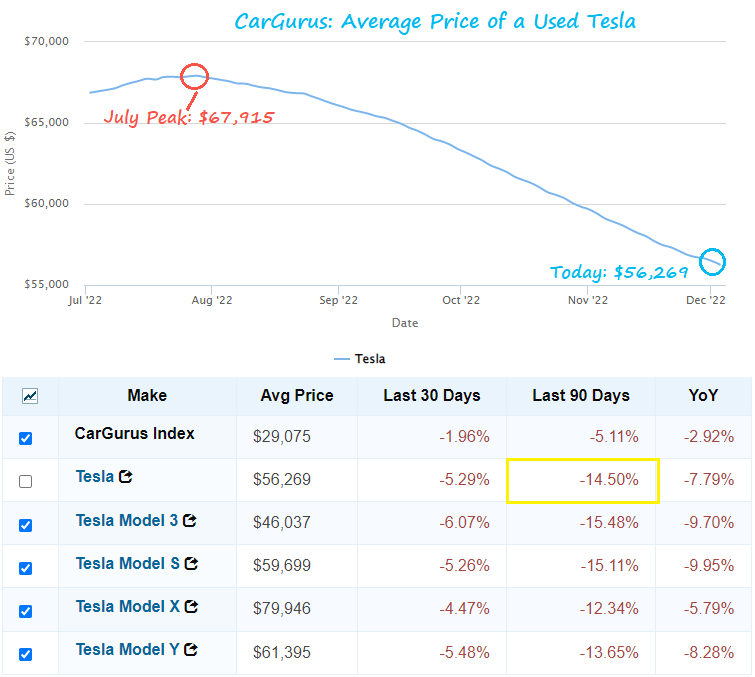 ---
7. Details on Americans Excess Savings
Jim Reid Deutsche Bank One of the reasons we've felt confident that the US economy wouldn't slip into recession in 2022 and early 2023, even though we've been convinced that it will by the end of 2023, is the huge pool of excess savings and when they'll be eroded.
Today's CoTD comes from Matt Luzzetti's 2023 Outlook for the US economy here. The first chart shows the consumer remains supported by a historically enormous $1.2trn stock of excess savings alongside the still strong labour market. However in our economists' base case, two-thirds of that stock will be eroded by the middle of next year. If we're correct about a recession starting in Q3, then the entire stock will be depleted by the end of that quarter.
As the second chart shows, most of the excess savings is concentrated in the top quartile even if this is the group seeing the largest erosion from the peak. However more importantly there is likely to be more erosion of the excess savings of the lower income households in 2023. They have the higher propensity to spend so will be less able to boost the economy over the next 12 months.
Larry Summers put it neatly in a Bloomberg TV interview over the weekend suggesting that, "At a certain point, consumers run out of their savings and then you have a Wile E. Coyote kind of moment".

---
8. Changes in Road Deaths Since 1994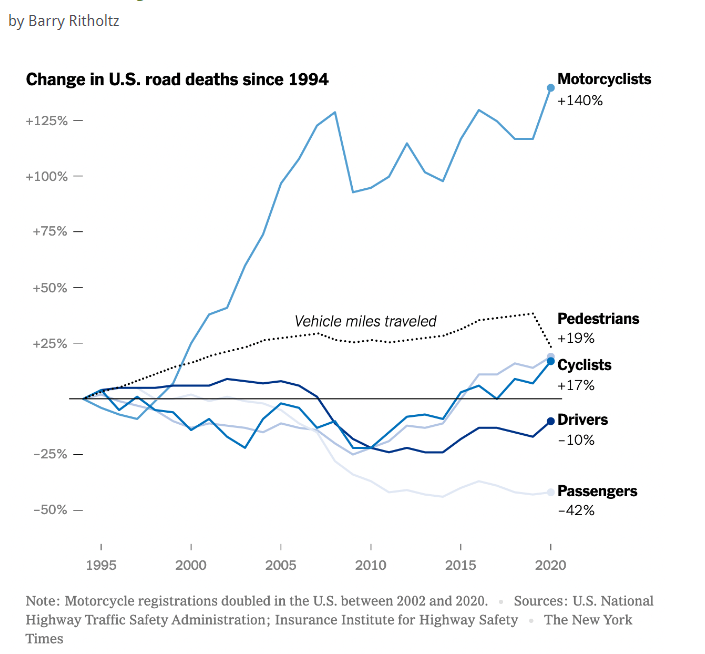 https://ritholtz.com/
---
9. Startup backed by Tesla investor promises $300,000 flying car by 2025: 'This is not more complicated than a Toyota Corolla'
Tom Huddleston Jr. CNBC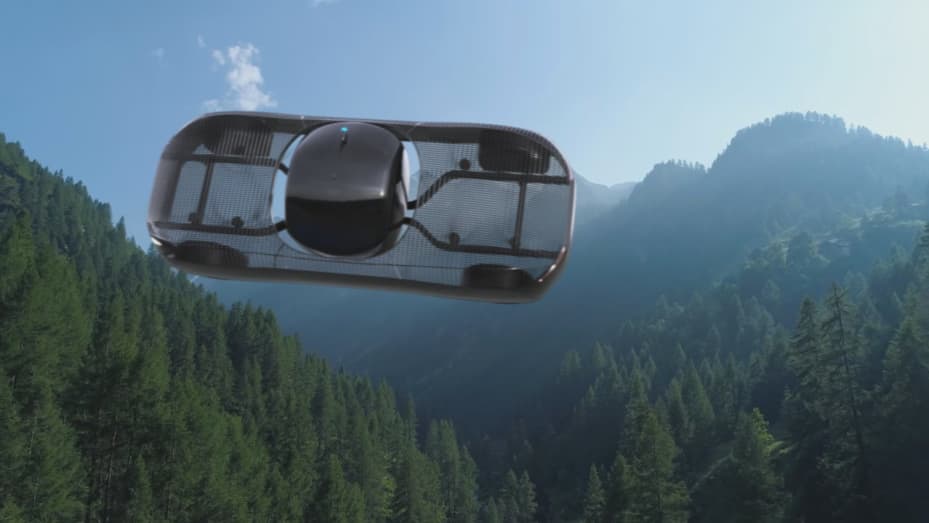 Alef Aeronautics wants to start delivering its $300,000 Model A flying car to customers by 2025.
Source: Alef Aeronautics
The promise of a future filled with flying cars is nothing new. For decades, futurists have touted the dream of your car lifting off and soaring above a traffic jam.
So the most interesting part of a recent prototype announcement from Santa Clara, California-based Alef Aeronautics may not be the car itself, which Alef says will be able to take off into the air vertically and fly like a helicopter up to 110 miles on a single charge.
It's the timing: The company says it plans to begin delivering the vehicles to customers by the end of 2025.
Alef's Model A will cost $300,000 and presales are currently open, with interested customers able to pay just a $150 deposit to get on the waiting list, or $1,500 for a "priority" spot on the list. Alef says the company has been test-driving and flying its prototype since 2019, and the version it plans to deliver to customers will also have a driving range of 200 miles.
Alef CEO Jim Dukhovny tells CNBC Make It that the car is mostly intended to stay on roads, ideally only traveling through the air for short heights and distances to avoid specific obstacles. He refers to those moments as "hop" scenarios, "where the customer mainly uses the vehicle as a car, and only 'hop' over the obstacles when needed."
In a statement in October, Dukhovny referenced "road conditions, weather and infrastructure" as potential reasons to briefly take flight.
It's a bold concept. But for a flying car to actually appear on highways anytime soon, a lot needs to happen, experts say.
---
A challenging road to legality and mass production
The car's design includes a carbon-fiber body with an open, mesh-like top that houses four propellers on each side. Once the car takes off vertically, the entire vehicle turns on its side, with the two-seat cockpit swiveling as well, allowing the propellers to steer it like an oversized flying drone.
As far as driving the vehicle, Alef says it is designed to adhere to automotive laws and regulations, making it "road legal," according to the company.
Alef even has the backing of Tim Draper, a high-profile venture capitalist who was an early investor in both Tesla and SpaceX. His namesake Draper Associates Fund V invested $3 million of seed money in Alef in October.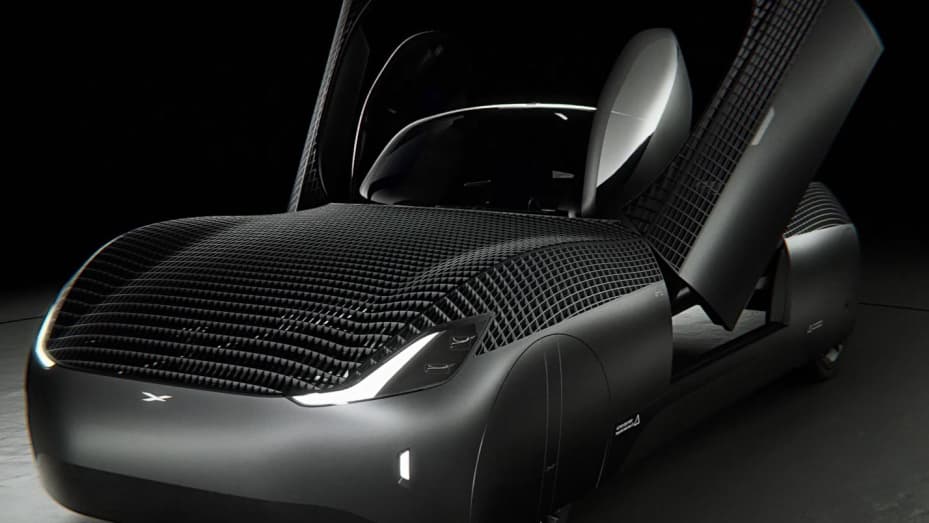 Source: Alef Aeronautics
But Mike Ramsey, an auto and smart mobility analyst at Gartner, says Alef's plans are "neat" — but contends that the company has "a tough road" ahead.
Mass production is a challenge for any car startup, and it's often hard to get regulatory approvals to legally drive on public roads, much less fly over them, Ramsey says.
Ramsey notes that the Federal Aviation Administration has provided updated guidance on the requirements needed for ground vehicles to be legally allowed to take off and fly in public airspace. The FAA even reportedly gave another flying car concept, Samson Sky's Switchblade, the go-ahead for flight testing in July.
But Ramsey is adamant that, even with more clarity from the FAA and other regulators, companies looking to get their flying car concepts certified still face a "major challenge."
"The safety requirements that every [road] vehicle has to have, how you can make that work alongside the requirements you would need to make a flying vehicle legal would be pretty substantial," Ramsey says.
Alef hopes to speed up its regulatory process by first seeking air certification outside of the U.S., specifically in Asia and Europe, Dukhovny says: "[That] will not only help us build a safety record, but also will allow us to gather enough data to help with FAA certification process in the U.S."
Dukhovny also plans to initially have the Model A certified as a Low Speed Vehicle (LSV), which would mean the car couldn't exceed roughly 25 miles per hour on public roads. Alef would later seek full automotive certification, he adds.
---
'That would be an incredible accomplishment'
The Model A isn't Alef's only bold plan: Dukhovny has also publicly announced his intention to build a cheaper version, called the Model Z, that sells for just $35,000 by 2030.
In October, Dukhovny told Reuters that the proposed Model Z would be "not more complicated than a Toyota Corolla," and should therefore have a similar price range.
But it's "not easy" to build a mass-produced vehicle — like the Corolla — much less turn one into a legal aircraft, Ramsey says.
"I would personally be very surprised if we have a flying vehicle like that ready for production in the next two years," he adds. "That would be an incredible accomplishment."
Not everyone agrees. Hugh Martin, CEO of transportation logistics startup Lacuna Technologies, told CNBC last year that he could envision commercially available flying cars as soon as 2024.
Major companies racing to be the first to put a flying car on the market include Fiat Chrysler and China's Xpeng. Hyundai and Uber have been working on a flying taxi concept since 2020, and Hyundai subsidiary Supernal has announced plans to to launch a flying pod commercially by 2028.
But even if the cars are ready by then, regulatory approval could be a much lengthier process.
"Just the regulatory challenges are going to be pretty substantial," Ramsey says.
Want to earn more and work less? Register for the free CNBC Make It: Your Money virtual event on Dec. 13 at 12 p.m. ET to learn from money masters how you can increase your earning power.
Sign up now: Get smarter about your money and career with our weekly newsletter
https://www.cnbc.com/2022/12/04/alef-aeronautics-startup-backed-by-tesla-investor-flying-car-by-2025.html
---
10. Why Emotional Intelligence Is in Decline
Less in-person interaction, lower societal empathy, and more. Madeleine A. Fugère Ph.D.
KEY POINTS
Emotional intelligence consists of four factors: well-being, self-control, emotionality, and sociability.

The cross-temporal meta-analysis included 70 studies with nearly 17,000 participants.

Three facets of emotional intelligence declined over time: well-being, self-control, and emotionality.

Access to technology was associated with decreased well-being and self-control.
New research appearing in the latest issue of the Journal of Personality by Khan and colleagues presents a meta-analysis showing declining levels of emotional intelligence in Western college-student samples in studies that were completed between 2001 and 2019.
What Is Emotional Intelligence?
Emotional intelligence is a complex construct consisting of four factors: well-being, self-control, emotionality, and sociability. The factor of well-being encompasses one's positive self-evaluations, as well as feelings of happiness and optimism. The factor of self-control includes the ability to regulate one's feelings, including emotions, stress, and impulses. The factor of emotionality involves relationship skills such as one's ability to accurately perceive one's own as well as others' feelings and one's capacity to experience empathy. The factor of sociability includes one's ability to communicate effectively, exert influence over others, and build social networks (Khan et al., 2021).
The Current Research
The lead author of the present study searched for previous research using the Trait Emotional Intelligence Questionnaire, which was conducted between 2001 and 2019. The researchers also limited inclusion in the meta-analysis to those studies involving college student samples from the US, UK, Canada, and Australia. The present research included 70 studies with nearly 17,000 participants. The researchers then conducted a "cross-temporal meta-analysis" to examine changes in emotional intelligence over time, controlling for the age of the cohorts. They sought to determine "whether societal-level changes have coincided with changes in trait EI [emotional intelligence] in young adults."
The Findings
The researchers found (when controlling for gender as well as the country where the study was conducted) that time was significantly negatively associated with three facets of emotional intelligence: well-being, self-control, and emotionality. Furthermore, the declines in emotional intelligence were "stronger as the proportion of females in the sample decrease[d]." The authors also conducted supplementary analyses showing that access to technology in each of the countries was "associated with lower levels of well-being and self-control."
The Implications
The authors speculate that the rapid rise in young adults' use of social media might be responsible for some of the declines in emotional intelligence. "In-person social interaction provides greater opportunity for emotional closeness and bonding compared to online communication, which is problematic if individuals are replacing in-person social interactions with online communication." Changes in society over the past two decades may also be responsible for "generational decreases in empathy and increases in depression and anxiety symptoms" as well as "increases in mood disorders, suicide ideation, and suicide attempts."
Although the design of the current study does not permit drawing causal conclusions, the authors speculate that social media increasingly "replaces in-person communication resulting in increasing loneliness… [and] facilitates social comparisons and peer envy." The researchers propose that other factors such as academic stress or family instability may also drive these declines in emotional intelligence. "Pinpointing the causes behind declining levels of well-being, self-control, and emotionality is particularly important for the prevention of mental health issues." The authors also note the possibility that "well-being may have declined over time as a consequence of declines in other facets of trait EI (e.g., self-control and emotionality)."
The Limitations and Future Directions
One limitation of the current project: Because many individual papers did not report the ethnic background of their participants, the current researchers were unable to explore ethnic background as a potential moderator of emotional intelligence. To address declining emotional intelligence, the researchers recommend implementing interventions that can improve trait emotional intelligence over the long term, noting that "these interventions were also successful in improving participants' social relationships and employability." The authors hope that their analysis "stimulates further research into investigating the causes of these alarming societal trends."
https://www.psychologytoday.com/us/blog/dating-and-mating/202111/why-emotional-intelligence-is-in-decline