1. History of Back to Back 5% Plus S&P Months
Here's another bullish takeaway from the recent strength. S&P 500 >5% back-to-back months. This type of persistent strength isn't the sign of a bear market rally, but likely the start of a new bull. Previous 13 times it happened? Higher yr later every time and up 22.2% on avg.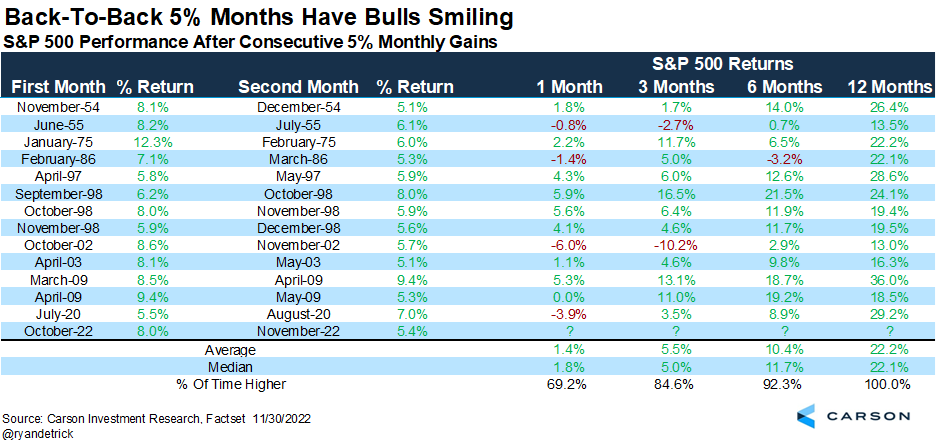 ---
2. VIX Volatility Index About to Break Thru August Lows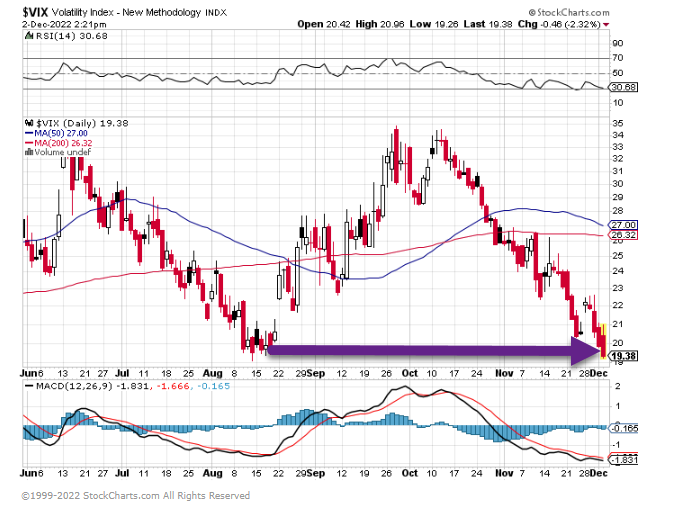 ---
3. Global Bonds Up Almost 5% in One Month
JP Morgan Private Bank GLOBAL BONDS ENJOYED THEIR BEST MONTH OF PERFORMANCE SINCE THE GFC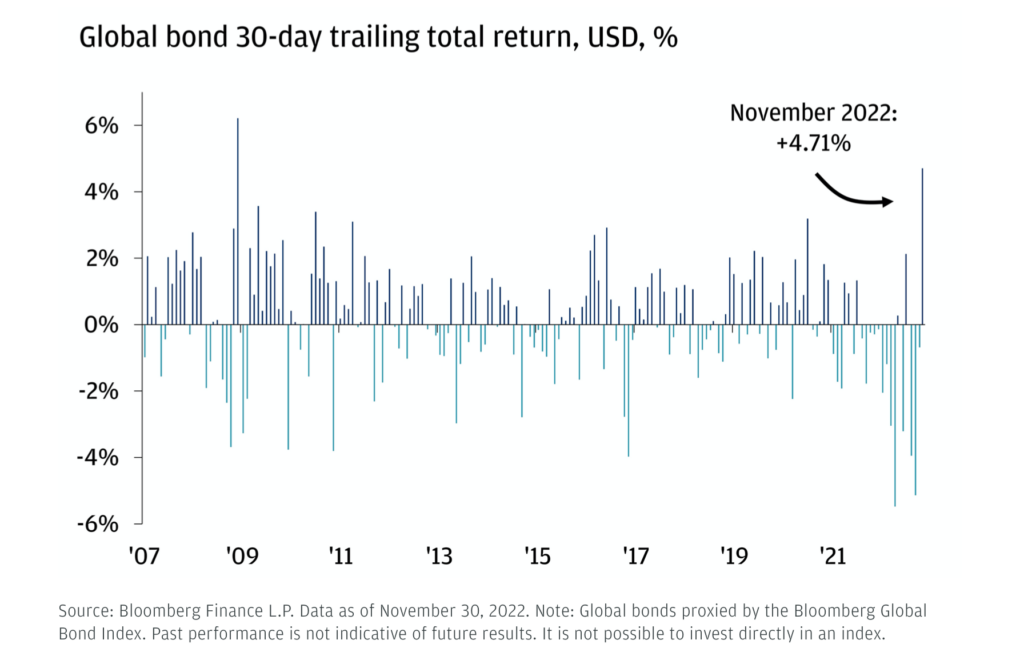 ---
4. Most Layoffs Coming From Tech
Liz Ann Sonders Schwab Perhaps no surprise but a parabolic spike in job cut announcements in tech industry (update thru November)  https://www.linkedin.com/in/lizannsonders/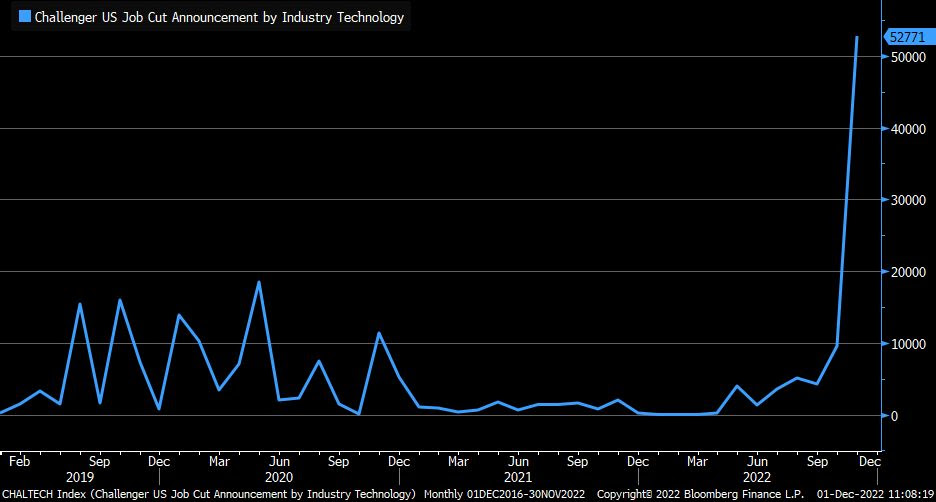 ---
5. Bitcoin as Digital Gold?  2022 GLD (gold) -2.3% vs. BITO (Bitcoin) -63%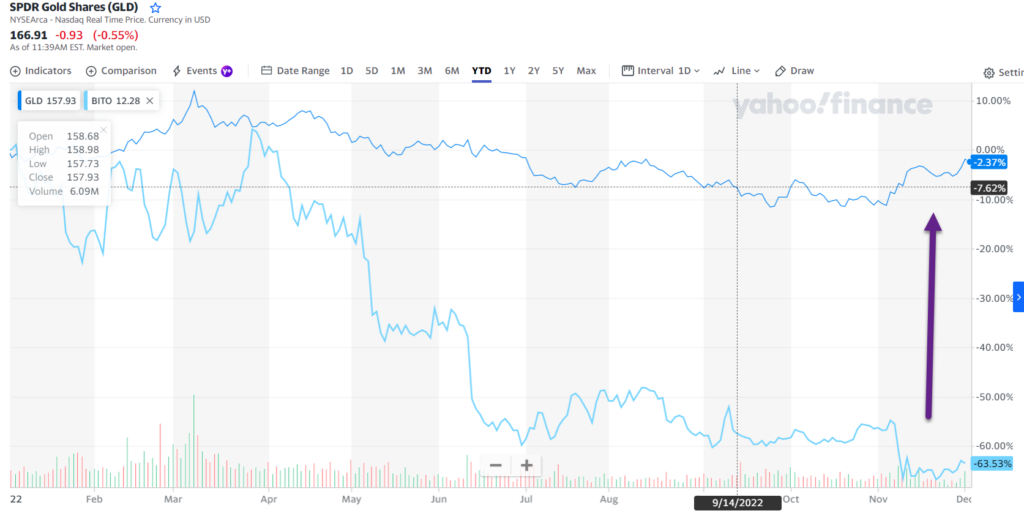 ---
6. Top Buyers of Russian Oil August 2022
Barrons The Murky Pricing Math Behind Europe's New Oil Sanctions
---
By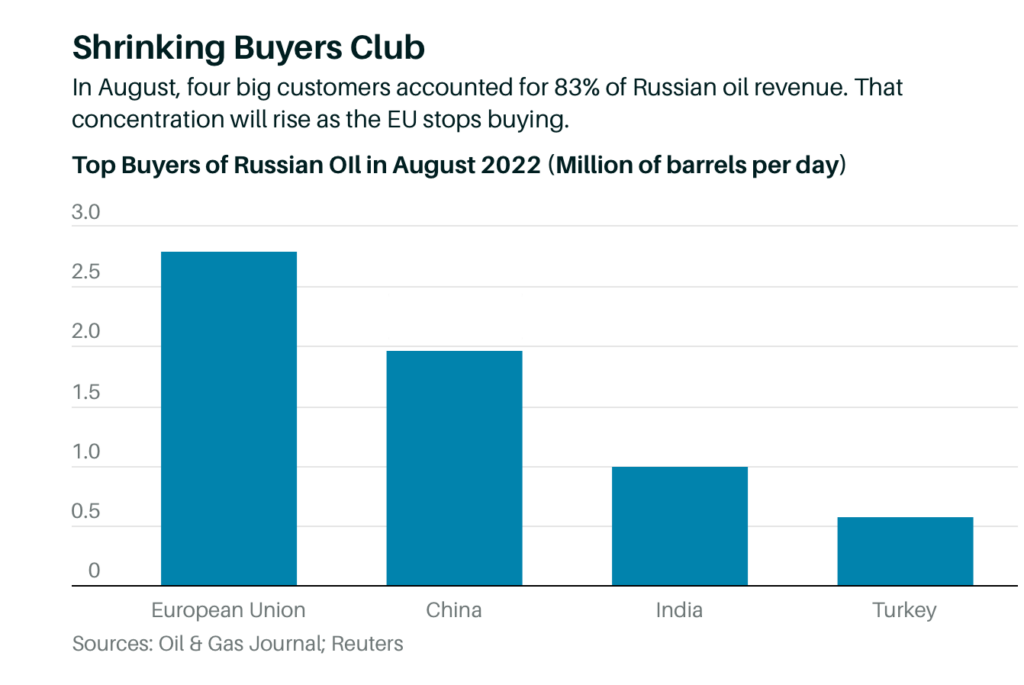 https://www.barrons.com/articles/europe-russia-oil-price-sanctions-51670034208?mod=past_editions&tesla=y
---
7.Home Prices Down But Still Sky-High
Bespoke Investment Group September numbers for home prices across the country were released by S&P CoreLogic Case Shiller this morning.  Below is a look at how much home prices are up since February 2020 just before COVID hit.  The National index is up 41%, while Tampa, Phoenix, and Miami are all up 63% or more.  At the lower end of the gains are Washington DC, Minneapolis, San Francisco, and Chicago with price increases between 27% and 31%.7. Home Prices Down But Still Sky-High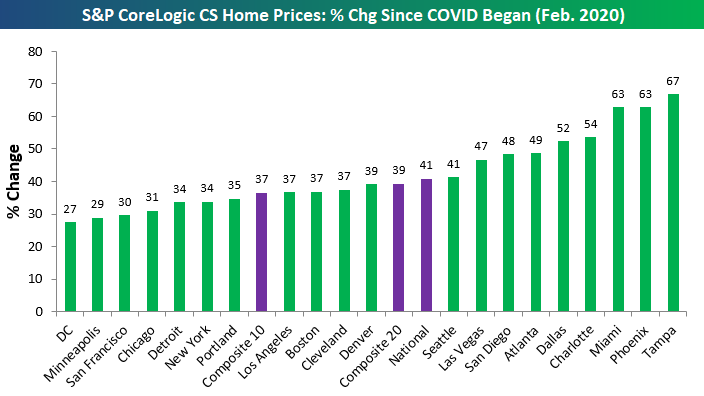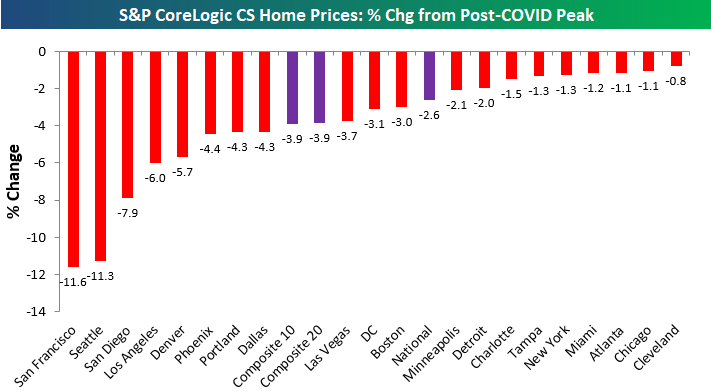 https://www.bespokepremium.com/interactive/posts/think-big-blog/home-prices-down-but-still-sky-high
Blackstone Puts Up Gate on Giant Real Estate Fund
 Blackstone's $69 Billion Real Estate Fund Hits Redemption Limit
Investment firm will restrict repurchase requests in December
Real estate fund has breached quarterly repurchase limits
Sridhar Natarajan and Dawn Lim
Blackstone Inc.'s $69 billion real estate fund for wealthy individuals said it will limit redemption requests, one of the most dramatic signs of a pullback at a top profit driver for the firm and a chilling indicator for the property industry.
Blackstone Real Estate Income Trust Inc. has been facing withdrawal requests exceeding its quarterly limit, a major test for the one of the private equity firm's most ambitious efforts to reach individual investors. The news, in a letter Thursday, sent Blackstone stock falling as much as 10%, the biggest drop since March. 
"Our business is built on performance, not fund flows, and performance is rock solid," a Blackstone spokesperson said, adding that BREIT's concentration in rental housing and logistics in the Sun Belt leaves it well positioned going forward. This year, the fund has piled into more than $20 billion worth of swaps contracts through November to counteract rising rates.
The fund became a behemoth in the real estate industry since its start in 2017, snapping up apartments, suburban homes and dorms and growing rapidly in an era of ultra-low interest rates as investors chased yield. Now, soaring borrowing costs and a cooling economy are rapidly changing the landscape for the fund, causing BREIT to caution that it could limit or suspend repurchase requests going forward. 
Blackstone's top executives have bet big on the fund. Bloomberg reported last month that President Jon Gray had put $100 million more of his own money in BREIT since July, as had Chief Executive Officer Steve Schwarzman, a person familiar with the matter said at the time.
https://www.bloomberg.com/news/articles/2022-12-01/blackstone-real-estate-fund-tops-limit-for-redemption-requests?sref=GGda9y2L
---
8.Profit Margin Compression at S&P Retailers
Jack Ablin Cresset Capital Many retailers are offering steep discounts, even in the face of higher labor costs, to outrun the recession. The average discount for Black Friday deals this year was 30 per cent, according to The New York Times. Another challenge is that middle-class consumers are expected to spend 15 per cent more on "experiences," such as travel, concerts and sporting events, this year compared to last year, according to a recent New York Times report. Some shoppers are already cutting back on discretionary purchases. Bottom line: We expect a strong Christmas selling season, but it will be at the expense of profit margins.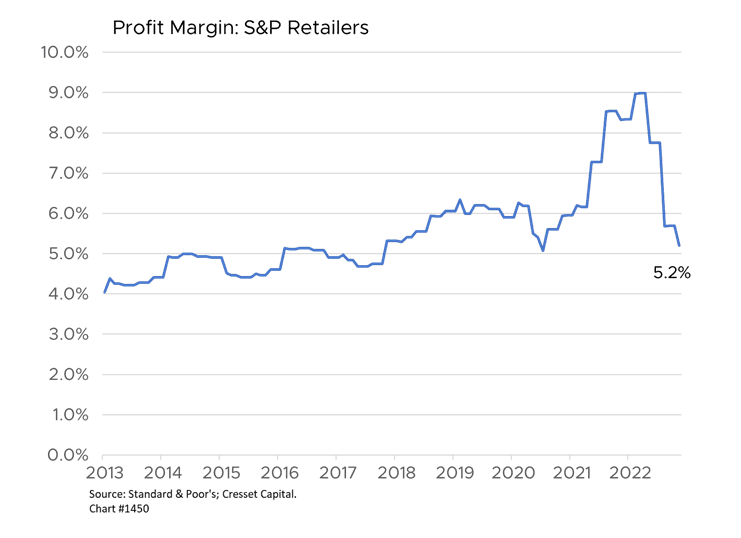 https://cressetcapital.com/post/retailers-race-against-recession/
---
9.Tesla Tractor Trailers Hit the Road
Morning Brew Blog
TRANSPORATION
Beep beep, your Tesla Semi is finally here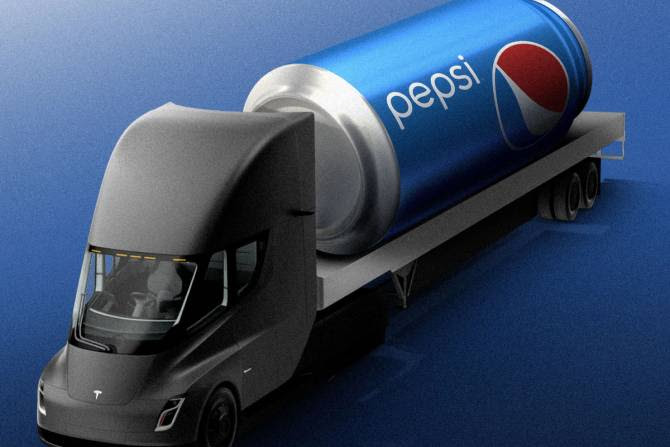 Francis Scialabba
Three years behind schedule, Tesla Semis will finally join their diesel-guzzling pals in boxing you in on the interstate. Last night, the automaker delivered its first electric semitrucks, which are expected to be more powerful and able to travel further than any EV currently whizzing down I-80.
The first company to get the trucks will be Pepsi, which was in the long haul for the long hauls. It ordered 100 trucks when they were first announced in 2017.
The industry is pumped for the Tesla Semi
Right now, electric trucks are limited by their range: Renault's EV semi, for example, can only travel ~125 miles on a single charge. These electric trucks are used only for local and regional trips so they can charge at factories and distribution centers overnight.
But Elon Musk promised that his truck could drive 500 miles on a single charge, a feat that would change the game for adoption of heavy-duty EVs.
However, there are more speed bumps for EV semis than even an 18-wheeler can clear:
Batteries in these trucks are extremely difficult and expensive to produce—especially right now as lithium, the main component of an EV battery, and other crucial minerals are in short supply.
The amount of electricity required to power EV trucks is staggering. Seriously—the projected power needed to convert a single gas station into a charging station to support smaller EVs and semis by 2035 would be the amount a small town needs, according to a study from National Grid.
Unlike personal EVs, which have taken off in recent years, EV semitrucks are still on training wheels. If the Tesla Semi succeeds, it could be a big win for 1) the young commercial EV industry and 2) Tesla, which needs a boost after its stock plunged more than 50% this year and its CEO Musk got distracted fighting with Stephen King on Twitter.—MM
https://www.morningbrew.com/daily
---
10. Boldly Optimistic and Ruthlessly Pragmatic

It doesn't matter who you are, the facts are the same. Marcus Aurelius was Emperor. Epictetus was a slave. Two different fates, but the same reality. Most of life, most situations are out of our control. All we can do is respond to them well. All we can do is endure them.
In December 1950, the United States was deep into the war in Korea. It seemed likely that the conflict would spiral out of control. What would happen next? What could one do? Was it hopeless? Whose fault was it? As Secretary of State, Dean Aiken struggled under this burden. He got a letter from his old friend, the foreign policy visionary George Keenan. It's advice that bucks you up whether you're fighting for the future of the free world, or just trying to make it through high school. And here it is:
"In international as in private life, what counts most is not what happens to someone, but how he bears what happens to him. For this reason, almost everything depends from here on out on the manner in which we Americans bear what is unquestionably a major failure and disaster to our national fortunes. If we accept it with candor, with dignity with the resolve to absorb its lessons and make it good by redoubled and determined effort, starting all over again, if necessary, along the pattern of Pearl Harbor, we need lose neither our self confidence nor our allies, nor our powers for bargaining. But if we try to conceal from our own people, or from our allies, the full measure of our misfortune, or permit ourselves to seek relief in any reactions of bluster or petulance or hysteria, we can easily find this crisis resolving itself into an irreparable deterioration of our world position, and of our confidence in ourselves."
We've talked before about this kind of paradox in stoicism. The stoics were boldly optimistic and ruthlessly pragmatic. They always believed that they could endure the worst circumstances and they accepted the brutal facts of those circumstances. They saw the unquestionable major disaster and the unprecedented major opportunity.
As Ryan Holiday writes in Lives of the Stoics (which you can pick up at The Daily Stoic Store), Xeno loses his entire fortune in a shipwreck. But by bearing this with grace and fortitude, he was able to discover a philosophy that changed the world. Marcus was the leader of Rome through a series of crises that matched Truman's: a war and a 15-year pandemic. Cato faced a republic on the brink of collapse. Seneca, Musonius Rufus, Agrippinus, Rutilius, and Helvidius, all were exiled.
These were difficult moments, but they bore them well with competence, dignity, candor, most of all unflappable perseverance. They might have temporarily bemoaned it, but they knew, as Epictetus knew, that becoming an Olympic class athlete takes sweat. So they stuck to it, just as you must.