1. I Listen to a Lot of Podcasts and Below is Top Ranked Episode….2 of My Favorite Groups Discussing Current State of Markets
Compound and Friends Josh Brown and Michael Batnick Interview Jeff DeGraff of Renmac Research ..TONS of good information.
Click to Listen
https://thereformedbroker.com/podcast/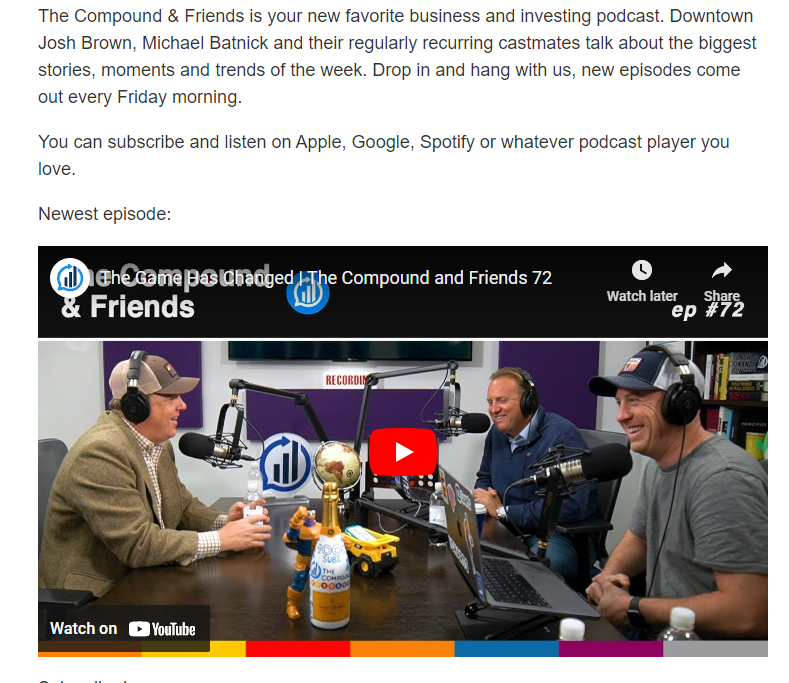 ---
2. Big Technical Break….U.S. Dollar Closes Below 200 Day Moving Average.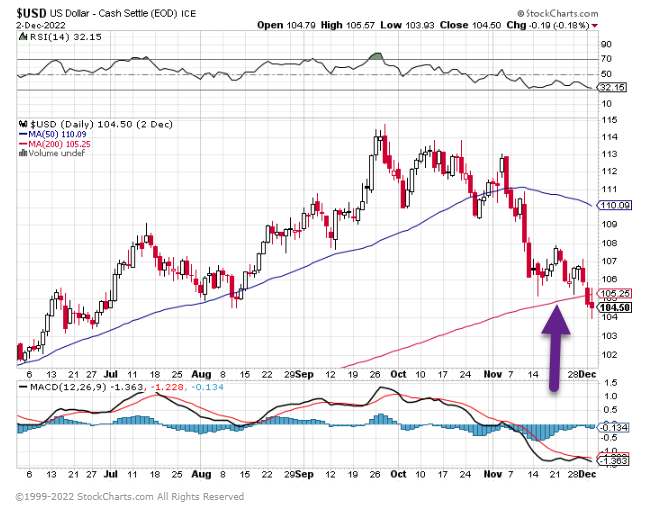 ---
3. Gold (GLD) Dollar Weakens…GLD Runs Up to 200 Day and Backs Away.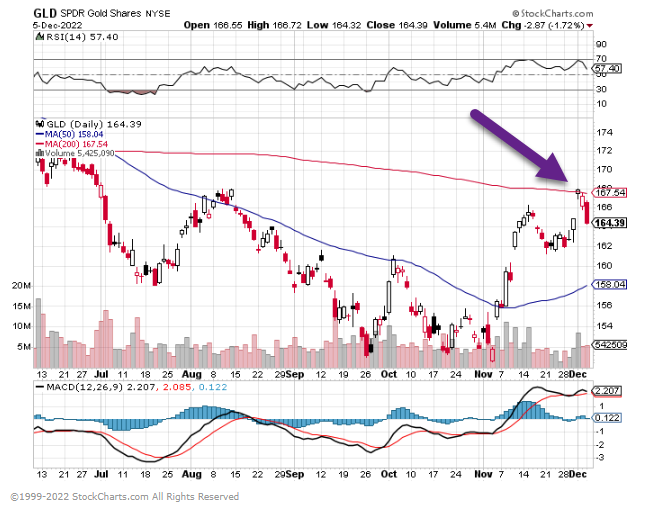 ---
4. December S&P Seasonality
Dorsey Wright Around this time each year we like to emphasize just how strong, and often positive, the month of December has historically been. The image below summarizes these tendencies and reveals that since 1957 the S&P 500 (SPX) has posted a gain in December 78% of the time and returned 1.73% on average (1.68% median return). The month with the second most positive returns is November, with a batting average of 72%.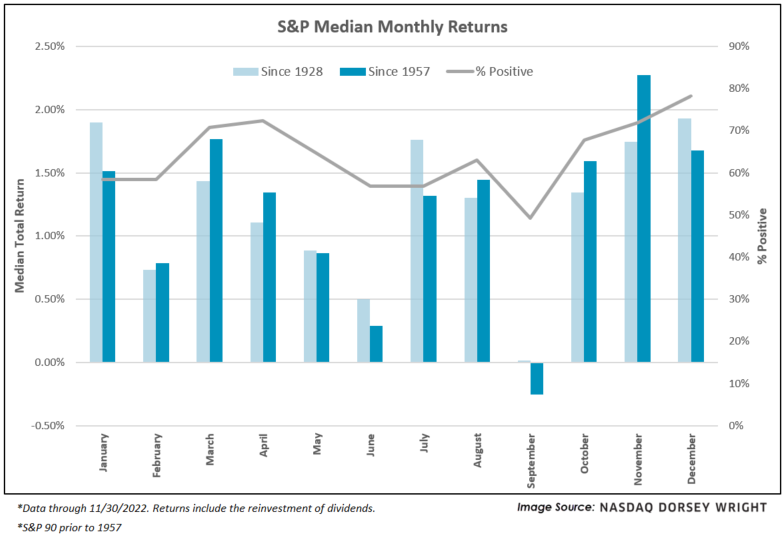 ---
5. For 2023 Bear Market??…A lot of Financials Near Highs.
Interactive Brokers
SEIC-SEI Investments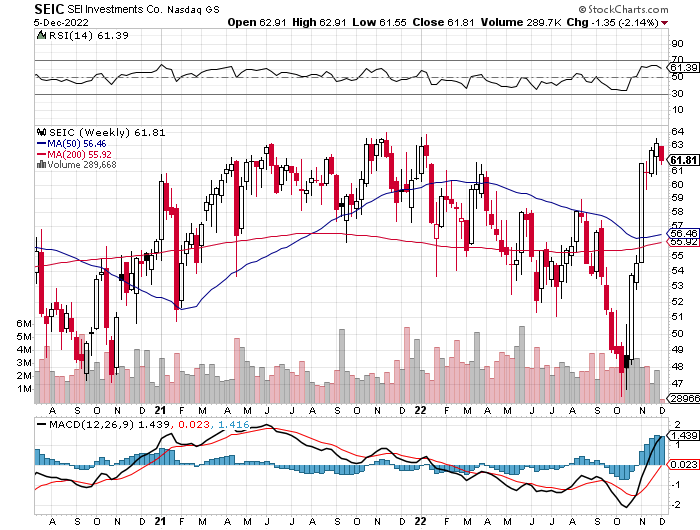 JEF Jefferies Financial Group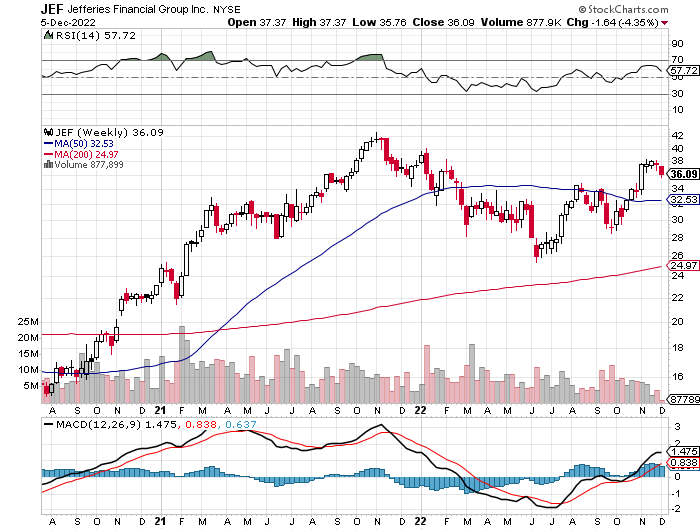 ---
6. 10-year chart S&P Up Double Lithium ETF (LIT) …..5 Year Chart Not So Much
5 Year Chart Lithium ETF (LIT) +85% vs. S&P +50%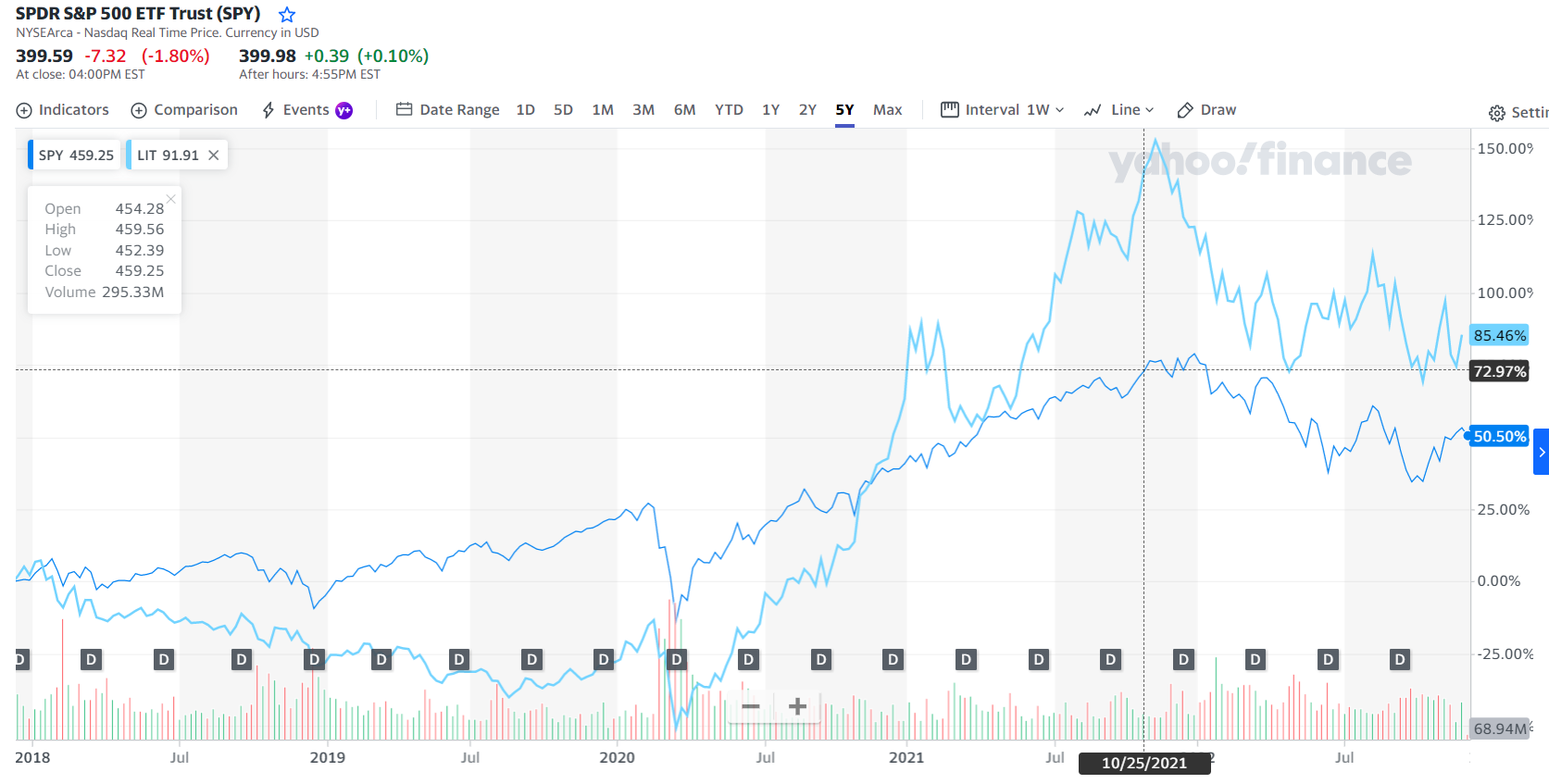 ---
7. Global Real Wages Go Negative
ZEROHEDGE BY TYLER DURDEN-The global inflation crisis paired with lackluster economic growth and an outlook clouded by uncertainties have led to a decline in real wages around the world, a new report published by the International Labour Organization (ILO) has found.
As Statista's Felix Richter reports, according to the 2022-23 Global Wage Report, global real monthly wages fell 0.9 percent this year on average, marking the first decline in real earnings at a global scale in the 21st century.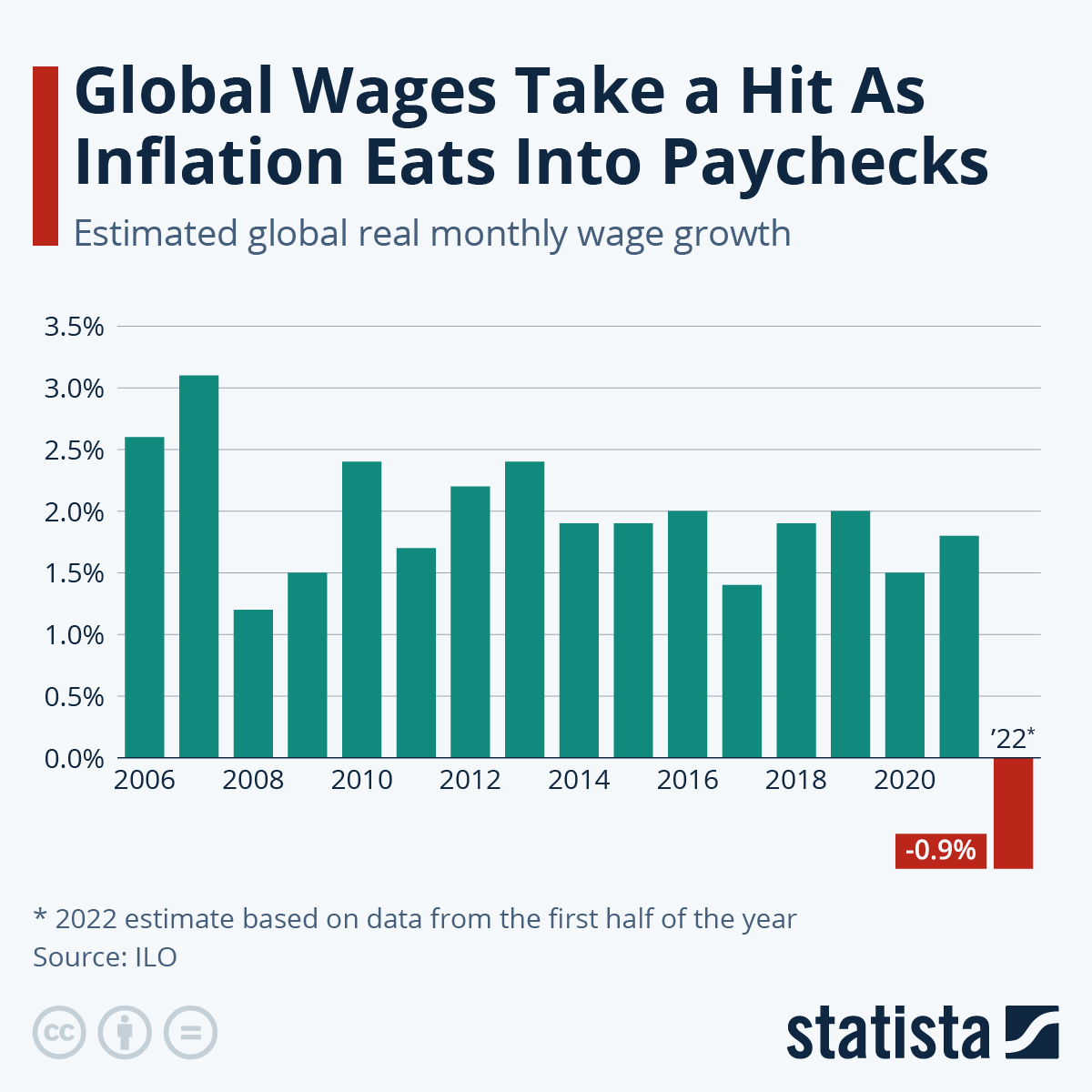 https://www.zerohedge.com/personal-finance/global-wages-take-hit-inflation-eats-paychecks
---
8. Amazon's new robot is capable of handling millions of different products and could replace human workers
Amazon.com Inc. has developed a robot capable of identifying and handling individual items, a milestone in the e-commerce giant's efforts to reduce its reliance on the human order pickers who currently play a key role in getting products from warehouse shelves to customers' doorsteps.
The robotic arm, tipped by a set of what appear to be retractable suction cup-like devices, is called Sparrow. In a company video released on Thursday, the machine autonomously grabbed items of different sizes and textures from a plastic tote and placed them in other receptacles. Amazon said the bot is capable of handling millions of different products.
Automating such tasks may look simple but has stumped Amazon roboticists for years. Machines at the company's facilities have long lifted pallets, arranged tightly packed shelves and shuttled packages on conveyor belts. But Amazon also employs hundreds of thousands of workers, whose dexterity and intuition currently let them pick and pack items more quickly and more reliably than existing machines.
If widely deployed, robots like Sparrow could eventually render large portions of that workforce unnecessary, shifting the emphasis from employees who perform simple tasks that require little training, to a likely smaller cadre of technicians who supervise and maintain robotic systems. Amazon is the second largest private employer in the US behind Walmart Inc., with 1.54 million workers worldwide.
Amazon has for years been criticized for pushing its workers too hard in a relentless effort to get packages to customers quickly. Warehouse injuries exceed Amazon's logistics peers, drawing the scrutiny of workplace regulators looking to ensure the company isn't putting employees in harm's way. Groups seeking to unionize these facilities are also pushing for improved safety and working conditions, along with higher pay.
"Working with our employees, Sparrow will take on repetitive tasks, enabling our employees to focus their time and energy on other things, while also advancing safety," the company said in a blog post on Thursday. "At the same time, Sparrow will help us drive efficiency by automating a critical part of our fulfillment process so we can continue to deliver for customers."
It wasn't immediately clear how quickly or widely Sparrow would be deployed. The robot's use could require a redesign of Amazon's main warehouses, called fulfillment centers. They currently store most types of products on racks of mesh shelving that are likely incompatible with robotic arms like Sparrow.
Amazon has long aspired to mostly automate its warehouses. But the company has been sensitive to the perception that it plans to eliminate jobs. During a media event at an Amazon robotics research and manufacturing facility outside Boston, executives focused on the new types of roles increasingly automated facilities would require and said many frontline workers would be retrained for these higher-skilled jobs.
Sign up for the Fortune Features email list so you don't miss our biggest features, exclusive interviews, and investigations.
https://fortune.com/2022/11/10/amazon-new-robot-sparrow-replace-human-workers/
---
9. All the Favorite Covid Google Search Words Traffic Imploding Except…"Remote Jobs"
Chartr.com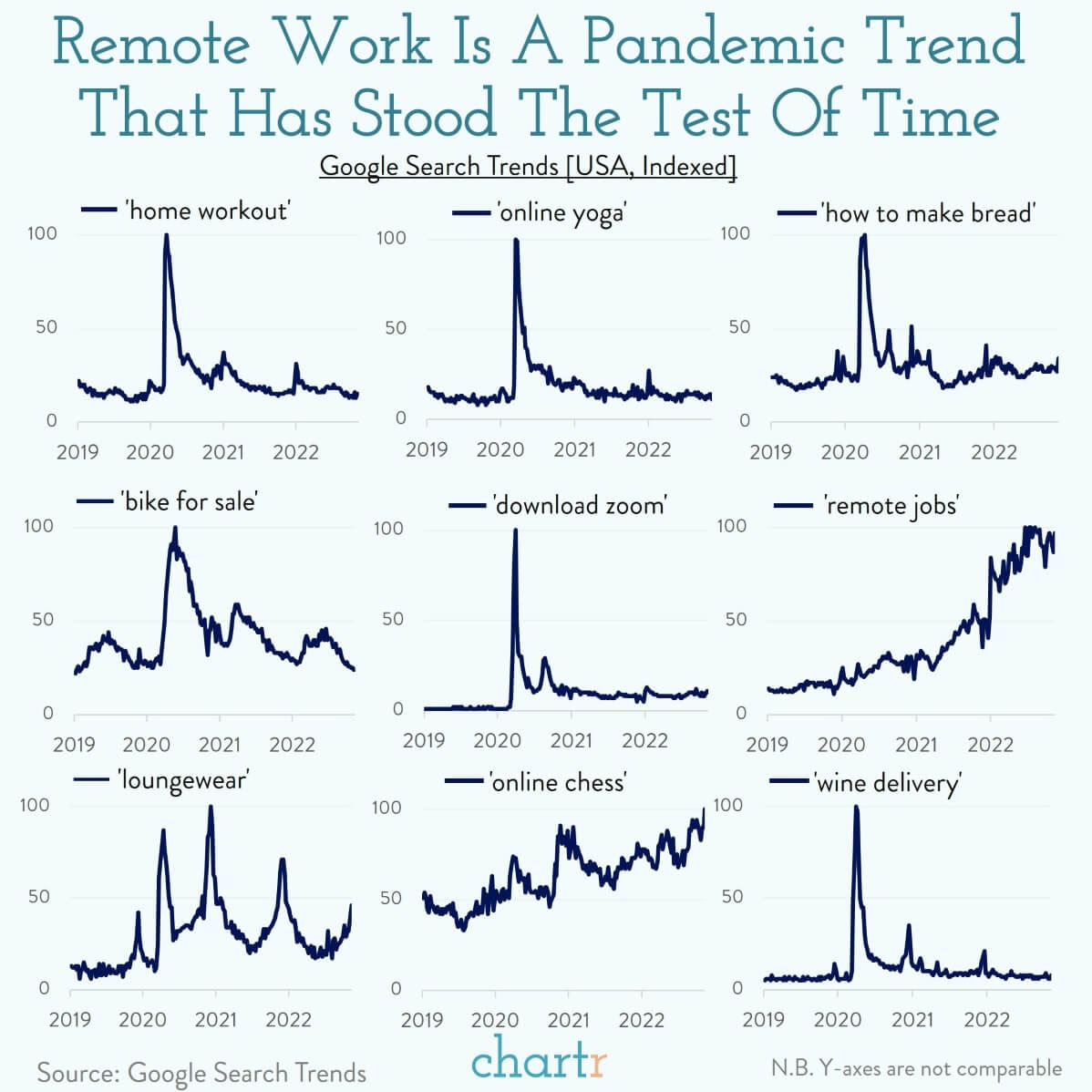 Here to stay
Last week we explored the topic of remote work. If you missed it, the short version of the story is that roughly half of all job applications on LinkedIn last month were for remote work positions, way more than the number of remote work positions actually available. That got us thinking about other pandemic trends, many of which haven't stuck around in the same way.
A time in spaceData from Google reveals how online yoga, home workouts, the breadmaking boom and even searches for wine delivery all struggled to maintain their early 2020 momentum as life in America returned to something resembling "normal".
Much to the chagrin of Zoom executives, far fewer people are searching for the video chat tool, making the company's share price chart look oddly similar to the search trend presented above. Indeed, many of the lifestyle changes that could have lingered ended up being short-lived.
One hobby that has maintained some buzz is chess. Searches for "online chess" got a modest bump during the pandemic as competitive board game players turned to web versions of the ancient game to scratch their competitive itch. Then Netflix's popular show The Queen's Gambit came along and from there the game has made headlines a number of times — thanks in part to a cheating scandal. All told, daily user figures have quintupled to 5 million at Chess.com since 2020, according to the platform.
---
10. 3 Key Elements of a Fulfilling Life
Arash Emamzadeh-Psychology Today
The building blocks of a fulfilled life include resources (e.g., support), personal characteristics (e.g., curiosity), and life quality.
Cognitive and emotional evaluations include being free of regret, achieving self-development and other important goals, and leaving a legacy.
Sources of fulfillment include relationships, occupation, savoring life, recreational activities, and spirituality.
Correlates of a Satisfying Life-The following nine categories were the sources from which participants drew fulfillment.
Relationships and community: Sharing quality time with others.
Occupation: Living one's calling.
Recreational activities: Music, exercise, enjoyment of small things, etc.
Learning: Meeting new people and exposure to new points of view.
Partnership: A loving romantic partnership.

Parenting

: Raising children well.
Civic engagement: Working for a good cause.
Spirituality: Living spiritually.
Savoring: Enjoying every moment.
The biggest sources from which participants drew fulfillment were relationships and community and occupation. For instance, "I want professional fulfillment in a job where I add value to others through my skills." (Female, age 32).
Antecedents of a Satisfying Life
The contextual aspects that facilitated a gratifying life:
Resources: Social and psychological resources, such as a sheltered (but not overprotected) childhood, social integration, social support, healthy self-connection, self-confidence, and effective problem-solving and coping skills. To illustrate, a 58-year-old male participant suggested fulfillment results from going "through life with confidence and self-assurance."
Personal characteristics: Positive attitude, taking responsibility and showing initiative, positive traits (e.g., modesty, courage, persistence, curiosity), and acceptance. An example, for trait acceptance, was, "Being able to accept things in life that you would do differently today." (Female, age 83).
Quality of life: Health, financial security and well-being, personal freedom, work/education opportunities, work-private life balance, and luck.
https://www.psychologytoday.com/us/blog/finding-new-home/202212/3-key-elements-fulfilling-life