1. How the S&P 500 Index has done the Three Months Ahead of the Election can Predict who will win the Election in November….87% Accuracy.
LPL Research
The Clock Starts Today on This Historically Accurate Election Winner Indicator
Posted by lplresearch
Market Blog
2020 has been historic and devastating in many ways, from the fastest bear market ever, to one of the greatest stock market recoveries ever. Not to mention a historic drop in the economy in the second quarter, with likely a record jump due in the third quarter. With so many things happening, it is easy to forget this is also an election year. As we inch closer to the highly anticipated vote, we expect more focus to move to November 3.
Here's the catch—stocks very well could be one of the best indicators to show who will win. "It is actually quite simple; when stocks gained the three months before the election, the incumbent party tended to win and vice versa when stocks were lower," explained LPL Financial Chief Market Strategist Ryan Detrick. "Think about 2016 for instance; no one expected Hillary Clinton to lose, except the stock market that is, as stocks were quite weak before that upset."'
Given the election is three months from today, the clock starts now. But why has this worked in the past and what could it be telling us? Maybe Wall Street can sense there is change in the air and this leads to uncertainty over what the new leadership might look like, so there is selling. Compare this when markets feel comfortable with the incumbent party winning, as they likely know what to expect based on the previous four years.
As shown in the LPL Chart of the Day, how the S&P 500 Index has done the three months ahead of the election can predict who will win the election in November. In fact, stocks have accurately predicted the winning president every year since 1984 and been right 20 out of 23 of the last elections (87%).
2. Another Trend Pulled Forward in 2020….TAN Solar ETF +61% vs. S&P +3%
3. Advanced Micro AMD Vs. Intel INTC YTD.
AMD +85% vs. INTC -18%
4. Probably Sick of Seeing These Comparisons…But Another Different Look at Growth vs. Value Since 1990.
We are not in 1999 size bubble but amazing that growth lost a decade of outperformance in 6 months.
Kailish Concepts, a quant analysis firm, used those very words from the Berkshire Hathaway BRK.B, 0.24% boss in a note taking a deep dive into the "death of valuation" in today's market, which can be seen by this telling chart showing the dominance of growth stocks:
The 'death of valuation' and what it could mean for investors going forwardBy Shawn Langlois
https://www.marketwatch.com/story/like-warren-buffett-half-a-century-ago-quant-firm-admits-to-being-out-of-step-with-todays-bubbly-conditions-2020-08-03?mod=home-page
5. One Asset Class Beating Tech This Year….Long-Term Bonds TLT +27.3% vs. QQQ +25.5%
Why Would Anyone Own Bonds Right Now? Posted August 2, 2020 by Ben Carlson
Here's some good 2020 finance trivia for you: What's the better performer this year — the red hot Nasdaq 100 index of tech behemoths or boring old long-term bonds?
The Nasdaq 100 ETF (QQQ) is up an astonishing 25.5% this year during a pandemic and that's including a 29% peak-to-trough drawdown. But the long-term treasury ETF (TLT) is up 27.3%.
Long-term bonds are outperforming tech stocks in one of the weirdest years ever in the market.
Stocks get all the love and attention because they're more exciting and sexier but bond returns this year are off the charts when you consider how low yields were coming into 2020:
Full article A Wealth of Common Sense BLOG
https://awealthofcommonsense.com/2020/08/why-would-anyone-own-bonds-right-now/
6. GLD Gold ETF Ranking with World Central Banks as Top Holders of GOLD.
From Dave Lutz at Jones Trading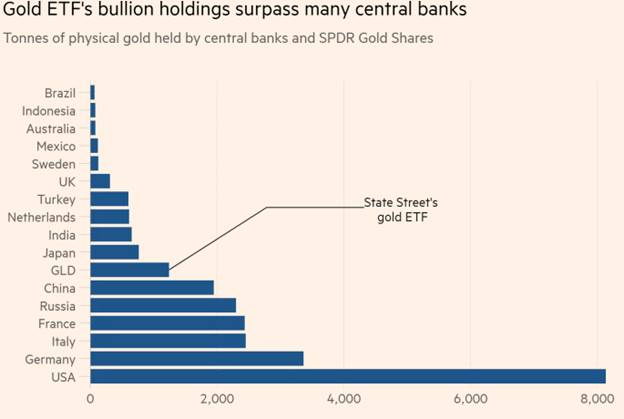 An exchange traded fund has become one of the world's biggest owners of gold, surpassing even the central banks of Japan and India, as investors have scrambled to buy the precious metal and pushed it to record highs – SPDR Gold Shares, an ETF that owns physical bullion rather than just financial derivatives, has hoovered up gold this year as investors seeking price gains or a haven asset channel more money into the fund.
7. CCC Rated Credit Spreads Fall Below 1000BPS.
Fed bails out lower credit debtors again.
Found at Tren Griffin Twitter
8. 2050—Chinese Over 60 Population 485m.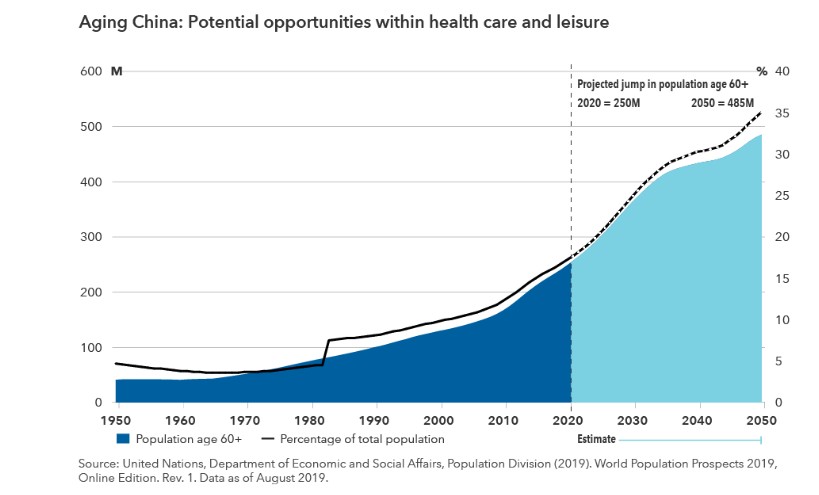 China: 3 views on what's next for its economy and stocks
https://www.capitalgroup.com/advisor/insights/articles/china-three-views.html
9. Billions for national parks as historic bill becomes law
Amid election-year politics Trump signs rare bipartisan Great American Outdoors Act
After spending his presidency denying climate change, placing coal and oil industry officials in top environmental jobs, and weakening dozens of public health and wildlife rules, President Donald Trump on Tuesday reversed course and signed a historic law to pump billions of dollars into long-neglected repairs and upgrades at America's national parks.
The measure, known as the "Great American Outdoors Act," is the most significant new federal conservation law in 40 years, since President Jimmy Carter doubled the size of the national park system by establishing 157 million acres of new parks, wildlife refuges, scenic rivers and other wilderness areas in Alaska during his final weeks in office in 1980.
"There hasn't been anything like this since Teddy Roosevelt, I suspect," Trump said during a ceremony in the East Room of the White House.
Environmentalists cheered, finally securing a win they have sought for more than 20 years.
"The Great American Outdoors Act is a truly historic, bipartisan conservation accomplishment that will protect wildlife habitat, expand recreational opportunities, restore public lands and waters, and create good jobs," said Collin O'Mara, president and CEO of the National Wildlife Federation.
Election year pressures were at the center of the unusual breakthrough.
Several of the chief sponsors of the bill, including Cory Gardner of Colorado, Steve Daines of Montana, Martha McSally of Arizona and Susan Collins of Maine, are Republican senators in close re-election races. The White House and GOP leaders, who previously have opposed increasing the funding, saw the measure as a major accomplishment that could help Republicans win those races. Gardner and Daines personally urged Trump to embrace it, and were featured at the signing ceremony Tuesday.
During the ceremony, the president twice mispronounced the name of Yosemite National Park, calling it "Yo-se-MIGHT," sparking ridicule on social media.
The new law makes two landmark changes.
First, it will provide $9.5 billion over the next five years to repair roads, restrooms, trails and campgrounds at America's 419 national parks — from Yosemite to the Everglades — and at other public lands where facilities have fallen into disrepair after years of neglect and funding shortfalls.
The money would come from royalties on oil, gas, coal and renewable energy that is already being paid to the federal treasury.
Second and more enduring, the bill would guarantee $900 million a year to the Land and Water Conservation Fund in perpetuity. Congress created the fund in 1964, requiring that up to $900 million a year in offshore oil revenues go to buy new park land and maintain local parks as a way for outdoor conservation and recreation to keep pace with a growing population.
Over the past 56 years, the fund has become the most important tool for preserving public land in the United States. It has helped protect 7 million acres, from Redwood National Park in California to Cape Cod National Seashore to Martin Luther King Jr.'s boyhood home site in Atlanta.
The fund helped complete the Appalachian Trail, bought out old mining claims within Alaska's Denali National Park and expanded public lands along the Big Sur coast. It bought private tracts within some of America's crown jewel parks — Yosemite, Yellowstone, Olympic and Grand Canyon.
The money also has funded state grants to build 40,000 swimming pools, soccer fields, baseball diamonds, playgrounds, fishing piers, jogging trails and other projects at local parks nationwide. Among those in California: new bike paths at Lake Merritt in Oakland, renovations at Pacifica's fishing pier, public pools in Los Angeles, public trails and beaches at Lake Tahoe, land adjacent to Big Basin Redwoods and Mount Diablo state parks that would have been logged or developed, and wetlands restoration around San Francisco Bay.
But over the years, instead of providing $900 million as the law intended, Congress and numerous presidents have instead shifted more than half of the money to other uses. Trump's original budget this year proposed just $15 million be spent on parks and public lands from the fund. The new law requires the full $900 million to be spent every year on parks.
"That's a soccer field we're talking about. It's clean bathrooms we're talking about," said Rue Mapp, founder and CEO of Outdoor Afro, a conservation group based in Oakland that works to expand diversity in the outdoors. "When we go to places and they aren't taken care of you don't feel welcome in those places when they are in disrepair."
Trump has done little to preserve public lands or reduce pollution until now. He has pushed to open the Arctic National Wildlife Refuge to offshore oil drilling. He overturned a rule that prohibited using bait, such as grease-soaked doughnuts, for hunters to lure and kill grizzly bears. He cut more than 2 million acres from two national monuments in Utah ― Bears Ears and Grand Staircase-Escalante ― the largest rollback of national monuments in U.S. history.
He has pushed for new offshore oil drilling off the entire West Coast, including California. He weakened rules put in place by the Obama administration to raise gas mileage standards in vehicles, allowed more mercury pollution from power plants, announced the U.S. would withdraw from the Paris Climate Agreement, and falsely claimed wind turbines cause cancer.
But with the November election just three months away, his Interior Secretary David Bernhardt, along with his daughter, Ivanka Trump and some Republicans, urged passage of the bill and held events to promote it. The new law passed in rare bipartisan fashion, clearing the Senate by a vote of 73-25 in June and the House by a vote of 310-107 with nearly all Democrats and about half of the Republicans voting in favor. At the signing ceremony Tuesday, however, Trump invited only Republicans.
Found at Morning Brew https://www.morningbrew.com/
10. Ten Life Changing Quotes That Helped Me Create A Meaningful Life
Meaning isn't something you stumble upon. It's something you consciously build into your life. Its foundation rests on your experiences, beliefs, and core values. The people you love, the things you cherish, and what you're willing to sacrifice make up who you are.
Each of us needs to reconstitute meaning in our lives. We need to believe in something. Fight for something. We're all told life's short and to make the most of it, yet few do anything about it. Are you living a purposeful life or are you going through the motions?
All the ingredients of a meaningful life are in front of you. Only you can put them into the unique pattern that will define that meaning.
Carefully read these quotes as they'll guide you on your journey:
1. "How long are you going to wait before you demand the best for yourself?" ― Epictetus
So many people get caught in the trap of setting New Year's resolutions. I say trap because it's not like they came up with their resolutions on January 1st. They've known for a while, and they've been putting it off. They said I'll do it next year. A better resolution is to omit those thoughts and the luxury of waiting and demand the best of yourself today.
2. "A man is a success if he gets up in the morning and goes to bed at night, and in between does what he wants to do." ― Bob Dylan
Real misery is feeling like something was forced upon us and we're not in control. True success is about choosing our problems. To create meaning and live life on our terms. The most gratifying form of freedom isn't a life free of responsibilities, but a life where we're free to choose our responsibilities.
3. "It never ceases to amaze me: we all love ourselves more than other people but care more about their opinion than our own." ― Marcus Aurelius
The expectations of others are often crushing. One snide comment or dismissal can leave you feeling down or even defeated. Why though? What makes their opinion about us better than our own? Especially considering they don't know our full story. They don't know what we've been through or what we're capable of accomplishing.
Remember, you're not in this world to live up to anyone's expectations just like they're not in this world to live up to yours. The quicker we all figure that out, the sooner we can stop holding back and focus instead on doing what makes us truly happy.
4. "Don't hate the game. Love the game, cause you're in it, mate. Own the game." ― Guy Ritchie
People take life too seriously. Treating life like a game makes it fun. The game of life has varying levels of difficulty, but if you take responsibility for everything you do and act as the master of your kingdom, then you'll, in effect, own your life. Don't let others choose your identity, tempt you with worldly pleasures, or tell you that you're not enough. Bet on yourself every time and play the game like a champion.
5. "When you feel overwhelmed or unfocused, what do you do? Memento mori — "remember that you have to die." All of this will go to nothing." ― Ryan Holiday
When faced with a tough situation, ask yourself, will this matter in the long run? Will I think about it a year from now? I bet the answer is no more often than not. If that's the case, then there's no reason to get worked up about it now. This, too, shall pass.
6. "If you are not falling down occasionally, you are just coasting." ― Kevin Kelly
Anything worth doing comes with some form of struggle. Without risk, there's no reward. Real growth comes from getting out of your comfort zone and doing things that scare you. Hard things. Things that may hurt you or make you feel uncomfortable.
Take this article as an example, I've been a big fan of Addicted2Success for years, and despite my previous writing success, I still found myself afraid of pitching this article. I feared I might not measure up to their quality standards. That I might get rejected or ignored. I can't let fear dictate my actions, though. I can't allow myself to coast. I have to move forward and accept that there's a possibility you'll never read this because it wasn't good enough.
7. "The disease of our times is that we live on the surface. We're like the Platte River, a mile wide and an inch deep." ― Steven Pressfield
Everyone is looking for the shortcuts and cheat codes to a better life. We all want to be the noun without doing the verb. We all do the surface stuff instead of putting in the kind of work that produces something of real value. Real satisfaction and meaning come from diving deep into your craft. Opt for a few close friends rather than a few thousand acquaintances. Spend more time creating than consuming while you're at it.
8. "Instead of wondering when your next vacation is, maybe you should set up a life you don't need to escape from." ― Seth Godin
Too many people fantasize about a better life. They plan vacations so they can escape reality. They browse social media to avoid the life they've created. They're trapped in their heads, believing they're helpless to create the change necessary to live a fulfilling life. A better solution is to design the life you've always dreamed of and lay a single brick each day until you've built it.
9. "You will never be happy if you continue to search for what happiness consists of. You will never live if you are looking for the meaning of life." ― Albert Camus.
Happiness is not something you find. It's something you do. Happiness, much like misery, is a choice. Do you want to know why people are grumpy, negative, and have a bad attitude? Because it's easier.
It's easier to be sad then it is to be happy, and it's easier to keep searching than it is to decide today that you're going to see things differently. It's harder to give people the benefit of the doubt or smile when you're not feeling your best. Like a habit, though, it gets easier with time.
10. "Besides the noble art of getting things done, there is the noble art of leaving things undone. The wisdom of life consists in the elimination of non-essentials." ― Lin Yutang
We say yes too much, and as a result, we're all overcommitted and overworked. Feeling spread thin is a sure-fire way to feel unfulfilled. On the other hand, cutting your level of commitments in half can leave you feeling rejuvenated and gratified. Decide to let go of what ails you.
Chances are you've made many commitments to others and yourself. You made promises you never fulfilled. It's time to realize you can't do it all. You can't make everyone happy. Take a step back and focus on creating meaning through the art of subtraction. Say yes to what you truly want by saying no more often.
Which of the above quotes is your favorite & why? Share your thoughts below!
Disclosure
Lansing Street Advisors is a registered investment adviser with the State of Pennsylvania..
To the extent that content includes references to securities, those references do not constitute an offer or solicitation to buy, sell or hold such security as information is provided for educational purposes only. Articles should not be considered investment advice and the information contain within should not be relied upon in assessing whether or not to invest in any securities or asset classes mentioned. Articles have been prepared without regard to the individual financial circumstances and objectives of persons who receive it. Securities discussed may not be suitable for all investors. Please keep in mind that a company's past financial performance, including the performance of its share price, does not guarantee future results.
Material compiled by Lansing Street Advisors is based on publicly available data at the time of compilation. Lansing Street Advisors makes no warranties or representation of any kind relating to the accuracy, completeness or timeliness of the data and shall not have liability for any damages of any kind relating to the use such data.
Material for market review represents an assessment of the market environment at a specific point in time and is not intended to be a forecast of future events, or a guarantee of future results.
Indices that may be included herein are unmanaged indices and one cannot directly invest in an index. Index returns do not reflect the impact of any management fees, transaction costs or expenses. The index information included herein is for illustrative purposes only.