1. Tech Sector ETFs record Inflows.
Investors are piling into Tech stocks…

Who can blame them given the sheer force of momentum underway, the narratives (it's different this time), pandemic profits (social distancing has brought forward growth by accelerating existing trends), and plain old deference to the fact that tech has delivered handsomely over the past decade.

Does make you wonder about the next decade though…

More on tech (and value vs growth): https://lnkd.in/dgg2jzy
2. The value of the U.S. dollar has been climbing for nearly a decade
U.S. Dollar Outlook: What Could a Weaker Dollar Mean for Your Portfolio?by Kathy Jones of Charles Schwab, 7/31/20
https://www.advisorperspectives.com/commentaries/2020/07/31/u-s-dollar-outlook-what-could-a-weaker-dollar-mean-for-your-portfolio
3. The Trillion Dollar Question—Bernstein
Good Read on Corporate debt-not all industries created equal
"Recapture Rate" Is Key to Post-COVID-19 Recovery
But knowing why a company overborrowed isn't enough. The coronavirus lockdown significantly disrupted the economy, and to judge where this additional borrowing might cause problems, we need to understand each company's ability to pay off this added debt over time. To do this, we created the recapture rate: a proprietary metric that measures the extent we expect sales to recover by the end of 2022 versus fiscal-year 2019 sales levels. By combining the recapture rate and the reasons for companies overborrowing, we can identify which industries may be most at risk for trouble down the road (Display)
https://www.alliancebernstein.com/library/the-trillion-dollar-question-will-the-corporate-borrowing-binge-cause-lasting-damage.htm?workspace_id=875967&suggested_content_id=1401951&social_network=linkedin&seg=18&mid=scl:usr:insights:linkedin:sales2020
4. Move over Nikola: A new electric truck SPAC called Lordstown is forming and the shares are surging
KEY POINTS
DiamondPeak Holdings and Lordstown Motors are merging in the latest deal between a SPAC and an electric vehicle company.
The deal is expected to close in the fourth quarter, and the combined company will be known as Lordstown Motors and trade on the Nasdaq under the new symbol "RIDE."
The deal follows the merger between Nikola and VectoIQ earlier this year, as well as EV start-up Fisker announcing that it expects to go public through a merger with Apollo Global Management-backed special purpose acquisition company Spartan Energy Acquisition.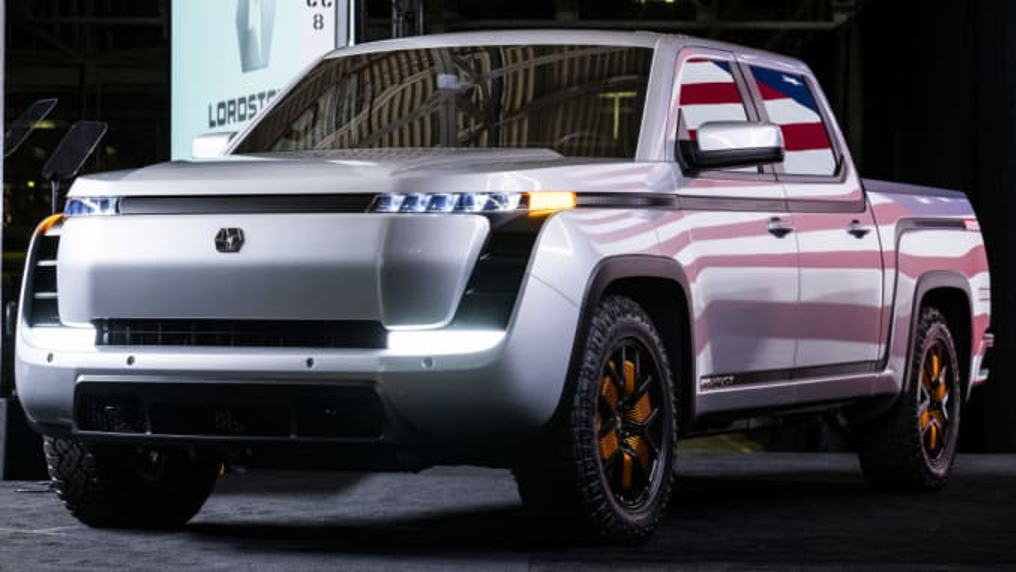 Shares of DiamondPeak Holdings, a special purpose acquisition company, jumped 21% on Monday after the company announced that it will merge with electric vehicle company Lordstown Motors. The combined company will trade on the Nasdaq under the new symbol "RIDE."
The deal represents two areas of particular investor interest this year: special purpose acquisition companies (SPACs), as well as electric vehicle start-ups.
SPACs are also known as blank-check companies, since investors fork over money without knowing when, or even what for, their capital will be used. Once the SPAC goes public, the goal is then for it to acquire or merge with a private company, thereby taking it public.
Amid market uncertainty and a lackluster IPO market, SPACs are on pace to raise a record amount of capital this year, according to data from Dealogic.
The merger between DiamondPeak and Lordstown Motors, which is expected to close in the fourth quarter of 2020, represents at least the third deal between a SPAC and an electric vehicle start-up this year.
In June Nikola Corporation began trading after a reverse merger with VectoIQ, and in July electric vehicle start-up Fisker said it would merge with Spartan Energy Acquisition, a special purpose acquisition company backed by Apollo Global Management. Investor enthusiasm for the EV space comes amid a more than 240% jump in shares of Tesla this year.
But while investors initially piled into Nikola — sending shares up 150% in the first four days of trading — some of that enthusiasm has since cooled, and on Friday the stock closed at $30.
With more and more players entering the space — start-up EV maker Rivian also announced in July that it raised $2.5 billion in fresh financing — competition is growing. Additionally, Tesla's past delivery issues underline just how difficult it can be to bring an electric vehicle to market.
According to Monday's press release, $675 million of expected gross proceeds will be used for the development and commercialization of Lordstown's all-electric pickup, called the Lordstown Endurance.
Since the prototype for the pickup truck was revealed on June 25, the company said it has received more than 27,000 pre-orders, which equates to more than $1.4 billion in potential revenue. The bulk of the reservations are from commercial fleet customers. In November 2019 Lordstown Motors purchased a 6.2 million square foot former General Motors assembly plant in order to speed its production process.
The pro forma implied equity value of the merged company is roughly $1.6 billion, which includes $75 million in investments from General Motors as well as commitments from institutional investors including Fidelity Management.
DiamondPeak raised $250 million in its IPO in March 2019, with the company initially looking to target a "business with a real estate related component."
Subscribe to CNBC PROfor exclusive insights and analysis, and live business day programming from around the world.
https://www.cnbc.com/2020/08/03/move-over-nikola-a-new-electric-truck-spac-called-lordstown-is-forming-and-the-shares-are-surging.html
5. A new ETF will let investors participate in the stock market's $22 billion SPAC craze
Aug. 3, 2020, 07:33 PM
-Investors may soon be able to access the growing hype around SPAC offerings with the launch of a new exchange-traded fund.
The Defiance NextGen SPAC IPO ETF plans to be the first such instrument tracking the newly popular offerings, according to a Friday SEC filing.
More than $22.5 billion has been raised over 55 SPAC offerings in 2020 so far, according to SPACInsider.com. The fundraising sum has already eclipsed last year's total.
If the ETF comes to market, it will boast an 80% concentration in SPAC-derived IPO offerings. The rest of the ETF would invest in IPO companies themselves.
Investors looking to hop on Wall Street's blank-check bandwagon may soon have a new option.
The surging popularity of special-purpose acquisition companies, or SPACs, has exchange-traded fund providers rushing to capitalize on the trend. The Defiance NextGen SPAC IPO ETF could be the first to do so. The instrument plans to track shares of companies taken public through SPAC mergers as opposed to traditional IPOs, according to a Friday filing with the Securities and Exchange Commission.
The ETF would arrive on the market in the middle of a craze for such vehicles. The year has already seen 55 SPAC IPOs take place and collectively bring in more than $22.5 billion, according to SPACInsider.com. Just four more SPAC offerings took place throughout all of last year, and deals only raised a total of $13.6 billion.
SPACs exist to raise money for future acquisitions or mergers. The company raises capital in public markets and can take over a private company within two years. Investors can purchase shares of the acquisition vehicle before a takeover, and in some cases won't know the target acquisition at the time of investing. The Defiance ETF aims to create a diversified and passively managed SPAC portfolio, according to the SEC filing.
Read more: These 16 global stocks have at least 20% upside in the next year — and they'll continue to thrive as COVID-19 accelerates a crucial technological shift, UBS says
Some of 2019's biggest SPAC IPOs include Virgin Galactic, DraftKings, and Nikola, all of which have seen their shares skyrocket in 2020. Billionaire hedge fund manager Bill Ackman added more fuel to the SPAC fire in late July when his own acquisition company — Pershing Square Tontine — raised a record $4 billion in its trading debut.
If brought to market, the ETF would be traded under the ticker SPAK. Four-fifths of the ETF's holdings will consist of IPOs derived from SPACs, while the final fifth will be allocated to IPO companies, according to the filing.
https://markets.businessinsider.com/news/etf/spac-ipo-new-etf-market-craze-blank-check-acquisition-companies-2020-8-1029462977#
6. Average Age of Cars & Trucks on the Road Sets Record, Will Jump During Pandemic as New-Vehicle Sales Plunge to 1970s Level
by Wolf Richter • Jul 31, 2020 • 262 Comments For automakers, this was a tough market before the Pandemic: decades of stagnation in unit sales, carved up by more competitors, with industry revenue growth by jacking up prices. Then came the Pandemic.The average age of passenger cars and trucks on the road in the US – light "vehicles in operation" or VIO – rose to another record of 11.9 years in 2020, according to IHS Markit. But this doesn't yet include the effects of the Pandemic on the auto industry. We'll get to that in a moment: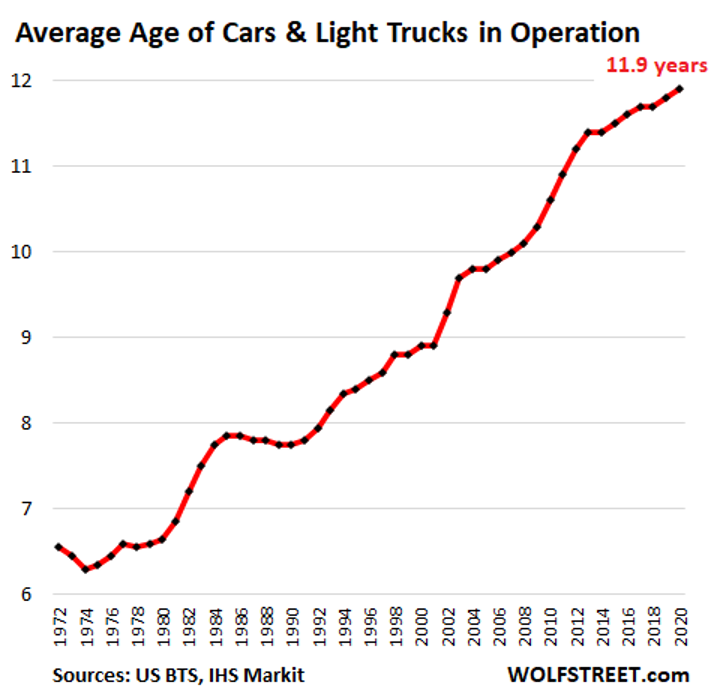 The rising average age of VIO is a mix of factors. One factor is that vehicles are lasting longer, and consumers feel less urge to replace them. Finicky, astute, and demanding customers relentlessly pressure automakers to out-do each other in order to survive and thrive in an ultra-competitive market that has been a zero-sum wild-ride, with slow ups and furious downs, and ultimately with no growth in unit sales for over two decades.
Full Story
7. Treasury Goes All In….Spending $3 Trillion in 2 Quarters Dwarfing 2008 Crisis
Zerohedge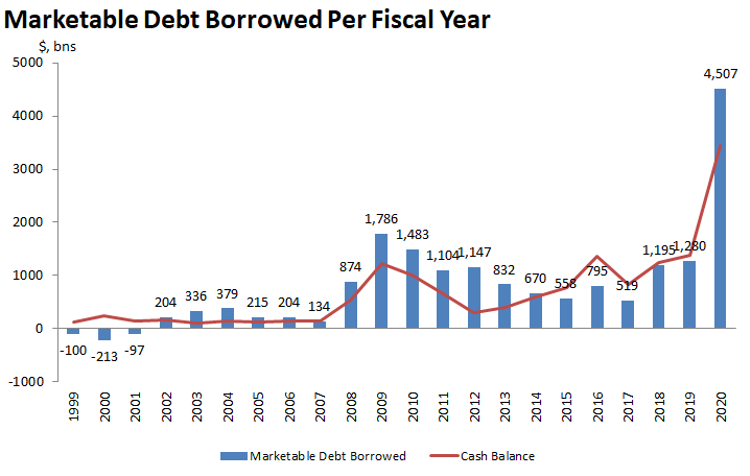 Second, it means that for calendar Q3 and Q4, the Treasury will spend almost $3 trillion consisting of:
i) a drawdown in cash from $1722 billion to $800 billion, for $922 billion, in the quarter ending Sept 30
ii) new debt issuance of $947 billion in the same quarter and
iii) new debt issuance of $1,216 billion in the quarter ended Dec 31
… for a grand total of $3.085 trillion in new funds (either from spending cash or raising debt).
https://www.zerohedge.com/markets/us-treasury-set-spend-mindblowing-3-trillion-next-few-months
8. 45.7 Million People Rent Their Homes.
46 million households rent – more than 16 million of them rent old homes and duplexes. Q: How much demand is there for those who want 1) a new rental and 2) a professional landlord? A: A lot! #JBRECDailyInsight John Burns Real Estate Consulting
8. Robot Analysts Outwit Humans on Investment Picks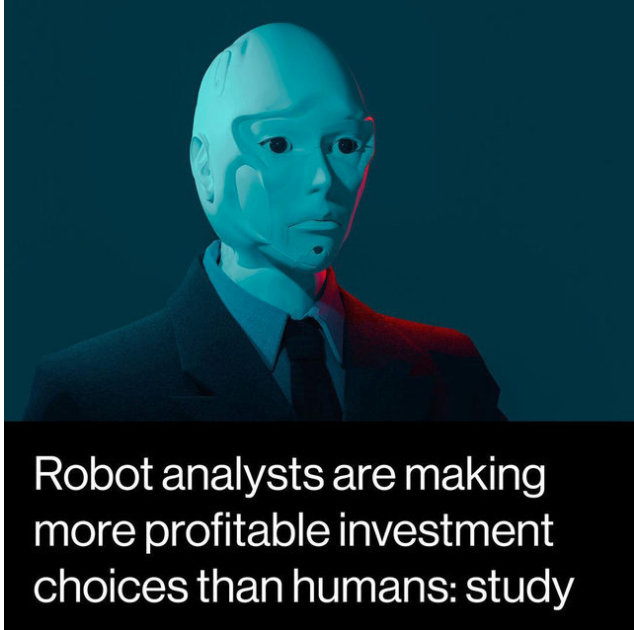 Out of the total pool of outstanding robo-analyst recommendations, more than 30% represented buy ratings compared with 47% from traditional analysts (the overall number of outstanding recommendations from traditional analysts was five times the robots'). About a quarter of recommendations from the machines fell into the sell category, compared with 6% from humans.
By Vildana Hajric February 11, 2020, 6:00 AM EST
10. A Messy Desk Might Help Neatniks Be More Creative
by: Anthony Effinger
Millions of people are discovering that there are perks to working at home. Among them: You can have a messy desk, and there's no one—or, at least, no colleague—around to judge.
In this new world, even neatniks might want to let the papers pile up. Studies show that a messy desk can spur creativity by keeping interesting things in sight and top of mind. That could be a blessing in isolating times, when we don't have co-workers close by to spark ideas and we're not meeting interesting people for dinner or drinks.
Eric Abrahamson, a Columbia Business School professor who wrote a book on messes, says they're essential to creativity. "A mess will connect things that aren't connected," he says.
Abrahamson cites the case of Leon Heppel, a biomolecular researcher in the 1950s who worked in a state of epic clutter. Every so often, he'd cover his desk at the National Institutes of Health with brown butcher paper so that he'd have a fresh surface to re-trash.
One day, Heppel found a letter on his desk describing a weird molecule and its effect on cellular biology. A few layers below, he found an older letter describing another molecule. He put the authors in touch, and one of them went on to win a Nobel Prize for work on how hormones regulate cells.
Kathleen Vohs, a marketing professor at the University of Minnesota, tested the creative-mess hypothesis by putting subjects in a room strewn with books and papers and others in a clean room. She told them that a pingpong ball manufacturer needed new uses for its product. Judges rated their creativity.
Those in the clean room suggested using the balls for beer pong (already a thing, as any college student can tell you) and shooting them out of Nerf guns. Those in the messy room advised adding hooks to make funky earrings and filling the balls with water to form reusable ice cubes. In the eyes of the judges, Team Messy won.
Unfortunately, most of us are missing mess-inspired connections because as a society we overvalue order. Marie Kondo's books sell by the millions. Companies mandate neatness—photos of chief executive officers never show a desk laden with papers.
Worse yet, there's a cost to keeping order. It takes time to label files, and it takes time to file them in drawers. All the while, you could be working. "Because we value organizing, we don't realize its cost," Abrahamson says.
The key is moderation. Since writing A Perfect Mess: The Hidden Benefits of Disorder—How Crammed Closets, Cluttered Offices, and On-the-Fly Planning Make the World a Better Place with co-author David Freedman in 2007, Abrahamson has become more orderly. These days, he sees where messes arise, and he lets them grow only so much. He also curates his messes so that only interesting things linger on his desk. He calls the best of them "oddmen."
An oddman can be a compelling postcard, or a research report, or an old toy. They're things that spur curiosity and can be combined with something else, either physically or in the world of ideas, like those letters on molecules whose authors Heppel introduced.
Abrahamson's father was a struggling artist who kept oddmen in his garage, waiting for inspiration to strike. Strapped for cash, he once made a potter's wheel out of a washing machine, a belt, and a metal plate, Abrahamson says.
Terrible as it is, Covid-19 has freed workers from certain barriers to productivity. Two hours sitting in traffic are now two hours of desk time. The loudmouth in the next cubicle is now miles away, as is the person always looking for an ear to bend. To this list, we can add pointless desk cleaning. If you like a neat desk, great. But see what happens if you let a few oddmen stick around.
Here are a few tips on how to optimize your messes:
All messes aren't created equal. "A good mess has about 10 or 15 really cool things," Abrahamson says. Those include oddmen, which he also calls "recombinants"—things that feel like they have the potential to help you make connections.
Make messes when you have to be creative. That's when they're most valuable. If you're doing routine work, a mess is more likely to get in the way.
It's all right to organize papers on your desk in layers. It can look like a mess, but it's really just organizing by time.
Keep a different space clear of debris. Vohs, the marketing professor, writes in her home office, which is messier than the rest of her house. A recent mess included a tangle of computer cords, a Kleenex box on its side, a stack of half-finished crossword puzzles, a receipt, a bottle of lotion, and two lip balms. For data analysis, she sits at her kitchen table, which has almost nothing on it.
Disclosure
Lansing Street Advisors is a registered investment adviser with the State of Pennsylvania..
To the extent that content includes references to securities, those references do not constitute an offer or solicitation to buy, sell or hold such security as information is provided for educational purposes only. Articles should not be considered investment advice and the information contain within should not be relied upon in assessing whether or not to invest in any securities or asset classes mentioned. Articles have been prepared without regard to the individual financial circumstances and objectives of persons who receive it. Securities discussed may not be suitable for all investors. Please keep in mind that a company's past financial performance, including the performance of its share price, does not guarantee future results.
Material compiled by Lansing Street Advisors is based on publicly available data at the time of compilation. Lansing Street Advisors makes no warranties or representation of any kind relating to the accuracy, completeness or timeliness of the data and shall not have liability for any damages of any kind relating to the use such data.
Material for market review represents an assessment of the market environment at a specific point in time and is not intended to be a forecast of future events, or a guarantee of future results.
Indices that may be included herein are unmanaged indices and one cannot directly invest in an index. Index returns do not reflect the impact of any management fees, transaction costs or expenses. The index information included herein is for illustrative purposes only.