1. U.S. 10 Year Treasury Approaching 3%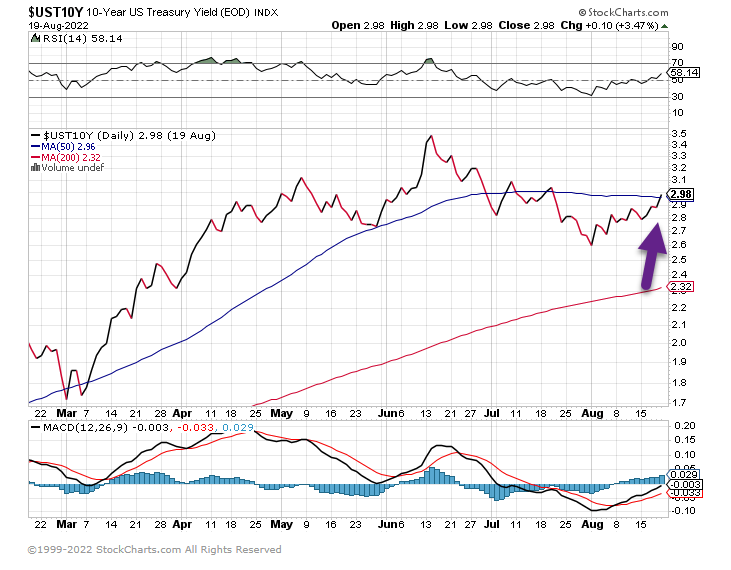 ---
2. Bearish Treasury Bets at 4 Year High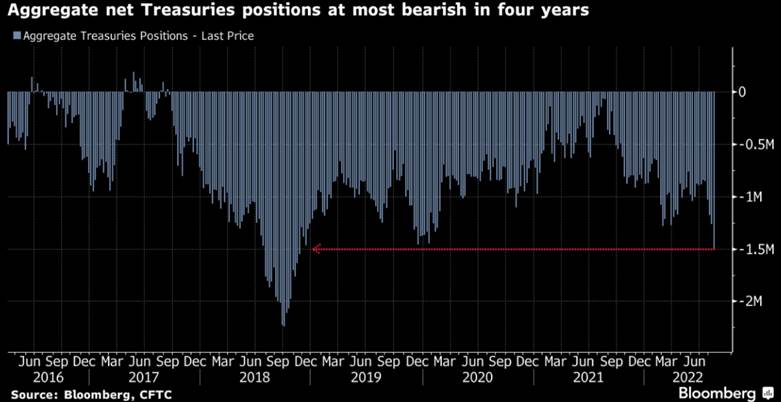 Dave Lutz Jones Trading-Bearish Speculative Treasury Bets Rise to Four-Year High – An aggregate gauge of net-short non-commercial positions across all Treasury maturities shows bearish bets have grown to the most since 2018 – The "Pain Trade" is a Dovish Speech.
---
3. Down Markets Top Sectors
Capital Group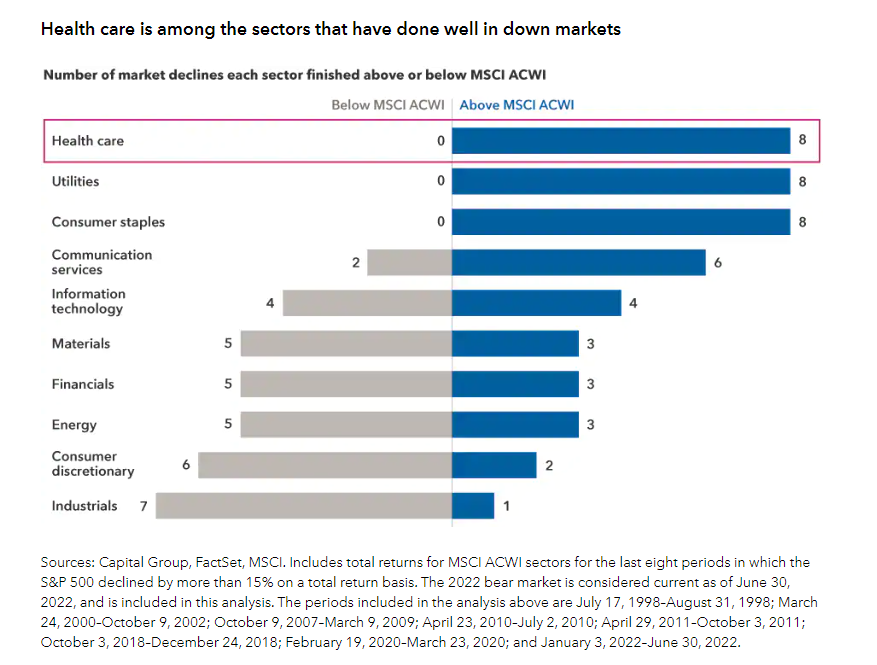 4 reasons health care could lead the next bull market | Capital Group
---
4. Energy Stocks Multiple Still Well Below S&P
Barrons-Ben Levisohn—Energy stock profits rose nearly 300% during the second quarter, according to Refinitiv, nearly 10 times faster than the next sector, industrials, which grew earnings at a 32% clip. Energy stocks have increased earnings by 400% from 2019, says DataTrek Research's Nick Colas. "Their earnings power is far better than prepandemic, and we believe that can continue," he writes.
READ MORE UP AND DOWN WALL STREET
They also remain dirt cheap. The Energy Select Sector SPDR trades at just 8.5 times 12-month forward earnings, well below the S&P 500's 18.2 times and below its own 10-year average of 16.4. In an environment where price/earnings ratios could remain under pressure, that kind of valuation looks particularly attractive, Colas says.
https://www.barrons.com/articles/oil-prices-stocks-51660954725?mod=past_editions
XLF Energy ETF Held 200 Week Moving Average on Pullback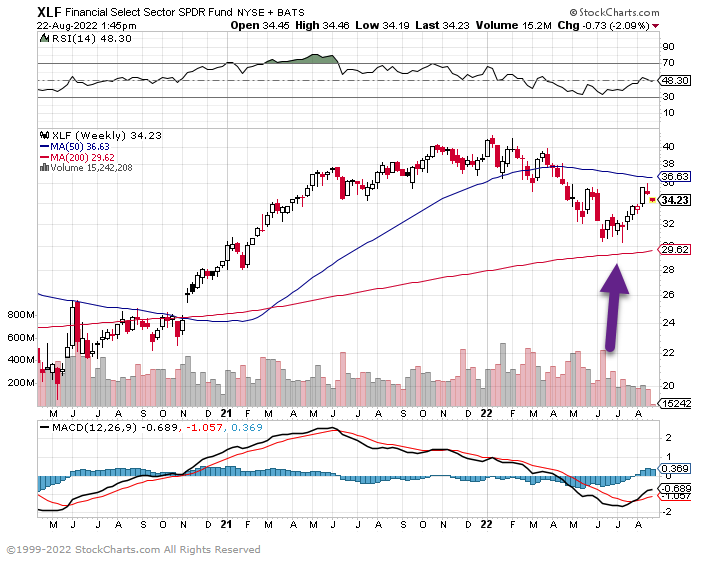 ---
5. Food Inflation-Diesel Fuel Powers 75% of U.S. Farm Equipment
Barrons-Diesel engines power roughly 75% of U.S. farm equipment, transport 90% of farm products, and pump about 20% of agriculture's irrigation water, according to Diesel Technology Forum.
Diesel supplies have been tight, partly due to a lack of Russian oil, says Patrick De Haan, head of petroleum analysis at GasBuddy, adding that Russian oil is heavier and yields more heavy products like diesel. "There's a possibility that diesel might break new record highs, particularly in the fourth quarter," says Tom Kloza, global head of energy analysis at the Oil Price Information Service, a unit of Dow Jones & Co., publisher of Barron's and MarketWatch. "Commercial and industrial customers around the world are jumping through hoops to come up with methods of substituting oil, diesel, and marine gasoil for natural gas."
https://www.barrons.com/articles/food-prices-could-stay-high-due-to-surging-energy-costs-51660843083?mod=past_editions
Diesel Fuel Doubled in 18 mos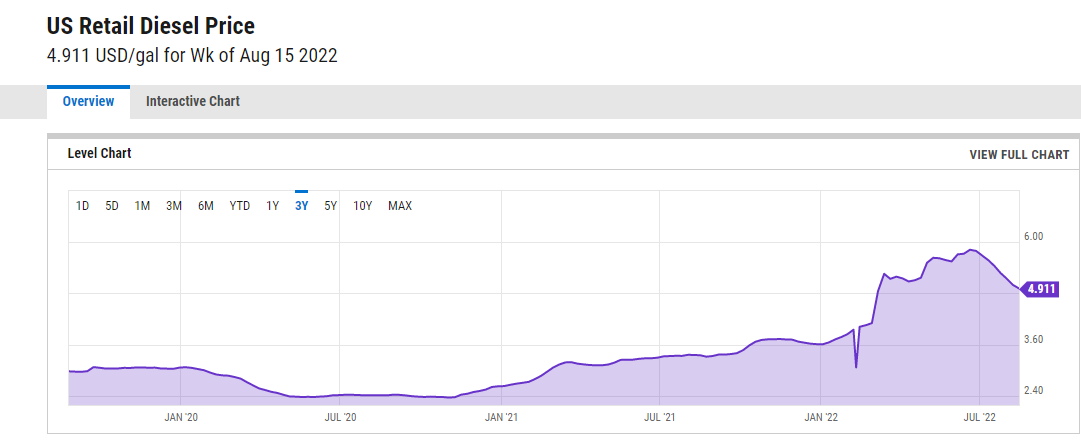 ---
6. Emerging Markets Historical Versus S&P
Emerging Markets vs US Equities:  that is one heck of a round-trip in relative performance for emerging markets vs the S&P500…
Emerging Markets outperformed the S&P 500 some 4x over the 10 year period from 2001 to 2010, only to give it all back over the subsequent ~10 years.
It's interesting to look back and reflect on these periods.
The structural bull market in EM vs US featured a period of tech stagnation post-dot com on the US side, vs a big economic catch-up by emerging markets (especially China), and a massive commodities bull market.
The bear market in EM vs US on the other hand saw a period of economic stagnation across emerging markets and a secular bear market in commodities, meanwhile US tech had a decade-long renaissance.
It's hard to make forecasts, especially about the future, but as to what happens the next decade — it's probably going to show up in the form of a big secular trend in a chart (like the one above).
I will say one thing though that does kind of help, and that's valuations. At the extreme around the peak of the dot com bubble, EM traded at almost an 80% discount vs the US. Fast forward, at the peak of the EM frenzy, EM traded at about a 30% premium vs US.
As I write EM is trading about a 50-60% discount vs the US.
It's not as extreme as that 80% discount all the way back in the day, but it is a major discount and it gives one pause to ponder if all the bad things about EM is already in the price and all the good things about the US is already in the price, and perhaps then some. Thinking about that along with the completion of that massive round trip certainly at the least makes one want to go and do a bit more homework on this one…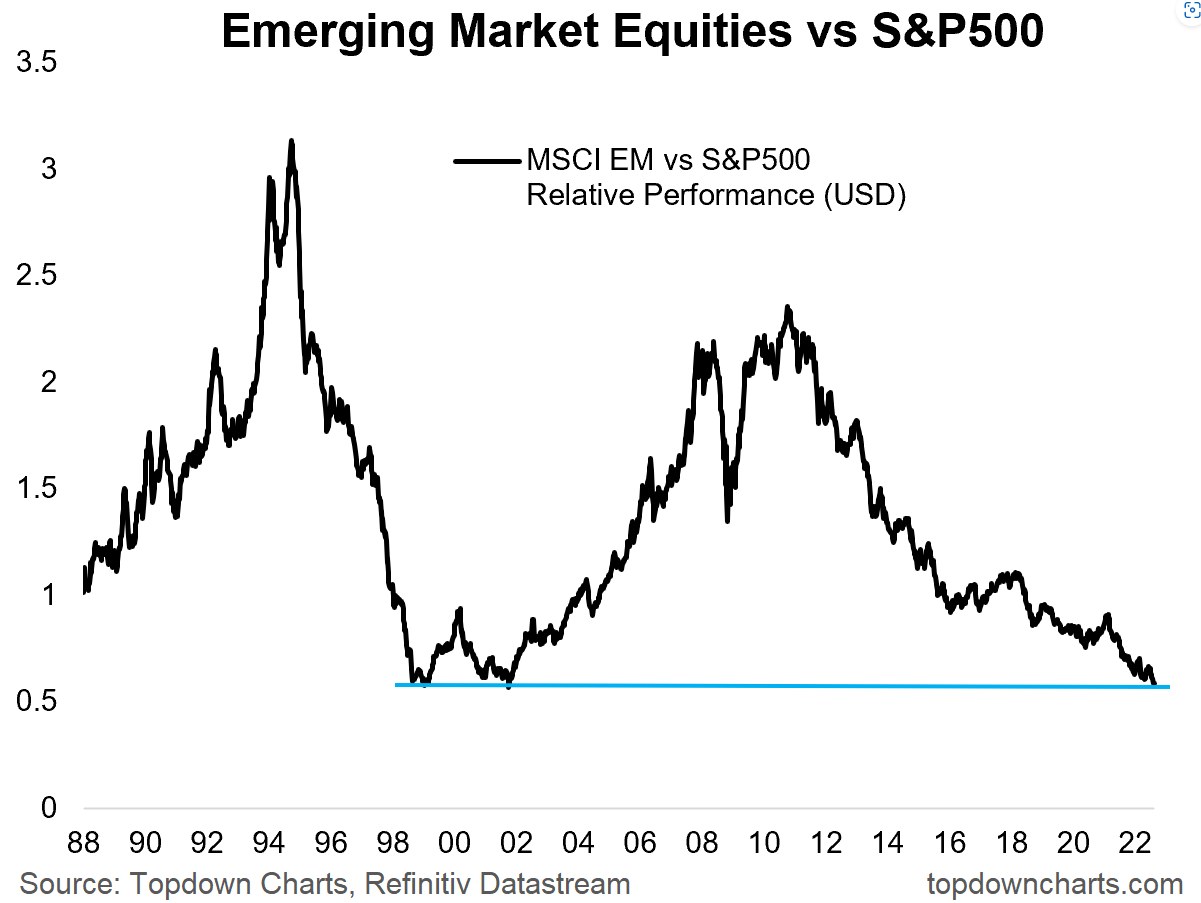 https://chartstorm.substack.com/p/weekly-s-and-p500-chartstorm-21-august
---
7. Used Car Prices Rolling Over
JP Morgan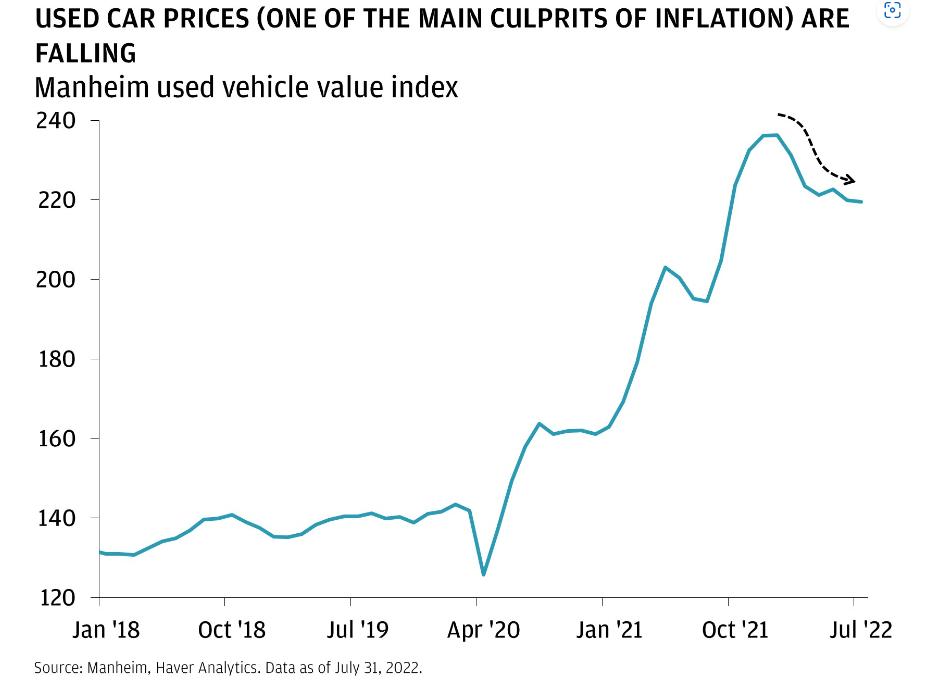 https://privatebank.jpmorgan.com
---
8. Drought Unearths Ancient Artifacts
ENVIRONMENT
Drying rivers reveal historical treasures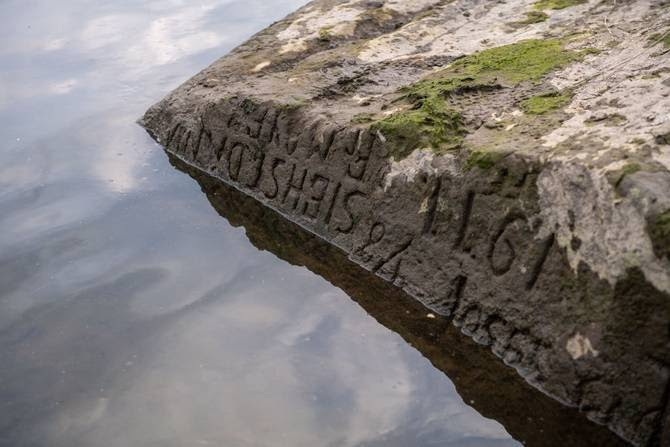 A hunger stone found in the Czech Republic. Vit Cerny/Anadolu Agency via Getty Images.
As droughts stalk the globe, drying rivers and watersheds have disrupted cargo flows in Europe, led Tesla and other manufacturers to suspend production in China, and forced American farmers to cut back on water use.

But shrinking water levels have also unearthed remarkable artifacts that were thought to have been lost to history.

Perhaps the most ominous findings are the "hunger stones" etched along the banks of central Europe's rivers. These inscriptions date back centuries, and generally offer the same message to future generations: "If the water is low enough for you to read this, prepare for pain."

Some other discoveries:
More than 20 Nazi warships, laden with explosives, were uncovered in Serbia as the Danube fell to its lowest level in nearly 100 years, per the Guardian.
Across Italy's shrinking river system, ruins of ancient civilizations have been discovered, including a bridge that may have been built by the Roman emperor Nero.
In the parched Yangtze River in China, three Buddhist statues believed to be 600 years old were found, per Reuters.
Five sets of human remains have been found as Lake Mead dries up in the Southwest US. Rumors are flowing that at least some are tied to mob activity in Las Vegas decades ago.
Zoom out: Who knows who or what we'll find sleeping with the fishes in the future. The number of droughts globally has jumped 29% since 2000 due to climate change and land degradation, the UN says
https://www.morningbrew.com/daily
---
9. Souther Border Apprehensions 1999-2021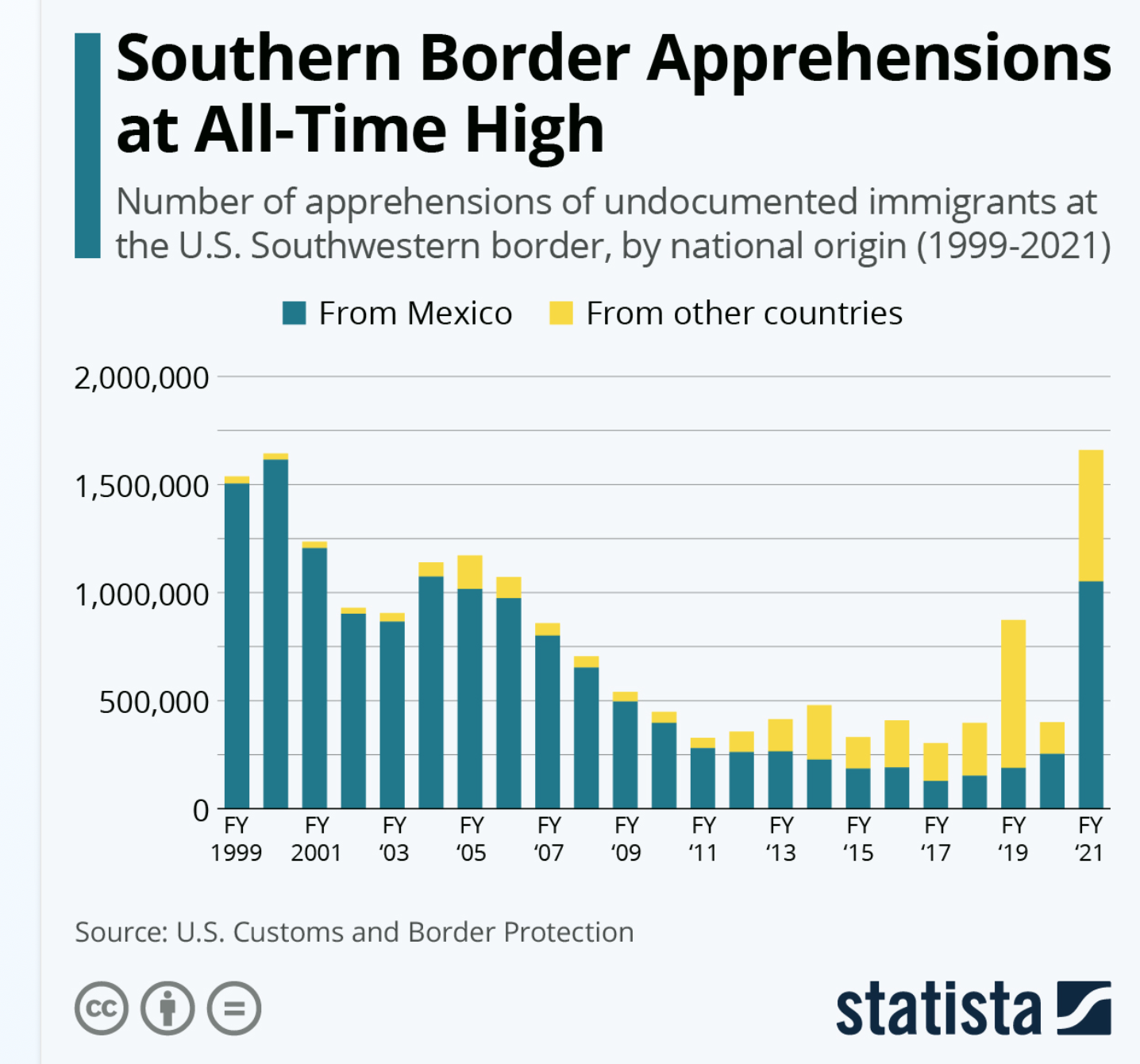 ---
10. Conquering the 4 Horsemen of Fear
Psychology Today What's Hiding Behind Your Self-Sabotaging Behaviors?
Conquering the "Four Horsemen of Fear."
KEY POINTS
Most of us struggle with self-sabotaging behaviors even though we want to change them.
Self-sabotaging behaviors like procrastination and perfectionism may be a way to avoid our fears.
By understanding the function of our behaviors, we can start to change them.
One of the most common strategies psychologists use to understand a behavior is to do a functional analysis—which is basically when we look at a given behavior and try to figure out what function, or purpose, it serves.
People don't just do things randomly—our behaviors and habits exist for a reason.
Here's the weird thing about self-sabotaging behaviors: No matter how destructive we know they are, or how badly we want to stop engaging in them, they still serve a specific function—which is, often, to help us avoid facing our fears.
In Part 1 of this series, we talked about the four most common limiting beliefs that hold us back from flourishing: the "Four Horsemen of Fear." These include Fear of Failure, Fear of Ridicule, Fear of Uncertainty, and Fear of Success.
We instinctively avoid things that terrify us—which is usually adaptive. But the longer we avoid the horsemen, the longer we avoid doing the things that lead to us flourishing.
So, although fear-avoidance has historically been adaptive for our species, for many of us in modern times, it's become maladaptive. If we want to flourish, we have to understand the most common self-sabotaging behaviors the horsemen hide behind by performing a functional analysis.
Procrastination
The busier you stay, the more productive you are, right?
Spend hours getting to "inbox zero." Spend your time putting out every small fire that pops up. Have a great new idea? Immediately chase it while leaving your current projects half-finished.
Think procrastination is your problem? Think again.
Performing a functioning analysis on procrastination may yield interesting results. Many chronic procrastinators can get stuff done when they're up against a deadline.
The real question is: What is procrastinating helping you avoid? For many, the horsemen whisper: If you never finish, you never risk failure or success.
Perfectionism and Imposter Syndrome
Perfectionism and imposter syndrome are two sides of the same coin—feeling like you aren't good enough "yet." You're not ready. You're unqualified. Better to wait until you learn more or feel more confident.
How long have you been "writing" your book or article, but still won't publish it? How long have you been thinking about, or tinkering on, that project but still haven't shipped it? How long have you thought out every possible scenario and created the "perfect" plan, but still haven't taken the steps to go from idea to execution?
Read all the self-help books and productivity "hacks" you want, but productivity isn't your problem. Fear is.
The horsemen whisper: As long as you don't put yourself out there, you never risk ridicule or failure.
Complacency
Most people would rather choose the path that leads to predictable misery than the one that offers the chance of a better life. Humans are creatures of habit. We gravitate toward what we can anticipate. Uncertainty is terrifying.
So, we choose the path of least resistance. We lock our dreams and aspirations away in a box and throw away the key. We take the job that sucks but offers a steady paycheck. We spend 45 years of our lives miserable, looking forward to the day we retire so we can "finally enjoy life." Then we hit 65, retire, maybe enjoy a few years of health with our loved ones, then die around 80.
We sacrifice 45 years of our life in misery to enjoy the last 15 because the alternative of venturing into the unknown is terrifying.
The horsemen whisper: As long as you stay in your comfort zone, you're safe from uncertainty.
Wrap Up
Now you know each of the Four Horsemen of Fear, how they disguise themselves, and why we self-sabotage. Overcoming them comes next.
https://www.psychologytoday.com/us/blog/human-flourishing-101/202208/what-s-hiding-behind-your-self-sabotaging-behaviors?collection=1178684