1. Natural Gas +33% in 30 Days…Breaks Out to New Highs
Natural Gas Futures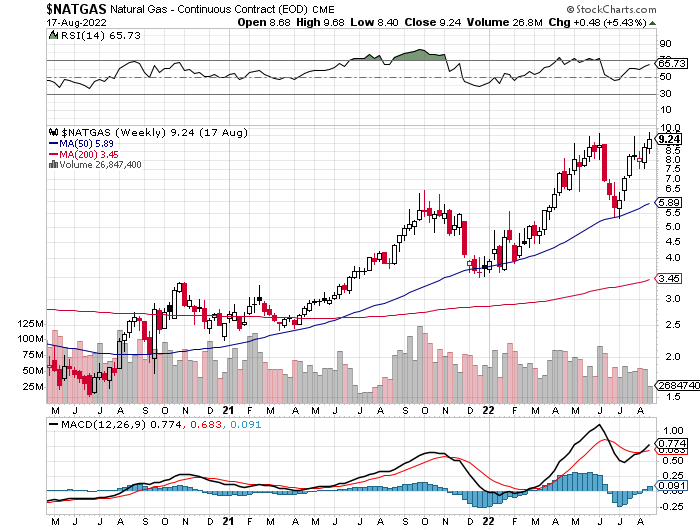 ---
2. What Bubble Pop? Meme Basket +50% in One Month
A basket of meme stocks is up some 50% this month. Risk appetite is back.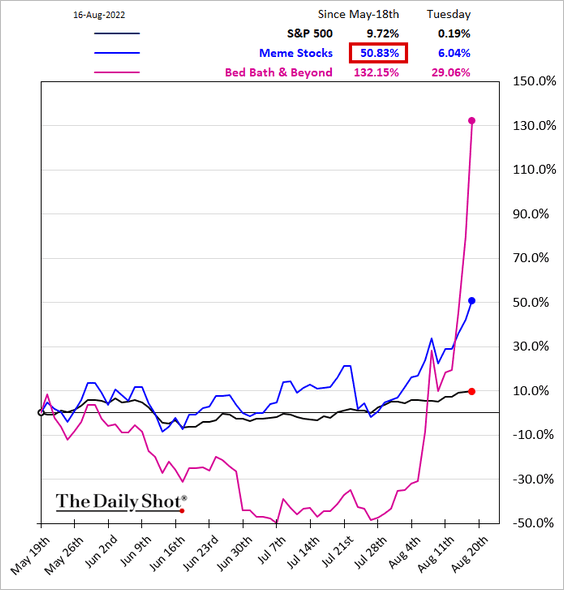 https://dailyshotbrief.com/the-daily-shot-brief-august-17th-2022/
---
3. U.S. Financials vs. European Financials 2014-2022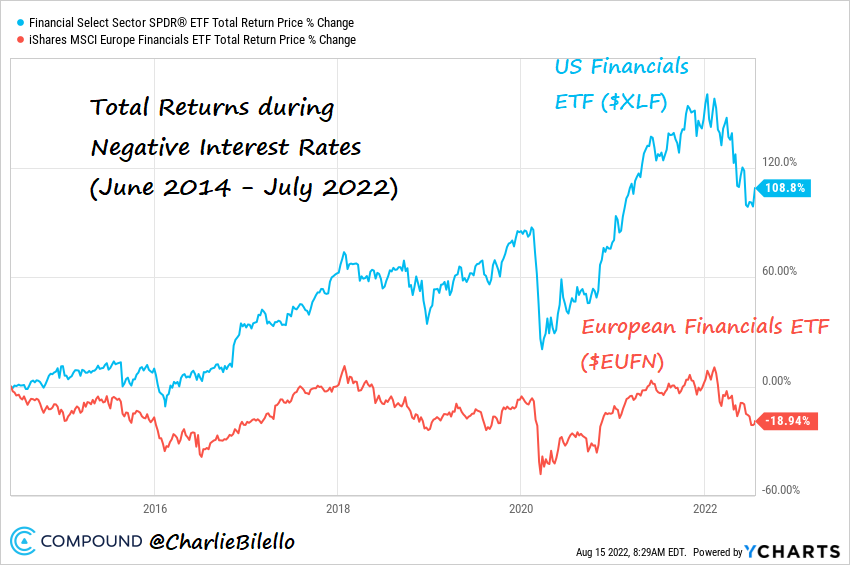 ---
4. Saudi Aramaco Oil Company $48B in Profit Q2
Chartr.com Been wondering where all that extra money you've been shelling out on gas over the last year has been going? Well, there's a decent chance at least some of it ended up in the pockets of Saudi Aramco, the world's biggest oil firm, which this week announced a staggering $48.4bn of net income for the second quarter — an eye-watering sum even by their standards.
The Saudi Arabian company, which is largely state-run, is the latest to benefit from rising oil and energy prices, as many countries attempt to wean themselves off Russian supplies.
There's Big and there's BIG
It's hard to convey how big Saudi Aramco truly is — but the best bet is to compare it against the behemoths of big tech. Incredibly, Aramco's net income more than doubles Apple's comparatively measly $19.4bn in their latest quarter — and it takes adding Microsoft, Meta and Tesla to get to a number that's even slightly comparable to what Aramco pulled in for Q2.
Aramco's results this year will be a huge boon for the state's Public Investment Fund (PIF) — the financial body that invests on behalf of the government and seeks to expand Saudi prospects beyond oil. The PIF's portfolio is certainly diverse: so far they've bought a soccer team, set up a controversial golf series, and are even attempting to establish a mirrored metropolis to "revolutionize our current way of life".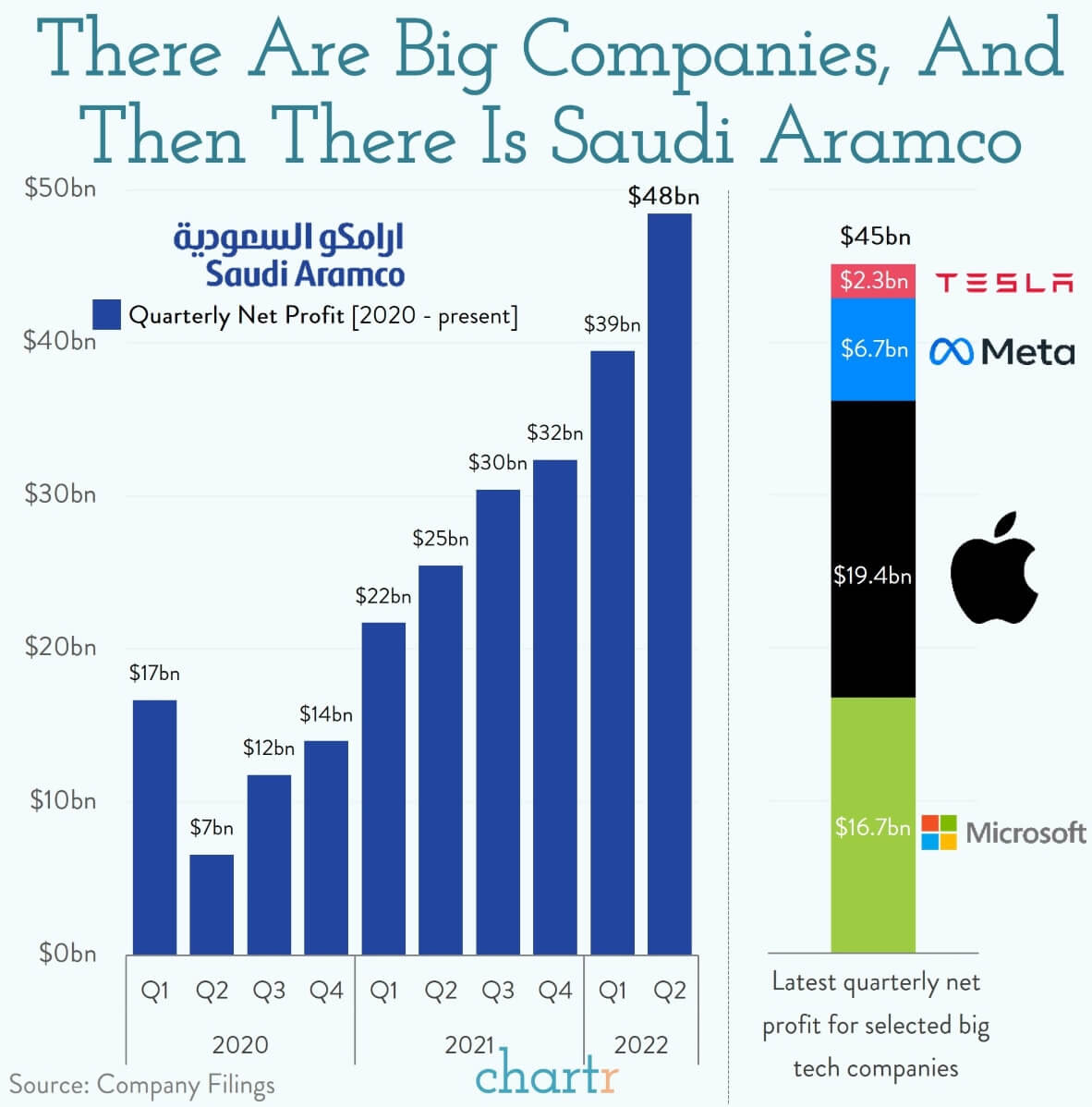 ---
5. Apartment Rents Slowing Down…Biggest Part of CPI
Guggenheim-An even more important sign for the medium-term outlook was the moderation in core services inflation. Rent inflation remains red hot but cooled down a bit with rent declining from 9.7 percent annualized to 8.8 percent and owners' equivalent rent down from 8.7 percent to 7.9 percent. These two categories alone are still contributing 2.5 percentage points to headline CPI so need to slow much more, but more timely measures of market rents (such as Zillow and Apartment List data) point to more moderation in the months ahead. Recent business surveys such as the ISM Services index also point to more slowing in services inflation.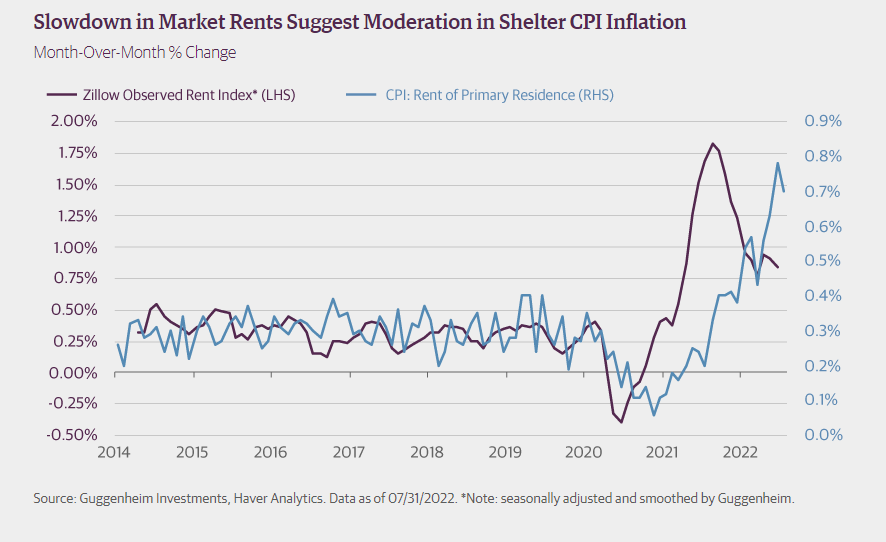 https://www.guggenheimpartners.com/perspectives/macroeconomic-research/inflation-moderation-we-expected-should-continue
---
6. Crude Oil Inventories Fell by Over 5m Barrells
Bloomberg Julia Fanzeres- Oil rose for a second day as a bullish US stockpile report blunted concerns over the potential effects of an economic slowdown.
West Texas Intermediate rallied above $90 a barrel after this week's Energy Information Administration report offset concerns over a potential recession wrecking the oil market. Geopolitical tremors accelerated the rally as Ukrainian President Volodymyr Zelenskiy said he sees no end to the war without troop withdrawals during a meeting with Turkey's President Recep Tayyip Erdogan.
The EIA report surprised markets by signaling "the fundamentals may not be as negative to crude as thought just a week ago," said Dennis Kissler, senior vice president of trading at BOK Financial. "However, traders are still worried about the overall economic outlook going forward, it's keeping a very nervous trade to the futures market."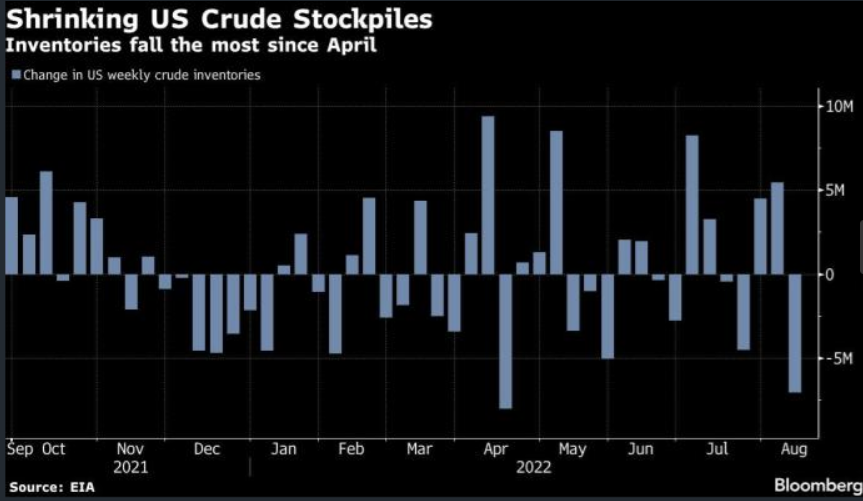 https://finance.yahoo.com/news/oil-dips-economic-slowdown-weighed-001158026.html
---
7. A Detailed Picture of What's in the Climate and Health Bill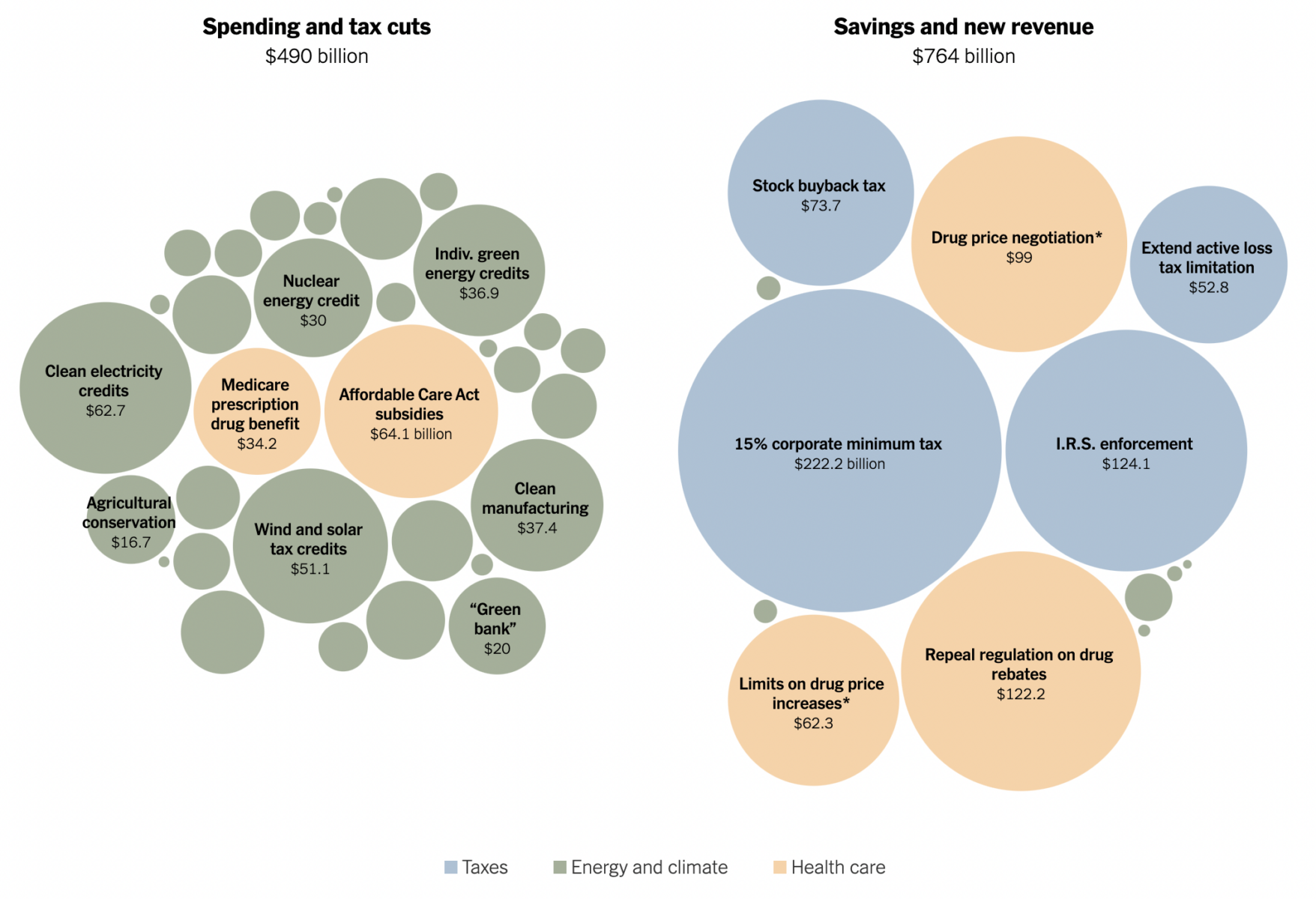 From Barry Ritholtz Blog https://ritholtz.com/2022/08/10-thursday-am-reads-400/
---
8. New Big Ten TV Deal Triple Size of Prior Agreement
Big Ten Sets College Record With $1 Billion-a-Year Broadcast Deal
Fox to pay $400 million a year for football, men's basketball
New deal nearly triples size of prior agreement with Fox, ESPN
By
Fox, CBS and NBC will collectively pay $1.1 billion a year for the rights to broadcast Big Ten Conference sports in the largest deal of its kind for college athletics.
Fox Corp. will pay about $400 million per year to televise football and men's basketball games, with the opportunity to carry more sports throughout the year, according to a person familiar with the matter. Paramount Global's CBS and Comcast Corp.'s NBC are each paying about $350 million annually, as Bloomberg previously reported.
The new seven-year contract that starts next season is almost triple the size of the prior deal, where Fox and ESPN were paying $430 million a year combined. Rights to air sports on TV and streaming networks have gotten increasingly costly in recent years, squeezing media companies that are also grappling with the loss of cable subscribers.
Two years ago, Walt Disney Co., which owns ABC and ESPN, agreedto pay the Southeastern Conference around $300 million annually for its media rights, up significantly from the $55 million per year that CBS has been paying. ESPN declined to pay about $380 million a year for a portion of the Big Ten package, ending a longtime relationship with the conference.
Fox also owns 61% of the Big Ten Network, which will still televise the conference's football, basketball and Olympic sport competitions. CBS and NBC will show games on their respective streaming services, Paramount+ and Peacock.
https://www.bloomberg.com/news/articles/2022-08-18/big-ten-sets-college-record-with-1-1-billion-media-rights-deal?sref=GGda9y2L
---
9. Pew Research….Political Party Opinions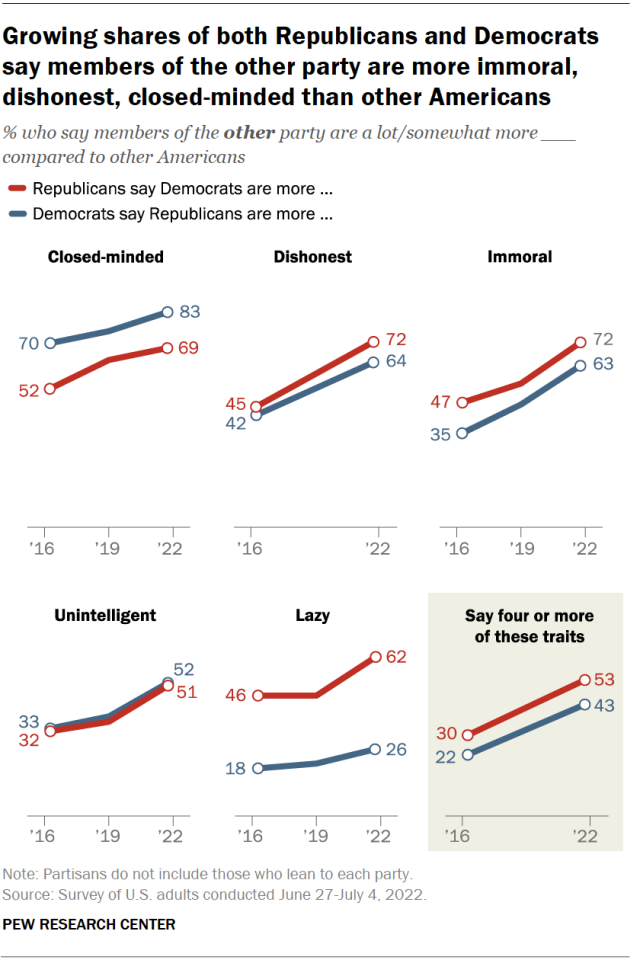 https://www/pewresearch.org/politics/2022/08/09/as-partisan-hostility-grows-signs-of-frustration-with-the-two-party-system/pp_2022-08-09_patisan-hospitility_00-01/
---
10. The 3 Most Common Lies We Tell Ourselves
Lying to yourself can be as destructive as lying to others.
KEY POINTS
Consideration of the lies we tell ourselves relates to the broader context of self-awareness. 

Honesty requires taking daily inventory of one's true thoughts, feelings, and personal actions.

Most lies we tell ourselves relate to emotions and how those emotions interact with relationships and overall goals.
When considering the word "lie," the first association that may come to mind is a behavior enacted by one individual to another. While there's no question that lying is frequently practiced in social relationships, another behavior is likely just as common: individuals lying to themselves.
To begin, it's important to note that psychology research on the lies individuals tell themselves is challenged due to an understandable self-serving bias, meaning that individuals often work to portray themselves in a favorable light. For this reason, the vast majority of subjects may not be truthful when asked to report how frequently they lie to themselves about any number of issues.
Based on anecdotal data from years of clinical work, including psychological assessment and psychotherapy, I can share firsthand knowledge about the frequency and even intensity with which individuals may try to tell themselves things that aren't true.
Consideration of the lies we tell ourselves relates to the broader context of self-awareness. If you take a moment to think, for example, about individuals in your personal or professional life, it's clear to see there is variability in the degree of self-awareness a particular individual has. Some people are more open about their flaws and emotional struggles, while others are guarded to the point of secret keeping. It will also come as no surprise that it's far easier to look analytically or critically at others than it is to look at yourself in an objective, evaluative manner.
How would you answer this question: What are some of the lies I may tell myself? Another way to think about this is to ask yourself this: What are some possible examples of my own denial when I think about myself and my actions, or my behavior in relationships?
In my clinical work, I've found that most of the lies individuals tell themselves relate to emotions and how those emotions interact with their relationships and overall goals in life. Read about common self-lies below and consider the degree to which you may engage in any of these cognitive distortions (otherwise known as lies).
1. Telling Yourself That an Apology Truly Makes Things Better
Social indoctrination teaches young children that social violations and other transgressions should be followed by an expressed apology. While this reparative attempt can be an important measure to incorporate into one's behavioral repertoire, people sometimes make the mistake of believing that an apology is a one-and-done, perfect solution. To be clear, an apology is not a solution to the problem of the violation or trespass. An apology does not solve any particular underlying problem, which could range from, say, the reason a small child aggresses another child on the playground to the more severe aggression of an adult who is verbally cruel to their romantic partner in a heated moment.
When people tell themselves that an apology makes everything better after a trespass, they lie to themselves about the potential longer-lasting damage, which is a loss of trust. Most importantly, telling oneself that an apology makes everything better prevents the real work that must be done to convince the other that the relationship is truly safe and trustworthy.
article continues after advertisement
2. Telling Yourself That You're Angry When What You Really Feel Is Hurt
One of the most common mistakes I see as individuals navigate the complex web of interpersonal relationships is confusing one emotion for another. When someone feels significantly upset because of an action or inaction on the part of someone else, the first and last reaction is often anger. People gravitate toward anger quickly and automatically, which is understandable in some ways: Feeling angry also feels empowering. When one feels angry, one tends to feel stronger and more in control, as opposed to the way feeling hurt causes one to feel vulnerable or even helpless. 
If you think about your own life and past experiences, recall an occasion when you felt overwhelmed with anger toward a romantic partner or friend. While anger may be an understandable consequence, ask yourself if anger was the true root of how you felt. Remember that humans can feel more than one emotion at the same time and that they also may experience a sequence of different emotions if they are self-aware and honest with themselves. In my clinical work, I've found that individuals who report feeling angry or get stuck in an anger spiral often actually feel more hurt than angry, though they try hard to avoid acknowledging the hurt feelings.
3. Telling Yourself That Cash and Prizes, Metaphorically, Are What Will Finally Make You Happy
Not everyone lies to themselves in this way, though this distorted belief is common among many. Given the influence of social media, for example, which can present a manipulated image, societal forces are hard at work in selling a dream and encouraging fantasy—or lies—over reality. While the impulse to believe that getting that new job, the nicer house, or even making a lot more money will finally lead to contentment, such changes rarely lead to true contentment. Accordingly, people often find that once they get to the place they'd told themselves would finally make them happy, it doesn't really make them much happier.
The effect is a consequence of the lie or the distorted belief. The truth is that emotional success or a sense of true contentment depends on an internal process rather than an external one, meaning that contentment comes from making the best of what resources you have currently and taking appropriate action today rather than fantasy resources you yearn to have in the future.
The Takeaway Message
Self-awareness and personal accountability require honesty, and honesty requires taking daily inventory of one's true thoughts, feelings, and personal actions. The more conscious one becomes about engaging in responsible, honest behaviors in each moment and in every facet of daily life, the greater improvement one will experience in contentment, goal achievement, and relationship quality.
About the Author
Seth Meyers, Psy.D., is a licensed clinical psychologist, TV guest expert, author, and relationship expert.
https://www.psychologytoday.com/us/blog/insight-is-2020/202208/the-3-most-common-lies-we-tell-ourselves