1. Month-over-month Inflation CPI numbers were flat for the first time since the Pandemic Started
---
2. Two Bullish Technical Signals
From Dave Lutz at Jones Trading -But Friday triggered a rare, but quite bullish signal.  >90% of the components in the S&P 500 are now above their 50-day moving average.  "As you can see, these signals take place in strong uptrends historically"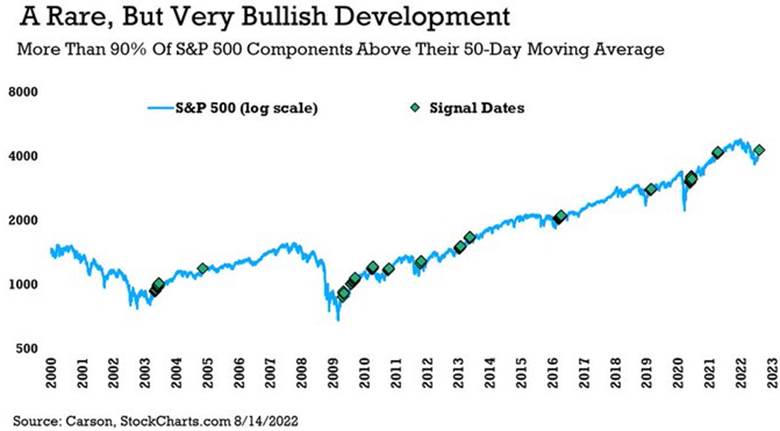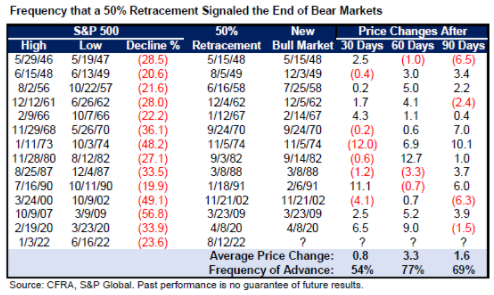 CFRA notes that The S&P 500 Index has recovered half its loss from this year's historic selloff, eclipsing a key technical threshold that has a 100% track record of calling the end of bear markets and the start of a new bull run.
---
3. Buffett Updated Portfolio
Warren Buffett's Berkshire Hathaway boosted its Apple stake, bet big on energy stocks, and tweaked its bank holdings last quarter-Theron Mohamed Business Insider
2 hours a
Here's a pie chart showing the key stocks in Berkshire's portfolio at the end of June, and how much they were worth at that time: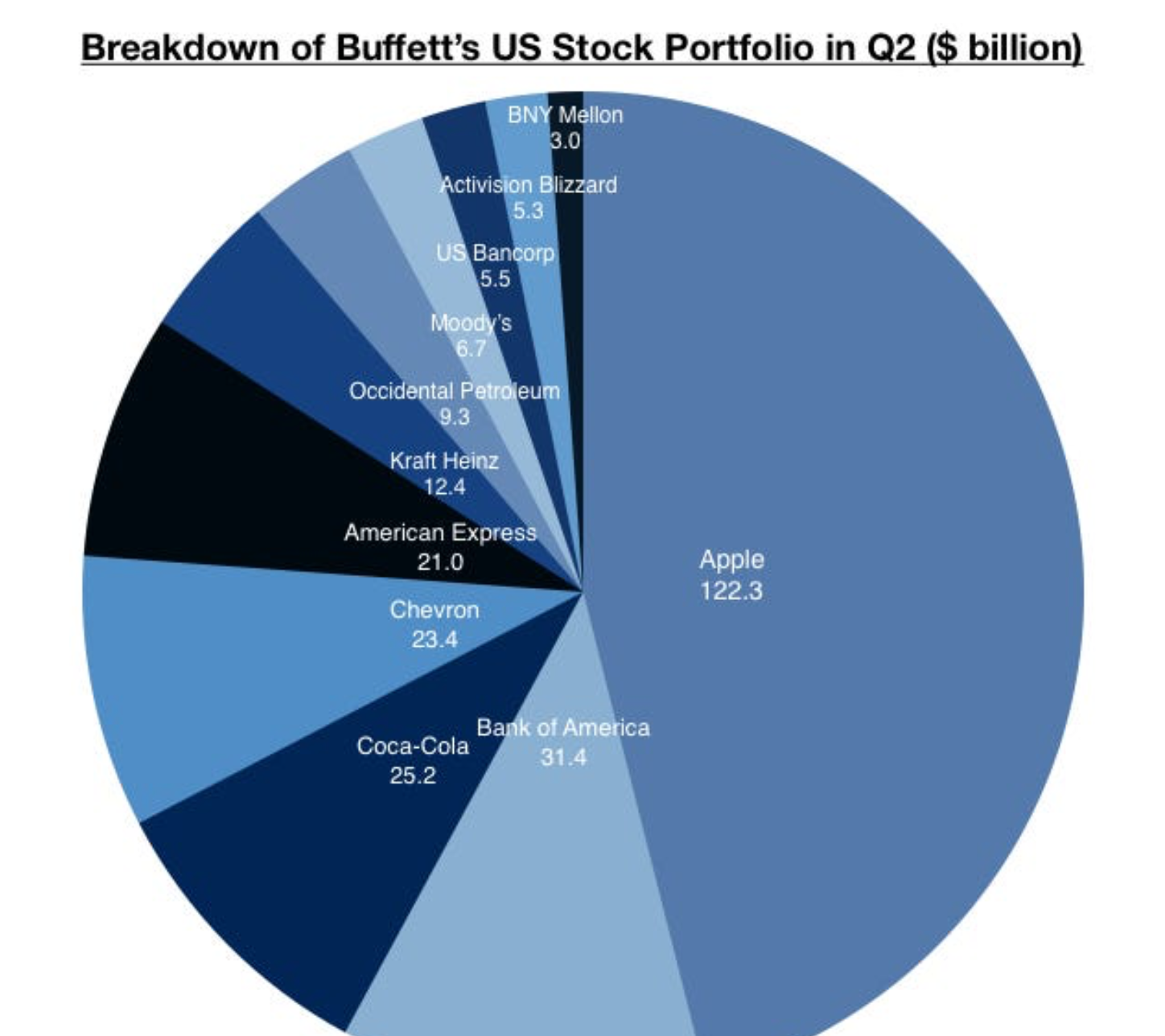 ---
4. 42 SPAC Deals Cancelled this Year
Burst of Broken SPAC Deals Another Blow to Battered Sector-Bailey Lipschultz
(Bloomberg) — A flurry of terminated deals is hitting the blank-check industry in another signal that the sector is crumbling.
At least four planned mergers between special-purpose acquisition companies and target firms looking to go public have been canceled since the market close on Friday, bringing the year's tally to 42. The wave of breakups deals a blow to the industry that many believe has gone bust, leaving some investors sitting on paper losses.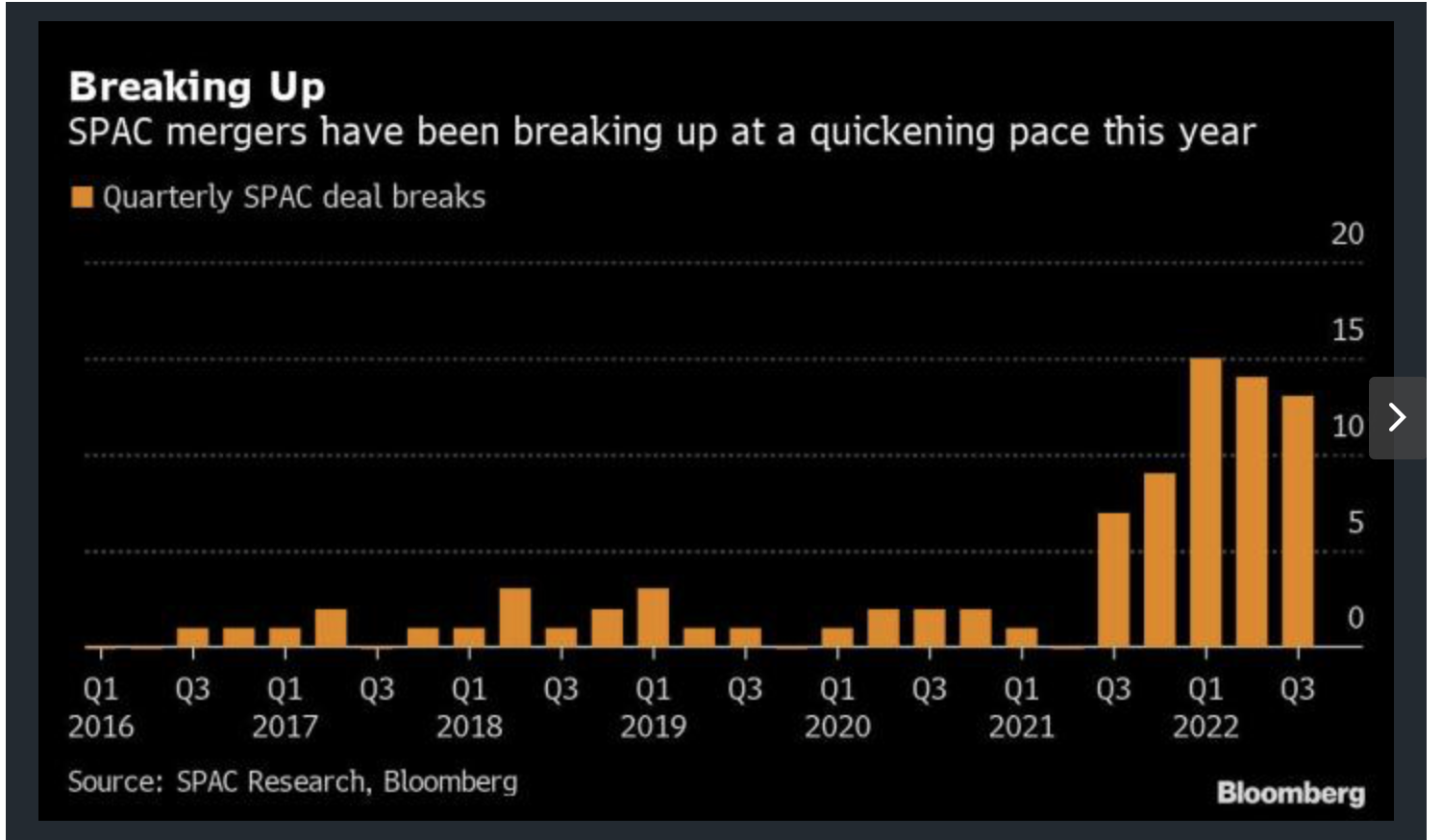 https://finance.yahoo.com/news/burst-broken-spac-deals-sends-134256535.html
---
5. August Global Investor Inflows and Outflows….Long Commodities, Cash and Defensives.
Bank America–FMS on asset allocation: FMS positioning still "long stagflation" (commodities, cash, defensives)…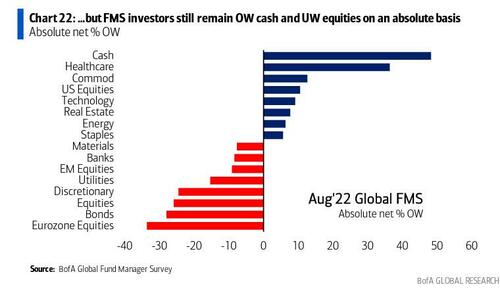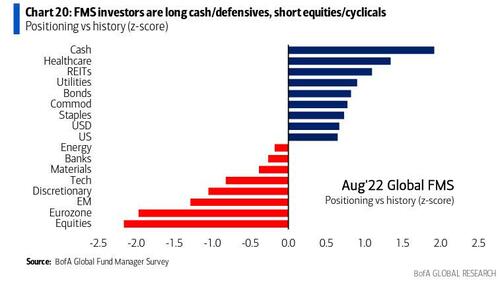 From Zerohedge Blog https://www.zerohedge.com/markets/mood-no-longer-apocalyptic-wall-streets-most-accurate-strategist-says-start-shorting-sp-now
---
6. Profitable Small Cap Companies Outperformance-Dimensional Funds
Dimensional Funds…Report Card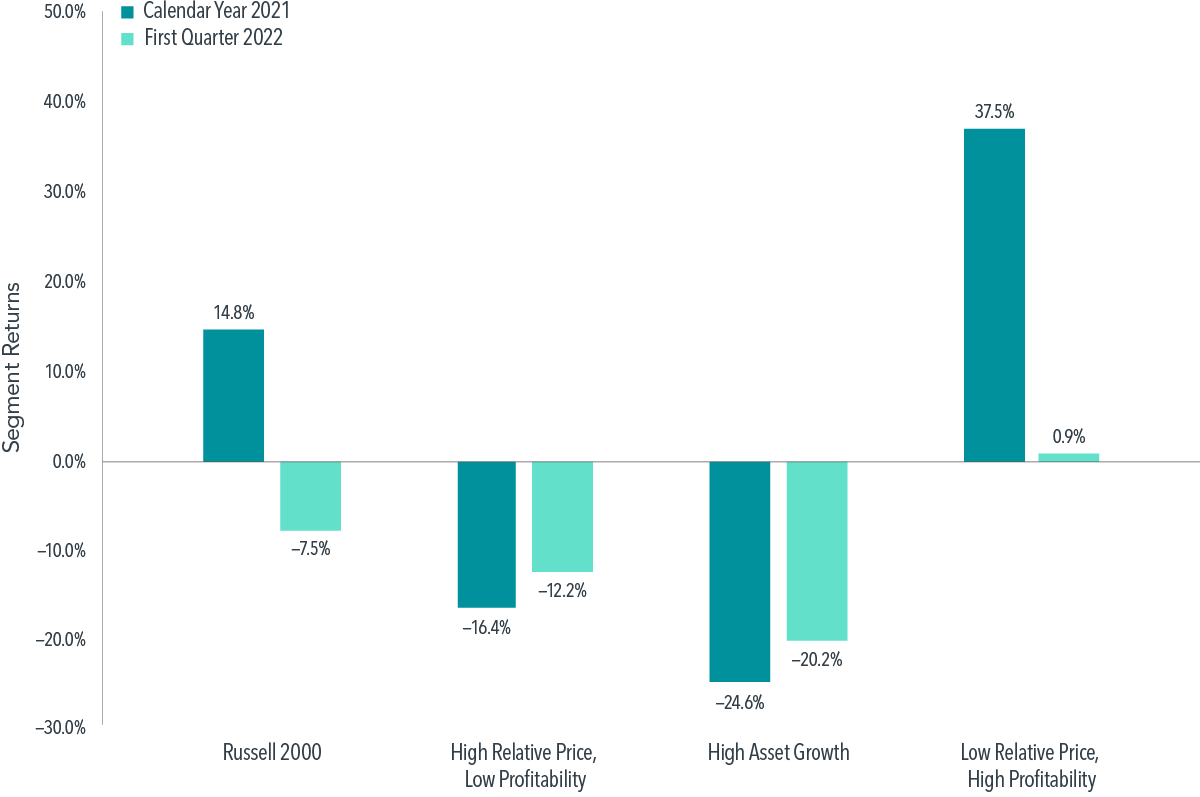 Past performance, including hypothetical performance, is not a guarantee of future results.
https://www.dimensional.com/us-en/insights/small-cap-class-reunion-where-are-they-now?utm_source=linkedin&utm_medium=paid&utm_campaign=&li_fat_id=42016875-07a1-48b2-ab6d-353e0036308d
---
7. Unemployment Historically Doubles Off Lows During Recession….Instead the U.S. has 5m+ Job Openings
Ben Carlson A couple of months ago I looked at that has happened to the unemployment rate during past recessions: The average increase is more than a doubling off the lows. That would take us to more than 7% from the current 3.5% unemployment rate.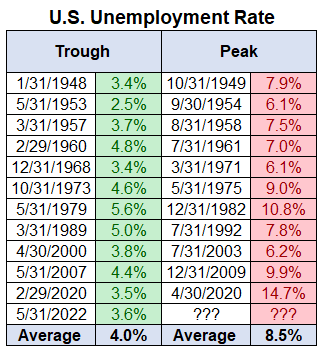 A Wealth of Common Sense Blog
https://awealthofcommonsense.com/2022/08/6-questions-about-the-market-the-economy/
---
8. Glencore Coal Profits at 10 Year Highs
Bloomberg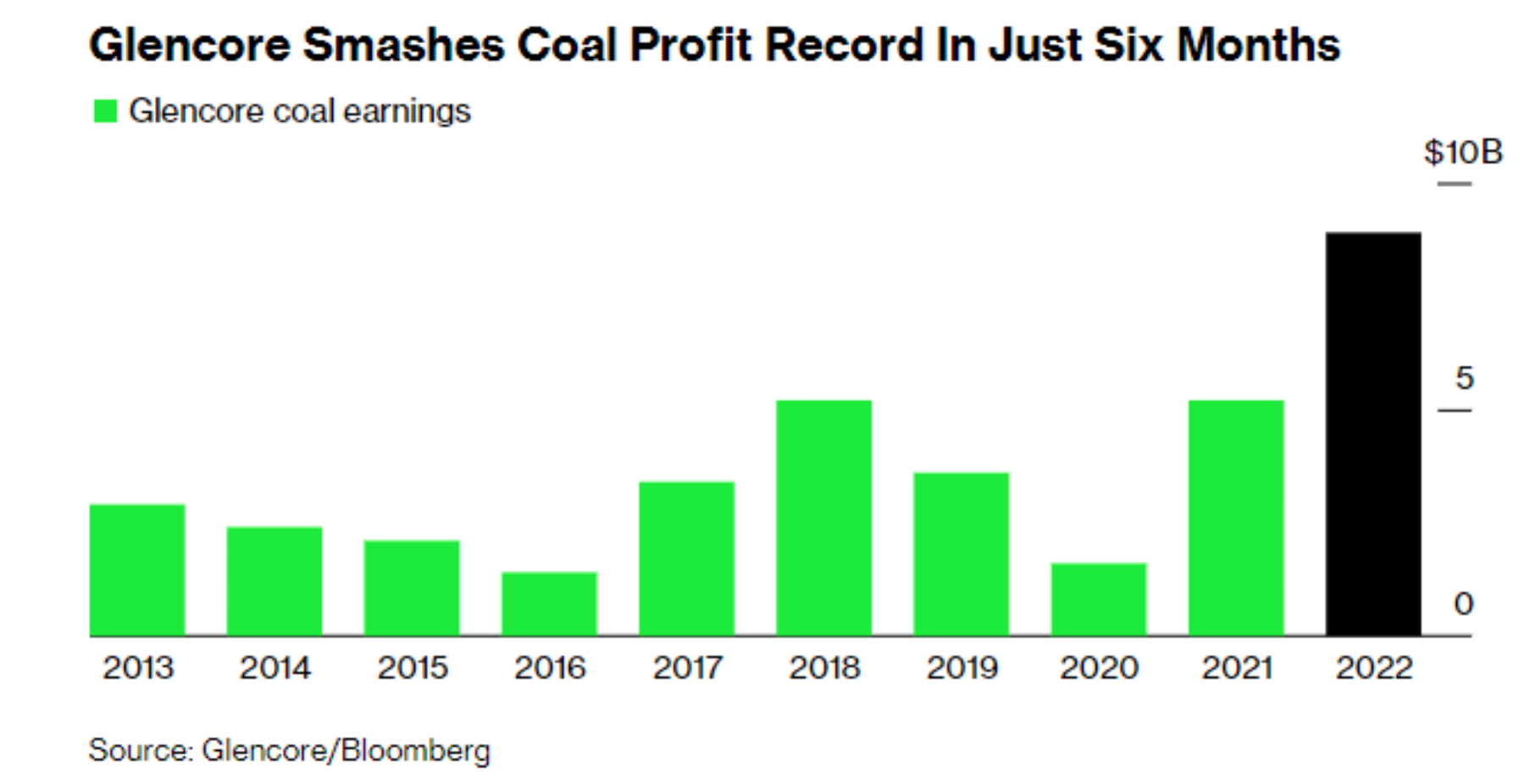 ---
9. 
---
10. 10 Traits of High Sales Performers
By Jeffrey Gitomer |  -I once read about a big benefits-management company that conducted a survey where it asked 365 CEOs and sales-management executives, "What are the three key factors that separate high-performing sales professionals from moderate- to low-performing sales professionals?"
Both CEOs and C-level sales executives (all people who don't sell, but rely on their salespeople to get paid) ranked self-discipline/motivation as the most important factor.
Next in line were customer knowledge, innate talent/personality and product knowledge. Further down the list were experience and teamwork skills. Totally bogus.
These are qualities of corporate greed, not value, service or help—the three things that customers require to give you their business and maintain loyalty.
If you're interested in the most important qualities of a high-performing salesperson, let me give you a realistic list of the characteristics needed for success:
Perpetual, consistent positive attitude and enthusiasm
This is the first rule of facing the customer, facing the obstacles, facing the competition, facing the economy and facing yourself.
Belief that the customer will be better off
Unwavering belief in your company, in your product and in yourself are the first three parts. But most critical is that you must believe that the customer is better off having purchased from you.
Use of creativity
Use creativity to present ideas in the customer's favor and to differentiate yourself from the competition.
Ability to give and prove value
Prove the value of your product or service, as well as your ability to give value to the prospect beyond the sale so you earn the order, the reorder and the loyalty of your customers.
Ability to promote and position
Your use of the internet to blog, create e-zines, utilize social media and achieve top-ranking in Google searches leads customers to perceive you as a value-provider and a leader in your field.
Exciting, compelling presentation skills
You must develop not just solid communication skills, but superior questioning skills, listening skills and a sense of humor, as well as the innate ability to capture the imagination (and the wallet) of customers.
Ability to prove your value and claims through the testimony of others
Testimonials sell where salespeople can't. The best salespeople use video testimonials to support their claims. But you don't get testimonials; you earn them. Same with referrals.
Ability to create an atmosphere where people want to buy (because they hate being sold)
This is done by engaging and asking, not presenting and telling. Make your customers feel as if you are working with them to find them the best product possible, not just telling them what you think would be best.
Ability to build a relationship, not hunt or farm
I wonder if the executives talking about the factors of great salespeople are the same one who are dividing their salespeople into hunters and farmers. Great salespeople are relationship-builders who provide value and help their customers win. They possess unyielding personal values and ethics. It's interesting that 365 executives don't deem those qualities to be in the top 10.
The personal desire to excel and be their best
This is a desired quality of every salesperson, but the best salespeople have mastered the other 10 elements. And the key is that all 10 must be mastered in order for this quality to manifest itself.
There is no prize in sales for second place. It's win or nothing. The masters know this and strive for—fight for—that winning edge.
This article was published in February 2010 and has been updated. Photo by Krakenimages.com/Shutterstock