1.PAWZ Pet ETF Almost A Double Off Bottom.
PAWZ ETF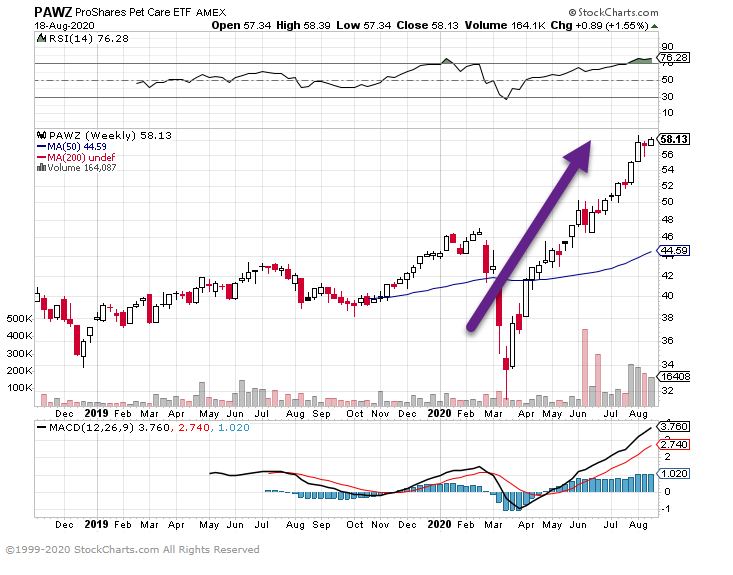 PAWZ +31% vs. S&P +5% YTD
2. S&P Hits New Highs But Names Above 50 Day Rolling Over
The S&P 500 briefly topping its February record before closing below it.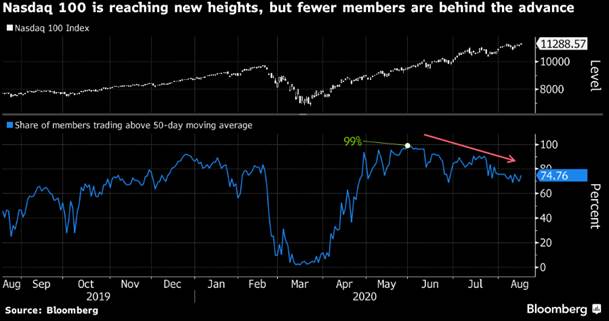 From Chris Preston River and Mercantile.
3. Bitcoin Surges Past $12,000 With Advocates Heralding New Era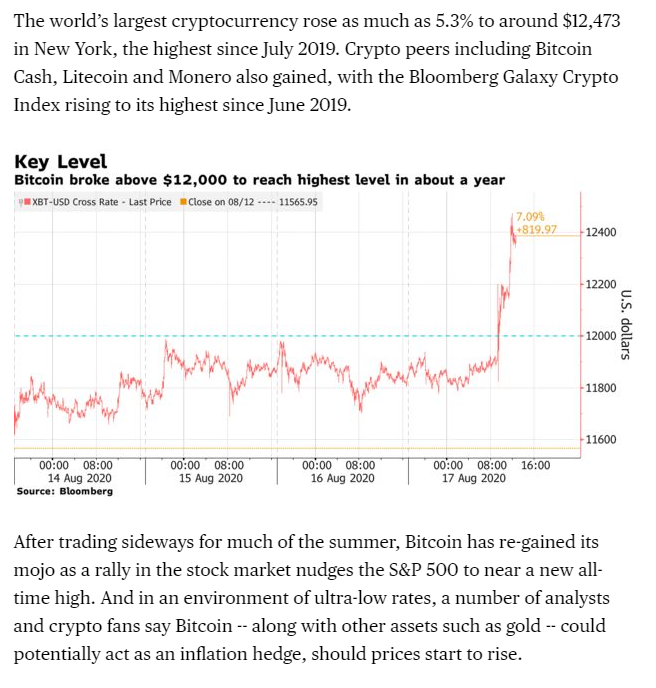 https://www.bloomberg.com/news/articles/2020-08-17/bitcoin-surges-past-12-000-with-advocates-heralding-new-era?sref=GGda9y2L
4. History of Gains Off Bear Market Bottoms.
Edward Jones Pitstops are common – We don't think present and upcoming risks have to send stocks back to bear-market territory, but we also don't think the ride will remain this smooth. In fact, new bull markets, despite their strength, often get rattled periodically. Looking at the last six bull-market recoveries over the past 50 years, the average return in the first year was 44%2. This did not come easily, however, as the first year experienced several 5% pullbacks on the trek higher and even some 10%-plus corrections1. Most recently, the recovery from 2009 had three 5% pullbacks in the first year and a 16% correction in the summer of 2010 (slightly after the initial one-year period)1. These weren't harbingers of a dying bull, but instead highlight the fact that investors should expect periodic setbacks even in strong markets.
· Life after the recovery – Recouping bear-market losses hasn't marked a point of exhaustion, as past recoveries experienced solid gains in the year following the return to new highs. While the current recovery is significantly shorter than previous instances, the takeaway for investors is that ongoing market performance will be dictated by the path ahead for economic growth, corporate earnings and interest rates – all of which will remain reasonably supportive in coming years, in our view. We don't believe the magnitude of the gains experienced since March will be replicated in the months ahead, but we do think a durable economic expansion and a supportive monetary-policy backdrop will give legs to the new bull market.
Craig Fehr, CFA
Investment Strategist
Sources: 1. Bloomberg 2. Morningstar Direct
https://www.edwardjones.com/market-news-guidance/recent-news/weekly-recap.html
5. Average Returns After Market Makes New Highs.
Exhibit 1 puts those fears in a broader context. It shows the average annualised compound returns of the S&P 500 from 1926–2019. After the index has hit all-time highs, the subsequent one-, three-, and five-year returns are positive, on average. After the S&P 500 has fallen more than 10%, the subsequent one-, three-, and five-year returns are also positive, on average. Both data sets show returns that outperform those of one-month Treasury bills. Overall, the data do not support that recent market performance should influence the timing of investing in stocks.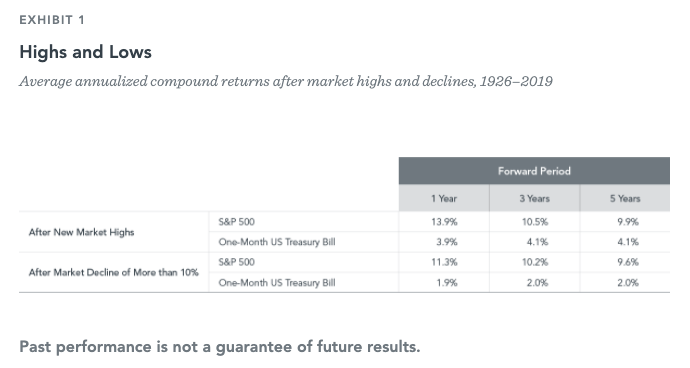 6. In 4 Months….Households Slashed Credit Card Balances by a Record $106 Billion.
Barrons
That newfound thrift is evidenced further by households slashing their credit-card balances by a record $106 billion in the latest four months, more than double the rate of deleveraging during what is still called the Great Recession—even though the current downturn will dwarf all others since the Great Depression.
What, Us Worry? Lack of New Stimulus Hasn't Roiled the MarketsBy Randall W. Forsyth
https://www.barrons.com/articles/what-us-worry-lack-of-more-stimulus-hasnt-roiled-the-markets-51597422598?mod=past_editions
2020 Credit Card Balances Chart
7. Foreign Holders of U.S. Debt Plummeted 26%….The FED bought the majority of Debt in Q2
Wolf Street
Foreign central banks, governments, companies, commercial banks, bond funds, other funds, and individuals, all combined added $90 billion to their holdings in June compared to May. Over the 12-month period through June, they added $413 billion. They now hold a total of $7.04 trillion, a huge record pile.
But given the incredibly spiking US Treasury debt ($26.45 trillion on June 30), their share of this debt plunged to just 26.6% — the lowest since 2008. The quarterly chart shows foreign holdings in billion dollars (blue line, left scale); and the percentage of total US debt (red line, right scale):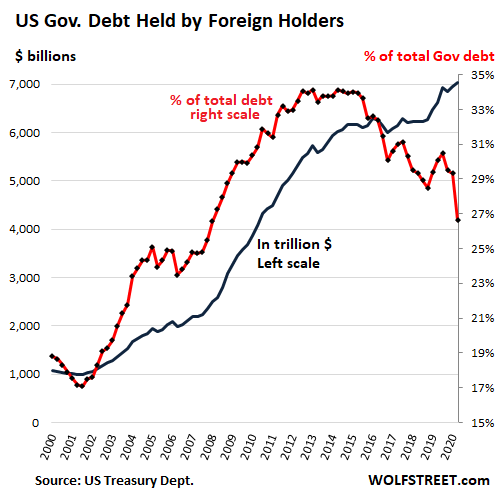 The chart shows Treasury holdings by holder. US banks and other US entities are combined into the yellow field, which, along with the Fed, bought the majority of the Incredibly Spiking US Debt in Q2: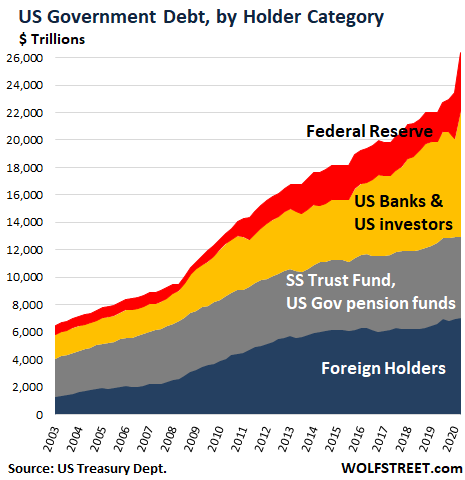 Who Bought the Gigantic $4.5 Trillion in US Government Debt Added in the Past 12 Months? Everyone but China?by Wolf Richter Someone had to buy the Incredibly Spiking US Gross National Debt. Here's who.By Wolf Richter for WOLF STREET.
8. Top-Heavy Stock Indexes Are Nothing to Fear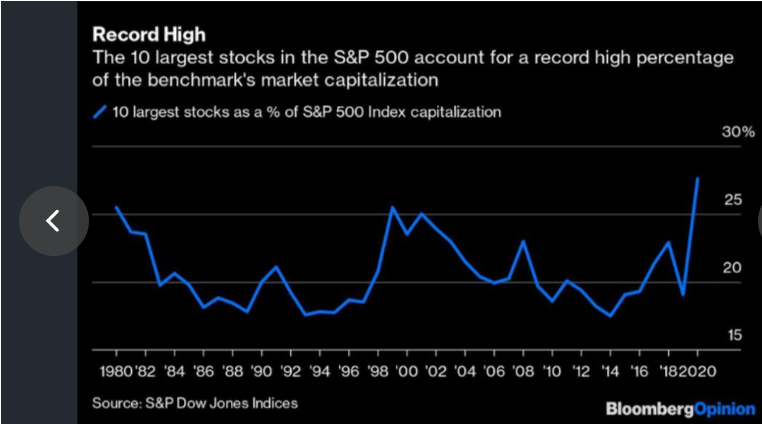 Barry Ritholtz
August 18, 2020, 5:00 AM EDT·5 mins read
(Bloomberg Opinion) — None of the criticisms levied over the years against indexing has undercut the primary advantages of passive investing: It's cheap, simple and avoids the futility of stock picking. Still, you have to give the opponents credit for persistance. They keep trying to convince investors that it is a poor approach to asset management.
I calculated last year that more than $80 trillion in equities worldwide was actively managed, which shows why active managers want to protect their franchise from further erosion. Since the 2008-2009 financial crisis, about $1.8 trillion has moved out of active funds, while $2 trillion moved into passive. This makes for an incredible chart on capital flows.
Even so, the criticisms are worth considering, if only to sharpen one's thinking. In particular, the claim that indexing is dangerous because it represents a highly concentrated stock risk. In many major indexes that are weighted by market capitalization, such as the Standard & Poor's 500 Index or the Nasdaq 100 Index, the six high-flying "FAANMG" stocks have gained disproportionate influence.(3) A recent MarketWatch column asked, "How much of your retirement savings are you now gambling on the fortunes of just six companies? If you're holding them in an S&P 500 stock market index fund, the answer is: About a quarter."
I reached out to Howard Silverblatt, senior index analyst for S&P Dow Jones Indices, for more color. He noted that the 10 largest stocks in the S&P 500 accounted for 27.6% of the index's capitalization. That makes the benchmark the "most top-heavy index" since the 1960s, according to Silverblatt. That may seem concerning, but history shows it isn't. Year-end data Silverblatt shared going back 40 years showed the highest concentration of the top 10 stocks ranged from a low of 17.5% in 2014 to a high of 25.5% in 1980. That puts the current weighting a little above the range.
That high concentration to begin the 1980s did not prevent the market from seeing substantial gains that decade. The recovery from the 1970s bear markets and the double dip recession that began the 1980s eventually gave way to increased breadth, or greater market participation. In other words, as the economy helped small and mid-sized firms, the top-heavy index concentration decreased.
The bigger point is that it's not rare for a small group of stocks to account for a large percentage of the S&P 500. What is important is the relative performance of those 10 stocks to the other 490 stocks. The ratio fluctuates based on which group is outperforming, resulting in a continuous battle between mega cap stocks and the merely large and mid-sized stocks.
https://finance.yahoo.com/news/top-heavy-stock-indexes-nothing-090014114.html
9. THE 11 BEST HEALTHY ICE CREAM ALTERNATIVES
BY: KATIE DUNLOP
It's summer, and we all know during summer, the craving for ice cream is REAL. A good vanilla on a hot day sounds amazing, but might not make you feel so amazing after! But babe, you deserve a sweet treat after the hard work you put in using the LSF App and keeping your nutrition on point with some of the LSF meal plans. We're all for treating yo'self but finding healthy ice cream alternatives to your usual indulgences is KEY.
No worries, girl, because we did the work for you! Ryan and I taste-tested 12 healthy ice cream alternatives so you could go straight for the good stuff! No wandering the aisles at the grocery store, looking up different ice creams, or wondering if they're actually healthy. No guessing. We are giving you alllllll the deets with our healthy ice cream review! And trust us, we found some winners!
We not only checked these healthy ice cream alternatives for taste (because, obvi, that's the most important part), but we also analyzed their texture and nutrients. Turns out, there are actually some pretty great guilt-free (n)ice creams out there! And we compared them to Ben & Jerry's so you know we're really trying to get close to the good stuff. Check out the new Youtube video on the Love Sweat Fitness Youtube channel and make sure to comment and let us know what we should taste test next!
ICE CREAM STATS:
REBEL — VANILLA
How cute is Rebel's packaging? I love their streamlined look, and they use natural vanilla, which is so great. Plus, they sweeten with monkfruit, so it's one of the best no-sugar healthy ice cream alternatives. It's a little different from traditional ice cream because it's so fluffy. We said it's a little like frozen Cool Whip, and overall thought it was pretty good.
· Calories: 130 cal
· Fat: 13g
· Pro: 2g
· Sugar: none
COOLHAUS — VANILLA (OUR 3RD PLACE WINNER)
Shoutout to Coolhaus for being a woman-owned business! Their base is organic milk and this stuff is smooooooth. Seriously, we loved it. Ryan actually said he liked it better than Ben & Jerry's, so we had to put it on the podium for our fave healthy ice cream alternatives! But there's quite a bit of sugar in this bad boy, so keep an eye on your serving size.
· Calories: 210 per serving
· Fat: 8g
· Pro: 4g
· Sugar: 5g added sugar, 29g total sugar
SO DELICIOUS — COCONUT MILK VANILLA BEAN
Um, we'll be honest. We weren't super impressed. But if you like a tart ice cream, maybe give it a try. The low sugar is definitely a pro.
· Calories: 200
· Fat: 12g
· Pro: <1g
· Sugar: 2g
OATLY — VANILLA (OUR 2ND PLACE WINNER)
Vegan, gluten-free, solid ingredients — this one ticks a lot of boxes. It's got a nice texture and a smooth taste. It's not overly vanilla-y and it's got quite a bit of added sugar. But as far as a non-dairy option for healthy ice cream alternatives goes, this was our fave!
· Calories: 220cal
· Fat: 13g
· Pro: 1g
· Sugar: 19g added sugar
HALO TOP — VANILLA (OUR 1ST PLACE WINNER)
Okay, we were not wowed when we first opened this. We thought it was going to be icy and weird, but it's actually super good and creamy with lots of vanilla flavor! Halo Top hits a bunch of benchmarks, too, since it's low-cal, low-fat, and low-sugar with a decent amount of protein. We were super impressed with the Halo Top and we said it even got pretty close to Ben & Jerry's. That's why we picked it as our top choice for healthy ice cream alternatives!
· Calories: 100 calories per serving
· Fat: 2g
· Pro: 6g
· Sugar: 7g, 3g added
SO DELICIOUS — CASHEW MILK VANILLA
This one is waaaaay better than the coconut milk So Delicious option. It's pretty sugary and it honestly tastes like a cookie. But we'd say there are better healthy ice cream alternatives out there.
· Calories: 190
· Fat: 9g
· Pro: 2g
· Sugar: 19g added
SO DELICIOUS — OAT MILK CREAMY VANILLA BEAN
Meh. We didn't love the aftertaste on this one, either. When we compared this one to Oatly's Vanilla flavor, this had a little less sugar but the taste just wasn't as good.
· Calories: 190cal
· Fat: 10g
· Pro: 1g
· Sugar: 17g added sugar
COCONUT BLISS — MADAGASCAR VANILLA
WAY better than the So Delicious coconut and with just four ingredients, this one was a winner, for sure! It def tastes a lot like coconut. It was nice and creamy, too. It's got quite a few grams of added sugar, but it was a tasty treat.
· Calories: 270
· Fat: 21g
· Pro: 2g
· Sugar: 16g total, 13g added
LALOO'S — GOAT MILK VANILLA
Where you at, hypo girls? Goat milk is a super great option for you! But I gotta be honest, this one wasn't our fave. We thought it tasted kinda like eggs, tbh. I'd keep an eye out for other goal milk options. Hopefully, with the rise of alternative milk options, we'll have more choices soon!
· Calories: 140cal
· Fat: 6g
· Pro: 5g
· Sugar: 14g
ARCTIC ZERO — COOKIE DOUGH CHUNK
Honestly, we couldn't get past the texture on this one. It's super icy and feels kinda gelatinous. Yeah, it doesn't have a lot of sugar, but it's probably not even worth it. If you're gonna splurge on ice cream, it's gotta be delicious.
· Calories: 80 cal
· Fat: 1.5 g
· Pro: 1g
· Sugar: 9g
ENLIGHTENED — CHOCOLATE PB
Ryan was HYPED for this one because of the flavor. And can you blame him? With lots of peanut butter in there, this one hits the spot. But the chocolate flavor definitely tastes sugar-free, which I don't love. They sweeten this stuff with sugar alcohols, which can give you some digestive issues, so keep an eye out.
· Calories: 100
· Fat: 4.5g
· Pro: 7g
· Sugar: 4g sugar, 6g sugar alcohol
10. Seven Bad Habits Truly Wealthy People Never Have
Almost all of those in the 1 percent have this in common: They don't spend their time doing these things.
BY QUORA
What does the 1 percent do with their time compared to the 99 percent? originally appeared on Quora – the place to gain and share knowledge, empowering people to learn from others and better understand the world.
Answer by Andrew Ferebee, seven-figure entrepreneur, high performance coach, and podcaster, on Quora:
After interviewing more than 400 experts (about 90 percent of whom are part of the 1 percent) and building a seven-figure business myself, I've realized that there aren't as many commonalities among high performers as you might imagine.
Sure, most of them have some sort of mindfulness practice, exercise, and practice gratitude, but the specific habits vary wildly from person to person.
However…
What almost everyone in the 1 percent has in common is how they don't spend their time.
Here are the seven things that the 1 percent don't do.
(Please note that these are not universal statements; there are plenty of people among the 1 percent who follow these bad habits. However, their success is in spite of their bad behavior, not because of it.)
1. They don't watch TV for more than 60 minutes a day.
I love Breaking Bad and Narcos just as much as the rest of you.
But spending more than an hour a day in front of the television isn't just a waste of time; it's complete madness.
The average American watches five hours of TV a day. That's 77 days a year!
Imagine how much you could accomplish with an extra 77 days added back into your year?
It's impossible to always be productive, and watching television to unwind and relax after a long day of work is more than acceptable.
But spending almost 25 percent of your waking hours plopped down on the couch watching other people become successful is one of the most wasteful activities you can engage in.
I've never met a successful person who watched five hours of TV a day.
If you are currently wasting your days in front of the boob tube while claiming you want to be successful, you need to take a serious look at how you are spending your time.
2. They don't drink to excess on a regular basis.
Successful people know how to party.
In fact, when you are part of the 1 percent and you have the money to blow, epic parties become a natural byproduct (just think about Dan Bilzerian).
However, I don't know any successful people who drink to excess on a daily or even weekly basis.
Just about every successful person I know will throw back shots of tequila and get wild on the dance floor from time to time.
But it's the exception, not the rule.
3. They don't spend most of their money on consumption instead of creation.
Successful people spend their money on things that make them better. They spend money on their business, on their personal growth, and on their passions.
Unsuccessful people feel the compulsion to buy products and things that they don't need.
Their houses overflow with crap they purchased from Walmart and useless gadgets that they wasted their money on.
Successful people spend money intentionally and focus most of their income on things that assist in creation.
4. They don't overeat and consume processed foods.
How you fuel your body will determine how well you can show up in business and in life.
If you are eating clean foods you will feel better, have more energy, and look younger.
If you are constantly stuffing your face with processed garbage, then you can't expect your brain to function at optimal levels or your life to work out the way you want.
Unhealthy eating habits lead to all sorts of issues with confidence, depression, and long-term chronic health problems.
All the successful people I know take care of their bodies and pay special attention to how they fuel their proverbial engine.
5. They don't blame others for their failures.
You will never meet successful people who blame other people for their failures.
And you will rarely meet unsuccessful people who take ownership for their lives and responsibility for their lack of success.
If you want to join the 1 percent, then quit complaining about how Donald Trump, Congress, your parents, your boss, and the world are all trying to screw you.
Instead, focus on how you can succeed regardless of external circumstances.
Other people have had it worse than you and built an incredible life.
Take responsibility for your life, and you have the power to achieve whatever you want.
6. They don't gossip and waste time talking about other people.
I've yet to meet a successful person who was willing to waste his or her precious time and mental energy gossiping about other people.
Sure, he or she may mention a mistake that some peer has made to use as an example or to express frustration with the state of things.
But I've never heard a successful person sitting at the water cooler saying, "Oh, my god! Did you see what Sally was wearing yesterday? Did you hear that Jake is cheating on his fiance?"
It just doesn't happen.
You have enough stuff going on in your own life. So stop focusing on other people and focus on yourself.
7. They don't spend time worrying about other people's opinions.
Whether they are a part of the 1 percent or not, the most successful people in the world (subjectively) don't care about other people's opinions.
Sure, they take advice from mentors.
But they don't let their family, friends, or society determine what they will do with their life or what makes them happy.
They march to the beat of their own drummer and chart their own path through life.
And as a result, they get to experience something that's an anomaly in the human existence.
They truly live.
This question originally appeared on Quora – the place to gain and share knowledge, empowering people to learn from others and better understand the world. You can follow Quora on Twitter, Facebook, and Google+. More questions:
https://www.inc.com/quora/7-bad-habits-truly-wealthy-people-never-have.html?sr_share=facebook&cid=sf01003
Disclosure
Lansing Street Advisors is a registered investment adviser with the State of Pennsylvania..
To the extent that content includes references to securities, those references do not constitute an offer or solicitation to buy, sell or hold such security as information is provided for educational purposes only. Articles should not be considered investment advice and the information contain within should not be relied upon in assessing whether or not to invest in any securities or asset classes mentioned. Articles have been prepared without regard to the individual financial circumstances and objectives of persons who receive it. Securities discussed may not be suitable for all investors. Please keep in mind that a company's past financial performance, including the performance of its share price, does not guarantee future results.
Material compiled by Lansing Street Advisors is based on publicly available data at the time of compilation. Lansing Street Advisors makes no warranties or representation of any kind relating to the accuracy, completeness or timeliness of the data and shall not have liability for any damages of any kind relating to the use such data.
Material for market review represents an assessment of the market environment at a specific point in time and is not intended to be a forecast of future events, or a guarantee of future results.
Indices that may be included herein are unmanaged indices and one cannot directly invest in an index. Index returns do not reflect the impact of any management fees, transaction costs or expenses. The index information included herein is for illustrative purposes only.