1. High Grade Bond Issuance Already Sets Record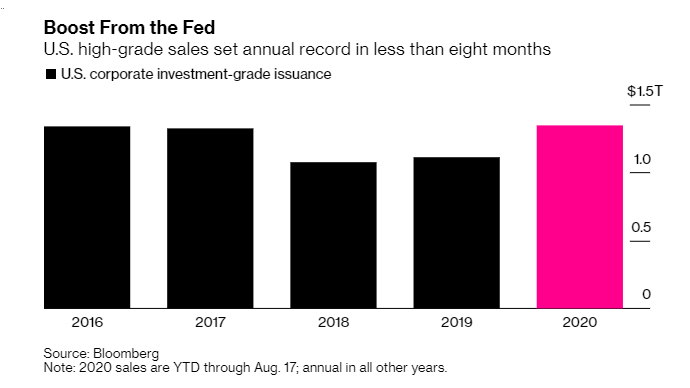 As 2020 enters the home stretch, there's little sign the borrowing binge is slowing. Investors have poured over $100 billion into funds that buy high-grade bonds over the last 17 weeks, according to data from Refinitiv Lipper.
And the cheaper borrowing costs are enticing American companies to return to credit markets two, three, even four times. Many are refinancing debt due in the coming months and years, taking advantage of the opportunity to extend their maturities.
More than 30 borrowers priced deals last week, issuing almost $50 billion. DoubleLine Capital said it expects supply to reach $1.9 trillion before the year is out.
Still, the barrage of issuance is starting to take its toll on returns, with high-grade bonds in the midst of their worst month since March. They lost 1.58% last week and are down 1.2% so far this month, on track for the first decline since the pandemic took hold and upended markets earlier this year.
2. Fixed Income YTD Returns.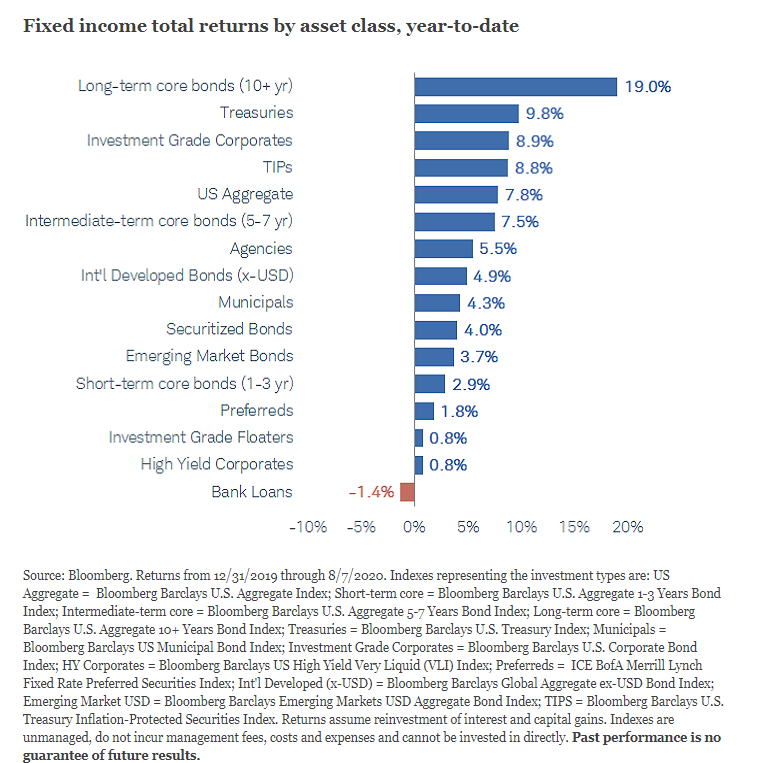 Schwab Market Perspective: Is the Worst Behind Us?By Liz Ann SondersBy Jeffrey KleintopBy Kathy Jones
https://www.schwab.com/resource-center/insights/content/market-perspective
3. Low Rates Push Homebuilder Optimism to Highest Since 1998
Craig Giammona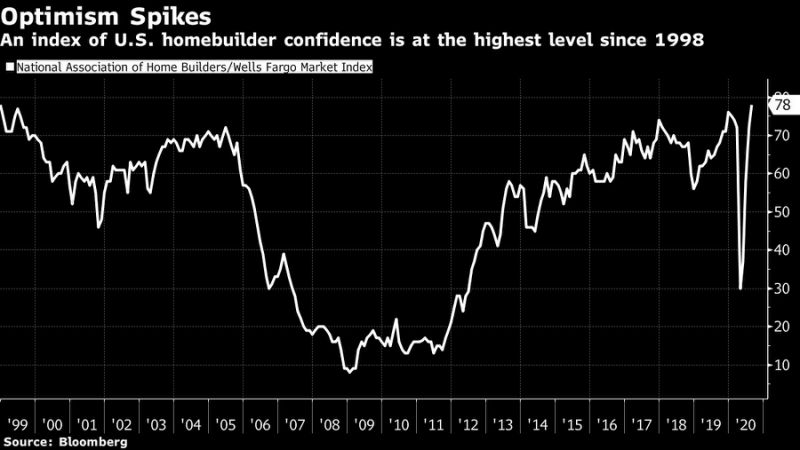 Low Rates Push Homebuilder Optimism to Highest Since 1998
(Bloomberg) — U.S. homebuilders are riding a wave of optimism as record-low mortgage rates drive demand for new homes.
A gauge of builder sentiment jumped to 78, a six-point gain from July that pushed it to the highest level since 1998, according to the National Association of Home Builders/Wells Fargo Market Index. The August number was better than the median analyst estimate of 74 and matched a record in 35 years of the survey.
The index ended 2019 at a 20-year high but plunged when the coronavirus shut down the U.S. economy in March. Builders have bounced back since then, with the housing market an unexpected bright spot in an economy battered by the pandemic.
U.S. Homeownership Rate Soars to Highest Level Since 2008 (1)
The demand for new housing is boosting builders, particularly because inventory of existing homes is low. An index that tracks the shares of builders touched a new intraday record on Monday. It had surged more than 140% since the stock market hit a low on March 23.
Still, navigating the coronavirus economy will be tricky for builders. Congress has yet to pass a new stimulus package, potentially adding to job losses if a deal isn't reached. The housing recovery may be threatened by mounting unemployment, while higher prices for homes could deter some potential buyers.
Trump's Stimulus Stalemate With Democrats Leaves Economy Limping
A surge in lumber prices is another issue for the industry.
"The V-shaped recovery for housing has produced a staggering increase for lumber prices, which have more than doubled since mid-April," said Chuck Fowke, chairman of NAHB. "Such cost increases could dampen momentum in the housing market this fall, despite historically low interest rates."
(Updates with homebuilder shares.)
For more articles like this, please visit us at bloomberg.com
https://finance.yahoo.com/news/low-rates-push-homebuilder-optimism-121505609.html
4. Forward P/E Ratios Hit 2000 Levels.
5. S&P 500…314 Companies Negative Return on Year…185 Postitive.
Visual Capitalist
Big 5 International Revenue Over 50%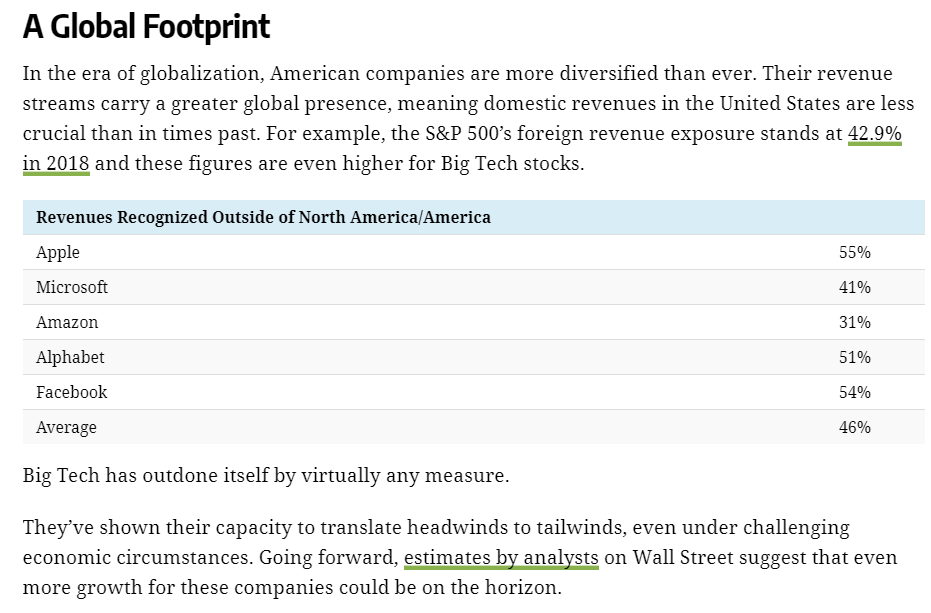 The Stocks to Rule them All: Big Tech's Might in Five ChartsBy Aran Ali
6. Distribution of Returns S&P 500 2020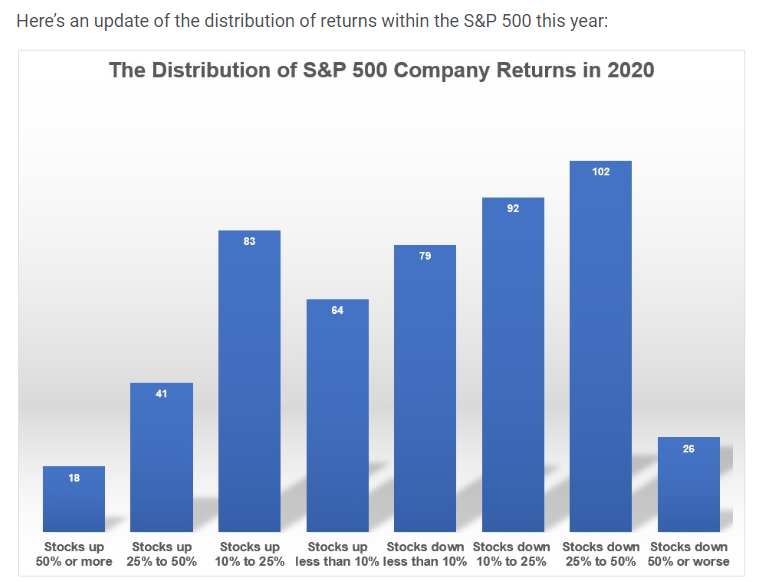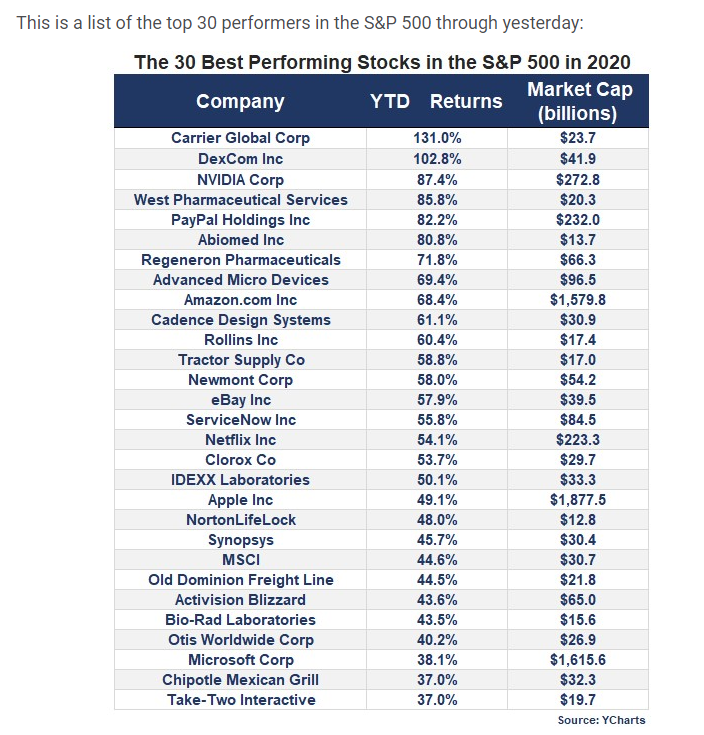 Concentrated Performance in the Stock MarketPosted August 4, 2020 by Ben Carlson
https://awealthofcommonsense.com/2020/08/concentrated-in-the-stock-market/
7. Industrials and Consumer Lead Positive Earnings Surprises.
8. New All-Time Highs…Tech and Large Cap Lead.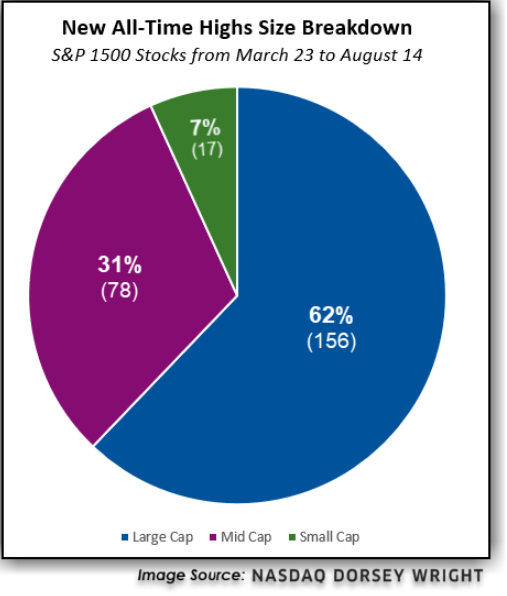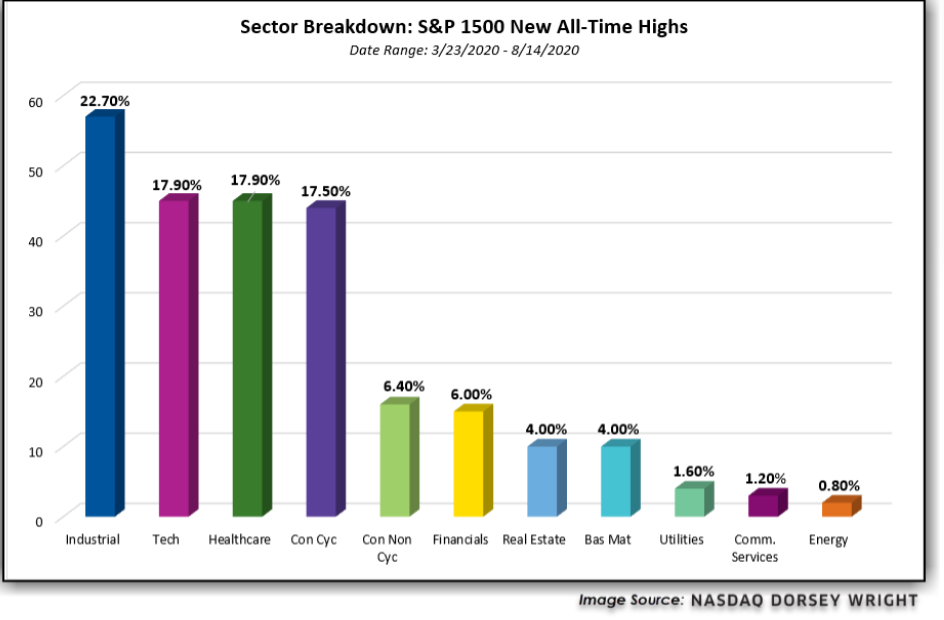 9. Who's Ahead in the National Polls?
10. How to Lead with Speed
August 17, 2020 | Books & Authors, Interview, Leadership
The Importance of Speed
Anyone who has worked with me knows that I am passionate about speed. It's a critical success factor in a competitive world. Of course, speed follows strategy. If you are going fast down the wrong road that isn't going to help your organization.
One of the very best books I have read on speed is Lead with Speed: Fire up your team, power your engines of development, and make your organization soar. Alan Willett nailed it, in my view, as he outlines ways to help leaders accelerate projects in a way that is practical and actionable. Alan is an author, speaker, consultant and expert at helping organizations improve results. His experience and global work is evident in every chapter.
I recently spoke with Alan about his important work in this area.
"Elevating the exceptional skills of a leader team member can result in amplifying the performance of the whole team." -Alan Willett
How is speed different today than previous eras?
The difference is mainly in the global scale of the need for speed pressure.
For example, the Vasa was a warship built between 1626 and 1628. It is one of the earlier "let's go fast" projects I have read about. The king of Swede was in a hurry for various reasons and some of the reasons were actually important. This project was pushed fast. It was well funded.
And the Vasa sank on its very first time in the water, after sailing less than one mile killing 15 people on the ship.
My point is the need for speed is not brand new.
The key difference today is that global competition has grown immensely over the past two hundred years, growing more intense every decade.
This pressure is so constant on leaders it almost fades into the background. But it is always there.
"Exceptional leaders know "why" things work." -Alan Willett
Tell us more about the Alan Willett way of "leading with speed".
A long time ago, I came to learn that we control the accelerator. If we learn how to push it, we can increase our speed to value. We can get control of where we are driving our projects. Here are a few examples of what I mean by getting control of the accelerator.
I developed a mindset for speed that includes a guidance system. I learned that driving for the right value, and the right-sized value, is a key to driving speed. I learned that the talent and experience the people I bring in to help is critical to speed.
I learned to master the economics of speed. In other words, I mastered control of the process of work and a way to measure how effective and efficient I and my teams are in driving to best speed for value.
I learned that speed doesn't matter if you crash, or sink.
I learned that if you do crash, with the right mindset, you can learn from the crash and increase the speed of the next phase of work.
"Exceptional leaders can gain speed from failure." -Alan Willett
Exceptional leaders "own the accelerator." Would you contrast a leader who does this well with someone who doesn't?
There is a large difference in results, especially longer-term results, between good leaders and exceptional leaders. I will provide three examples.
First example: exceptional leaders can gain speed from failure.
Back to the Vasa for a moment. The historical records are of course not complete, but it appears to me that there was a lesson learned session. However, I suspect it was more looking for "who to blame."
The exceptional leader would have learned from the sinking, from the whole development process. If Sweden really learned from this, they would have built masterpieces of boats with superior weapons and speed for the time period. Recent books have been written about the lessons learned, but that was too late to conduct a proper lesson learned.
Second example: exceptional leaders know "why" things work.
I know many good managers who get things done, but they don't know why. They do not have the underlying measurement system in place to understand what is going on. If the projects they are leading get in trouble, that trouble is much less likely to be handled well.
Exceptional leaders that run projects know the top five reasons why projects might get in trouble and behind. More than knowing the five reasons, if they have a delay, they will know what magnitude of the cause is from each of those reasons. Knowing why enables the leader to fix the problems with much greater speed.
"Exceptional leaders that run projects know the top five reasons why projects might get in trouble and behind. -Alan Willett
If you are on a team that is struggling, where do you begin if you want true transformation?
I have been in that position many times. In fact, as a consultant, I am often hired to take the troubled team and transform them into the tremendous.
The place I usually start is to define what the true expectations of excellence are for that project. Teams that know what excellence looks like will be inspired to reach for excellence. I ensure that those expectations of excellence are in the language and domain of the team.
Further, I contrast that future expectation of excellence with the current state. I provide a visionary pathway of how we can move together from our current state to a new state.
The final part of the "beginning" of the transformation is to remind all team members, and often management, that they have all likely solved hard problems before. I remind them that we are capable of transformation to excellence.
"As a leader, your role is to help your exceptional team members take on the responsibility of helping others reach their next level of performance." -Alan Willett
I love your chapter on speed mindset. You share several ways to change that mindset to lead with speed. Tell us about just one of them and how it can hold a team back from success.
Context matters!
Owning the accelerator for yourself and your team's speed means you must master context.
This visual from the book gives a sense of what I am talking about.
Leaders that are aware of context use the same approach over and over again treating every new project as the same.  If they are using a Get it Done approach when they are in the Gamble Wisely quadrant, they are likely to be stuck in a quagmire of technology quality issues as well as having an angry customer because they missed the customer need.
If they are in the Get it Done quadrant and are using the prototyping approaches suggested for Gamble Wisely, they will find that they lost significant speed.  They could have achieved the value the customer needs much faster with a different approach.
"When a leader can work with their exceptional few to improve the whole project and the whole organization, they find their teams start winning." -Alan Willett
You talk about leading effective meetings. What's just one tip that leaders can take away from your study in this area?
Treat meetings as setting the drumbeat rhythm for the people attending them.  What I mean by this is that you should be aware that meetings are an excellent way to set the pace for the organization.  They are a model for how work should be getting accomplished.
And to make another riff off Context Matters, it does here as well.  Leaders should vary the pace and what happens in the meetings depending on the current context of the project.  If a project is in the creative stage, there should be ample room for arguments and discussions.  If the project is in a delivery stage, it should be run very efficiently focused on the logistics of getting things done well and quickly.
Be the drummer. Set the pace
"Leading with joy from start to finish infuses those following with the joy of speed." -Alan Willett
How do leaders best nurture a culture that values and encourages leading with speed?
I have found that if you train and encourage a number of opinion leaders throughout the organization, you will have influenced a few that will transform the whole.  The key is to train, coach, and mentor these talents to truly understand and practice the nine ingredients for mastering exceptional leadership.
I have a program for engineers that does exactly that.  The Exceptional Engineer SM Experience is a training that transforms good engineers into speed masters.  It is a delight to run this program. I see not just the improvements in individuals, but also the improvements they drive in their organizations.
"Elevating the exceptional skills of a leader team member can result in amplifying the performance of the whole team." -Alan Willett
When a leader has created other leaders within their organization that have mastered these skills, they have created a culture that owns the accelerator.  Buckle up, they are about to go fast!
Photo Credit: Braden Collum
Photo Credit: Braden Collum
Disclosure
Lansing Street Advisors is a registered investment adviser with the State of Pennsylvania..
To the extent that content includes references to securities, those references do not constitute an offer or solicitation to buy, sell or hold such security as information is provided for educational purposes only. Articles should not be considered investment advice and the information contain within should not be relied upon in assessing whether or not to invest in any securities or asset classes mentioned. Articles have been prepared without regard to the individual financial circumstances and objectives of persons who receive it. Securities discussed may not be suitable for all investors. Please keep in mind that a company's past financial performance, including the performance of its share price, does not guarantee future results.
Material compiled by Lansing Street Advisors is based on publicly available data at the time of compilation. Lansing Street Advisors makes no warranties or representation of any kind relating to the accuracy, completeness or timeliness of the data and shall not have liability for any damages of any kind relating to the use such data.
Material for market review represents an assessment of the market environment at a specific point in time and is not intended to be a forecast of future events, or a guarantee of future results.
Indices that may be included herein are unmanaged indices and one cannot directly invest in an index. Index returns do not reflect the impact of any management fees, transaction costs or expenses. The index information included herein is for illustrative purposes only.